A dynamic departures duty free environment
The Delhi Duty Free departures store features a strong emphasis on 'hero' spirits brands, a fine new P&C offer and easy to navigate walkthrough space.
Delhi Duty Free built its new departures store upon a number of key principles. The design, with a consistent look throughout to the flooring and ceilings (with flexible lighting schemes) means it has a coherence that the previous departures store lacked.
It's a true walk-through, as Delhi Duty Free Chief Operating Officer (now Deputy CEO) Ashish Chopra explains. "Often you see walkthroughs that run left and right so the customer feels they are in two separate shops, but not here. We had that before but now it flows in a much better way as a single environment."
Crucially, at all points in the journey the passenger remains close to the merchandise. Even with 5m wide aisles running through the walk-through shop, the introduction of secondary walkways makes this possible – although they do mean that travellers have to exit the main flow of traffic to reach destination goods and confectionery in particular.
Digitalisation was top of mind in the planning, is present across multiple customer touchpoints and is well balanced between price and brand promotional messages. The company heavily promotes the name of Delhi Duty Free, mirroring its gradual move away from traditional sign boards and newsprint to an ever stronger focus on digital.
Upon entrance there is eye-catching variety to the departures shop; to the left a 'vodka tree' and bright white spirits zone, to the right tobacco, cigars and then two superb showcases for key brands Chivas Regal and Johnnie Walker.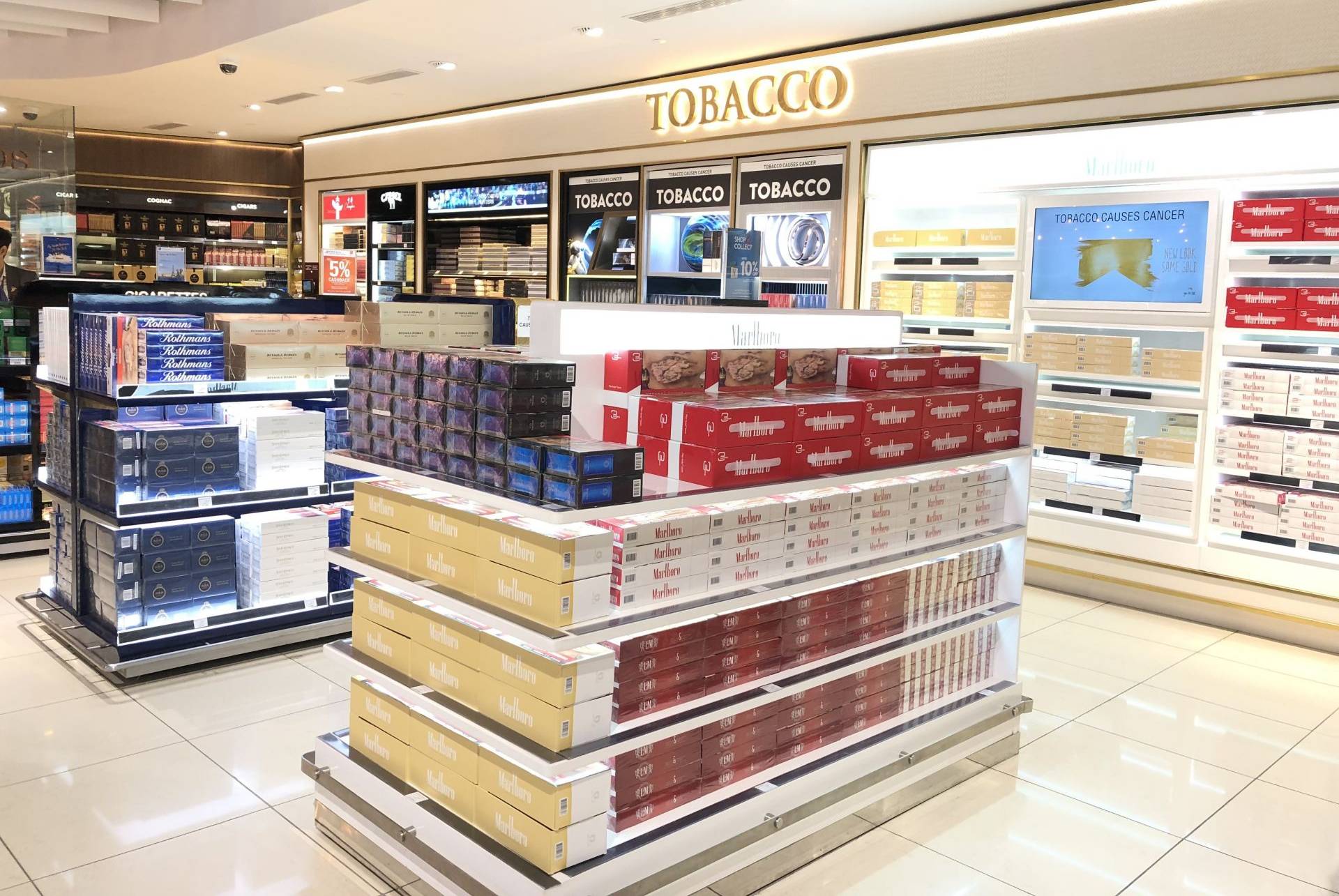 Tobacco remains an important element in the departures mix, in contrast to arrivals
Tobacco is around 14% of departures sales and remains a far more important element of the mix than it does in arrivals. The key brand is Marlboro, with travellers purchasing 200, 400 or 600 sticks depending on allowances at their destination. This leads into cigars, led by Habanos, which has a neat adjacency to Cognac.
On the other side of the aisle, the early focus on gins, vodka and even wine is perhaps surprising, but this positioning is all about broadening the store's appeal.
"We are mainly led by Indian traveller needs, but we need to offer other travellers something too. And the white spirits zone also appeals to Indian women, whose contribution to our business is becoming more important." The installation of an Indian rickshaw alongside the vodka tree with leading brands like Grey Goose and Beluga make for welcome stop points early in the journey.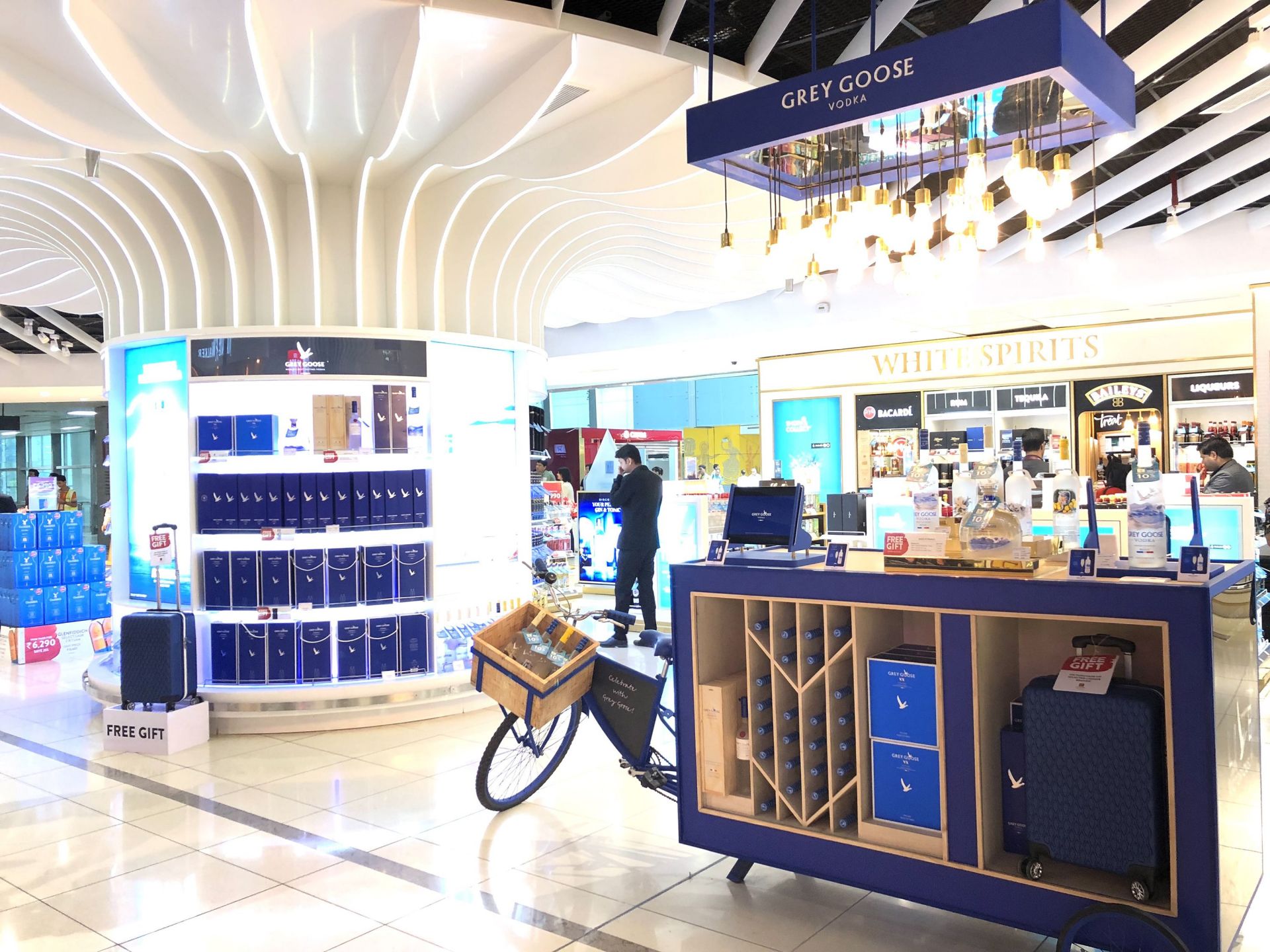 White spirits enjoys a prominent front-of-store position in departures, with some neat design touches led by the 'vodka tree'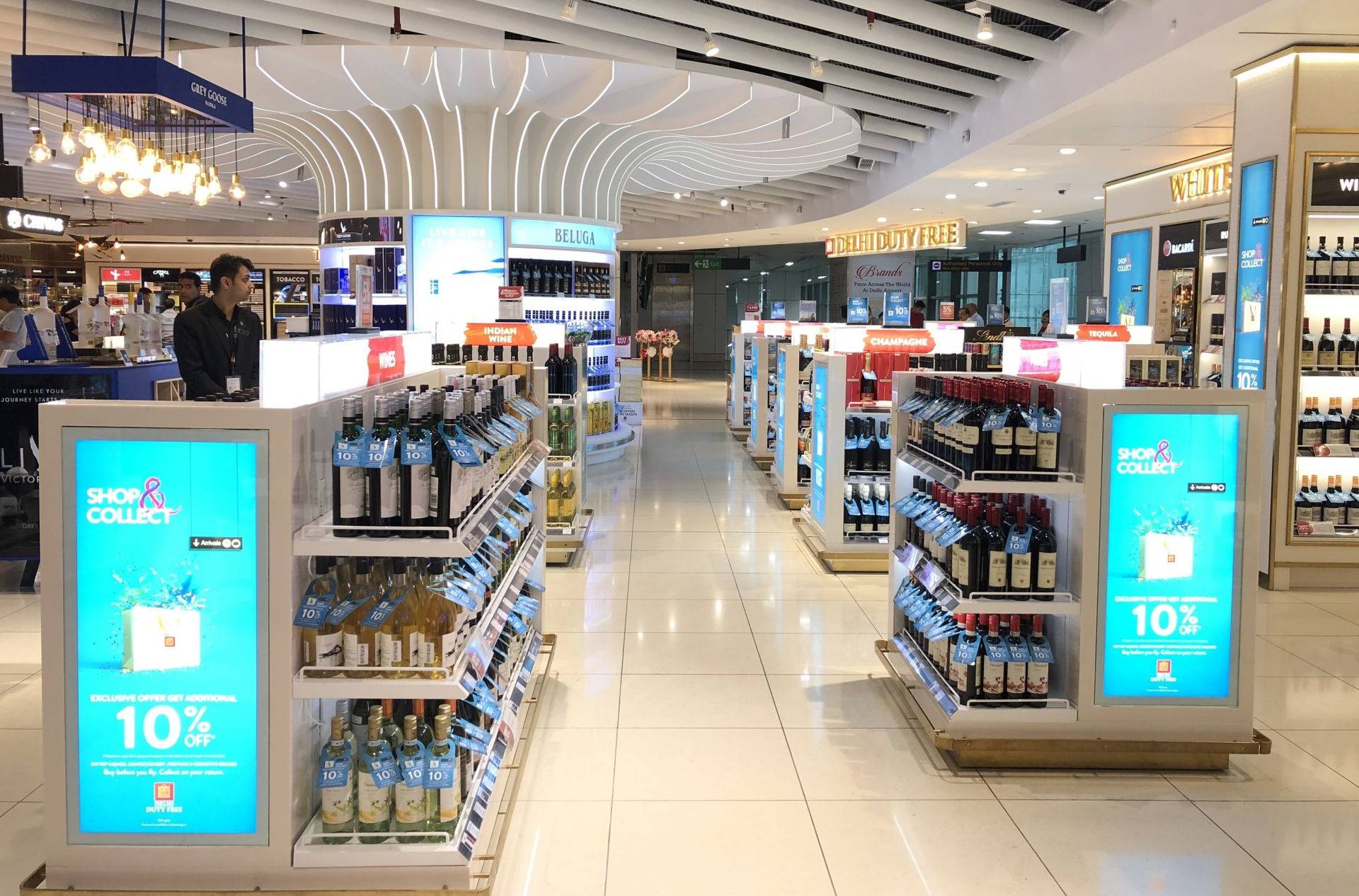 Across the aisle are two other highlights, a boutique for Chivas Regal and a Johnnie Walker House. Here, the focus is on the presentation of luxury because, unlike in arrivals, there is no Rs50,000 limit on spending in departures. This means that fine and rare editions find a home here and help to elevate the offer. There are also add-on services such as labelling and engraving. In addition the retailer does not offer a cash till in either of these shop-in-shop spaces, ensuring that travellers move through the full store journey, browsing other categories before they complete their transactions.
The big transformation in departures comes in the elegant and much enhanced beauty zone, with 14 new brands, among them some major additions from the Estée Lauder and L'Oréal Luxe houses.
MAC, with which Indians have a special affinity, was previously located at the store front where tobacco sits now. Today it has its own dedicated space in the P&C environment.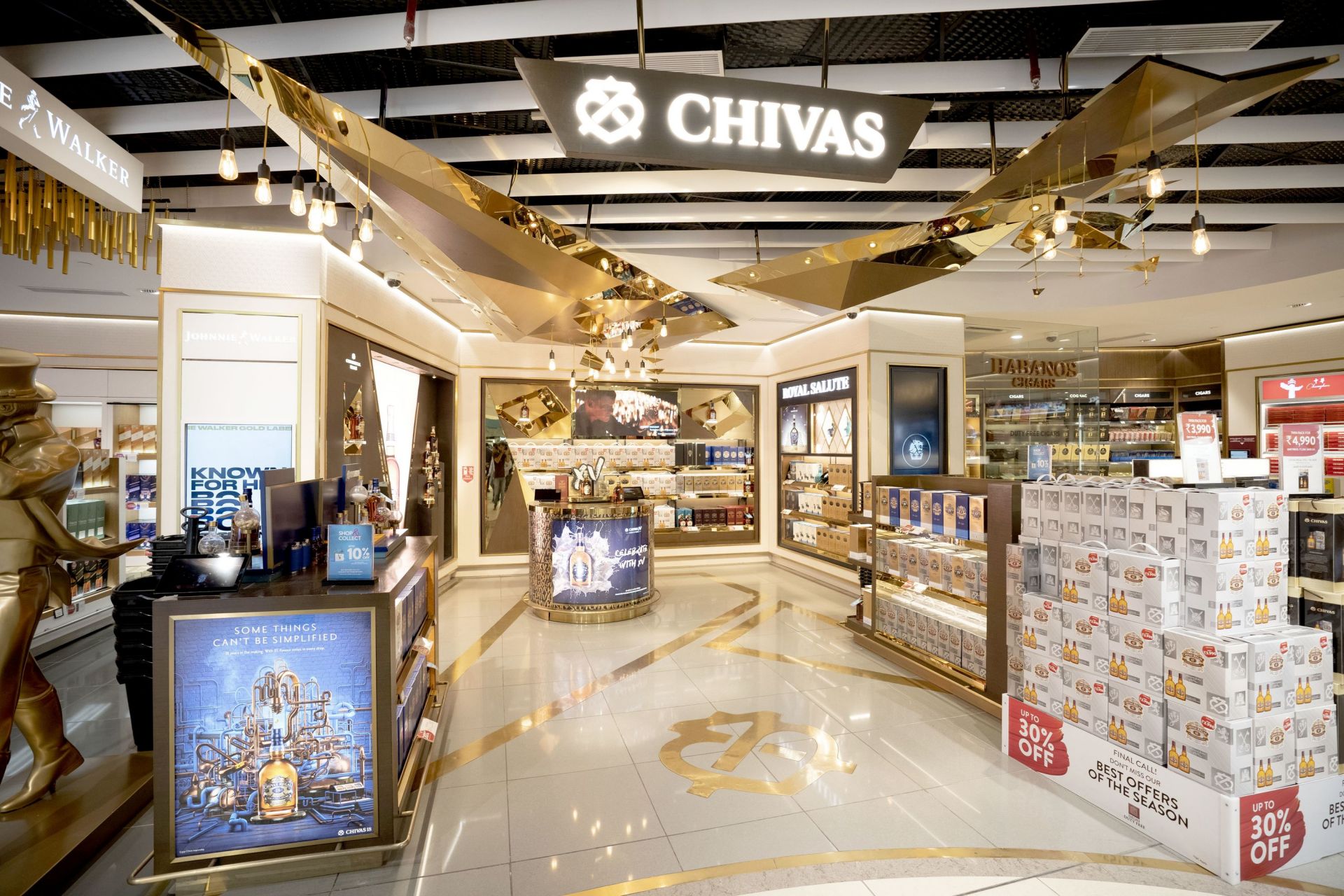 Mass and class: The Chivas boutique, like that of great rival Johnnie Walker, features multi-packs and entry price points alongside a premium Pernod Ricard Scotch offer
Beyond this are striking wallbays and gondolas for Tom Ford Beauty, Urban Decay (only available in travel retail in India), the stunning Gucci Amethyst Garden, Estée Lauder cosmetics, Jo Malone, Bobbi Brown, Kiehl's (with a neat Indian twist to the design) and Giorgio Armani (featuring the Armani Privé collection).
Other firsts include Sulwhasoo, Benefit, Origins, Amouage, Glamglow, Laneige and a well-ranged haircare section that includes Moroccanoil and Toni & Guy. There are makeup stations around the floor for customer interaction and three promotional platforms within the beauty areas to showcase new launches.
Back across the aisle and the strong spirits offer continues with The Whisky Collection – the major showcase for Delhi Duty Free's 150+ single malts, the second biggest sub-sector in drinks after standard Scotch – and other niche whiskies.
Importantly, Delhi Duty Free talks up the opportunity to buy rare and fine items at well above the Rs50,000 limit that prevails in arrivals. Indeed, some staff are focused only on selling high-end products and are not aligned to particular brands.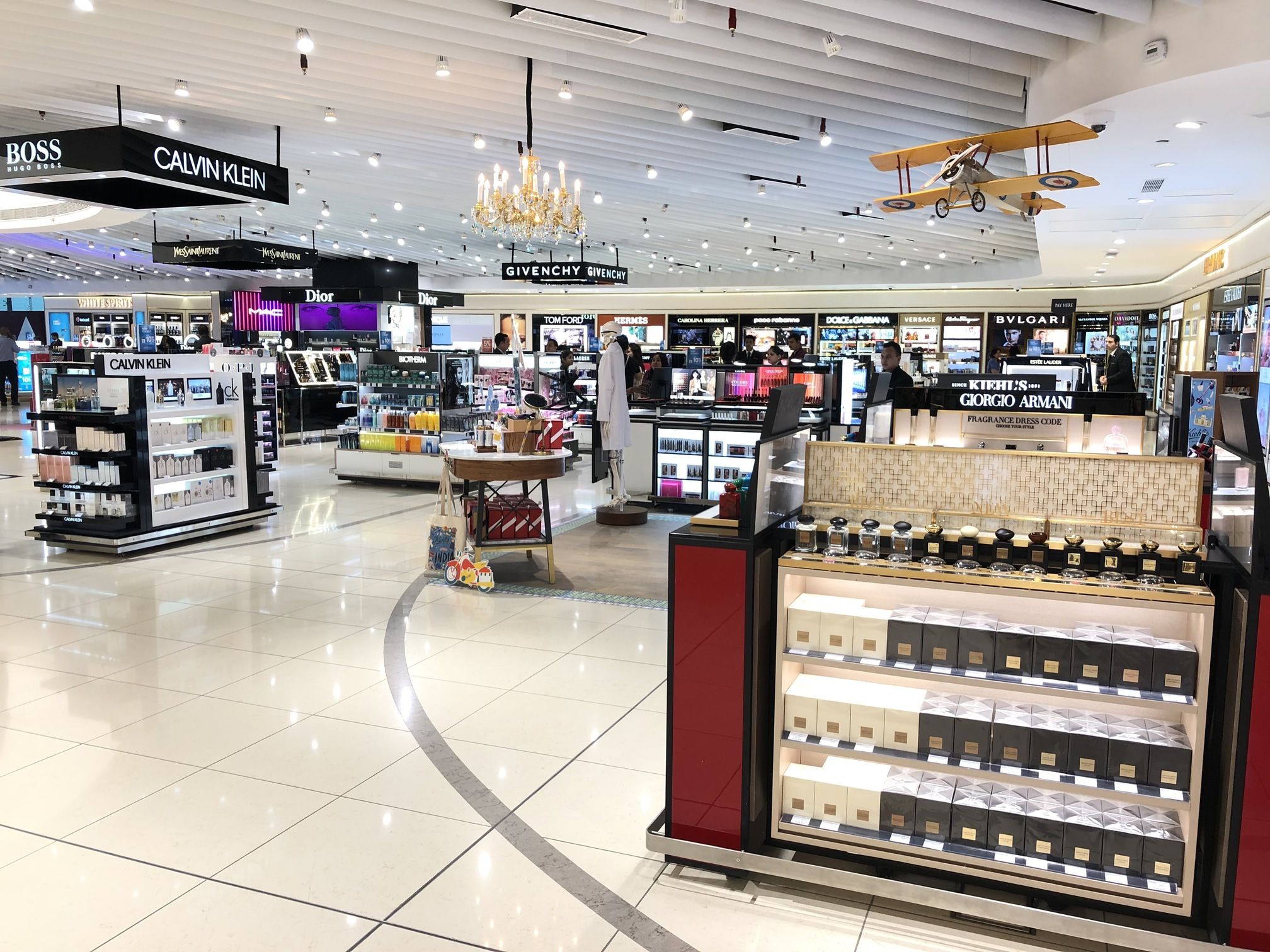 Varied and refined: The broadest beauty offer yet at Delhi Duty Free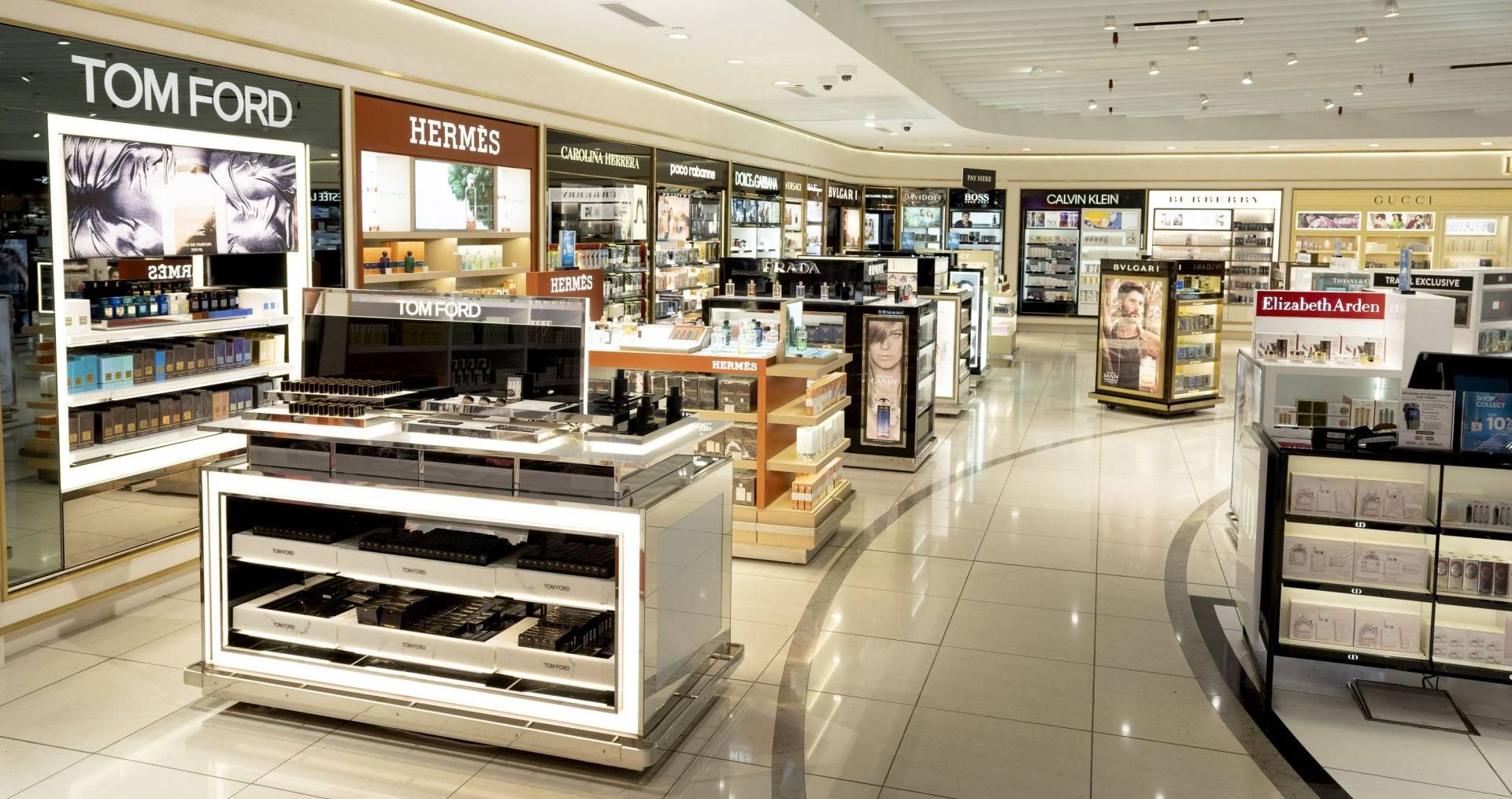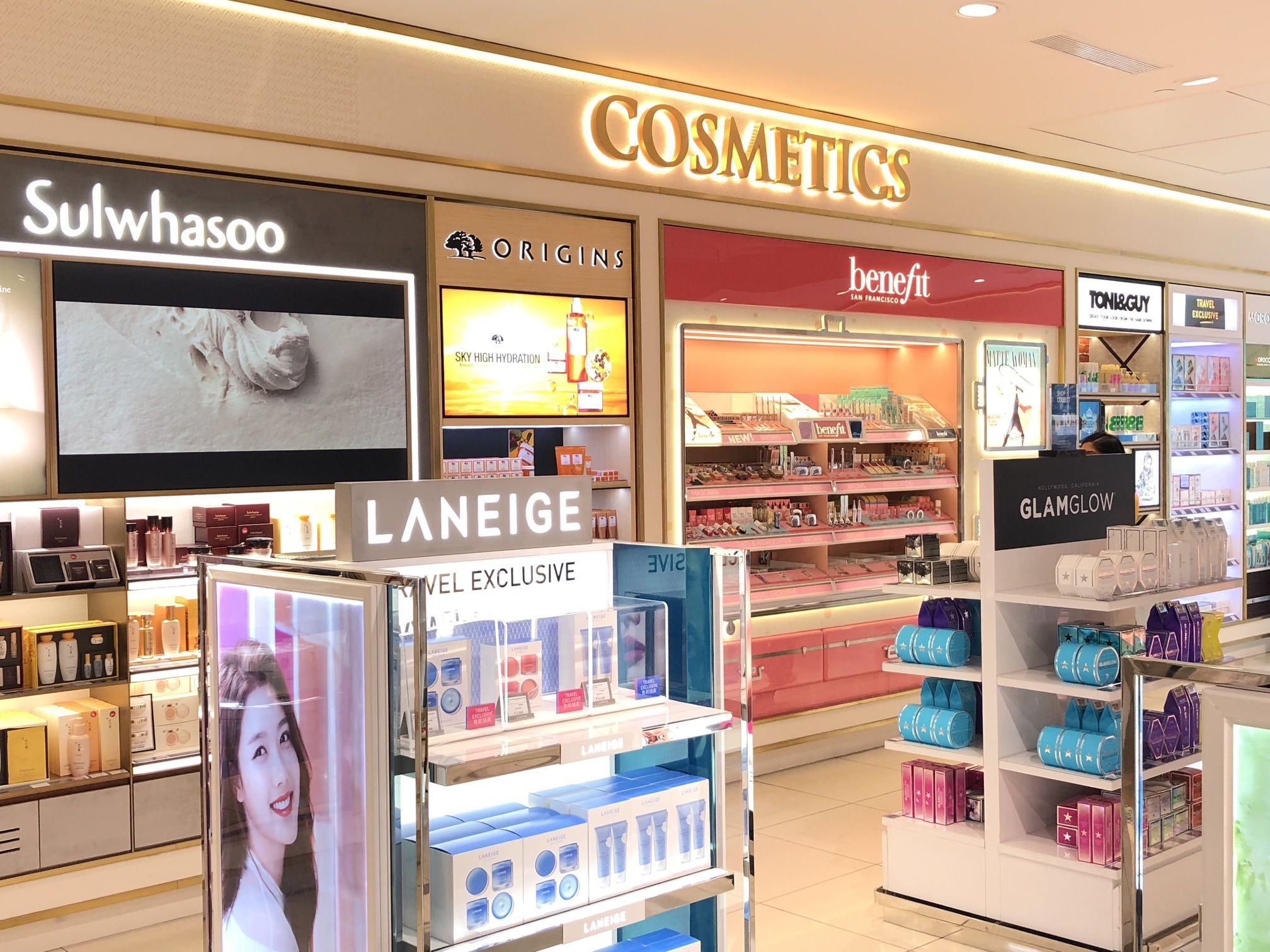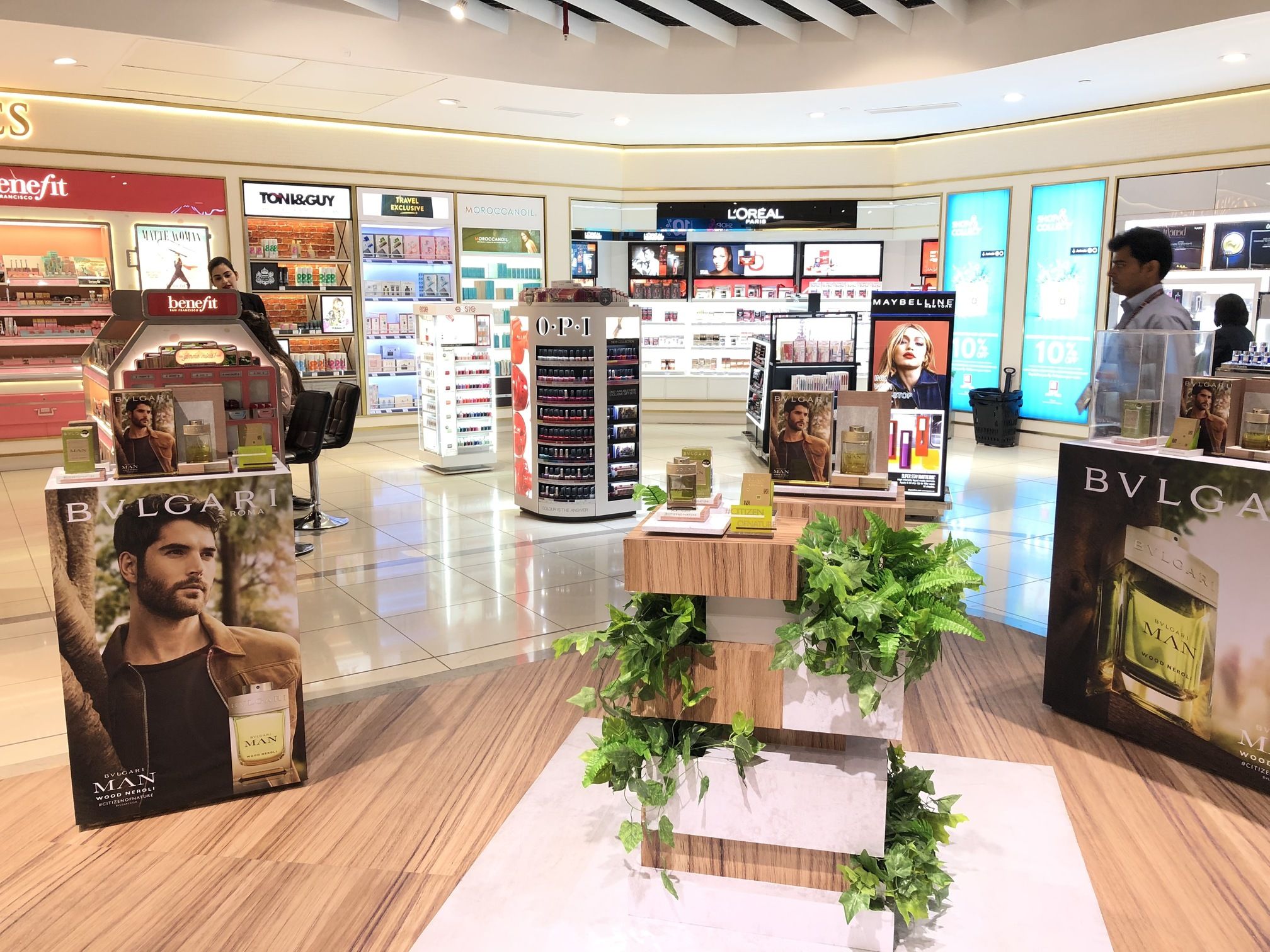 Several HPP placements within the P&C department shine a light on the latest launches in fragrances
"On shelf we have glorifiers to highlight the top end whiskies," says Chopra. "We have many brands doing special packaging. The new generation is shifting in taste. Once this was a Red Label market, and then deluxe whisky took over; now it is increasingly about malts."
Beyond this, there are prominent positions for Jack Daniel's among other brands; the Brown-Forman-owned label is among the fastest growing liquor brands at Delhi Duty Free, with strong interest in its special casks and channel exclusives. Other popular lines include Old Monk Indian rum (a much-loved souvenir with its face-shaped bottle design) while Monkey Shoulder is among the recent success stories, one of a number from the William Grant's family.
From there the journey takes the traveller into travel essentials, niche beauty and destination goods, which include teas, food and ayurvedic/health brands.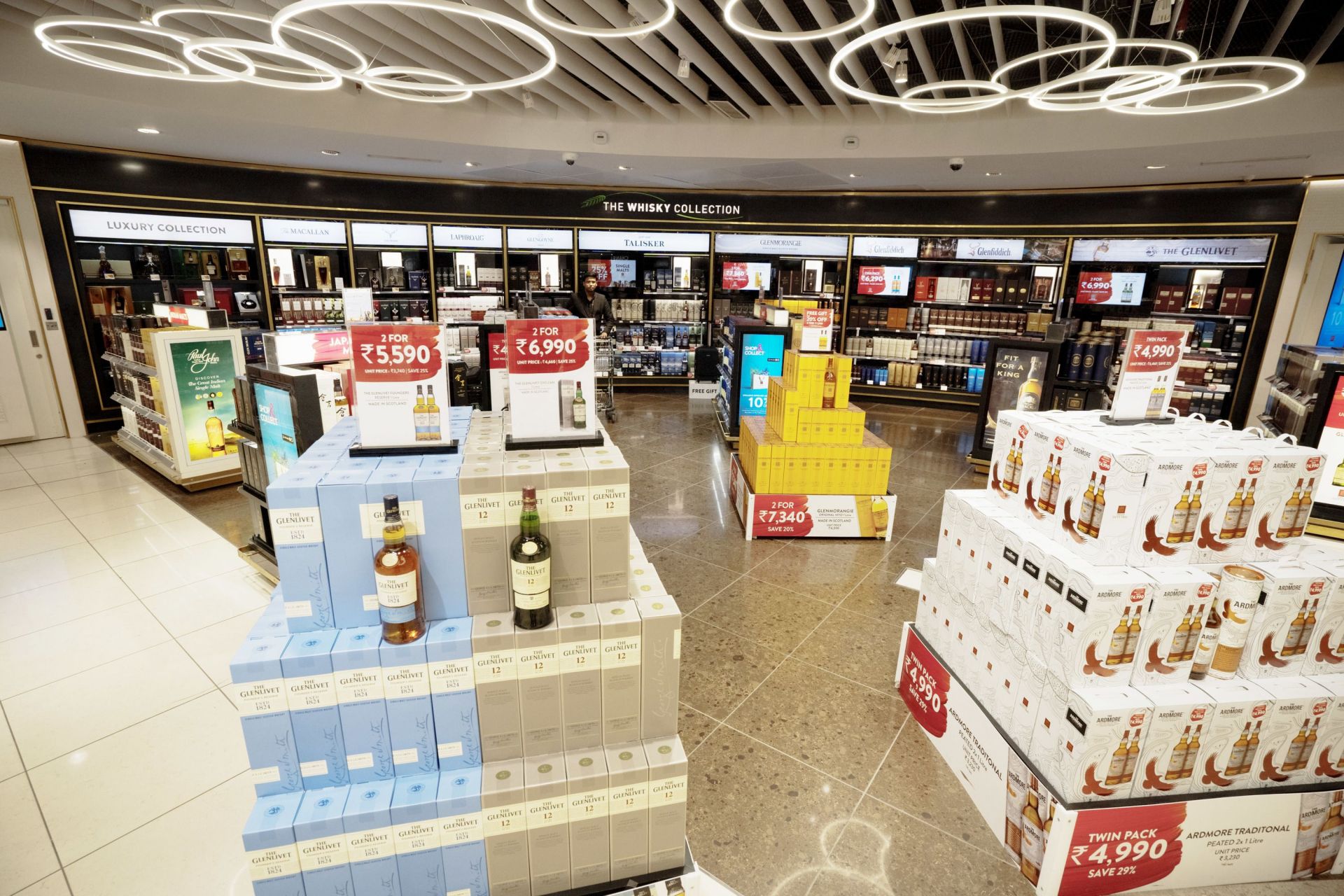 The Whisky Collection showcases Delhi Duty Free's 150+ single malts and other niche whiskies. Here, Delhi Duty Free is not constrained by the Rs50,000 transaction limit that prevails in arrivals.
Tea leads destination category sales; also popular are savoury snacks, sweets and ethnic shawls and other garments. Destination represents about 10% of sales in departures. Expect the business to develop further as Delhi Duty Free gives it more of an identity through its Discover India branding.
Confectionery, as so often, sits near the cash tills with strong personalised space for best-selling brands Lindt and Toblerone, but also for others that include Hershey's, Godiva, KitKat, Mars, Harison, Haribo, Loacker, Ferrero and others.
Alongside the tills the journey ends with Delhi Duty Free's Shop & Collect zone, an important element that highlights the -10% discount in that channel and encourages shoppers to purchase here and collect on their return to Delhi.
Also notable in this store is the emphasis on cross-category promotions, including P&C within liquor and confectionery across the environment.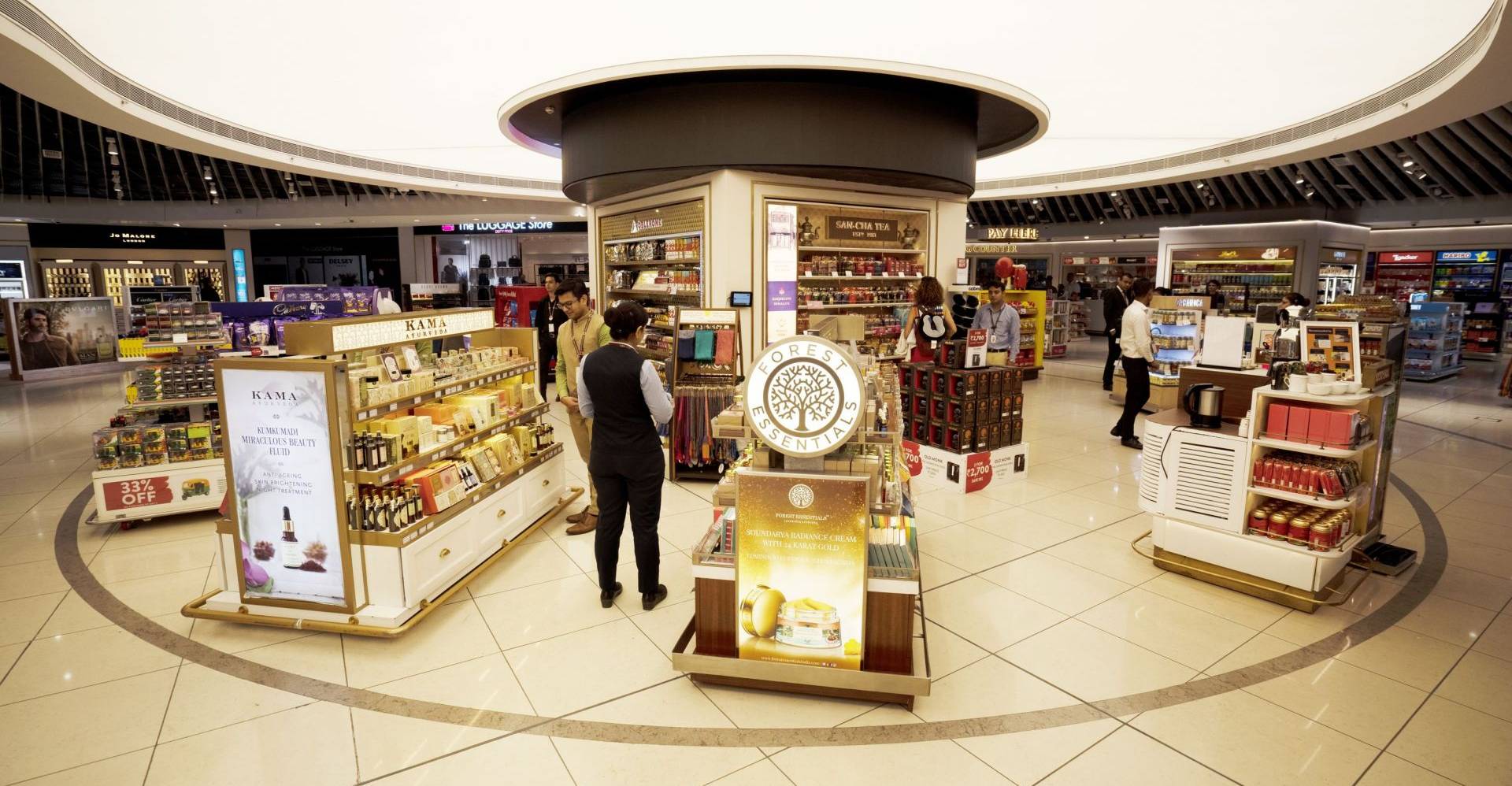 Indian essentials: Ayurveda products are among the most popular in the destination section, with teas and foodstuffs. Below, digital displays are a major feature of departures, in this image blended into the core destination range.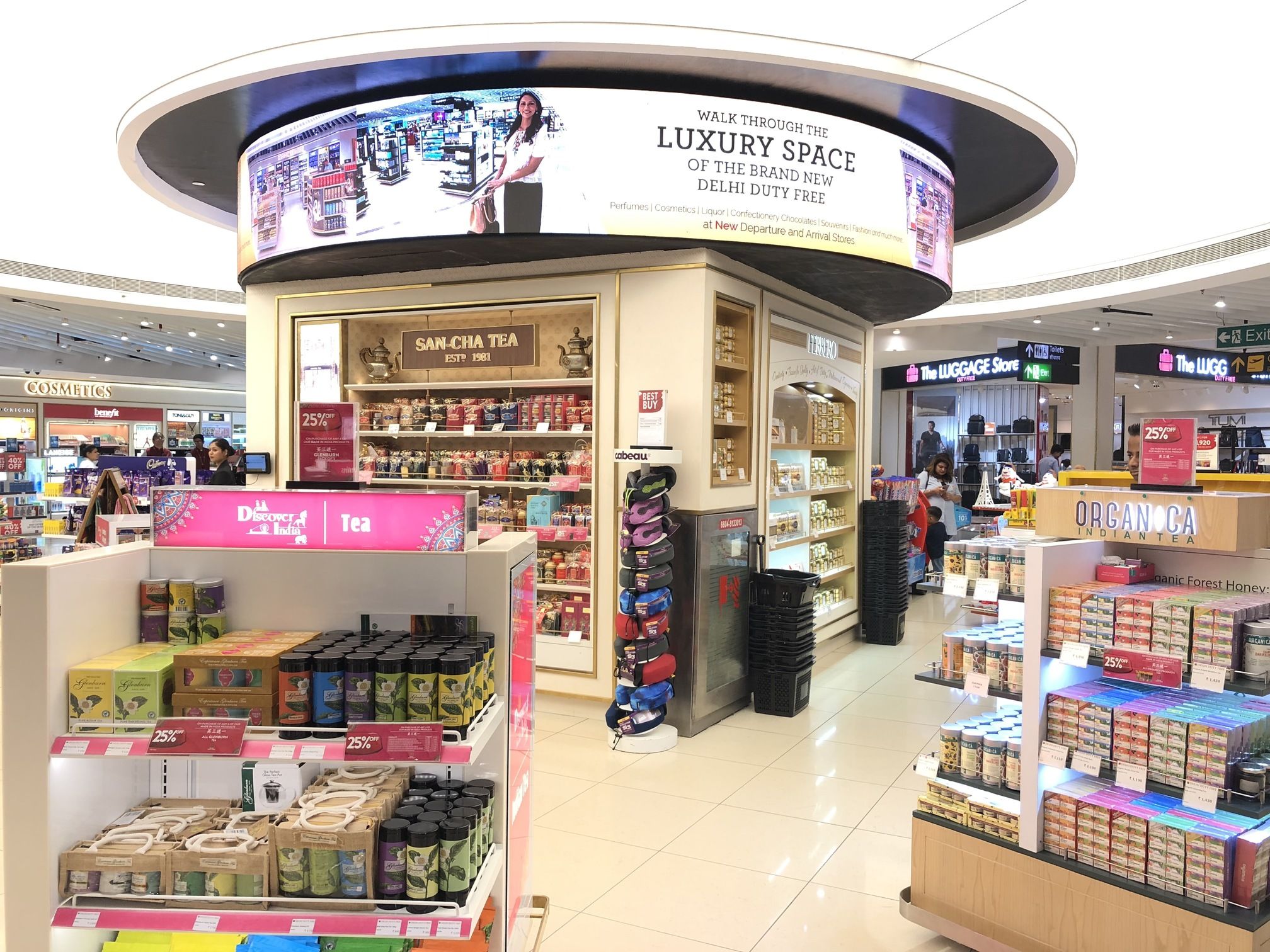 The retailer plans to lobby for more space in future and will consider pop-ups to highlight big launches for premium brands to add theatre to the zone. The flexible lighting in the ceilings means that the space can be tailored, and even store colours changed to create different ambiences.
As noted earlier, in the coming year Delhi Duty Free aims to grow sales by +22%. It's an aggressive forecast, but one the retailer believes it can hit with this new environment, the addition of new brands, a relentless focus on service and staff training and heavy promotional messaging.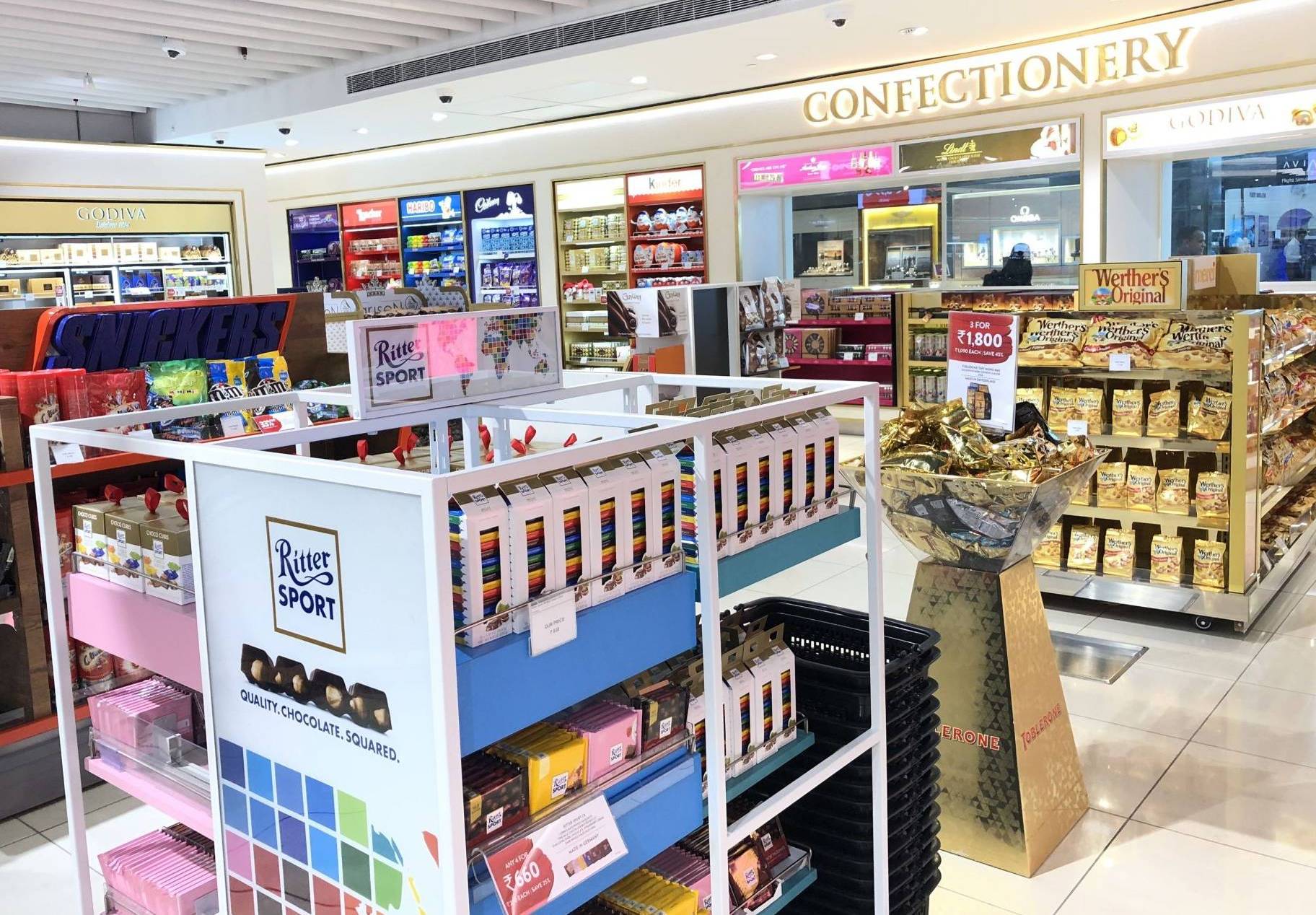 Confectionery sits near the cash tills with strong personalised space for the best-selling brands

Spotlight Series
September 2019