Category commentary:
Beauty on the rise
From around 16% of sales last year, Delhi Duty Free is intent on growing the share of P&C, a strategy that is built on the addition of new brands and enhanced space. We speak to several leading houses about the approach and their partnerships with the retailer.
How have you partnered with Delhi Duty Free to shape the new store environment for your brand and your category? What is your view of the new store layout and its appeal to consumers?
L'Oréal Travel Retail EMEAI Managing Director Gianguido Bianco: We have been close partners with Delhi Duty Free for a long time, and we are delighted to participate in this great Delhi Duty Free departures refit. It is a major step forward in offering a best-in-class shopping environment to travellers. L'Oréal Travel Retail is proud to be part of it, by offering the state-of-the-art beauty experience on our flagship brands Lancôme, Yves Saint Laurent, Armani and L'Oréal Paris.
In agreement with DDFS, we also bet on introducing new and exciting brands such as Kiehl's and Urban Decay, to increase category penetration. And we decided to elevate and differentiate the makeup category by opening the very first counter for Armani Beauty in India. Armani is historically very strong in fragrances in the Indian local market and travel retail, but we had not yet showcased its high-end makeup line, which is highly successful in Asia. To increase brand awareness and seduce Indian travellers, we are organising a PR event in September in New Delhi with Indian Influencers and journalists. We are confident that this will drive even more consumers to the Delhi Duty Free store.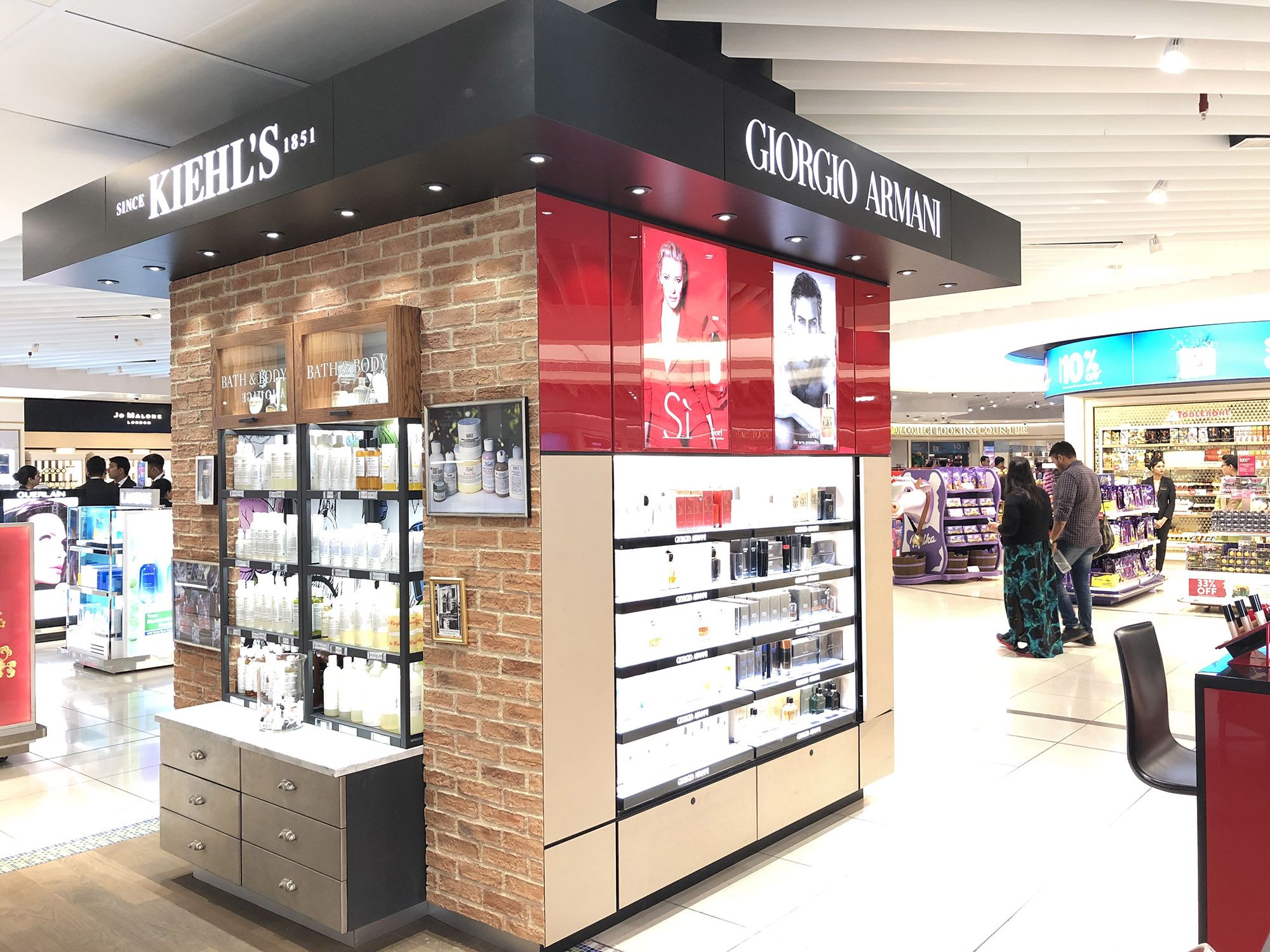 L'Oréal Group has a much enhanced presence in departures, led by brands such as Kiehl's and Giorgio Armani
Dior is among the 'hero' brands that lie at the heart of the P&C zone along the new traveller journey
Parfums Christian Dior Director Travel Retail Africa Middle East Indian Subcontinent Frank Dagher Hayeck: We have worked hand in hand with Delhi Duty Free (DDFS) on the new store projects for layouts, location, counter design and product offer. We believe that brands can bring interesting insights when it comes to the customer journey in a newly designed store, and DDFS was always open for this discussion.
We are confident that the new store layouts will bring an enhanced customer experience, as well as greater business opportunities. The arrivals store is very smartly designed with its walkthrough concept. It is setting a benchmark for other arrivals stores in the region. In departures, the ample space allows the brands to fully express their identity and propose a wide range of services to our customers.
Coty Senior Vice President Travel Retail Txema Marquiegui: We had fruitful discussions as business partners regarding space and locations. It is important for both Delhi Duty Free and Coty to attract passengers, increase the penetration rate and use the stopping power of our brands along the main walkway as well as our designated space and location. Market share from Coty brands alone is substantial and helps with overall fragrance trends and our latest excellent in-store designs engage consumers.
For arrivals the store layout is very good. The walkthrough increases the opportunity to convert passengers into customers. In departures the new store layout is very beautiful in terms of shop design. This fits with the attention we always give to in-store excellence and best-in-class as well as contemporary executions for the benefit of our partners, brands and consumers.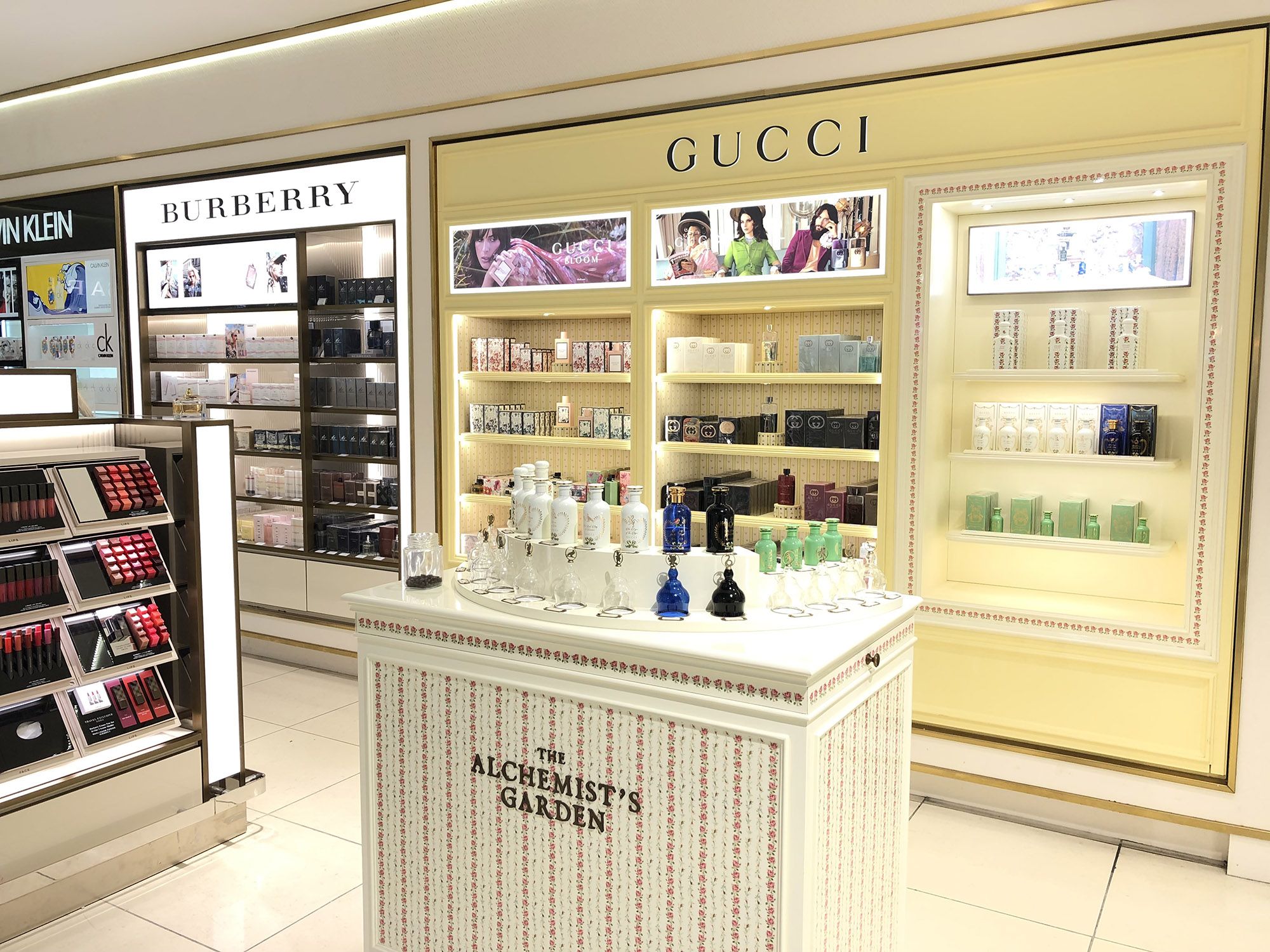 The Alchemist's Garden by Gucci makes a big statement for Coty in departures
How important is the Delhi Duty Free business for your brand and company?
Txema Marquiegui (Coty): Delhi is one of our key partners within Asia Pacific travel retail and for India Delhi represents a significant part of the overall mix. We launched Burberry makeup at the end of April, which joins our Burberry fragrance line-up. Both makeup and skincare categories are growing within the region, which is already shown by early Burberry results.
Frank Dagher Hayeck (Dior): Delhi Duty Free is a major partner for Dior in the region. Dior has been growing at a very fast pace with Delhi Duty Free for the past few years, making Delhi Airport and Delhi Duty Free a strategic airport and partner for us.
Gianguido Bianco (L'Oréal): Delhi Duty Free is a global partner via our ARI partnership, but is also our key interlocutor in developing the long-term business in Indian travel retail, helping us to understand Indian passenger profiles and specificities.
We highly value their knowledge of customers and market trends. We are committed to working closely to increase P&C category penetration and size in India by providing memorable beauty experiences to all travellers, thanks to our brand portfolio, which covers all beauty needs.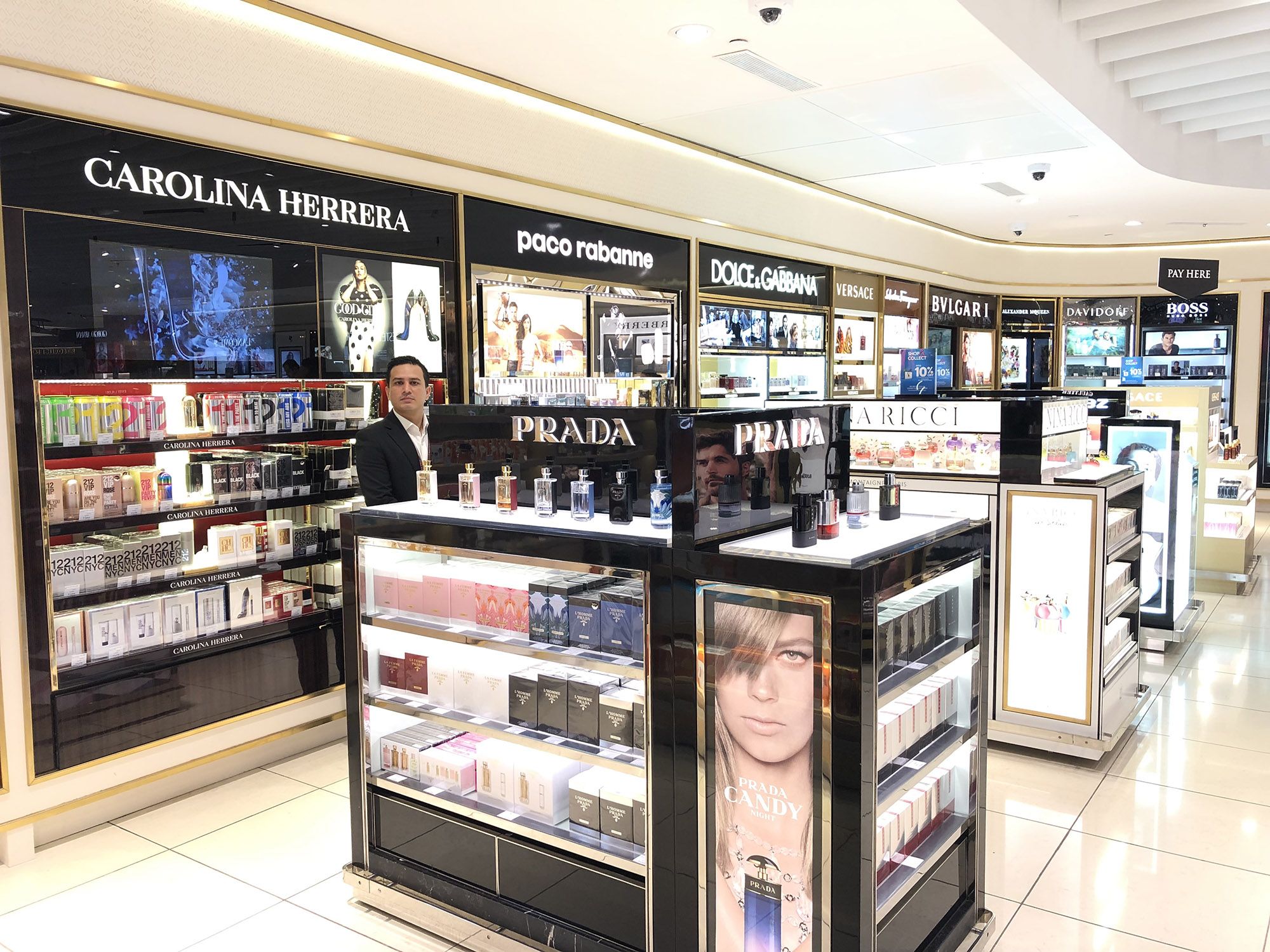 Fragrances in the Rs3,000-4,000 price range "suit the Indian wallet" says Delhi Duty Free
How do you view the opportunity to drive growth at Delhi Duty Free? What are the key factors and influences that will shape your brand's trajectory here?
Frank Dagher Hayeck (Dior): We believe that customers travelling through Delhi Airport are eager to experience luxurious products and environments, and we are seeing a growing demand for our premium lines. For example, we have recently introduced our most exclusive skincare line and it is already a big success, with many different nationalities purchasing it. Our ambition is to always bring the most exclusive products to our customers and provide an exceptional service to support this growing trend.
Gianguido Bianco (L'Oréal): We are confident about business acceleration at Delhi Duty Free. To convert more travellers and increase the average basket size of the P&C category, we have decided to invest in people. From the reopening of Delhi Duty Free departures, we have asked DDFS to increase to 30 the team of Beauty Advisors providing service on L'Oréal brands, to invest time in their education and in a retail excellence programme.
This DDFS team is best-in-class in terms of involvement, dedication and results. We will also invest regularly in animations including digital experiences, including on our upcoming major fragrance launches for Lancôme and YSL. We are very confident that we will be a top contributor towards the growth of beauty in close partnership with Delhi Duty Free.
Txema Marquiegui (Coty): Within our portfolio we have a broad variety of contemporary-relevant brands and we offer fragrances with olfactive variances that suit all, which is a key competitive advantage. We currently have three brands in Delhi's top ten fragrances with another two that we are targeting to move into the top ten by the end of the year. Our Beauty Advisors team plays an important role and their training and education has always been a priority for us.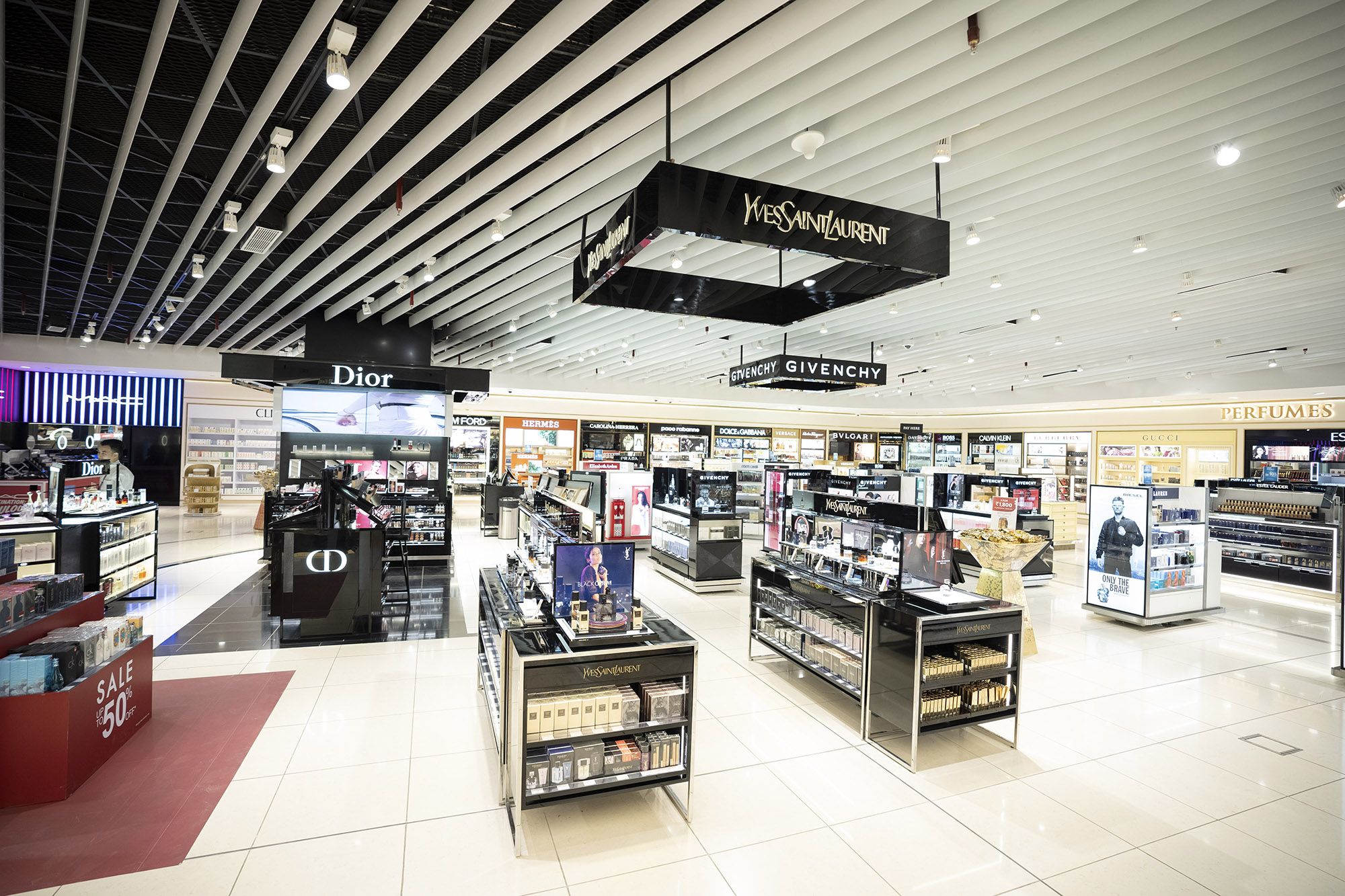 A market to believe in: Brand partners say the potential for travel retail beauty in India is only beginning to be tapped
In a wider sense, how do you see the future for your business in the Indian market?
Txema Marquiegui (Coty): We see a lot of opportunities in the Indian market, notably with the evolution of the 'go to market' strategy. This will have a flow-on effect for travel retail. Even though make-up and skincare are growing within India, fragrance still remains the biggest category in terms of sales. Most of the stores within India are aligned to international standards which influences Indian consumers on where they buy. By law retailers can only sell now in Rupees, which impacts the savings versus the local market. Other growth opportunities lie in destination targeting but also in travel retail exclusives and e-commerce.
Gianguido Bianco (L'Oréal): As the leader of the P&C category in travel retail, we at L'Oréal have a role in developing the beauty category for all travellers, whatever the territory or channel. Currently 3% of worldwide travellers are Indians, and they are growing by double digits in both international and domestic. Domestic travel accounts for more than 200 million passengers (75% of the total) and they will keep growing thanks to the 100+ airports now operational in India.
But international travel numbers also keep growing, and they represent today more than 90% of the beauty market. The consequent potential we see within the Indian market for P&C category growth is substantial, but this will need a specific focus in terms of portfolio and dedicated brand experiences for Indian consumers.
To develop the P&C category with our retailers, we will open new stores and improve even further the presentation of our core brands, with the latest retail design and 'phy-gital' innovations. Indeed our counters will be media to reach millions of passengers, who will see in airports the best expression of aspirational international beauty brands, and who will have access to best-in-class service thanks to our expert beauty advisors.
To answer the great appetite for beauty among Indian travellers, we will also keep rolling out additional brands to develop all P&C categories: fragrances, skincare, makeup and haircare.
Frank Dagher Hayeck (Dior): We are optimistic about the future of Dior in the Indian market. We are witnessing exceptional growth both in domestic and travel retail and we are confident that the travel retail channel will emerge as a the most dynamic distribution channel in India, thanks to the retail expertise of partners such as DDFS.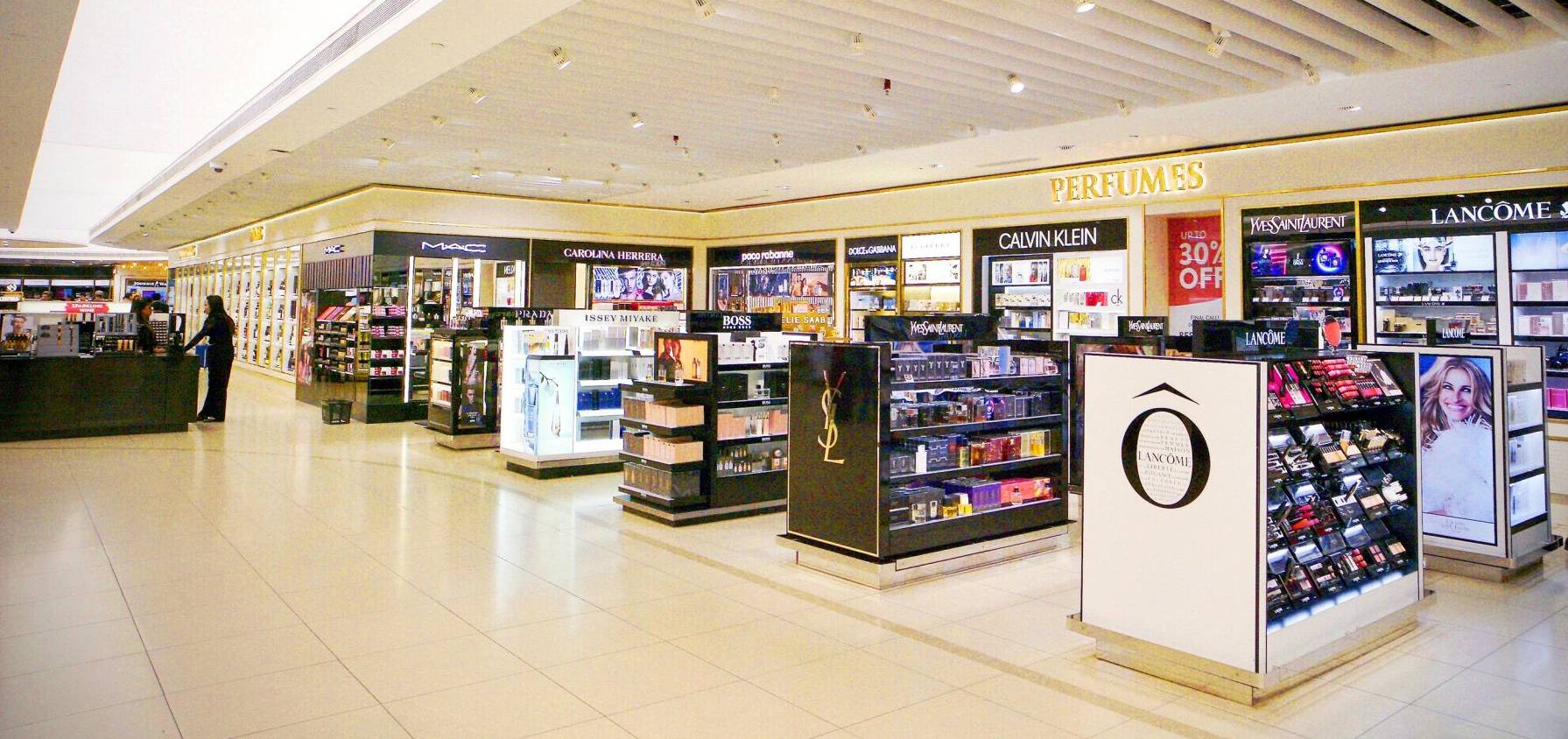 The arrivals store's beauty range represents a benchmark for the channel in the Indian sub-continent, say suppliers

Spotlight Series
September 2019