A key premise of this special publication is that airports should reflect the culture, crafts, heritage, history, tastes and traditions of their city, region or country. Many airports do that through thrilling exhibitions (temporary or permanent) of local artworks.
The Moodie Davitt e-Zine this year introduced a regular new column called Airports as Artports, which explores what surely rank as the world's most international art galleries. Here are some highlights. Compiled by Jason Holland.
Amsterdam Airport Schiphol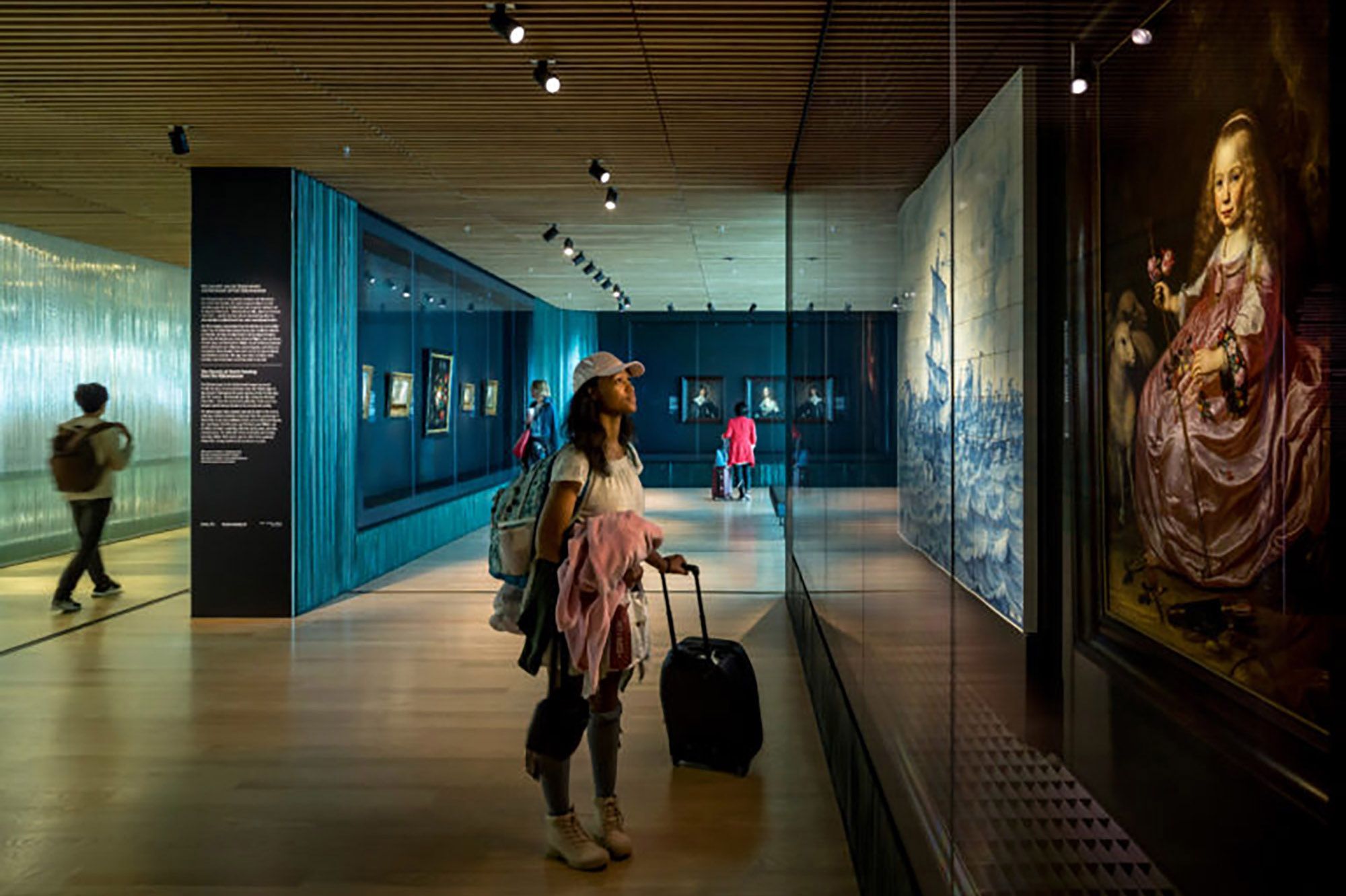 Amsterdam Airport Schiphol's renovated Holland Boulevard puts as much emphasis on art and culture as it does on shopping. The city's legendary Rijksmuseum has a branch there, introducing travellers to the "artistic glories" of the Dutch Golden Age. Ten paintings from the Rijksmuseum collection are on show, with landscapes, seascapes, portraits and floral still lifes by Dutch masters such as Jan van Goyen, Willem van de Velde the Younger, Abraham Mignon and Michiel van Mierevelt.
Brussels Airport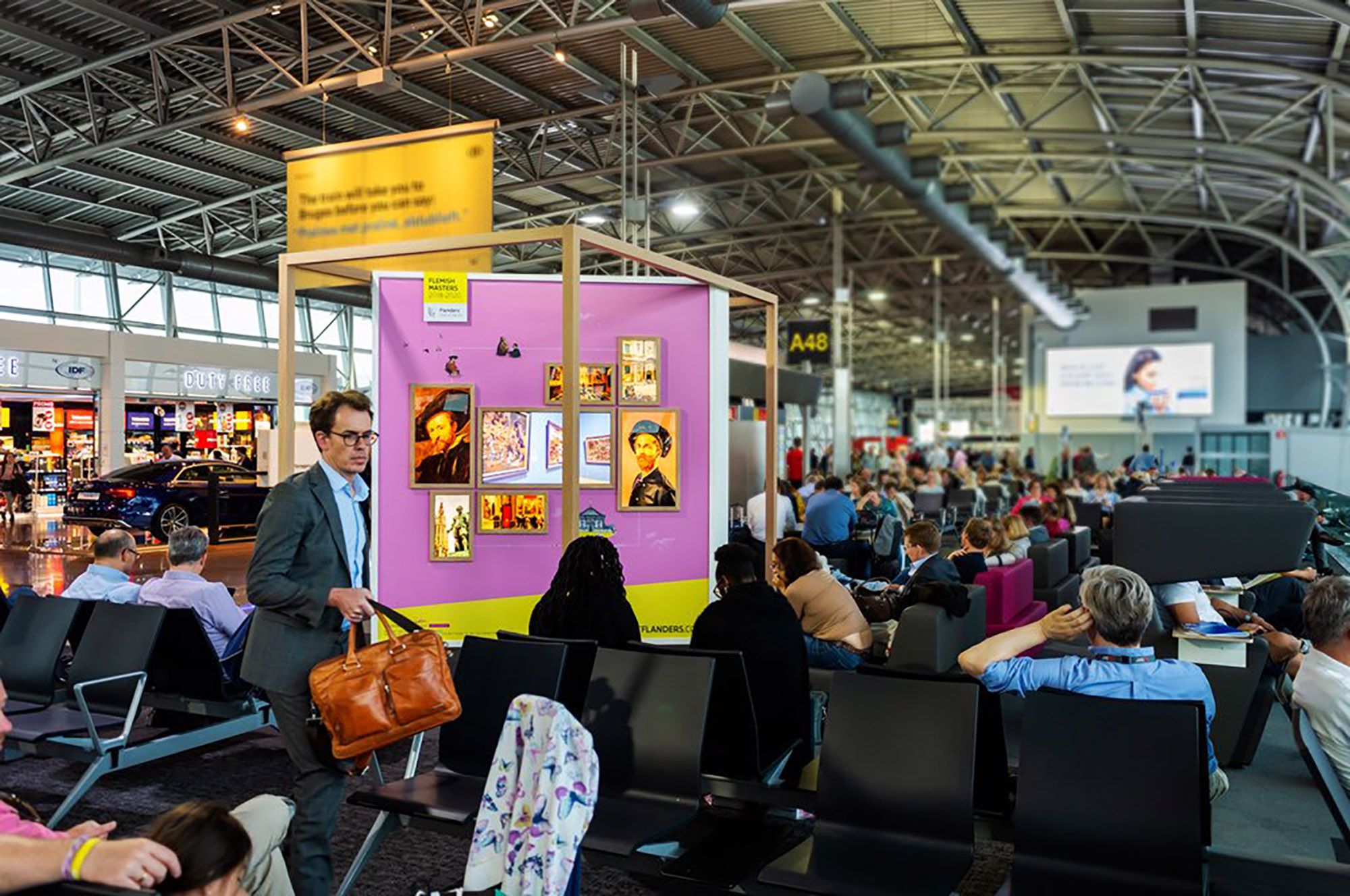 A new experience project at Brussels Airport showcases Flanders' tourist highlights. At various places in the airport's two piers, experience displays have been set up to explore key themes of the Flemish Masters, gastronomy and cycling.
Chicago O'Hare Airport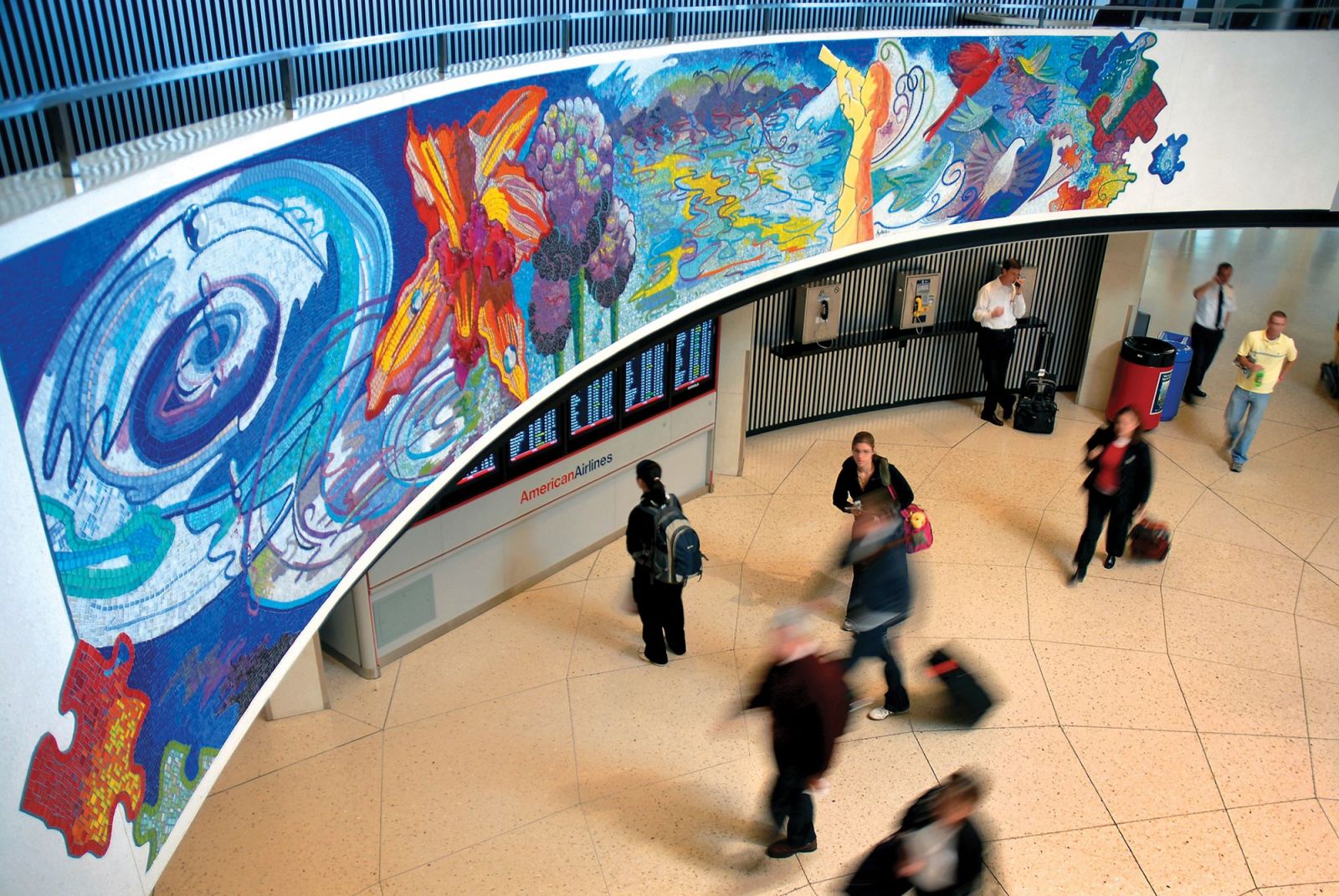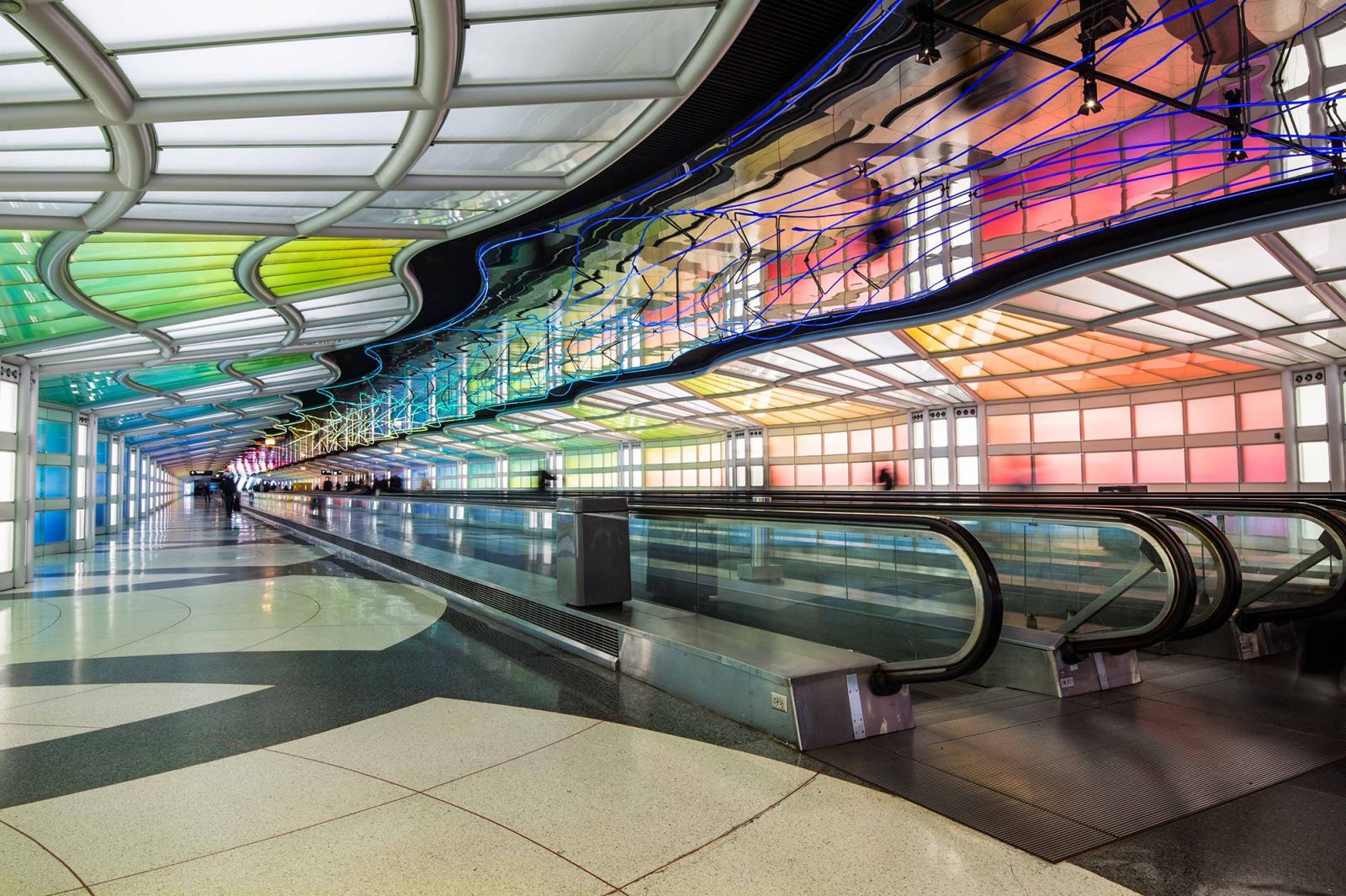 The City of Chicago's renowned Public Art Program is reflected in dozens of sculptures, paintings, murals and exhibits at O'Hare International Airport. Pictured top is On the Wings of Water, a 35,000-piece Venetian glass and tile mosaic showing how air travel and water link cultures across continents and between cities, towns, and rural areas. Also shown is The Sky's the Limit, a 745ft-long kinetic light sculpture composed of 466 neon tubes by Michael Hayden. It is located in the tunnel connecting Concourses B & C of Terminal 1, after the security checkpoints.
Delhi Indira Gandhi International Airport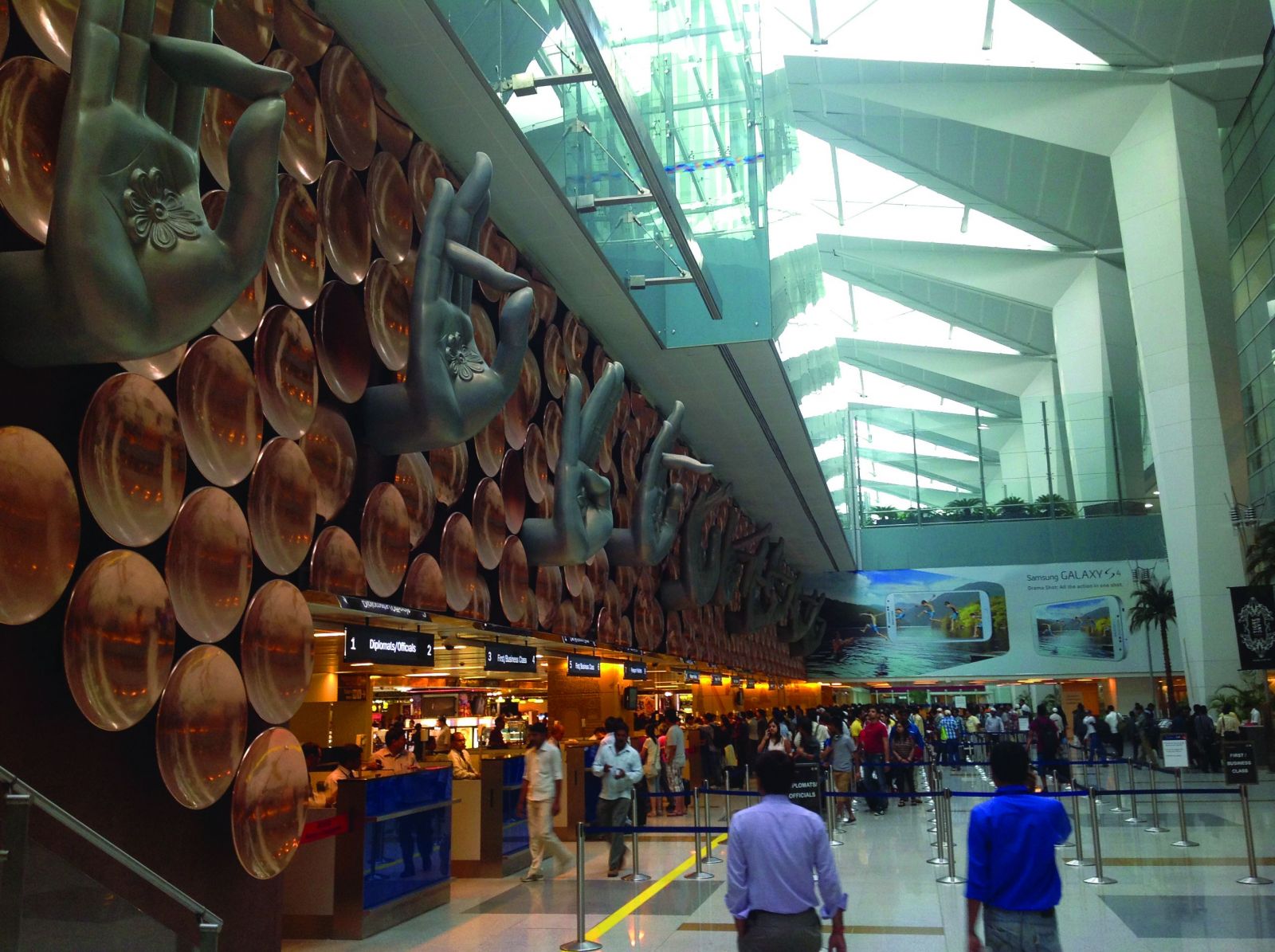 The welcome wall at Delhi Indira Gandhi International Airport's Terminal 3 is a beautifully choreographed showcase for India's art and values. The canyon wall display incorporates 675 discs mounted on a cast aluminium structure with a series of hands, each weighing 150kg. These perform a series of nine gestures that traditionally express emotions and aspirations, including themes of journeys, safety from harm, and the act of giving.
Dubai International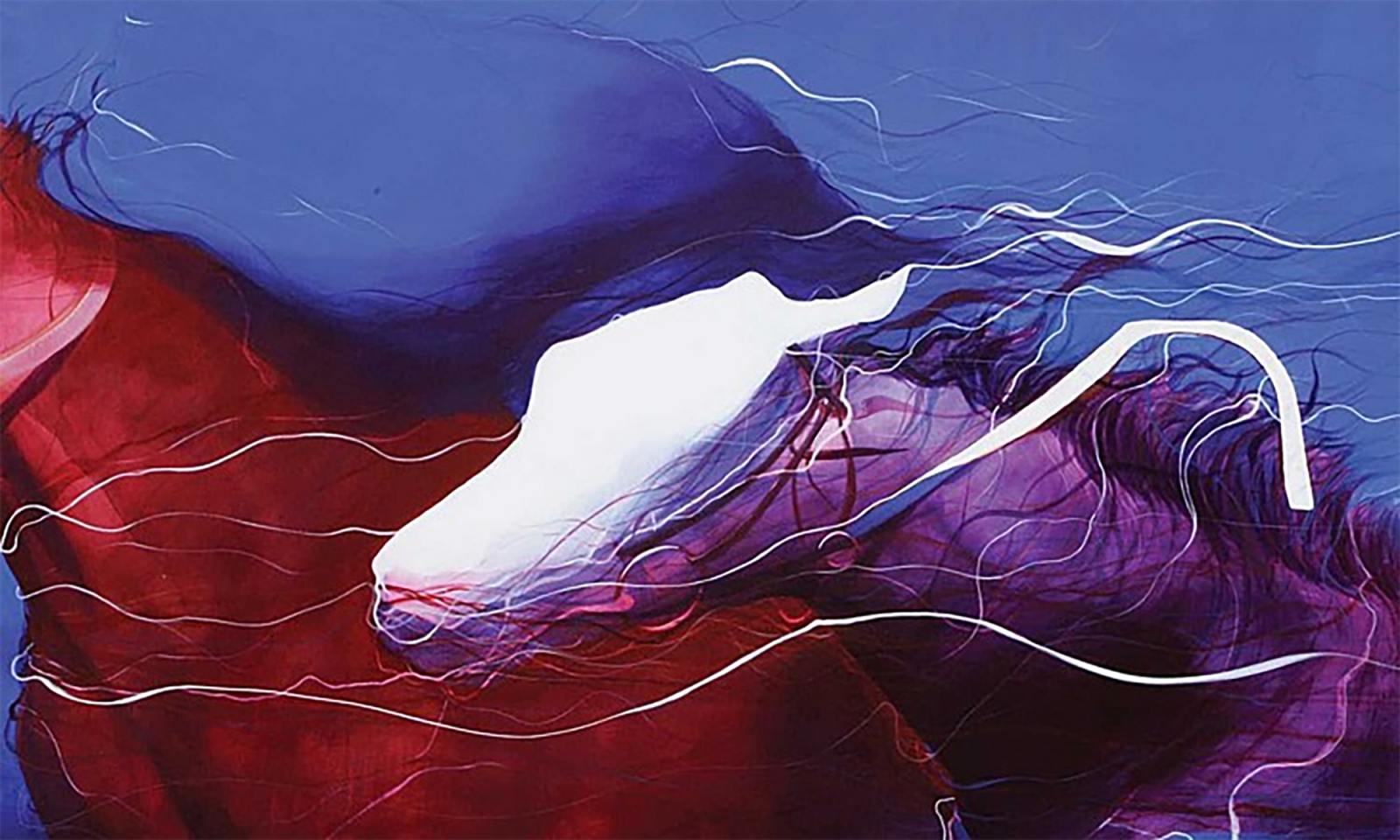 Dubai Airports' artDXB initiative began in 2017 with the aim of showcasing local and international art using Dubai International as a giant canvas. Pictured is Mattar Bin Lahej's Brilliance, part of an exhibition this year which showcased Emirati artists.
Dublin Airport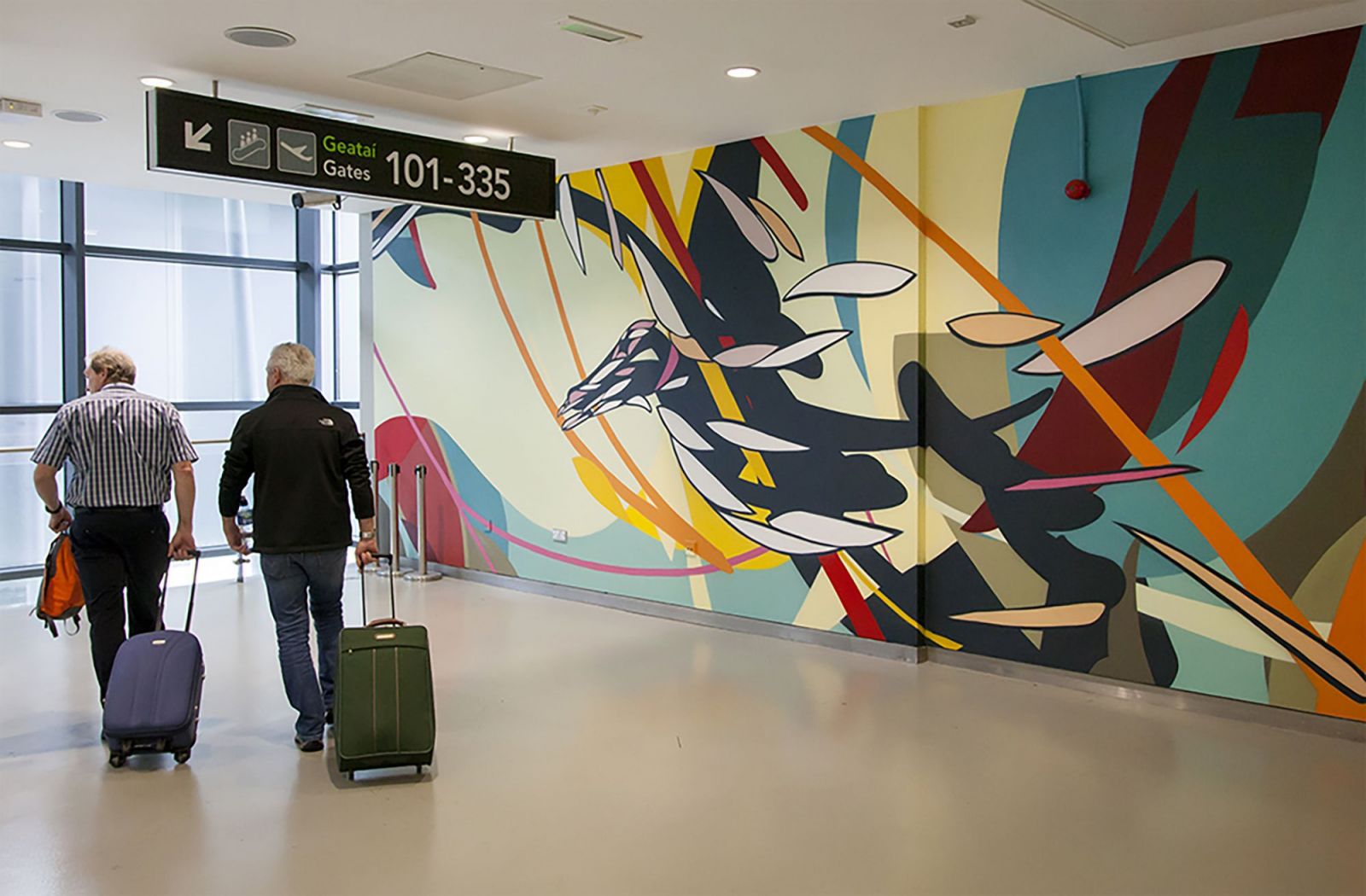 Dublin Airport's Sense of Place project aims to bring different facets of Ireland to passengers "even if they are connecting at Dublin and never leave the airport". In the seventh installation, renowned local artist James Earley created a mural entitled Light Years which symbolises the natural heritage of Ireland and the beauty of the country's landscape.
Frankfurt Airport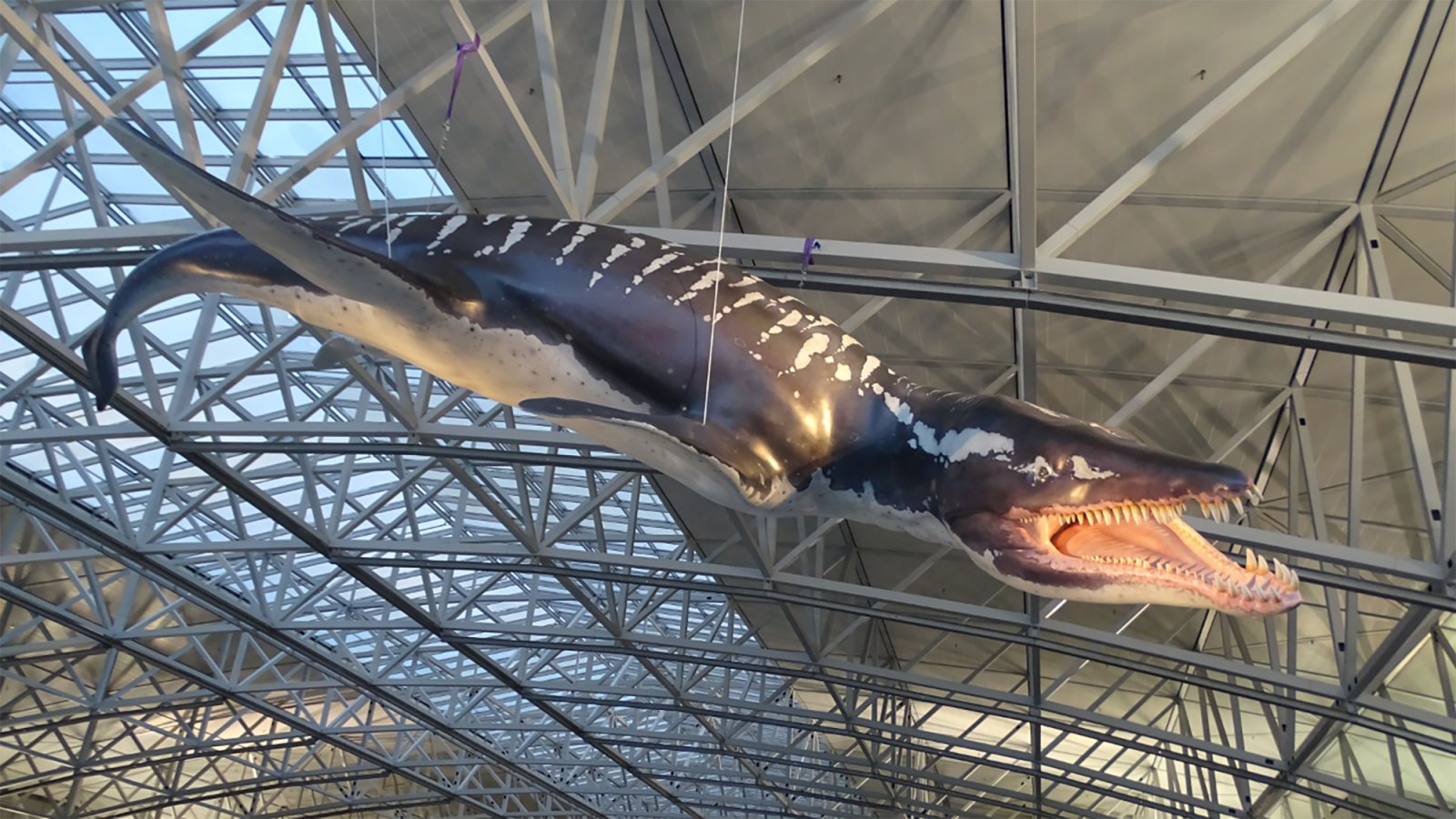 Frankfurt Airport's Evolution of Flight exhibition in Terminal 2 presents fascinating facts about flight in texts, pictures and videos underneath huge models of ancient flying reptiles.
Advertisement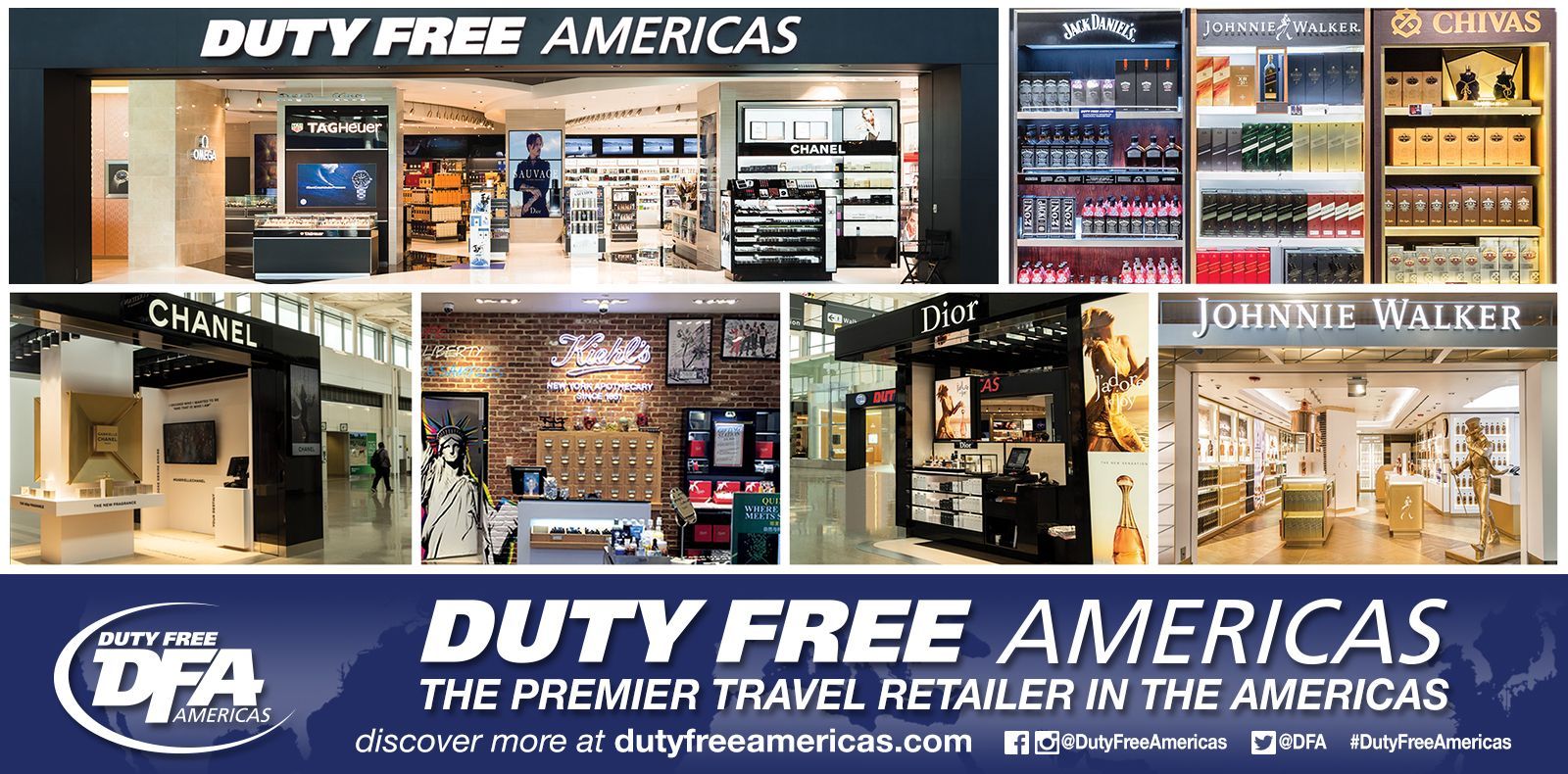 Hamad International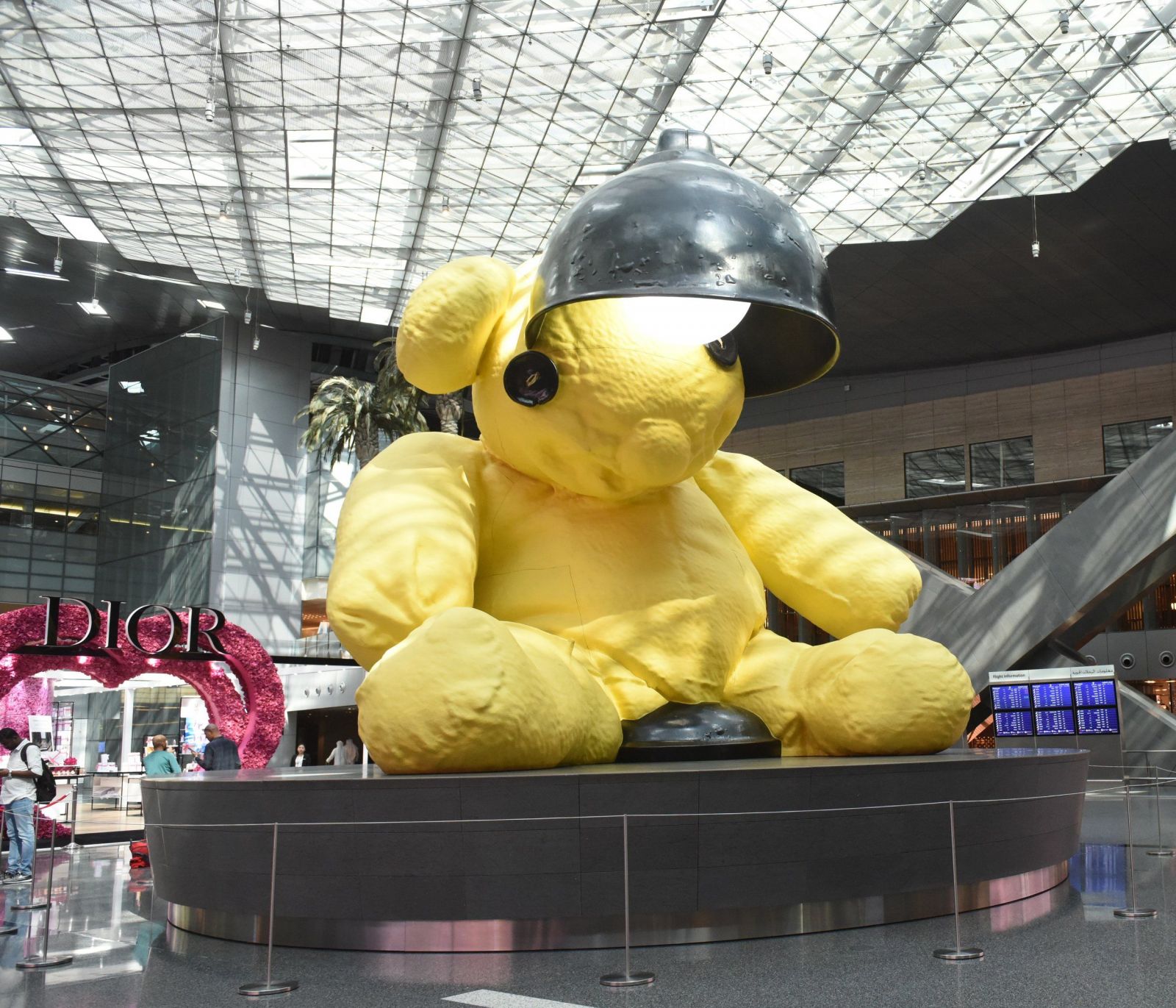 Doha's Hamad International Airport thinks big in terms of commitment to art – and also in the sheer scale of some of its featured works. The 23ft Lamp Bear sculpture by Swiss artist Urs Fischer takes centre stage in the grand foyer leading to the duty free hall. Like many famous works of art, it has its advocates and its critics. What everyone is agreed on, though, is that it has become a show-stopping feature of this amazing airport, generating hundreds of selfies, photos and social media posts each week.
A new installation this year, Small Lie (pictured below), eclipses even the giant teddy bear in size. American artist KAWS' sculpture "connects people across generations with contemporary art and opens up the world of popular culture to young and diverse audiences across the globe", according to the airport operator.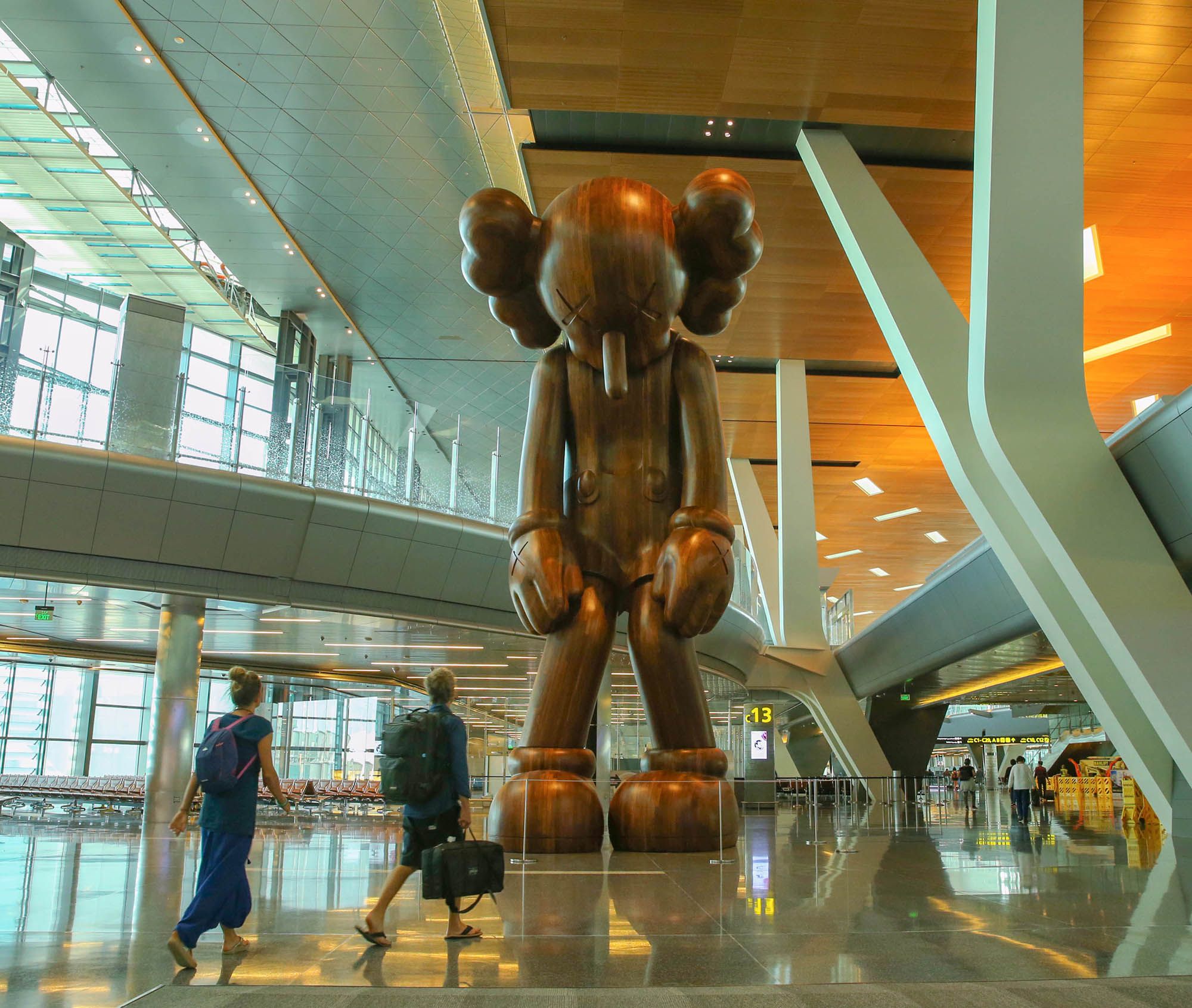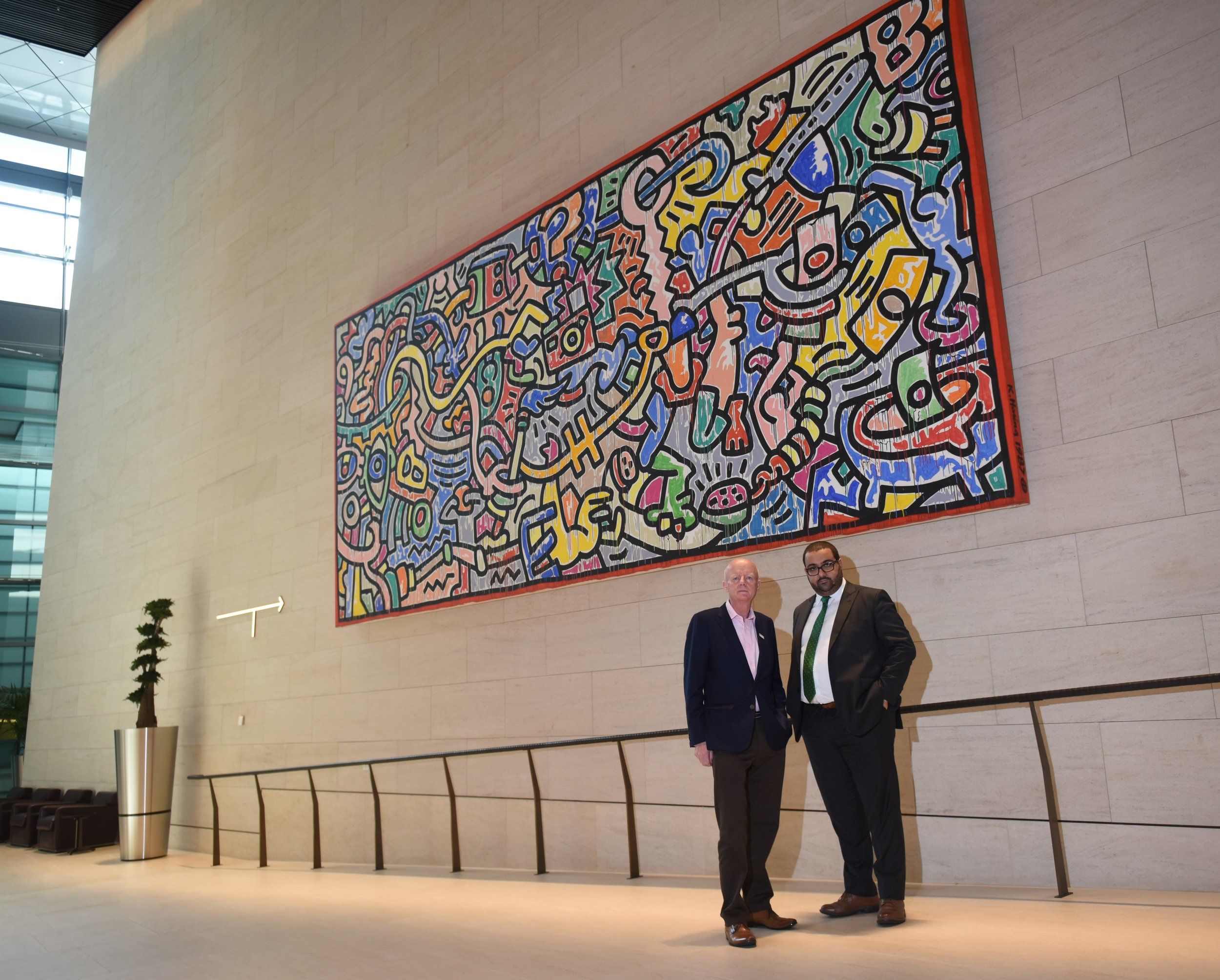 A sense of wonder: Martin Moodie (left) pictured with Qatar Duty Free Vice President Thabet Musleh at Hamad International Airport's magnificent Musleh Al Safwa First Lounge, which houses a world-class art collection.
Hartsfield–Jackson Atlanta International Airport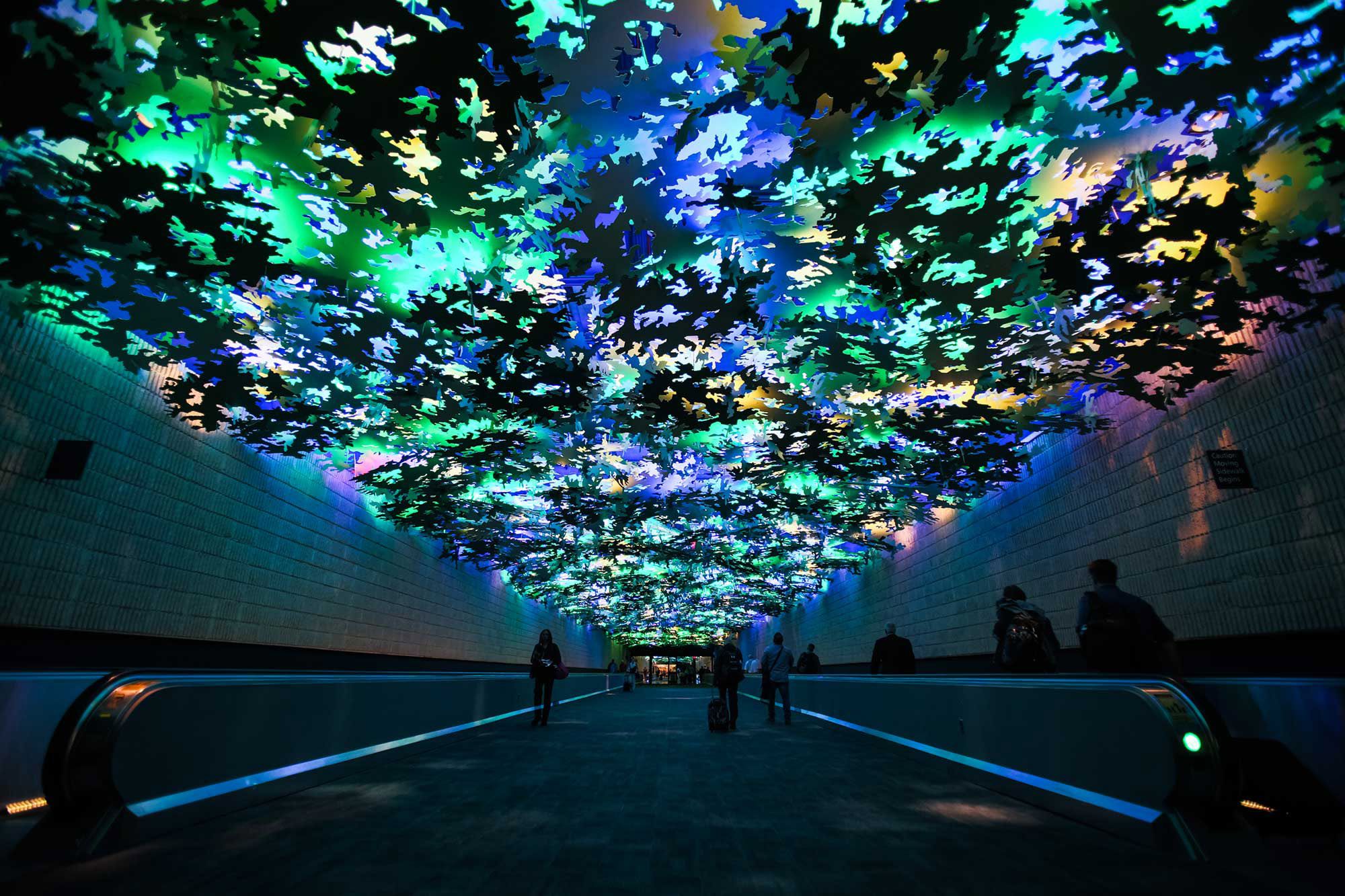 Hartsfield–Jackson Atlanta International Airport serves as the largest art exhibition in Atlanta, with a comprehensive programme dedicated to inspiring, de-stressing and entertaining travellers. Ten permanent exhibitions are complemented by rotating displays and a series of performing arts initiatives. One of the most impressive permanent exhibits is the multi-dimensional 450ft installation Flight Paths, by Steve Waldeck. Located in the transportation mall between concourses A and B, it simulates a Georgia forest through a stunning fusion of light, sound and video.
Heathrow Airport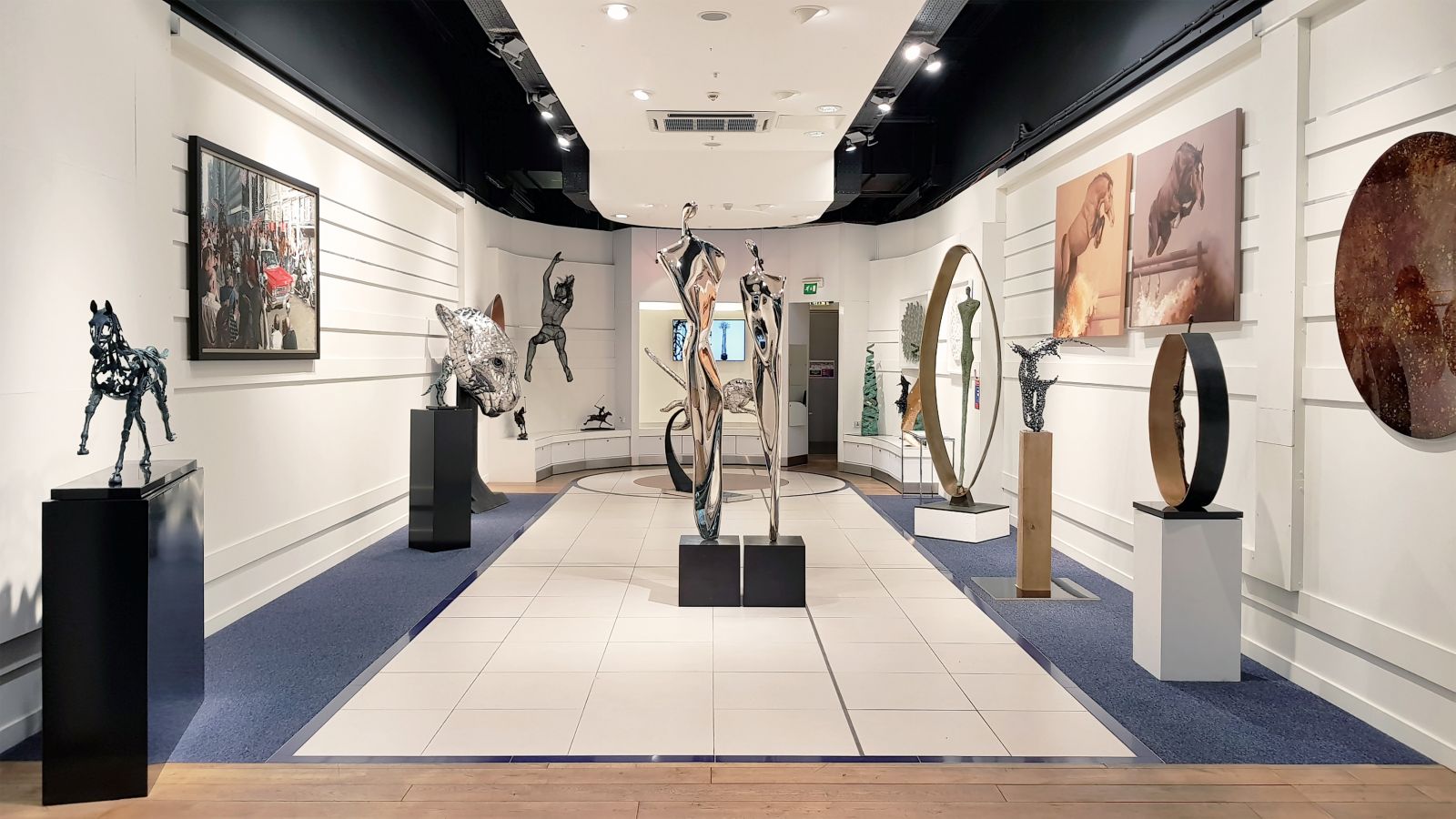 London Heathrow Airport has displayed many striking sculptures and other artworks over the years. Its wonderful landside T5 Gallery is one of the few permanent commercial fine art galleries in the world to be situated in an airport. Heathrow Airport says it aims to introduce art to a wide international audience.
Hong Kong International Airport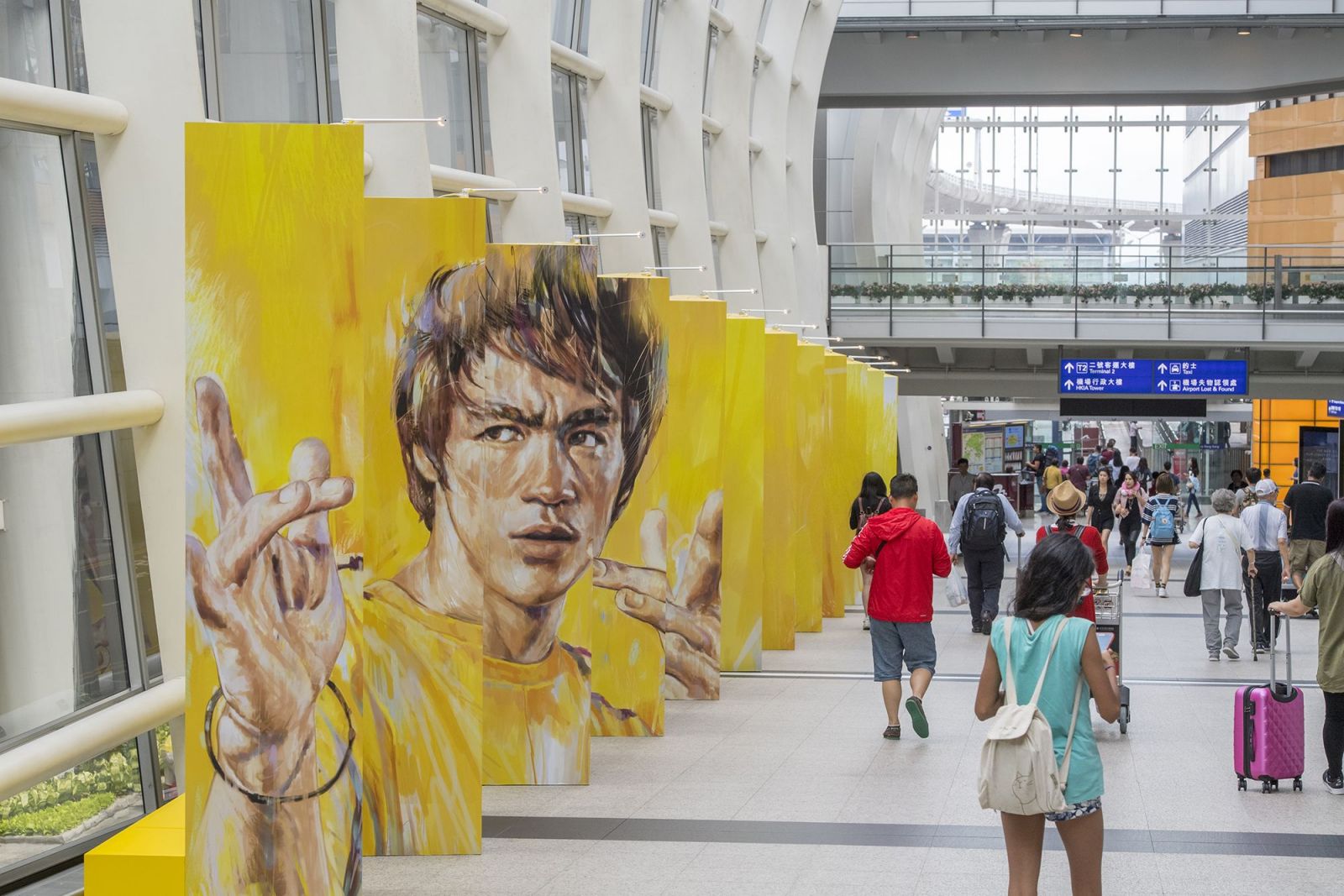 Travellers are invited to explore the essence of Hong Kong culture in an eclectic, constantly evolving variety of art and culture programmes and exhibitions at Hong Kong International Airport. Among the most memorable of recent times was this dazzling focus on one of Hong Kong's most famous sons, Bruce Lee. It featured original pieces by local artist Milton Wong, which captured Lee and his martial arts prowess in bold, vibrant colours.
Melbourne Airport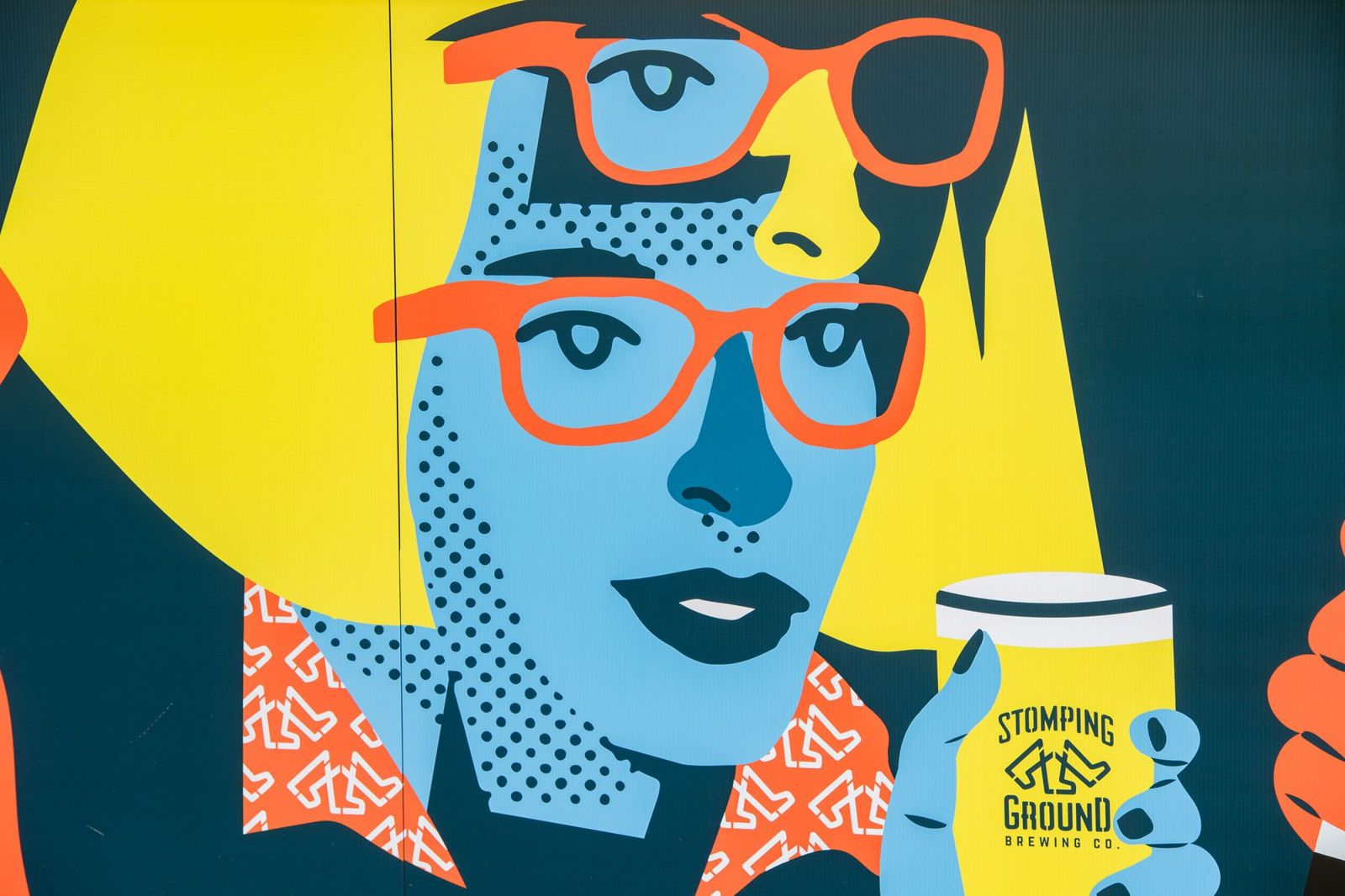 Melbourne street art is commonplace and forever changing. To help bring the look of the city to the airport, local illustrator and muralist Justine McAllister created artwork for 'Terminal 3 ½' – a giant pop-up beer garden in collaboration with Stomping Ground Brewing Co. that opened for the summer on otherwise vacant land between, you guessed it, T3 and T4.
Novosibirsk Tolmachevo Airport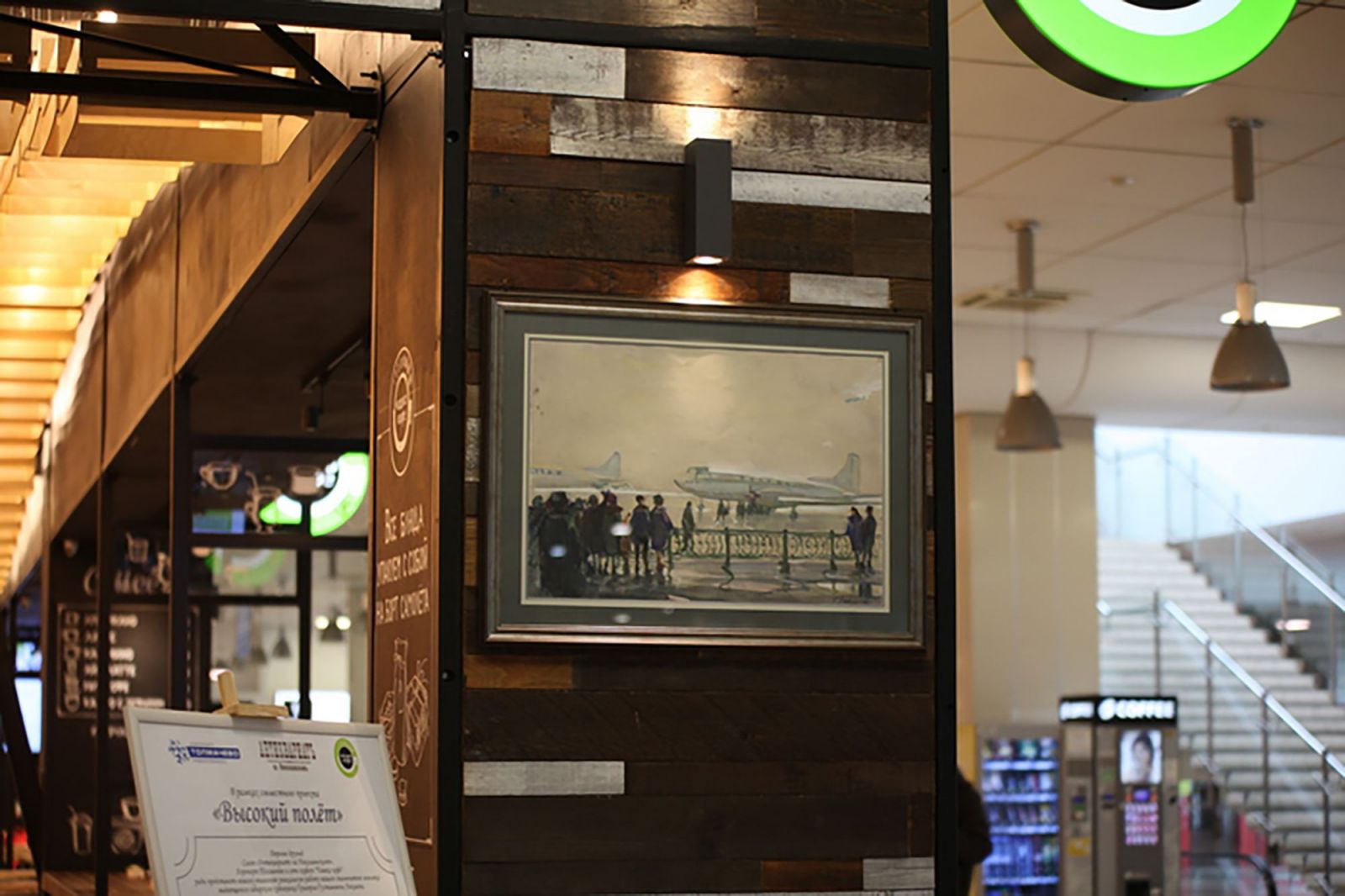 Novosibirsk Tolmachevo Airport pays tribute to local cultural heritage in its High Flight art project. The airport said it uncovered a hidden artistic gem earlier this year in classicist painter Grigory Gustavovich Likman's At the Airport, which was painted in 1966 and beautifully encapsulates a very different travel era. Likman was described as "one of the most paradoxical figures in the history of Siberian art". Novosibirsk Tolmachevo said the "image and the artistic world of Likman are amazing contrasts". He had "a huge, hidden layer of artistic heritage" and was a "bright, artistic person with a mysterious biography".
Oslo Airport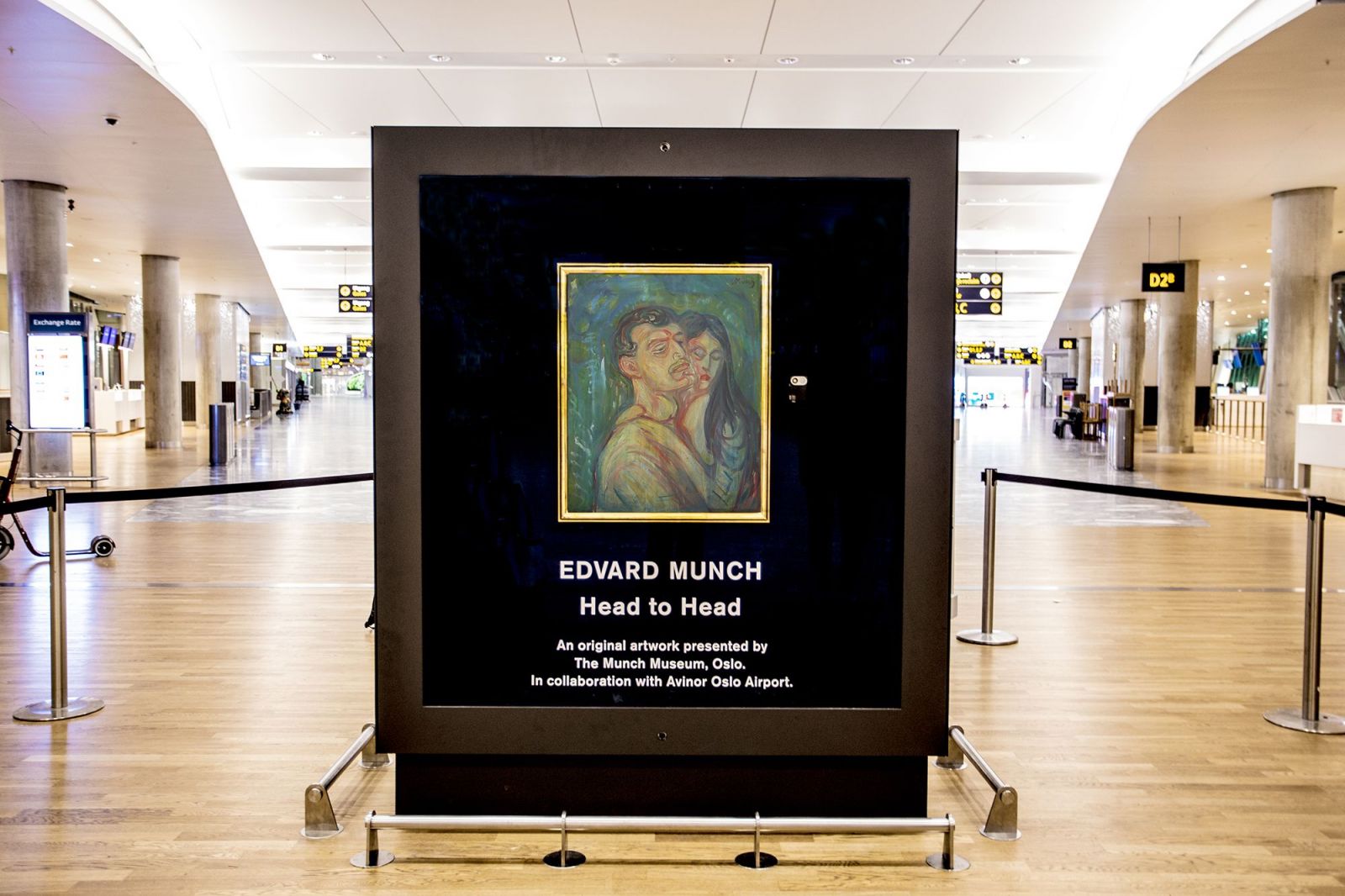 Oslo Airport is exhibiting original works from the Munch Museum as it showcases one of the Norway's most famous artists. It is the first time that any of the collection has been displayed outside the museum. The first painting to be presented, Head to Head, features Edvard Munch himself.
Paris Charles de Gaulle Airport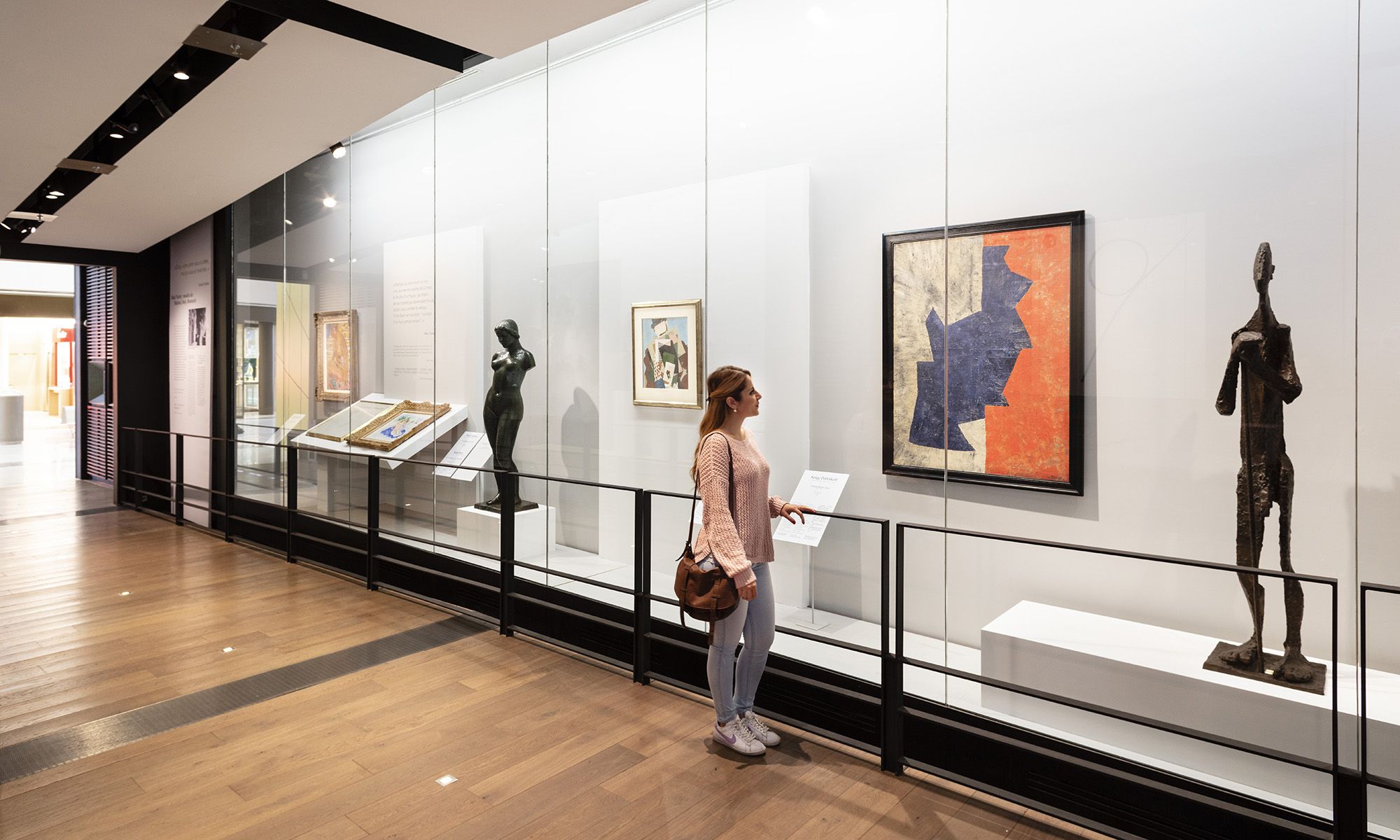 Paris Charles de Gaulle Airport collaborates with some of the city's great museums for exhibitions within the spectacular Espace Musées, a museum dedicated to art in Terminal 2E. Its latest exhibition celebrates the unusual life of one of the "main figures and witnesses" of 20th century art history – Dina Vierny.
Phoenix Sky Harbor International Airport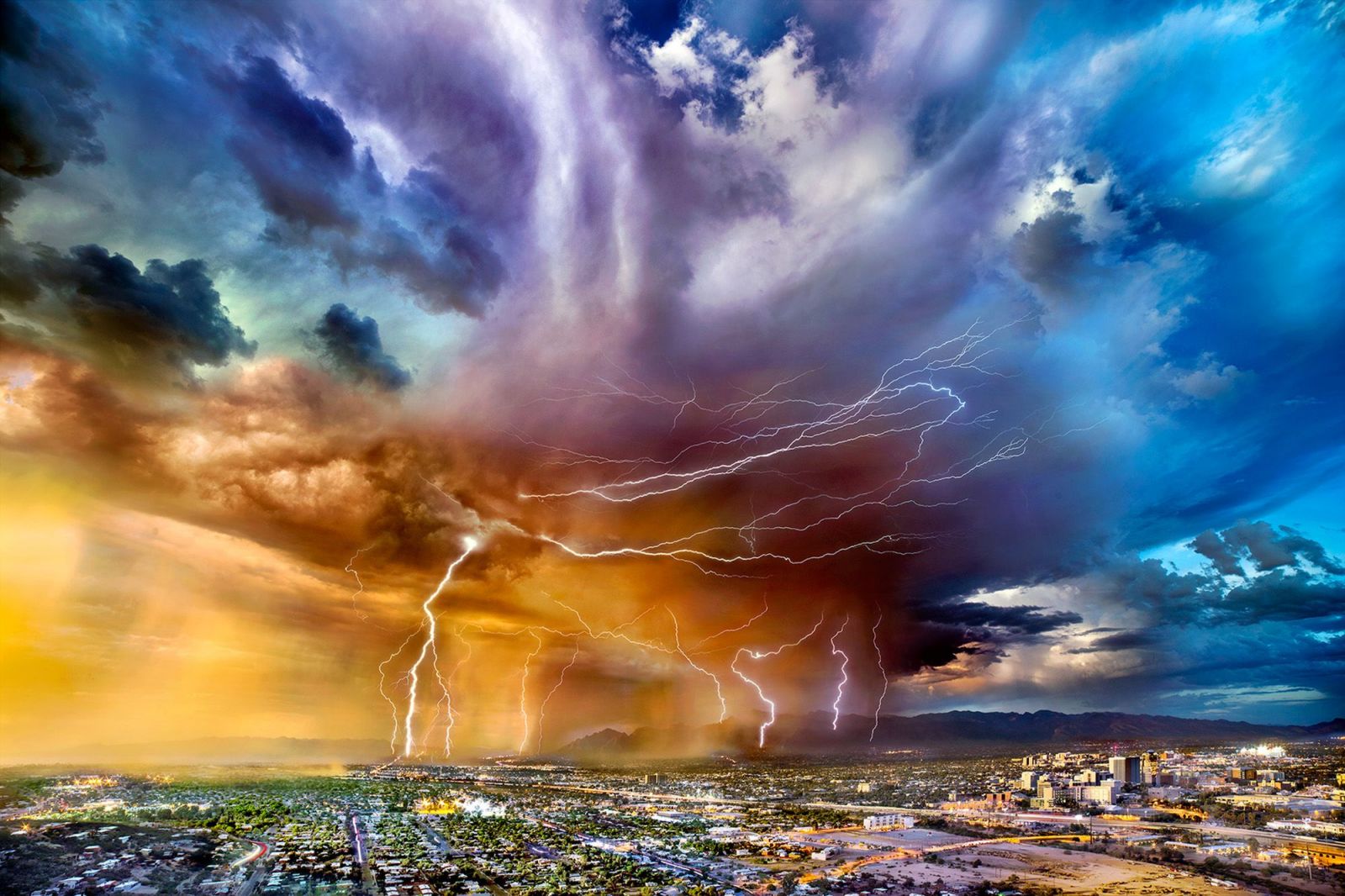 This may just rank as the most dramatic piece of art in any airport. Phoenix Sky Harbor's range of contemporary art aims to enhance the airport environment and create a sense of warmth and community. The collection serves to welcome visitors and acts as a point of pride for residents. It does so by presenting the cultural diversity of Arizona communities and individuals through a variety of artistic styles, materials and disciplines. A spectacular example is William Lesch's magnificent image of a lightstorm over Tucson.
Shannon Airport
Shannon Airport, where Dr. Brendan O'Regan developed the world's first duty free shop in 1947, unveiled a special "gift to passengers" this year, in the form of the world's largest private diecast model aircraft exhibition. Pictured are retired Limerick man Michael Kelly, who donated his collection to the airport, and Shannon Group Chairman Rose Hynes, at the opening of the exhibition.
Singapore Changi Airport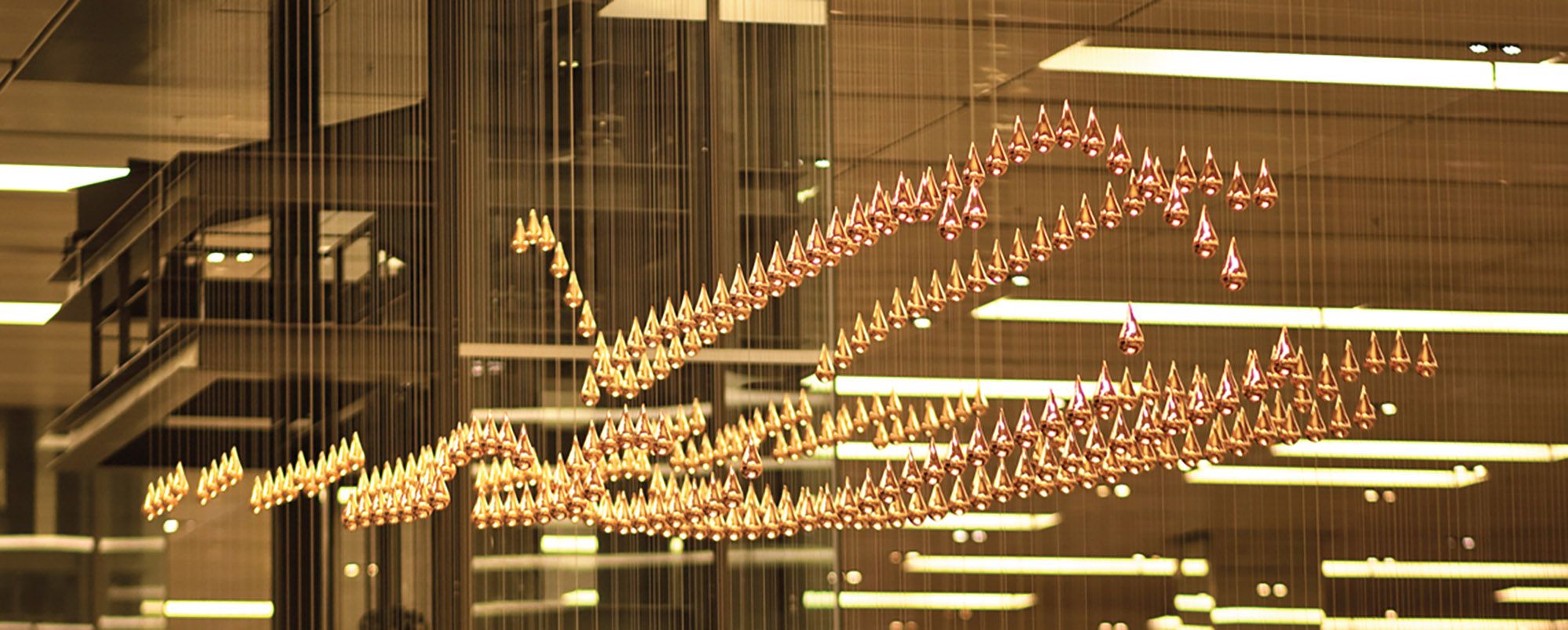 Changi Airport is regularly named as the world's best airport in awards ceremonies and popular votes, so it is no surprise it hosts a dazzling collection of art installations and displays. Perhaps the most recognisable are its two Kinetic Rain sculptures in Terminal 1. Made of 1,216 bronze droplets, the sculptures can form 16 different shapes ranging from abstract art forms to recognisable patterns including an aeroplane, a hot air balloon, a kite and a dragon.
Sydney Airport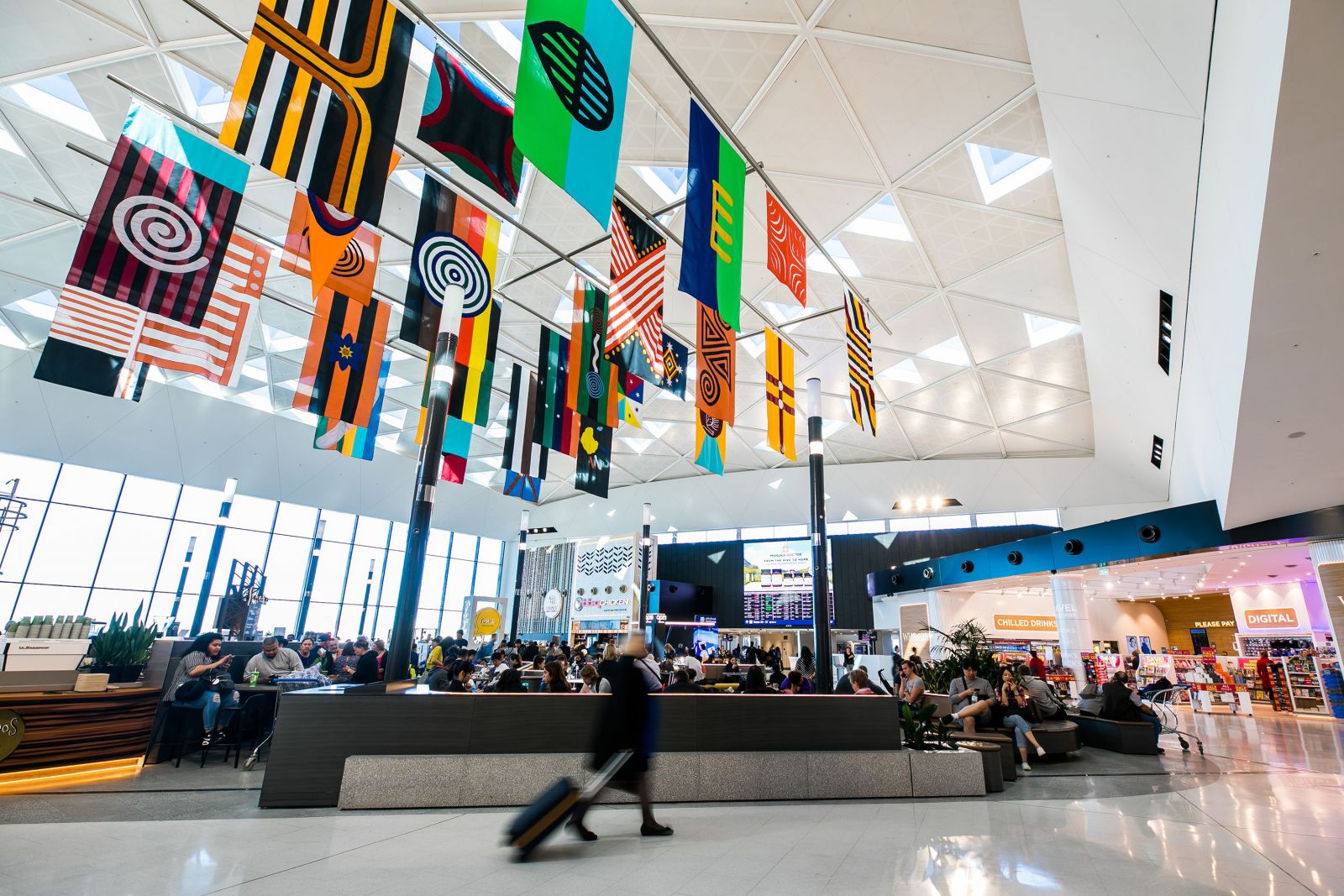 Sydney Airport is highlighting the diversity and richness of indigenous cultures in a striking work of contemporary art by Kamilaroi artist Archie Moore, titled United Neytions. From its location in Sydney Airport's T1 International Marketplace, the piece acts as a memorable farewell to travellers as they depart Australia.
Taoyuan International Airport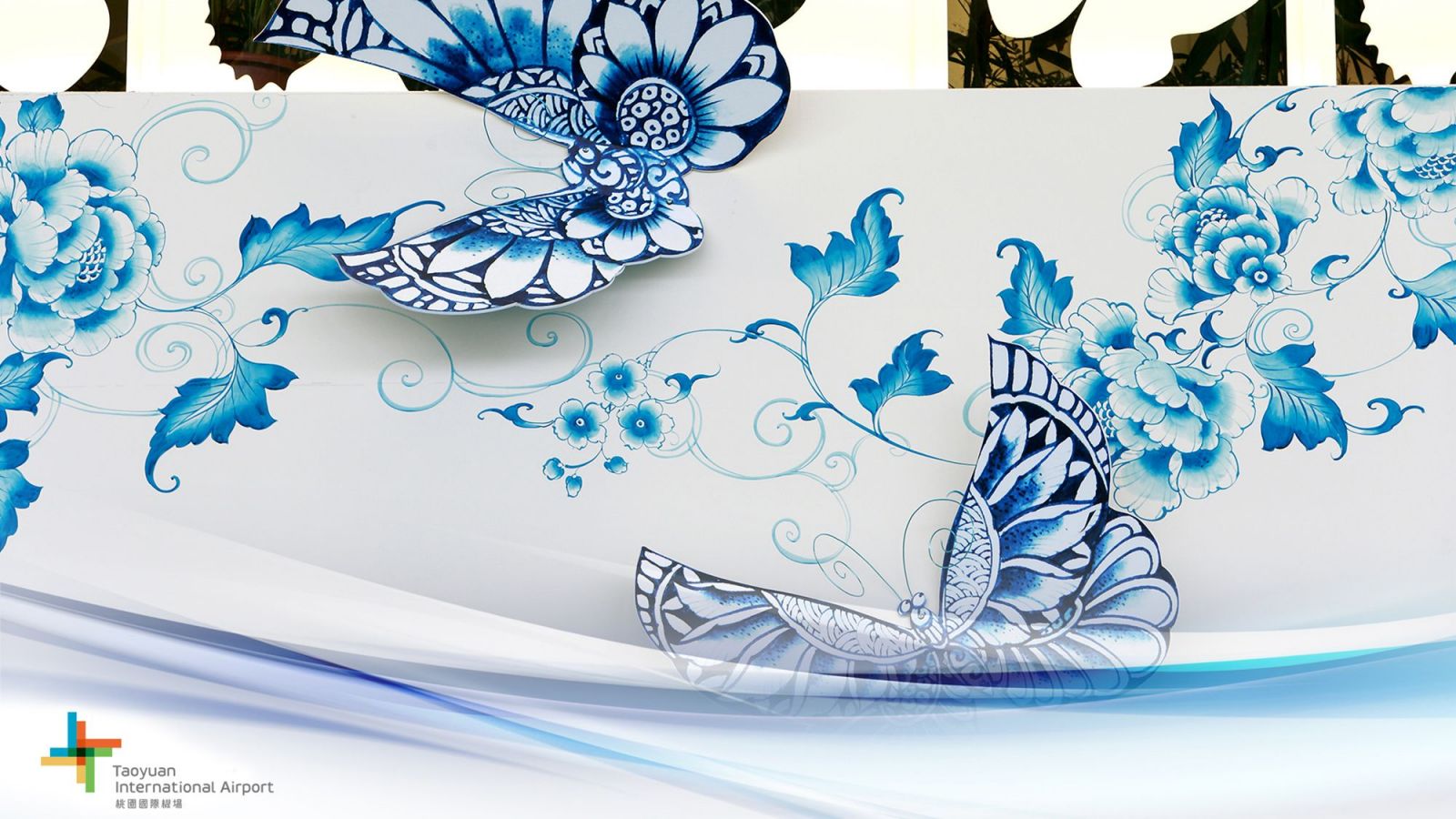 Taoyuan International affirms its local identity in a variety of ways; not least with an exhilarating airport-wide showcase of Taiwanese art, music and industry. This vibrant mural takes inspiration from butterflies used to decorate blue and white porcelain and is located in the A4 waiting lounge in Terminal 1. "Our spirits soar in the land of butterflies," says Taoyuan International Airport Corporation. So do ours.
Vancouver International Airport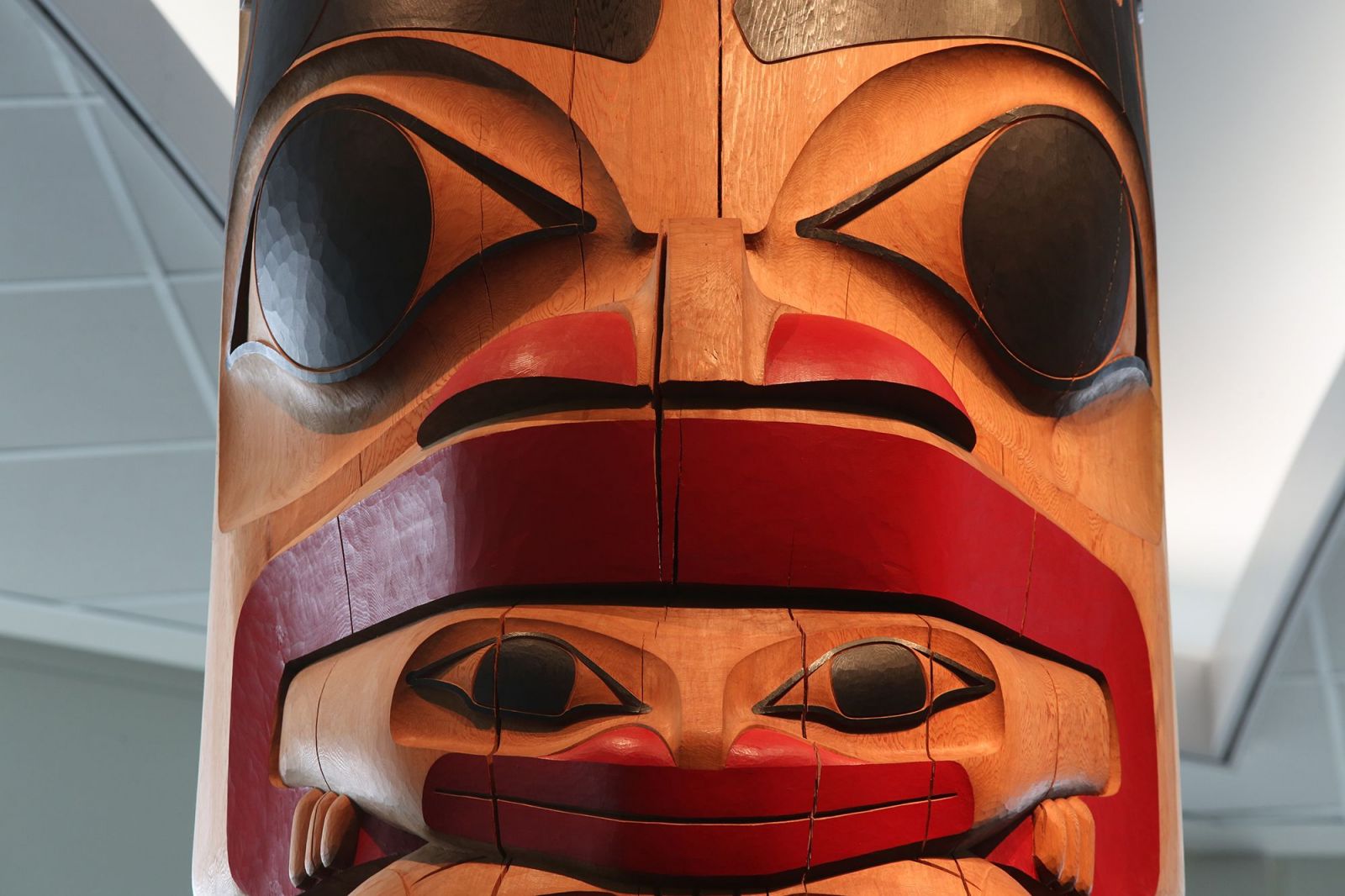 With its emphasis on indigenous culture, Vancouver International Airport offers one of the world's most outstanding expressions of the Sense of Place concept that is so intrinsic to this publication. The West Coast Canadian gateway houses the largest collection of Northwest Coast First Nations art anywhere on the planet, representing "the cultural heritage, natural beauty and iconic experiences that embody British Columbia", according to the airport. Raven Stealing the Beaver Lake, by Haida artist Reg Davidson, is a magnificent 24-foot carved cedar pole that illustrates an episode of Haida creation myth.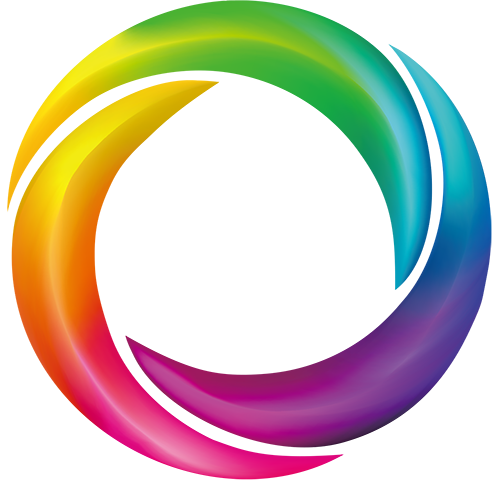 The Moodie Davitt e-Zine | Spotlight Series – Special Report | 17 December 2018