The Design Solution • Trend Watch
---
Tapping into athleisure


– a US$350 billion opportunity
In the latest of a series in partnership with leading design specialist The Design Solution, Director Robbie Gill sizes up the athleisure market and asks 'Is travel retail ready to run?'
It's been a long hot summer and sports fashion is everywhere. Take a look around you as you walk down the street. What are people – male, female, young and old – wearing?
No doubt you'll see that the athleisure category – spanning activewear such as T-shirts, tops, jogging pants, leggings and trainers (sneakers) – is booming. Look at any crowded airport terminal and you'll see that many travellers adopt athleisure as the ideal travel apparel.
Of course, not everyone is ideally shaped for athleisure but they love to wear it! Take a look at the figures; sports apparel and footwear sales have surged since 2009, with prospects for further growth of +30% to US$350 billion by 2020, according to Morgan Stanley, driven by the USA (already the world's largest activewear market) and China.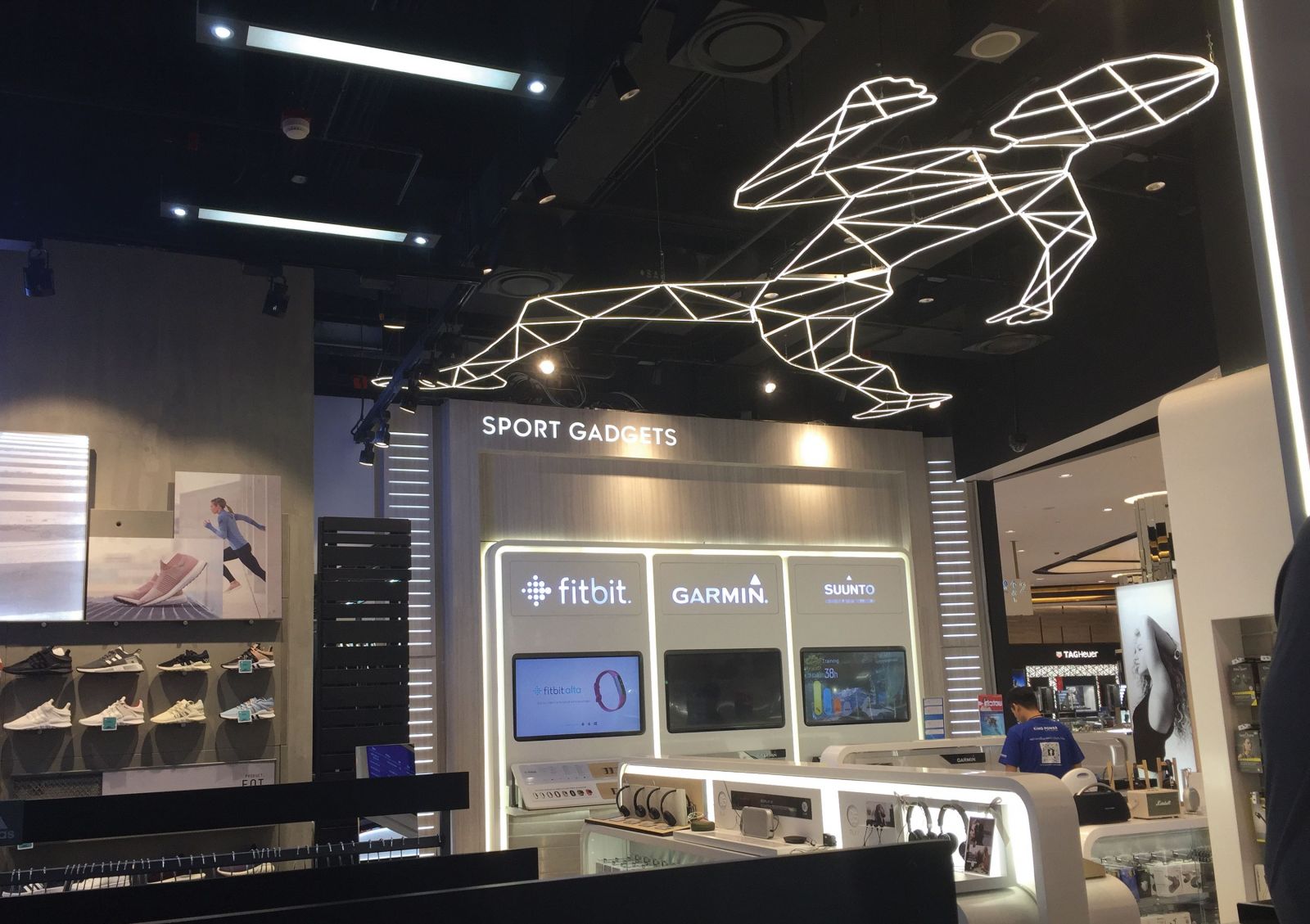 Casualisation and the fitness/wellbeing revolution are the key drivers behind this seismic shift and it's a sporting passion not only shared worldwide but also shared by many consumers with no interest in ever hitting the gym.
But how many airports and travel retail stores are catering to this trend? It's not going to go away any time soon – and it will appeal to many travellers. As a result of the activewear revolution and the trend for athleisure the trend reaches all passenger profiles, even the most traditionally fashion-hungry customers – young women – are prioritising comfort over fashion.
The athleisure category is certainly an emerging one for King Power International Group, particularly at the recently re-launched King Power Rangnam duty free complex in downtown Bangkok where the dedicated AthLeisure space provides a hugely strong category segment and shares the luxury vibe of the whole Rangnam complex.
Positioned on the same floor as the Luxury Watches zone and the Fragrance & Cosmetics Hall (2,500sq m) the Rangnam AthLeisure area has a dynamic, high-quality design with the category signposted by a huge digital mega-screen incorporated into the ceilings over the main customer walkway. The AthLeisure experience is complemented by a dedicated Leicester City Football Club zone, sharing King Power's passion for the club.
The success of its athleisure and sports focus at Rangnam has helped King Power to also create an innovative new approach to Leicester City FC's Foxes Fanstore at the club's home ground in the UK, the King Power Stadium. Designed by the team at The Design Solution the Fanstore opened in July, launching The Foxes' new 2018/19 Adidas kits.
Using King Power's extensive fashion experience, the Fanstore offers a surprising expansion on the traditional 'club shop' offer by radically broadening the product offer and placing a much stronger emphasis on the quality of the retail environment, sharing the passion of the club in an experiential space. Moving way beyond the traditional focus on replica shirts, the store's curated areas include not only sports and casualwear but also extend into more formal options, even including businesswear, and in-house designed contemporary fashion brand Fox & Crop as well as an exclusive large scale presentation of the KSBN label, sharing the club's links to renowned rock band and lifelong fans Kasabian.
Greater focus on women
While active apparel and performance sportswear have been firmly marketed towards Millennial males, the new wellness wardrobe is targeted at women, teenage girls and the over-40s – and all are big-spending profiles. A new survey of US males (aged 18+) found that the majority of American men now favour a uniform of casual sportswear worn for everyday. Now, attention turns to females as the biggest growth opportunity for sports brands.
Puma's sales to women have been boosted by its collaboration with singer Rihanna. The 'creeper' sneakers she helped create sold out and her Fenty x Puma apparel line was critically acclaimed. Nike is also targeting women to help it reach its goal of US$50 billion in sales by 2020, and Adidas has enjoyed a successful collaboration with British singer Rita Ora. Launches like these excite consumers worldwide and the opportunities for airports are immense, not least in the potential for travel-related collaborations.
The athleisure category is an emerging one for King Power, with a dedicated Leicester City Football Club zone at the King Power Rangnam duty free store in Bangkok.
Brands are leading the retail way in the domestic channel, including Canadian brand Lululemon, which offers a collection of activewear pieces designed to fulfil everyday needs without compromising on comfort or style. And Tory Burch's Tory Sport spans clothing, bags, shoes and accessories for specific activities, as well as items that can be worn before and after sports.
Retail store trends: Zen spaces
Emotional engagement is key to the in-store experience. At Lululemon, a seemingly simple but effective shift is used. Instead of categorising leggings by style or sport, its 'pants wall' is broken down by sensation: Relaxed, Hugged and Tight. Similarly, at Kit and Ace, a language based on feelings is built up around products to describe the sensation delivered – such as "feeling breezy" and "cooling silk".
The London flagship of department store Selfridges' Body Studio embraces fitness, fashion and wellbeing by combining retail and gym classes. The decor, with a natural colour palette and wood and stone flooring, was designed by Chinese agency Neri & Hu. Similarly, Hong-Kong based athleisure brand Caelum Greene's boutique boasts traditional wooden flooring and urban-looking white brick walls. A vertical indoor garden and outdoor courtyard 'oasis' aim to establish a sense of peace.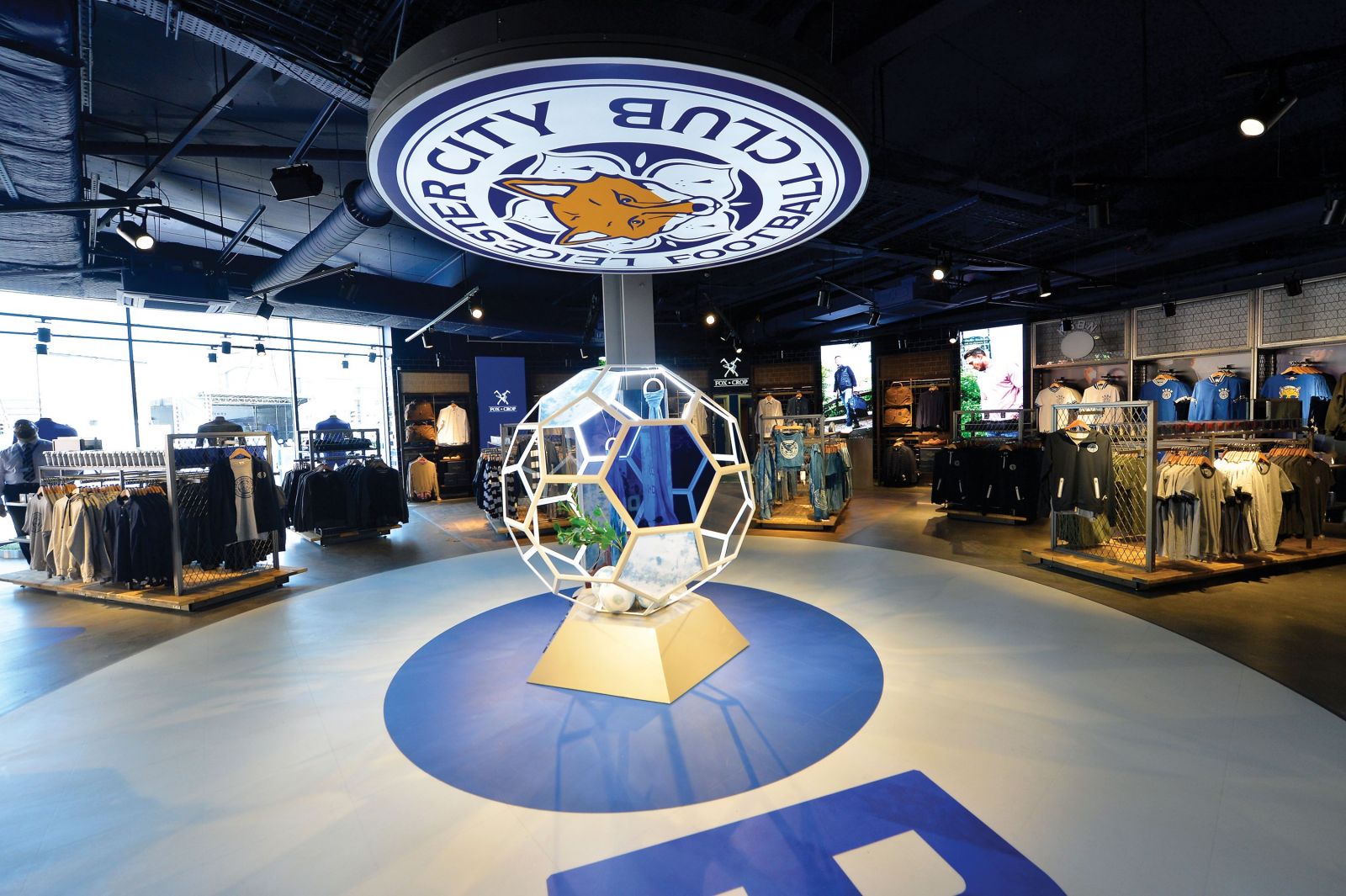 Leicester City Football Club's new Fanstore opened in July, where The Foxes' new 2018/19 Adidas home and away kits are on sale.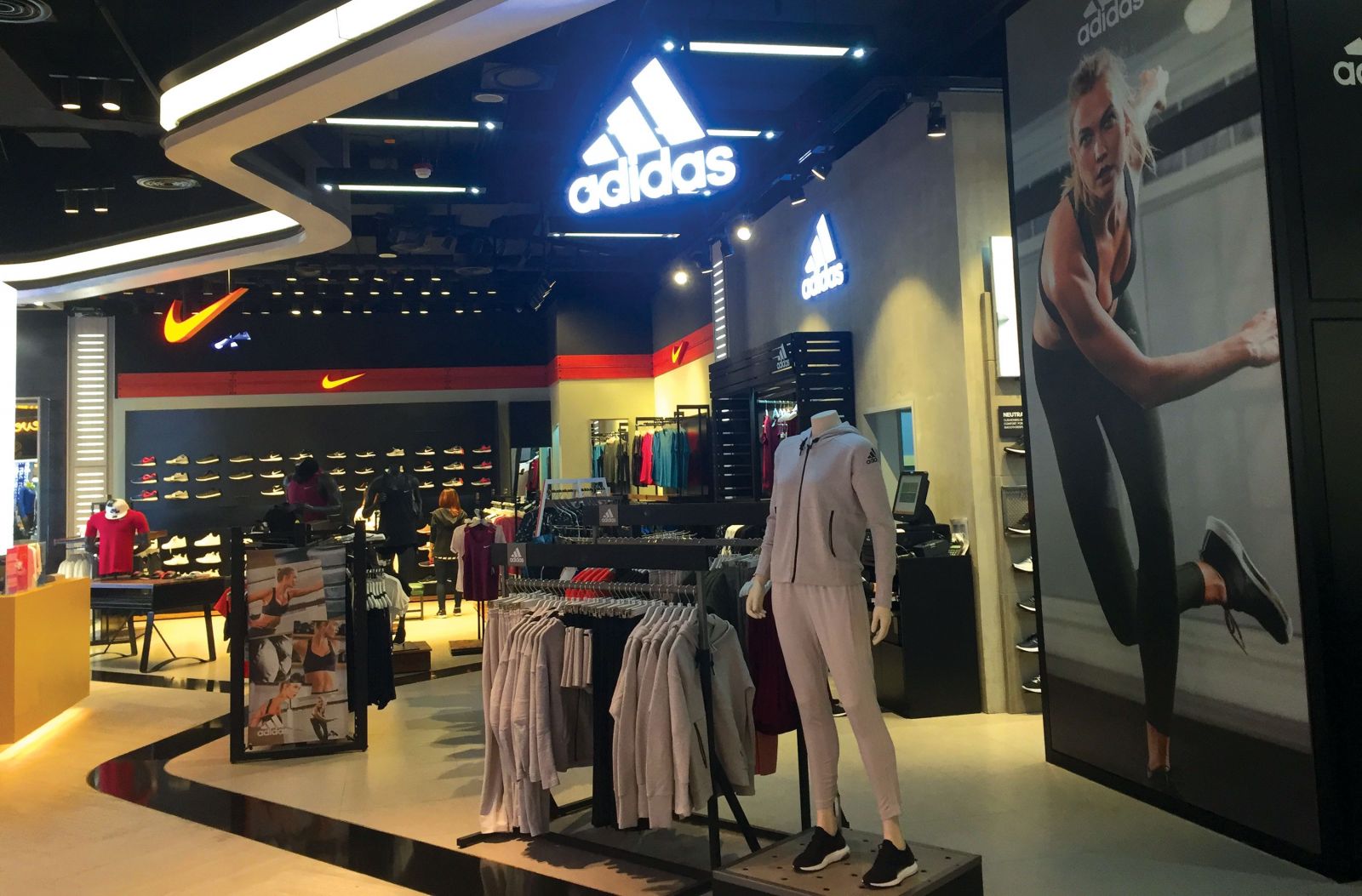 A tactic for travel retail: New athleisure concepts and experiential zones can enhance travel shopping environments.
Nike's gym/showroom/store hybrid in Beijing features neon lighting and reflective surfaces as well as on-site workout zones – gyms are becoming more common at airports so there is surely a great opportunity to develop collaborations between brands, stores and the gym.
American brand Tory Sport's New York flagship presents each category (tennis, running, golf, studio and swim) in retro sports-inspired rooms. White lines on a blue wall present the backdrop for tennis, while the gym/studio range features wooden perimeter walls with erratic holes bearing protruding metal rods for hanging garments. The golf section resembles an American country club, with a fireplace and wooden sofas.
Sophisticated skatewear
New York-based skate brand Supreme, which recently collaborated with Louis Vuitton, utilises art-based concepts. Its light-flooded gallery/store in Paris incorporates industrial-looking clothes racks in a whitewashed space. The London store is just across the street from The Design Solution's new Soho studio and we have a great view of the unique street queuing system for every Thursday's drop where hundreds of fans line up to grab the latest limited editions.
US men's and women's activewear brand Champion's debut freestanding store in Los Angeles has a warehouse feel, with raw brick walls and industrial chests of draws converted into display cases.
US brand Kith has also opened a store in Los Angeles incorporating 200 Nike Air Jordan sneaker replicas suspended from the ceiling, plus a cereal bar and clothing for men, women and children.
High-tech concept store
Swiss sporting goods retailer Intersport has partnered with Chinese e-commerce giant Alibaba's Tmall on a co-branded concept store in Beijing with online and offline shopping experiences.
Innovations include a Smart Shoe Shelf, which instantly shares product information on a screen as shoppers pull a shoe from the shelf, and an AI (artificial intelligence) Shopping Assistant interactive mirror that provides wardrobe tips and recommendations.
By scanning the QR code of a product on their phones, customers can place the products in their virtual shopping bag, so they can buy the item online after they leave the store.
As traditional apparel categories continue to grow slowly and the idea of fast fashion becomes less sustainable, a uniform built around activewear-influenced key items will become a modern wardrobe solution. The winners in this evolved, comfort-focused fashion environment will be those brands and retailers that are bold enough to adapt to adopt strategies for change.
Of course, domestic channel operators are already heavily into the sports and athleisure game but the travel retail opportunity is potentially huge. Just look at the queues at the JD Sports store at London Gatwick North Terminal, where passengers jostle to try on the latest trainers from the mega brands! But why not go a step further and give those new trainers a proper workout? Gyms and activity spaces are becoming more common at airports – not only at major hubs such as such as Singapore but also at ambitious smaller airports such as Tallinn – and so there is surely a great opportunity to develop collaborations between brands, stores and the gym spaces.
Travel retail must look and learn from the domestic channel, which is way ahead in the athleisure field. The approaches used by a handful of travel retail innovators, such as King Power at Rangnam and its Foxes Fanstore, demonstrate that consumers' ever-growing love of athleisure and sportswear and the global passion of sports fans offer major opportunities.
These can be harnessed by airports and retailers in creating new concepts and multi-brand experiential stores, offering travel retail an exciting new tactic in the retail game.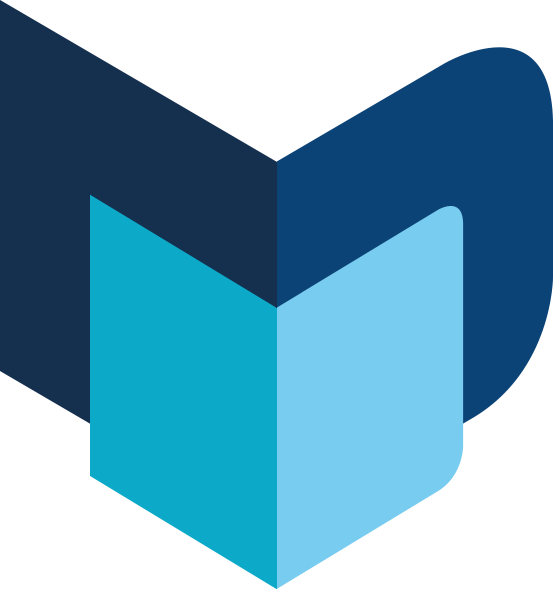 ---
The Moodie Davitt Report • The Online Magazine • September 2018