Wines & Spirits • Dublin Airport
---
A new showcase


for spirits in Dublin
The Loop store at Dublin T2 sets a new benchmark for wines & spirits retailing within the Aer Rianta International network. Dermot Davitt was on location for the official opening in August and reports on the major highlights of this vibrant and varied environment.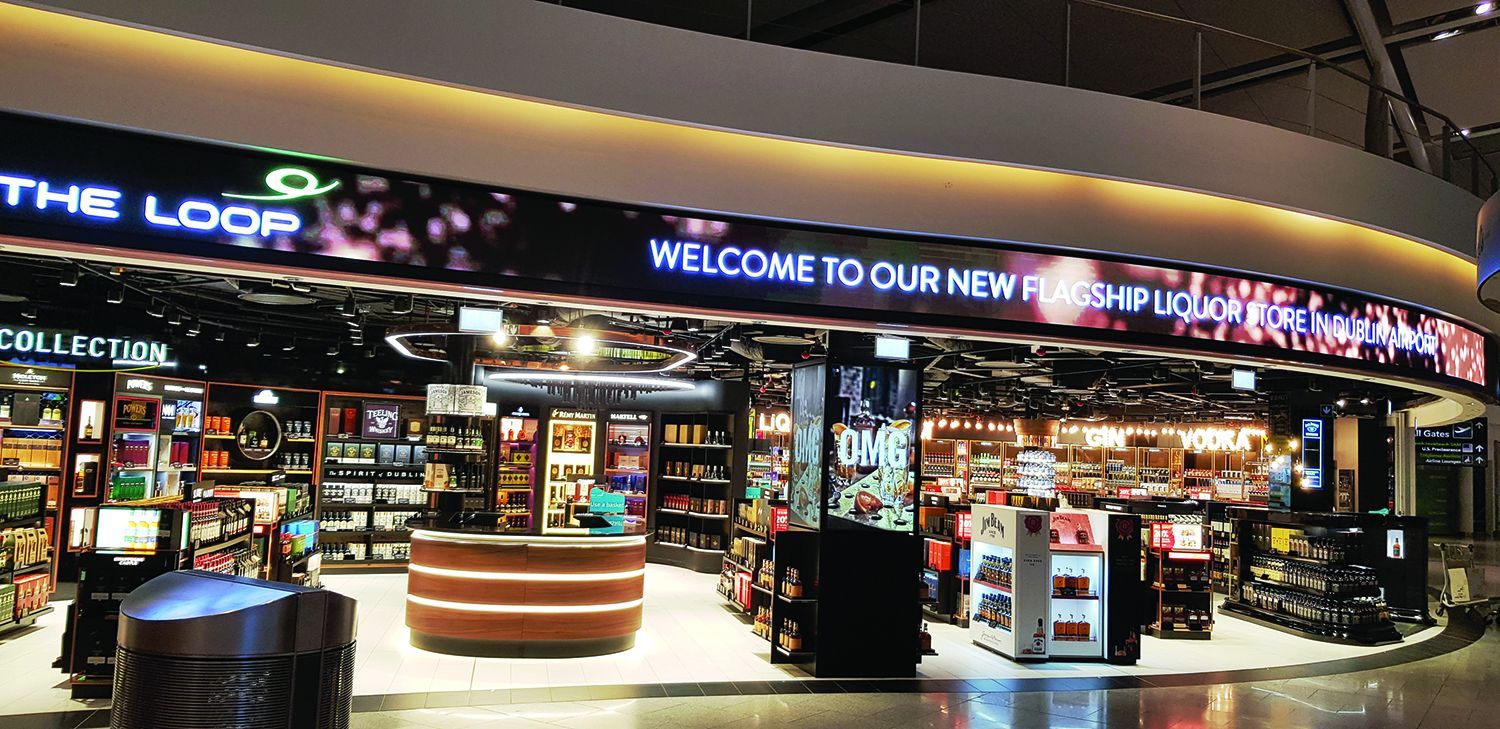 Aer Rianta International (ARI) last month revealed a striking new look for its wines & spirits business under The Loop brand at Dublin Airport Terminal 2.
The space for wines & spirits in T2 has been increased by +68% to well over 400sq m in the stand-alone outlet. Highlights of the store, designed by London-based The Design Solution, include an evolution of ARI's signature The Irish Whiskey Collection concept; much-improved ranges in international whiskies, notably Scotch and American; a special focus on Cognac and Armagnac via a dedicated luxury area; enhanced space for liqueurs led by Irish cream liqueur brands such as Baileys and Coole Swan; a stunning range of gins and vodkas each in their own space, with a striking personalised gondola for Drumshanbo Gunpowder gin at the heart of the zone.
With the additional space available, the number of SKUs across the store has increased by around 160, 80 in spirits (including around 30 gins) and 80 new wine brands. Among the new lines are Campari, Chabot, Dead Rabbit Distillery, Penfolds and Beringer.
Digital innovation is embedded throughout the store with digital screens and promotion areas delivering an interactive customer experience.
The Irish Whiskey Collection represents the core of the business and – in a departure from the generic concept in other locations and previously in T2 – it features semi-personalised fixtures for the key brands, under The Irish Whiskey Collection umbrella brand. Once the walk-through passenger flow is introduced from October, this will be the
first spirits zone travellers will encounter as they emerge from the P&C department. Exclusives to this store include Jameson Double Charred, Teelings Collinstown 12yo, Knappogue Castle 21yo and others from partners such as Walsh Whiskey.
Signature store: The Irish Whiskey Collection concept evolves at Dublin T2, with more brand personalisation than before.
ARI Ireland General Manager Martin Carpenter said: "Delivering the best customer experience and a true Sense of Place has been the key objective of the T2 refurbishment project and this first phase with the opening of the new liquor store clearly delivers this. We are proud of this addition to our store and looking forward to the next phase with the opening of our exciting new beauty offering."
He added later: "If you take The Irish Whiskey Collection and its different wall bays, it brings to life the character of the brands. On top of that we have 20 new gin and whisky ambassadors who are true experts, and they bring the stories behind the brands to life. That takes our Sense of Place to a new level. We have a lot more interactivity here than we have featured before, which is the direction in which retail is going. It gives the customer the sense that we are offering stories here and not only selling product."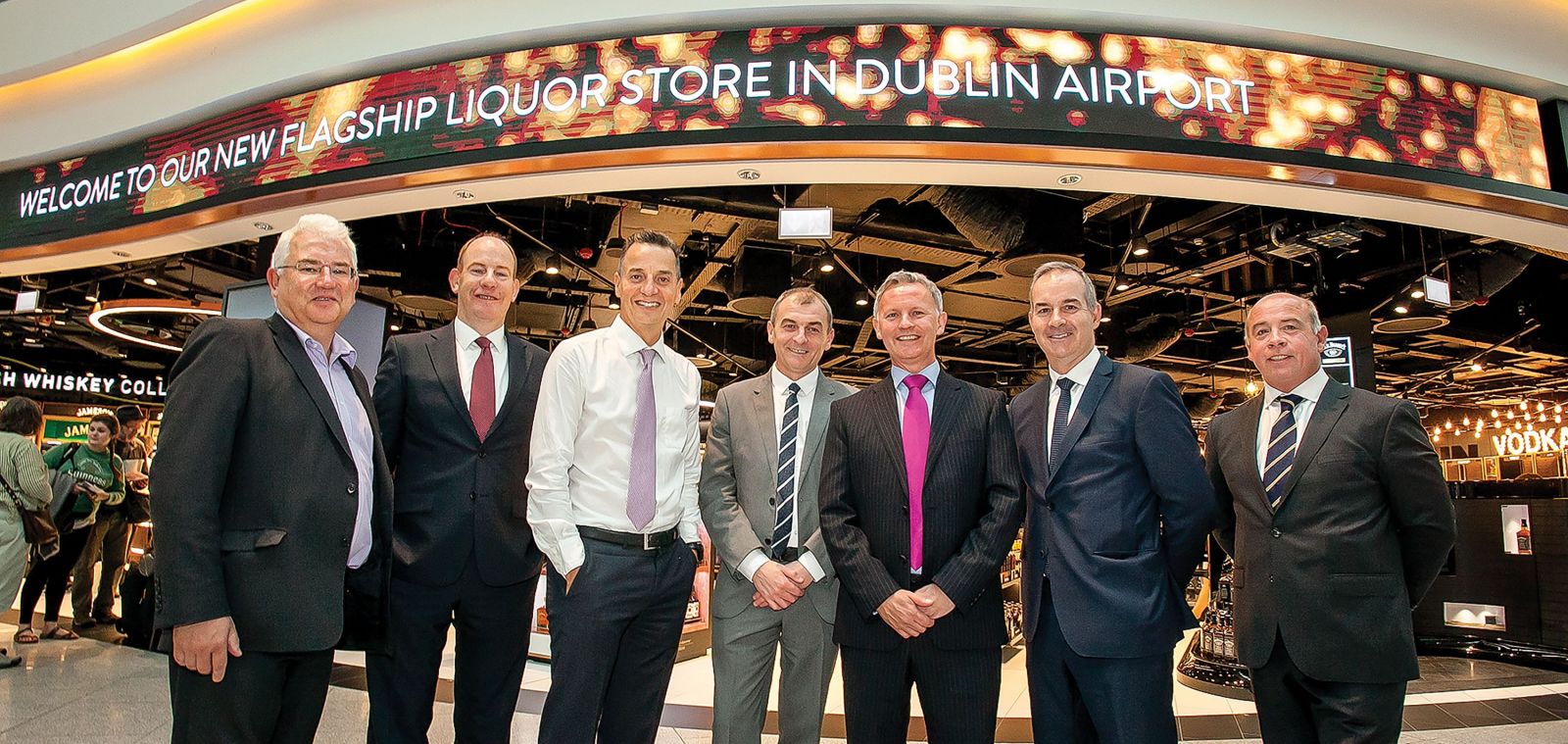 Elevating the environment: (left to right) Dublin Airport Managing Director Vincent Harrison, ARI Deputy CEO and CFO Anthony Kenny, Dublin Airport Chief Executive Dalton Philips, ARI Retail Operations Manager Ian Bosonnet, ARI General Manager Ireland Martin Carpenter, ARI incoming CEO Ray Hernan and ARI Chief Operations Officer Gerry Crawford
ARI Global Head of Category Paul Hunnisett said: "The new liquor store features the best of Irish and international products in a modern and captivating design. As an industry we must constantly innovate and differentiate our offering to compete and we feel that this new store sets a new standard in driving customer engagement."
Hunnisett noted that the positioning of the store, the focus on leading with Irish whiskey and the many other stop points would aid penetration levels.
"In the old T2 shop penetration was poor at around 9% so we needed much more linear space and better usage of wall bays," he said.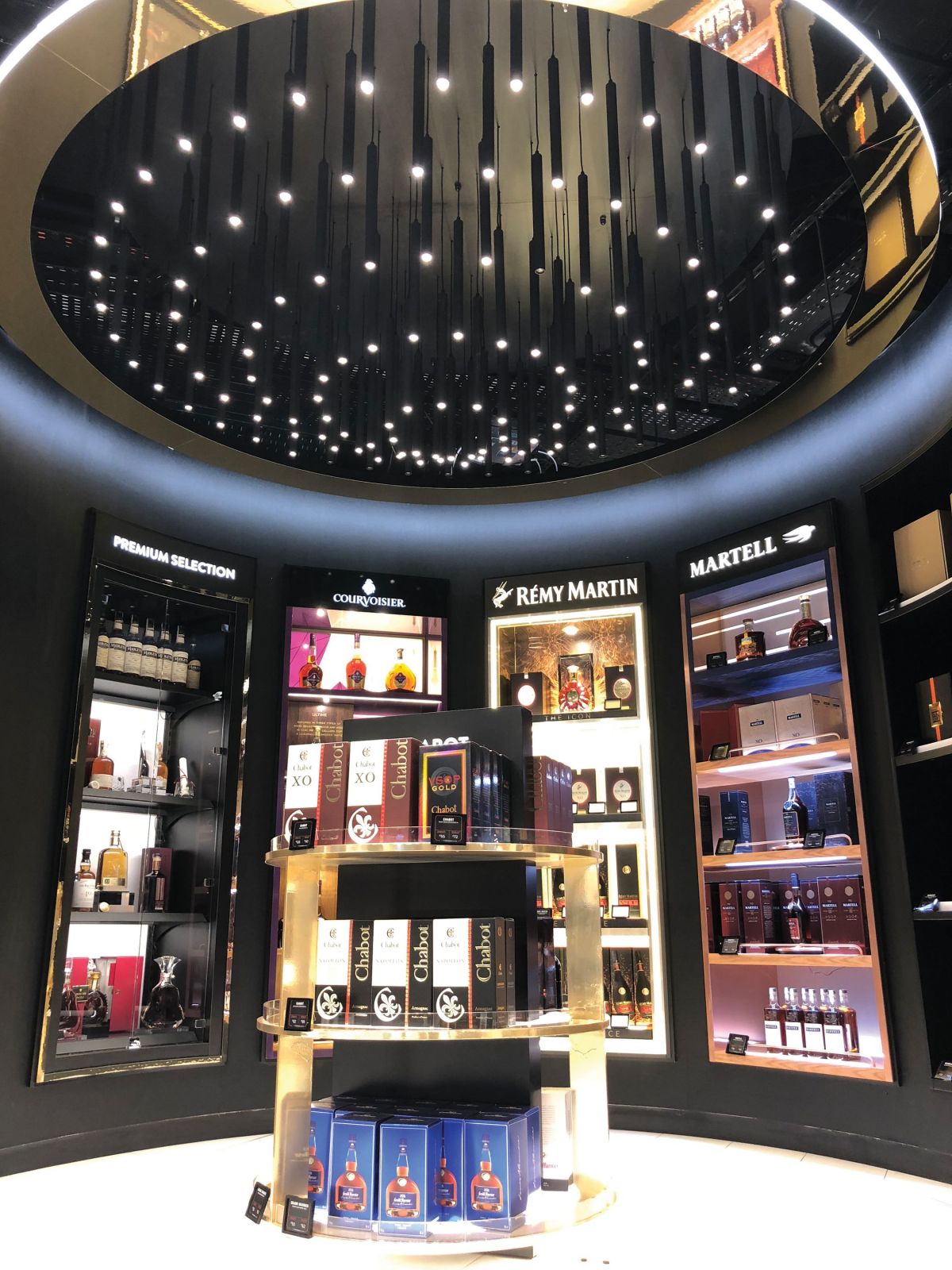 Luxury leap forward: Cognac and Armagnac are represented in an alcove that sits neatly apart from the main store.
The designer's view
UK-based The Design Solution played a key role in imagining and planning the space for the new drinks environment, as it did when the commercial space in Terminal 1 was redeveloped in 2015.
he Design Solution Director Nick Taylor said: "The design is an evolution of the concept we did in Dublin T1, using digital to greater effect throughout, and crucially at the shopfront to catch passengers' attention as they flow into the International Departures Lounge. Digitised promotional sites at the shopfront draw passengers in, and a semi-personalised bar creates that engagement and ability to taste before you buy. We wanted to create an overall sense of theatre and drama with this design, using black to powerful effect to set off the powerful product packaging."
He added: "Lighting was a key tool used to both glorify and focus on products but also create the warmth and glow of a 'speak easy' story in the white spirits area with the decorative array of filament bulbs overhead and within the signage. These are coupled with brass effect detailing and synonymous with gin den heritage."
"The Irish Whiskey Collection was a priority as it's comfortably our biggest sub-category. The concept has gone from strength to strength in recent years. When we introduced it first brands questioned it, wondering why we didn't just do a space for Jameson, a space for Tullamore Dew and so on. The generic approach has worked for us but this time around they can do a little more to bring their brands to life. We have 'gently personalised' the wall bays but we still need the DNA of the Irish Whiskey Collection. It maintains brand recognition but the personalisation is managed well."
Head of Retail Development Adam Heffernan pointed to the new flow-through as a key element. "This will be done in three phases, with travellers encountering beauty first, then Irish whiskey, which carries that great shout out for Sense of Place, which is so important for us. And with the personalisation all of the furniture is appropriately executed, maximising visibility for the customer."
Other neat touches in The Irish Whiskey Collection area include a full bar, which will highlight different brands on a rotating basis (Jameson was first to occupy the space) and can be used for tastings. These are conducted using specially designed nosing glasses for whiskey rather than the over-used plastic glasses one often sees in airport environments.
The Irish whiskey zone is complemented by a much-enhanced range of Scotch, American and other international whiskies, now at much broader (and notably many higher) price points than were traditionally available in Dublin in this sector.
Hunnisett said: "We know we were under-indexed in Scotch, bourbons and other world whiskies. But this time we worked closely with Beam Suntory, Brown-Forman and William Grant & Sons to bring other whiskies to life. We'll never be a Scotch shop but there is no reason why we can't we do Scotch better. This terminal also serves US flights so in brands such as Jim Beam and Jack Daniel's there is opportunity.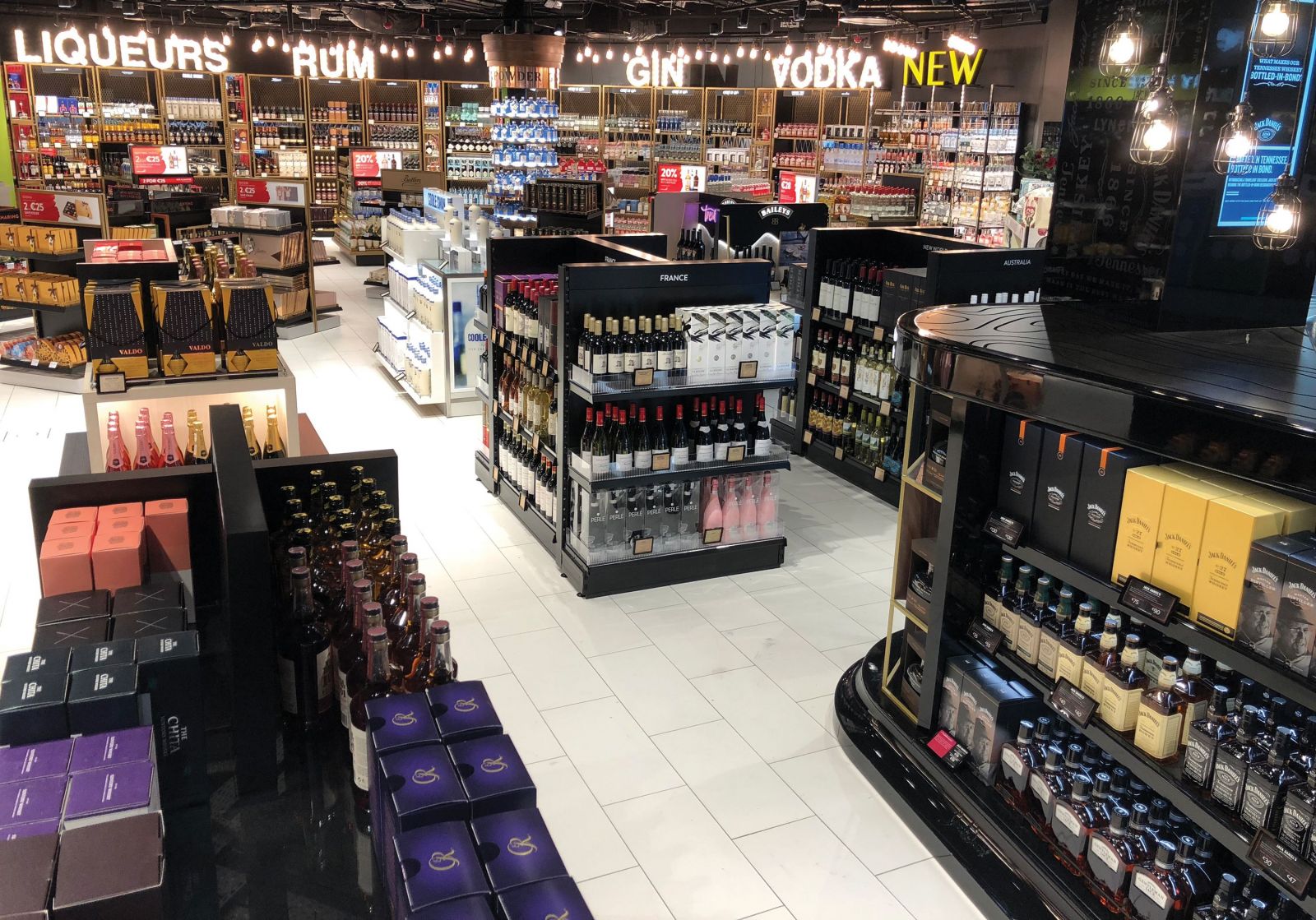 Up in lights: The store was designed with "a sense of theatre and drama" in mind.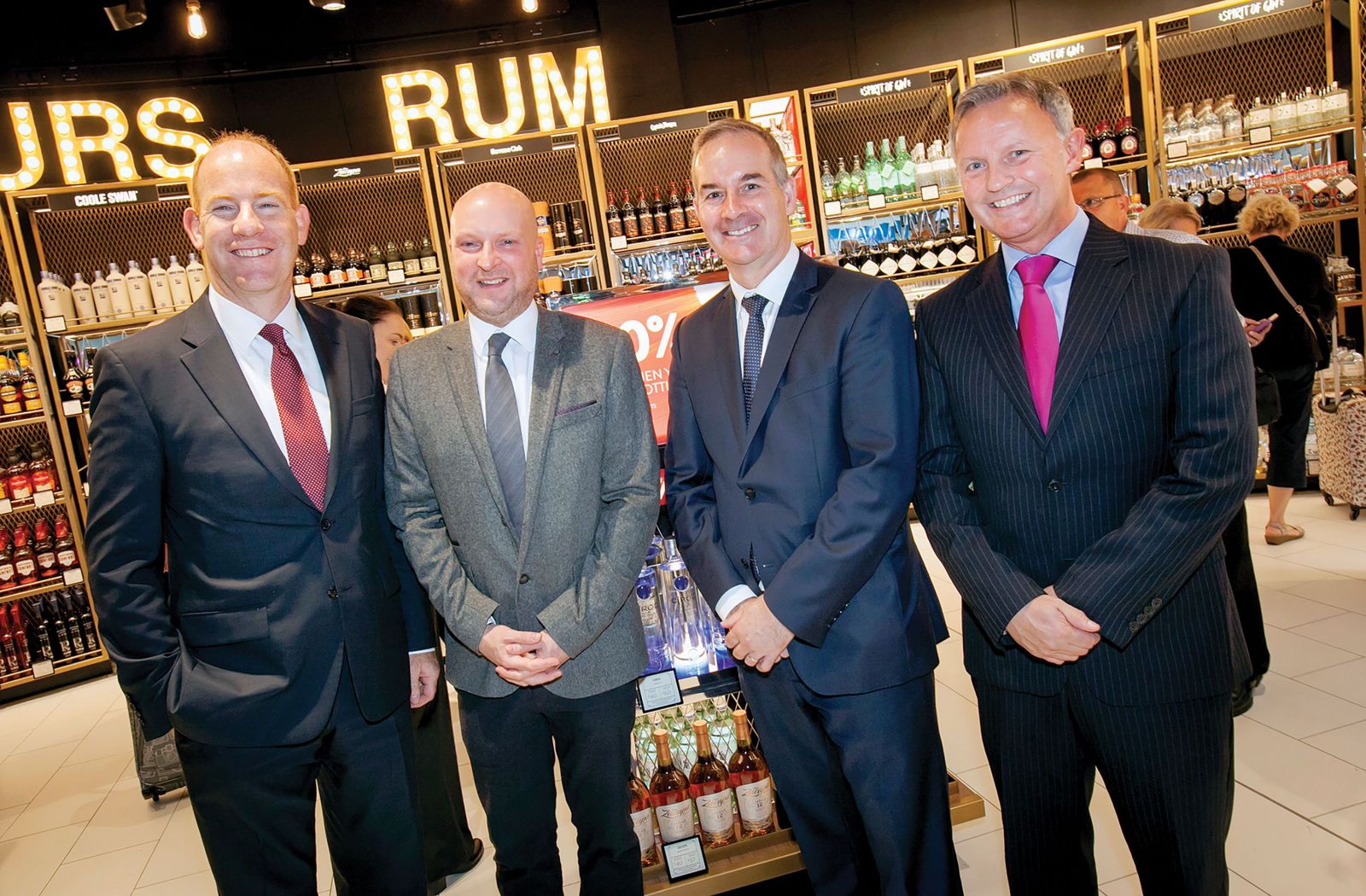 Leadership team: (left to right) ARI Deputy CEO and CFO Anthony Kenny, ARI Global Head of Category Paul Hunnisett, ARI incoming CEO Ray Hernan and ARI General Manager Ireland Martin Carpenter.
"You wouldn't have seen these brands here even a few years ago – and we have also under-indexed on American whiskies. But these companies have agreed to spend a little more with us and come on a journey. American whiskey will be a real gem for us I believe."
He added: "In general we have gone a little more premium – there is a market now for products at €1,000-plus and we'll do more of that in future. And we also wanted diversity and new, more interesting things, with Taiwanese and Japanese well represented alongside Scotch or bourbons."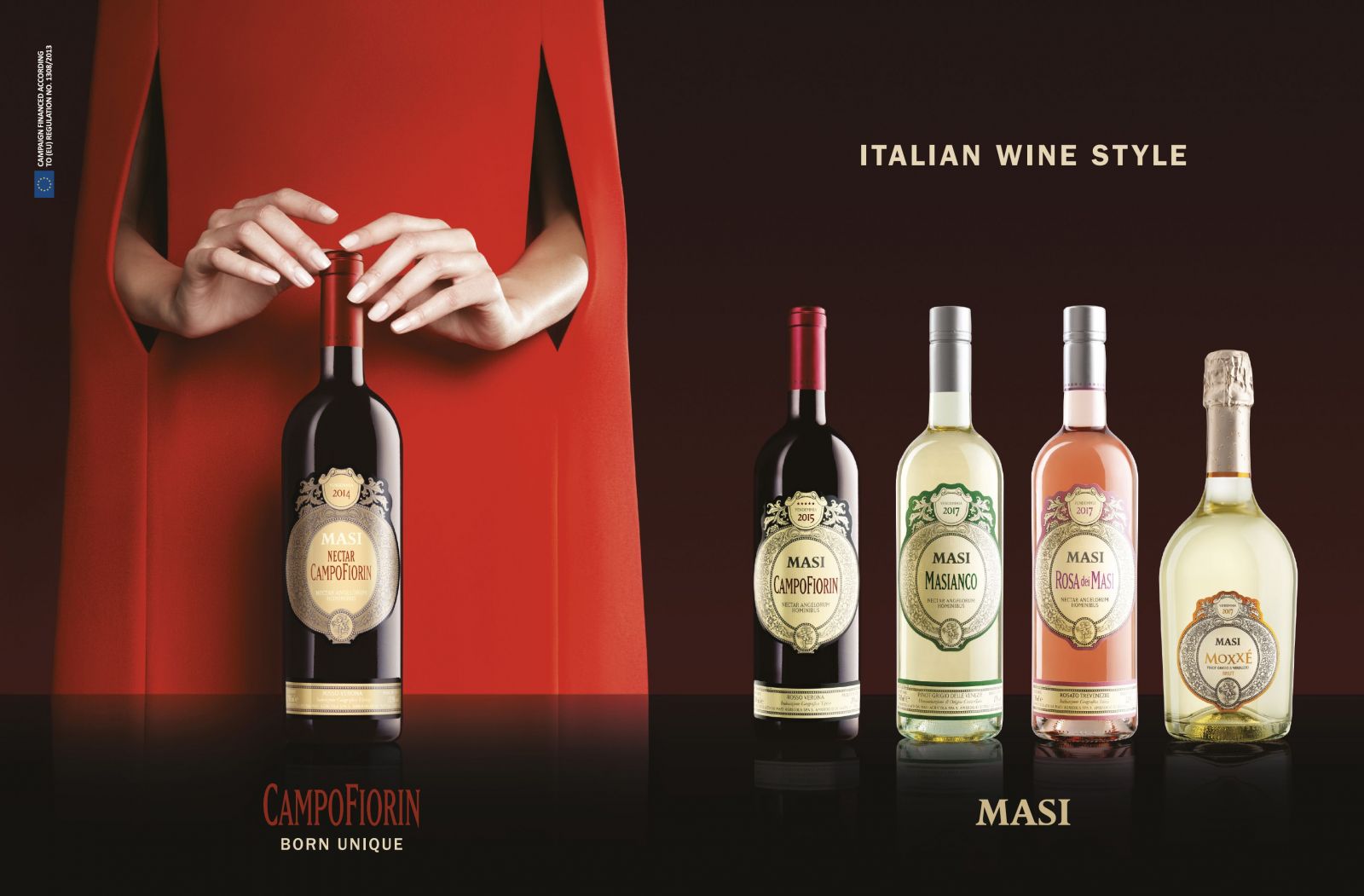 The high-end Cognac and Armagnac corner, presented in a small boutique space, is a surprise and another highlight in presentational terms, with a sleek black look and spotlights to draw out the product. Key brands include Hennessy, Martell and Rémy Martin but there is also a prominent place for Chabot Armagnac. This premium showcase is a further departure from the previous T2 store and early sales since the store opened last month are encouraging, said ARI.
One of the weaker categories previously was wines & Champagnes, but with 80 extra SKUs this now offers real variety by region and price point, with shelves split by French and New World regions. A core target is the Irish holidaymaker seeking a deal, but there are also some higher end offers for the connoisseur from leading French wineries to Penfolds and other international brands.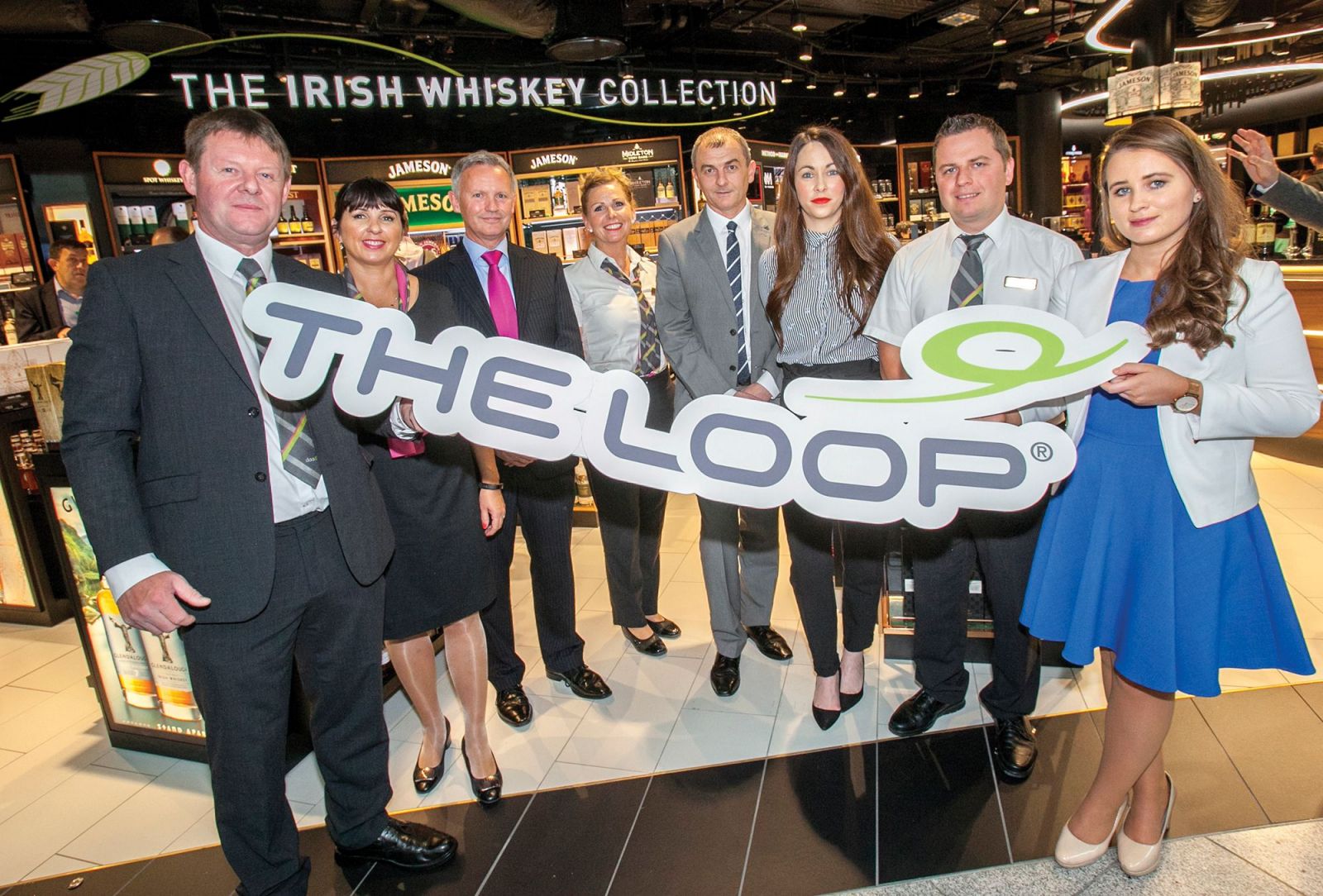 On the front line: (left to right) ARI Whiskey Ambassadors Ken McCabe and Jolanta Kaleja, ARI General Manager Martin Carpenter,ARI Whiskey Ambassador Stephanie Feeney, ARI Retail Operations Manager Ian Bosonnet, ARI T2 Alcohol & Tobacco Category Manager Rachel Cartwright, ARI Whiskey Ambassador Darius Gasior and ARI Retail Operations Project Manager Claire Breathnach.
Outside whiskies, gin is the store's great growth category. Before now, this category took just two wall bays; here that has increased to six.
Hunnisett said: "Gin was 5% of our liquor business three years ago, and is 15% today, with triple-digit growth in that period. That's no accident. We have invested in it along with brand partners, brands like Gunpowder, Dingle, Listoke and many others. We have exclusives, we have our own team who created The Loop gin with Glendalough, which adds to the story. We have intentionally done this category radically different from the past. We think we have the best gin range in global travel retail, with over 80 SKUs. It will grow and we'll do more. We have the next 20 gins ready to go already once we update our space plans."
As well as the brands named above, others include Silver Spear Gin, Old Carrick Mill, Garnish Island Gin, Beara Gin from Ireland, Gin Scapegrace from New Zealand, and Edinburgh Gin and Bulldog Gin from UK.
Within the zone, a specially designed bespoke pillar for Gunpowder gin stands out (with The Shed distillery's Sausage Tree vodka also in its own unit).
Hunnisett noted: "White spirits have a very different look and feel now. We wanted to reflect the way people drink now – if they go into a bar, they are met with a choice of with 20 gins, 20 tonics and 20 garnishes. So we have tried to bring to life the places where people are drinking today, the 'speakeasy' style bar, with distressed metal furnishings, with neon signs and so on.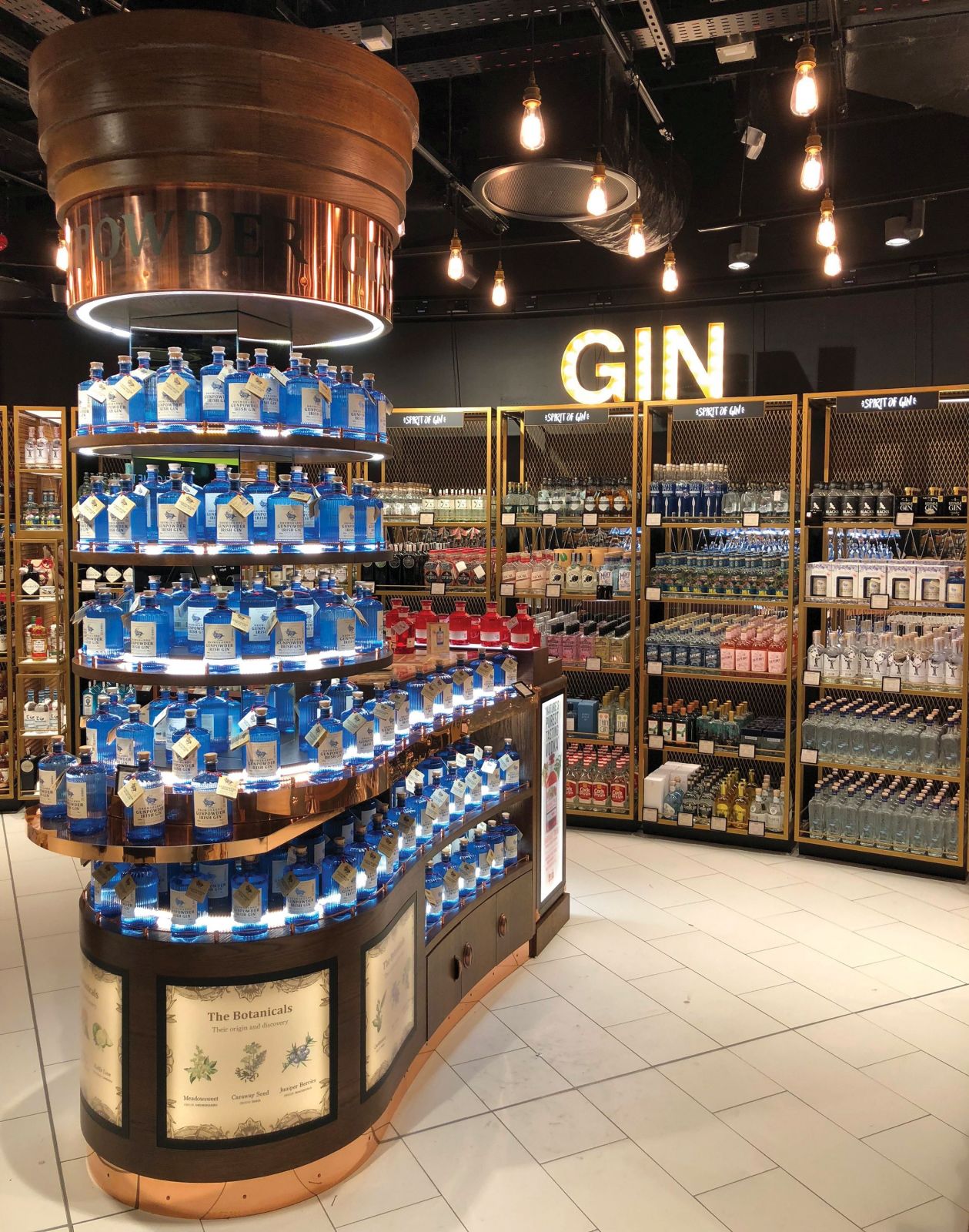 Proud claim: ARI says its gin range is now the most extensive in travel retail
(Gunpowder is the airport's best-selling spirits SKU).
A new pathway through Terminal 2
The new wines & spirits store is just one element in the wider redesign of the International Departures Lounge in T2. Soon after the new-look drinks offer was unveiled, ARI was preparing to open its in-house sunglasses concept, Spectrum, followed by jewellery concept Gemini.
With the relocation soon of the airside pharmacy unit that lies directly after security control, the first part of a new walk-through flow will open in October, with travellers guided through the existing (and soon to be upgraded) P&C department.
This will be expanded and renovated in phases (while much of the space remains trading) over the coming months. The new core category stores will complement other planned upgrades, including those for WHSmith and Dixon's as well as the earlier opening of Irish retailer Avoca. With further new stores and concepts then in place, the completion of the project should occur by August 2019.
"We have intentionally tried to go quite generic so we have not done much personalisation, but we can still being the brands to life. Gunpowder and Sausage Tree vodka have their own areas and a HPP zone at the front does the same for Hendricks now. We have also introduced an area called 'New' and that is key. People travel a lot more often than they used to so we need innovation for the passenger who is through the airport four or five times a year."
Brand ambassadors help bring the 30 additional gins, both Irish and international, and the full brand offer, to life in-store.
The vodka zone is also far wider than before, with the up and coming rum area also stocking a strong offer – here, Zacapa and Appleton among the new brands.
On how ARI developed the store with its partners, Hunnisett said: "We've been fortunate in our brand partnership and we've taken them on a journey from a year ago. We didn't have a single difficult conversation. Everyone understood what we wanted to do, they have all upped their game, not only in terms of the executions but also on range and in the support they've given us."
Alongside traditional staples such as Irish whiskey, ARI is leveraging the opportunity in emerging categories.
The conversion opportunity should become clearer once the walk-through is completed and travellers are guided directly to the store.
Hunnisett said: "This shop should come into its own once people exit beauty and come through this amazing liquor department. We've given ourselves the opportunity to convert every consumer; now it's down to us and our awesome staff to do that. We have a terrific conversion rate now, better than it was in the previous store already. We are now feeding many more people through than before.
"We have set ourselves a target of super-bullish growth and we're in line with that so far."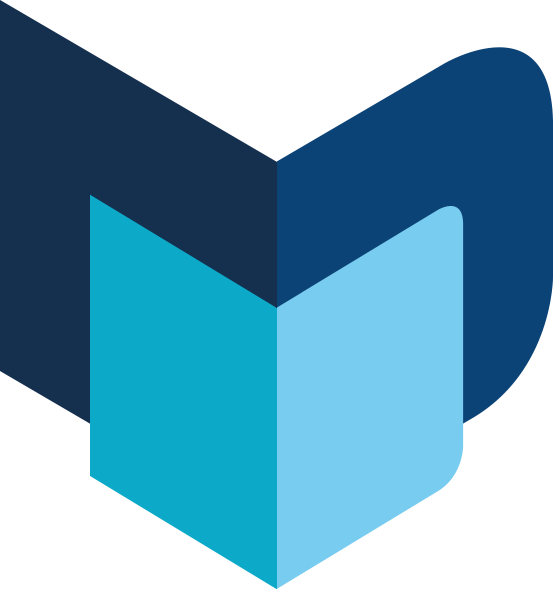 ---
The Moodie Davitt Report • The Online Magazine • September 2018