Cruise retail • Starboard Cruise Services
---
Entertain, engage, educate
Starboard and Carnival reach for
a new

Horizon

in cruise retail
In July Carnival Cruise Line and Starboard Cruise Services hosted an event in New York to showcase the shopping offer onboard the recently launched Carnival Horizon. Dermot Davitt paid a visit, and spoke with Carnival Cruise Line Vice President of Retail Services William Butler and Starboard President & CEO Beth Neumann about this project and their companies' wider plans and strategies.
Photos: Contemporary Image
"We believe we are operating the retail of the future and that cruise is the most exciting retail environment in the world" – Starboard Cruise Services President and CEO Beth Neumann.
– Starboard Cruise Services President and CEO Beth Neumann.
It's a summer's afternoon in New York, and I'm touring the stunning new Carnival Horizon, in dock at Manhattan Cruise Terminal, Pier 88, as the sun glints off the water. Around 4,000 passengers have just embarked, ready for a week sailing to and around the Caribbean. On deck 12 children are tearing around the first Dr. Seuss-themed water park at sea. On deck 10, the Seafood Shack and RedFrog rum bar are already rocking, while two and three decks up respectively, the Cloud 9 spa and Serenity zones offer a retreat from the hurly-burly below.
Further down, on deck five, Horizon's chefs are preparing items on Carnival's first-ever teppanyaki menu and Guy's Pig & Anchor Bar-B-Que Smokehouse/Brewhouse – a concept created by Food Network star Guy Fieri – is kicking into life.
This deck is also the main reason for The Moodie Davit Report's visit, with Carnival Cruise Line and Starboard Cruise Services having arranged a media day to reveal the ship's new 5,000sq ft retail offer. The core shopping arena has its own space of course but what is striking is how it is embedded into the heart of the ship, adjacent to some of the most popular restaurants, and just above the superbly designed atrium bar that acts as a focal point for many guests, with views over several floors. It's not just about the prime location though: shopping is firmly set as a core element of the cruise experience here. Theatre and education are not optional but essential features of each shop's life onboard, with nightly events, 'how to' sessions and fun activities part of the ship's entertainment programme.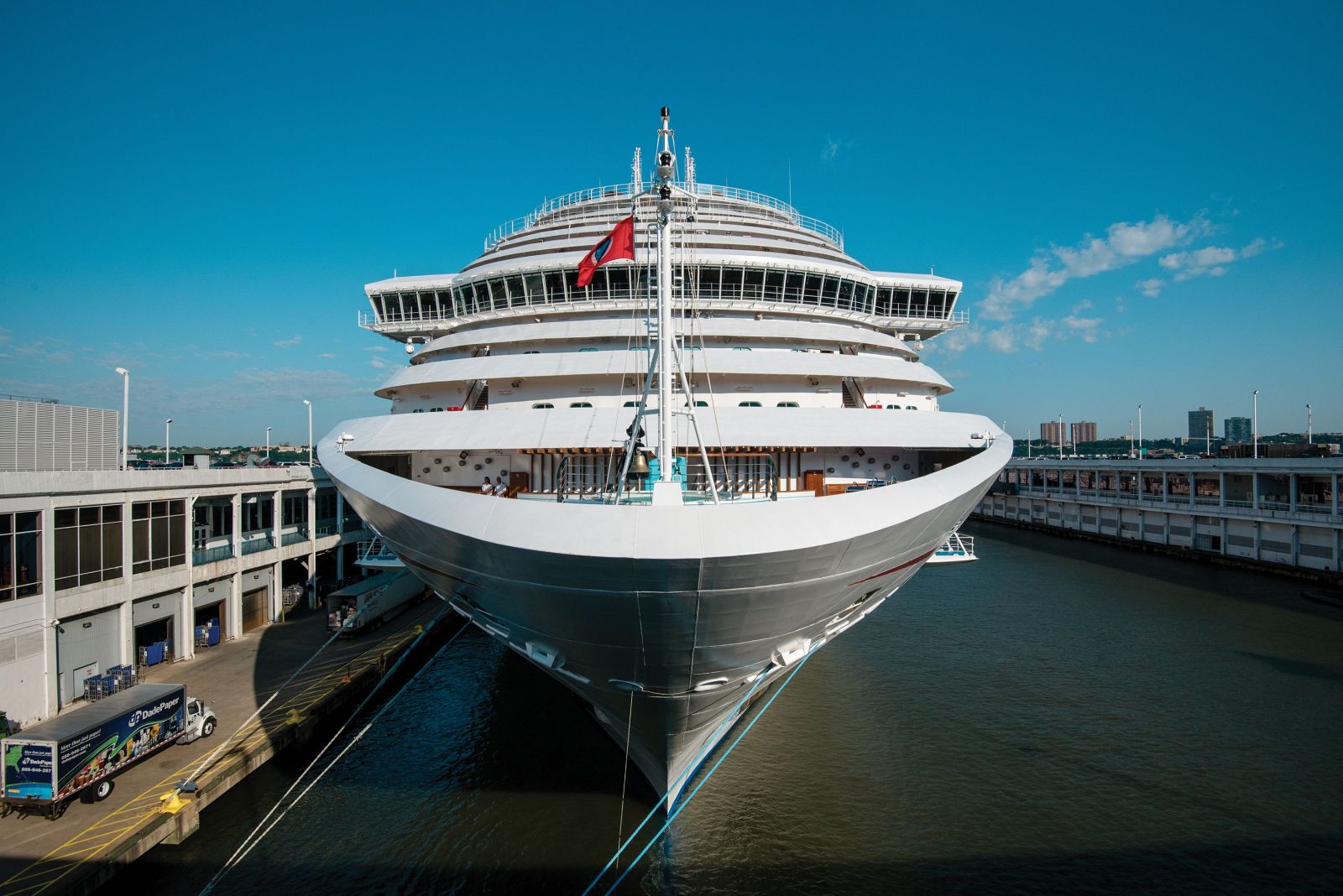 Making waves: Carnival Horizon represents a milestone project in retail terms for both cruiseline and concessionaire
For example, in Carnival's first Victoria's Secret boutique, guests can join in a Victoria's Secret Girls Night Out, where the cruise line and retailer invite women to sample a cocktail, listen to a DJ, spin a wheel and possibly win a prize while browsing the merchandise.
In a first at sea, the partners have exclusively developed (for Carnival ships) the Rock Envy with Crystals from Swarovski experience in the jewellery store. Here, guests can work with Starboard's team to custom-design their own Swarovski bracelet as a keepsake of their cruise. Other leading jewellery names in the space include Alex and Ani, BB Becker, Kallati and Lulu DK.
At the Le Vian shop-in-shop, the jewellery brand is brought to life through regular Le Vian Style Me Famous Fashion events, while The Gentleman's Guide to Love & Life is an experience that combines shopping opportunities for high-end spirits, watches, sunglasses and fragrance with a night out. Here, men can learn to tie a bow-tie, create their own signature cocktail, choose a gift for their partner and source ideas for a date night.
The brand range is impressive too, with a high-profile presence for new to Carnival names such as Breitling, Hublot, Rebecca Minkoff, Michael Kors and Kate Spade, as well as those noted above.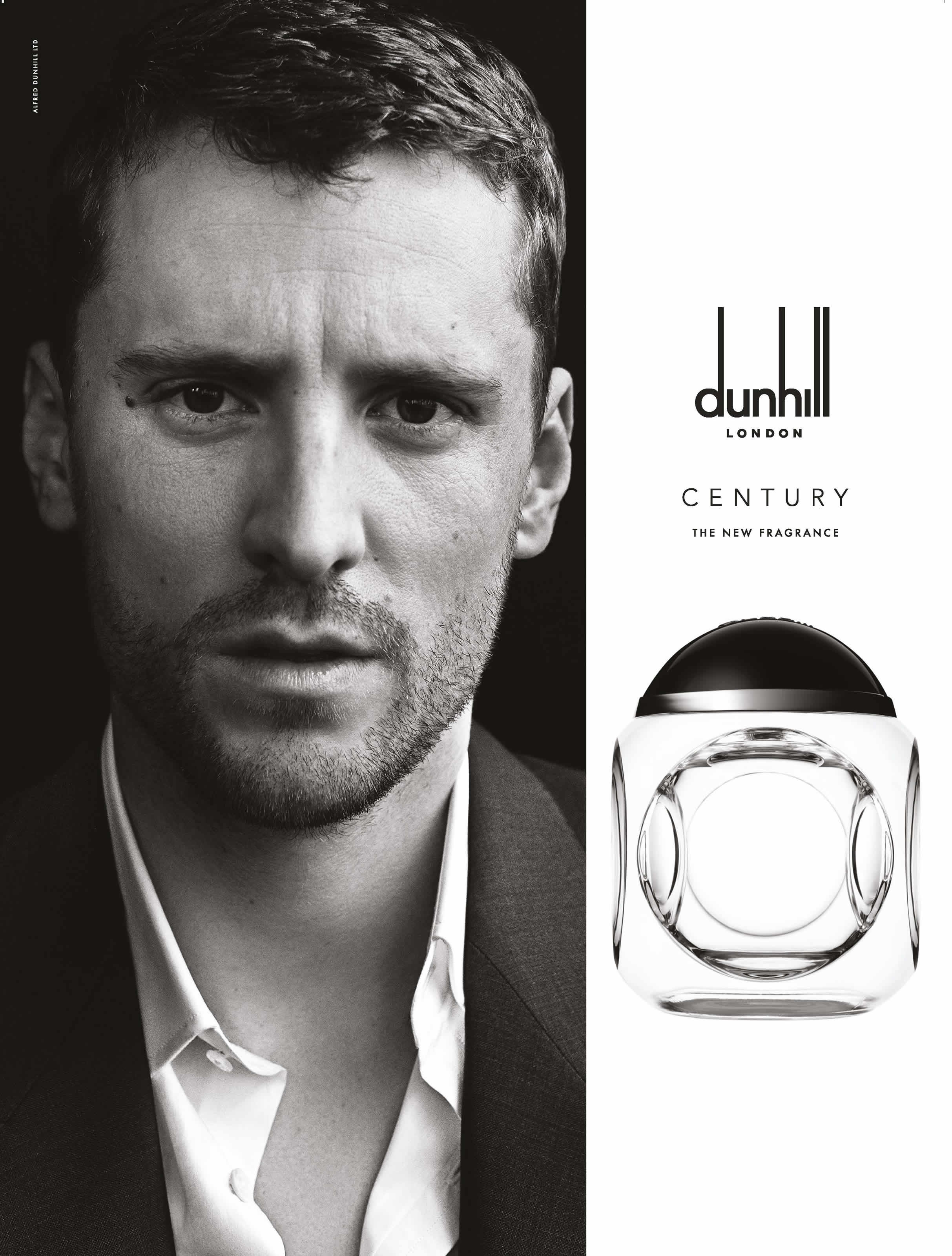 Other highlights include an expanded wearable tech offer (brands include Fossil, Citizen, iTouch, Movado, Michael Kors, Connect and TAG Heuer), a broad fashion watches assortment with Daniel Wellington, Invicta, Bulova, Citizen and others, plus a sunglasses range that includes Ray-Ban, Gucci, Prada, Oakley, Maui Jim, Costa Del Mar and Guess. There is also a strong core category duty free mix, Carnival logoed merchandise and a beautifully colourful Cherry on Top candy store.
The launch of Horizon (initially in Europe in April, with the ship moving to Miami from late September) is a proud moment for Carnival Cruise Line Vice President of Retail Services William Butler (see interview on following pages).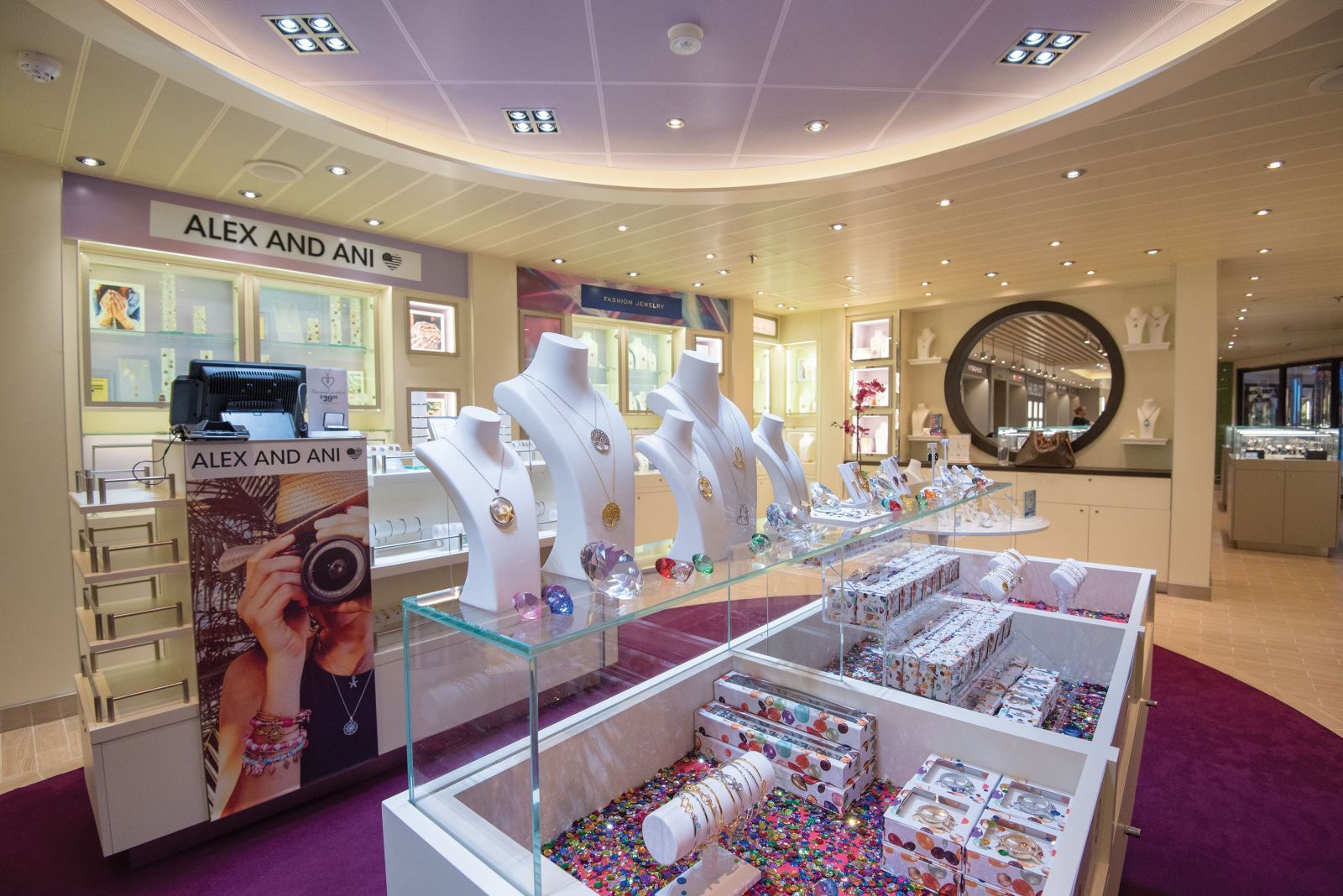 Creating an experience: Taking the personalised approach in jewellery
He says: "This is a milestone in our partnership with Starboard. We have created the best shopping experience at sea and we are proud to showcase our flagship retail experience. I am most proud of our two-deck mall-style shopping experience. We began our partnership with Starboard over 30 years ago when we launched retailing at sea. Shopping is now very much in the DNA of our ships. When retail was first created onboard our ships back then, they were secondary venues and we used ship-building architects to create them. Fast forward and our shopping environments are now at the heart of our vessels, with curated spaces designed by retail architects and with our partners."
For Starboard, as President & CEO Beth Neumann explains on a tour of the ship, this is a signature project. "In our 60th year this is our biggest retail space at sea, and while 5,000sq ft may not seem much in the airport world, on a cruise ship it certainly is.
"Carnival is all about unabashed all-in fun, no matter who you are. As we thought about Carnival's 'Choose Fun' tag line, we were inspired to extend that to retail and to the 'Shop Fun' concept we have created onboard. But it has to be in a tailored way. You won't find what we do onboard Carnival Horizon on any other cruise ship in the world. It's what the Carnival guest here is looking for."
Creating the shopping concept for Horizon has been a journey for Starboard and for its cruise partner, notes Neumann.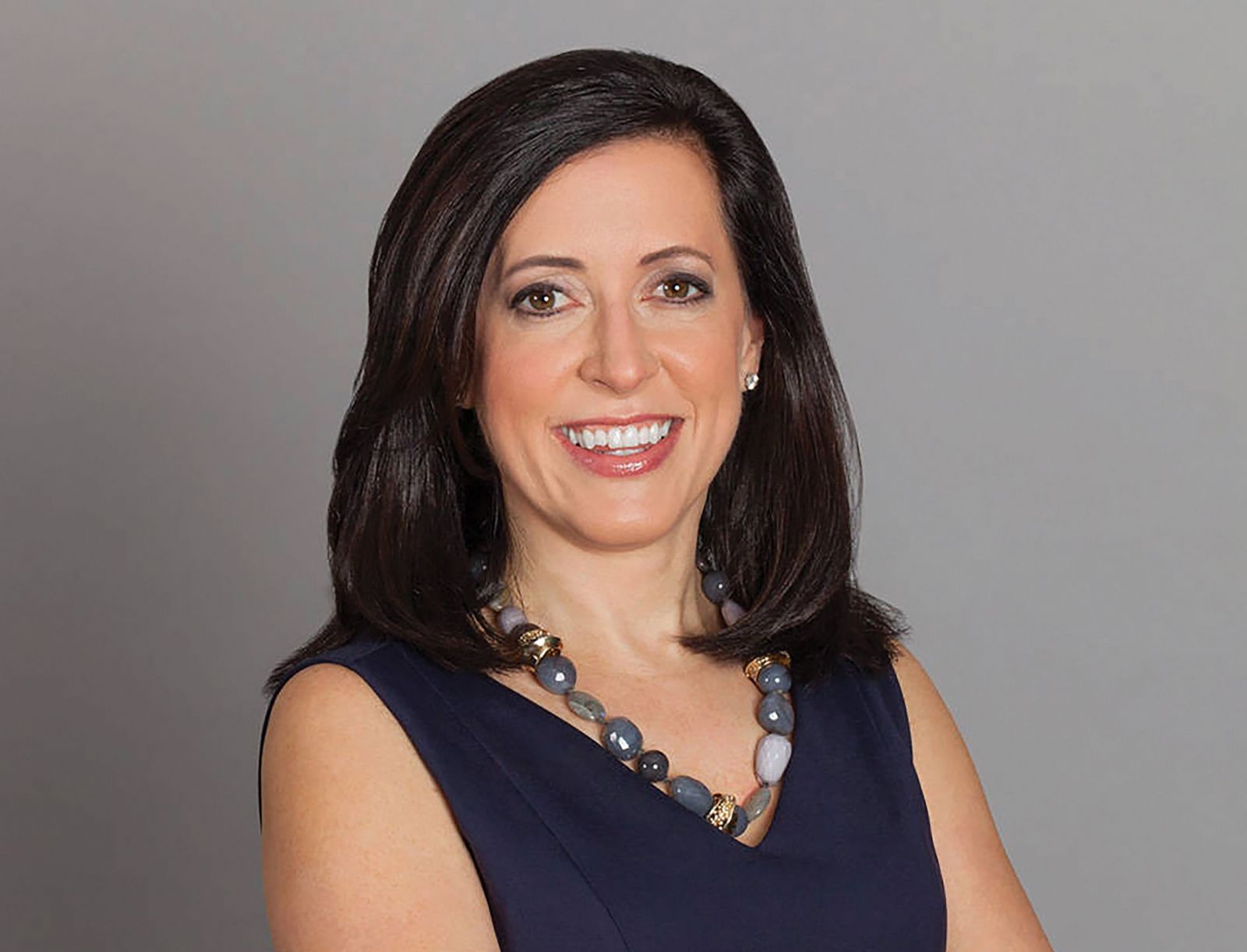 "Beth Neumann: "This is our biggest retail space at sea, and while 5,000sq ft may not seem much in the airport world, on a cruise ship it certainly is"
"For Carnival it's a step-change from even five years ago. The focus then was on souvenirs, on fun items that were easy to pick up, and retail was very transactional. There are categories that remain core such as P&C and liquor, but there are differences too. Tech watches is an emerging category. We are also doing fine jewellery and even logoed merchandise in new ways."
The changing category mix mirrors how the cruise industry has also moved forward, Neumann says, as she reflects on her four-and-a-half years in the role. "Back in the day ships were designed and retail had to fit into it. Now it's a real journey of shopping, well planned with bespoke architecture. Each cruise line offers something different in their experiences, which they did not in the past.
"When I joined Starboard, it was already well established in cruise as the market leader. Until that point there may have not been a great need to change. What I saw when I arrived was retail designed for what the cruise industry had been until then, and what consumers wanted until that point
in time.
"But things were already changing and that has continued, guided by three main factors. One, the market has globalised and the consumer has globalised. Until recently the business was built on US and Caribbean itineraries, but more recently there has come the opportunity to design our retail differently and cater to new segments onboard.
"On any cruise ship, there are people who want luxury, and people who buy at all price points. There is a market for all of them. There are 4,000 passengers onboard and many don't shop in luxury stores or cannot connect with these brands in their home markets. So this gives them that opportunity."
"Second, there was the advent of mega ships from around 2009. That allowed us to create more dramatic spaces, including boutiques. I didn't arrive until 2013 but the company had started doing this and it was the beginning of inspiring brands to enter this environment. Horizon is Carnival's first mega ship and if you look at the order books, the future will be either in more mega ships or else smaller, high-end luxury ships. But the larger ships are game-changing and allow us to create stunning retail.
"Finally, the cruise lines themselves are now much clearer about what they stand for. The guests know that not every cruise is the same any more. That offers an opportunity to differentiate ourselves as a retailer. Add to that our people who are excellent connectors and the ability to offer a VIP service or a great experience is advanced."
One can sense the pride the Starboard team takes in the new brand range, and the variety guests are now presented with, notably at the higher end.
Neumann says: "On any cruise ship, there are people who want luxury, and people who buy at all price points. There is a market for all of them. There are 4,000 passengers onboard and many don't shop in luxury stores or cannot connect with these brands in their home markets. So this gives them that opportunity."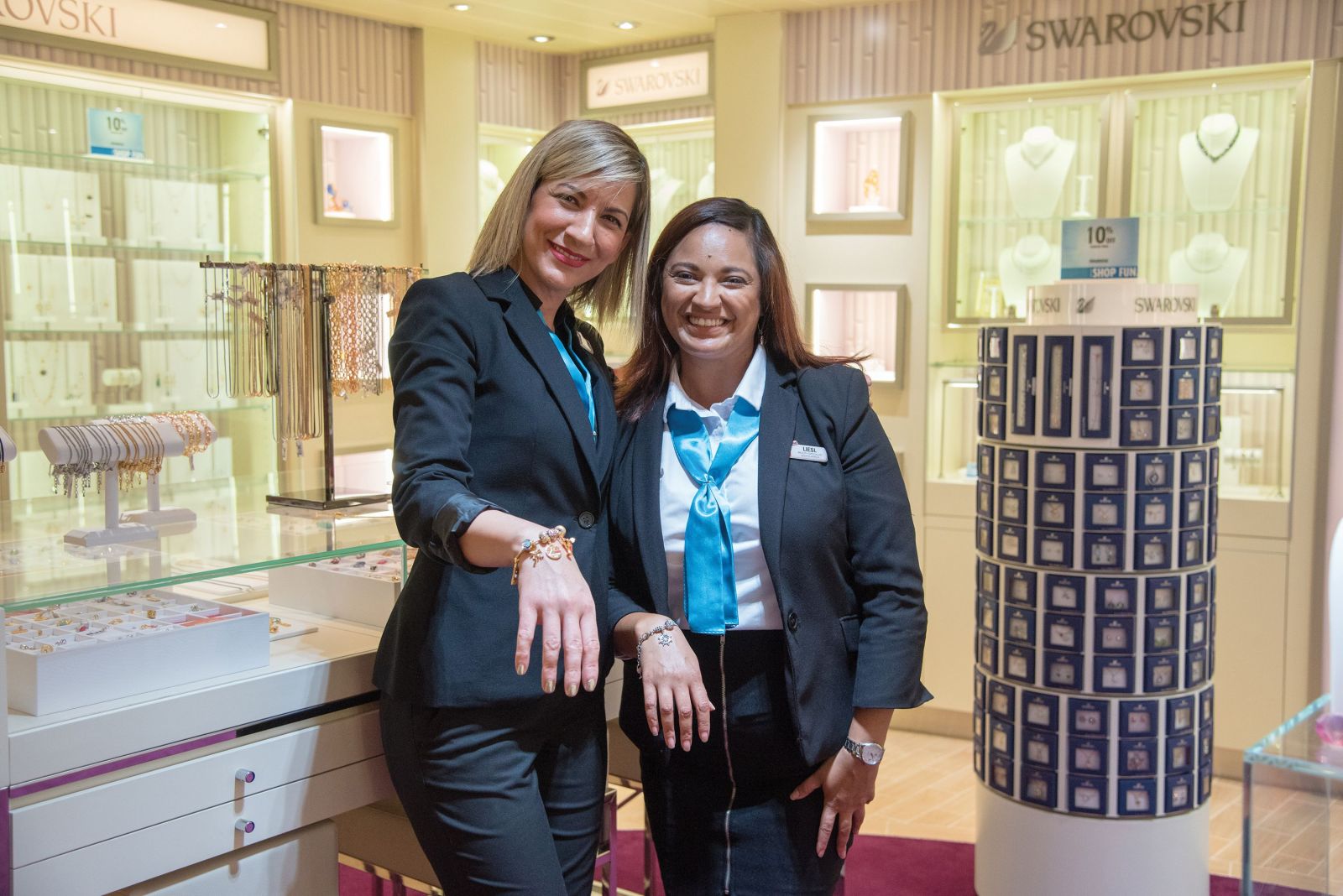 Maritime memories: Swarovski plays a key role in tailoring pieces for guests
The offer would be much diminished without the experiential, theatrical element that cruise retail delivers though. And this, perhaps above anything else, is what sets cruise retail apart (when done well) from other channels.
Neumann says: "We are not like any other travel retailer. At an airport you are travelling and you might use the trip to shop. But we are part of the destination. People don't come onboard simply to shop – though it's one of the top three things they do prioritise – but they are excited when they find fun retail environments that offer the chance to take something home.
"We won't compete on transactional product with say, Amazon – but we compete well when it's super-special, tailored to the individual and when it captures the joy of the vacation.
"We thought a lot more about what 'experience' meant. The concept of creating a journey through retail with a powerful experience is at the heart of the future of retailing and where it is going.
"That means spirits retailing includes a bar with tastings and a party each night, with products the traveller has never seen before. So when they buy a new brand and sip it when they're home, it creates a powerful connection."
Events can be important in encouraging guests to enter the sometimes intimidating worlds of Scotch whisky or high-end watches. "Here we can demystify these categories for people by showing them how to host a party or tie a bow tie. It's fun, but it's not silly. People let their guard down when they're onboard. They are having fun, there is not a lot of judgement and there is a community spirit," says Neumann.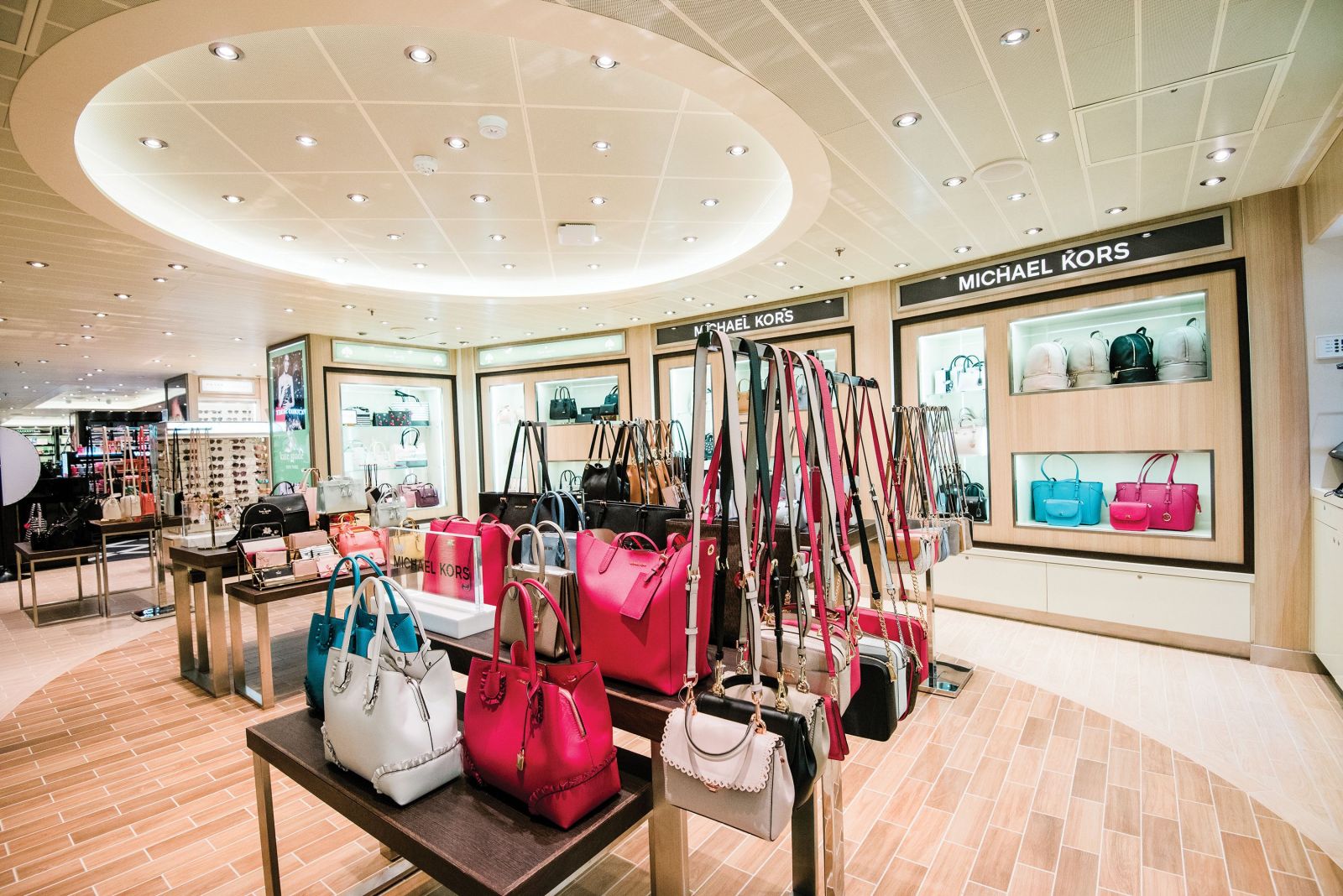 Fashion firsts: Michael Kors and Kate Spade are among the brands to debut with Carnival on this ship
Discovery is a vital element of the experience. "If you look at tequila, which is right for the US guest, we are adding brands that the consumer does not know, and it offers a platform to learn. We'll add new brands in spirits and beauty. In fashion jewellery, personalisation is very relevant. In accessories, Millennials can create their own flip-flops or bags. There can be events for mothers and daughters or friends, and that's where we see the future. Fine jewellery, timepieces, leathergoods all offer huge opportunities, though apparel is a challenge with storage limitations."
Until recent years, some luxury brands questioned the value of the channel, but Starboard has helped pioneer a change in thinking with its partnerships. The concessionaire was the first retailer to bring Bulgari, Cartier, Tiffany, Dior, Omega, IWC, Ferragamo, Kate Spade, Michael Kors, Kiehl's, La Mer, Shiseido and Hublot to cruise retail.
"The brands are often quite surprised by the performance," says Neumann. "With the jewellery brands we have had strong sales of really high-end pieces, not just the most popular items. People have time and want to discover and to buy something new. We explain that to brands now."
Offering newness and ideally exclusivity is important too. "Le Vian is well known in the USA but 80% of what we sell is only available with Starboard," notes Neumann. "Here it's the first time on a Carnival ship for Breitling, Hublot, Kate Spade, Michael Kors and Rebecca Minkoff. You would never have seen some of these brands on a ship a few years ago."
The opportunity is a solid one, but the brands also have to adapt. "We see the brands are thinking differently and designing differently for the cruise space now. They are planning for the ship experience, not just adapting their airport space for a smaller footprint.
"But ships also move of course and that affects brands too. A ship that is in China, with high spends from the PRC consumer, can go back to the Caribbean or onto routes in Alaska. You need to ensure your investment holds if circumstances change. We need to ensure our spaces are flexible. If a new ship comes to take the place of another, you need to be able to create space on that new ship and not feel like you've lost the investment.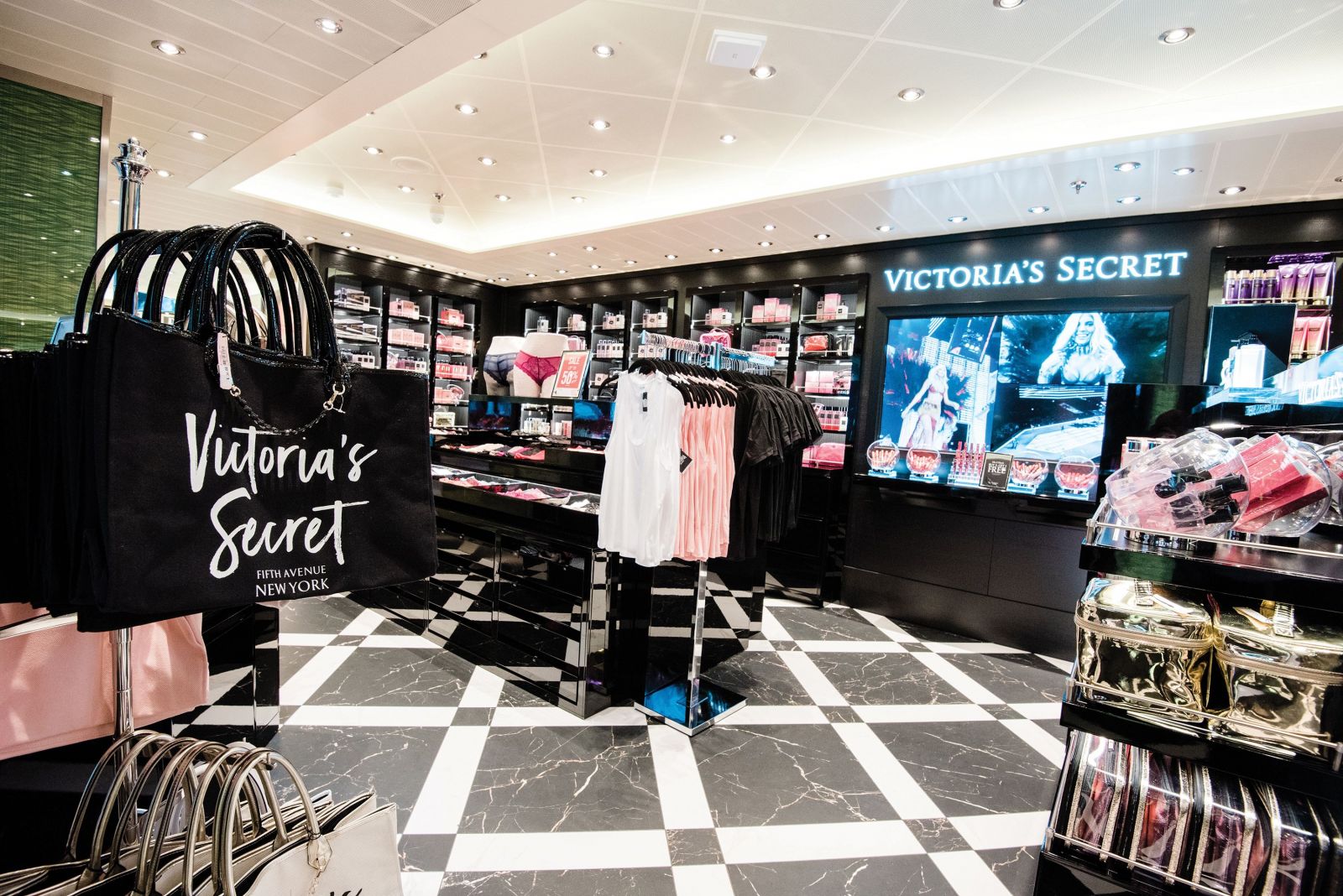 More than a shop: Victoria's Secret offers a Girls' Night Out experience in its debut store at sea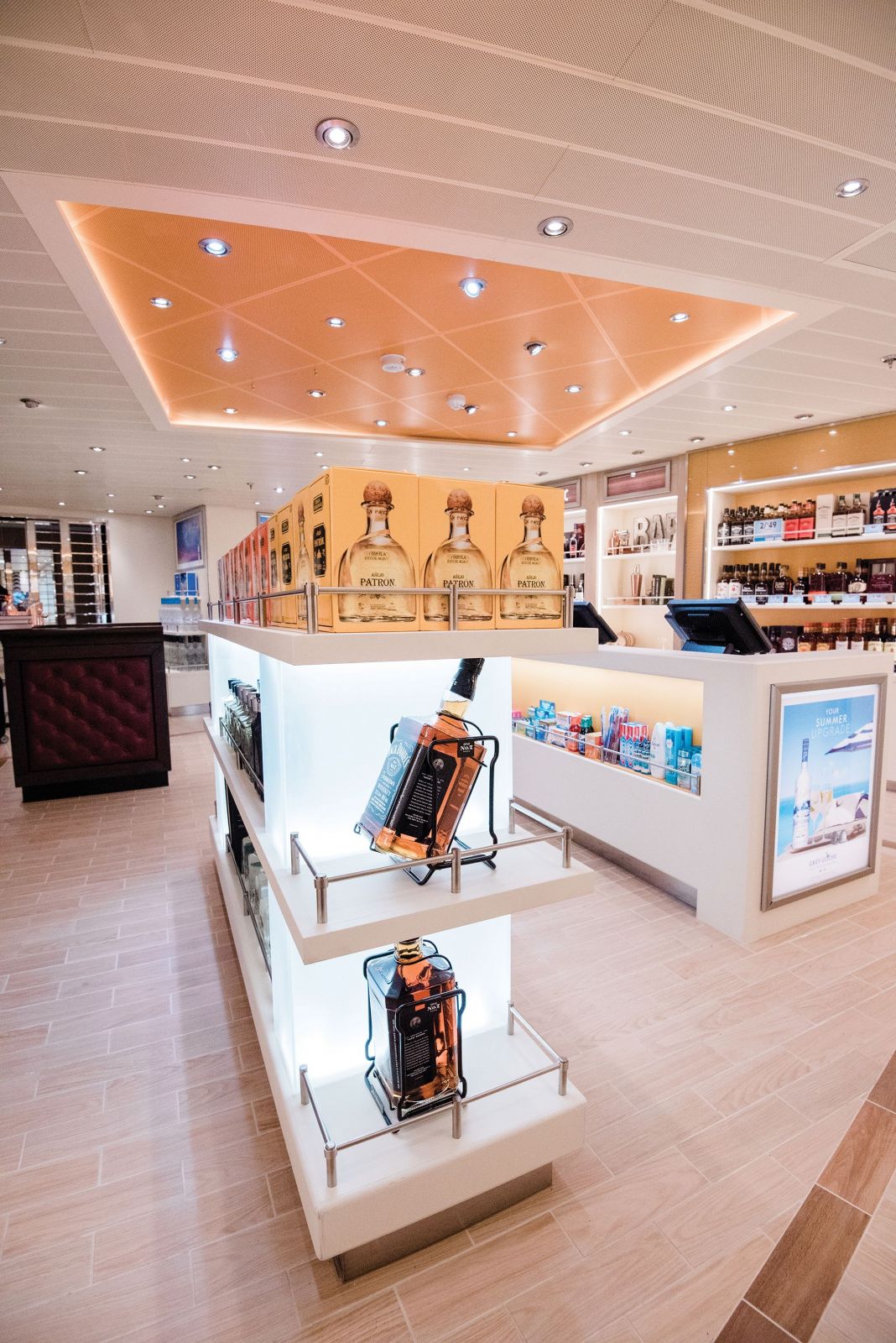 The spirits selection mirrors guests' tastes, with American whiskey and tequila prominent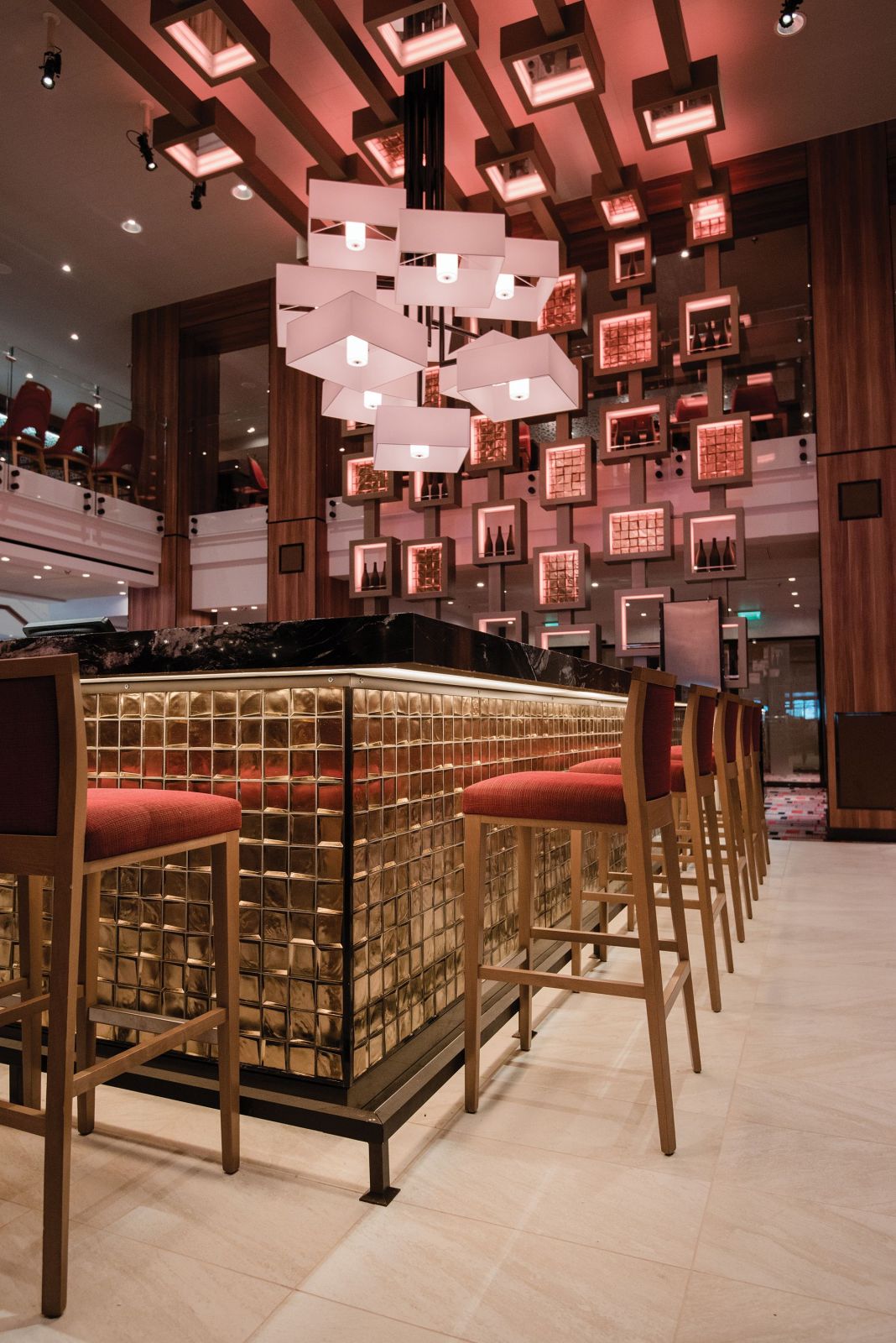 High-class bar and dining options complement the shopping ranges onboard
"We have found a level of flexibility that we maybe did not have before. That means buy-in from the brands at a high management level too. So events like our History of Time seminar or our Apprentice of Time workshop, with time-maker tools and education in how to make a watch, all play into how brands view the opportunity. Cruise is not just under the radar any more, it is being discussed at brands' board level today."
Innovation, both in the branded offer and in the types of experiences that are available, is key.
"We have a big focus on discovery brands alongside pillar brands in retail," notes Neumann. "It's important to guests but also to the cruise line as this helps market their ships and shows what they stand for. We are constantly looking for new brands but even with those we partner with now, we are designing new spaces and experiences. With a brand like Bvlgari they generally have the same execution in boutiques worldwide but with us they bring new and exclusive designs, as well as products. It has to be right for cruise and highly experiential. So a Bvlgari Night at the Movies event is fun, with a red carpet, guests dressed in evening wear and a high level of luxury.
"So you see, with our brand partners we design experiences that are right for cruise and are different to any other environment. On land you see retailers do one-off events for their loyalty members, with incredible experiences, dinners and purchasing opportunities, but in fact we do this every week or even every night. As a retailer we live in a hotel and we can give the VIP experience on every voyage. It is not a thing we do now and again, it is just what we do."
That approach requires top-class talent management and staff who can connect with guests. As Neumann says pointedly, "if you don't like people, you have no business on a cruise ship."
She adds: "We have these world villages onboard. We are creating global citizens and they have to know how to interact with other cultures and people. It's about making sure we bring in the right connectors who can build relationships and then keep those people in our organisation. Our retention rate on average is about four and a half years, which is pretty long. Our top onboard managers are with us 10 years, 15 years, which is a long time to be at sea."

A stunning panorama of the retail arena, which flows around the top of the atrium at the ship's heart
"On top of that, as an organisation we face the challenge that these ships are isolated from their land bases [Starboard has 450 land-based employees and 2,500 retail associates at sea - Ed]. Our ability to communicate and help them is limited. Our people are on a ship working with a hotel director and a captain, and so great relationships with other people in the onboard team are critical."
Another challenge in the cruise market is the intensity of competition – from traditional rivals such as Harding Retail but also major global players in the airport market such as Dufry and Heinemann. Against that background, how does Starboard set itself apart?
Neumann says: "Competition is good and we like to see competitors up their game. That keeps the fire under us and drives us to become the best retailer, not only in cruise. We know we're the best at what we do. Our design of experiences, our supply chain and our talent management capabilities come together in ways that cannot be matched.
"We become perhaps most relevant to new cruise ships like Carnival Horizon. Horizon is a highly strategic launch for Carnival and much of their marketing is geared around this ship. We have launched this new ship in a way that is tailored to fit the strategy of the cruise line's brand.
"I can tell you that it's not our goal to be onboard all ships. It is to be on the best ships with the best strategic partners, cruise lines that value what we bring. New ships are a big focus, and those are the contracts we are winning. That is the space we play in, and in any case we can only handle so many new ships per year.
"We will have five new launches in the next year and that is a lot. Those openings on their own will grow our revenue by +15%, and that is within a portfolio of 90 ships."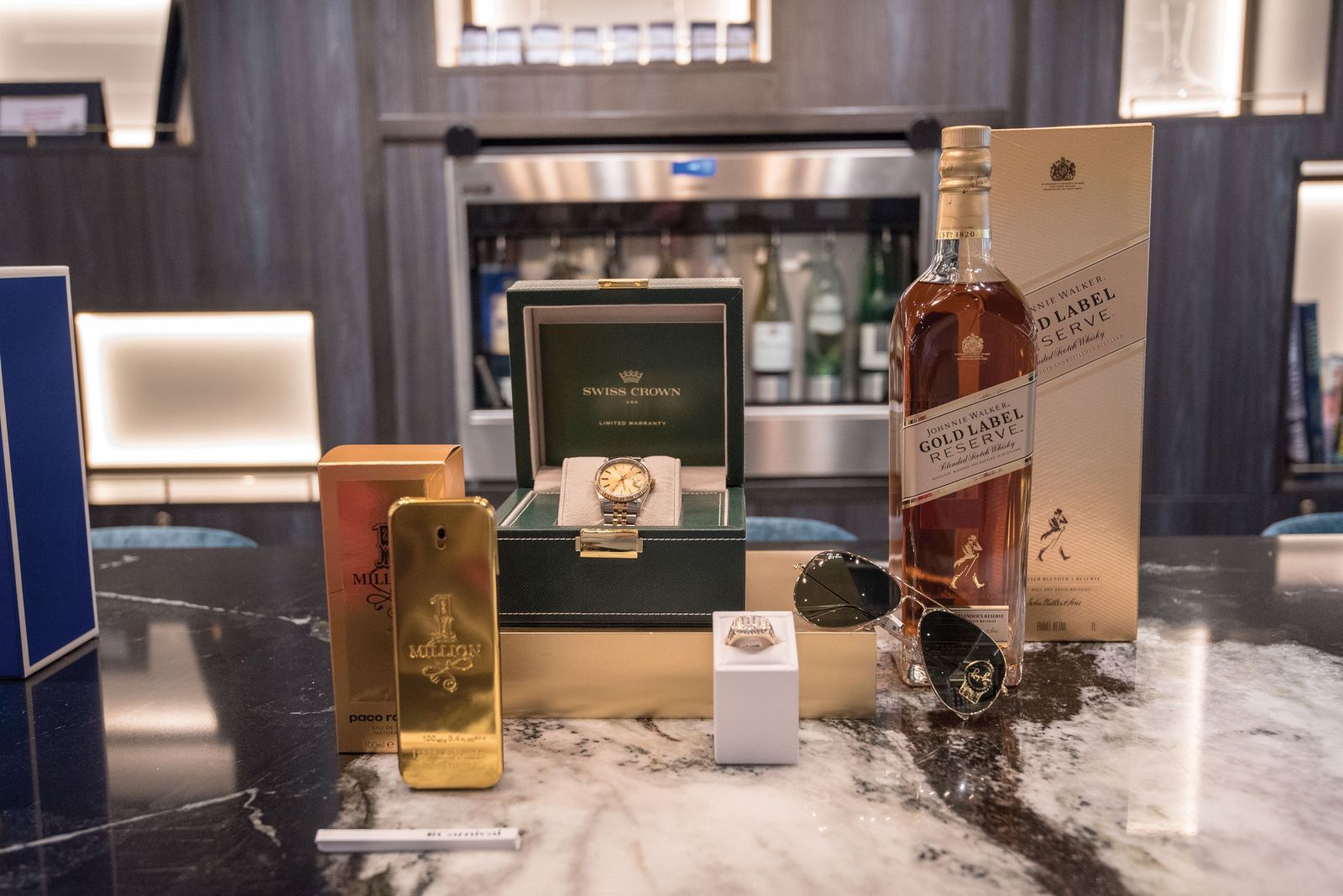 The Gentleman's Guide to Love & Life: An experience that combines a night out with shopping opportunities for high-end spirits, watches, sunglasses and fragrance
Beyond Carnival Horizon, Starboard is finalising its fitouts for Celebrity Edge, which launches in late November. It has also struck a retail agreement with Costa Cruises for Costa's first ship purpose-built for the Asia market, Costa Venezia, launching in 2019. Starboard will also be the retail partner for Costa Smeralda, the line's new-build for the European market. The retailer is also the exclusive partner for Royal Caribbean International in Asia, currently operating on three vessels in the region and expanding its roster with Spectrum of the Seas' Asia debut next year.
By 2020, Starboard will operate over 360,000sq ft of cruise ship retail space, with partners that include Carnival Cruise Line, Royal Caribbean International, Celebrity Cruises, Costa Cruises, Norwegian Cruise Line, Dream Cruises, SkySea Cruise Line, Crystal Cruises, Silversea and Holland America Line.
Looking ahead, Neumann says: "Our challenge is to up the game continuously and really make sure we're delivering the bespoke experiences to each cruise line. We have to add new ideas for each ship and work to make them happen. That means having the right organisation and capabilities to do that, and that has been fun."
She concludes: "The cruise industry has upped its game in creating ships that fire the imagination, and it is vital the retail experience does the same. Our success is not about catering to a captive audience, but in becoming an essential part of the daily cruise journey in memorable and engaging ways." 
By 2020, Starboard will operate over 360,000sq ft of cruise ship retail space, with partners that include Carnival Cruise Line, Royal Caribbean International, Celebrity Cruises, Costa Cruises, Norwegian Cruise Line, Dream Cruises, SkySea Cruise Line, Crystal Cruises, Silversea and Holland America Line.
Beth Neumann on…
The Carnival Horizon stores: "These shops are not about transactions but about building relationships and creating experiences for guests onboard."
The China challenge: "30% of our income is from Asian routes today, led by the Chinese traveller. We have a big focus on sourcing guests globally but China is a huge opportunity.
"The cruise industry is committed to China; the question is how fast it happens. A lot of capacity went in early, some cruise lines won early while others backed off, but they will be back. What we're seeing is a stabilisation now. The cruise lines are building capability so they fill their ships at the right ticket price and move their ships based on maximisation of profit. They will move ships back into China at the right time.
"The perception of cruising in China is positive so it will be huge from a low base right now."
LVMH partnerships: "Like other LVMH companies, we are structured to be entrepreneurial. Our partnership with Bvlgari isn't really to do with LVMH, it's about what works for each of us.
"With DFS there is a long-term vision that these businesses could converge. With 30% of our business from China, and DFS having retail operations in ports where cruise ships go, there are opportunities to connect as business partners.
"We are exploring how we can create new customer journeys. Every ship has port shopping guides and takes people to shore. It could be similar with DFS, where they are part of the port shopping programme and we connect the guest experiences. Imagine how a T Galleria loyalty shopper could be treated on one of our ships, or one of our guests in a DFS store? We know who they are and can give them an incredible experience. And we have a much stronger overlap of guests and of brands now than ever before."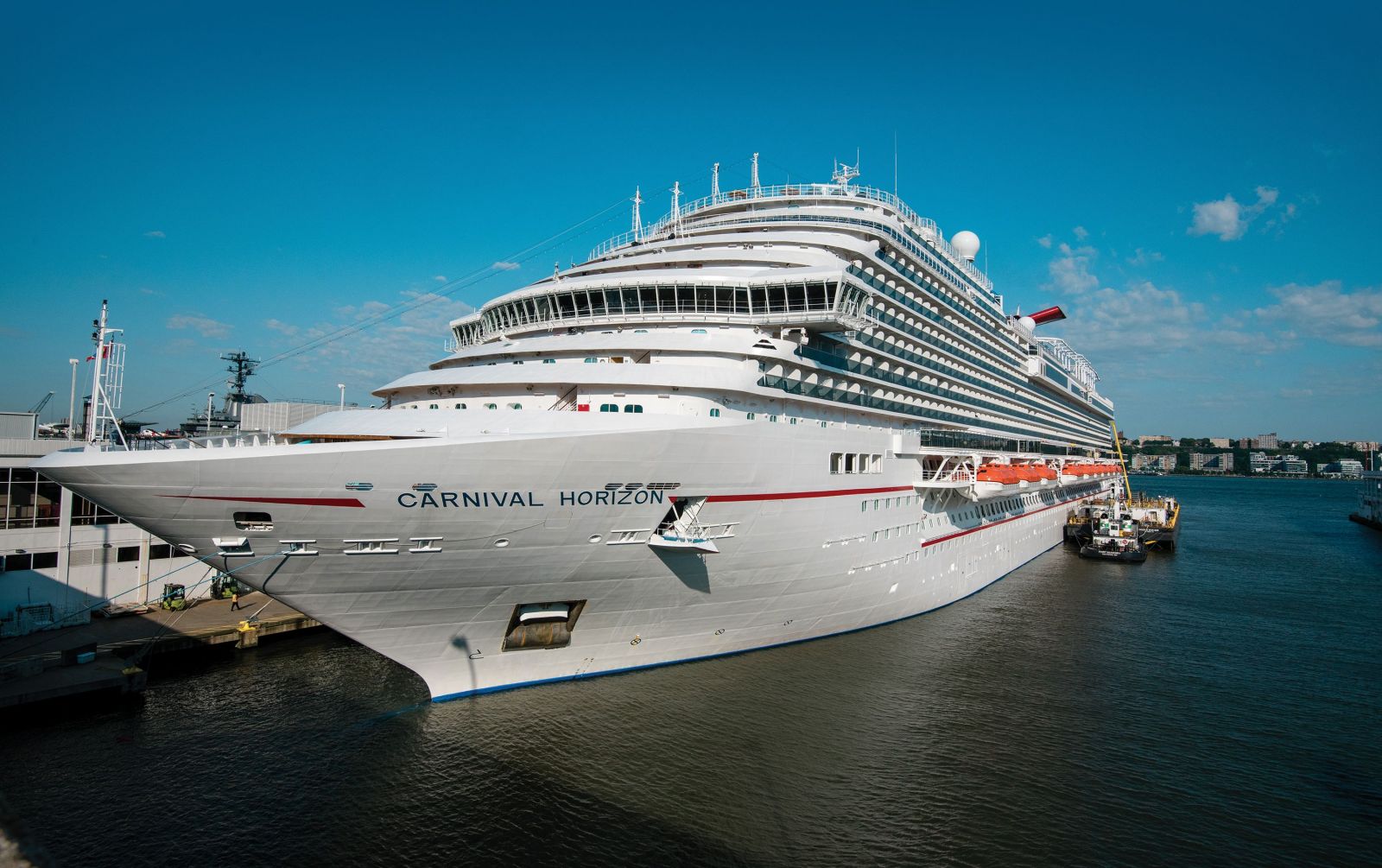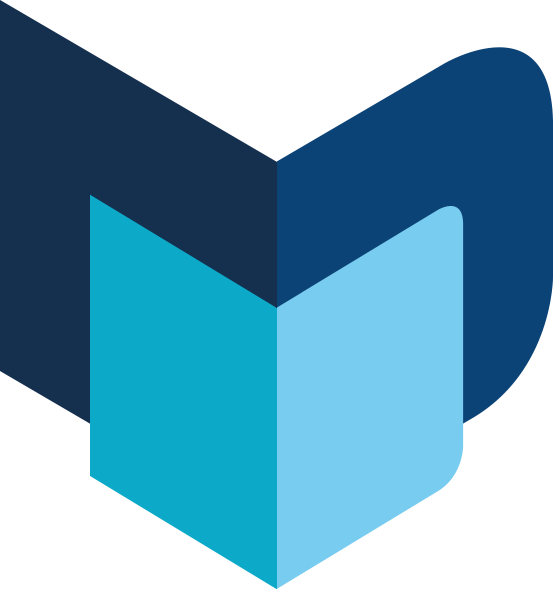 ---
The Moodie Davitt Report • The Online Magazine • October 2018