Retail Opening • Duty Zero by cdf
---
Lagardère brings
French flair, finesse and flavour
China Duty Free Group might be the lead stakeholder in CDF-Lagardère Company Limited, the joint venture parent of Duty Zero by cdf, but French travel retail giant Lagardère Travel Retail has brought plenty to the party.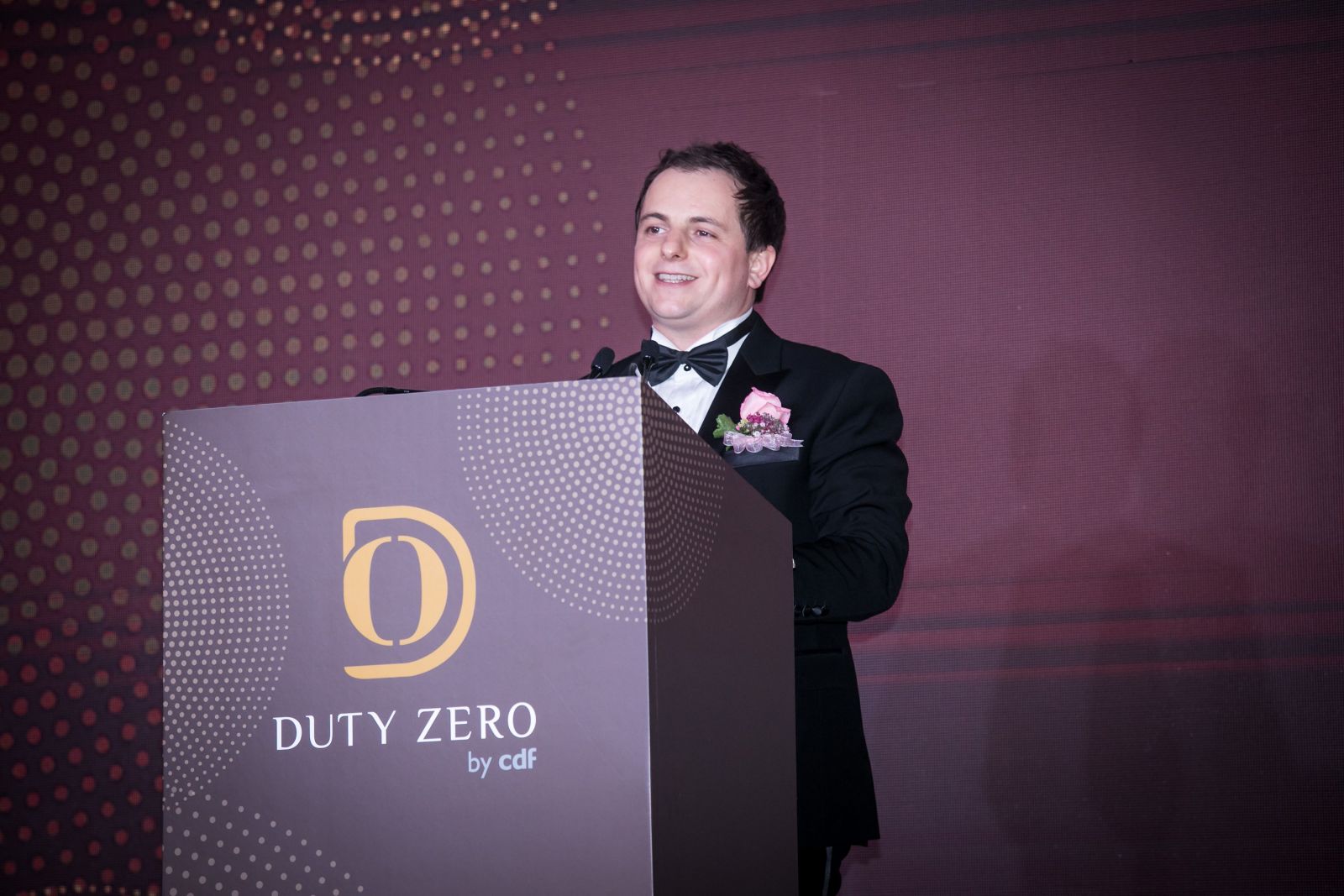 "We have many new and exclusive products that are only available at Hong Kong Airport and I can tell already that passengers and customers here in Hong Kong are seeing the difference and are voting with their money." –Lagardère Travel Retail Greater China Chief Executive Officer Eudes Fabre
When he spoke at the Grand Opening of Duty Zero by cdf at Hong Kong International Airport, Eudes Fabre surprised (and wowed) the large audience by delivering most of his address in flawless Mandarin. It wasn't token symbolism. Fabre, a Lagardère Travel Retail executive for the past 12 years (and Shanghai-based since July 2009), knows and understands China (and its language) better than most westerners and has an acute understanding of what is necessary from both sides to make such a partnership work. Key is appreciating exactly who is responsible for what functions.
"This is a massive investment of effort and expertise in bringing in the best of the best for the international liquor, the wines, and the Champagne," he says. "Of course, we contribute other things to the JV, including customer service, training processes, marketing systems, etc. But to be clear, we're the minority partner in the JV and the operations are led by our partner. So our real focus was on the merchandising, the design and layout, and the general sales process for the wines and spirits."
Lagardère Travel Retail worked tirelessly throughout the summer of 2017 to get everything ready in time for the soft opening last November, Fabre says. "Our Duty Free Global (DFG) team showed fantastic teamwork in keeping up with the project. It might seem a long time between April [the contract award] and November [soft launch] but considering the scale of the business and its complexity and the number of brand partners and SKUs, it was not. We promised a lot to the airport and so it was a monumental task. I am eternally grateful to all the people who put their heart into it, led by Françoise [Flament, Lagardère Travel Retail Product Management Director]."
Lagardère Travel Retail is no stranger to high-class wines & spirits retailing. Its Paris offers, for example, are among the best in travel retail as are the representations at smaller airports such as Nice Côte d'Azur, but there's no doubt that it has brought its A game to town here. "Yes, it's ambitious," says Fabre. "First, we took over from a well-respected incumbent. DFS are one of the premier operators. So there were high expectations. And also high expectations from Hong Kong Airport."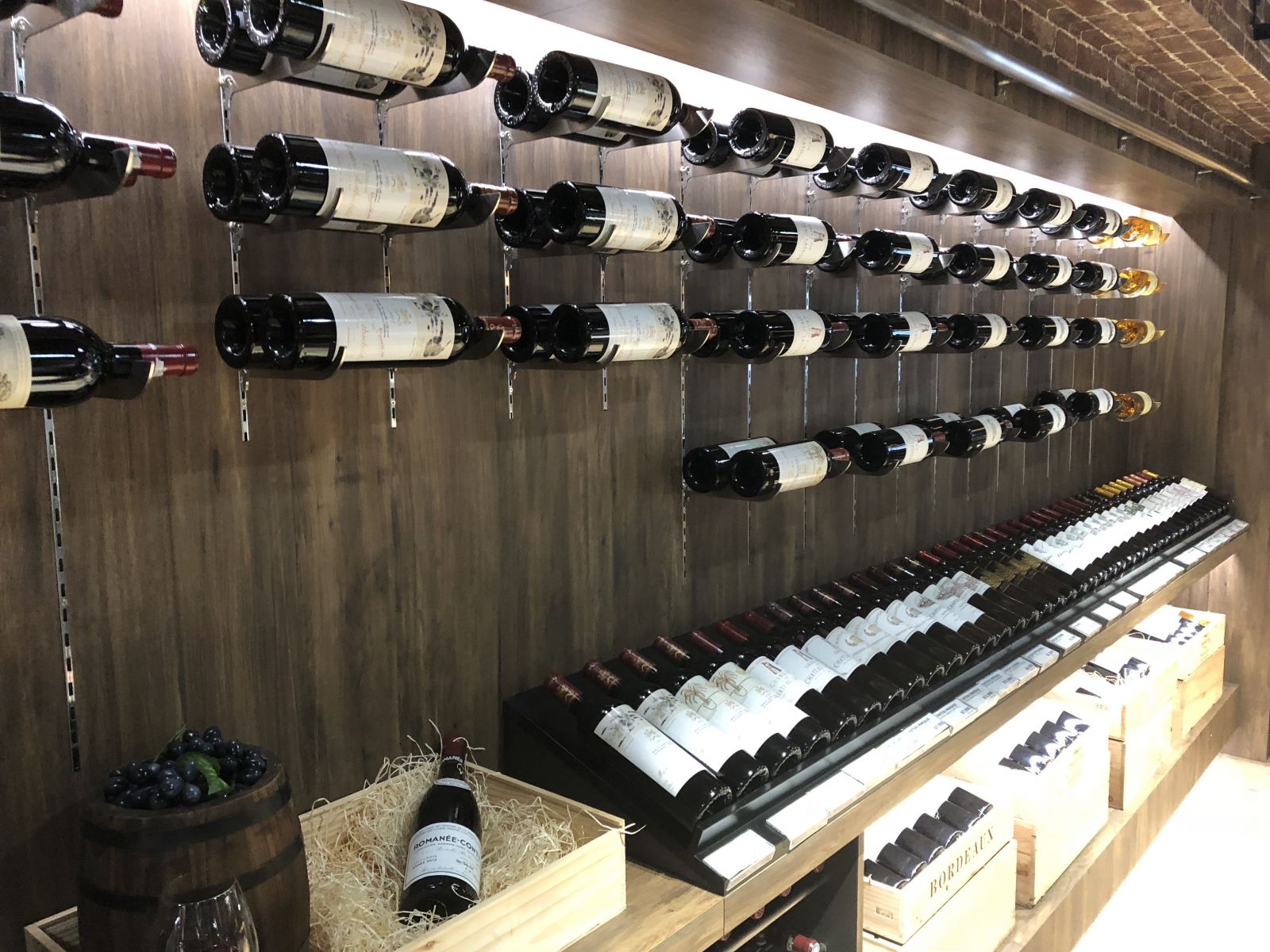 Outstanding merchandising at the Wine Vault (pictured above). "You need to be able to reach out to the non-confident consumer who feels intimidated by a wine shop… while at the same time serving the customer who is very expert and very, very demanding in wanting First Growth and other super high-end wines," says Eudes Fabre of a selection designed to attract aficionados and amateurs alike.
A company priority was a category that Airport Authority Hong Kong had identified as a core growth opportunity, wine. During the bid presentation Fabre had pledged to bring "the most attractive and most interesting wine selection in an airport anywhere." He admits, though, that the category has been a big challenge, partly due to low tax Hong Kong's status as a place awash in accessibly priced fine wine [wine duty was slashed to zero in 2008].
"We have no price advantage. In Hong Kong, wine is even sold at 7-Eleven. So how do you reconcile the vendors' pricing strategy for duty free with the fact that it's a third cheaper locally and sold in Watson's Wine?"
The answer was a case of vive la difference. "We need to be differentiated," says Fabre. "We need different vintages and wines that you can't find downtown." With so many Chinese shoppers using wine apps such as Wine Searcher, Dr. Wine, 9Kacha아峠蟾 and Snapwine탠, the challenge is to find wines that Hong Kongers would automatically dismiss as poor value. Fabre is pleased with progress in terms of range and merchandising but says the current offer is just the conduit to something even more exciting.
Altering consumer value perceptions
"Today's the Grand Opening, but it's really just the start of a grand journey. We still have so much ahead of us in terms of improving the customer service, the merchandising, the customer story. But at the same time, with the wider range it's really about telling a story to people who don't know about wine."
A common perception was that the airport only sold expensive, high-end wines. "You need to be able to reach out to the non-confident consumer who feels intimidated by a wine shop… while at the same time serving the customer who is very expert and very, very demanding in wanting First Growth and other super high-end wines.
"Hong Kong Airport is not a big concession in terms of space [around 3,700sq m]. But in terms of sales density, it's probably number one worldwide in terms of the traffic and the volume that is done. So, it's going to be a medium-term project to really get every aspect perfect in terms of the merchandising, the training, customer service etc. The hardware is now there and we just have to fine-tune the soft elements.
A promise of greater things to come
Françoise Flament remembers the phone call from Lagardère Travel Retail Chief Business Officer Ambroise Fondeur well. It was May 2017 and she was busy at company headquarters in Paris. "Françoise, are you available for a meeting next Monday for a project?"
"Yes, I can make it. Tell me what time it is so I can free my agenda."
For Ms Flament it was the start of a journey in more ways than one. She had just three days to read all the background to a project she knew nothing about and plan for the first meeting with the company's new partner in Hong Kong, CDFG. And time was ticking on the November 2017 soft opening.
Upon arriving in Hong Kong, her first task was to check out the shops of the incumbent, DFS Group, which prompted some big decisions to change the space, the assortment and the location of key categories. Plans were laid and work began in earnest to prepare for the soft opening. "It was really tough because we had to plan the takeover of the old shops while at the same time working on the new shops and the new assortments and category selection. It was intensive. I spent six months with Chinese people and products and brands so it was very interesting."
The alliance and the retail offer represented a fusion of East and West across people, products and corporate culture. While proud of the result, Ms Flament mirrors Fabre's view that important refining lies ahead. "We are not yet at the right level that I want it to be, but the shops are open, we have the major brands, we have this VIP room, we have the Hennessy boutique, and we have plenty of other attractions in the shops. It's just the first stage and we will improve.
"Retail is detail. The shops are open, but the real job is beginning."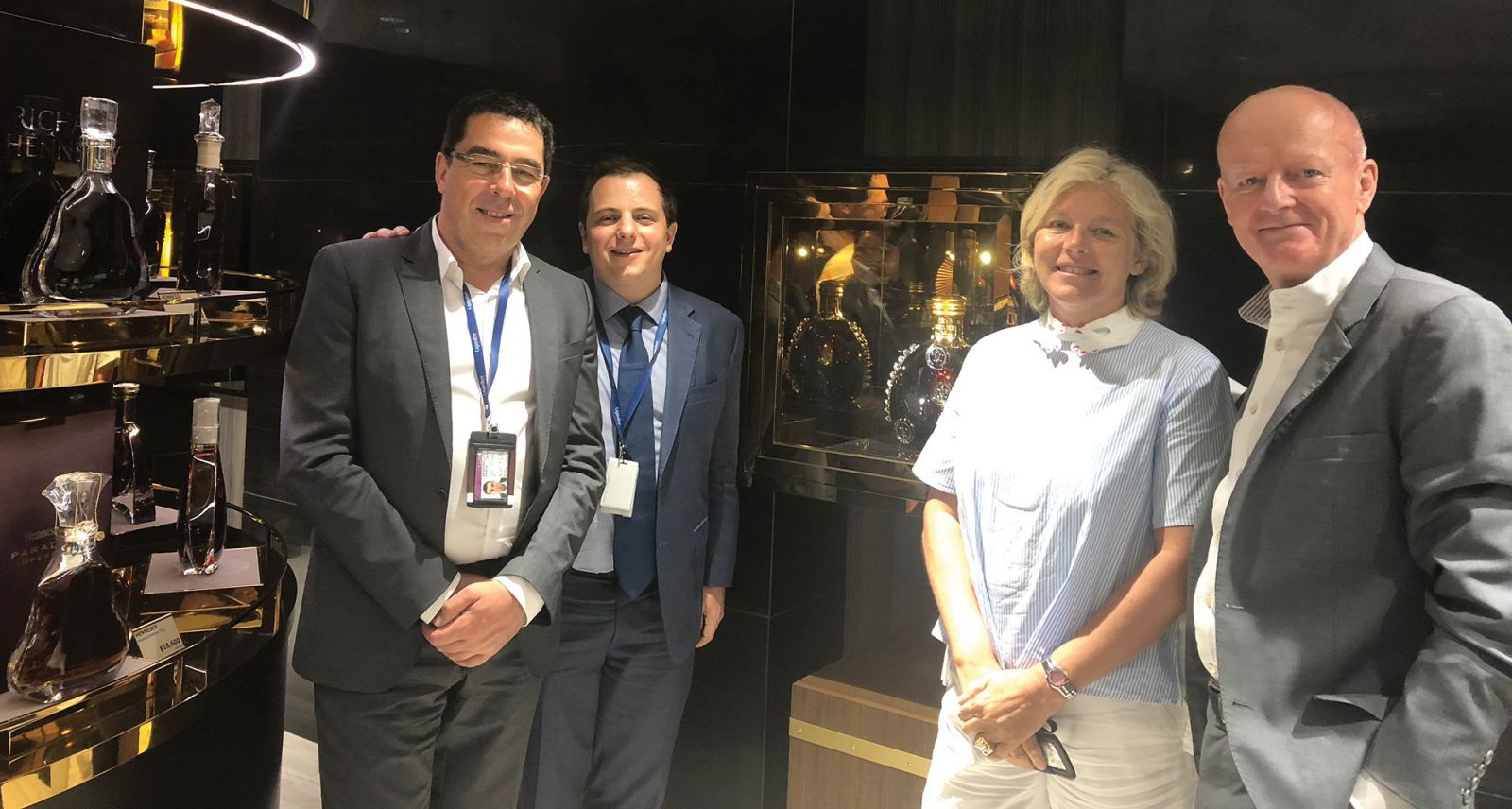 (Left to right) Lylian Vignau, CEO of Duty Free Global at Lagardère Travel Retail; Lagardère Travel Retail Greater China Chief Executive Officer Eudes Fabre; and Lagardère Travel Retail Product Management Director Françoise Flament pictured with Martin Moodie
"But things are looking good and it's also very good to be able to benefit from the expertise of our teams from Paris. All the support we get from the guys who have the experience back in Europe is really helpful to the JV and is a key component of making it sustainable and profitable for the landlord, because above all we work for Hong Kong Airport."
Reinforcing the price message is a key task, alongside customer interaction & experience, service and technology, as General Manager Eddie Tsai notes, and not only in wine as noted above. Ultra-aggressive retail pricing, particularly in tobacco, has in fact been one of the major early talking points about Duty Zero by cdf's approach. "We guarantee price competitiveness against all major airports in Asia Pacific," says Tsai, defending the philosophy. "We will refund double the price difference if customers find regular-priced travel retail items at lower prices at other major airports in the Asia Pacific region. We want to change customers' perception. A lot of local (Hong Kong) residents didn't bother to come into the stores because they knew it was expensive. We have been working hard to change that perception."
There is much to work on but Lagardère has run businesses at Hong Kong International Airport for over 13 years (starting with news and books offer Relay), and that history has served it well in its new joint venture. Today it operates across duty free, Relay, specialist retail and F&B. "So we understand Hong Kong Airport well. And, obviously, our Chinese partner is the duty free leader in China, so they bring a credible brand and a good customer base," says Fabre.
"It's a partnership, so we need to make it work and so far it's been pretty good. In CDFG we see an organisation that is eager to learn, eager to professionalise and who want to do a good job. We've worked with them on duty paid projects for six or seven years already, so we've known them for a long time. We've always been impressed by their objective to be the gold standard of duty free in China."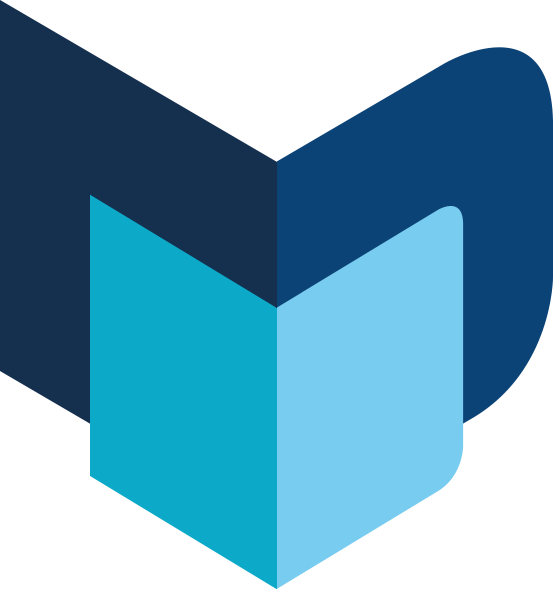 ---
The Moodie Davitt Report • The Online Magazine • October 2018