Cruise retail • Carnival Cruise Line
---
"The best shopping experience at sea"
Carnival Cruise Line Vice President of Retail Services William Butler talks about the approach to retailing onboard Carnival Horizon, and about the wider trends in the cruise market. By Dermot Davitt.
The high-class shopping environment and offer onboard Carnival Horizon is a "milestone" for the cruise retail business – and a key moment for how Carnival Cruise Line seeks to engage its guests.
Speaking to Vice President of Retail Services William Butler, the sense of excitement and pride quickly becomes clear. So too does the time and complexity that planning such a vast ship entails.
Butler says: "We take a very different approach to 20 years ago, when cruise lines would just add retail to the planning of a new ship and figure the merchandise would simply sell. Now the assortment is driven by guest feedback. We do a lot of guest research and focus groups, and talk to past guests who bought and those who did not buy, to decide what will work and what will not.
"It takes around three years to build a ship and over the past 18 months we have been working with our partner Starboard on space layouts and the brands that would make most sense onboard. It takes both of us to plan the full build-out. Because the shops are at the heart of the ship, it needed to be the right mix, around the central atrium, and Starboard has executed that very well."
With Starboard (see previous interview), Carnival has positioned shopping as an integrated element of the overall entertainment programme.
"We've had retail onboard for 30 years but that tailored approach where retail is tied into the ship experience is one we've spent a lot more time on planning recently. Cruise retail is different to mall or airport retail in that you interact with the guests through different events and activities. You encourage them to return, whether they buy each time or not. Onboard Horizon, the adjacencies also work in one organised environment."
William Butler: "We want people to say that they found a great memento of their trip, and had a great deal too"
There are some stand-out highlights within the new offer, including some firsts and exclusives to Carnival. "A good example of newness is Victoria's Secret, which we introduced just over a year ago with the Bath & Body line to our ships. Now we offer a full store experience for the first time.
"We've also gone after the watch category, and tech watches in particular. All the major brands have their own tech lines, but we have pulled them all together in one experience. To add such a space is significant for us. We also have an expert team ready and able to tie a watch to a guest's smart phone, and guests can return to the shops with any questions during the voyage.
"We have new accessories and handbags; Kate Spade and Michael Kors were two brands that guests wanted and we have two shop-in-shops from them for the first time. Adjacent to that is fashion jewellery, where we have create a tailored shop-in-shop environment. A highlight is Rock Envy featuring Swarovski crystals, where guests can create their own bracelets and other jewellery just for themselves – that store also has pieces that are exclusive to Carnival.
"Fashion jewellery is an exciting trend. The make-your-own, personalised approach is something you can do on a cruise that you cannot do as well in other environments, and that adds a high level of specialisation.
"Then there is fine jewellery. For this category you have to have a great environment and the best specialists to present products that will last a lifetime for the guest."
The mix is broad, with products across the categories from entry level to super-premium. Luxury plays more of a role today than it ever did, but what is critical is that the environment does not become forbidding.
Butler says: "We recognise that there are people onboard who want luxury items, but as we introduce more aspirational brands we want the traveller to come onboard and feel that the core of classic, entry level staples still exists.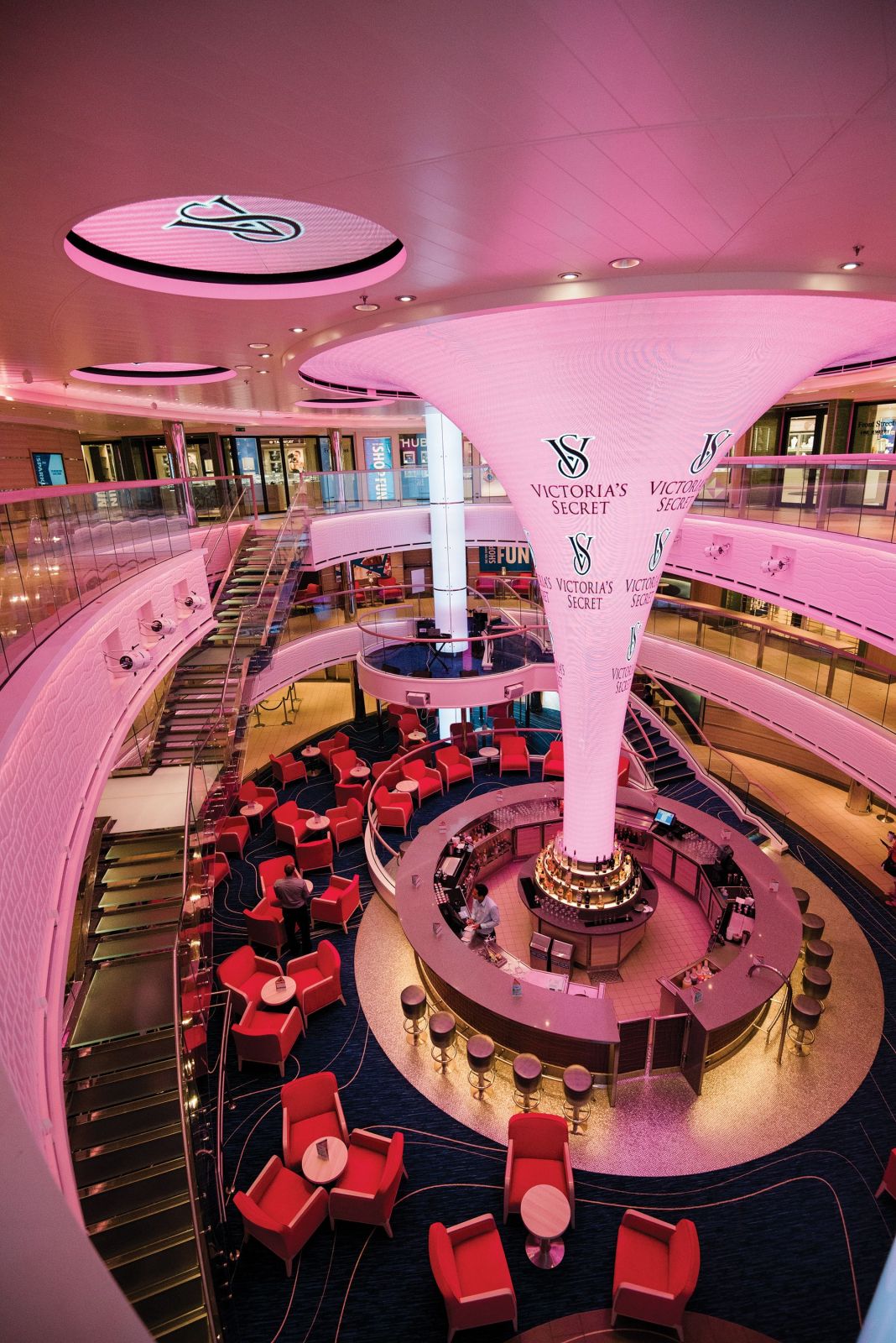 A vision in pink: Victoria's Secret spectacularly lights up the central atrium of the ship with its branding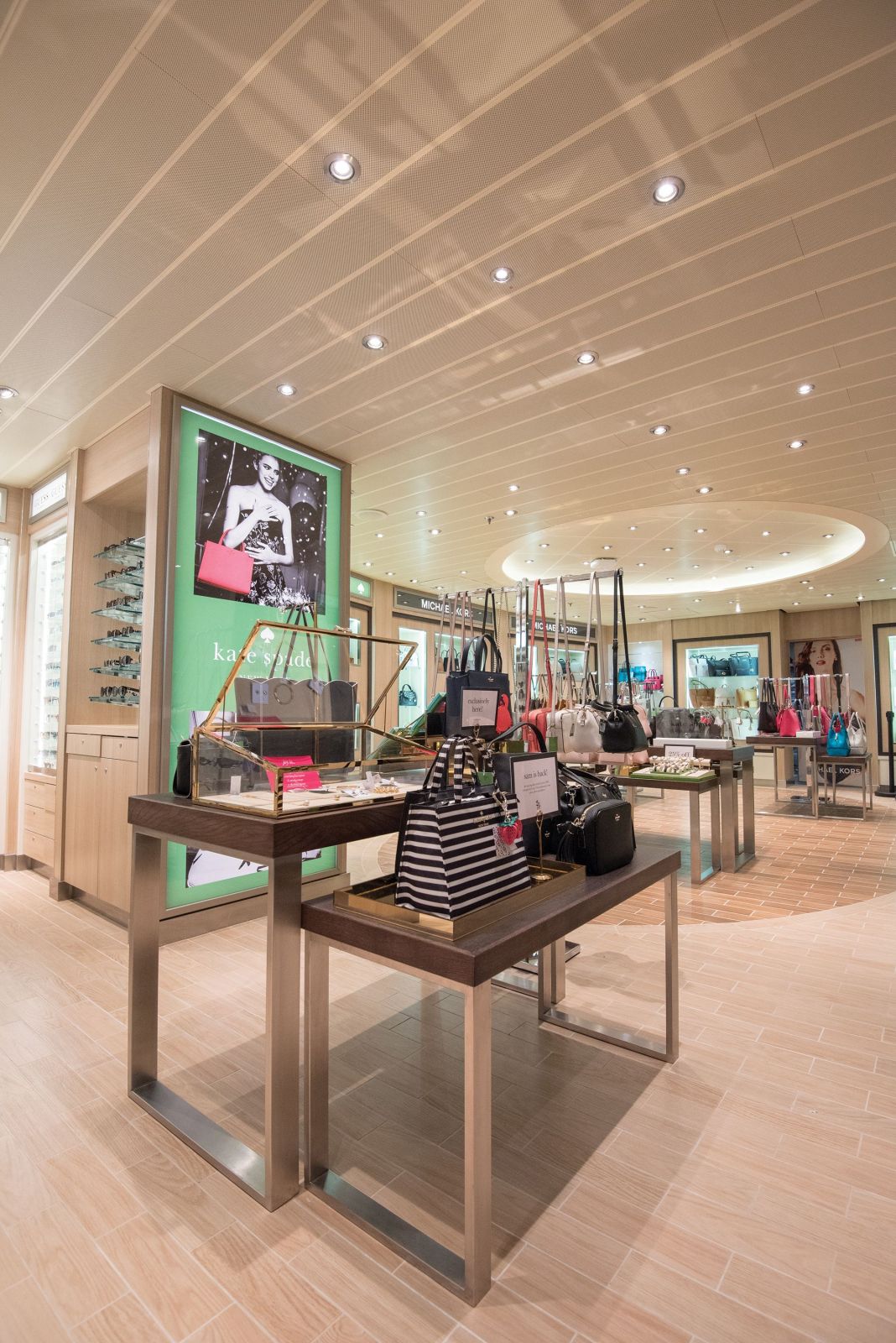 Carnival hails the part that Starboard has played in introducing new brands, notably in fashion, jewellery and watches
"What we did not want to create was an intimidating environment. Not every brand is for everyone. If you take watches, one of our most popular lines is Invicta, which is at an entry level price point. Just because we have Hublot and Breitling, it doesn't reduce the importance of Invicta or Citizen. They are strong sellers throughout the fleet."
Carnival management is keen to introduce more exclusive lines, but not for their own sake, notes Butler. "They must have relevance to our guests. How we bring them to life is what makes or breaks us. If we add new tech watches, we need an event or education piece tied to it, to explain what it means. That's where we differentiate ourselves and get credit for the newness. The guest needs to know it's there and feel excited by it."
Sense of Place also has a role to play in the offer, even on a trip that takes in multiple destinations.
"The itinerary-specific merchandise on Carnival ships is one of our most visible differentiating factors, whether we are going to Cozumel or Nassau or Juneau in Alaska," explains Butler. "We have merchandise from each of the ports of call. Yes we want guests to remember their time onboard a Carnival ship but a gift from the port they visited goes a long way to creating memories too. Logo-wear is a special category for us, and we work with retail partners to develop that category onboard. And if you add a ship or port logo to it, it becomes extra special."
The competition for the shopping channel comes from other entertainment onboard, but even this can create retail opportunities.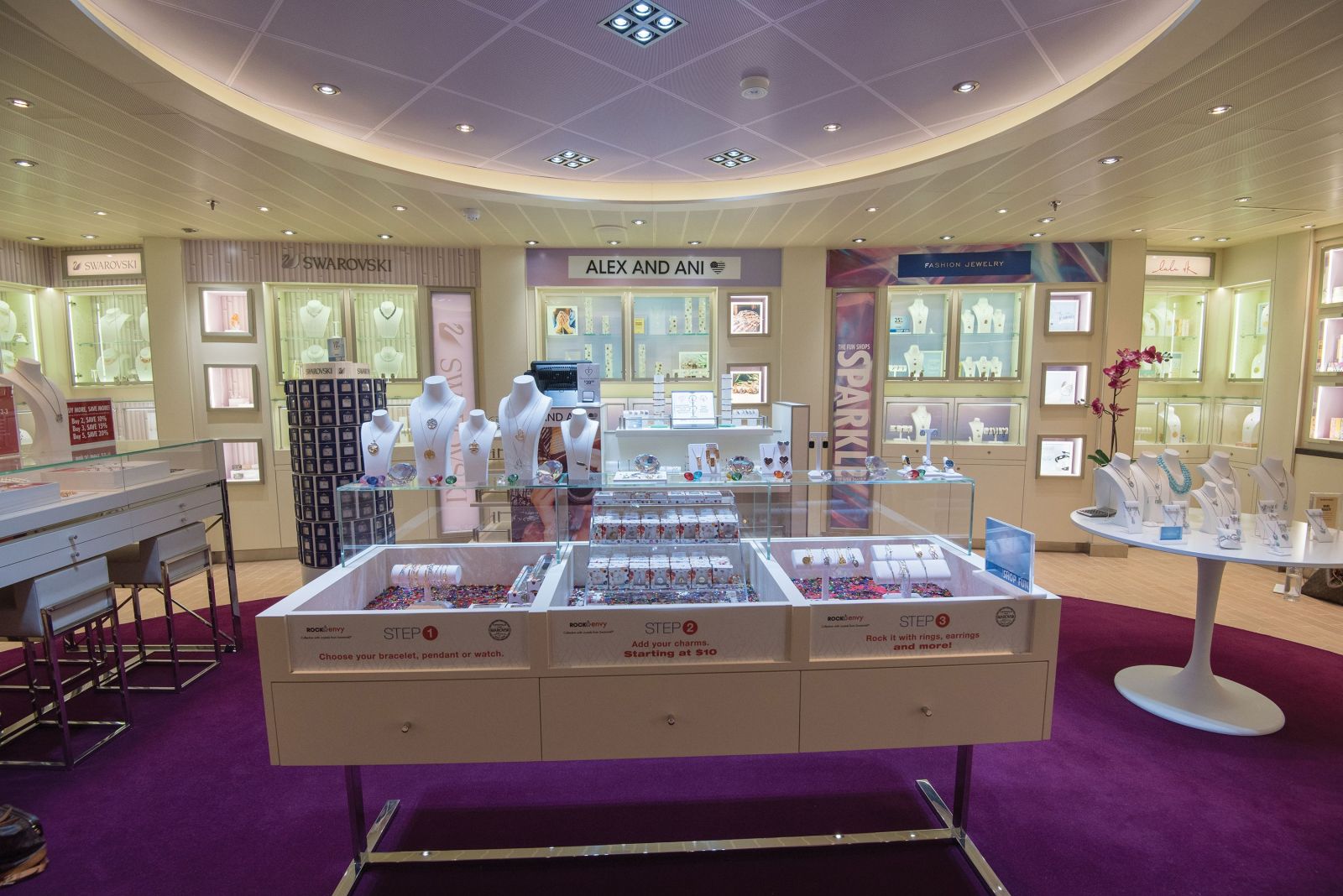 William Butler: "The make-your-own, personalised approach is something you can do on a cruise that you cannot do as well in other environments"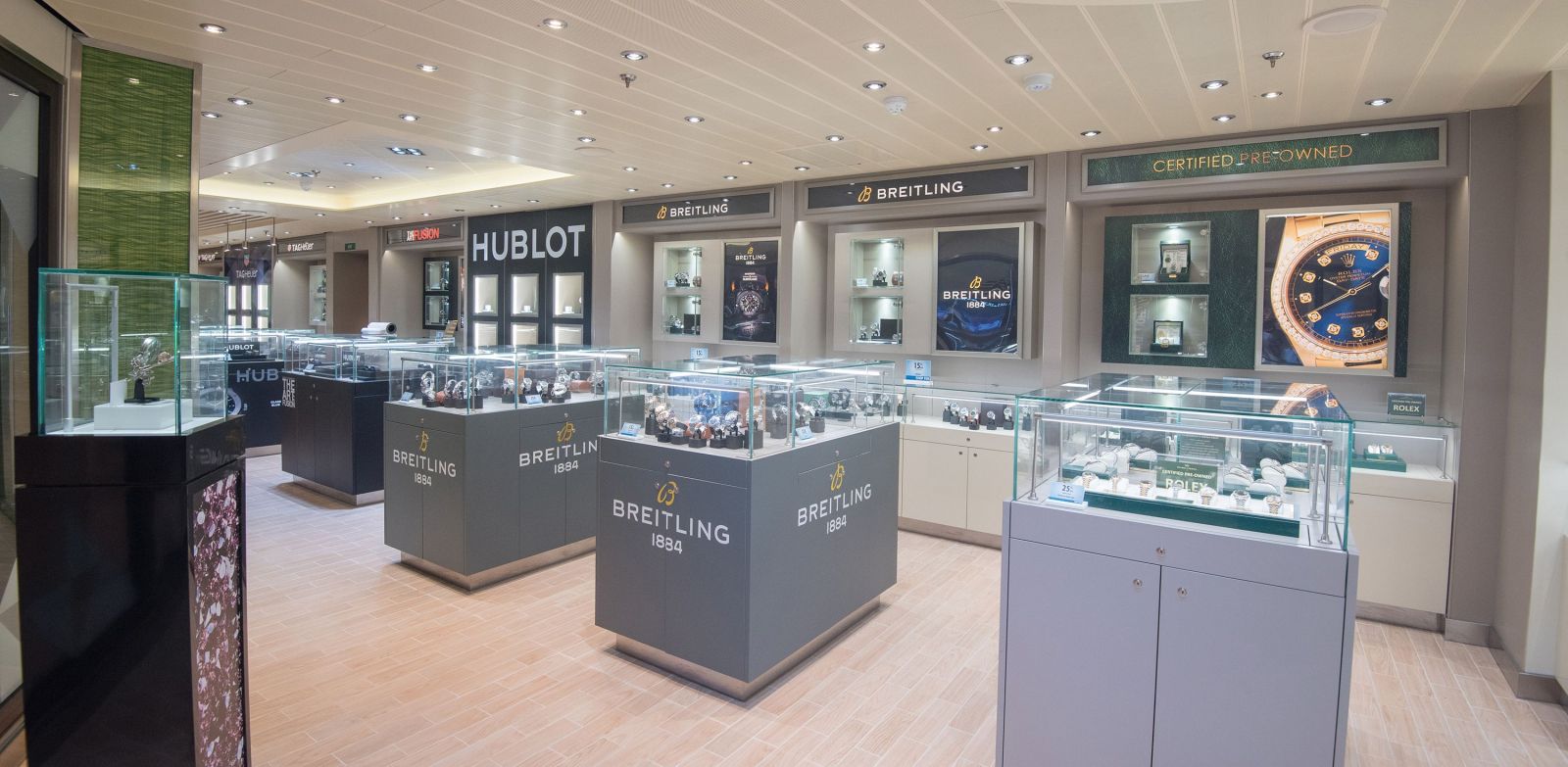 Carnival has made a big statement with its watches offer, from the luxury end to wearable tech
"As we expand our entertainment we need to think of new ways to tie retail to the overall entertainment. We have new partnerships – lately [a version of TV show] Lip Sync Battle, which is great fun. So a new retail angle could be Lip Sync Battle merchandise, or items from our Pig & Anchor Smokehouse/Brewhouse. They are little touches but add value as keepsakes of the journey.
"So a lot of the competition comes from within. We have a captive audience but we don't just expect them to show up. We have to have engaging events that are meaningful. We won't win if we just open the doors and the shops look the same each day."
Creating advance awareness of the offer also plays a part. "If you have cruised before, you know what to expect. But shopping isn't always first to mind if you are a first-time cruiser. You decide on the ship, the home port, the itinerary, but we want you to know there is great value in shopping too. We do a lot of pre-cruise marketing and advise people what to expect, but we want them to feel excited too."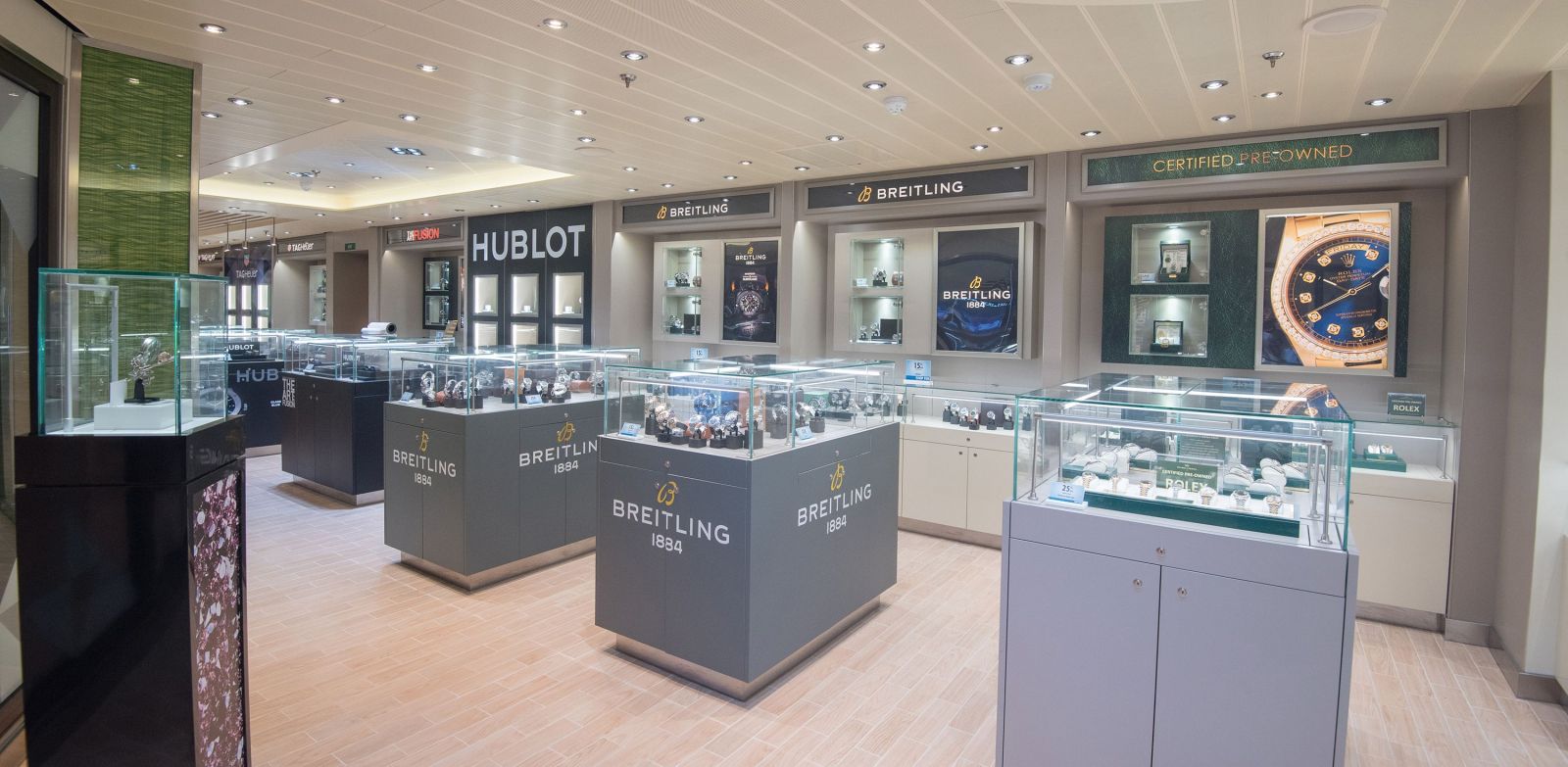 Carnival has made a big statement with its watches offer, from the luxury end to wearable tech
Progress through partnership
Building the assortment and creating a buzz around it comes down to the relationship with the concessionaire, and here the Starboard partnership is a key one for Carnival; they recently struck a multi-year agreement for nine of the cruise line's ships.
"On Horizon there is investment together," says Butler. "Long gone are the days when it was about landlord and tenant. We are partners and the fact that we awarded them our newest ship tells a lot about our commitment, and theirs."
Carnival works with five retail partners across its fleet, among them Dufry and Heinemann. Butler acknowledges the recent cut and thrust among concessionaires – sharpening price competitiveness and adding potential new ideas – but hails what Starboard brings to the table.
"Ultimately Starboard is our longest standing partner and we trusted them with our newest vessel. We have worked with Starboard for around 30 years, long before we knew what to do with retail ourselves. Today, with my team in Miami, we like to think of ourselves as retail experts too. We rely heavily on Starboard for the assortment, but when it comes to the strategy and planning, we have to do that together. And that has been a strong formula for us.
"On other ships, each partner brings different strengths and we do a lot of deep dives to gauge what they can do. When we decided to work with new partners it was to see what we could do differently and was an opportunity to try new things. At the foundation of the relationship with each of them is to create the assortment that the guests want.
"We share best practice too. When Carnival Horizon was launched we invited all of our retail partners to the inaugural event. So they each bring something. But Starboard has shown with this beautiful new environment what they can really do with a high level of excellence."
The competition for concessions will only intensify with the launch of new ships, and as older ships are remodelled.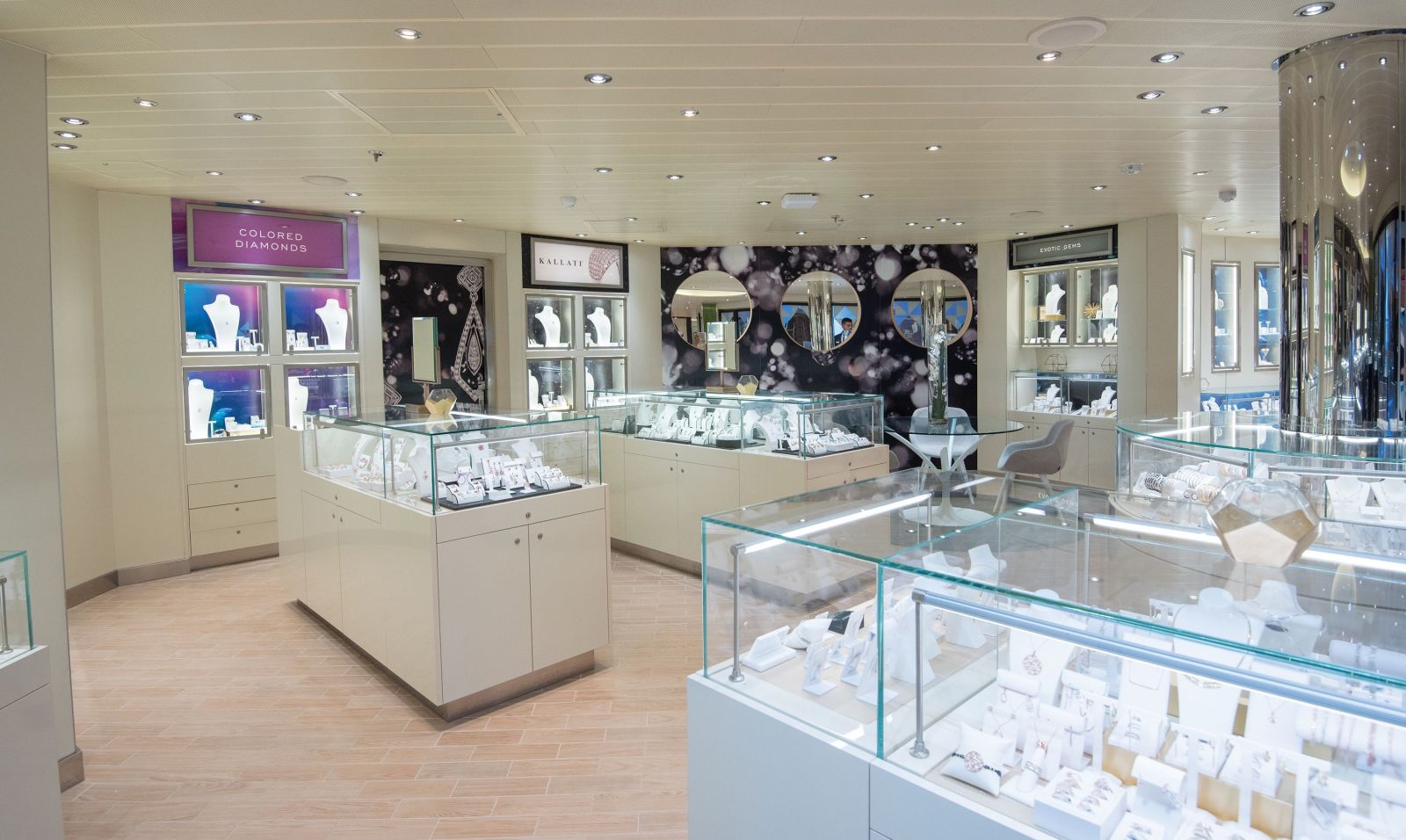 "We are adding merchandise that is meaningful, adds value and is tax & duty free of course" – William Butler
Butler notes: "In the past 18 months we have remodelled ten retail environments across our fleet. Our most recent was Carnival Legend (a Starboard client ship), which sailed out of Seattle around Alaska but will be repositioned in Australia after the season. It's a beautiful new environment that resembles what we have done onboard Carnival Horizon.
"We're also building Carnival Panorama, the third in the same class as Horizon and Vista. She will launch in November 2019, based out of Long Beach, California. We have yet to award that contract, and are deciding how to curate that offer."
Beyond this, Carnival is planning its two biggest ships yet, one for 2020 and another for 2022. The first, with the working title 'XL', will house 6,000 passengers and have retail over three decks, rather than two as on Horizon. Butler says: "This will be a new shopping environment, it will be fully embedded into the guest experience and will become our largest retail experience at sea." A retail partner has yet to be named but, as Butler noted of the Horizon planning, lead times are lengthy.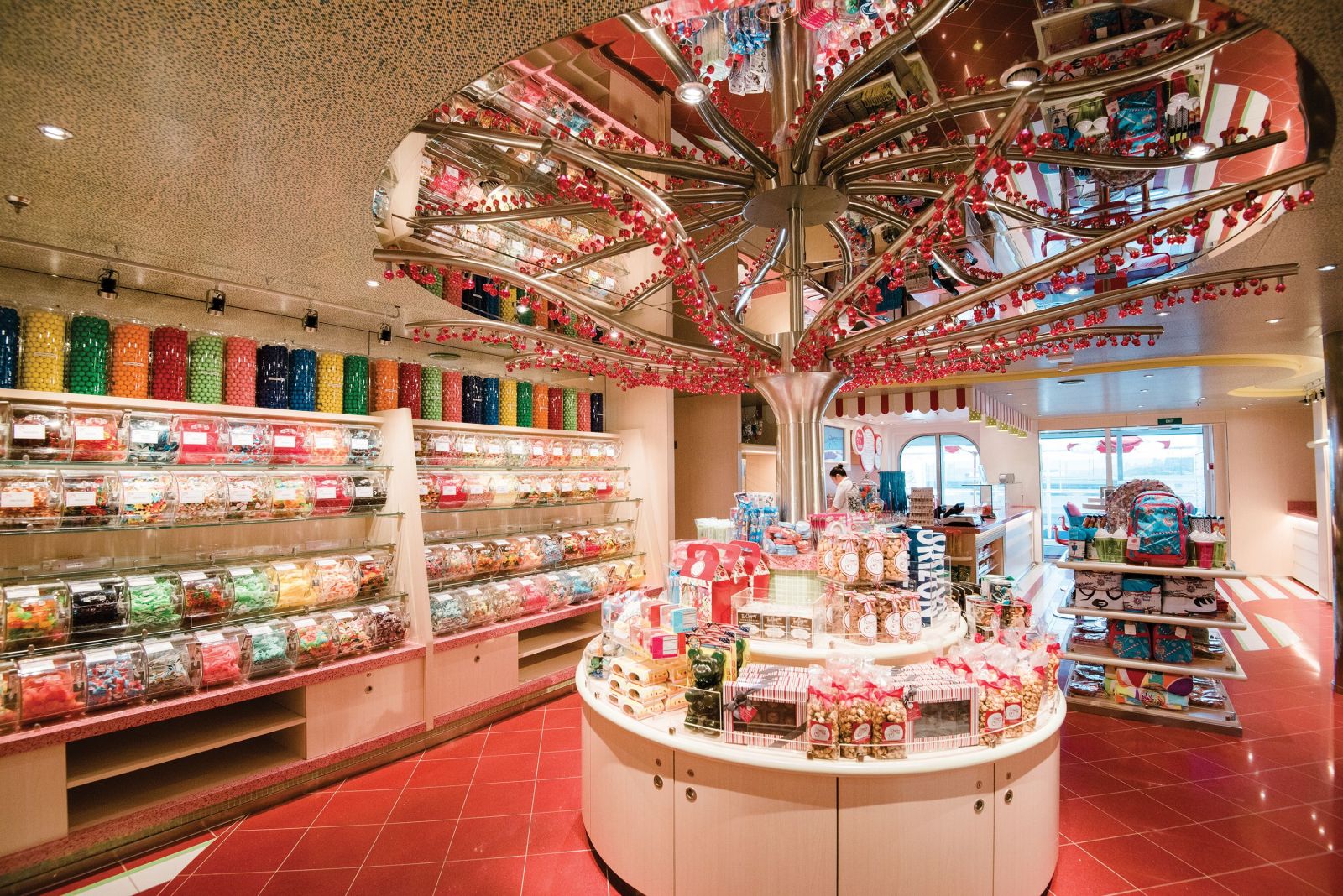 Cherry on Top: This Carnival concept brings confectionery evocatively to life onboard
"We first determine which category of business will be placed where onboard, well ahead of time, and work on which brands fit the space after that. We have to make decisions on brands almost a year in advance of launch, which can be a challenge. We need to have brands that resonate with the guests. With Horizon we'll assess how those brands are doing onboard and potentially then extend the best of them to new ships or even refits of our older ships."
As Carnival plots its course towards a new era of larger ships with greater retail spaces, Butler is confident about the prospects for the business.
"Retail has long been a strong contributor to our onboard revenue, but because we're listening to our guests we are now adding merchandise that is meaningful, adds value to them and is tax & duty free of course. I'm proud that we see healthy growth in retail, and if we have the right offering we'll continue to see growth.
"What is exciting is that we are just getting started. At the end of the day we want people to say that they found a great memento of their trip, and had a great deal too."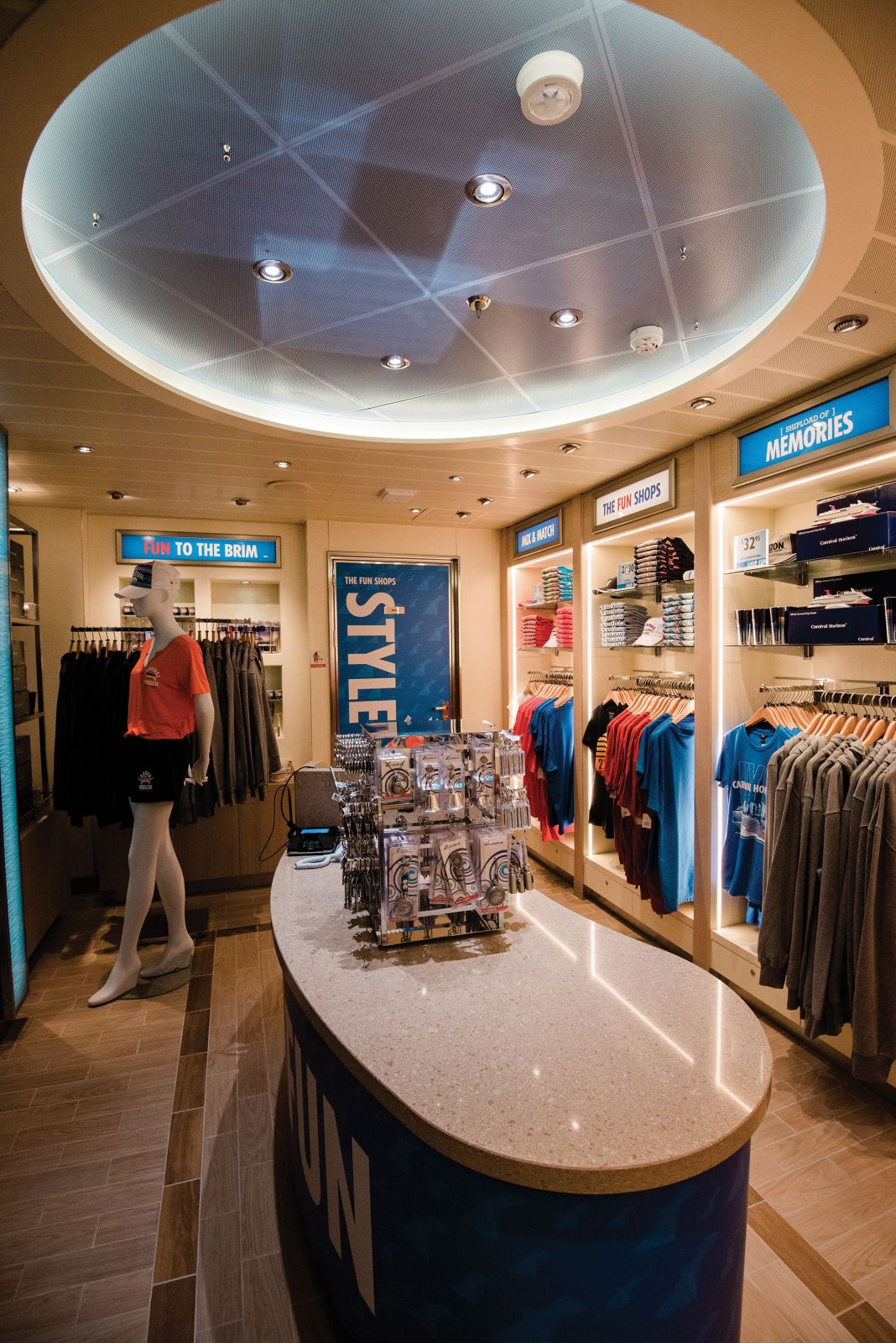 Growth category: Logoed merchandise is a strong performer for the cruise line
Carnival Horizon

fact file
Number of shops: 11 across two decks
Highlights: First stand-alone Victoria's Secret boutique on a Carnival ship; first time on a Carnival ship for Breitling, Hublot, Kate Spade, Michael Kors, and Rebecca Minkoff.
The Fun Shops Deck 4 (1,145sq ft):
• HipFish watches
• Island Trader's
• Port Side liquor & tobacco
• The Carnival Store
The Fun Shops Deck 5 (4,265sq ft)
• Cherry on Top
• Front Street fine jewellery
• Front Street watches & fine jewellery
• HipFish accessories
• HipFish beauty
• HipFish fashion jewellery
• Victoria's Secret
Brand highlights
Beauty
• Chanel
• Dior
• Victoria's Secret
Jewellery
• Alex & Ani
• BB Becker
• Kallati
• Le Vian
• Lulu DK
• Marahlago
• Slate and Tell
• Swarovski
Leathergoods
• Kate Spade
• Michael Kors
• Rebecca Minkoff
Sunglasses
• Costa Del Mar
• Gucci
• Guess
• Maui Jim
• Oakley
• Prada
• Ray-Ban
Watches
• Breitling
• Bulova
• Citizen
• Daniel Wellington
• Hublot
• Invicta
• Kate Spade
• Michael Kors
• Movado
• TAG Heuer
• Tissot
Wearable Tech
• Citizen
• Fossil
• iTouch
• Michael Kors
• Movado
• TAG Heuer Connect
Source: Carnival Cruise Line; Starboard Cruise Services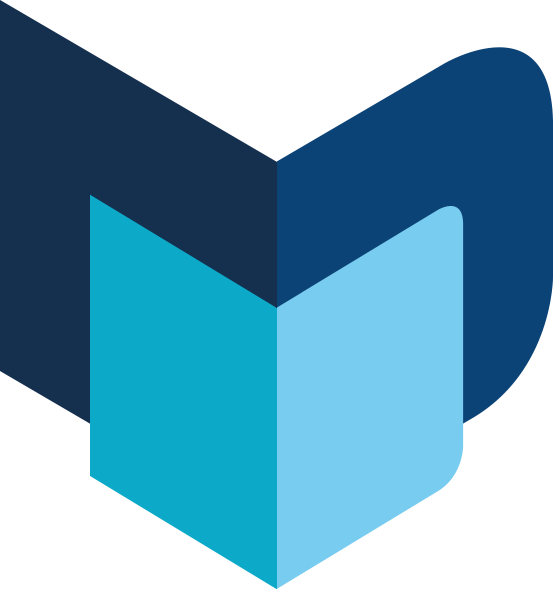 ---
The Moodie Davitt Report • The Online Magazine • October 2018