Transforming perceptions of Sydney Airport through luxury retail
Over the past four years, Sydney Airport has undergone an ambitious transformation of its commercial offer, across international and domestic terminals. The luxury offer today is one that can rival any national gateway, and makes a powerful statement about Sydney Airport as a retail destination. General Manager, Retail Glyn Williams tells Dermot Davitt about the stellar performance of the luxury brands in the past year, and about how the next phase of development will take shape.
When Bulgari recently announced plans to open a boutique at Sydney Airport in Q4 this year, it reinforced just how the Australian gateway's reputation among luxury brands has been transformed. The Italian house will join an already powerful line-up in Terminal 1 that includes Tiffany & Co., Hermès, Gucci, Rolex, Burberry, Max Mara, Michael Kors, Tumi, Emporio Armani, Coach and Hugo Boss.
As General Manager, Retail Glyn Williams reflects, Sydney Airport has come a long way since it began a journey to shift perceptions of the airport as a retail destination around four and a half years ago.
"Back then our luxury was not at the level of other airports," he says. "We set about redefining the retail experience at Sydney Airport, and came up with our dream line-up, but it wasn't easy to convince brands that they needed to be at this airport. It took time to get commitments, but progressively some of the key brands agreed, and others followed. Now many more are coming to ask where they can fit in?"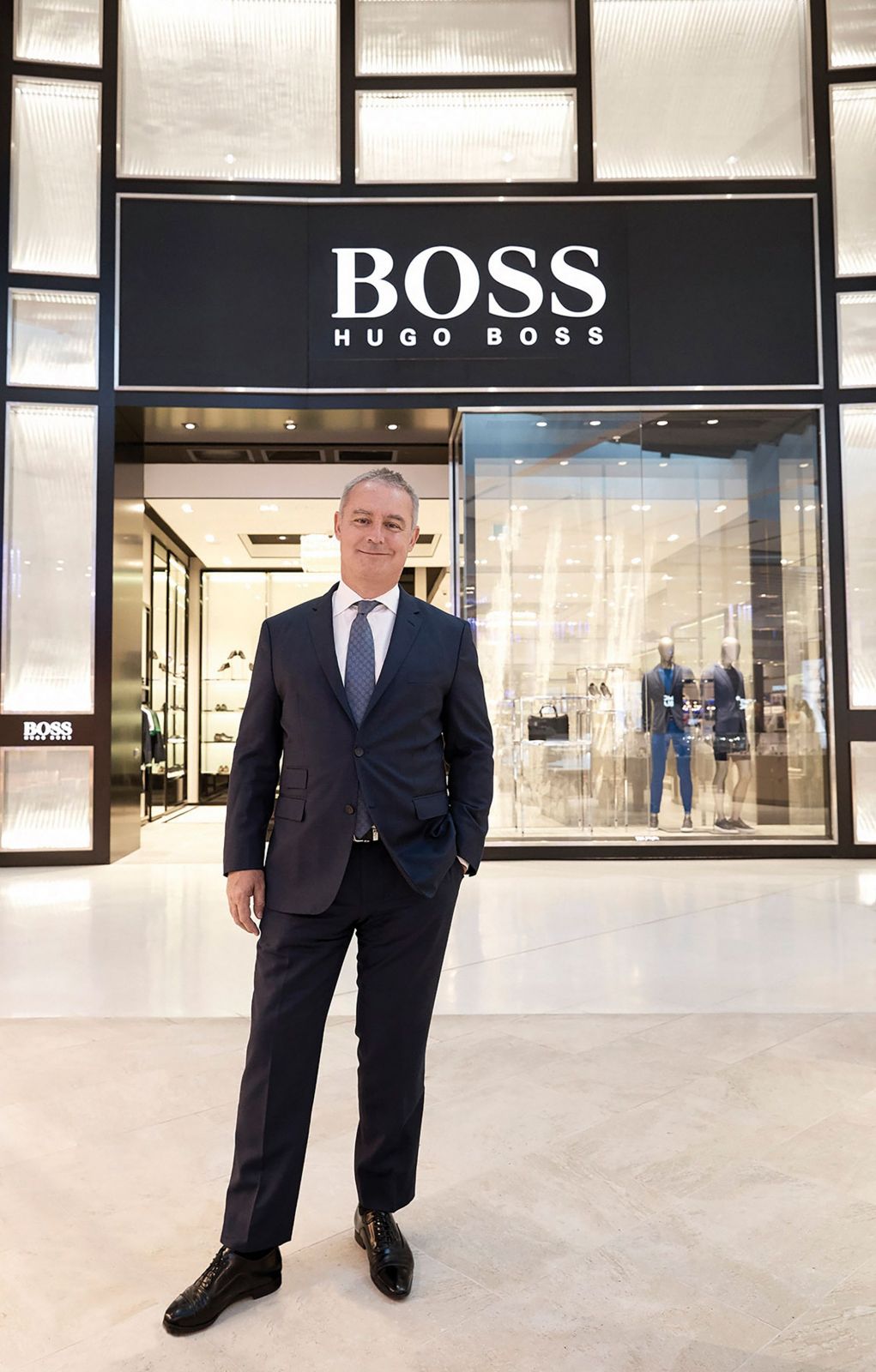 Glyn Williams: Sydney Airport's luxury boutiques have outperformed expectations, and budgets
That's in part because the performance of most since opening has been nothing short of exceptional. "The boutiques have performed well above the business case, with the exception of one [Oroton, which filed for administration in November 2017 and exited -Ed]," says Williams. "Turnover is on average +40% above what was forecast by the luxury retailers when we made the business plan. Some are even higher. And that's been a good story to tell our investors too."
But even that is no reason not to look at how the airport can improve its mix and tailor the offer for its changing passenger base. "We have had the opportunity to look at change. We are moving Kate Spade to a new location and are introducing Bulgari to take its space. We will continue to work to meet the needs of the passenger by refreshing the offer. We are on trend and are looking for new opportunities as they arise, relocating some brands and adding others that resonate with the traveller."
Since the luxury precinct fully opened last year, Gucci, Rolex and Hermès have stood out for their stellar performances, notes Williams, with Burberry also very strong. "We have also seen superb productivity from brands like Tumi, which has shown great turnover from a small space."
Italian style: Bulgari joins a stellar brand line-up at Sydney's International Terminal
The airport's investment in the wider environment plays its part, but the brands themselves have driven the success too.
"At an airport you always have new and interesting concepts coming through, but what is exciting is to see existing brands reinventing themselves," says Williams. "Look at what Gucci has done in this regard to become one of the hottest brands in the world. It's not only about the brand name, it's about the experience they bring to your airport. It's ensuring the product range they offer at their flagship stores is available here too."
The wave of Chinese travelling to Australia has helped shift the luxury balance at Sydney. But Williams insists the story is not only about China.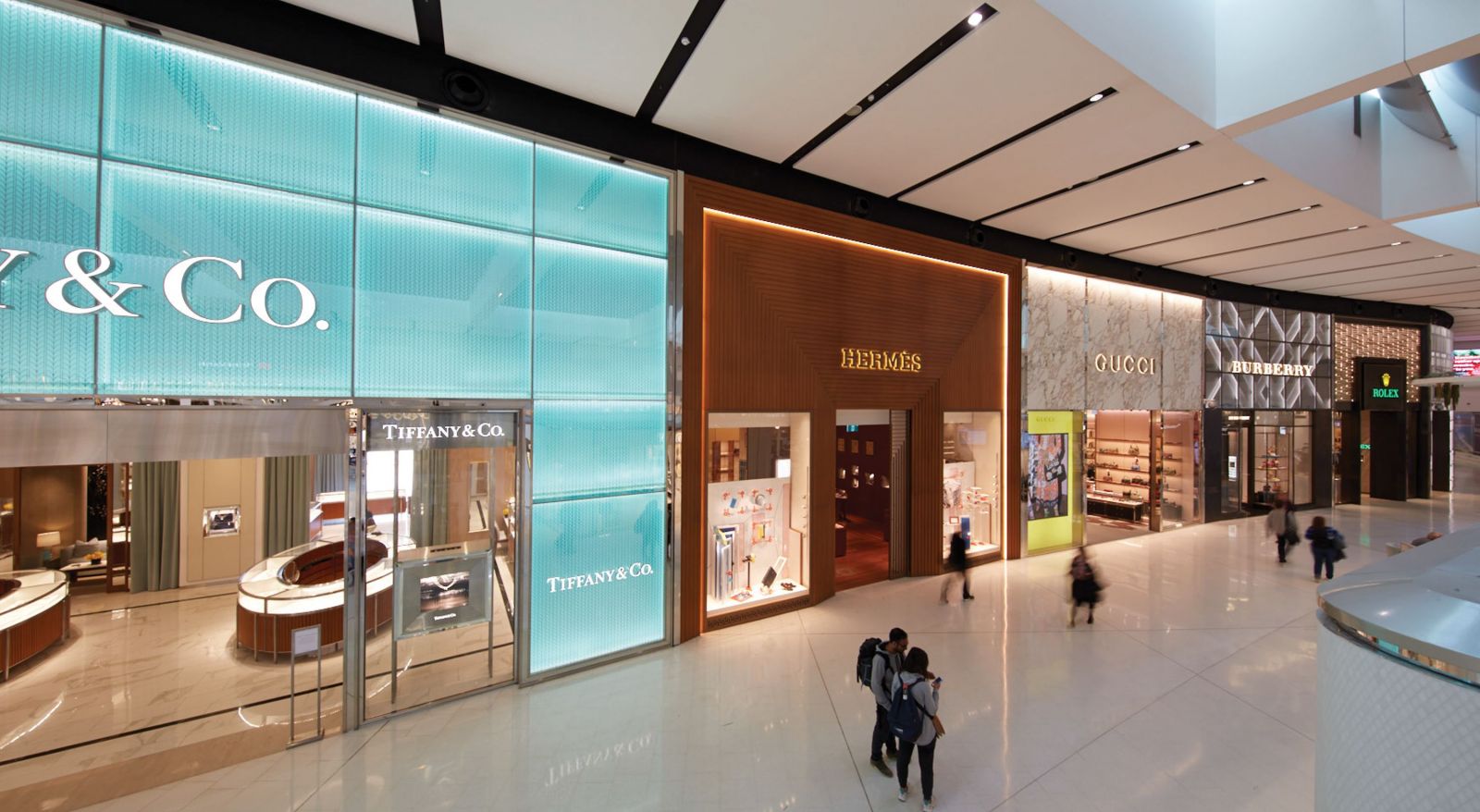 Diversity in the offer is key, notes Williams, as the airport aims to attract new consumers
"It has always been more of an Asian story at Sydney, and increasingly a more rounded international one. We want the mix to be such that if there is a blip with one nationality – as we have seen in other markets – then we are not exposed. If there is a shift in travel patterns from one country we still want to grow.
"Even before the Chinese began coming in large numbers, Japan and Korea were important to us. Today, Vietnamese are our second biggest nationality by average spend, but there are great stories too coming from the Philippines, Thailand and India is a huge growth market.
"The Australian and Indian governments have just signed an open skies agreement, which is significant. A few years ago Australia and China signed a similar agreement, which assisted with the influx of Chinese airlines and travellers. We see India becoming very interesting in coming years. We are developing our 'India-ready' platform, we now have Hindi on our directory boards, we are ensuring our payment platforms are right and we want to communicate effectively with them. It's important that we are ready now and not playing catch-up when they do arrive. India is a diverse market, so we are working through how we connect with the consumer."
Attracting a diverse consumer base, from home as well as overseas, means ensuring diversity and surprise in the offer too. That's where Sydney Airport's 'first to-market' strategy for brands has proved important, notably in luxury.
"When you think about great retailing in Australia you now think about Sydney Airport," says Williams. "Our mantra includes having first to Australia brands. We want to curate our brand line-up and create a product that is difficult for others to replicate."
That in turn means planning space in a way that gives retailer and brand the best opportunity to succeed. Here, every store has to stand on its own merits.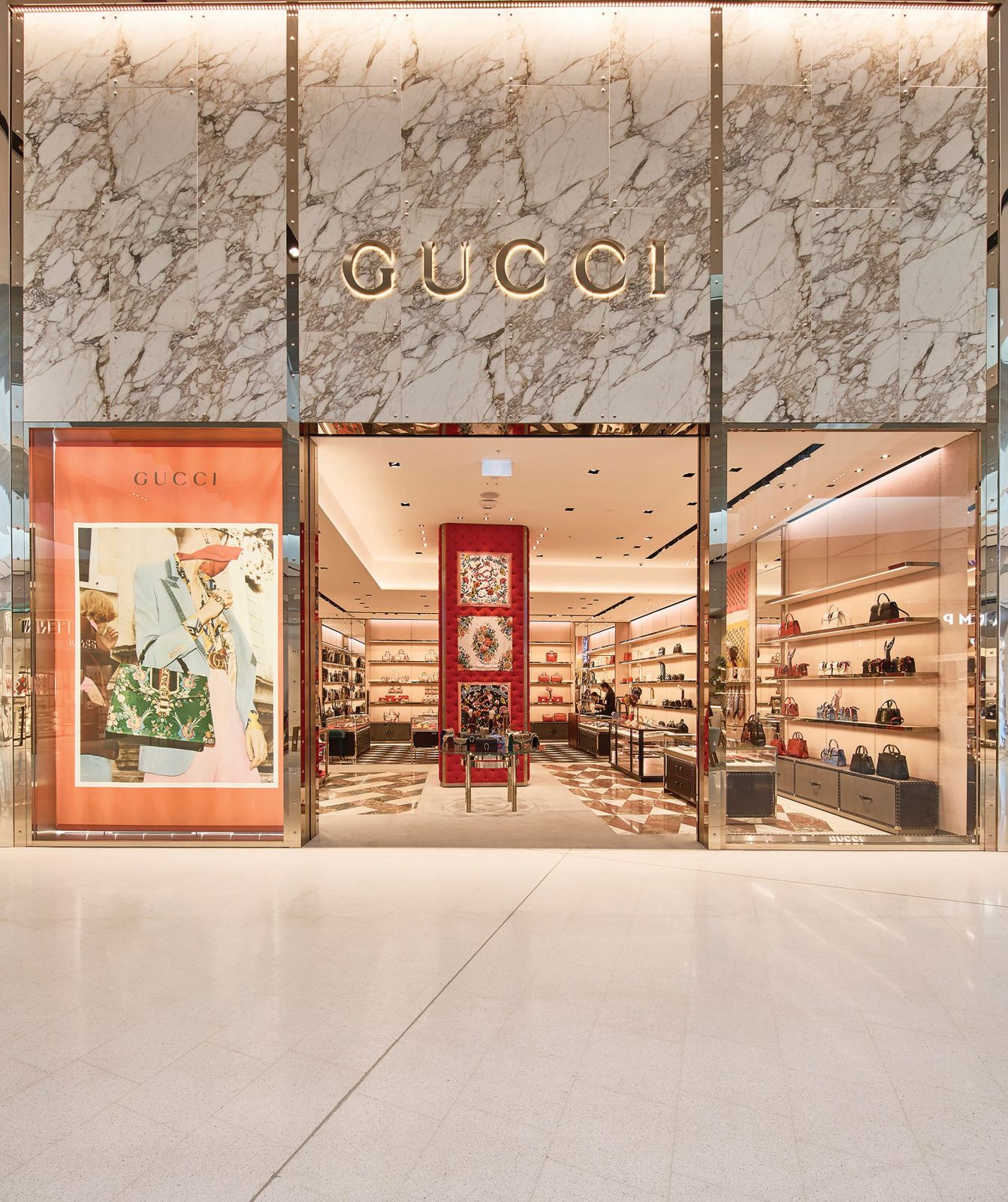 Power brand: Gucci is among the star performers in the luxury precinct today
"Some airports go to tender on multiple locations, and allocates them all to one retailer. In that scenario some will do well, others less well. We prefer each store to be leased in a unique way, which means you have a greater chance of high turnover growth associated with it, with no other stores dragging the business down. You are not compromised by having tendered a mass of stores all at once, and you have the right brands in place. We have to meet the requirements of the passenger, the retailer and ourselves, and not have under-achieving stores."
From the airport viewpoint, flexibility around leasing is vital. "We believe that a lease is a lease to be honoured by all parties, and that you work with each retailer and you look for opportunities. But within that you remain flexible too. As an airport we try to ensure we have a leasing expiry profile that means you can change your offer if the opportunity presents itself. You don't necessarily take that up – some brands might remain in place for the next 20 years – but it does mean you are in a position where you can review.
"You need to work with the retailers closely as an airport. When it comes to tenure, if you want the very best of fit-outs and they spend a lot of money on a dollar per square metre basis, the length of contract has to be viable for them. You can't just present two to three year leases if they need more time. Ultimately we want our brands and retailers to be advocates for Sydney Airport."
Sydney Airport also takes different approaches to boutique management. "On some stores we work with the travel retailers who have partnered with the brands; on others we work with certain brands' domestic market operations, as in the case of Gucci or Tiffany. Where that helps – as it has with Gucci recently – is when you have a rush on a certain product, you can replenish the airport store within hours from their other local operations. That allows us greater uplift and contrasts with a wait of several weeks if you are being supplied from offshore. That's not to say we prefer one model over another. We talk to the brands to understand what works for them."
In building the right luxury offer, the Heinemann partnership is key. The German company took over the tax and duty free business three years ago, and also manages fashion & accessories.
"We work closely with Heinemann to ensure there is no duplication of offer," says Williams. "We like to understand whether the brands are happy with in-line tenancies or work inside the duty free store. It means collaboration. We have the 13 stores leased by Sydney Airport, but with Heinemann's fashion outlets added, you have around 25 luxury brands.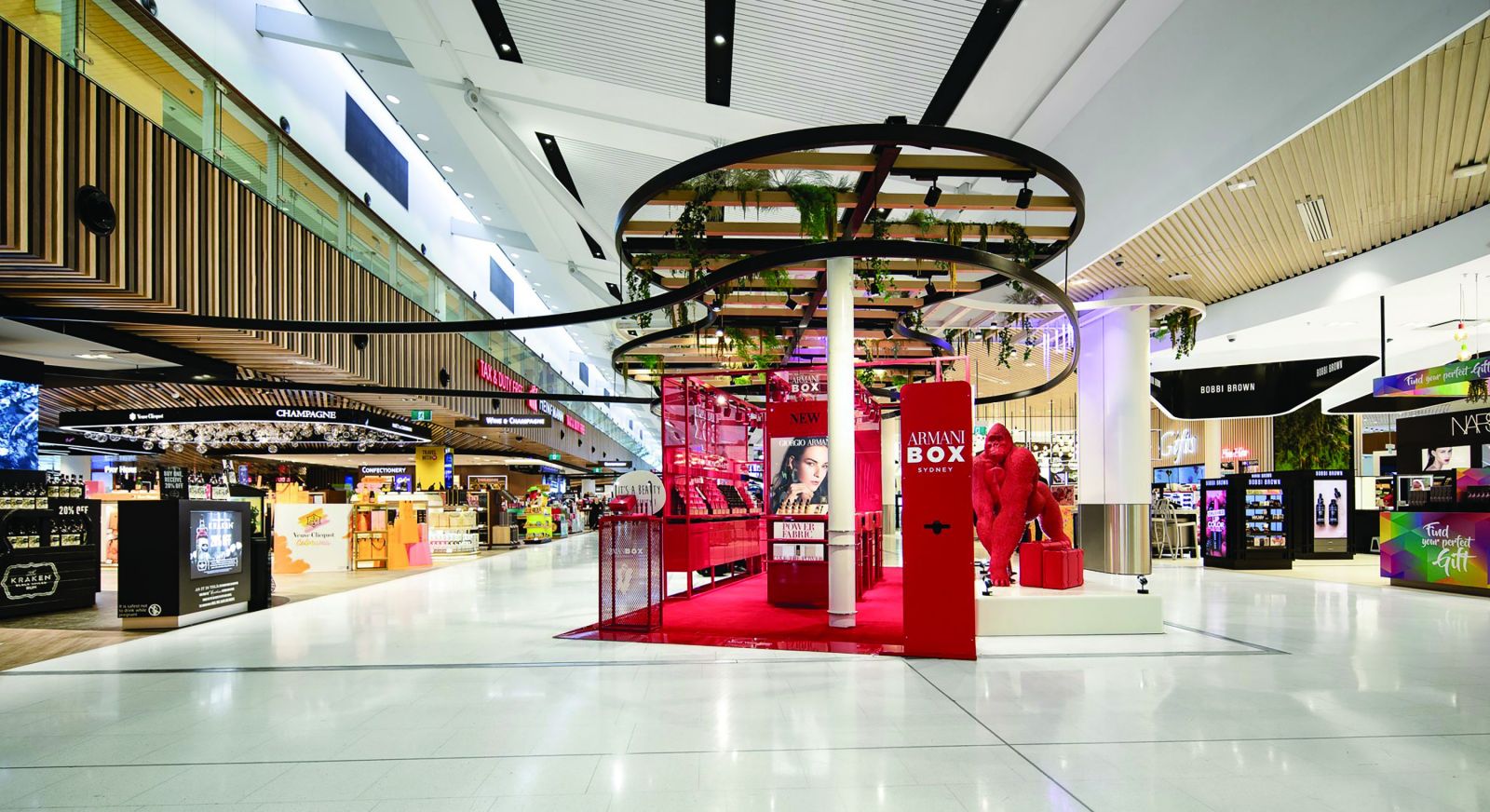 Colour and theatre: Heinemann Tax & Duty Free recently opened the first Armani Box pop-up store in Australia at Sydney T1
"So it's not just about what Sydney Airport has done; we give credit to what Heinemann have created too. They look luxurious and their fit-out is spectacular. I think their P&C area for example is the best in the world; it's simply beautiful. They have invested well and they operate well. Some 30% of their brands were never at Sydney Airport until Heinemann arrived. And all of that contributes to the total product and brand."
The past four years of development have been a period of dramatic transformation for Sydney Airport, with perceptions of the location among consumers and within the industry shifting markedly.
"A crucial factor is that the brands have performed well and they can help promote the precinct. From a design perspective, you at Moodie Davitt have rated it highly, which has an impact. Ultimately though, it's the consumer who decides and the ratings show that public perception is much improved.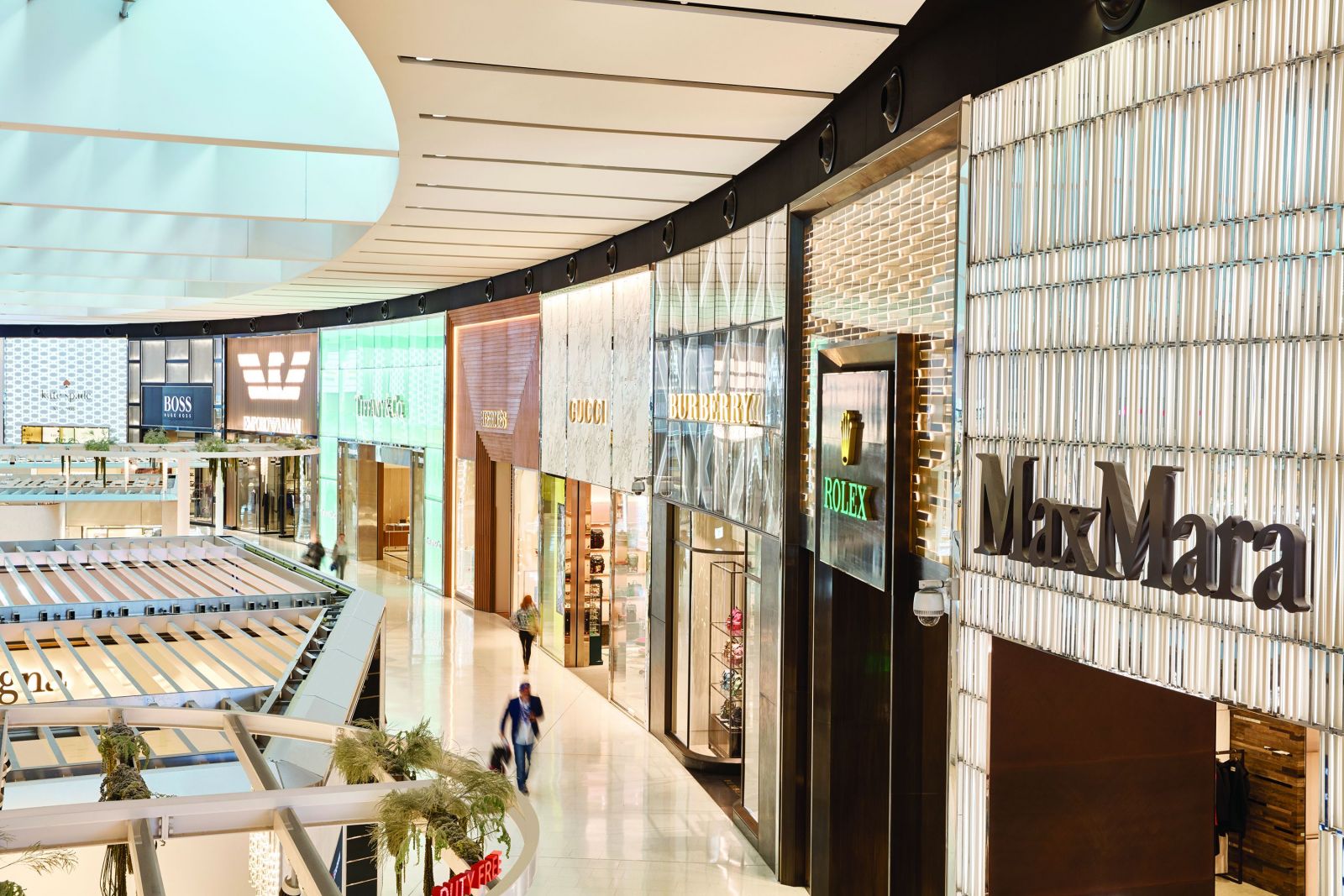 Next steps in Sydney: Seeking "next in class, not just best in class"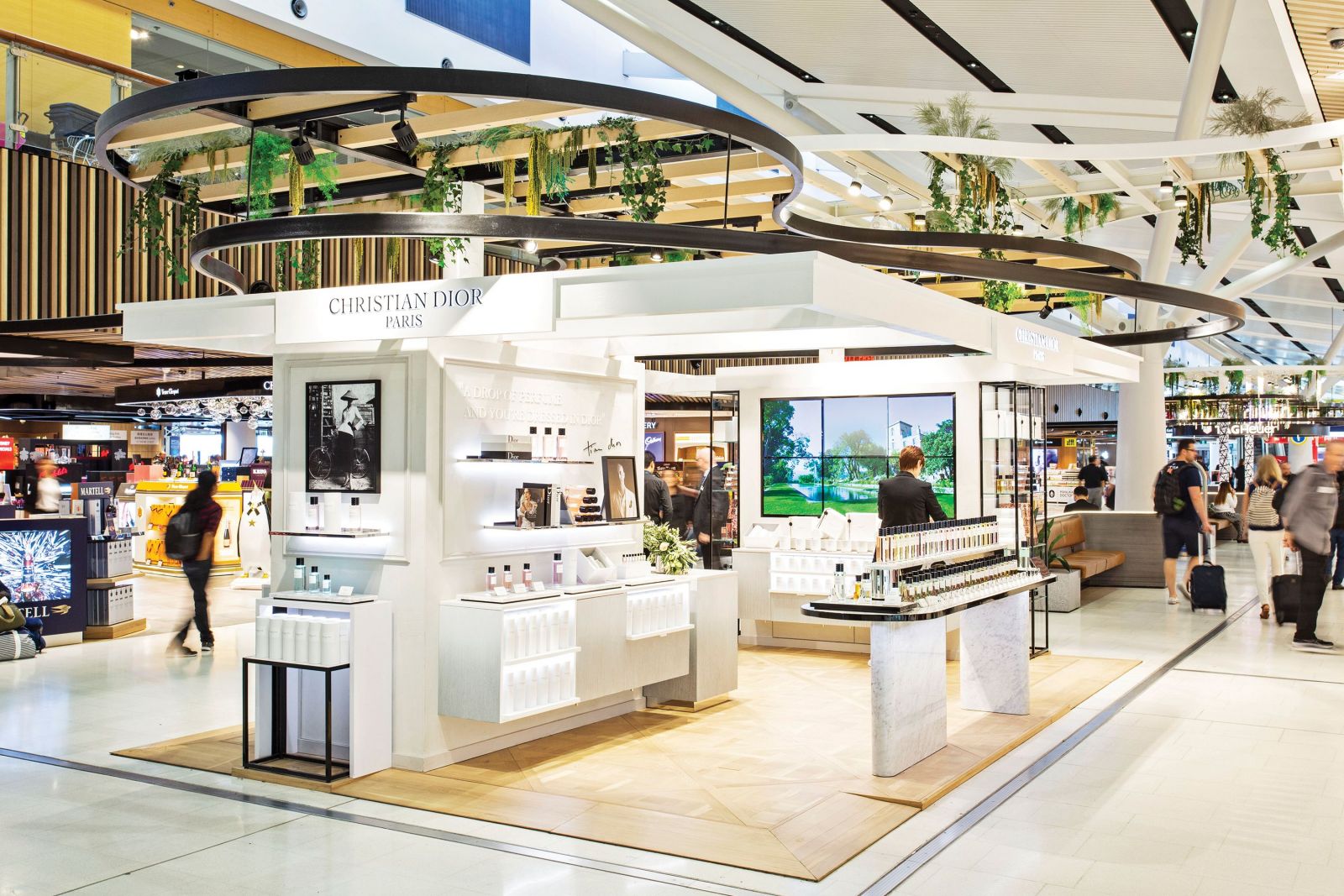 Getting the message across: Sydney Airport was among the first locations worldwide (along with Shanghai Pudong and Singapore) to host Dior's latest pop-up concept
"Within the business, things have also changed. A few years ago we were looking at other airports; now we're hosting airports that want to come and see what we do well. That's a tribute to the team we have here.
"When we go to industry events, people now bracket Sydney in with Heathrow, Shanghai, Singapore or Dubai. We're in that mix now. When Maison by Dior launched recently it was only at Shanghai, Singapore and Sydney. The message is out there. And that is positive when you look at our location and our passenger numbers. Sydney is now an important part of the conversation when the brands consider where they want to be. The environment has been elevated and the acceptance now is that Sydney is one of the leading airport precincts anywhere in the world."
So what comes next for Sydney Airport in terms of developing the luxury offer?
Williams says: "What you see today is not what you'll see in a year's time. Every year things will change in the luxury offer, whether that's in our 13 leased stores or within the Heinemann offer. We're constantly looking for the next in class, not just the best in class."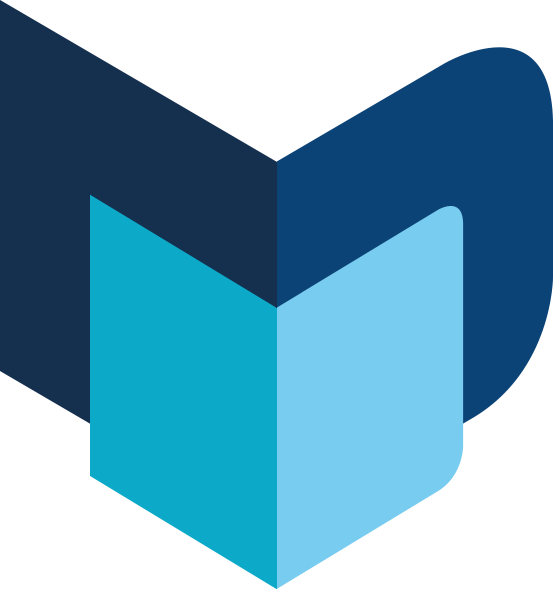 ---
The Moodie Davitt Report • The Online Magazine • Category Insight • October 2018