Taking luxury at sea to a new level
Dermot Davitt paid a visit to New York for Starboard Cruise Services' latest media day in July. There the leading cruise concessionaire showcased a broad luxury offer aboard the new Carnival Horizon.
A diverse and eclectic luxury offer is central to the shopping mix onboard Carnival Cruise Lines' latest mega-ship, Horizon, with retailing managed by Starboard Cruise Services (see also our main October edition).
Across the 5,000sq ft retail range, spread over two decks, there are some stand-out moments. Carnival firsts include a debut Victoria's Secret boutique and a high-profile presence for upscale brands such as Breitling, Hublot, Rebecca Minkoff, Michael Kors and Kate Spade.
In a first at sea, the partners have also exclusively developed (for Carnival ships) the Rock Envy with Crystals from Swarovski experience in the main jewellery store. Here, guests can custom-design their own Swarovski bracelet as a keepsake of their cruise. Other leading jewellery names in the space include Alex and Ani, BB Becker, Kallati and Lulu DK.
At the Le Vian shop-in-shop, the jewellery brand is brought to life through regular Le Vian Style Me Famous Fashion events, which underline the emphasis on experiences through retail onboard.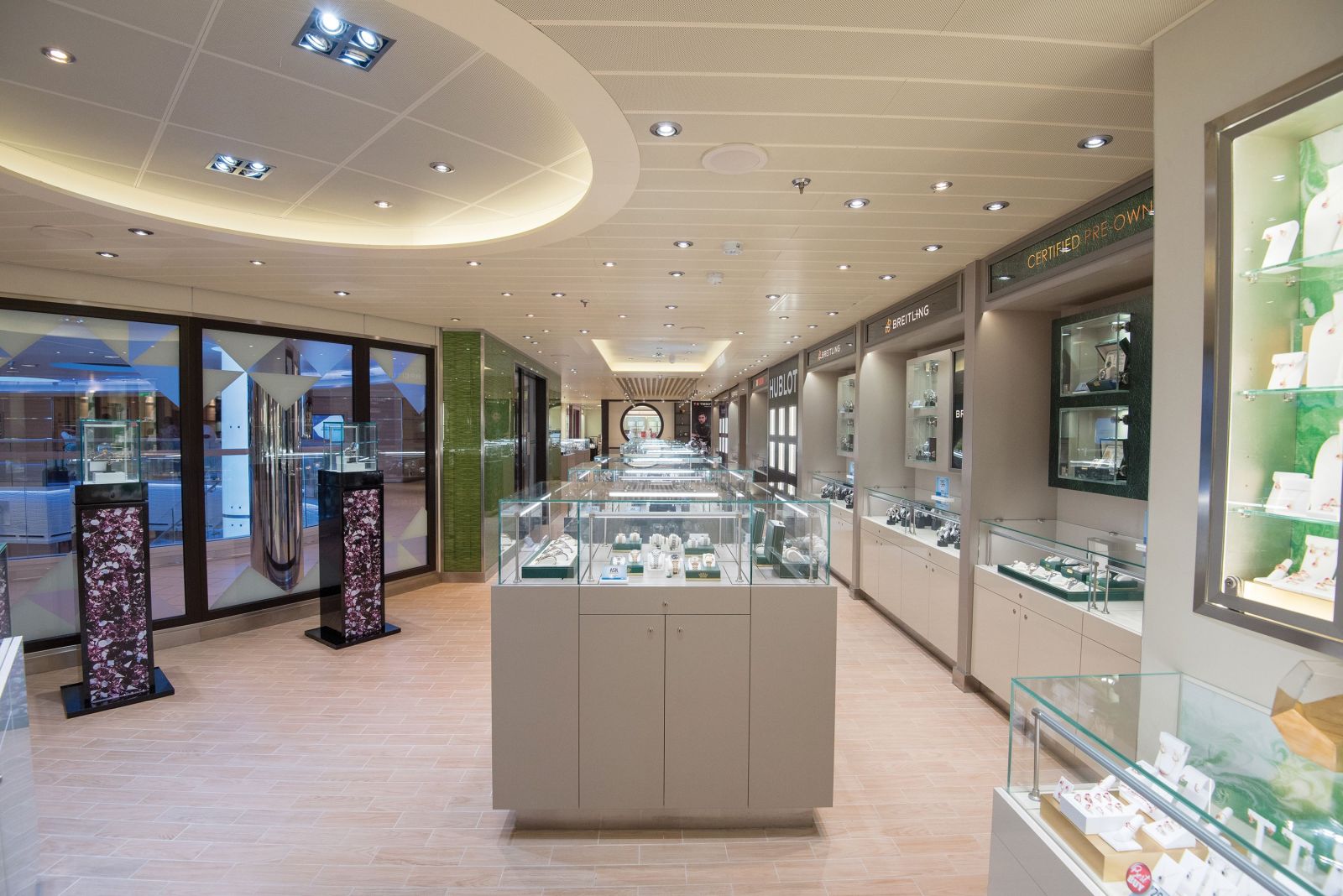 Horizon boasts a high-class watches & jewellery offer, with many new names making their Carnival debuts
Other highlights include an expanded wearable tech offer (brands include Fossil, Citizen, iTouch, Movado, Michael Kors, Connect and TAG Heuer), a broad fashion watches assortment with Daniel Wellington, Invicta, Bulova, Citizen and others, plus a sunglasses range that includes Ray-Ban, Gucci, Prada, Oakley, Maui Jim, Costa Del Mar and Guess.
Carnival Cruise Line Vice President of Retail Services William Butler singles out his choice of the highlight additions to the retail programme.
"We have new accessories and handbags. Kate Spade and Michael Kors were two brands that guests wanted, and we have two shop-in-shops from them for the first time. Adjacent to that is fashion jewellery, where we have created a tailored shop-in-shop environment. A highlight is Rock Envy featuring Swarovski crystals, where guests can create their own bracelets and other jewellery, in a store that also has pieces that are exclusive to Carnival.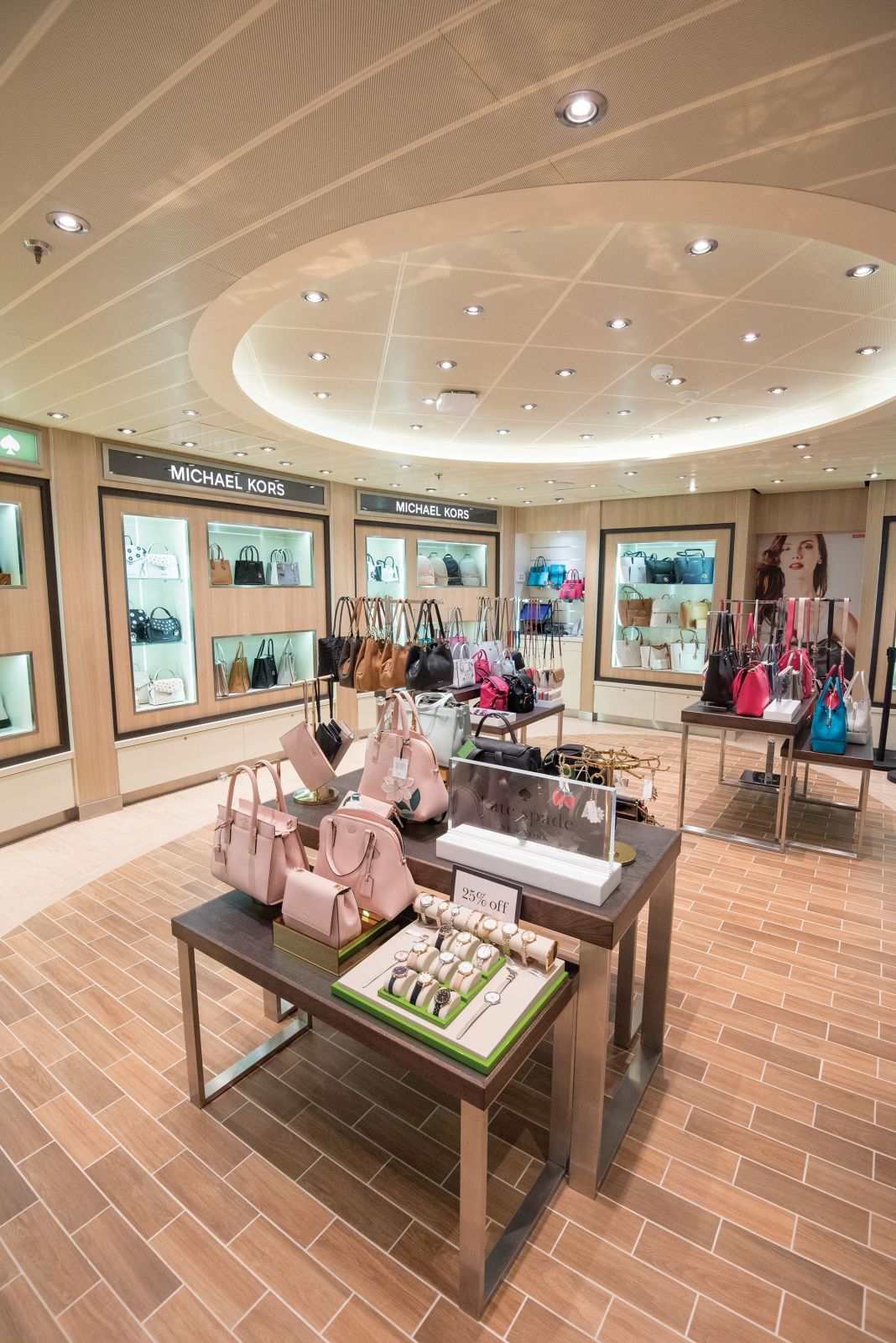 Michael Kors is one of the new names that appears following strong consumer demand
"We have also gone after the watch category, and tech watches in particular. All the major brands have their own tech lines, but we have pulled them all together in one experience.
"Fashion jewellery is another exciting trend. The make-your-own, personalised approach is something you can do on a cruise that you cannot do as well in other environments, and that adds a high level of specialisation.
"Then there is fine jewellery. For this category you have to have a great environment and the best specialists to present products that will last a lifetime for the guest."
The mix is broad, with products ranging from entry level to super-premium. Luxury plays more of a role today than it ever did, but what is critical is that the environment does not become forbidding.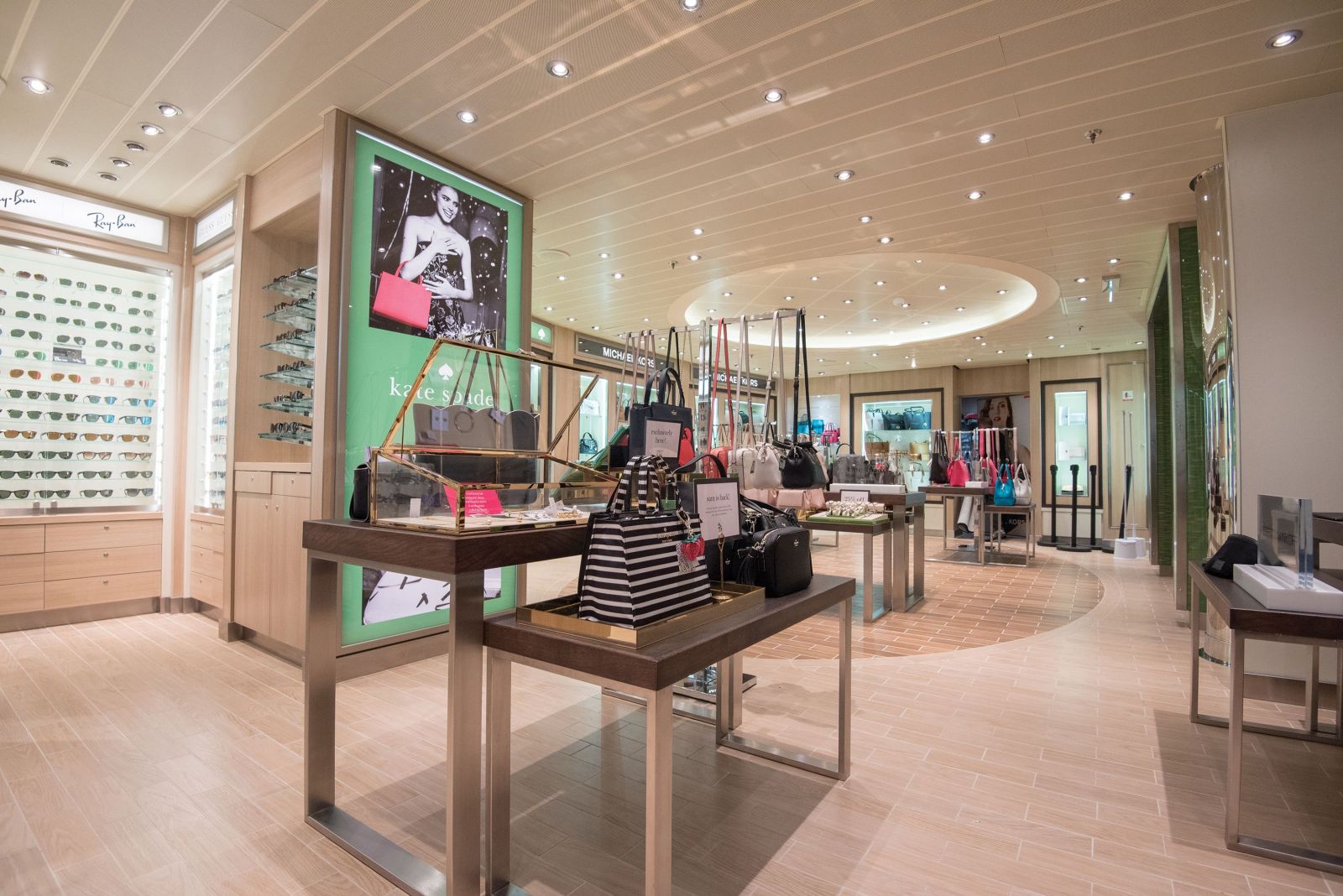 Kate Spade: Adding variety to the fashion & accessories range
Butler says: "We recognise that there are people onboard who want luxury items, but as we introduce more aspirational brands we want the traveller to come onboard and feel that the core of classic, entry level staples still exists.
"Not every brand is for everyone. If you take watches, one of our most popular lines is Invicta, which is at an entry level price point. Just because we have Hublot and Breitling, it doesn't reduce the importance of Invicta or Citizen. They are strong sellers throughout the fleet."
Carnival management is keen to introduce more exclusive lines, but not for their own sake , notes Butler. "They must have relevance to our guests. How we bring them to life is what makes or breaks us. If we add new tech watches, we need an event or education piece tied to it, to explain what it means. That's where we differentiate ourselves and get credit for the newness. The guest needs to know it's there and feel excited by it."
Starboard President & CEO Beth Neumann agrees that the emphasis must be on variety; with 4,000 passengers the luxury offer must have something for everyone.
She says: "On any cruise ship, there are people who want luxury, and people who buy at all price points. Many of these passengers don't shop in luxury stores or cannot connect with these brands in their home markets. So this gives them that opportunity."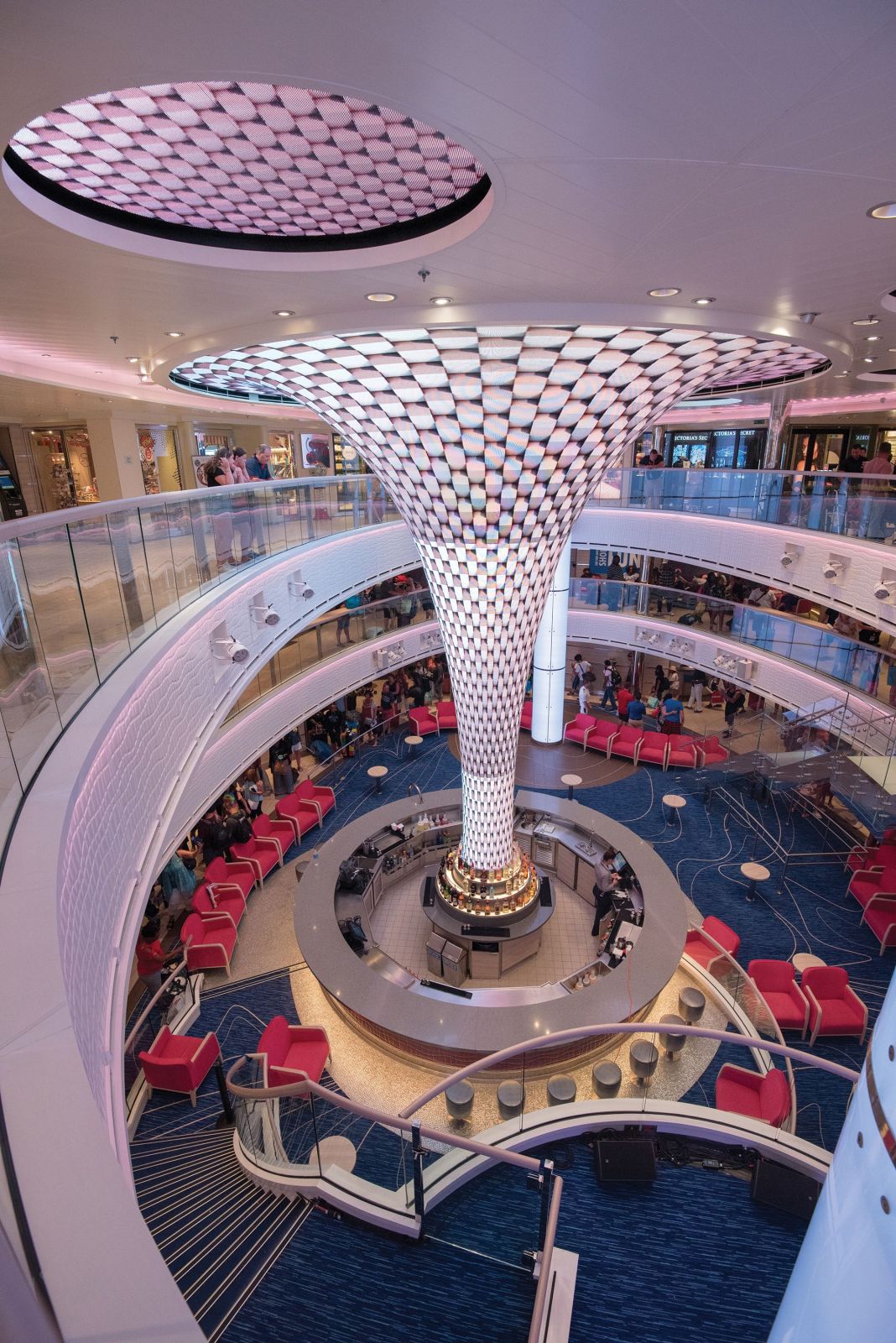 The striking view from the central atrium at the heart of Carnival Horizon
Discovery is a vital element of the experience. "In fashion jewellery, personalisation is very relevant. In accessories, Millennials can create their own flip flops or bags. There can be events for mothers and daughters or friends, and that's where we see the future. Fine jewellery, timepieces, leathergoods all offer huge opportunities, though apparel is a challenge with storage limitations."
Until recent years, some luxury brands questioned the value of the channel, but Starboard has helped pioneer a change in thinking with its partnerships. The concessionaire was the first retailer to bring Bvlgari, Cartier, Tiffany, Dior, Omega, IWC, Ferragamo, Kate Spade, Michael Kors, Kiehl's, La Mer, Shiseido, and Hublot to cruise retail.
"The brands are often quite surprised by the performance," says Neumann. "For the luxury jewellery brands we have had strong sales of really high-end pieces, not just the most popular items. People have time and want to discover and to buy something new. We know that and explain that to brands now."
The opportunity is a solid one, but the brands also have to adapt. "We see the brands are thinking differently and designing differently for the cruise space now. They are planning for the ship experience, not just adapting their airport space for a smaller footprint."
Neumann adds: "We have found a level of flexibility that we maybe did not have before. So events like our History of Time seminar or our Apprentice of Time workshop, with time-maker tools and education in how to make a watch, all play into how brands view the opportunity. Cruise is not just under the radar any more, it is being discussed at brands' board level today."
Beyond Carnival Horizon, Starboard is finalising its fitouts (with a strong emphasis on luxury) for Celebrity Edge, which launches in late November. It has also struck a retail agreement with Costa Cruises for Costa's first ship purpose-built for the Asia market, Costa Venezia, launching in 2019. Starboard will also be the retail partner for Costa Smeralda, the line's new-build for the European market.
The retailer is also the exclusive partner for Royal Caribbean International in Asia, currently operating on three vessels in the region and expanding its roster with Spectrum of the Seas' Asia debut next year. 
*This feature contains edited highlights of two major interviews with Starboard and Carnival that appear in our main October Print Edition.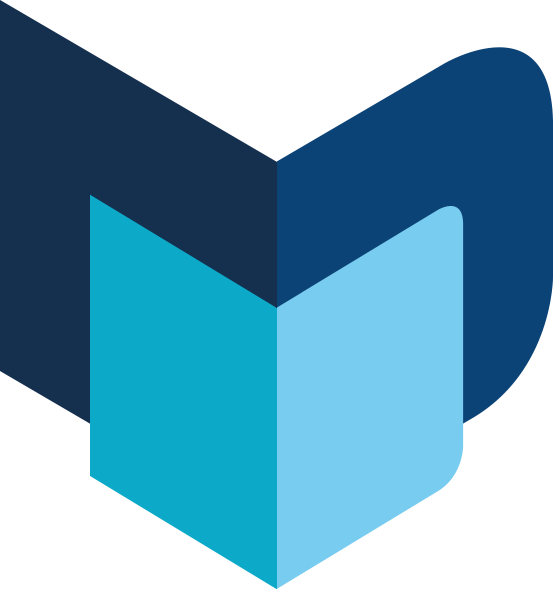 ---
The Moodie Davitt Report • The Online Magazine • Category Insight • October 2018