China Report • Zhuhai Duty Free
---
Zhuhai Duty Free
begins new retail era
The landmark Hong Kong-Zhuhai-Macau Bridge project, which opened in October, is home to a major new duty free development led by Zhuhai Duty Free. Dermot Davitt speaks to senior management about its ambitions, and assesses early progress.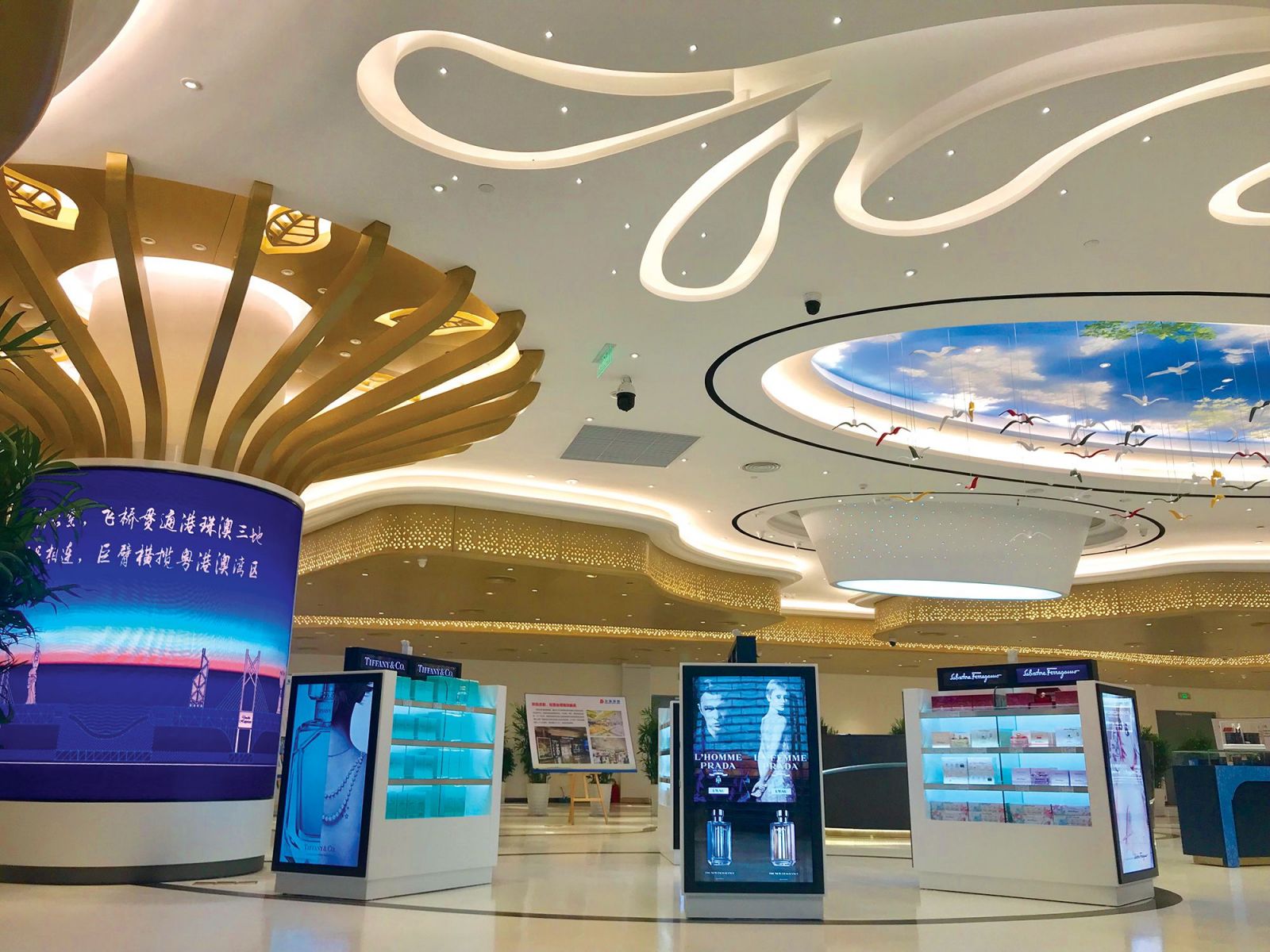 The official opening of the new Hong Kong-Zhuhai-Macau Bridge on 23 October marked the beginning of a new phase of business for state-owned travel retailer Zhuhai Duty Free. The company opened 1,000sq m of retail in the first phase of openings in the departure/waiting hall at the transfer terminal between Zhuhai and Hong Kong. A further 2,500sq m of space is planned in arrivals in phase two (set to open around August 2019), with another 700sq m store between Zhuhai and Macau to come.
The retailer has committed to raising the standard of its retail offer and environments with these new openings, with a strong focus on beauty and fashion complementing its traditional strengths in liquor & tobacco. It hailed the development of the new bridge stores as its "big strategic change".
So far, says the company, sales have been more than satisfactory and are as targeted, led by liquor & tobacco. But, it adds, the major fit-outs by beauty brands are just being finalised (as of early February), so this will lend impetus to the growth of the business in coming months.
The stores are part of a wider, hugely ambitious transportation development that is forging new connections within the region. The 55km long Hong Kong-Zhuhai-Macau Bridge represents the world's longest sea crossing bridge. It connects Hong Kong to Macau and the Mainland Chinese city of Zhuhai.
The construction shortens the travelling time between Zhuhai and Hong Kong International Airport from four hours to 45 minutes, and the time between Zhuhai and Hong Kong's Container Terminals from 3.5 hours to 75 minutes. It also creates new, smoother points of access between Hong Kong, Macau and Zhuhai.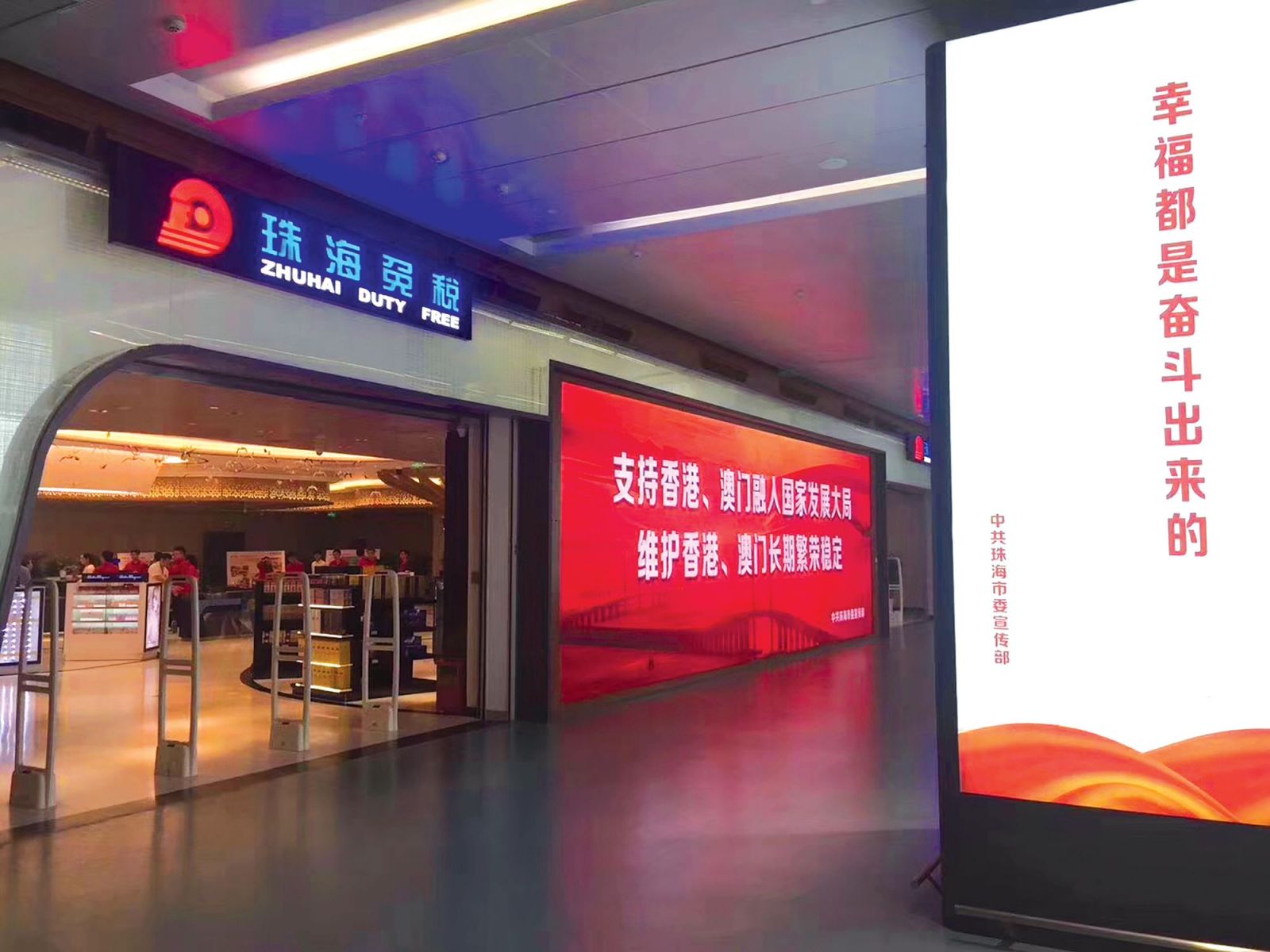 New beginnings: Zhuhai Duty Free has pledged to deliver a premium environment and experience at HZMB, not only in liquor & tobacco but in beauty and fashion too.
Already the traffic levels are significant. Zhuhai Duty Free says (in early February) that average traffic so far is around 80,000 per day, with a peak of 106,000. To add context, the daily passenger flow by 2025 between Zhuhai and Hong Kong is expected to average 150,000, with 100,000 between Zhuhai and Macau. By 2035, these numbers are expected to hit 300,000 and 150,000 respectively.
That offers a solid base on which Zhuhai Duty Free Group can build a new future. Established in the 1980s, the company is one of China's top five state-owned duty free retailers. Its flagship store (before the Bridge project) is located at Gongbei, the entry point between Zhuhai and Macau, with annual turnover of around US$300 million from a passenger base of over 130 million a year. This 4,000sq m store will also undergo extensive renovation soon.
Of the new Bridge project, Zhuhai Duty Free General Manager Lifu Zhu says: "The opening of the Zhuhai Duty Free departure duty free shop in HZMB (Hong Kong-Zhuhai-Macau Bridge) serves as a new step in Zhuhai Duty Free's business development. The Hong Kong-Macau and China domestic market is a retail hotspot in Asia Pacific. Zhuhai is the major entry point for China tourists and plays a key role for the region.
"Zhuhai is an integral part of the Greater Bay Area, and Zhuhai Duty Free is trying to become one of the top duty free & travel retail operators. We are committed to providing an excellent service, with price advantages and fashion travel retail for visitors."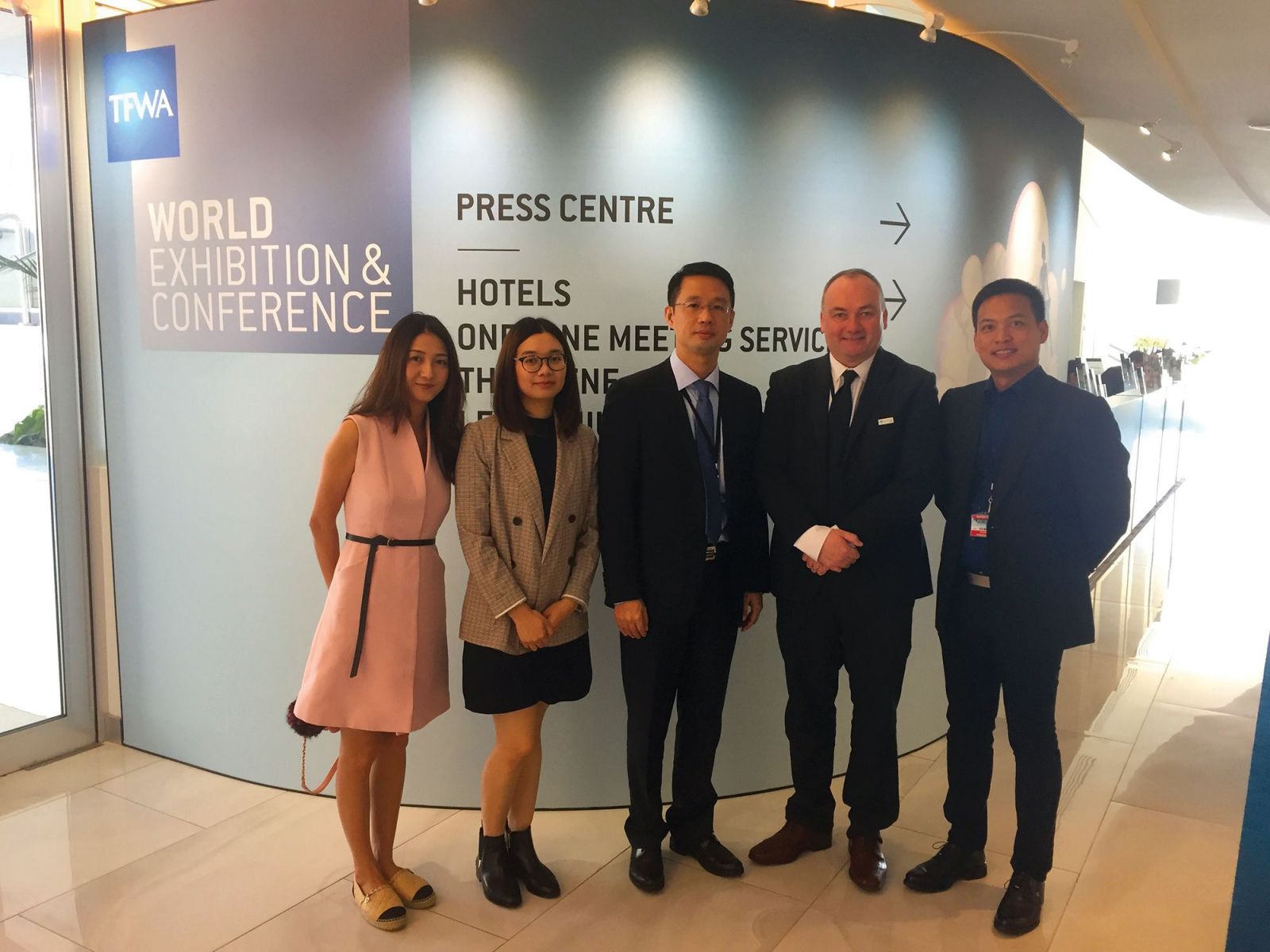 The new Zhuhai Duty Free store (below) builds on the retailer's ambitions to be a strong regional player; above, Dermot Davitt met the team in Cannes, including Assistant General Manager Tony Yu (centre), Head of Projects Daniel Chow (right), Business Department Executive Sarah Liu (second left) and Emily Cong Wen (left), President of supply partner Keystone International.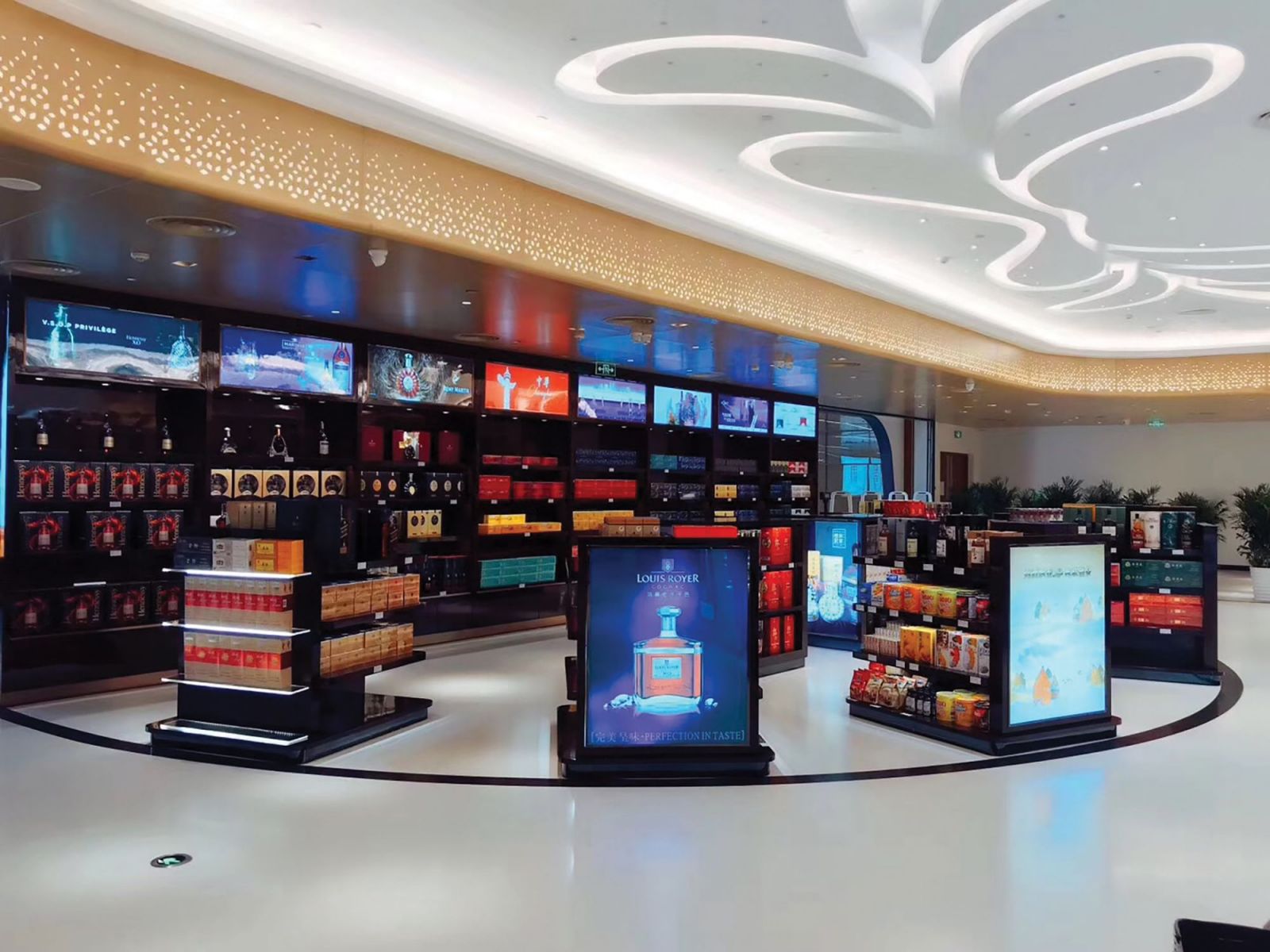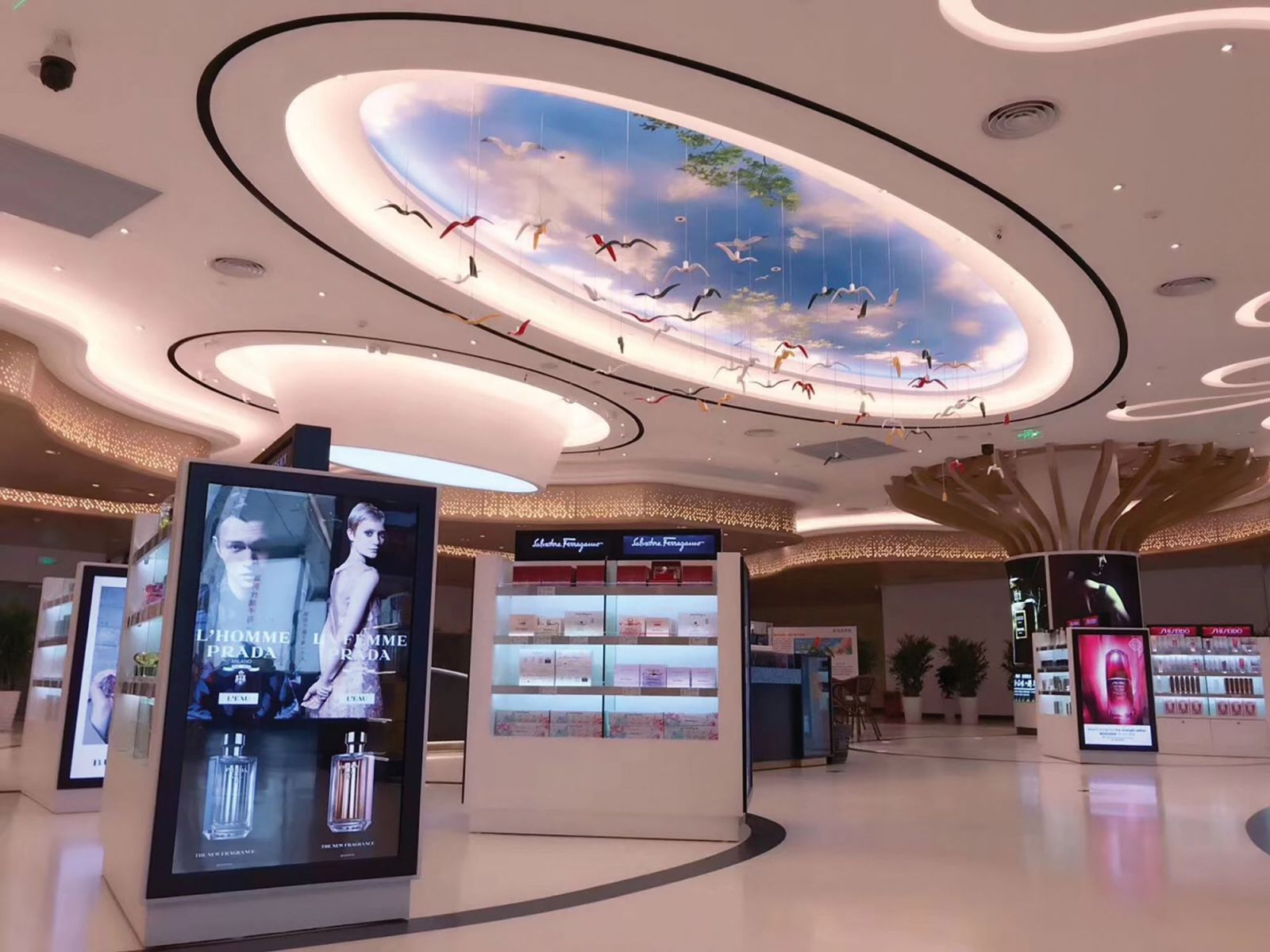 Underlining its ambitions to become a luxury travel retailer with an increased emphasis on beauty, Zhuhai Duty Free Assistant General Manager Tony Yu says: "With the development of China's travel retail market and the opportunity from HZMB, Zhuhai Duty Free will deepen its strategic cooperation with L'Oréal Group, Estée Lauder, Amorepacific, LG Group and other major P&C brands and groups in the duty free & travel retail market. Zhuhai Duty Free wants to provide an excellent duty free and travel retail service in the Greater Bay Area." The company says that brands such as Hennessy, Rémy Martin, Diageo and other leading spirits brand owners complement major tobacco brands in phase one.
As noted, Zhuhai Duty Free was previously focused mainly on liquor & tobacco, with beauty representing just 6% of the business. Alongside P&C, sunglasses and other accessories will benefit from increased space, pledges the retailer. In the arrivals stores to follow later, a large share of space will be devoted to beauty, accessories and electronics.
The company says that the new stores were its answer to "a changing consumer" and a move to "upgrade its image". It acknowledges that some brands have traditionally been reluctant to invest in the border duty free business, but that the Hong Kong-Zhuhai-Macau Bridge, a prestigious project, represents a new, upscale departure for the channel. It says a strong programme of promotions and the emphasis on new categories will also encourage more younger shoppers, and women in particular, to purchase.
The departures store investment, says Zhuhai Duty Free, was around RMB20 million (US$2.8 million). It notes that travellers see the store immediately upon entry to the transfer terminal, which is open 24 hours a day. The terminal departures area to Hong Kong houses a ticketing area, waiting hall, VIP lounge and shuttle bus ports, as well as the duty free shop.
The company adds: "We have to keep pace with the travel retail market's fast development and upgrade the product and sales service for the sustained growth in travellers.
"Zhuhai Duty Free is part of a serious project, an important one for the Chinese government. This bridge represents a new vision for travel in the region, and a new vision for travel retail. This is still a border shop, but with a difference. Zhuhai Duty Free is the only operator here. This could be a template project for the border business."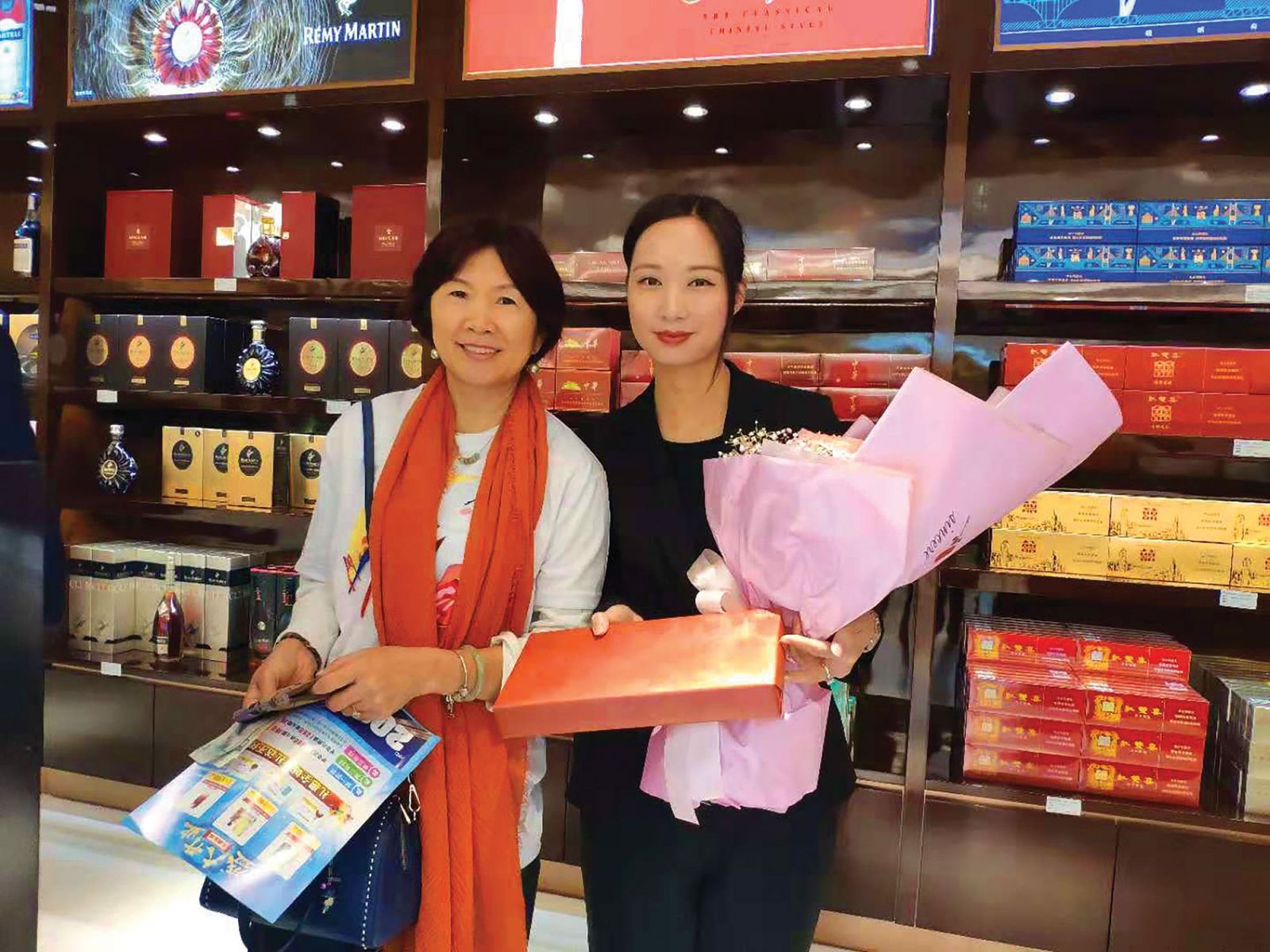 Traffic levels at the bridge's crossing points are expected to surge in coming years, bringing hundreds of thousands of potential shoppers each day. Coming phases will see further store development as the retailer pledges to raise its game.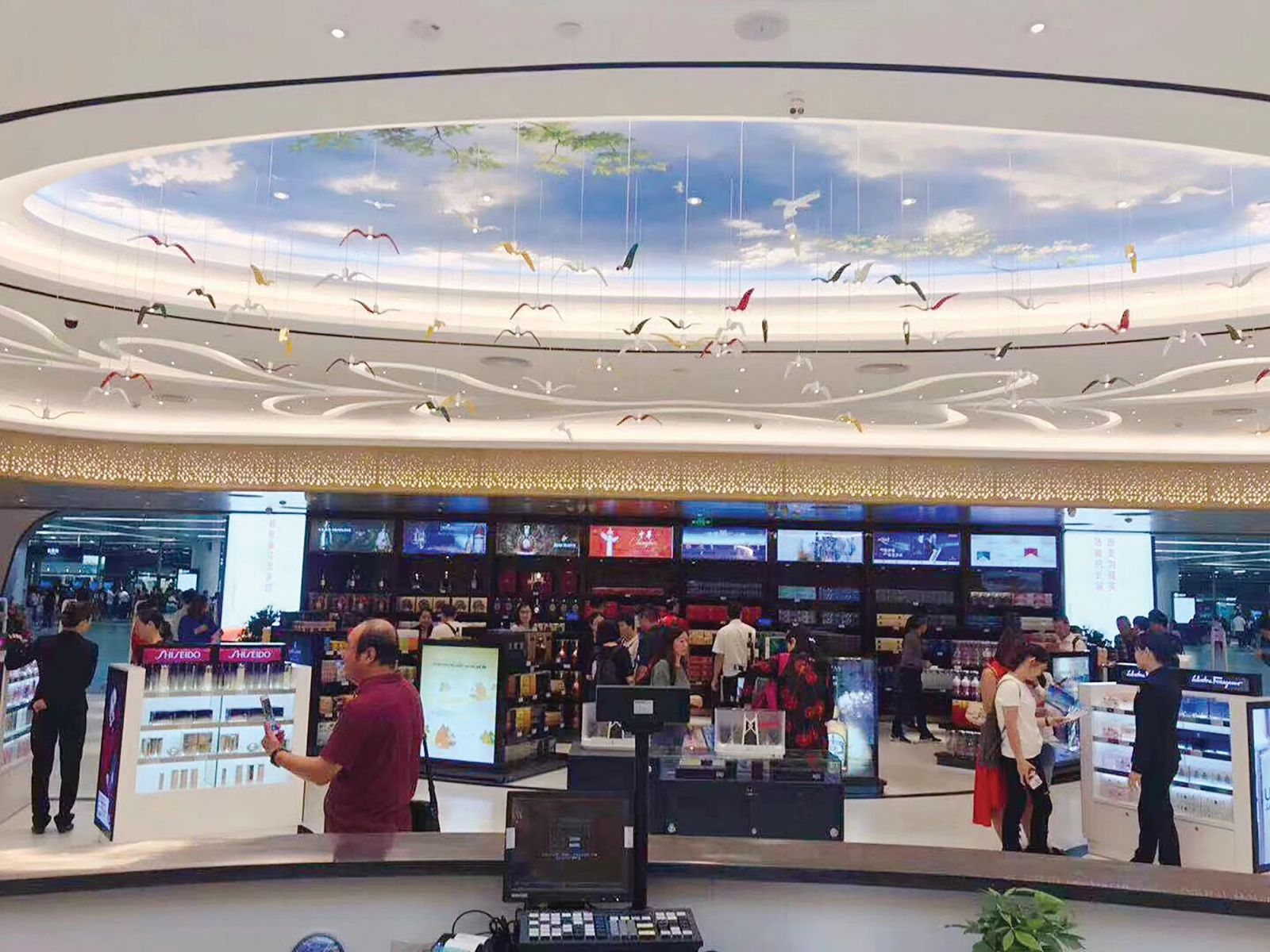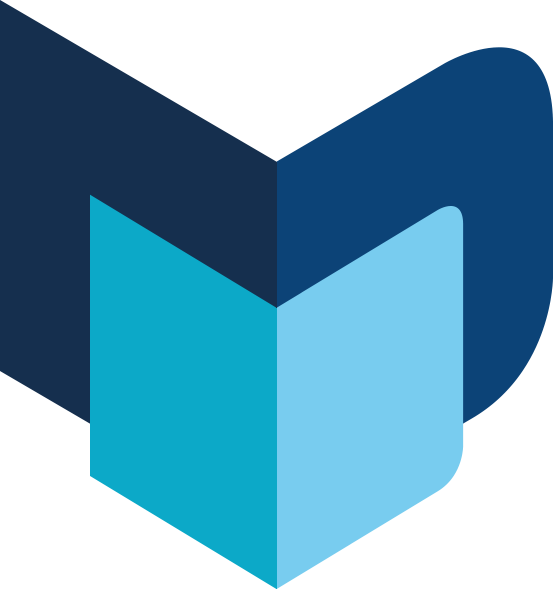 ---
The Moodie Davitt Report • The Online Magazine • February 2019