Interview • Prague Airport
---
Prague Airport's
€1 billion ambition

As Prague Airport embarks on a multi-year upgrade of its infrastructure,
Prague Airport CEO Václav Rehor and Non-Aviation Business Executive Director Jiri Petrzilka talk about the recently issued duty free tender, the ecommerce challenge and the long-term expansion plans. By Dermot Davitt.
Partnerships in Prague: Officially opening the new zone in January were (from left): Marché International Chief Commercial Officer Hermann Ircher, Hamleys Director of Operations Daniel Chytil, Rituals Travel Retail Director Neil Ebbutt, Prague Airport CEO Václav Rehor, Lagardère Travel Retail COO Czech Republic Richard Procházka and Tom Plus Owner Tomás Krizek.
Editor's introduction: When Prague Václav Havel Airport inaugurated a new 2,200sq m commercial zone in Terminal 2 on 23 January, it marked the culmination of one project but also the beginning of a new phase of expansion, which will stretch out for years to come.
The opening of six stores and one restaurant was facilitated by the June 2018 development of a new central security check in T2. This increased the number of passengers processed by 40% at peak times – crucially enhancing airside commercial dwell times in this Schengen terminal.
As we reported in our on location story from the inauguration, as part of a US$2.9 million project, Lagardère Travel Retail has added three stores under The Fashion Place brand in 290sq m of space, as well as a 51sq m outlet with beauty brand Rituals. Other additions include the first Hamleys store at a Czech airport and a Coccinelle store managed by local company Tom Plus.
In dining, Mövenpick brand Marché makes its country debut, one of three new outlets (the others are in T1) won in a recent tender by the Swiss food services company.
With this work now complete, airport management attention turns to the wider, long-term transformation of the Czech gateway, a €1 billion investment for which it hopes to gain approval in 2019.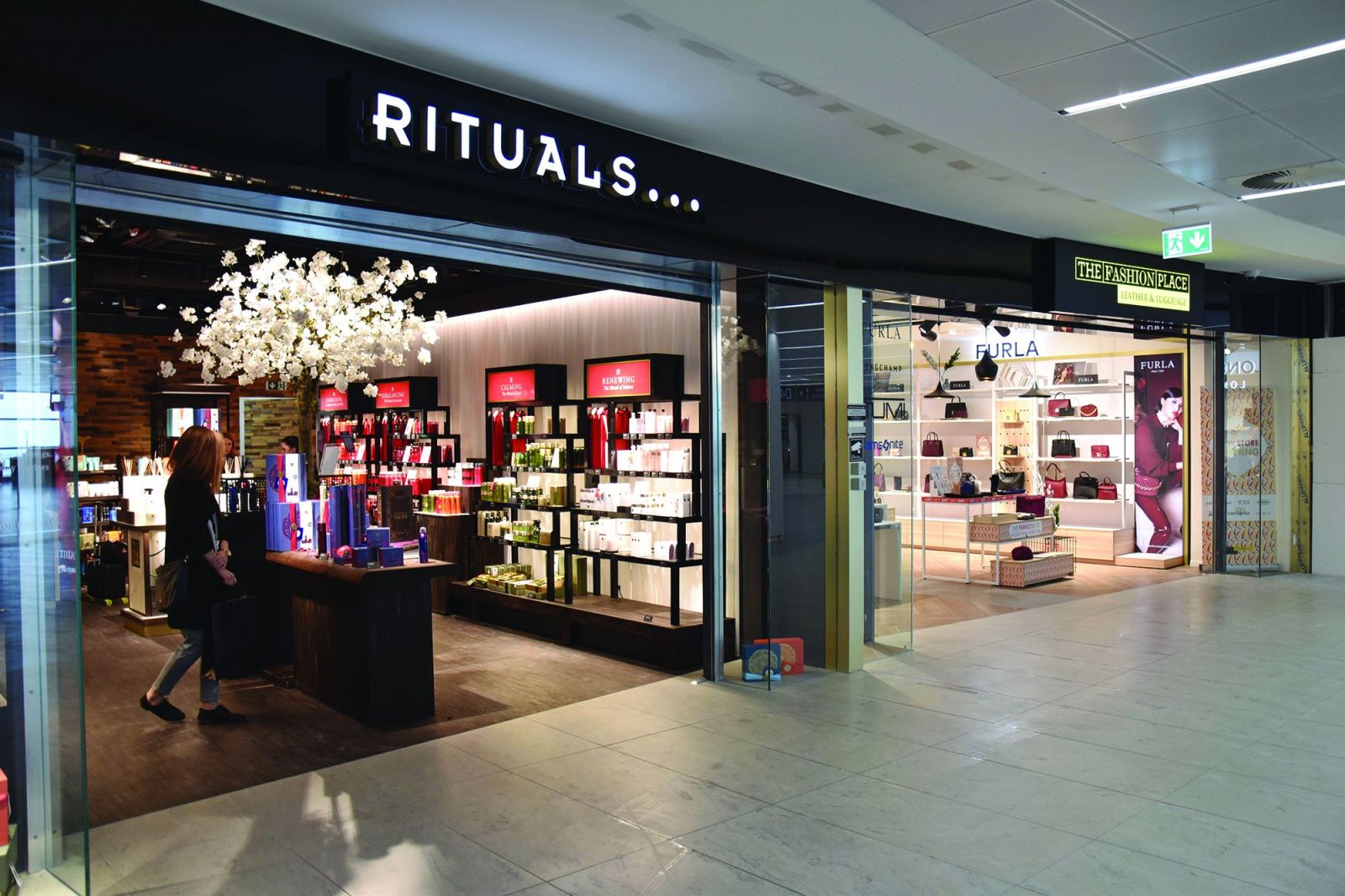 "Taking the offer to a new level:" The Fashion Place and Rituals are among the new stores open in T2 as Prague Airport modernises.
At an airport originally built for 12 million passengers, but already handling 16.8 million in 2018 and more than 17 million forecast for this year, capacity expansion (to 21 million) is vital. A parallel runway and an extension of T2 are central elements, and will change the airport's size, scale and fortunes by their estimated completion around 2026.
The airport is thinking even longer term too. There is a Master Plan that runs to 2035, with Prague Airport aiming to become a hub for services close to the terminals. Although plans are still being laid, hotels, conference centres and other commercial units are being considered.
Around half of the €1 billion to be invested will go on infrastructure, but the rest is all about improving the experience and enhanced digitalisation of services from car parking to shopping.
One feature that Prague Airport is intent on emphasising is Sense of Place. Brands such as Manufaktura (cosmetics) or Moser (glassware and other gifts) lend a neat Czech touch to the shopping areas, as does the beautiful imagery dotted around the terminal, a partnership between the airport and JCDecaux. That is especially important given the profile of the leading nationalities by average spend: China, Russia, UAE, South Korea and Belarus (2017 figures).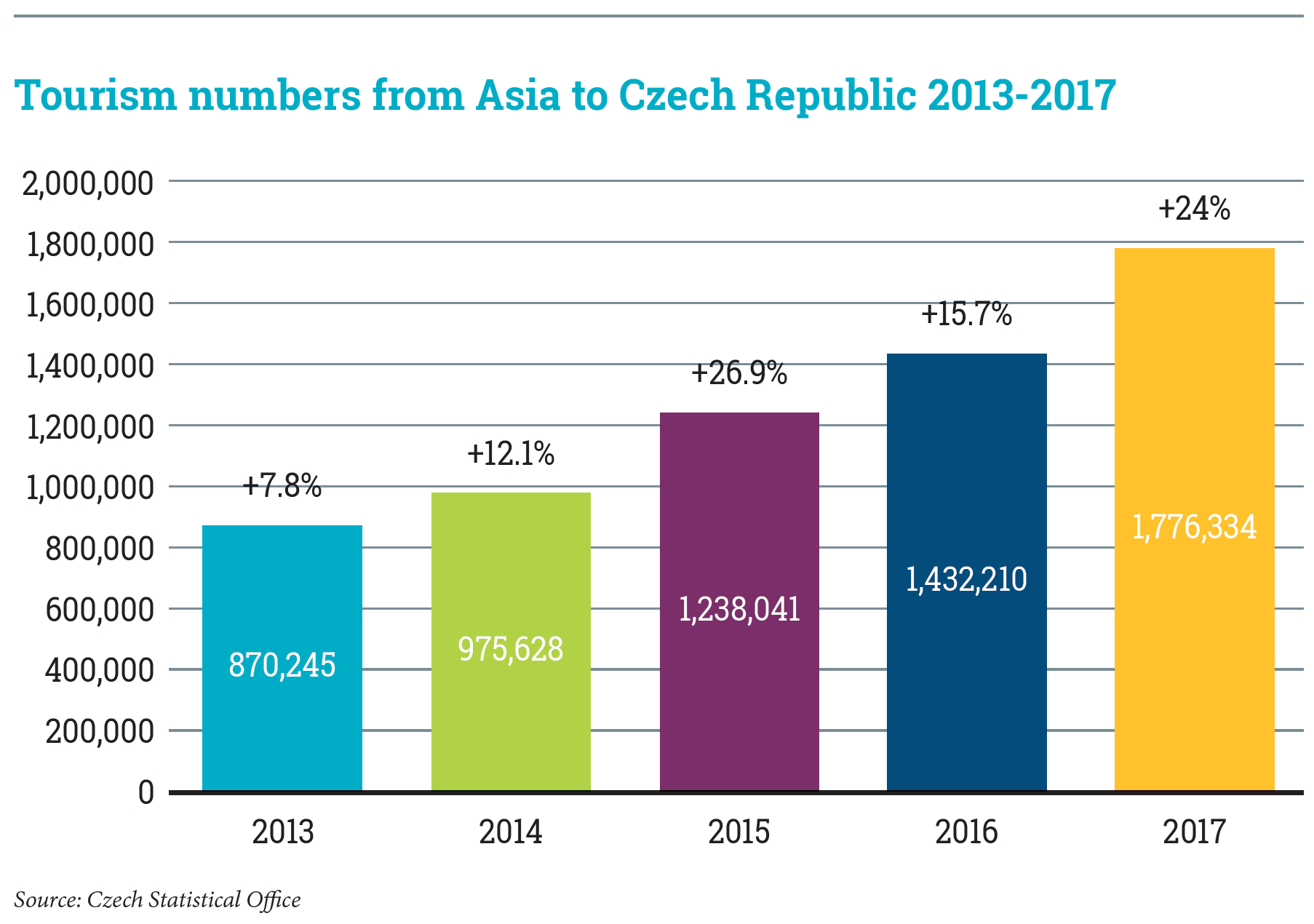 But more can and will be done to enhance the local feel, insists Prague Airport CEO and Chairman of the Board of Directors Václav Rehor in our interview in these pages.
Beyond that, building the digital airport is the next challenge. The airport company has pledged to influence five areas through new technology: customer experience, mobility, security, the seamless passenger journey and virtual shopping.
That's for the longer term, though work is already well under way, as Prague aims to become a "front runner" among regional airports in the words of its CEO. Read on for this wide-ranging interview about the airport's short-term goals and long-term ambitions.
The Moodie Davitt Report: To begin with the latest project, what is the significance of the T2 commercial expansion and introduction of new brands for Prague Airport?
Václav Rehor: This opening is part of our strategy to develop commercial activities. We have strong traffic growth at the airport and the type of customers is changing. We have to customise the offer for them. I'm pleased we could find partners to introduce these new brands, several of them uniquely at our airport. It takes our offer to a new level.
Marché is a first for the Czech Republic, so our local travellers will be surprised to see it here and it will become a talking point. They usually encounter this brand in Switzerland or Austria when they go skiing. It's a different concept that we welcome.
Among the others, Hamleys and Rituals add value in other ways, as does The Fashion Place and the many other brands and stores that Lagardère Travel Retail manages.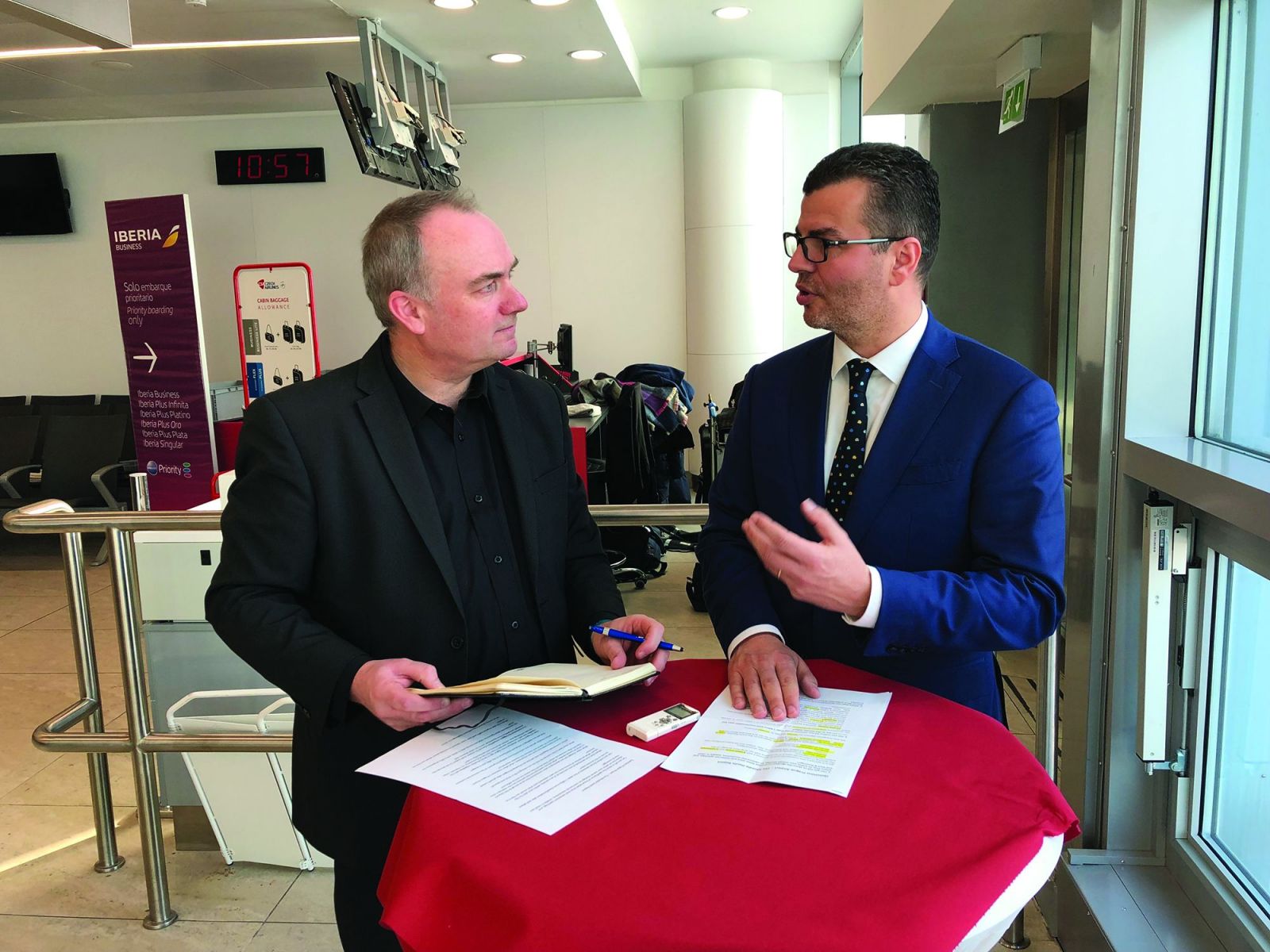 Explaining the approach: Prague Airport CEO Václav Rehor talks to Dermot Davitt at the T2 inauguration event.
The addition of first-to-market or first-to-airport brands is noteworthy; is that a core part of your commercial strategy?
We certainly want to be a front runner. That can be in the commercial offer or in technology, where we are trialling driverless cars or planning our moves in ecommerce.
The business today is also about speed and flexibility. We have been investing in a new security area, which represents a 40% increase in capacity. That freed up space for this commercial project. In turn, speed at security means more time airside. We are monitoring time spent at the airport and the customer journey closely.
Above all we want to show visitors that they can find something different in Prague. On the brands side, although we need the international names we are also opening stores for national brands. Around two-third of travellers are visitors so if they can find a nice memory of Prague, hopefully they will come back.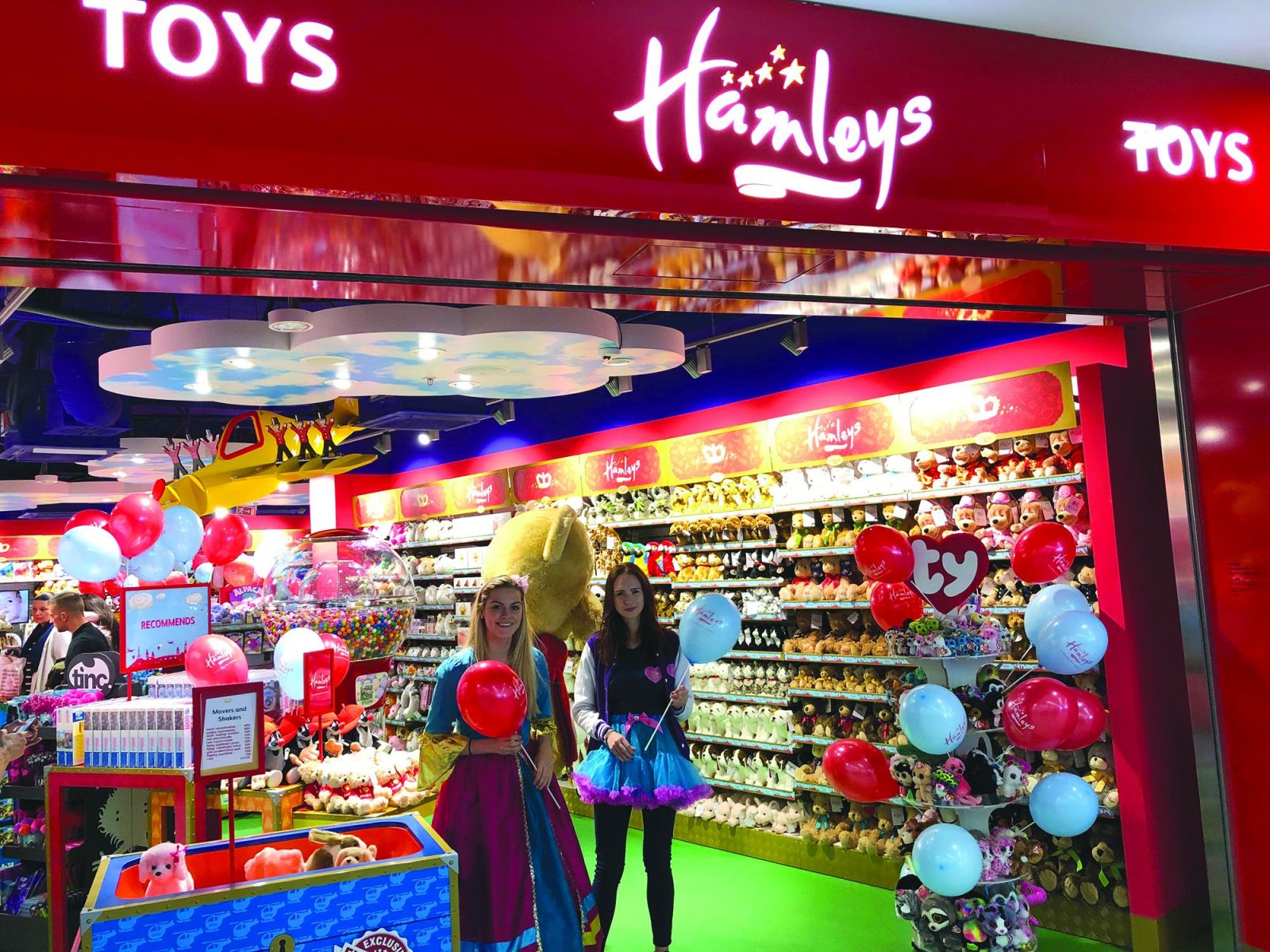 Child's play: Hamleys makes its market debut, and adds variety to the shopping offer in T2.
These openings are also part of a wider transformation. Can you outline the big picture for development and your goals for non-aeronautical revenues?
We have already changed quite a lot at the airport. The next task is to extend Terminal 2 and to build a parallel runway. That will help us accommodate a maximum of 21 million passengers in coming years, from 16.8 million last year. The aviation business in Europe will double in the next 20 years; we want to be part of that.
Non-aeronautical income will be key. We have to finance the big projects ourselves. Two-thirds of our income today comes from aviation sources, one-third from non-aviation. We also want to develop Airport City North and Airport City South. There we have land to offer to investors for hotels, small buildings called intelligent boxes and services of different kinds. It is valuable space as it's close to Prague.
Non-aviation business will become ever more important. Competition is growing among airports for airline services and we have to defend our fees to the airlines. I think in future airline fees may decline and so will need to be replaced. Over time the shift will be towards non-aviation income and developing the Airport City projects.
A walk-through tour of Prague Airport's new T2 commercial zone.
In the near term, the biggest commercial project is to find a duty free partner, with the tender released in recent weeks. What are your expectations of bidders as they plan their offers before the 2 April deadline?
We are offering a ten-year contract from January 2020, with a decision likely by July. It's an important initiative as duty free is a big chunk of our revenue. We want a strong, international partner that is innovative and has a good grasp of technology because digitalisation will become more important.
We have monitored the major duty free retailers worldwide over the past two years. We have spoken to almost all of them and invited them here to see us. With over 4,000sqm of space available, we think for any European company it would be a nice addition to their regional portfolio. But also for a non-European retailer it can be a stepping stone into Europe and we are open to that.
Non-Aviation Business Executive Director Jiri Petrzilka: We expect that the new partner will bring new ideas and concepts, new ways of doing business here. We set up the tender so there is flexibility for them to suggest bespoke solutions for us and for the spaces they will operate in.
We want to stress several key elements. It is important that candidates make a connection between the offer and the reasons why many visitors come to Prague. So that means Sense of Place and a localised offer.
The other area will be ecommerce. We want a partner that has the proven competence to work with us and develop this area.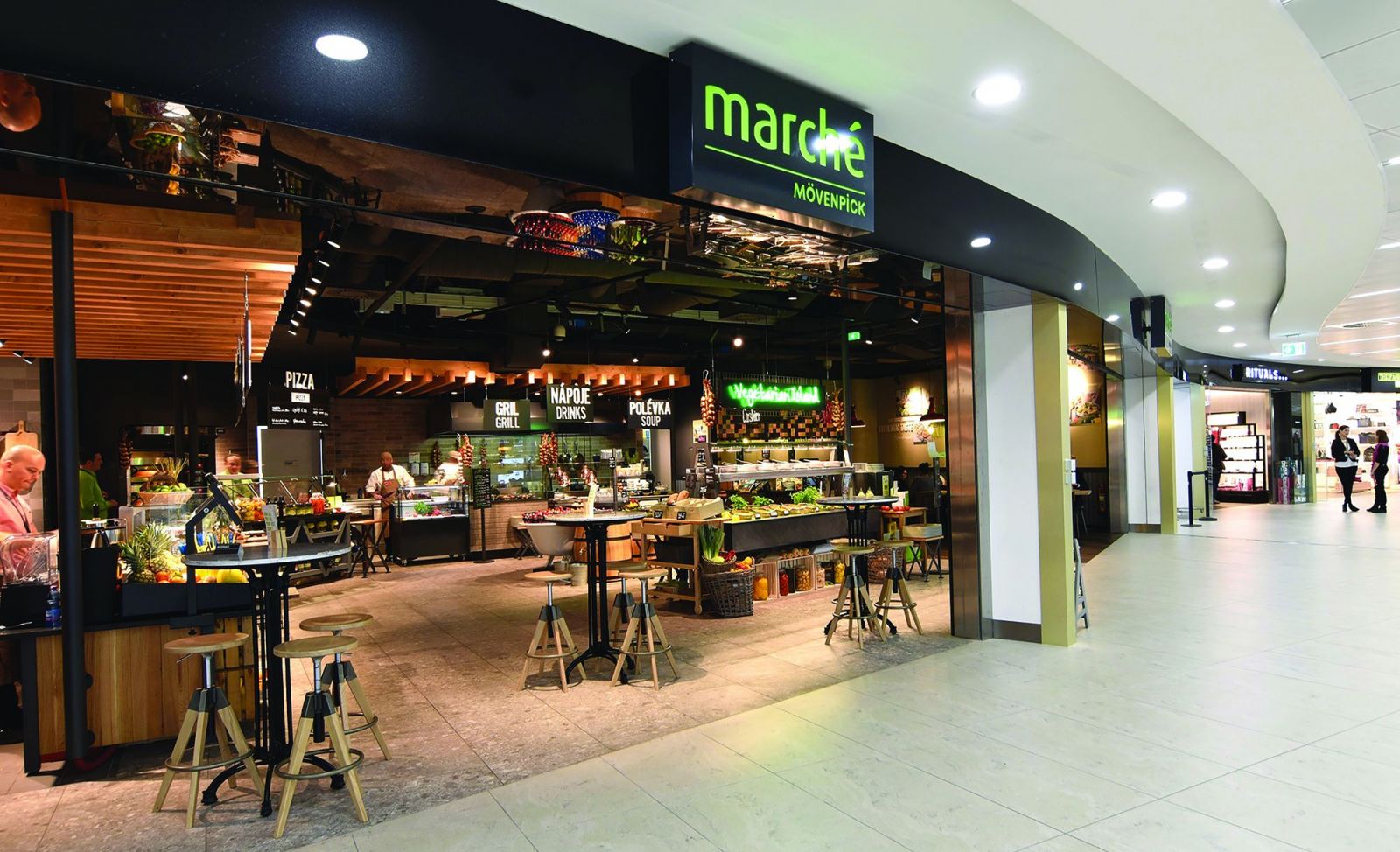 A focus on freshness: The Marché brand, popular in Switzerland, Austria and Germany, enters the Czech Republic here.
Beyond this, what other retail opportunities will arise in the short term?
Jiri Petrzilka: We will issue a tender for travel essentials in March covering nine units. The ideal candidates will have good international experience and offer something unique that will upgrade that channel, which is growing.
Are there other gaps in the commercial mix you aim to fill?
Jiri Petrzilka: Our goal is to have a relevant offer tailored to the various customer segments. We will certainly try to fill a niche for Asian food, for which there is demand. Others will arise too as passenger profiles change.
In other recent developments we have reconfigured our airport lounges. This channel is profitable and an important element in our mix.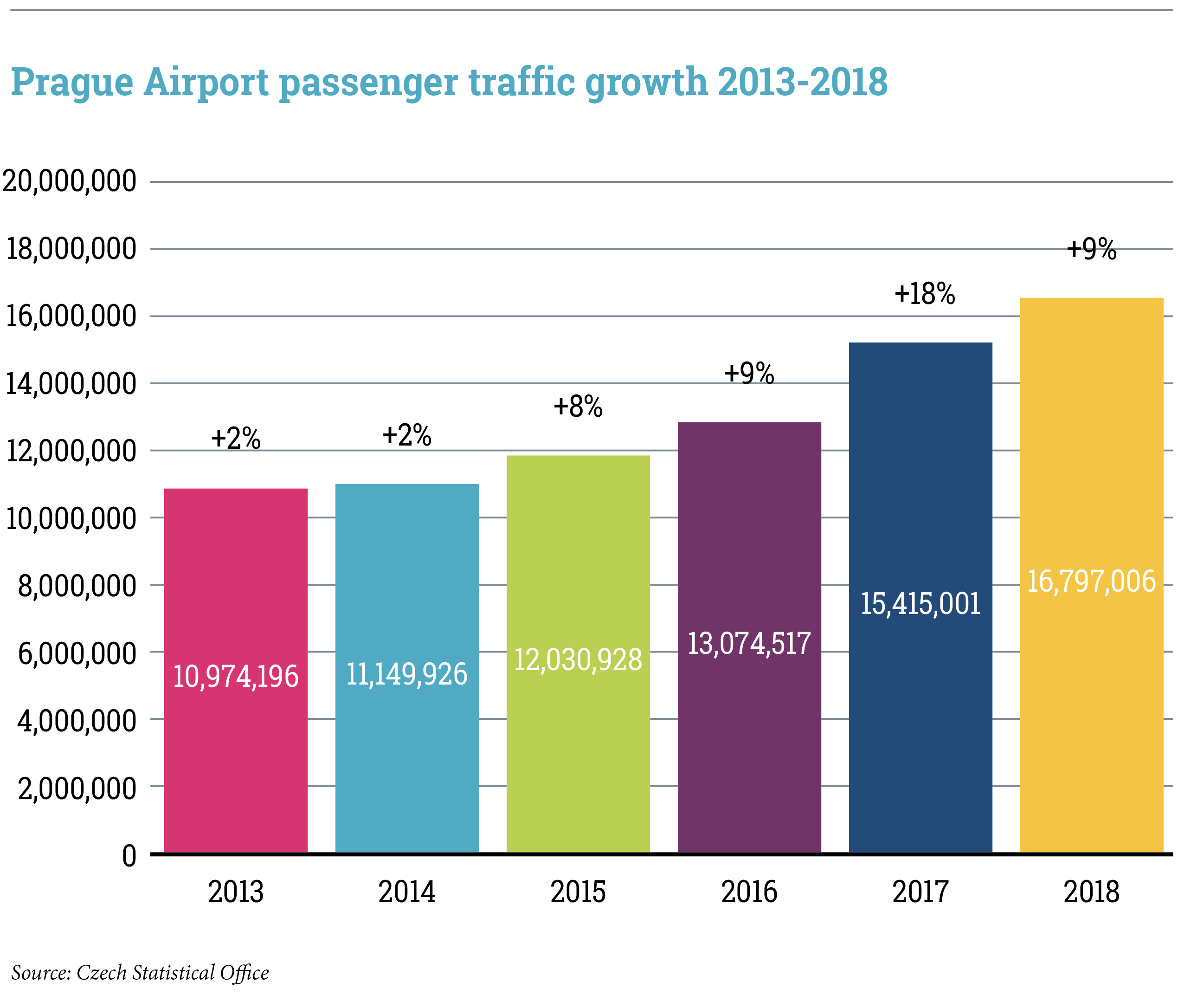 Which of the key commercial channels stands out for performance in the past year?
Jiri Petrzilka: Food & beverage is a rising star. We believe it can grow further this year. We will upgrade and adapt more of our space to this business.
What we see in F&B is that the big-name brands make a difference. Our strategy in food is to adopt global brands or local ones that are already well recognised and successful.
In T1 landside departures, Costa Coffee came in last year and has delivered a sharp upturn on the previous coffee concept in that space. Burger King will also come into this zone shortly too, with Lagardère Travel Retail. You need those international anchors.
Other than that, we are facing some stagnation in duty free, especially in T2 (Schengen). We know that when we have added more long-haul flights (principally in T1, the non-Schengen terminal), it has had a strong positive impact on the business, duty free and other categories.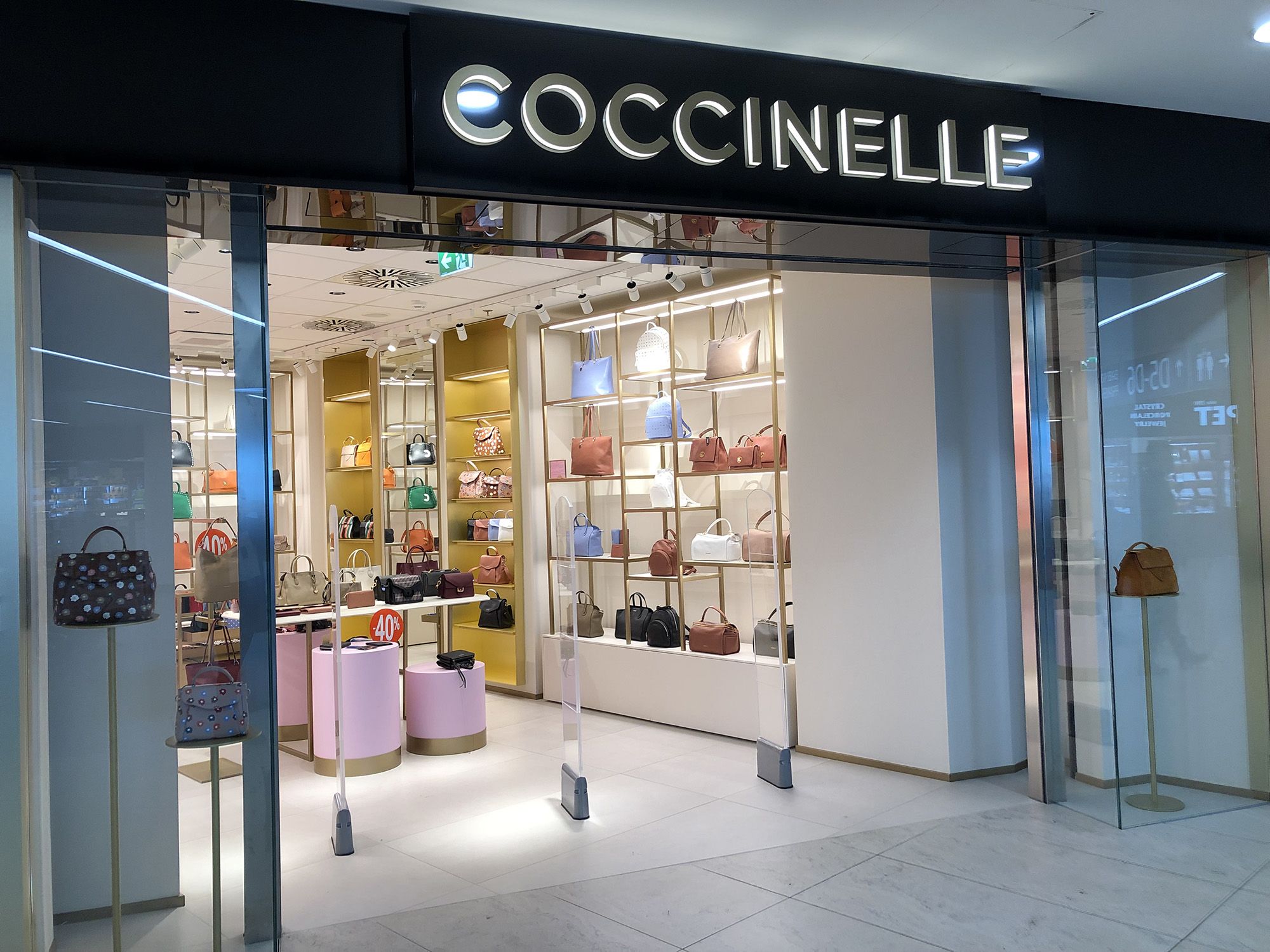 Fast-growing Coccinelle makes its debut with a stand-alone store at Prague Airport.
With that in mind, what are your targets for passenger traffic growth and on which regions are you focusing most attention?
Václav Rehor: Our goal is to connect Prague with all of the big cities across Europe and then to expand to new destinations. We have most of France covered, much of Spain, a strong UK presence and overall around 90% of traffic is to and from Europe. This year we'll open Florence, which has huge potential, despite the short runway there. For the future we are targeting new routes, for example to Vilnius, Tallinn and Stuttgart.
Long-haul traffic is growing at double digits. We are seeking more direct flights to Asia beyond those to China and South Korea. We are looking at Thailand, Taiwan, Hong Kong and other growth destinations.
In North America, our priority is to establish a year-round New York connection. Besides existing flights to New York JFK and Philadelphia we will begin a flight to Newark this year, which will add more high-spending travellers.
We project that traffic growth will average around 3-4% in 2019. Last year we had nearly 16.8 million passengers, and we will have over 17 million this year. The airport was built for 12 million and we have invested to extend capacity already. We are really at the capacity ceiling and need significant space expansion.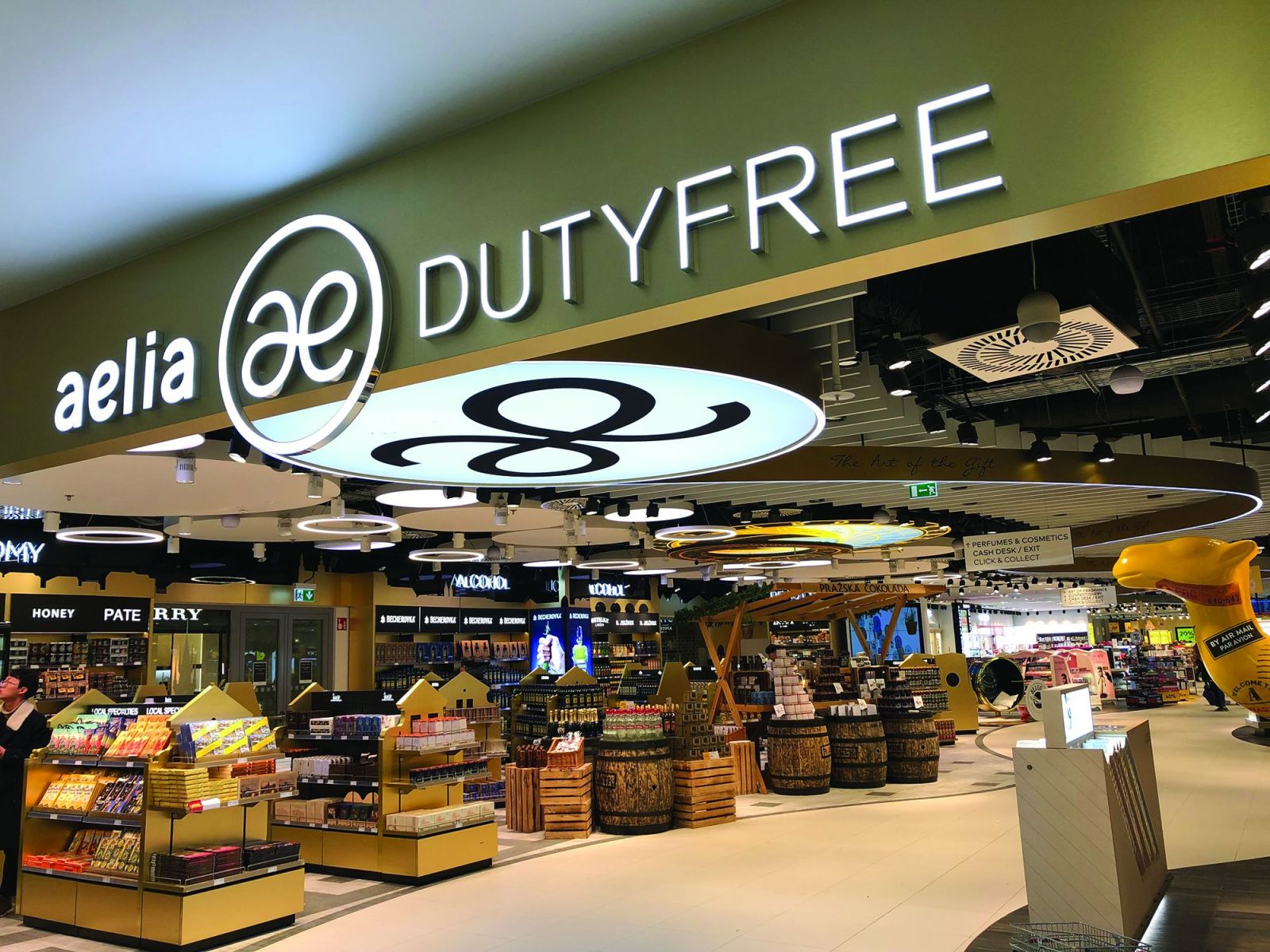 The impressive Aelia Duty Free store in T1 features a strong Sense of Place and eye-catching promotional space, which showcased Beluga vodka during our visit.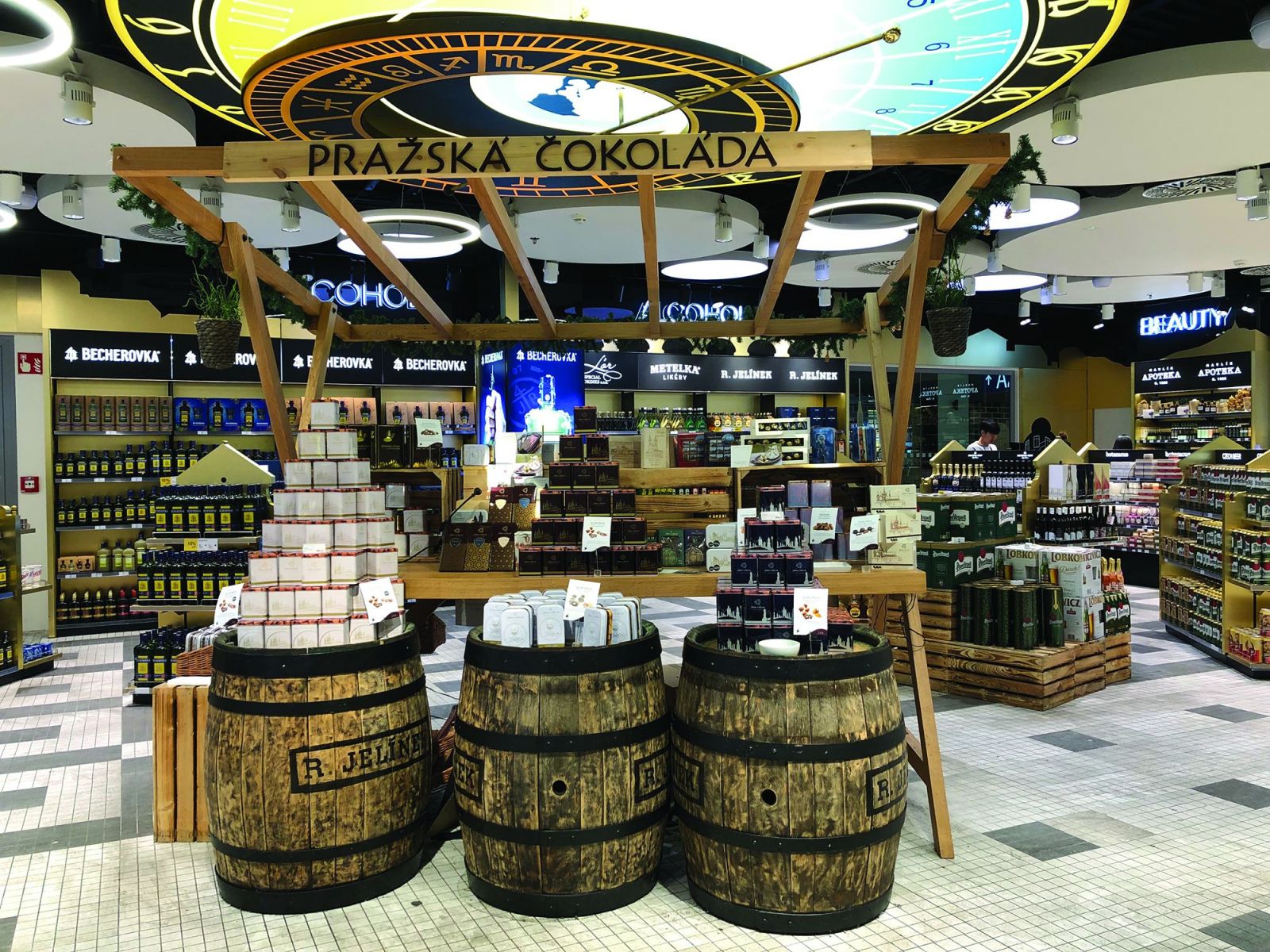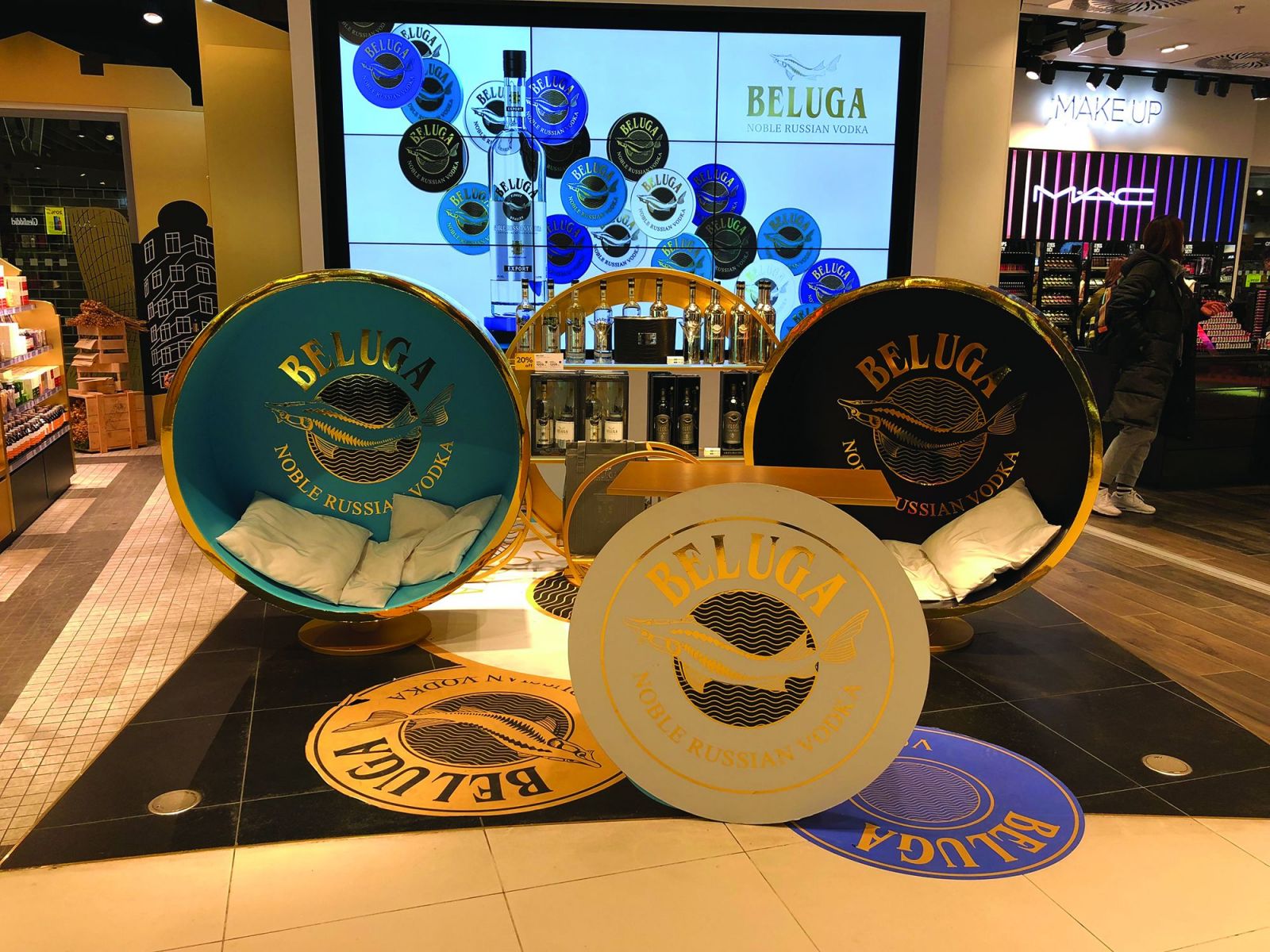 Top ten destinations from Prague Airport by terminal 2018
Terminal 2 • Schengen
1. Paris CDG
2. Amsterdam
3. Frankfurt
4. Barcelona
5. Brussels
6. Helsinki
7. Madrid
8. Zürich
9. Milan Malpensa
10. Copenhagen
Terminal 1 • Non-Schengen
1. Moscow Sheremetyevo
2. Dubai
3. London Heathrow
4. London Stansted
5. Tel Aviv Ben Gurion
6. London Gatwick
7. Istanbul
8. Hurghada
9. Kiev Borispol
10. Dublin
How else are you trying to lift the experience for travellers at Prague Airport?
Václav Rehor: Prague is a destination and we are a destination-driven airport. We should reflect that sense of a tourist city, not only in the shops but in design and style too. We have added photographs of Prague along with JCDecaux to depict the best of Prague. That local sense is key. People know what it looks like from their web searches; they want to encounter our country as soon as they land and before they depart. It's part of the experience.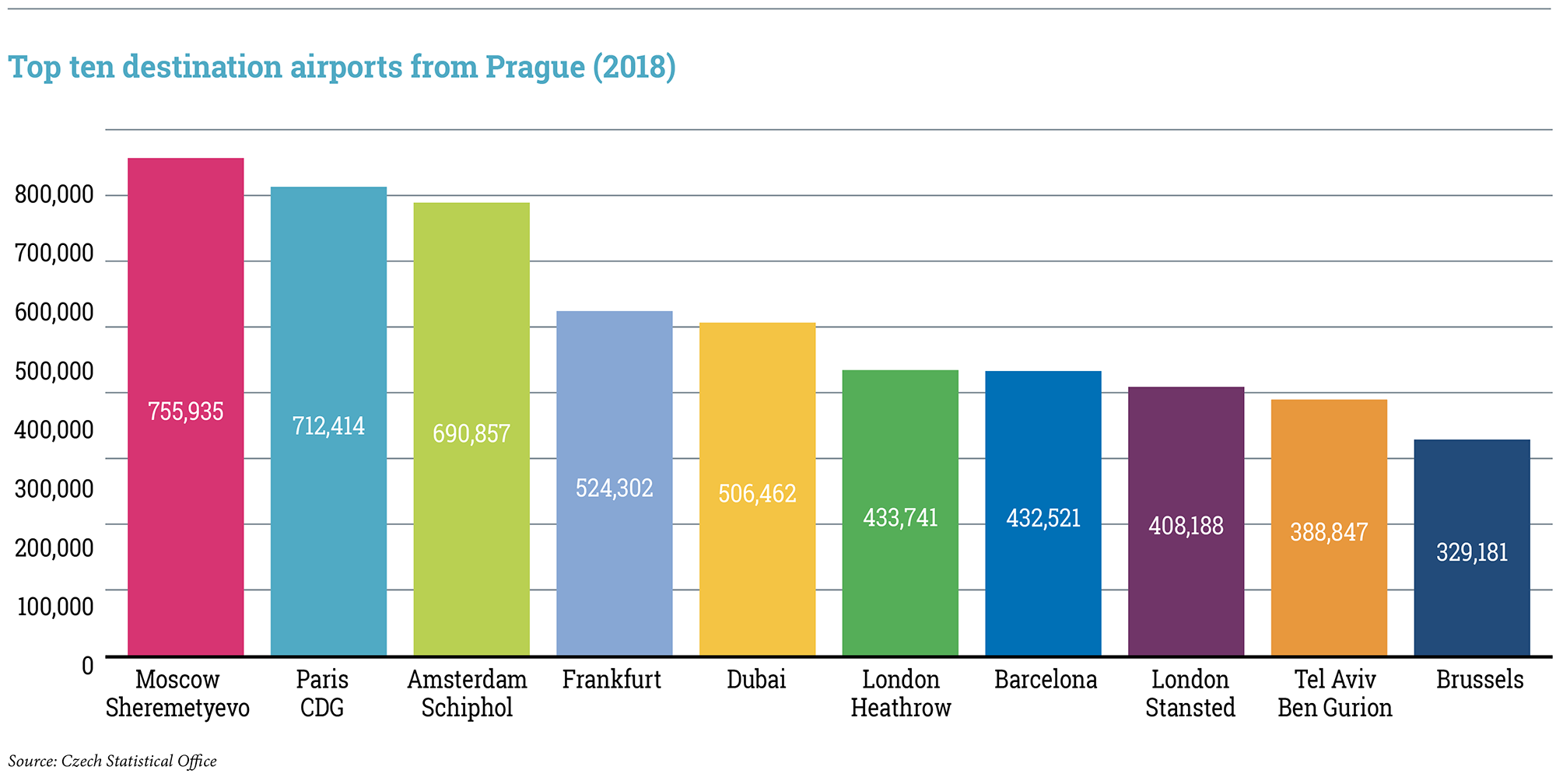 Another element you are focusing on is the digital airport. What does that mean to you and where are you on the journey to achieving it?
Václav Rehor: The digitalisation of the entire industry is coming, the question is how quickly? We have created our innovative laboratory called PRGAirport¬Lab on three levels. The first is cooperation with new start-ups, for example from Silicon Valley or Israel, where we test their technologies for free, so we can each learn and be smarter.
The second level is where the technology is already developed. We rent it and test it to see if it works. If it's appropriate we can tender for the relevant service and buy it.
The third level is technology that is already tested and comes off the shelf, so there we would run a tender and buy the best solution.
Our digital infrastructure projects already include face recognition, meaning you can present yourself at security or even boarding the plane just with your image. Another area is autonomous or electrical cars. We are testing some ideas, to see if these can be profitable.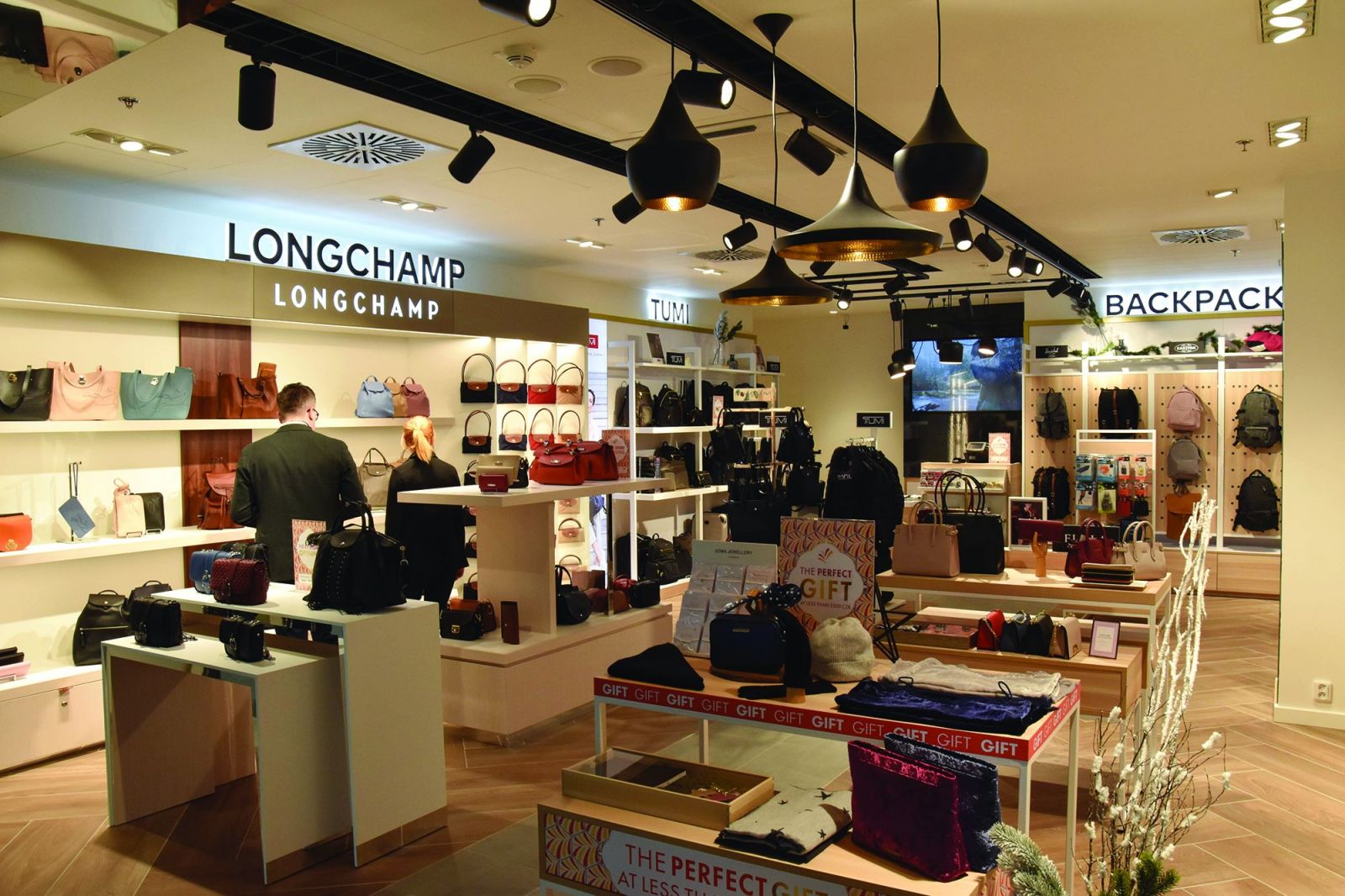 Blending local and international: Longchamp and other fashion brands are prominent in the new T2 stores, while national brand Moser has a fine showcase in T2.
Then there is ecommerce and assessing how digital will affect retail and services. We want to have an integrated platform that combines the efforts of the city, airlines and other partners. We are making ecommerce solutions part of our duty free tenders, and we want to invest at the right time so we are on top of the game.
We are not jumping in to invest big money yet. We are cautiously monitoring the progress of new technologies to examine where we can best become involved. If the environment is not yet ready, at least we can gather all the information and speed up our projects once the time comes.
So we are cautious, but very progressive. We want to invest €1 billion. More than half of that will be in terminal expansion and infrastructure. But what goes inside the building is the question, not only for now but for 40 years ahead. Can you imagine the technology needed at an airport in 40 years' time? We have to be very flexible in how we build and able to adjust in future.
Jiri Petrzilka: Seen from the viewpoint of non-aeronautical activities, we should be digitalising this and doing ecommerce. In retail, that has three targets:
To support traditional shopping; expose the offer and drive footfall to the stores.
To enable travellers to shop even away from the stores or restaurants, at the gate or elsewhere.
To extend commercial activities outside the airport. That means building relationships with stores and services downtown. We know for example that many tourists visit the outlet malls. We could see this as competition but in fact it could be an opportunity. We cannot stock what they stock so why not partner in a complementary way, cooperating and revenue-sharing?
We also want to automate the tax refund scheme and play our part in that. It is too complicated, with queueing, refunds in local currency and so on. How can we as an airport help this process and benefit the customer? We are a tourist airport and so can offer partnership services ranging from hotels to attractions. Ideally we do that with airlines and other partners though we know it is not always easy.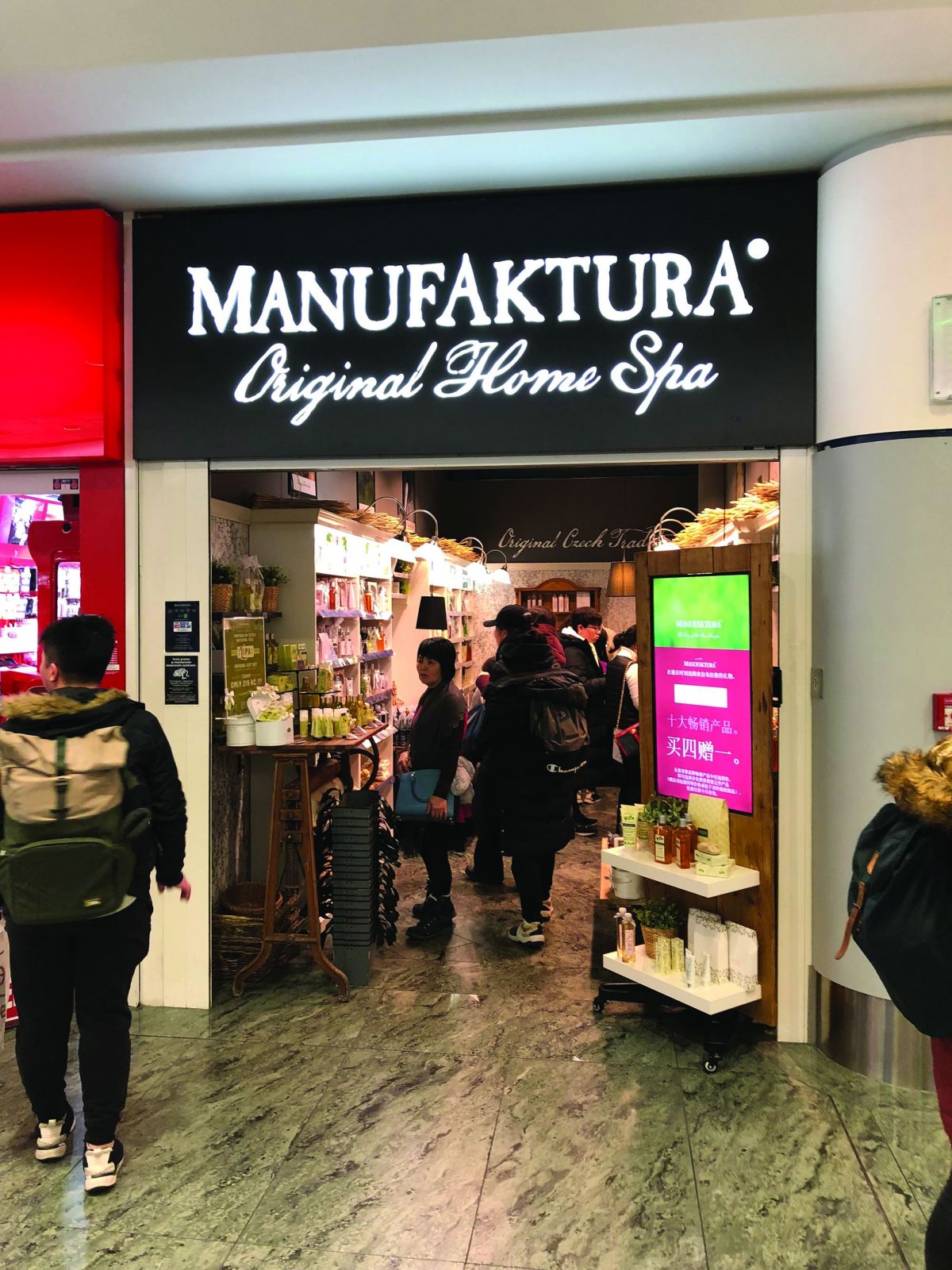 Prague's pulling power: Asian travellers at Manufaktura, a popular local skincare brand with a store in T1.
With this long-term thinking and many short-term projects, what keeps Prague Airport's CEO awake at night?
Václav Rehor: The first and most important issue is always security. We look at the world around us and we know that people are sensitive about safety. We are a destination, so this must be on top of our agenda, as any incident could hinder or halt inbound growth.
We are looking closely at Brexit, as the UK is a critical market for us. Once they solve the aviation issues with the EU I think it will work out, whatever happens.
Then there is finding the right people for the right roles. We have almost full employment in the Czech Republic, so sourcing talent is a challenge.
Finally if we came back to visit you this time next year, what targets would you like to have achieved?
Václav Rehor: I would like to have celebrated passing the 17 million passenger mark in 2019; to say we had no safety or security incident; and to have a new partner for duty free, with a restructure of the retail space under way.
By that time we hope for full approval from the government to invest €1 billion in our future. This year is a big one for progressing that and gaining the necessary approvals to move Prague Airport forward.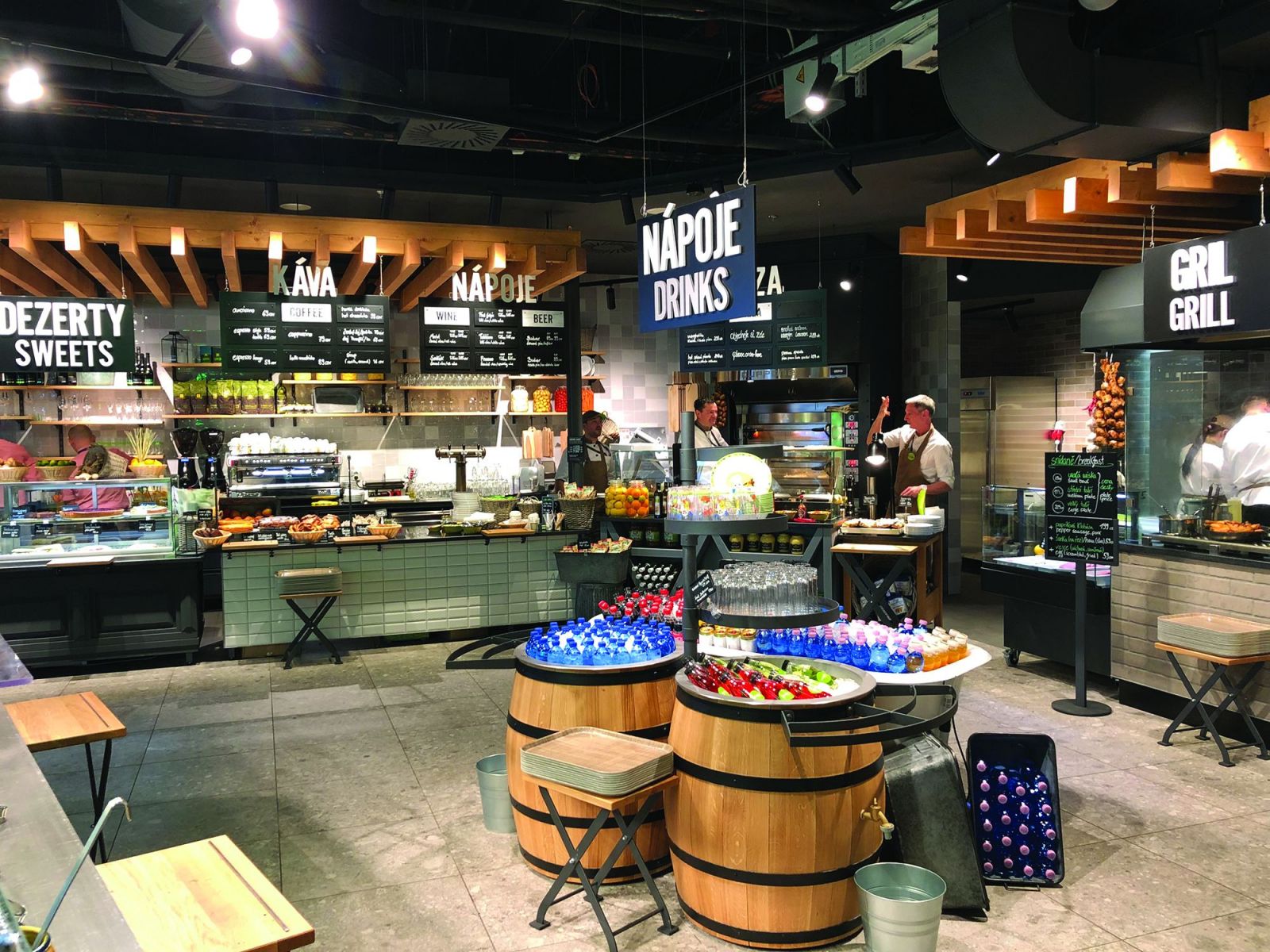 The emphasis on local products extends to F&B, with a taste of the Czech Republic prominent.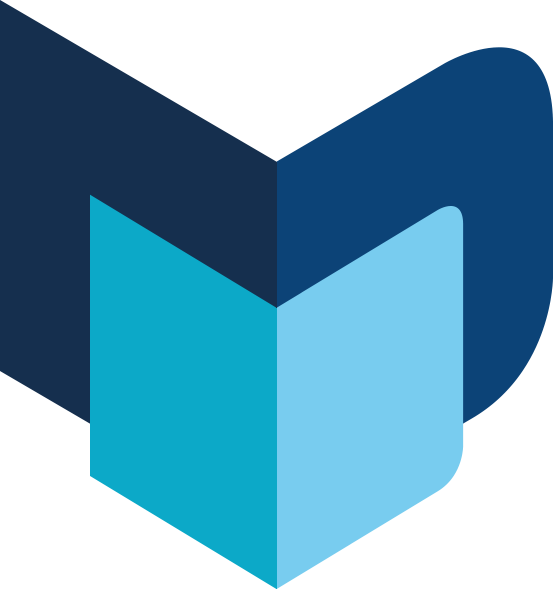 ---
The Moodie Davitt Report • The Online Magazine • February 2019