Globuy: Aiming to become China's
"most influential travel retail KOL"
From small beginnings as a media agency for airlines just six years ago, Extra-Aile Media has created a WeChat platform, branded Globuy, with a growing following among Chinese travel shoppers seeking information and recommendations on duty free products, new launches and incentives to purchase. Now it aims to deepen its influence among Chinese travellers as well as expanding its network of retailer and brand partners. Founder and General Manager Arthur Cong (pictured below) talks to Dermot Davitt.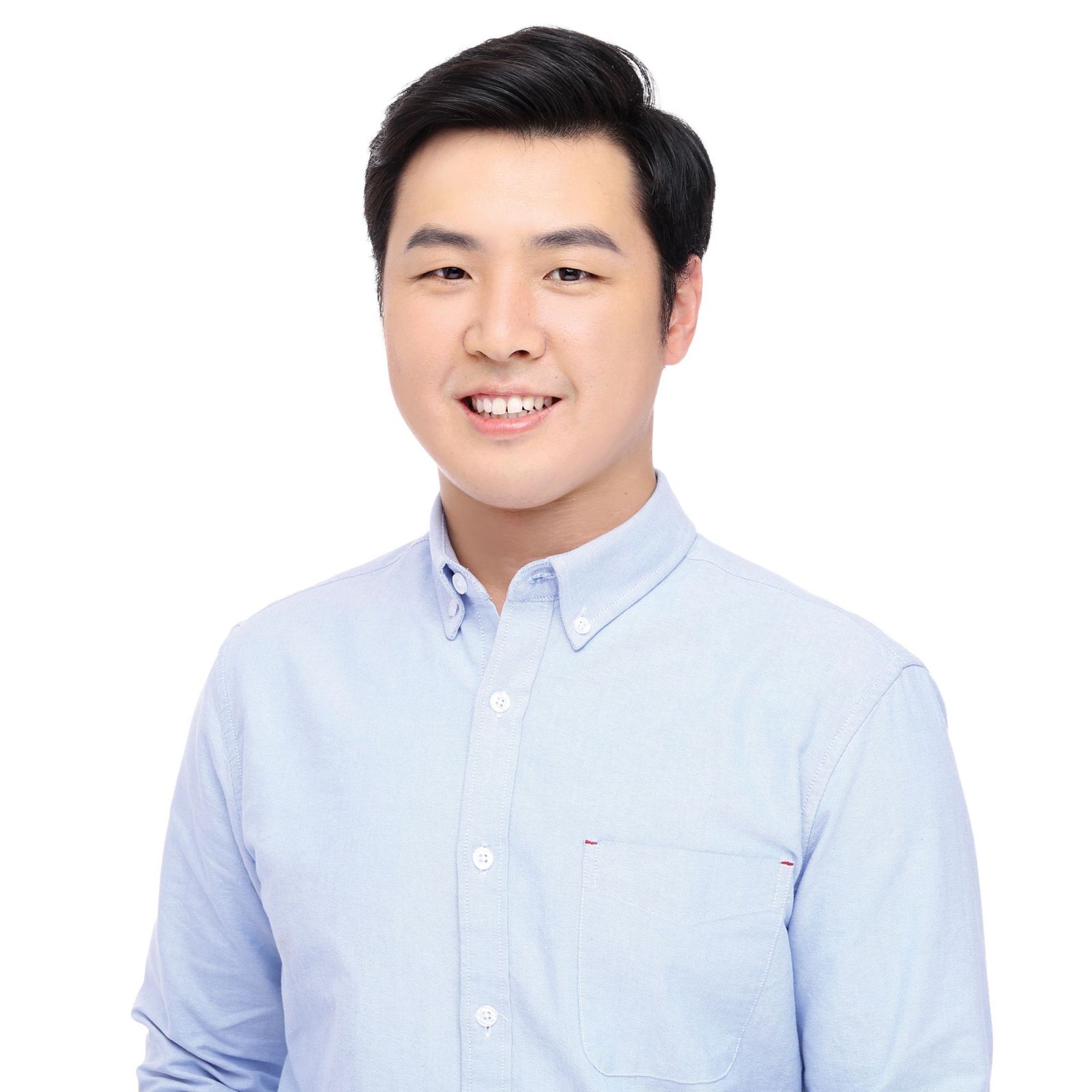 "We aim to be the "the most influential travel retail KOL for Chinese travellers". That's the clearly stated ambition of Extra-Aile Media, which owns the fast-growing WeChat account Globuy, which offers information on where to buy duty free, with product information, pricing, recommendations and discount coupons for Chinese travellers.
Founder and General Manager Arthur Cong's story in the industry began in 2012, when he created a media agency to sell advertising and services to partners of the country's major carriers, on boarding passes and on screens in VIP lounges. China Eastern was his first customer.
Cong takes up the narrative. "After two years the business was growing well. In 2014 I received a big media order from Lotte Duty Free for discount coupons on boarding passes, as they were taking their Chinese marketing to the next stage." That partnership has since broadened to promote Lotte's VIP loyalty programme and other services, and to other Korean duty free retailers such as The Shilla Duty Free and Shinsegae Duty Free, as well as King Power (Thailand), KIX Duty Free (Kansai Airport), Fa-So-La (Narita Airport), ANA Duty Free and China Duty Free Group/Sunrise Duty Free at home.
Cong says: "I discovered that retailers and brands were willing to invest in targeting Chinese travellers, and airlines and airports were a good choice at the time. These retailers saw they could trust us, and understood that we could connect with their customers."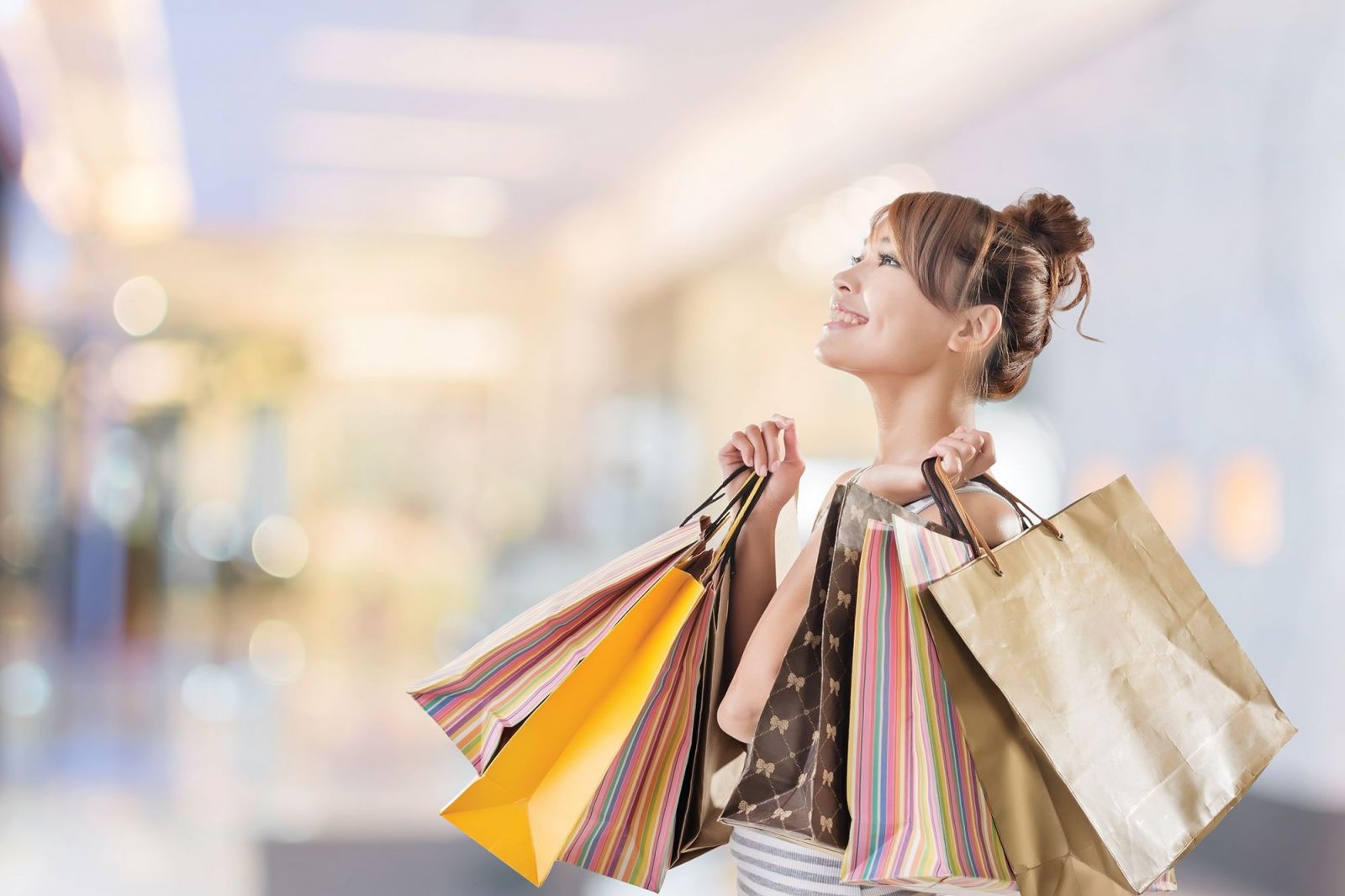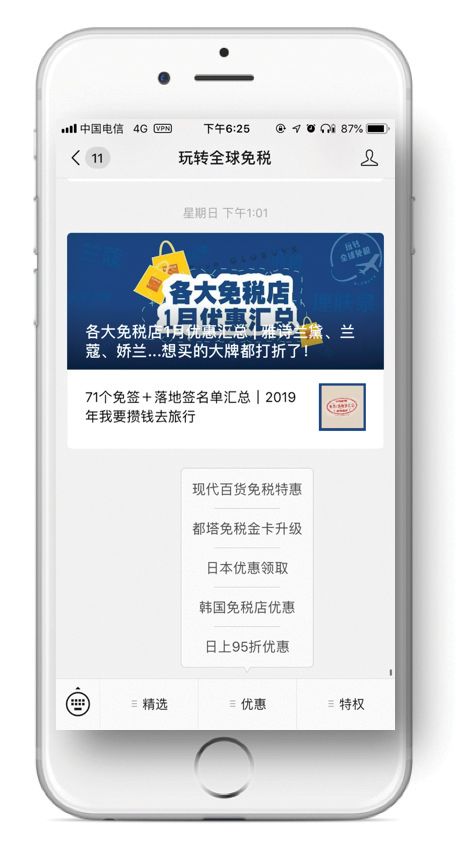 Globuy's use of the WeChat platform has been vital in making a connection with the Chinese travelling shopper.
From this point on, a wider opportunity became clear. "When I first started travelling overseas," says Cong, "I could find trip information from various websites and applications, but nowhere could I find a place to look up shopping information. You could do a search online but there was no one place that told Chinese people where to buy or what they could buy.
"That gave me the idea to create a resource for travel shopping, even before I ever heard that there was an industry called travel retail."
The core needs he identified among Chinese consumers were for price information and product availability. "Pricing is an important driver for Chinese shoppers but they are unlikely to change their travel plans because of this. What they want to know is whether they can find a particular brand in Shanghai, Tokyo or elsewhere."
"Can you imagine trying to get 600,000 downloads of a travel shopping app? It would take many years, especially as travel is a low-frequency activity for most people."
The method of delivery was also important. "I started with the boarding pass, but that is an offline marketing tool. From 2014 I saw there was demand for electronic solutions and so created my first WeChat account, which contained the promotional information and coupons related to the client.
"We then started to write articles about travel shopping, sharing experiences, offering suggestions on products and deals that were available. We began gathering followers to our WeChat account and now we can say we have evolved into a KOL for Chinese travel shoppers."
Travellers can access product information, recommend shopping lists and share their experiences, while stores can promote their activity via the official WeChat account. The account gained 150,000 followers in the first two years and has over 350,000 today. Globuy has over ten million views a year, with information on 22 duty free shops and 240 brands covered to date.
The company built on the official WeChat account in mid-2018 by developing what it claims was the first WeChat Mini Program targeting Chinese outbound tourists across sales channels, airports and retailers. This offers price and currency exchange comparisons, store and brand promotional activity and shopping lists. For retailer partners, it offers discount coupons related to particular destinations and stores. This Mini Program already has an impressive 600,000 users. It presents over 150,000 products across 20 retailers in ten countries so far.
A crucial point of difference to global shopping apps for travellers, and a key reason for its quick rise in popularity, is Globuy's use of the WeChat platform.
Cong says: "With the WeChat Mini Program you don't need to download an app. WeChat has over 1 billion users in China and is read and used widely by travellers. It allows us to connect with travellers in a direct way."
Cong's colleague Luo Jiaqi adds: "We have created a community of 600,000 users for our WeChat Mini Program in only around six months. That's almost twice the size of our official WeChat users already. Can you imagine trying to get 600,000 downloads of a travel shopping app? It would take many years, especially as travel is a low-frequency activity for most people.
"We also specialise. We have WeChat groups (maximum 500 people) focused by destination such as Japan or Korea, or by retailers such as Sunrise Duty Free, where people can exchange on services or products."
Enabling those exchanges underlines a key element of the WeChat Mini Program, and of brand and retailer marketing today: the need for great content. Extra-Aile is investing behind this: of the 17 staff Cong employ today, around half are in IT roles and the rest are involved in creating editorial or in business development.
Cong says: "We have taken advantage of the WeChat Ecology. Our content is all about travel and shopping, so our audience is drawn to the articles and experiences expressed by users and that builds interest in the brands and in the coupons offered by our retail partners, which can be downloaded simply to your phone."
The key, he says, is to provide "value-added information" that influences travellers' shopping behaviour overseas, whether that is about product testing, campaigns, price comparisons, product testing and recommendation, 'hot' or trendy items and topics of interest, including celebrity gossip. All of this leverages the "magic power" of social media. he says.
Screen time: The Globuy WeChat platform offers a range of features including (left to right, as depicted on screen) index & promotions, coupons, catalogues, editorials, exchanges between users and lists.
"We provide travellers with useful information for their pre-trip preparation and we use the Mini Program to improve the customer experience," Cong notes. "For example, when people read our articles, they can directly add the product to their wish list for the trip. It's very useful. And even if you don't have a trip planned, you can share your wish list with others, your friends, family and even other users in our community. This is our way of engaging people who don't have travel plans and also our first approach to the 90% of Chinese who have not had outbound experience yet."
Luo adds: "As a KOL we direct professional content to our readers. We encourage our customers to share their experiences. They trust other customers' opinions more than they do anything else and that is the real power of social media."
She adds: "People are no longer as influenced by the brands' product information any more. New product releases carry less weight than social media does."
"We have had some success in making product recommendations. That's why some brands are cooperating with us."
Among those brands are L'Oréal Paris, Kiehl's, Lancôme, Guerlain, Dr. Jart+ and Vidivici. One big recent success story, says Extra-Aile, was to build awareness of a Guerlain pop-up store at Shanghai Pudong Airport for the French beauty brand's 190th anniversary in 2018 – a partnership involving Sunrise Duty Free/CDFG.
Luo says: "We wrote about this event on WeChat, we shared details of Guerlain's new products, we designed an online campaign with games on our We Chat Mini Program, generating over 6,000 banner clicks, plus a video ad on WeChat social, all part of the marketing effort. That directed users towards the event itself and the feedback we had was that it helped drive sales."
That influence, says Cong, is underlined by the levels of coupon conversion for retail partners. It is just a few months since the Mini Program was launched, but each day brings 30,000 readers and 500 new shopping wish-lists created by shoppers or family and friends who want purchases made.
Cong adds: "On average each day we know our activity leads to RMB450,000 (US$67,000) in recorded transactions. So far we can only record coupons that are redeemed by our partners (around 1,500 per day), mainly spent on P&C, but there is much more we can do across other categories.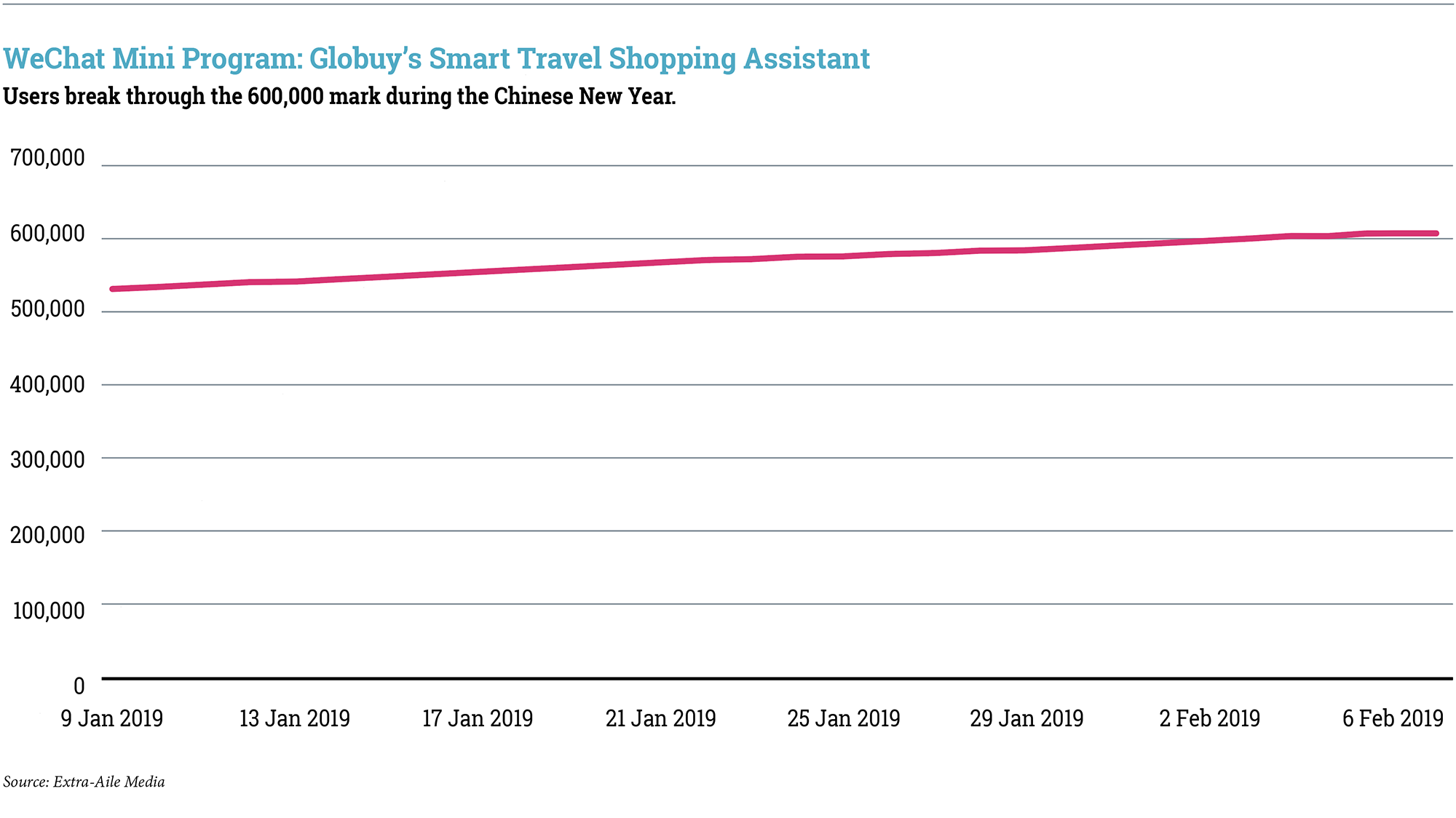 "We know there are really two types of shopping engagement. One, we engage the traveller online and they transact offline, in the store for example. The growth in future will come we think in both engagement and payment online."
Cong also understands that the company has a role identifying the changing priorities of Chinese shoppers overseas, and analysing them for brand and retail partners.
Of how the future is taking shape, Luo says: "People will care more about the shopping experience itself, and that will lead to an increasing importance for pre-order in future. Many more make pre-trip preparations than ever before. They want to find out where they can have fun but also where they can buy in advance.
"They are still price-sensitive but they also want limited editions that are only available in certain destinations.
"What kinds of products can I buy, which of them are most suitable for me, they are asking? With our recommendations and exchanges between customers, we have become an influencer."
And that is the role the company sees for itself as a partner for brands and retailers. Luo says: "We are a KOL that can help the brand get closer to the end consumer. We can share product information and articles, using our Mini Program for event promotion. We can then help them to do WeChat social advertising to our 600,000 users, and that in turn leads to more clicks. The WeChat ecology can then drive customers to the products."
WeChat is just one of several platforms that connect with travellers. Cong singles out social commerce app Red (Xiaohongshu) and video sharing app Tik Tok (Douyin) as emerging influences.
"WeChat is no doubt the most effective platform, where we can impact on our users in user-friendly ways, and it retains users with all forms of information. Red is where most real user experience is shared, while Tik Tok is a video platform supporting 5G, and videos are gradually becoming the most efficient information stream, with richer content."
Cong says that even his short few years of experience offer lessons for brands in engaging Chinese travellers. "Offline marketing is really not money well spent among Chinese travellers," he says. "Today it has to be online. If you're having a launch or event you also have to do a warm-up, prepare the groundwork, flag up the offer in advance, all via social media. Look at what L'Oréal Paris did in Hainan recently [leveraging the social reach of Chinese popstar Cai Xukun as it launched an East-meets-West themed pop-up at China Duty Free Group's Haitang Bay store -Ed]. They are a partner of ours. It was a huge success."
For now Globuy is about driving engagement but in future the company says it could look at booking transactions too, especially through retailers' pre-order platforms. It has a track record in this area too. It helped China Eastern create its online duty free platform in 2016.
Cong says: "My target is to let everyone know about us, to raise awareness among travellers and to ensure that more retailers and brands trust us, and that we can work with more retailers across Asia and the world. Our message is, come and ask us what we can do together? We know Chinese travellers, and we know that shopping is mandatory for them. We know they seek out duty free and that they want brands. My target is to connect those brands and travel retailers with Chinese tourists."
"My target is to let everyone know about us, to raise awareness among travellers and to ensure that more retailers and brands trust us, and that we can work with more retailers across Asia and the world."
So far the company has been working only with retailers in Asia but it is open to exploring partnerships in Europe or the USA, which would also probably include moving from WeChat to other social media platforms used by customers in other regions. The Chinese, understandably, will remain the core client base.
Luo says: "We can be seen from three perspectives by the retailers. First, as a media company they are our marketing clients. Second, as an IT company, we can help them organise their business, especially in China. And third, we have a lot of customer data so we can provide valuable information and insights into Chinese consumers, and help with promotional strategies."
Of course Globuy is one of many companies targeting Chinese travellers online. How does Cong see the competition, notably within China?
"We know how strong Alibaba is in shopping or Ctrip is in engaging with travellers, and that these huge companies have all of the relevant information on their customers. My feeling is that we cannot stop them becoming forces in travel retail if they want to.
"What makes us different is that we only target travel shopping, we are not a pure retailer or a pure travel specialist. The window might be just a few years for us to develop, while for others it may take time for them to understand how travel retail is different and to seize the opportunity as we have done via WeChat. But we are open to cooperating with others too, and we already have the advantage of an identity as a KOL for travellers.
"We also recognise the duty free policies of our government and that customers will probably spend more money in China due to those policies of increasing duty free spends at home. We can play our part in that with our partnerships with retailers."
The company has come a long way in a short time, as both technology expert and influencer in the travel shopping space. But this is just the beginning, says Cong.
"By the end of 2019 we want to have 600,000 official WeChat account followers and two million Mini Program users. We can achieve that as people share more of their experiences with their friends, and as we improve our users' activity. We are developing a CRM system to take this competence to the next level. We may be young but we are ambitious."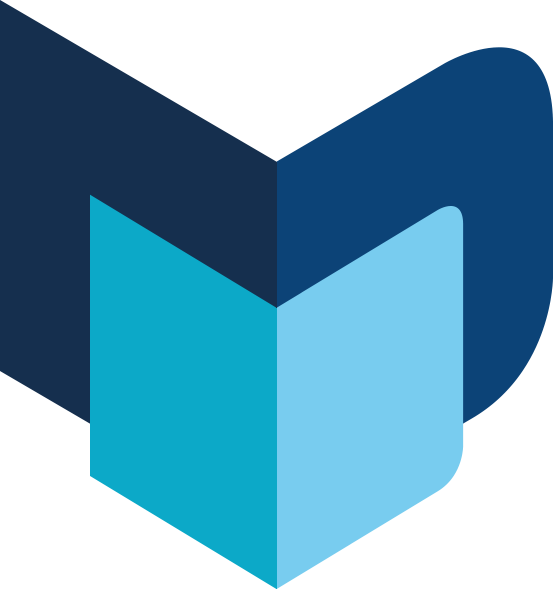 ---
The Moodie Davitt Report • The Online Magazine • February 2019