China Report • China Duty Free Group
---
View from the top
China Duty Free Group on the Chinese traveller
We assess the view of the Chinese travelling shopper through the eyes of China Duty Free Group and its President Charles Chen (pictured below), and examine some of the pivotal moments in the state-owned travel retailer's recent development.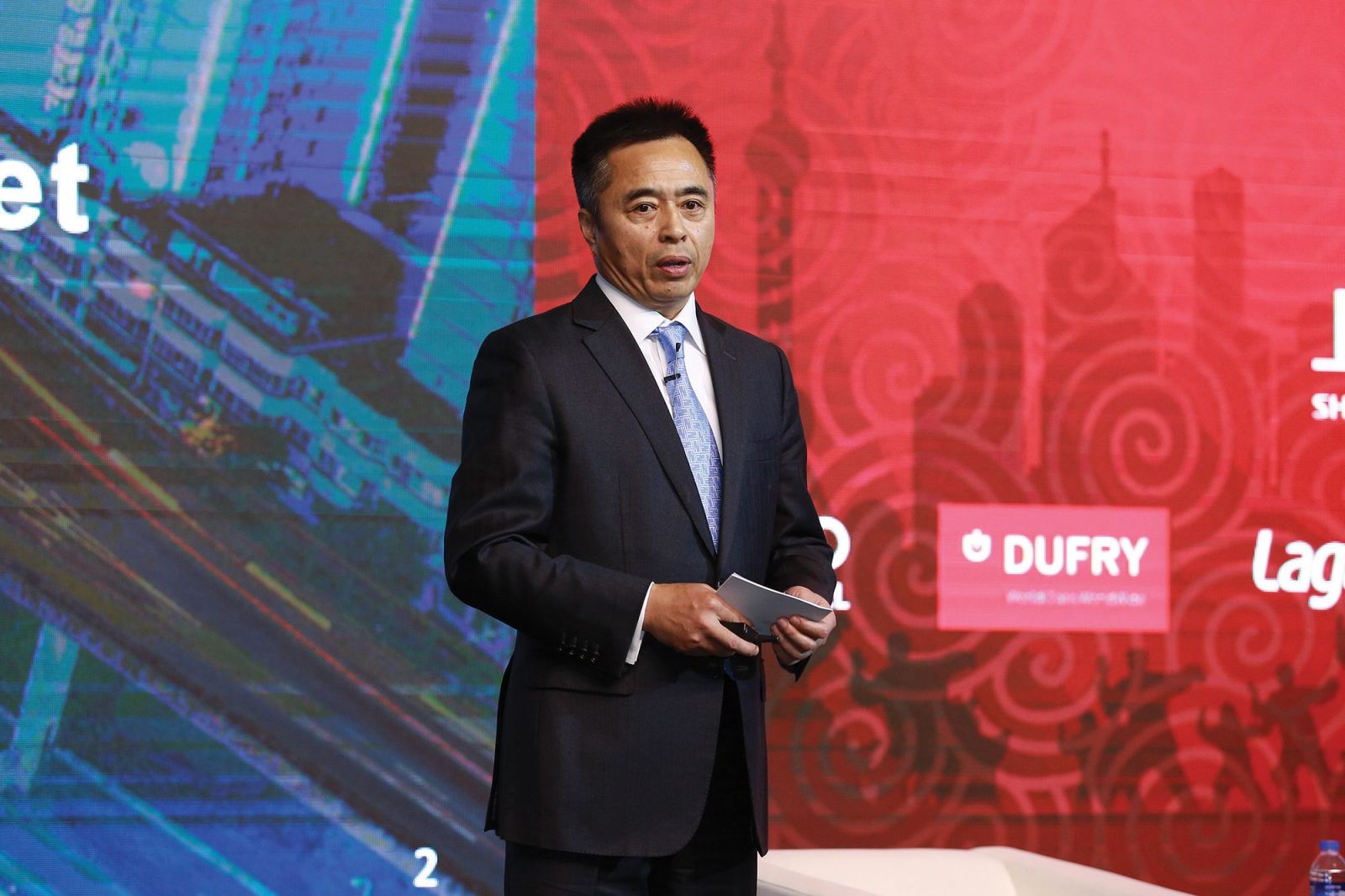 The past 12 months have been a landmark period for China Duty Free Group (CDFG), and for its dynamic and driven President Charles Chen, as China's pivotal role in defining the future of travel retail has been rubber-stamped.
The company continued the rapid expansion of its overseas footprint with the opening of the fine new Duty Zero by cdf stores at Hong Kong International, in partnership with Lagardère Travel Retail, cementing CDFG's status as one of the great regional players. And its progress at home was even more spectacular.
CDFG and Chinese e-commerce giant Alibaba Group signed a memorandum of strategic cooperation on 20 November that has huge repercussions for Chinese travel spending in the future (see panel).
More of that spending is likely to come within China, with CDFG outlining ambitious plans to expand, backed by government support for its offshore duty free business, bolstered most recently by increased shopping allowances. These helped buoy sales in Hainan, where shopping growth has been propelled by the offshore duty free policy, by around 30% in the recent Lunar New Year holiday period, with CDFG's Haitang Bay store in Sanya leading the way.
Other milestones in 2018 came with the acquisition of 51% of Sunrise Duty Free (Shanghai) Co Ltd, followed by the latter's capture of the key Shanghai Pudong and Hongqiao airport duty free contracts.
These were complemented by several arrivals duty free contracts at Chinese airports and further expansion in the growing cruise sector.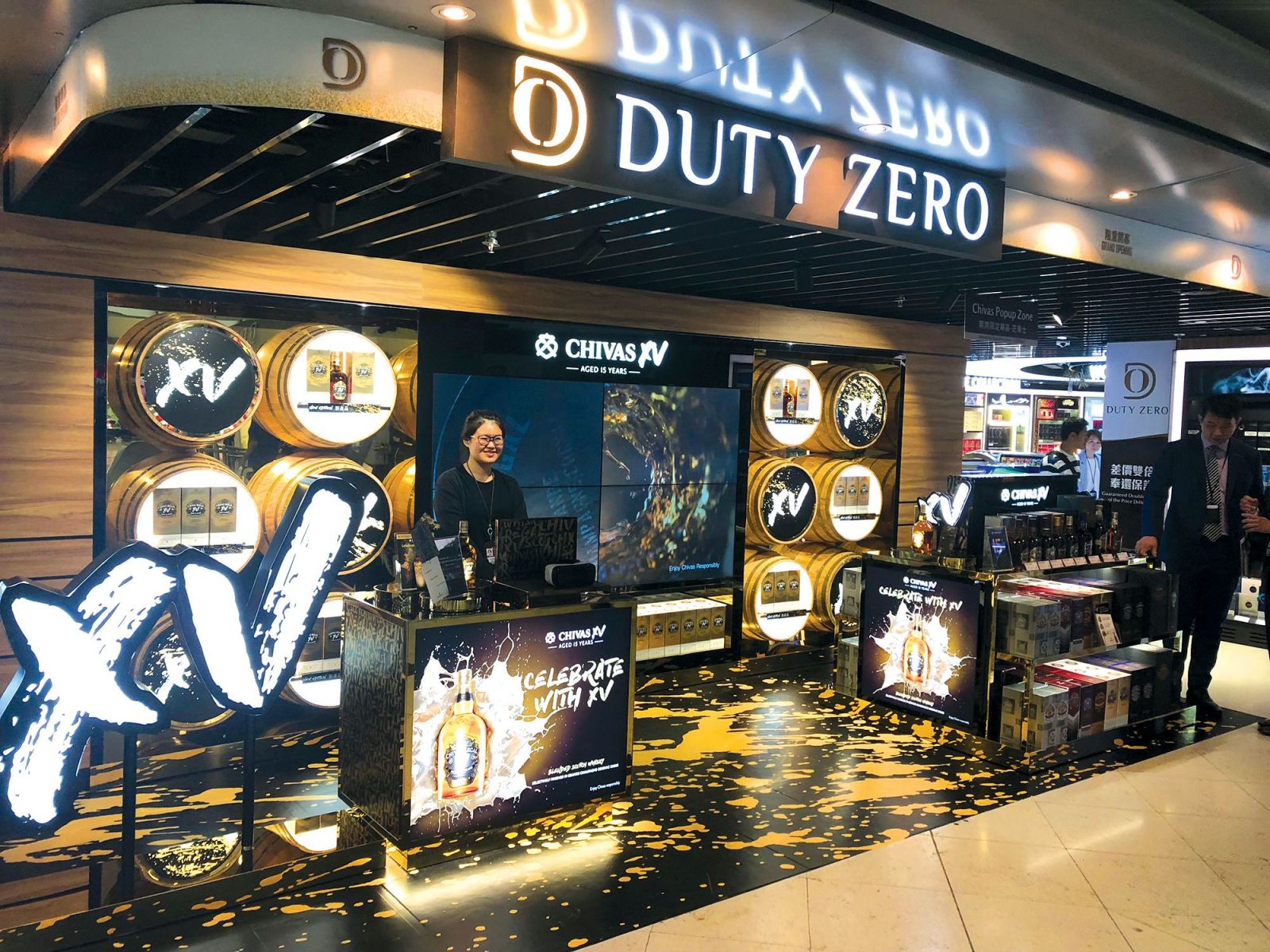 New territory: The opening of Duty Zero by cdf at Hong Kong Airport just over a year ago marked a breakthrough for China Duty Free Group (with partner Lagardère Travel Retai).
The company has built on these gains with strong sales growth, driven by both outbound and domestic tourism. Underpinning this are CDFG's insights into the Chinese consumer, which Chen addressed in great depth at The Trinity Forum in Shanghai on 31 October.
In a powerful address (and subsequent Q&A with Martin Moodie) Chen considered the changing nature of the Chinese traveller and explored the ways in which the industry can adapt to better serve this fast-growing, high-spending but diverse demographic.
He noted that 2018 was a challenging economic year for China, with the threat of trade war with the US and fluctuations in the exchange rate just two factors that led to what he termed "consumption downtrending".
However, concerns about the impact on Chinese travellers' shopping habits should be judged within an overwhelmingly long-term positive context, he added.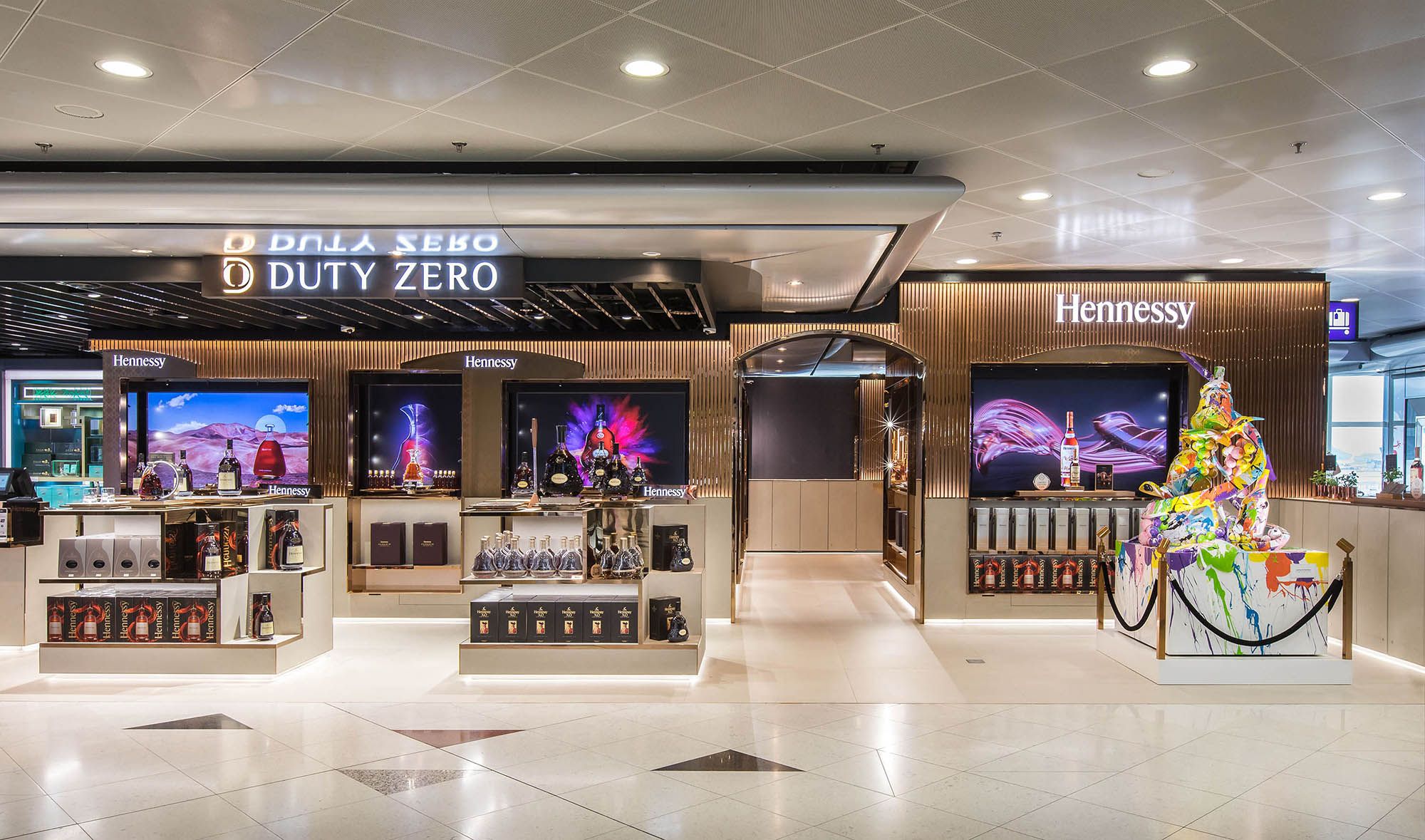 Standing alone and flying high: Hennessy's store is the jewel in the crown of the Hong Kong International Duty Zero by cdf spirits business.
Look at the numbers, he urged: with 130 million outbound travellers in 2017, and overseas spend of US$115 billion, Chinese citizens travel more and spend more than any other nation.
Chen said: "Multiple factors contribute to the strong growth of Chinese outbound travel: increased national income, relaxed travel visa policies, increased knowledge of and desire to see new destinations, easier access to travel information online and increased international air routes from China, among others."
That lays a solid foundation for future growth, he said, though travel preferences and behaviour are evolving rapidly and becoming more complex.
So who is today's Chinese traveller? "Our passengers are more sophisticated than ever," Chen said, adding that traditional categorisations of middle classes, millennials and Generation Z no longer sufficiently address the growing diversity of these consumers. Instead, he cited eight categories outlined in a recent McKinsey report: travelling shoppers; backpackers; stress relief seekers; novice travellers; cost-aware sightseers; personality pioneers; travelling hipsters; and urban charm followers.
Crucially, while there are differences between each group that require understanding, they also share certain characteristics. Established middle class travellers, millennials and Generation Z all research prices before they travel; all are seeking more personalised products and unique experiences, and all are savvy about online shopping.
Alongside these dynamics comes a new diversity in the travel market. Air travel remains the critical channel but increasingly, train, cruise and self-driving holidays are taking growing shares.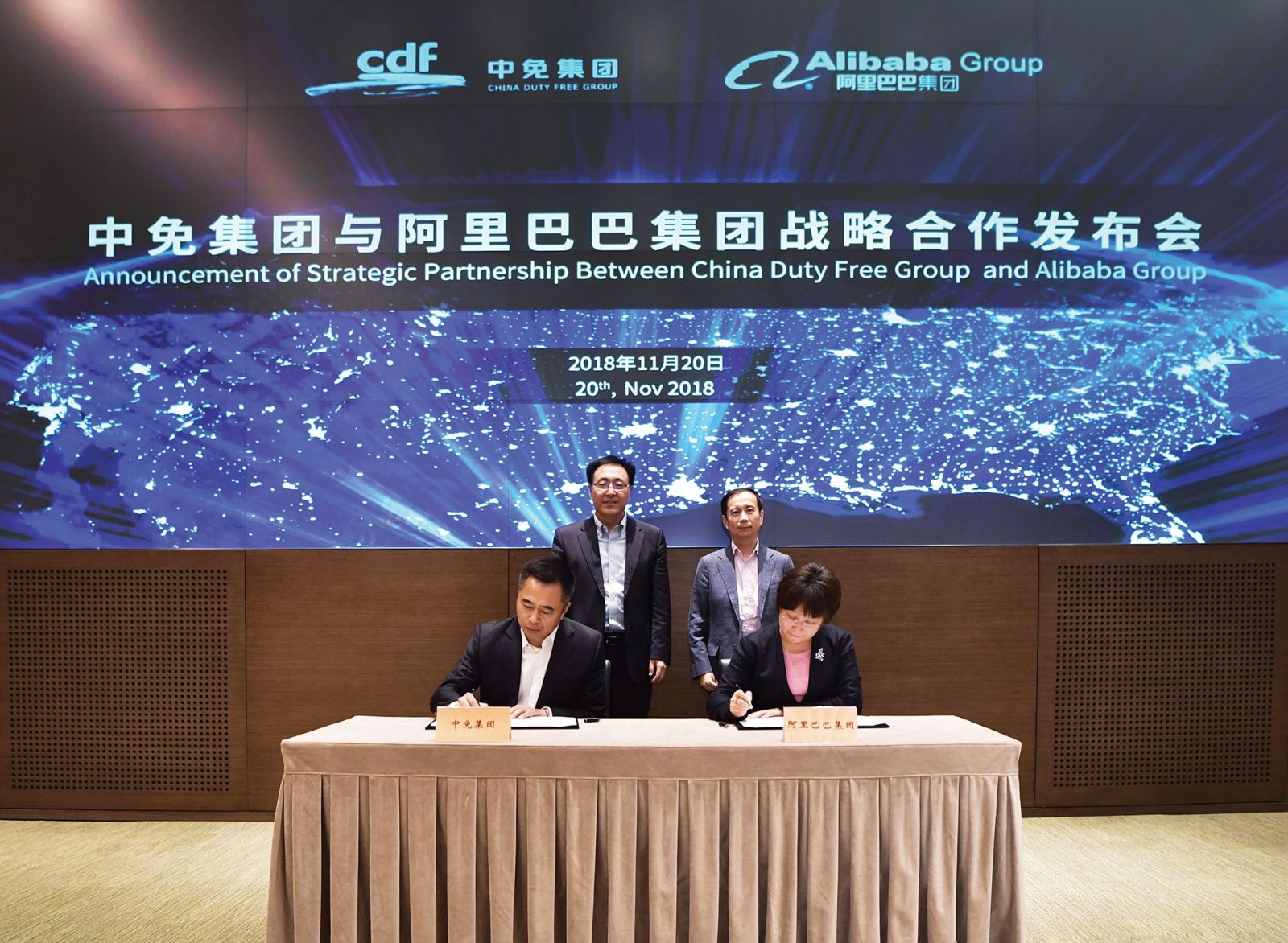 Landmark partnership: China Duty Free Group President Chen Guoqiang (Charles Chen) and Zhao Ying, Head of Alibaba Globalization Leadership Group sign the two companies' cooperation agreement as Peng Hui, General Manager of CDFG parent company China International Travel Service Co (back left) and Zhang Yong, CEO of Alibaba Group attend the historic moment.
Chen said: "In recent years, the Chinese cruise travel market saw an annual average growth rate of 40% and China's annual cruise travel population is expected to reach ten million by 2030, making the country the largest cruise travel market in the world."
So how can we adapt to ensure we capture today's Chinese consumer, who is driven by mobile and online platforms like no other traveller group? New, innovative experiences and brands are what these increasingly sophisticated travellers are looking for, Chen said, arguing that their needs can only be sufficiently met by a "seamless omni-channel experience".
Added to this must come a relentless focus on increasing consumer satisfaction and loyalty to the retail brand. CDFG is implementing this through VIP lounges, airport limousine services and personalised travel planning and strong after-sales service, among other measures, Chen said.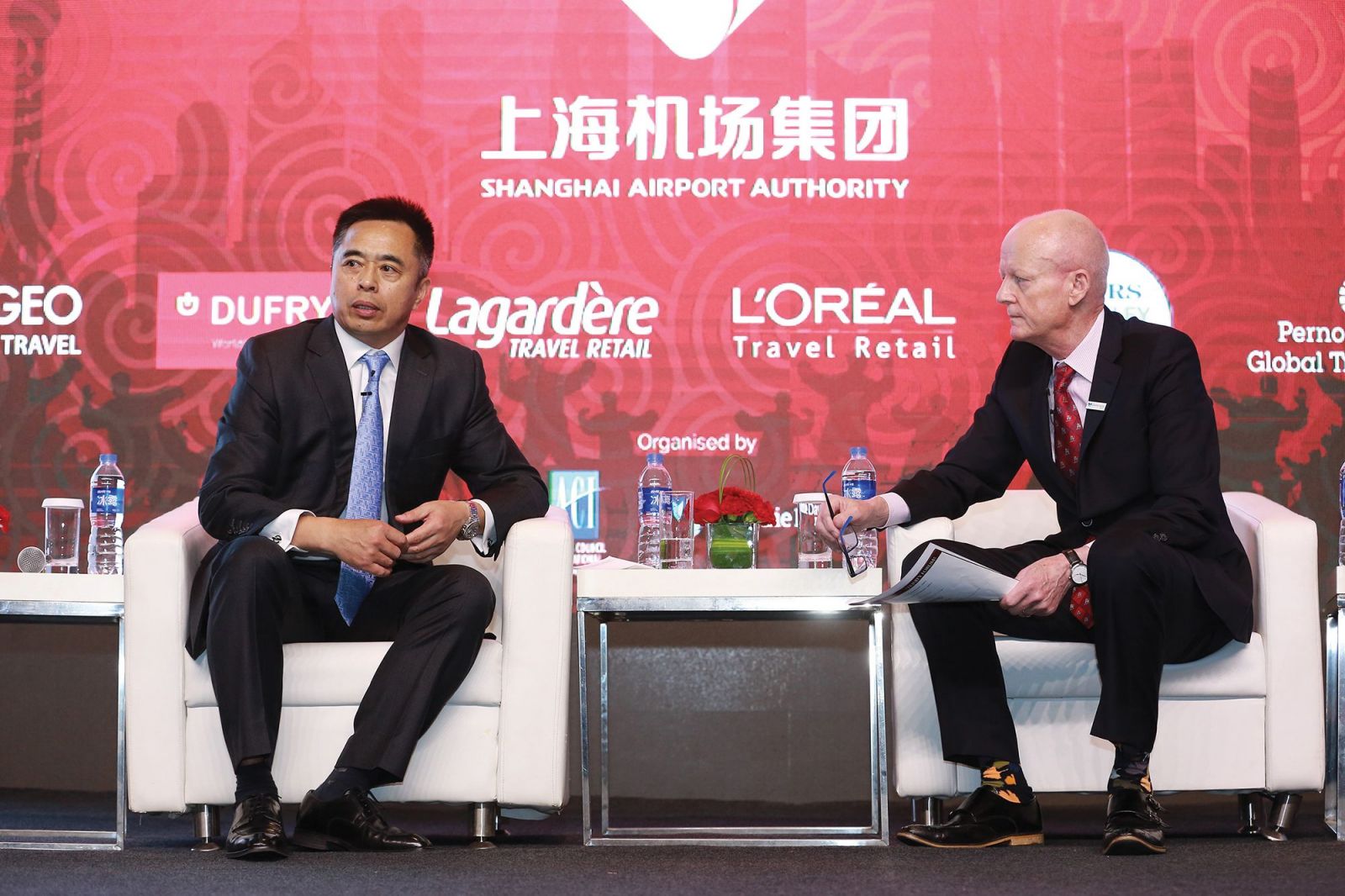 Thought leadership: Charles Chen discusses the irresistible rise of Chinese travel retail with Martin Moodie at Trinity 2018 in Shanghai.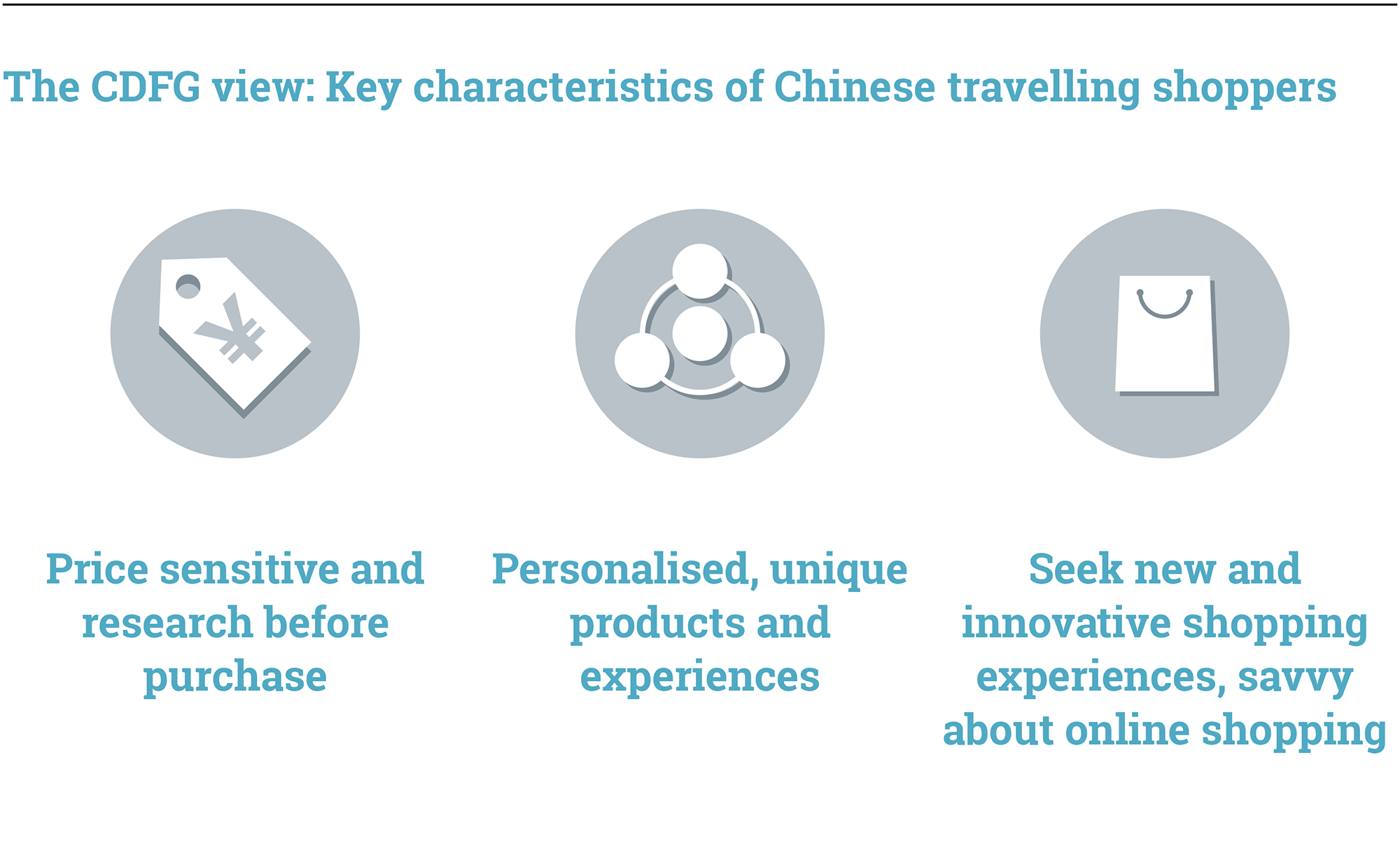 He also called for a much-extended focus on travel retail-exclusive products and collections. Increasing differentiation from the domestic offer is, he said, crucial to maintain the relevance of the channel. "We should really pay more attention to exclusives," he said. "People buy these items and they are so happy to show them to their friends."
He noted that brands have their part to play in adapting to emerging consumer needs by ensuring consistency between online and offline channels.
Chen said: "Many third party online channels are able to promote and sell luxury goods with non-controlled prices. This has a direct impact on the duty free channel and affects brand image and loyalty."
Airports too have a role to play in building consumer satisfaction and ensuring that travel retail remains relevant, by introducing more realistic rent and commercial terms.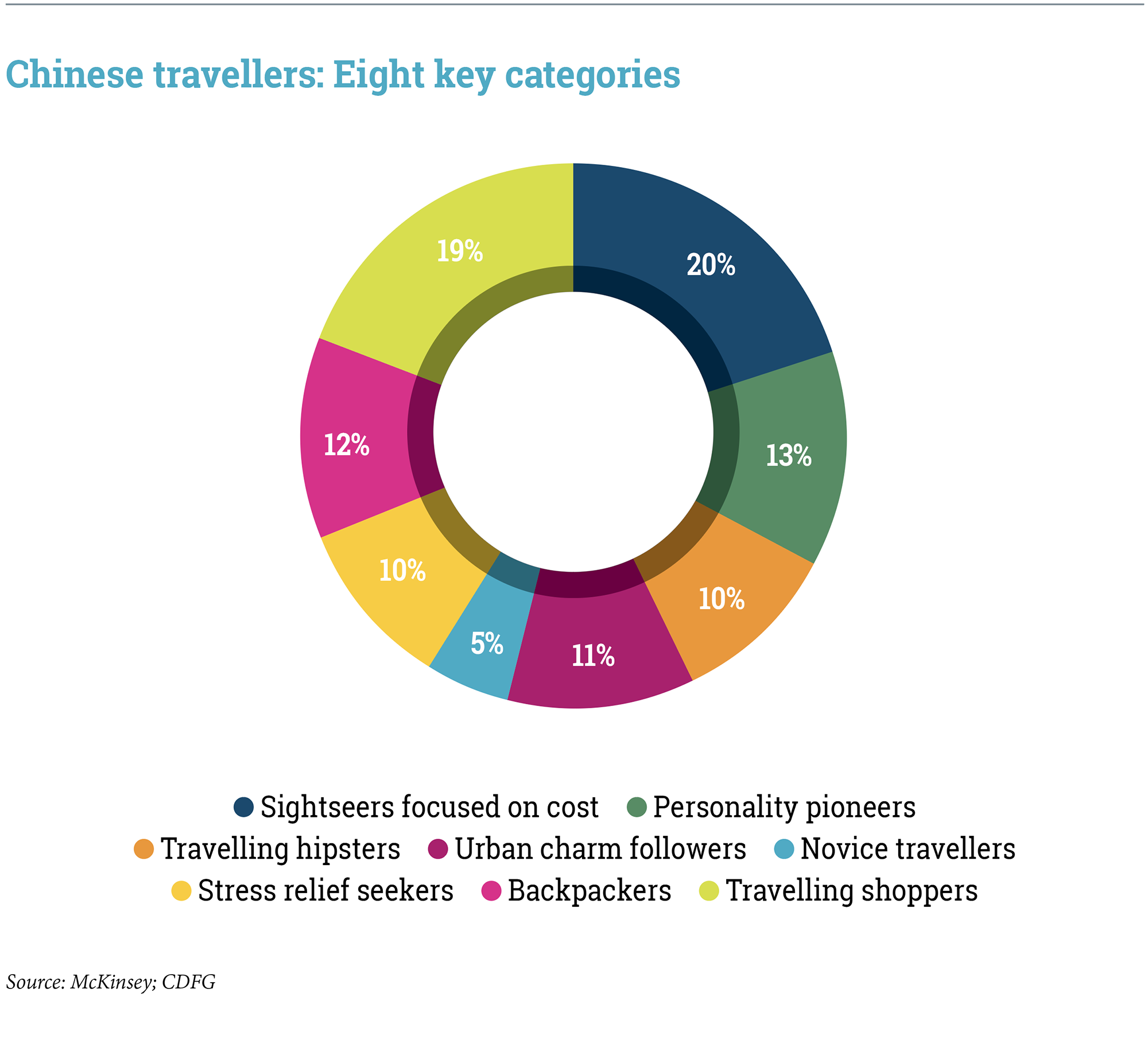 He added that Shanghai Airports Authority took the progressive step of offering more favourable terms at a "very reasonable percentage" for a recent fashion tender, with a view to attracting new brands and build its reputation as a haven for luxury.
In a key message, Chen said that airports should not seek to impose "lowest price-point" policies on their concession partners, as some in Asia Pacific do.
Such policies are ultimately self-defeating for airports and, especially for retailers, he said. Too many airports are focused on such policies, rather than seeking to develop the upside of the business, he argued. "If we can work better together, we can attract more shoppers to the airports, and increase revenues this way."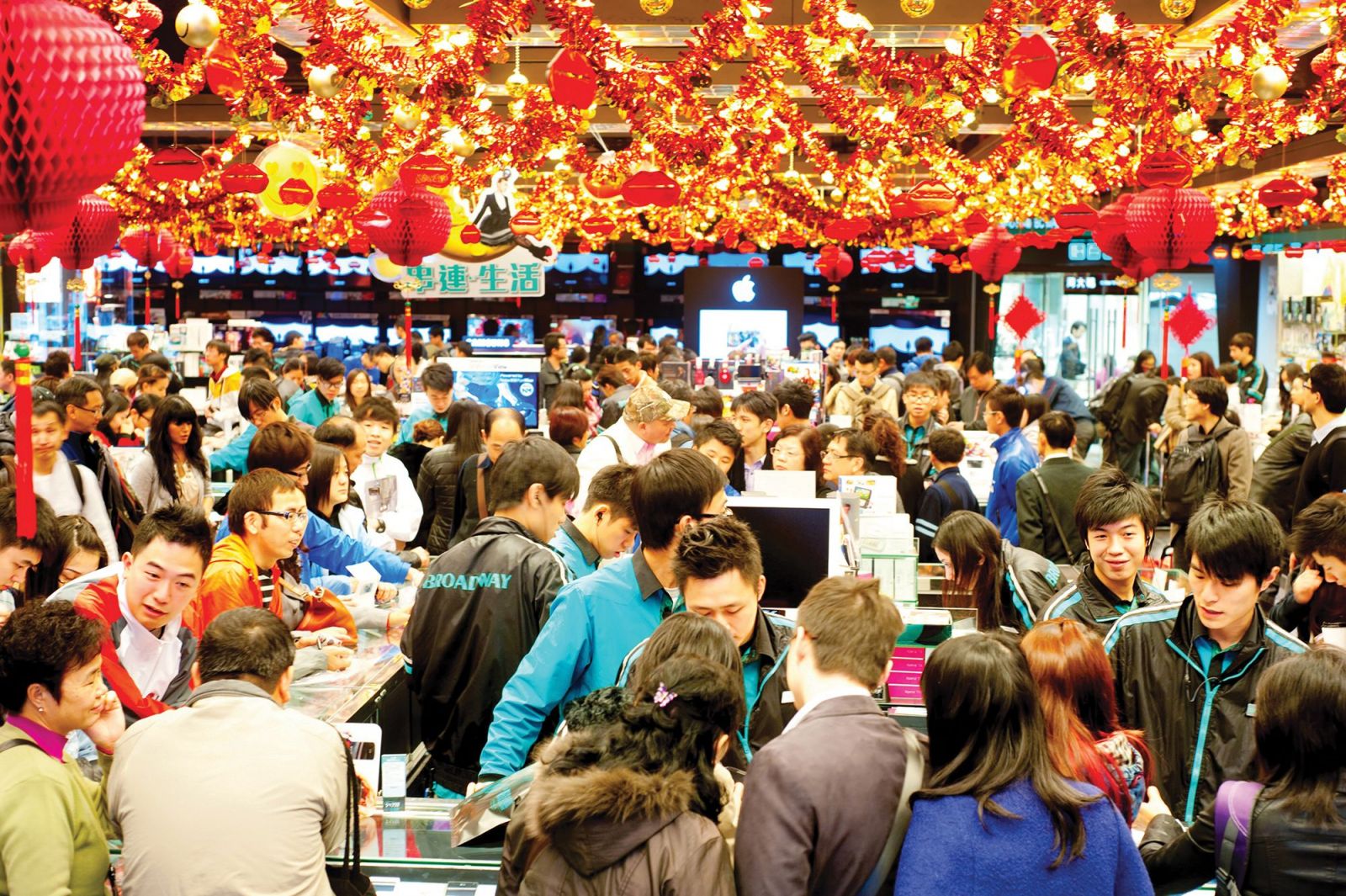 Mass and class: CDFG says the next stage in engaging consumers is through improved, personalised services.
In conversation with Martin Moodie at Trinity, Chen elaborated on the pricing theme. "I feel that lowest price comparisons are often quite meaningless, though some airports ask for them in their contracts. We cannot be the lowest if the suppliers won't give us those prices, no matter how much the airports ask. Instead it should be about how we can improve our services together."
On the challenge of daigou [shuttle] trading and a government crackdown through a new ecommerce law that entered force in January, Chen said: "We support 100% our government decisions. For brand owners, we want them to control online sales. In future the Chinese government will try to control this more. The ecommerce law will be good for all of our industry."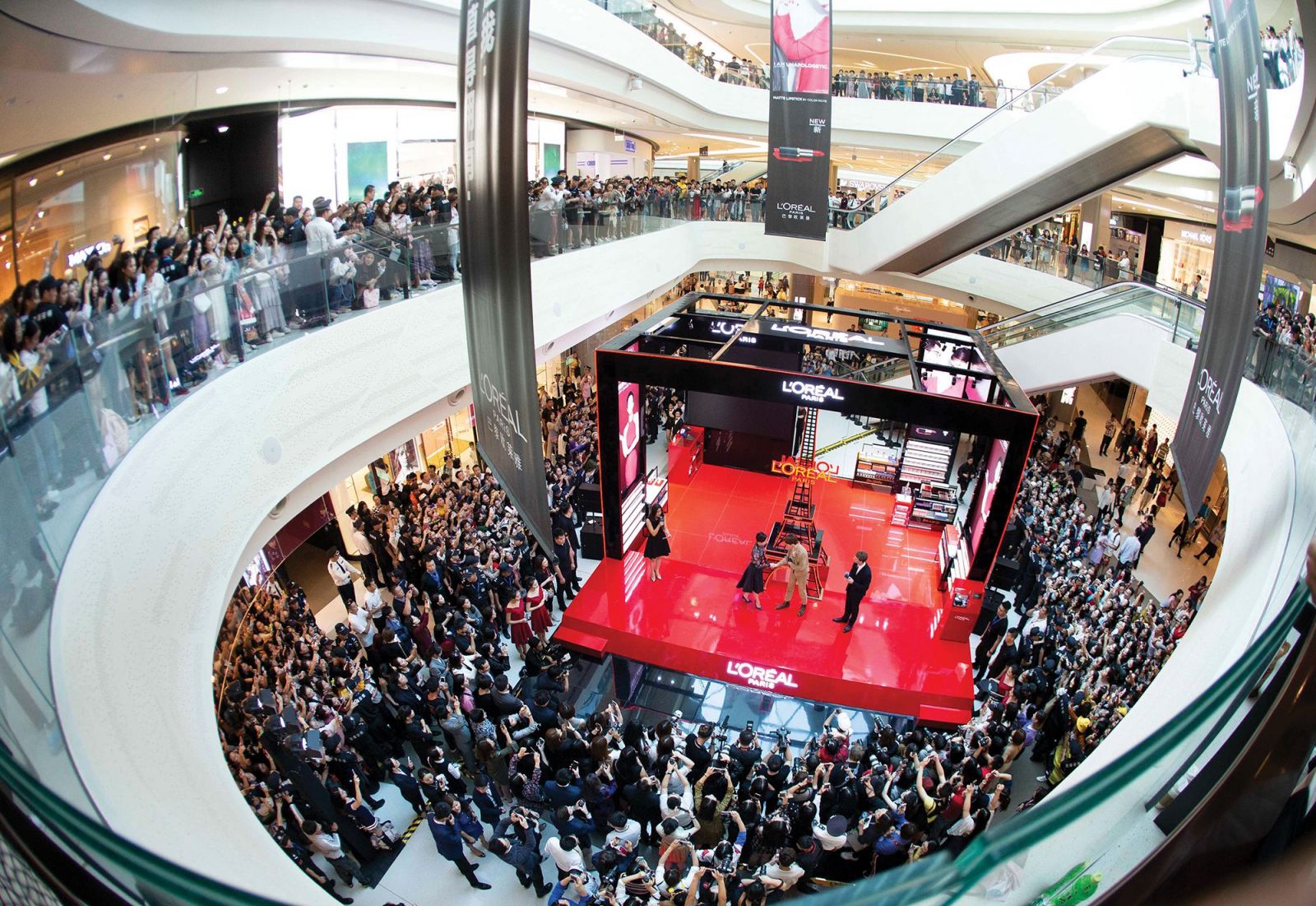 The 'phy-gital effect: L'Oréal Paris generated over 120 million interactions on Chinese social media after launching a striking pop-up at China Duty Free Group's Haitang Bay Sanya International Duty Free Shopping Complex in January. Brand and retailer leveraged the influence of Chinese popstar Cai Xukun in their stunning campaign.
On retaining spend at home rather than encouraging travellers to shop overseas, Chen noted: "Sales in China duty free are increasing and we think that travel overseas will increase too. The government is permitting stores before people depart and then on arrival. All of this means that they can have greater access to brands and they can buy in China or abroad. We also have overseas shops and plan to follow the international Chinese traveller wherever they go."
With many investments taking shape or planned, the future for CDFG is brighter than ever, said Chen.
"We have taken up a lot of projects over the last two years. We have been lucky to be selected by the airports of Hong Kong, Beijing and Shanghai for new contracts, and we plan to open downtown in Macau too, so we are expanding. It's exciting every day and we plan to grow even more."
China Duty Free Group steps up the pace
China Duty Free Group (CDFG)'s ambitions to become a power player in international travel retail have been reinforced by a series of projects announced in recent months.
In November, The Moodie Davitt Report broke the news that CDFG had partnered with e-commerce giant Alibaba Group to establish a long-term strategic relationship, involving resource sharing and complementary services. Together they will deliver a new model for travel retail and tourism shopping, they pledged.
CDFG and Alibaba said they aim to build "a new tourism retail ecosystem" based on their respective strengths and services and enhance the tax and duty free consumer experience. Cooperation on logistics and marketing will be key elements.
Qionghai Bo'ao Duty Free Shop and (below) Haikou Riyue Plaza Duty Free Shop: The latest additions to Hainan's booming offshore duty free shopping sector.
CDFG President Charles Chen noted that many of Alibaba Group's businesses are aligned with CDFG's strategic direction. "The combination of duty free retail, an increasingly popular form of shopping in recent years, and Alibaba's 'new retail' model will usher in excellent development opportunities," he said. As a unique sector of the tourism industry, travel retail & duty free will also bring benefits to Alibaba's ecosystem, he said.
"We will fully utilise the resource advantages and industry status of both parties, deepen our cooperation and promote industry progress – and work together to create a new duty free experience for consumers," Chen added.
Among other groundbreaking developments from China's travel retail powerhouse in recent months was the soft opening on 30 November of its duty free store on the Costa Cruises vessel Costa Atlantica. This marks the first stage of an ambitious journey with cruiseline giant Carnival Corporation.
The contract is an important breakthrough for CDFG, marking the first time it has directly operated a retail business on an international cruise ship.
With China becoming one of the fastest-growing emerging markets in the booming global cruise industry, the retailer described the contract as "a new chapter" in its duty free development.
Days later, CDFG-controlled Sunrise Duty Free made its latest expansion move by opening an arrivals duty free store at Shanghai Hongqiao International Airport's revamped Terminal 1 (which went into full operation on 15 October). This mirrors other arrivals openings in the country, against the backdrop of government policy to retain spend at home.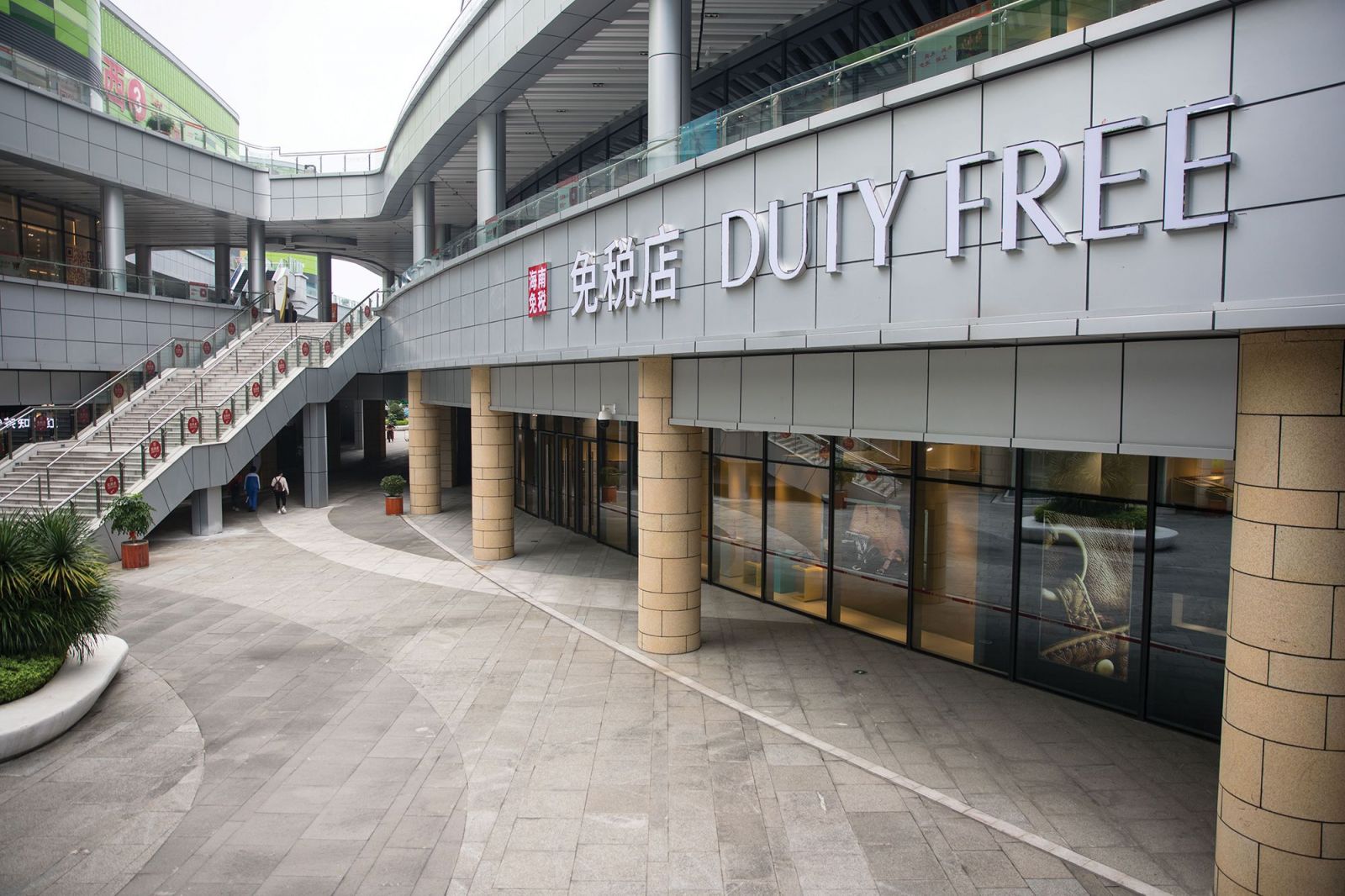 As reported, Sunrise Duty Free (Shanghai Co), the 51% subsidiary of CDFG, signed a seven-year contract with Shanghai International Airport Co in September for all duty free operations at Shanghai Hongqiao International and Shanghai Pudong International airports.
Other key openings have included a new-look departures duty free store at Hangzhou Xiaoshan International Airport in December, with a stunning Sense of Place evident in the 1,000sq m space.
Of course, the retailer also continues to benefit from the far-sighted offshore duty free policy, which was introduced in Hainan Island on a pilot basis in September 2011 to drive tourism as well as encourage domestic consumption.
In a major boost for the sector and for CDFG, the offshore duty free allowance for visitors to Hainan Island increased from CNY16,000 (US$2,300) to CNY30,000 (US$4,314) from 1 December, after agreement by the Ministry of Finance, the General Administration of Customs and the State Administration of Taxation.
The move to expand the duty free store offer is firmly in line with Chinese President Xi Jinping's far-reaching stated commitment to turn the island into an international free trade zone. In a major speech in Hainan last April, Xi promised a more "open and convenient" duty free shopping policy on the island. That commitment coincided with the 30th anniversary of Hainan's establishment as a special economic zone.
To further bolster the island's credentials under the offshore duty free policy, two new stores opened on Hainan Island in late January. The openings of Haikou Riyue Plaza Duty Free Shop and Qionghai Bo'ao Duty Free Shop came just before the peak Chinese New Year period.
They are operated by Hainan Provincial Duty Free Co, a subsidiary of China Travel Group Co. Critically, all goods are directly purchased by CDFG. The new stores complement CDFG's extraordinary Haitang Bay Sanya International Duty Free Shopping Complex and the HNDF Haikou Meilan Airport Duty Free Shop (Hainan Duty Free).
And there's much more to come yet. As we reported in January, CDFG is nearing final approval and choice of location for a downtown duty free shop in Beijing.
"The leaders of CDFG are pushing this project forward," a spokesperson said, confirming the store would serve international tourists visiting China.
The company has laid down an ambitious platform for expansion across multiple channels, ranging from airports to downtown, cruise to inflight, border to rail, diplomatic to seaport stores.
Expect CDFG to cement its place within the world's top ten and possibly top five travel retailers in 2019 and beyond, as it seeks to deliver on the rich promise of the Chinese travel market, at home and abroad.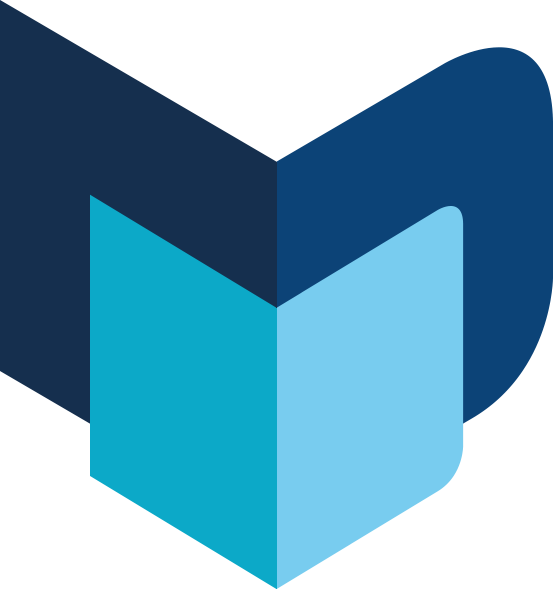 ---
The Moodie Davitt Report • The Online Magazine • February 2019