View from the top
Guerlain President and CEO Laurent Boillot talks about marrying heritage and
modernity, the changing beauty consumer and the vision for the brand in the next decade.
Editor's Introduction: Spend some time with people around the shops, offices and production plants of French beauty house Guerlain, and it becomes clear that the day-to-day business of making or selling product is not the only dynamic driving their working lives.
There's pride in being part of a 190-year-old organisation that takes shape in different ways. You see it in the boutique teams at 68 Champs Elysées and Rue Saint Honoré, whose perfume expertise shines through in their engagement with visitors, as they talk of the brand's heritage and perfume-making traditions, before filling another personalised 'bee bottle' for a customer, well over 150 years after the first such vessel was created.
There's the pleasure of a few minutes at corporate headquarters in the engaging company of Master Perfumer Thierry Wasser, out in the garden that borders his laboratory ("where the magic happens", he says). There, he outlines the recent travels that have taken him to far-flung corners of the world in search of new sources of sandalwood – a staple of Guerlain's fragrances – trips that his predecessors over four previous generations took in the drive for quality ingredients. He explains too the long-held partnerships with suppliers of raw materials that are central to the brand's creative capabilities, and have been since the beginning.
Or there's valuable time spent at La Ruche and Orphins, the respective production sites for skincare/makeup and fragrances. Even in a modern manufacturing facility like Orphins, there's the evocative site of the Dames de table, skilled women who fill, label, wrap and decorate bottles for individual clients – as they have done for decades.
Above all, there's the sense that the people we meet are carrying a torch, to be passed on to the next generation when the time is right. That rings out loud and clear in conversation with Sustainable Development Director Sandrine Sommer, about Guerlain's commitment to the bee community (long-time brand symbol and a key source for signature lines such as Abeille Royale) and to the planet. Every ten years a new target is set, to be met by current or future management under the resonating title, 'In the name of beauty'.
It's also a major theme for CEO Laurent Boillot, whose idea it was to create a sustainability department upon being named to the top job in 2007. Ultimately, the leadership he sets is what will guide Guerlain from its 190th year towards its 200th. It's not always easy to align everyone in a single direction, he admits, but he maintains a positive attitude to making it happen. He is also realistic about the path forward. Guerlain needs to focus on the great growth market of Asia before making grand investments in the Americas or Africa, he says.
Digital will be a major driver in future, but the company is still feeling its way forward here. Travel retail is an engine of growth, as are the House's own boutiques, many more of which will open in the years ahead as part of a grand roll-out in international markets. Here too, as he acknowledges, there is much work to be done for a brand that is a powerhouse in France, but has room to grow overseas.
Perhaps more than anyone, Boillot is aware of the history that he and his team are charged with maintaining. Their task, he says, is to preserve, develop and transmit the brand's values onwards, and ensure the business is protected and grown for the next generation.
In this interview, he discusses that challenge, he offers his view of what brand 'DNA' means and he candidly assesses the fast-changing world of luxury today.
The Moodie Davitt Report: How would you describe the DNA of the Guerlain brand today? How has it evolved over 190 years and do certain elements remain timeless?
Laurent Boillot: The brand DNA is not really changing; it is more that we are trying to enrich it. There are different angles here. This is the story of a family that started as chemists and became alchemists. A family that embraced aesthetism and poetry and followed that path, while at the same time being inventors of new products and formulas. A family that were manufacturers – they didn't outsource to anyone else and became masters of this too. And a family of businesspeople; they did all of this by themselves, creating boutiques, exploring the world for new ingredients and learning new ways to handle the business. Those are all key elements in the story.
That DNA – led by constant creativity – gives us assets from the different categories. That means fragrance first. From the third generation and the time of Jacques Guerlain in the early 20th century, the company became known for the excellence and quality of its fragrances. Perhaps if he had focused more on chemistry, Guerlain would have been more famous in skincare!
That fragrances heritage runs from 1853 and the line created for Empress Eugénie and the bee symbol, to Shalimar in 1925, through to this day.
But we have assets in skincare too ever since the 19th century. Those assets today are led by Abeille Royale and Orchidée Impériale. In makeup the assets include Terracotta, Météorites and more recently Rouge G and others.
From this evolution we try to bring new assets to bear, to ensure this DNA of constant creativity is sustained. When the company was bought by LVMH in 1994, it took some time to find the right perfumer to replace the family creators of the past. The company wanted and needed an in-house perfumer to take care of that DNA, and Thierry Wasser has turned out to be the right person.
"We want to be the champion of
niche brands, to show the face of our fragrances expertise"

- Laurent Boillot
Boutiques also are a big part of the story. It would have been an easy option to get rid of these if we considered the weight of management time and resources, and do everything through chains and department stores. But we have developed this line of our business very much and it is firmly part of our DNA.
One other element now very much part of our DNA, and something that we want to preserve, develop and transmit, is sustainable development. It is part of our history and is becoming an even bigger part of who we are today.
It's not about following the trend. It is something we want to be known for, with natural ingredients in the products and care for the planet.
What is the Guerlain vision now and what are the key pillars on which the business strategy is built?
This is something that we think is different from other companies in the sector. We have developed a grand purpose, around the line 'In the name of beauty'. That means of our products, of our customers and of our planet.
What do we mean by that? Guerlain's reputation is for crafting beautiful products, from the juice to the formulas to the aesthetics of the packaging. But beyond that we emphasise sustainable development, so it's also about having respect for people's skin and for the planet.
We have to do our share to leave the planet in better shape. We don't pretend we'll save it, but we can focus more on biodiversity, eco-designed products and our carbon footprint.
We are a carbon producer, a manufacturer, and we use energy and export products from France to the world. Our goal is to reduce our carbon footprint by half from 2007 to 2020 and we are on track.
Then there is the business vision. We will push more than anything our reputation in fragrance. It doesn't mean we demand a greater share of the fragrance market, but we want to take share of awareness in fragrance and fine fragrance. We want to be the champion of niche brands, to show the face of our fragrance expertise. At the same time we want to be a strong actor across the three axes of fragrance, makeup and skincare, but with fewer, bigger assets – all led by fragrance.
Creating a buzz around CSR:
Protection of the bee, and
of the planet, are core values at the heart of Guerlain's strategy
Where are you on that journey today and what are the next steps to achieving those wider goals?
We have a long way to go. We must focus on what makes Guerlain different. Even in those markets where we have a small share, people still recognise Guerlain's fragrance credentials. There is always a strong customer base among fragrance lovers who know the story, and we have a lot of credit for that. It's about translating that into wider business. We do that through innovations such as Mon Guerlain and such blockbusters but also with niche fragrances. You see in our boutiques our vision for Guerlain Perfumer, which is one of the platforms.
Guerlain's Muses: "There is no 'rule' with our Muses though we like long-term partnerships. Natalia Vodionova has been with us for ten years. Her activities have changed from early on, and now include a key role in digital. It's about how the personality fits the objectives of the company. We don't just choose the first new face. With Mon Guerlain we were putting on the table a best-selling fragrance that was a manifesto of what we stood for but we wanted to get that message out there quickly in terms of awareness.
"So Angelina Jolie fit what we wanted for Mon Guerlain very well. She hadn't been involved in the beauty business before for her own reasons, but with the natural match she made with us, we could do a deal together. It has been two years and we hope it will be longer. As we speak I don't expect to negotiate with a new face for Guerlain any time soon."
France
China
Travel Retail
Russia
Japan
Note: (markets are not listed in order of importance due to confidentiality)
Source: Guerlain
How is Guerlain adapting to new trends in the world of luxury beauty today?
I see four universal trends, though they are not happening at the same speed everywhere. These are all valuable and we're working on all of them.
One is 'healthy natural'. Natural brands in skincare have been around forever, but now the customer wants to have safe products and transparency and to know what is inside your product.
The second is to know and be convinced by your brand purpose. People come back to you because they believe in you, and know that what you are doing is done with sincerity.
The third element is technology (digitalisation is key) and the fourth is personalisation. The latter is more and more present, whether in our stores or in customised products such as Rouge G.
With these elements we push forward with our vision. In fragrance we do that very well; buying fragrance is personal. It's different in skincare and not as easy to blend elements in front of you for example. We don't do that personalised approach yet though it may come.
We look at the long term and want to leave behind something that matters. But at the same time we are in a very competitive market and even though we have history and tradition we have to work quickly today. We have to fight for position just as any new brand does.
Does that move to personalise tell us that Guerlain is changing the ways it engages with the beauty consumer today?
Top of our new agenda is to go direct to the consumer. We still have our four engines of distribution: there are department stores and beauty chains, but the two most active are our own boutiques and e-commerce.
When you face the customer directly you need to know how to engage with them in these channels. We are learning with digital; there is no hierarchy but people love to be entertained, education is huge and collaboration is key. They want to know how they can be part of the creation. That is a big shift for us. We are creating a lot of competencies in retail and digital to develop these areas.
The roll-out of the Guerlain Perfumer boutiques is central here, in going direct with distribution while reinforcing the brand's credentials in fragrance. Can you outline the major investments here?
We had boutiques before but until now perhaps not the grand ambition. We created a new type of fragrance-dedicated boutique back in 2016, and it was quite successful. We have been improving the concept and plan to open ten to 15 more per year, so that within 15 years that are 150-200 Guerlain Perfumer boutiques in the main countries.
I cannot tell you the share of business but it will be a strong share and will become very important. We are reshaping the network in France but overseas will also be key.
Looking overseas, what are the most urgent priorities in the international market?
First, we will never forget France. It's competitive, and the market is not really growing other than through market share gains, but it's vital for us to fly the Guerlain flag as high as possible, and in France it's not far from the top [Guerlain is ranked third in the domestic beauty market -Ed].
Second, China will be our leading market for sales within 18 months. It's number three now, after France and travel retail. We are benefiting across all three axes from our time and investment in the market.
Then there's the rest of Asia. We are looking closely at Southeast Asia and are changing our organisation there to manage growth. In Europe we are strong already in Italy, Spain, Germany and others, and these remain important. Right now the business is really about Asia and Europe because you have to make choices. North America is large and very competitive but we are not ready to make a big step there yet.
Our structures reflect these regional strengths. But we also have to look three to five years ahead at how we are organised. And here we need to prepare, not only for the Americas but also Africa. There will be a day when that potential becomes huge; it is active already and can be big business, but it is one for the future.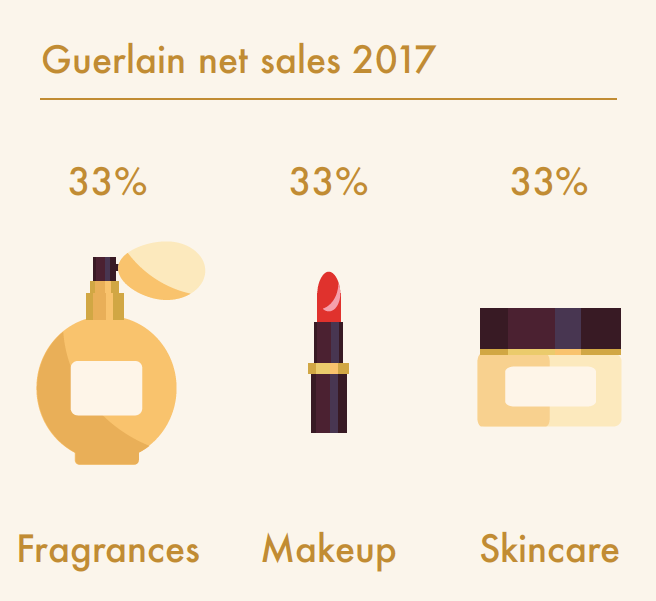 Communicating the original values of the brand: "We are part of a wider group at LVMH that wants its brands to preserve their roots and the original family spirit that built them. The challenge ten years ago was more to find someone who was not from the family to take over as natural successor and creator. We spoke to a lot of perfumers before we came to Thierry Wasser. He was already a mature fragrance maker and a superb talent. For him one challenge was to take a wider role than creating perfumes. It was to be a guardian of the existing fragrances and to build new ones. Another was to be the face of Guerlain, and that is always a challenge. He does these things well, but he also embodies what went before in the previous four generations. He has that expertise and knowledge, and is passing it on.
"Our people are important here too. The first people to communicate our story are our 3,800 employees, who are our ambassadors."
Nurturing nature: Guerlain aims to maintain the methods




of fragrance creation that have helped build its reputation
What do you see as the biggest issues facing beauty brands and the wider industry today? How well is Guerlain reacting to new independent brands being launched (and their challenge to the authority of heritage brands) on one hand, and changing desires and purchasing habits among young consumers on the other?
These questions and how we address them are great ways for us to re-energise our teams. You can say 'we are here for 190 years' and believe you'll be here forever, but you need to be aware of the market around you. We cannot just turn away from our business model and copy the new brands but we do have some things in common. We speak to Millennials, though maybe in a different voice. We have something to offer them and know beauty is being driven by a new generation. We need them as they will be the customers of tomorrow.
But we go in our own direction, one that is led by quality. Some new brands might look good now but behind that do they have the same quality?
We can promise authenticity and transparency, and in fact we are more transparent than many younger brands. We know consumers want to see how sustainable brands are. This year we plan to reveal our formulas and to name our partners on our website, and so transparency is part of what we do. You need a lot of time and rigour to do this, and are one of the first to take this step. But it is one way to compete.
Thinking differently: The design
of Rouge G is among the most
progressive recent developments
in the lipstick market
Transparency will increasingly come through digital channels. How is the company's digital strategy evolving?
Digital is a means to engage and the other element is business. Chief Digital Officer Jean-Denis Mariani was recruited this year mostly to lead the growth of e-business. Our e-business will be 7% of sales this year. It is part of our agenda to ensure that share hits 15% in the next two years.
This will be driven by three engines. There are e-retailers, with which we are developing fast. There is our own e-commerce, for which we have platforms in France and China, with further countries to follow this year. The third one is pure players, as long as we can do it some conditions that allow us to control the image.
With Tmall in China we negotiated consignment, data-sharing and cleaning up the non-official suppliers on their site and they responded very well. It's a win-win, but you need the conditions to make it sustainable. China is huge in e-business; by 2022 it will grow to 50% of the retail business in the country. So you have to be there, but it must be in a controlled way. It's not long ago that people were sceptical about buying skincare online, yet today they can and they do.
Also, the more you go digital, the more demanding you have to be in retail, with your expertise, with your treatments. Digital pushes you to be a better retailer.
With that in mind, what is the role of travel retail for the brand? Is the channel today a true sales and profit line or it more of a showcase?
There is no sales network that should be either image or profit; you have to have both. Travel retail has a great dynamic and is very important, with many positives. It is a profitable channel for us and for our partners. It is a great way to engage customers that you don't see on the local market.
Also the quality of what the airports and retailers are offering now is in the first league, with better consumer data and better real estate than ever. It is also one of the few markets that is growing each year, offering tailwinds to all of us.
So if you are the best you have the tailwind and if you are stronger than your neighbour you have market share too. We will continue to grow there for sure. That means Asia first, and Europe and the Americas later in terms of priority investments.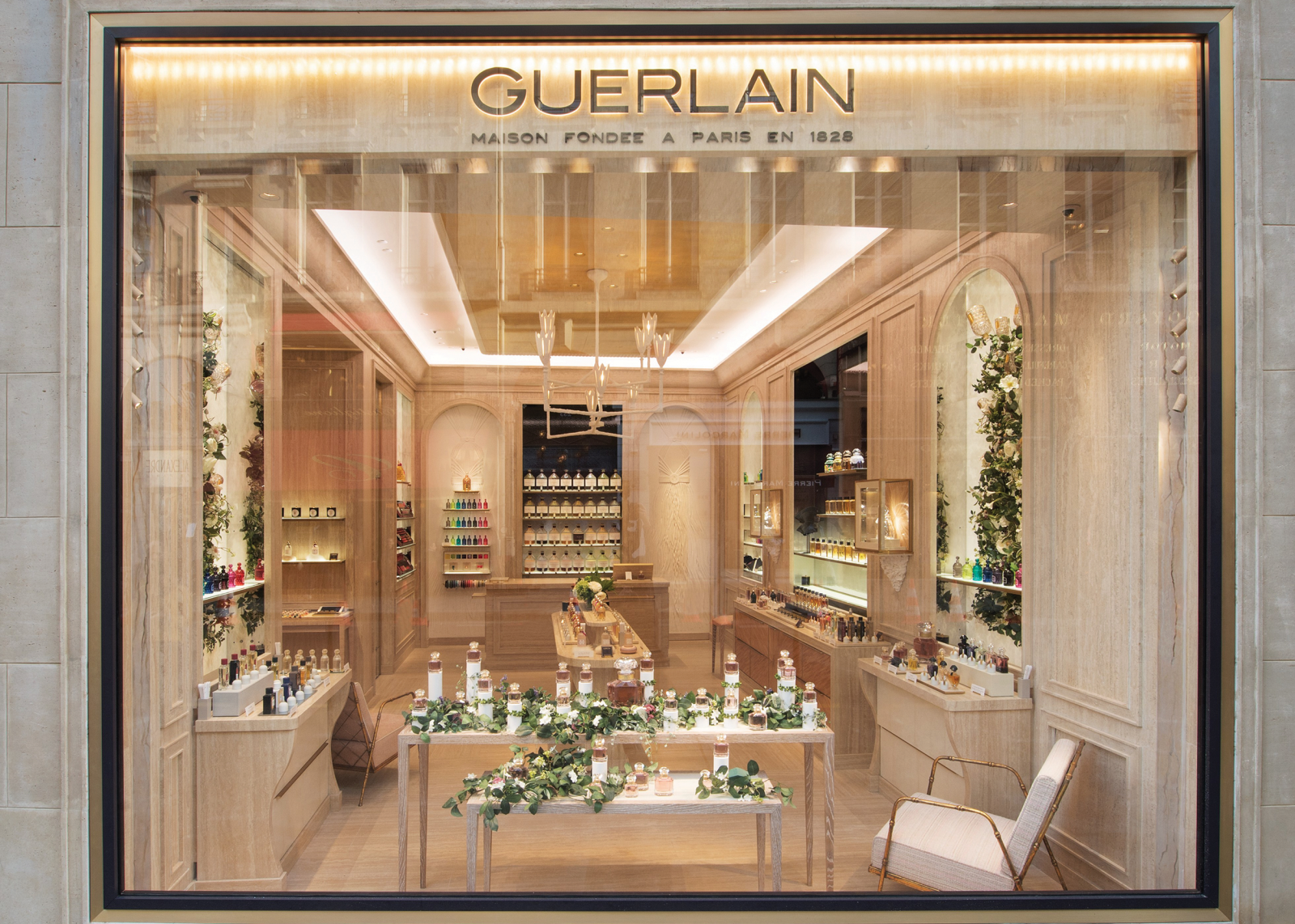 Guerlain's major boutiques offer around 110 lines,




a wide range that underlines its efforts to personalise consumer engagement
Do brand owners' heavy investment in the channel stack up well enough in terms of returns?
It's a matter of productivity. There will always be discussions around trade terms or the best location, but ultimately the question is whether your brand attracts enough customers to ensure you are productive? We have the right critical mass across the business.
Of course in some places you may not have the perfect traffic flow in certain airports but mainly it is very productive and remains a developing channel for us.
Looking ahead, will Guerlain's future continue to be led by the fragrance pillar?
When we open boutiques anywhere, even in Asia, we start with fragrance, though of course we don't forget skincare and makeup. We accept the idea that we offer a wider portfolio of fragrance than many brands, 110 in our major boutiques.
We could narrow that down and focus only on those that make biggest profit, and it would be less complex, but it's part of our personalisation drive, and part of the offer. Niche brands are a huge market today, and we can still be the best in this segment of the market. Niche is big and there is more story-telling and enchantment. That works for us.
Sustainability: "The challenge is how to be aesthetically pleasing and still be sustainable in packaging, formulas and taking care of the planet. That is a very good challenge for us. A successful combination of the two can deliver strong results."
"Our people are important here too. The first people to communicate our story are our 3,800 employees, who are our ambassadors."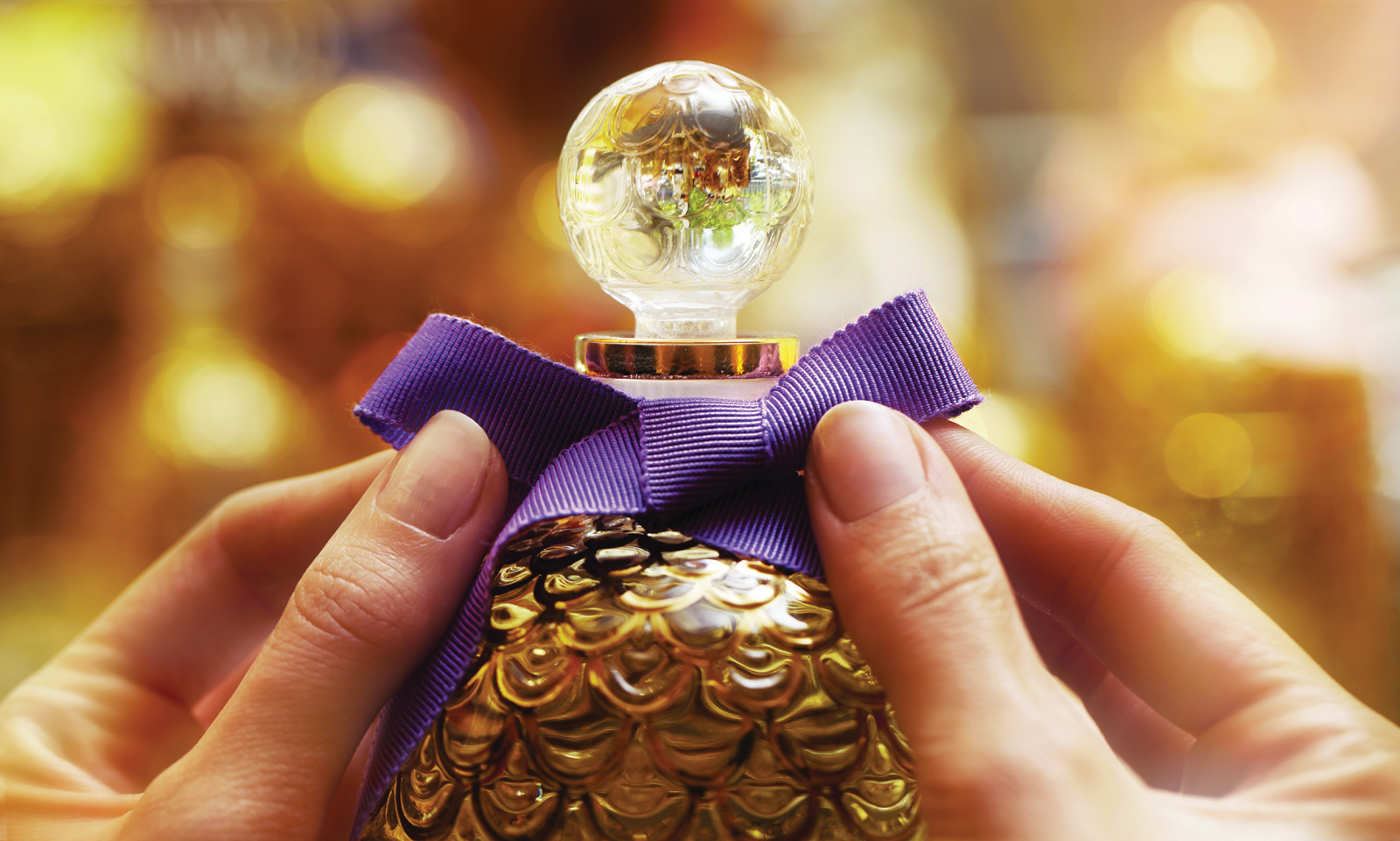 How do you see Guerlain evolving in the next decade? What are the company's big priorities and opportunities as it moves from 190 years towards 200 years?
First, there is the link with the consumer. It would be great to have 50% of our business done directly through our own boutiques and our digital platform. Though it doesn't mean we'll slow down with our existing retail partners, not at all.
Second, we want to ensure that fragrance shines even more in ten years from now.
The third element is around geography. We would like to go after the Americas and Africa, though not necessarily in that order, after we have strengthened our status in Asia and in Europe.
The only way to do all of that is through imagination and hard work. We need a lot of both.
THE MOODIE DAVITT REPORT • OCTOBER 2018