'In the name of beauty'
Sustainable Development Director Sandrine Sommer (below) talks about the company's ambitious goals and targets, from eco-design to biodiversity to social responsibility.
Since 2007, Guerlain has placed a commitment to Corporate Social Responsibility (CSR) at the heart of its strategy and activities. The timing was no accident: it coincided with the appointment of Laurent Boillot as CEO and, in the luxury business at least, he was among the first senior executives to become both personally engaged and to make sustainability a central platform for the business.
That drive is captured neatly in the slogan 'In the name of beauty', through which the company prioritises biodiversity, eco-design, social responsibility, transportation, responsible procurement and environmental targets in its worldwide actions.
Sustainable Development Director Sandrine Sommer took on the job 11 years ago, after being in charge of packaging. In a signal move, she was appointed to the Executive Committee in June 2018 – underlining how seriously Guerlain takes its responsibilities.
Speaking to us in her Paris office for this report, she says that leadership in this area comes from action, not words.
"Being active around sustainability demands a lot of creativity," she says. "It can even mean reinventing luxury; how do we make, how do we produce, how do we sell? This is not always easy."
∙To reinvent the luxury of the future and to design 100% of new creations with the environment in mind by 2020
∙To protect the environment and to achieve carbon neutrality by 2028
∙To actively conserve biodiversity and in particular protect the bees across the world
∙To promote solidarity and self-esteem in particular by supporting associations focusing on this issue
Nor is taking people on the journey with you, when you have 3,800 employees spread around the world and your goals have to be aligned.
"People are key," she says. "The commitment has to be everywhere in the company. Eleven years ago I set up the sustainability committee, with someone representing each division, from logistics to marketing, legal to financial, and 18 in total. They helped me to develop the strategy and we meet regularly to define the action plan. We implement the strategy across every department. That means it's a commitment for every single job and every individual. It's also important for me; I'm not an expert in the other departments so the teams help us develop the strategy.
"Internally it was not easy to change the mentality at first; it's a new way of thinking and of working. But we have a CEO who championed what we were trying to do and that was important. Since we have recruited new talent in recent years it has become easier; for the younger generation taking a sustainable approach is obvious to them. And people have also joined us because of our sustainability credentials, so even if they work in finance or another department, they help us push this agenda forward."
Communicating externally is another vital task. "We have to explain our strategy to our clients, even if they are already engaged. They ask us what we are doing on sourcing, traceability, biodiversity and they want to know more before buying from us."
So what are today's priorities for Guerlain in the field of sustainable development and wider corporate responsibility?
The first area is eco-design. "This means reducing the environmental impact of our products and packaging," says Sommer. "When you work in luxury you work with heavy packaging, with beautiful stores, great design and lots of light. It's not immediately clear that this is compatible with sustainable development, but we are changing and reducing the impact of formula, packaging and stores on the environment.
"We are led by our three R's: Reduce, Reuse, Recycle. We ask the marketing or design people to always think of reducing volume, weight and emissions. The fourth generation design of our skincare line Orchidée Impériale (pictured below) is a great example. We decided to replace a heavier, larger pack with a newer, more compact one. It's the same formula inside of course. It is 60% lower in height, 30% lower in volume and we save 50% of CO2 emissions per piece. So the emissions savings on total volume are quite high."
The Guerlain goal is to translate this approach to packaging across all products in time, although it is easier on new lines than established best sellers.
But how do customers react? "It's not always easy to explain lower volume at the same price, but we advise that the materials are more expensive (so it's not more profitable for us) but better for the environment at lower weight and volume, and by extension they are better for the customer. A major KPI is the turnover; Orchidée Impériale has continued to grow strongly, which shows us that the message works."
Guerlain's 'Reuse' policy is perhaps best summed up by its approach to glassware. It has worked with Pochet for 160 years and for many years has used refillable bottles for personalised fragrances. Indeed, these 'bee bottles' are among the signature sales items in its boutiques.
Sommer says: "You can go through your life with one Guerlain perfume bottle, sourced from the Guerlain Perfumer store. It is a piece of luxury, it is very personal and only yours. You can refill it on your visits to the store, and it's also a luxury way to explain our commitment."
Recycling is equally important. More and more products are being designed so that parts that can be recycled are removable for allocating to the relevant bin.
"Each time we develop a new product we work with marketing and with packaging to think of the three R's so we move in the right direction," says Sommer.
Recycling is, perhaps more surprisingly, a factor at play within store design and promotions too. The Guerlain Champs Elysées store was decorated recently with Californian poppies designed by artist Célia Pardini. But what was unusual was that they were made from cardboard.
Sommer says: "The cardboard comes from directly our factory so we are creating a circular economy. Our waste is used to create a new item and can be used again and again.
"In turn this means a new type of thinking with each artist we partner with. When we strike a contract with the artist, we want this sustainable approach to be part of it, and this is where the members of the steering committee come in."
The three R's helped contribute to Guerlain's rue Saint Honoré capturing one of LVMH's Life in Stores awards this year. The awards recognise the group's commitment to environmentally friendly retailing; Guerlain's redeveloped store won the Interior Design Award for its use of materials and transport.
Sommer notes: "This year was the first time we entered. At the newly renovated and designed store, we reused materials, we used LED lights, we had of course the refillable bee bottles and we trained people to align with our standards and talk about our commitment."
The company also has some big goals around formula production. "We want to have the most natural elements, 95% in each case where possible. Currently it depends on the product; we are at 90% on many products, but lower at 75-80% natural ingredients on others. But we want to be even better, though it is difficult."
Traceability is another standard that Guerlain wants to excel at, and it plans to soon reveal a new project that it says will be "ground-breaking".
A critical focus for the company is to take better care of the planet by reducing CO2 emissions. Makeup and skincare factory La Ruche is among the sites setting a new standard.
REDUCTION IN OUR CO2 EMISSIONS BY 2020 COMPARED WITH 2007
CARBON NEUTRAL
BY 2028 FOR GUERLAIN'S
200TH ANNIVERSARY
THIS FIGURE REPRESENTS GUERLAIN'S
CO2 EMISSIONS
IN 2016, 62% OF OUR FREIGHT
WAS SHIPPED BY SEA
The 21,000sq m La Ruche facility has been designed to reap the benefits of daylight through solar panels, which helps to save electricity. Its earth-to-air heat exchanger means there is no need for air conditioning, which is a big CO2 generator.
It also gathers and uses rain water for its sanitary services.
The trickiest area in which to make progress for a high-volume, international goods business is in transport.
"In luxury the first and main impact is through air transport but we are trying to remedy this. We recently used a Silk Road route for shipping our goods to China. It's a good compromise as it's more rapid than the ship and lower on CO2 emissions. What is positive is that the delivery time is not all that different. By air (counting all elements of the logistics) you need ten days, by train 20 days and by boat 40 days. So in future we aim to send more goods by train where it is feasible."
The percentage of Guerlain shipments exported by sea has been increasing steadily year-on-year. In 2017 though, the company only managed 55% of shipments by maritime freight, due to the fast resupply needed to satisfy demand for new fragrance Mon Guerlain.
"It is challenging but we have to reinvent the delivery process," says Sommer. "In Paris a good example is the use of an electric truck for delivery from Chartres to our boutiques. It travels only at night, it's quiet and is a good partnership with Guerlain, Renault and our distribution partner. We have to think about this more as the electric truck cannot travel all that far without charging."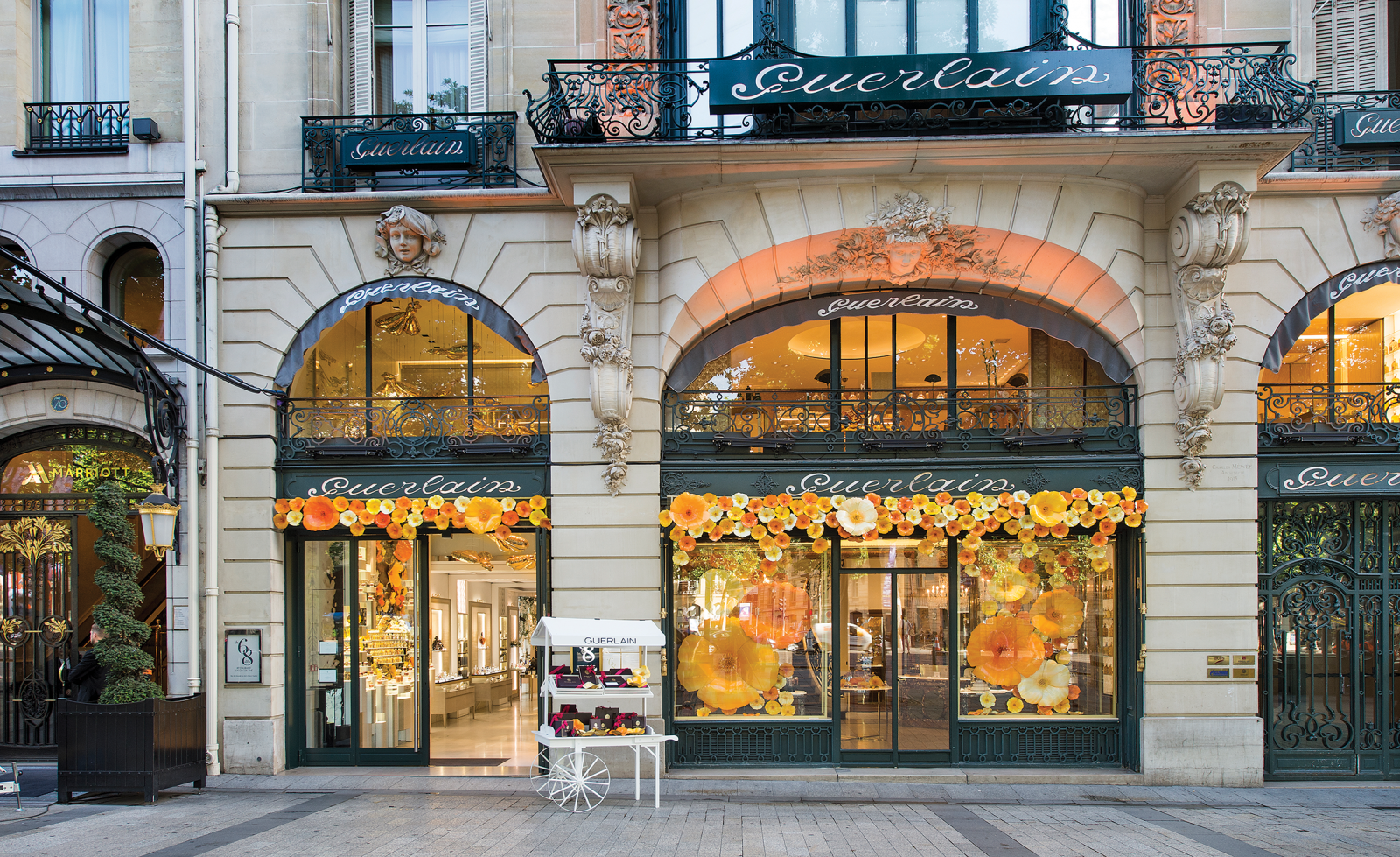 Flowers with a difference: Californian poppies made from




recycled material adorn the 68 Champs Elysées store




Photo: © Pierre & Gilles
The brand's biodiversity drive is one of its most public, and ties into its long-time connection with the bee community.
Sommer says: "We use many natural ingredients and it's our business to make sure that in ten, 20 or 100 years, we can keep using raw ingredients of the same quality. That means biodiversity, as symbolised by the bee.
"Bees are very important; without them there are no flowers and no flowers means no Guerlain. So we have to protect the bee community.
"They are endangered everywhere; each year for 20 years we have lost on average 30% of the bee community, and in places in France it is 80% this year. That is down to environmental conditions, pesticides and intensive agriculture, as well as the Asiatic hornet and the parasites that exist in many places."
In 2010 Guerlain launched a new skincare line, Abeille Royale, which contains honey from the island of Ouessant, off the west coast of France. The island has now become the heart of the brand's commitment to bees.
"Ouessant has no agriculture and no pesticide; it's very natural. That's why the bees live well there, and because the island is far from the mainland the bees don't migrate and there are no parasites to attack them. In the rest of the world you have parasites that affect the bee community.
"We have a partnership to help the Ouessant bees, a philanthropic sponsorship so they can continue to protect them, recruit beekeepers on the island, and communicate about the importance of the bee community. The more you communicate, the more you protect."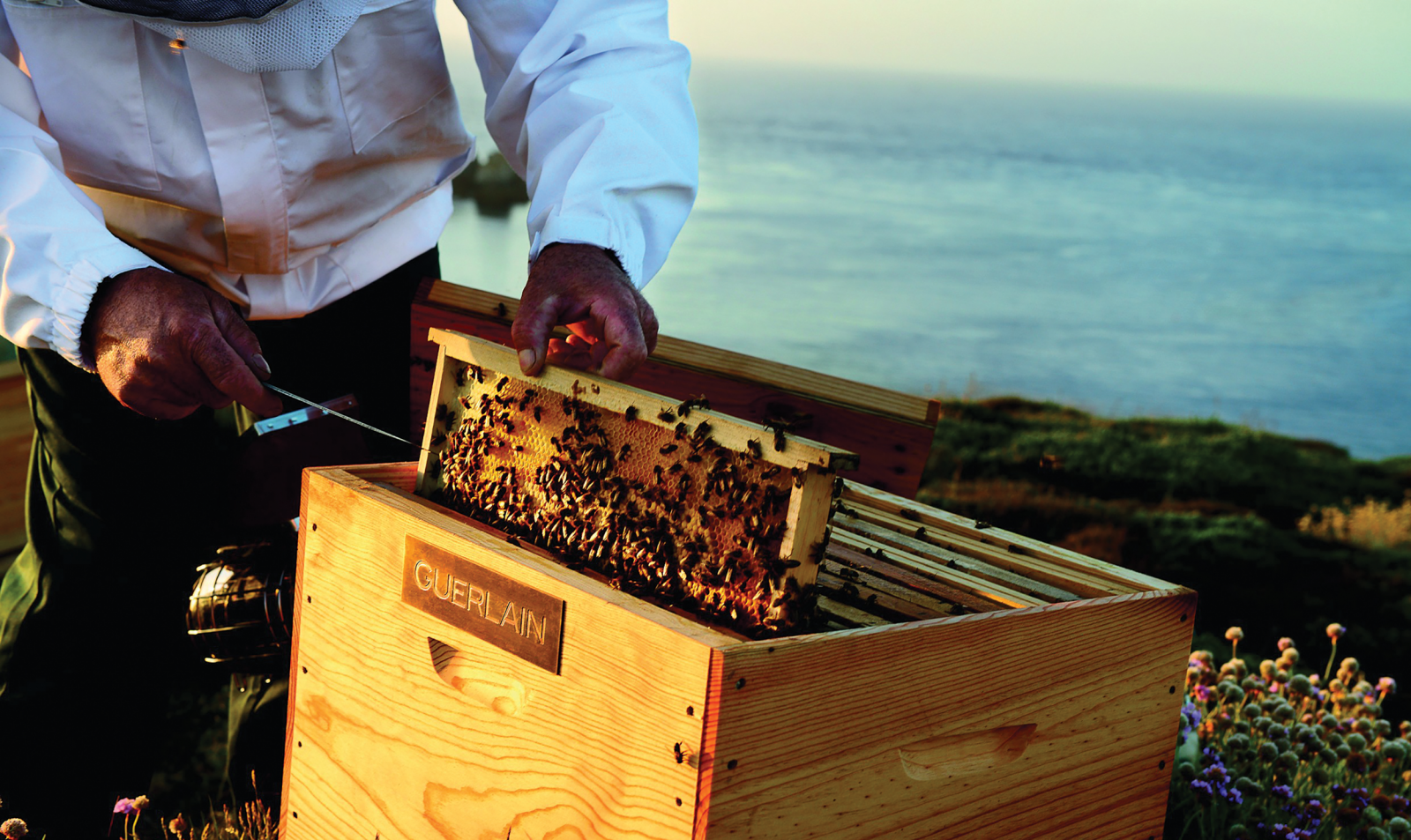 The Ouessant environment is a template for bee-keeping worldwide
Guerlain has a sustainable research and sponsorship partnership contract with the Black Bee Conservatory Association on the island of Ushant; a partnership with the French Apidology Observatory to protect bees; and even organised a Bee University programme to promote best practice in bee-keeping.
"We also encourage our teams to do their part, distributing seeds that grow flowers that attract bees. We have asked our people in France but also recently in our subsidiaries in other countries.
"We have also just announced the idea of 'bee school'. Here, our people go into schools and explain to children why bees are so important in terms of biodiversity and how we can protect them. It's not about promoting Guerlain at all; we want to transmit via our people a message about bee protection. We are only starting now but would like each of our people to go into one school every year. By 2020 we want every person to be an ambassador, and even extend that to our stakeholders too."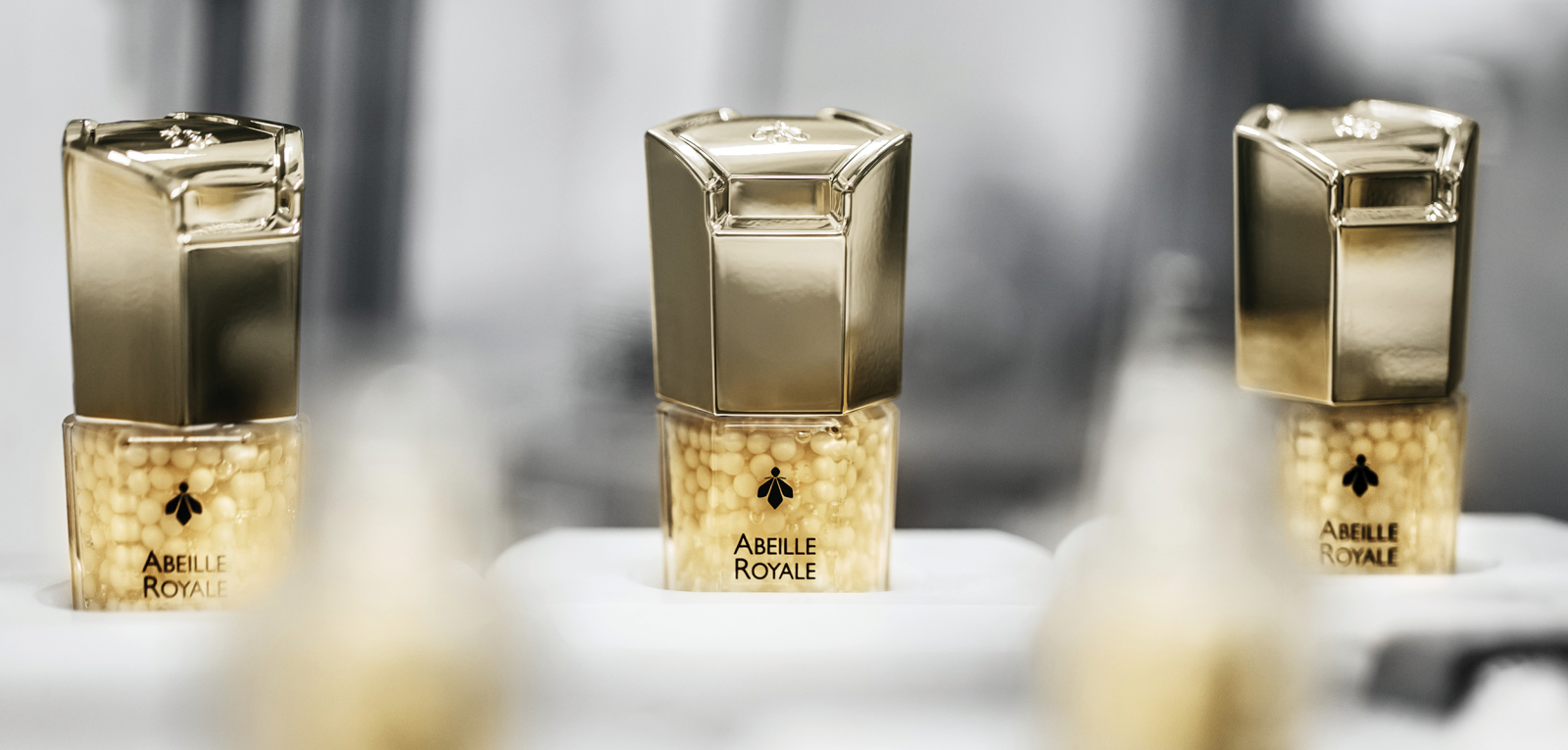 Guerlain wants its people and its products
to act as ambassadors for the bee community
Guerlain's other major CSR activity concerns human solidarity.
"We don't have to act only for our own business but should be interested in the self-esteem of others, especially in critical periods of their lives" says Sommer. "We support the NGO 'Look Good, Feel Better' and its French affiliate 'Belle & Bien', which offers women beauty sessions during cancer treatment. We have done this for the past 14 years. Many people have become heavily engaged in this, and many other brands support this too. We have an annual run for 'Belle & Bien' in October.
Other key partnerships include Restos du Cœur and the Laurette Fugain association, which also provide services, including beauty workshops, for ill women. Movember, which champions men's health, is another partner.
Guerlain's unwavering commitment to sustainability will continue as the company heads for its 200th anniversary in a decade – with one hugely ambitious target.
"We are quite clear: by 2028 we aim to become carbon-neutral at Guerlain," says Sommer. "We know this is very challenging but we are trying, and we can offset some of the negative factors with our use of nature in our ingredients and at our factories. Many cities have said they will be CO2 neutral by 2030, so we are in line with other places and other organisations.
"We know in business that there are compromises. But in the end my wish would be that the compromise comes on the commercial side, not at the expense of the environment or future of the planet."
THE MOODIE DAVITT REPORT • OCTOBER 2018