Leading the international
growth drive
Guerlain International Director Stéphane Augé outlines the plans to develop the brandin overseas markets, and assesses the key role of travel retail.
Guerlain International Director Stéphane Augé (pictured) is well placed to reflect on the brand's status in the global market today. He has 20 years of experience working across the LVMH fragrances portfolio, moving to Guerlain in 2016 to head travel retail and later taking up his current role.
Outlining the strategy for the international business today, in many ways the goal is a simple one: "to leverage the brand as the most prestigious perfumer in the world".
Executing that is of course another challenge. "In France we are number three in perfumes and compete well with Chanel and Dior, but overseas we have much room to grow. We are led by perfumes in the international market too, but are very strong in cosmetics in Asia in particular.
"The launch of Mon Guerlain in 2017 was a big step in developing our business internationally. It made a big statement in the mainstream fragrance market. It has added visibility and delivered double-digit growth. We have benefited both in travel retail and on domestic markets internationally.
"We want to keep that momentum going now. Year to date we have maintained double-digit growth internationally, led by Asia. Perfume is doing well and makeup is becoming stronger, especially with our newly designed lipstick Rouge G. In skincare with Guerlain's high quality we can improve and I see this segment growing faster."
Travel retail has also grown at double-digits so far this year. It's a priority channel for Guerlain, says Augé, and one that plays several roles for the brand.
"We invest in the travel retail market for many reasons. Brand equity is one. We see it as an innovative channel, with quality, beautiful points of sale that are renewed very often to the latest designs and styles. That is all good for the brand.
"In terms of business, Asia is big due to our strong track record, but our strong base in Europe ensures that region does well too. Our travel retail business is well balanced today. We have potential to grow in other places in future. That could include South America, which can be volatile of course and where we have relatively small distribution. It's important to be stable and profitable, not to open everywhere."
Looking forward, as CEO Laurent Boillot notes in his keynote interview, building the boutique business is also part of the travel retail strategy, even in more limited spaces than the downtown channel allows.
Augé says: "Our vision is to develop the brand around Guerlain Parfumeur. We are in the business of niche brands, premium activities and personalisation, and we want to include this in the key airports through Guerlain Parfumeur.
"We are working on projects to roll this out; the next one will be in Shanghai. China is doing very well now and even if fragrance is smaller than other categories, we will take the floor in a big way with Guerlain Parfumeur, underlining the role of fragrance.
"We will validate this roll-out campaign shortly also in Europe and the USA. The targets are those key airports where the brand is strong. We hope to open around five next year. Guerlain Parfumeur will in time become an important vehicle and even the face of the fragrance business."
Lagardère Travel Retail
Dufry
DFS Group
Sunrise Duty Free
Lotte Duty Free
Note: (companies are not listed in order of importance due to confidentiality)
Source: Guerlain
Offering a full boutique experience, especially with a consultation, is no easy task in travel retail. It's question of consumer engagement, notes Augé.
"It can be a challenge. Many people are at the airport for one, two hours or more, but they still feel rushed. The question is how to engage the consumer and offer an experience without wasting time. It works well at Paris Charles de Gaulle S4 [a pop-up store opened there last December -Ed] but the selling ceremony has to be adapted. First, when a consumer enters a boutique in the local market they want to do a short tour, to browse, but in travel retail they come directly to your counter, and decide there and then whether it is engaging or not. What also happens is that the customers at first say they have five to ten minutes but then they stay a lot longer. It's about how we adapt."
Another challenge for many brands is the cost of entry to travel retail. Augé says that the business is profitable and one in which continued investment will be made.
"The big retailers have issues with their concessions, which have become more expensive, and their return on investment comes over a shorter period, so that needs managing. We understand this. What we want is to allow the brand to have great visibility. In some local markets the brand is not always visible in the way we want, but in most airports you get the very latest version of the brand and that brings a lot to the consumer. Sure, the retailer wants to show their own DNA but the brands build the business. It involves a lot of investment on both sides but let's try to manage that as best we can in partnership."
The Guerlain management team is swift to highlight the brand's partnerships and relationships, from the farmers who source raw materials to the glass makers for bottles to retailers, both offline and online. What does partnership mean in the context of the international retail business, we ask?
Augé says: "For retailers and distributors, first we want to be seen as a solid, honest, elegant brand, which keeps and develops good relationships with its customers. We want to be a safe partner, and to enjoy sustained growth with loyal, close customers."
That should enable the growth trajectory until now to continue, he concludes.
"We are aiming for double-digit growth every year. It's not easy but we are on track. We hit that target last year, we are achieving it this year and our plan for next year's budget is to repeat our double-digit growth."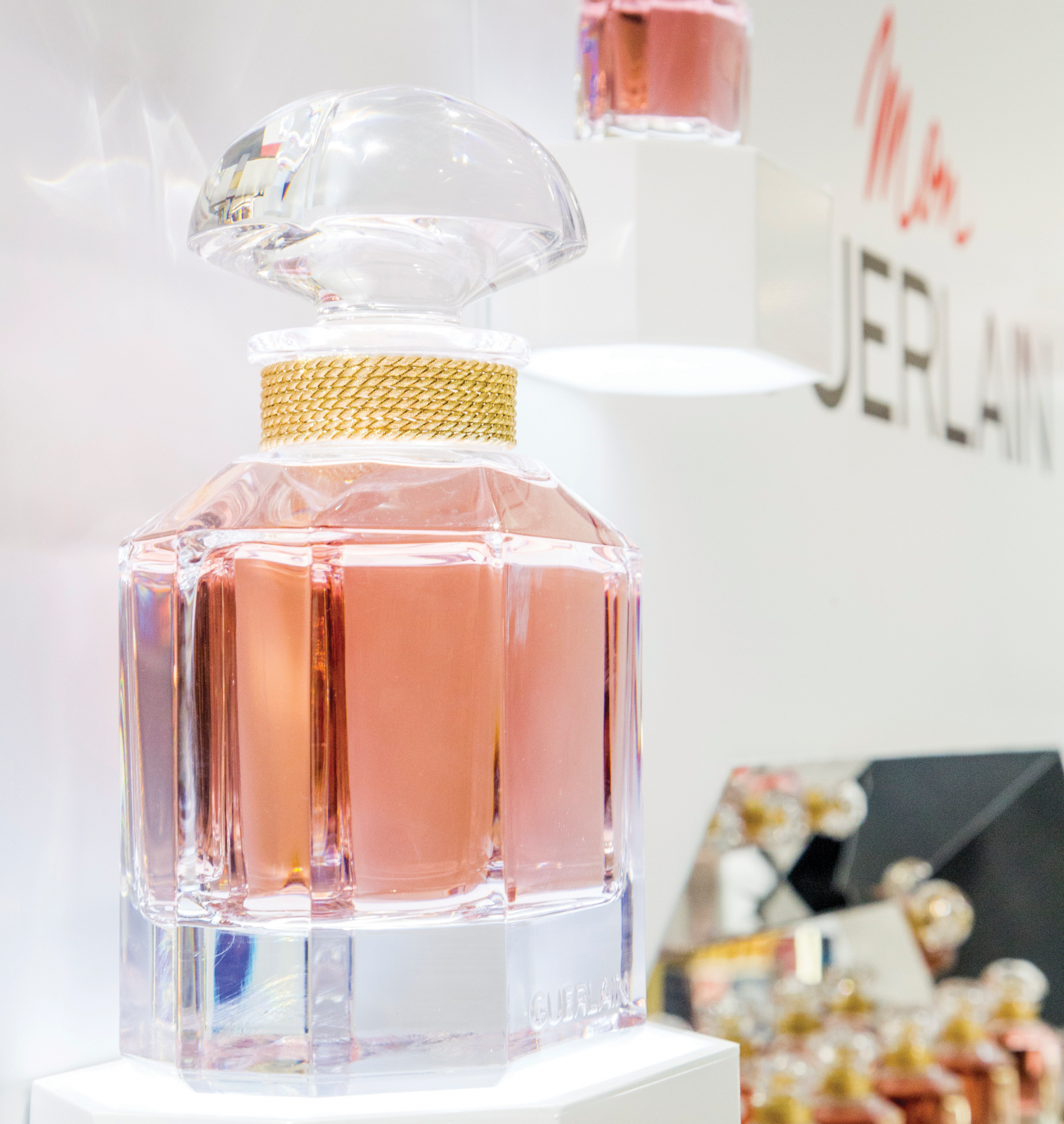 Launches such as Mon Guerlain have helped drive




double-digit growth in the international business, including travel retail
THE MOODIE DAVITT REPORT • OCTOBER 2018