---
Lotte Duty Free CEO
Kap Lee
aims for long-term value creation
Introduction: The new year brought in a new CEO for Lotte Duty Free as Kap Lee took over the reins at the world's second-biggest travel retailer from Jang Sun-wook.
Lee, who joined Lotte Group in 1987, was formerly CEO at Lotte Group's Daehong Communications business and before that Director of Women's Fashion Merchandise and Director of Marketing for Lotte Department Store. He enjoys a strong reputation internally and externally for his marketing and merchandising savvy. At Daehong, he also championed the division's efforts to digitalise and globalise its business. All those qualities will be in high demand as Lotte Duty Free, South Korea's largest travel retailer and the world number two, attempts to maintain its recent rapid growth trajectory in complex, ultra-competitive conditions at home, and against stiff rivalry abroad.
In a world exclusive, Lee gave his first interview since assuming the role to The Moodie Davitt Report Founder & Chairman Martin Moodie at company headquarters in Myeong-dong, Seoul earlier this month.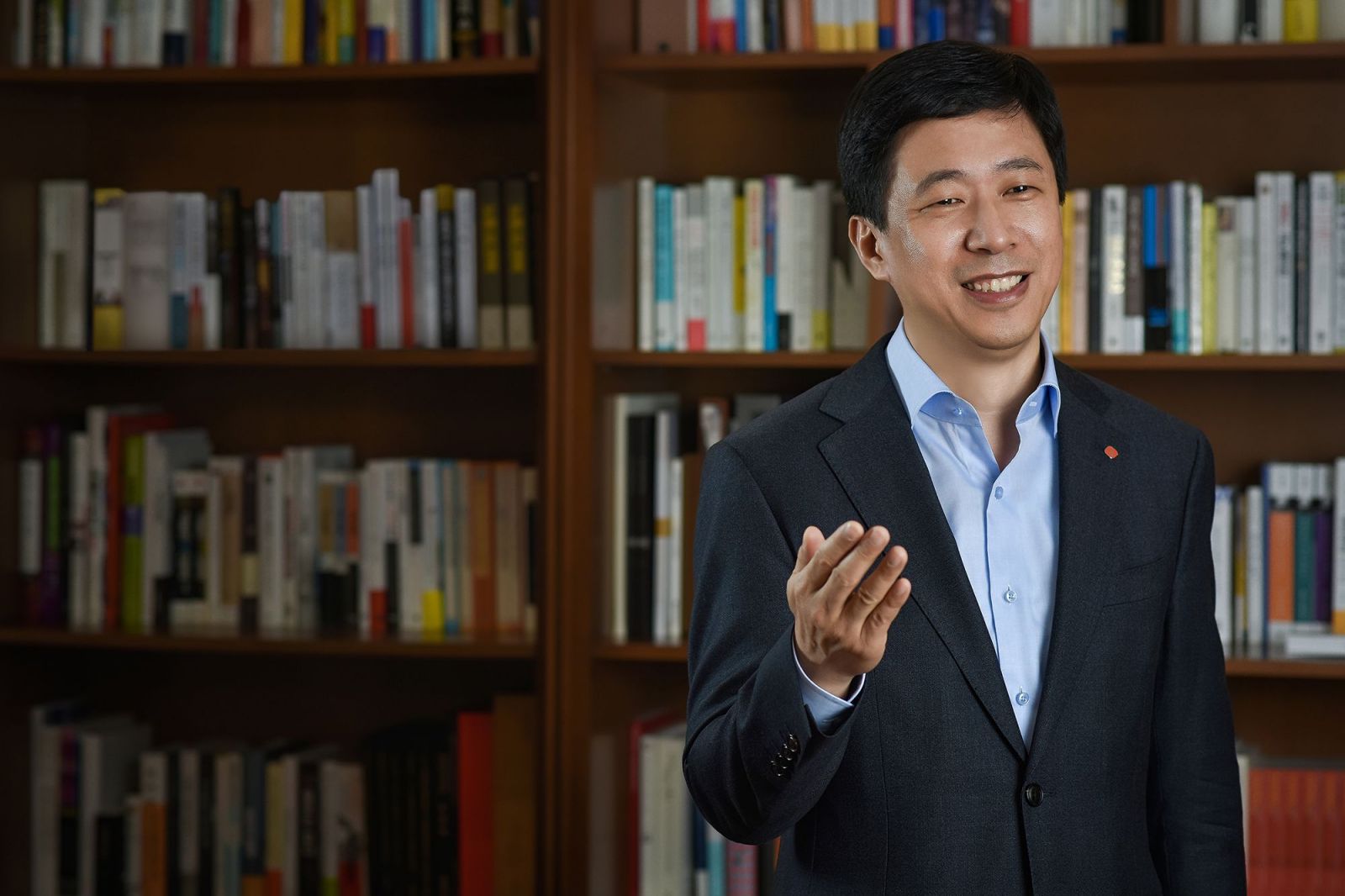 View from the top: Quality and differentiation must prevail, says Kap Lee.
Kap Lee's business card bears the motto 'Lifetime Value Creator'. That's the mantra that Lotte Group has adopted to promote sustainable development over the next 50 years, a newly developed vision that is underpinned by focusing on qualitative growth.
It's just over two months since Lee took up what he admits is a high-pressure role of leading Lotte Duty Free, the Republic of Korea's travel retail giant and the world number two. But already he has a clear qualitative plan to embrace the group philosophy and drive the business to new heights.
In Korea, the travel retail and tourism sectors are more intertwined than perhaps anywhere in the world. "We need to think about tourism and duty free retail simultaneously," Lee says. "The main purpose of foreign travellers visiting Korea is shopping and I believe that we can develop the duty free industry hand in hand with tourism."
With admirable understatement Lee describes Korea's duty free sector as "a very complicated playing field". His top priority, he says, is to create a differentiated strategy for Lotte within a duty free industry structure that "is not as healthy as it once was". Quality must prevail, he insists.
"Today, our overseas sales volume only accounts for a small percentage of our business. But in the future, I anticipate that it really should be more than 30%."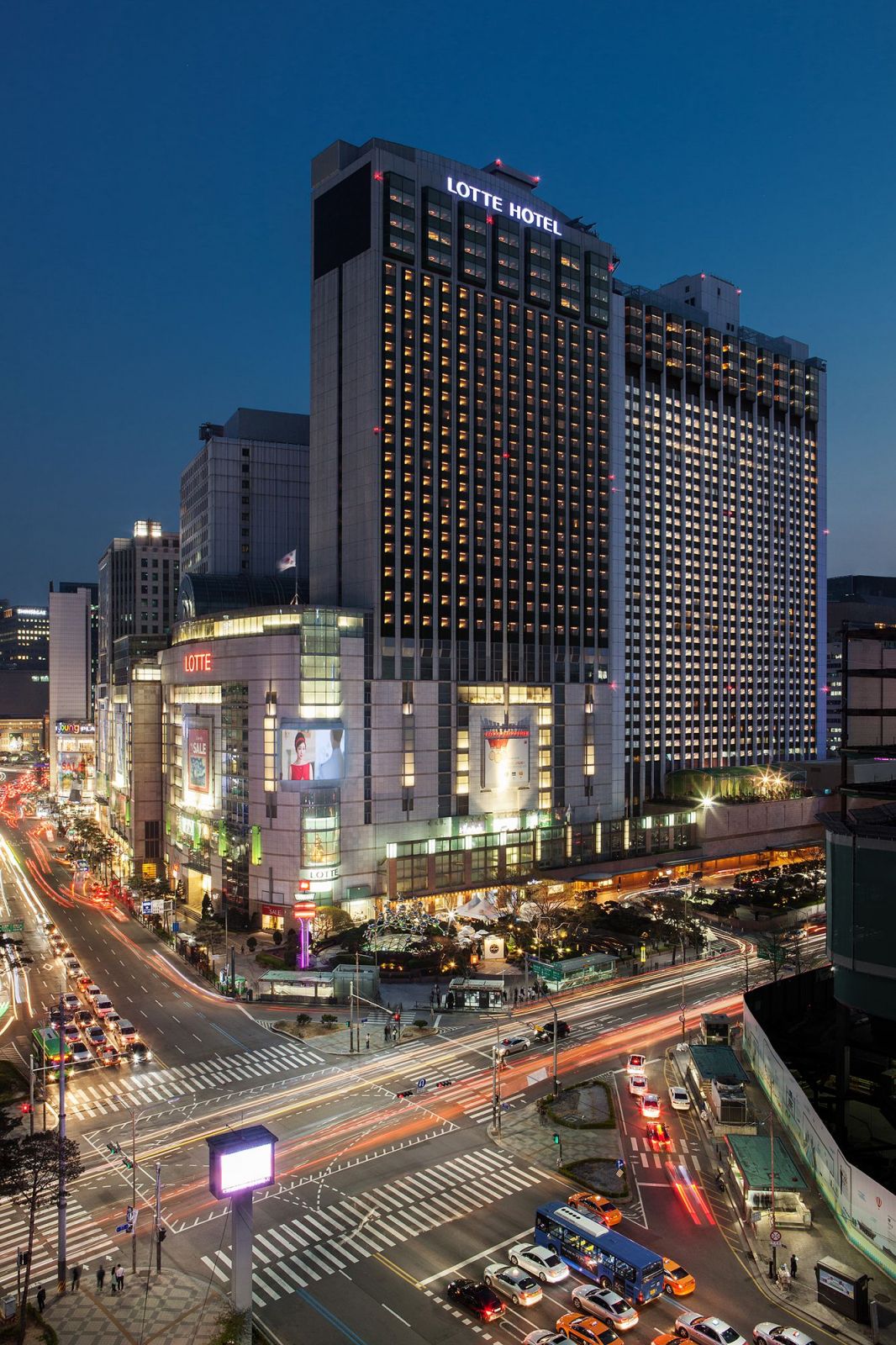 The epicentre of Korean travel retail: Lotte Duty Free's Myeong-dong store is set to generate sales of some US$5 billion this year.
Lee's choice of the word "healthy" is interesting. At first glance, the world's biggest duty free market appears in robust condition. Any statistician looking at the top-line numbers for Korean duty free would note that the sector rose by an astonishing 35% last year to an all-time high of over U$17 billion. Lotte Duty Free's own sales in Korea soared by 25% to a record 38-year peak of over KW7.5 trillion (US$6.7 billion). Its flagship store in Myeong-dong, the world's busiest duty free door, generated an approximate 35% rise in revenues to over US$3.8 billion.
But look beyond the top line and to pressure on every retailer's operating margins, and a different perspective emerges. As has been well-documented by The Moodie Davitt Report, most of the market's recent growth has been driven by a huge surge in daigou trading, the modern-day phenomenon of duty free shopping by 'shuttle traders' – legions of Chinese travellers purchasing large quantities for subsequent resell in China.
Since early 2017, when South Korea's row with China over the former's deployment of the US anti-missile system THAAD (on Lotte Group land) erupted, conventional group and FIT tourism has gone into freefall, plunging by 48.3% in 2017 and despite a steady recovery from March 2018, still being well short of 2016 levels. In 2016, the Chinese represented one in every two travellers to South Korea. In 2018 the ratio was just under one in three. The disparity between such a tourism slump and record industry sales is entirely attributable to the daigou business.
"Sales volume, as you know, is heavily dependent on the Chinese customer, and in particular daigou shoppers," confirms Lee. "One of my top priorities is to get FITs back to Korea. I want Lotte Duty Free to be a symbolic brand for this global sector in the same way that Samsung is in the cellphone industry or LG in the LCD sector."
Lee is convinced that Lotte can play a lead role in broadening Korea's tourism base from its reliance on Chinese travellers in general, and daigou in particular. He points out that Lotte Duty Free is part of the powerful Lotte Group, whose subsidiaries include department store, hotel, online, travel agency, cinema and leisure enterprises. "A priority is to combine those tourism-related sectors to create some new kind of retail platform," he comments. In short, through value creation.
While drawing on his experience with Daehong and with the department store business, Lee admits that the world of duty free is a very different one. "Daehong is an advertising company that deals mainly with the domestic market whereas Lotte Duty Free is a sort of exporting business, mainly targeting foreigners. So, there is the key difference. Today, our overseas sales volume only accounts for a small percentage of our business. But in the future, I anticipate that it really should be more than 30%."
Such growth, both at home and abroad, will be key to Lotte Group finally delivering its long-awaited IPO, a project officially deferred in 2017 due to the commercial fall-out from the THAAD row between China and South Korea. Lee says the IPO plans, currently on hold due to "internal and external situations", remain in place but the timeline is uncertain.
"Before we proceed with an IPO, we have two quests," he explains. "The first is to get the operating profits high enough so that the market can correctly price the shares. The second is to create a new business model that will be effective long into the future."
"In the second semester, depending on how relations develop between Beijing and Seoul, we anticipate that we will see more growth in the Korean duty free market."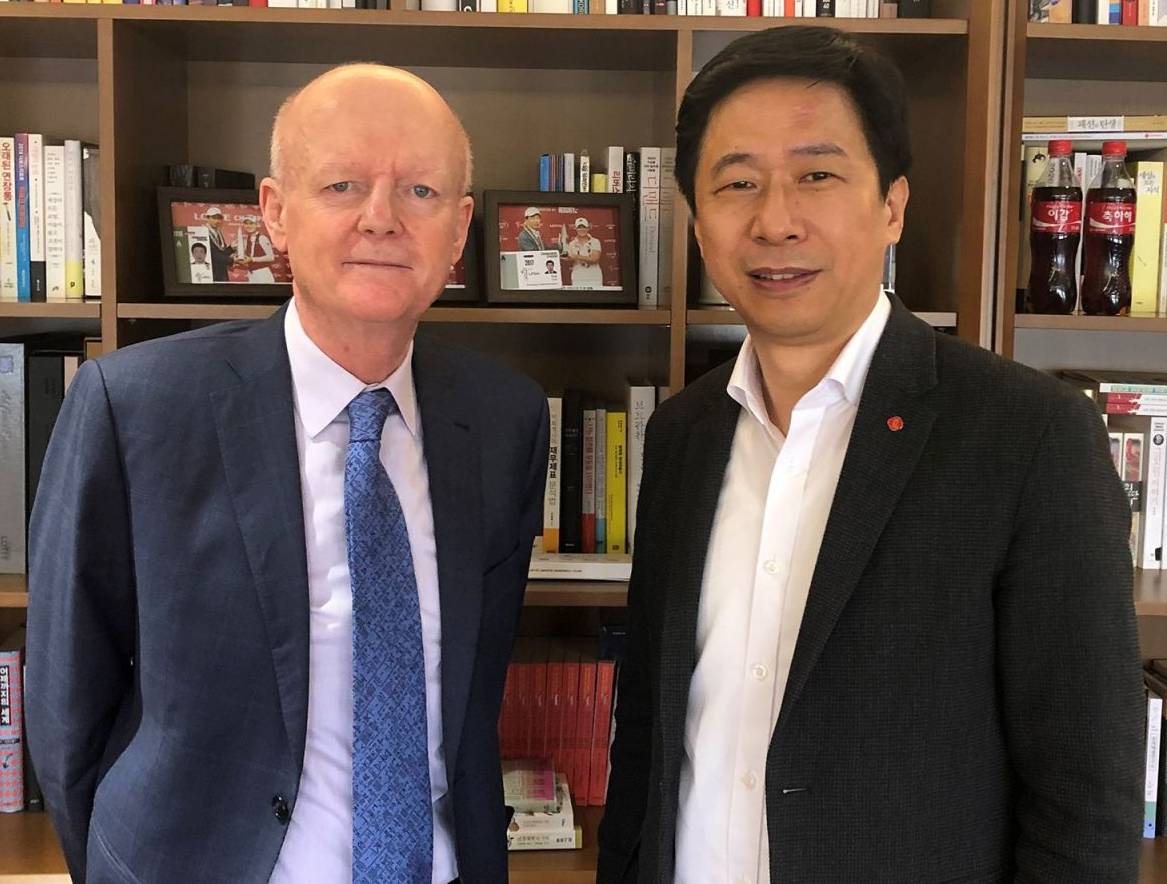 The Moodie Davitt Report Chairman Martin Moodie meets Lotte Duty Free CEO Kap Lee at company headquarters in Myeong-dong, Seoul.
That "new business model", he says, includes several elements – global expansion; the steady transition from a daigou-driven business to a more conventional one based on FIT shopping; and a further upgrading of the already impressive flagship store in Myeong-dong.
In top-line terms, 2018 was another stellar year for Lotte Duty Free in a Korean duty free market which Lee points out has consistently achieved 30% annual sales growth in recent years. But he points out that 2019 presents a whole set of different, and challenging, circumstances.
"There will be a lot of changes in the Korean domestic duty free industry, for example new downtown licences in Seoul and Jeju and the opening of arrivals stores at Incheon Airport. So, the competition will be more intense compared to other industries. But we will find breakthroughs by offering attractively priced products – authentic, credible products – and by increased hallyu (Korean wave) marketing and so on.
"In the second semester, depending on how relations develop between Beijing and Seoul, we anticipate that we will see more growth in the Korean duty free market," he adds.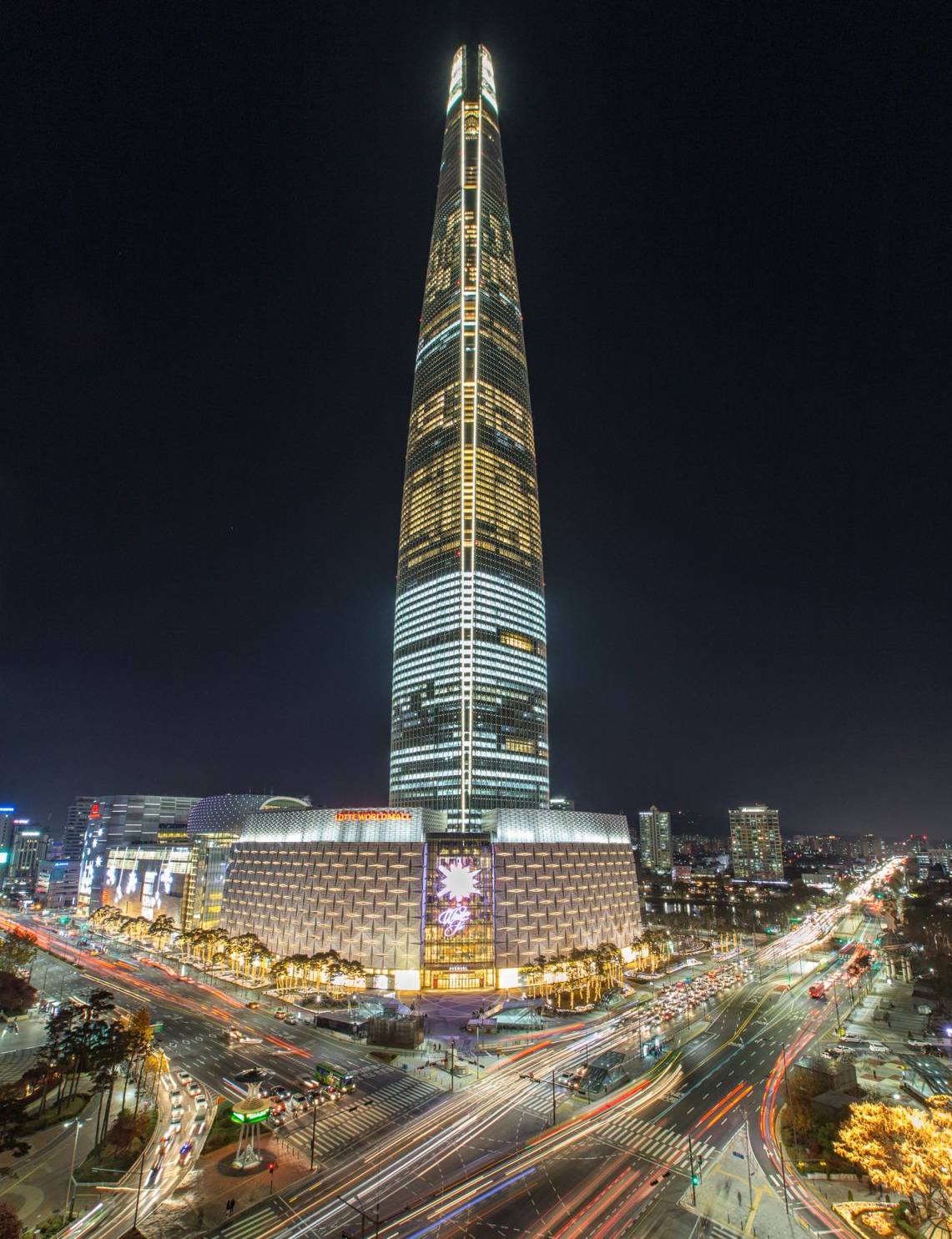 Lotte Duty Free World Tower posted sales of nearly US$930 million last year. It reopened on 5 January 2017 after a long period of closure from June 2016 due to the controversial loss of its licence.
How concerned is Lotte Duty Free about the new Chinese e-commerce law, introduced on 1 January, designed in large part to curb daigou trading? In response, Lee describes it as "a big turning point" for the Korean duty free market. "In my opinion the purpose of the new e-commerce law is to make daigous register as legal e-retailers," he comments. "In the short term it will be threatening to the Korean duty free market, but in the long term I think it will actually have a positive impact.
"Remember, Daigou business is everywhere, not just in Korea. It's also in Japan, the USA, Australia and so on. In the long term, I do not believe the new law will have as much of a negative impact as we originally thought."
The early 2019 evidence certainly appears to support that view. When The Moodie Davitt Report visited the Myeong-dong store on successive days in early March, business was frenetic, with scenes reminiscent of the Harrods New Year's Day sale in Knightsbridge London. The difference is that with Lotte Duty Free, it's like this every day. At 8:30 in the morning, an hour before opening on a bitterly cold Seoul morning, some 600 daigou shoppers were queued up outside, waiting to spill into the shop. Most beauty brands confirm that early 2019 performance has been very strong, particularly with Lotte, the sector's bellwether.
Lee confirms the trend. Sales were "a little soft" in early January but overall business has grown strongly this year, he says [the company is projecting 2019 sales of US$5 billion in Myeong-dong alone]. He also notes that visitor arrivals from China are still well short of 2016's record numbers. When the group tourists and FITs return, he says, bolstered by a continuance in daigou trading, business should develop strongly, he contends.
"Since we began our e-commerce business, it has grown really fast and we want to keep that growth on track. Within five years, if we double again, it will represent a 50% share of total sales."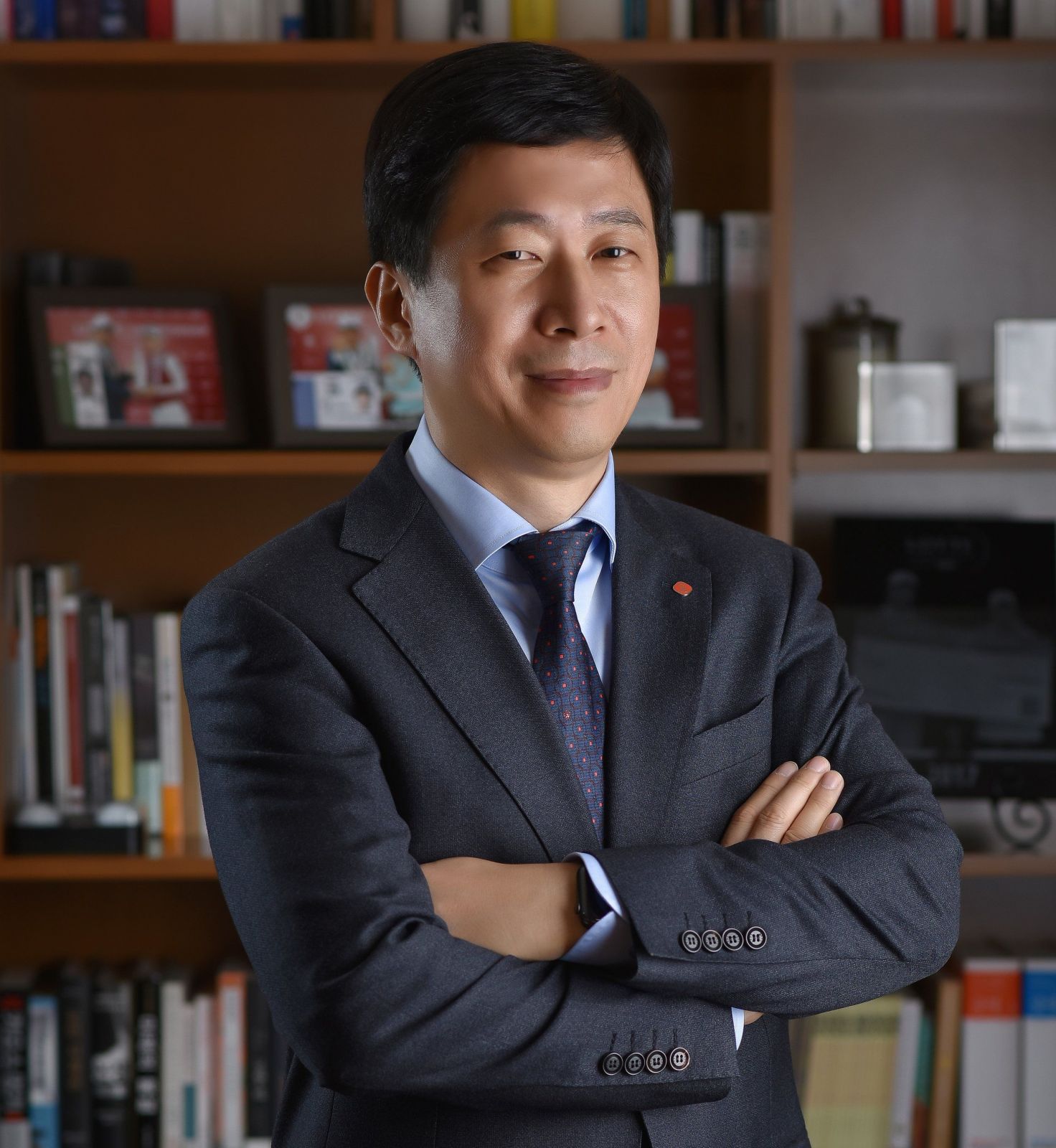 Kap Lee: "The industry has focused too much on certain simple and superficial aspects of doing business. This has led to undesirable consequences, notably excessive commission payments due to intense competition."
Lee's aim of restoring the FIT business, and creating a broader, more traditional shopper base, is not confined to Chinese tourists. "We are also trying to focus on other nationalities – like Vietnam, Thailand, and so on," he comments, returning to his earlier theme of a multi-faceted tourism/shopping drive. "For example, we recently created a tourism package for Taiwanese travellers, cooperating with other Lotte subsidiaries across our hotel, department store and travel agency operations." That kind of combined tourist package, mainly targeting FITs, will be the "new phenomenon" in the near future for Korean duty free, Lee says.
The new CEO is also driving an ambitious expansion of Lotte Duty Free's already highly successful membership programme. "We have around 6.9 million registered customers in our database. Our goal is to increase it to 7.8 million."
The time frame? "This year." The new Lotte Duty Free leader clearly doesn't mess around. Such an approach, he says, underlines Lotte's desire to further customise and personalise its services to help differentiate its offer from rivals.
"Looking at the big airports like Incheon and Hong Kong, it is really hard for operators to generate operating profits."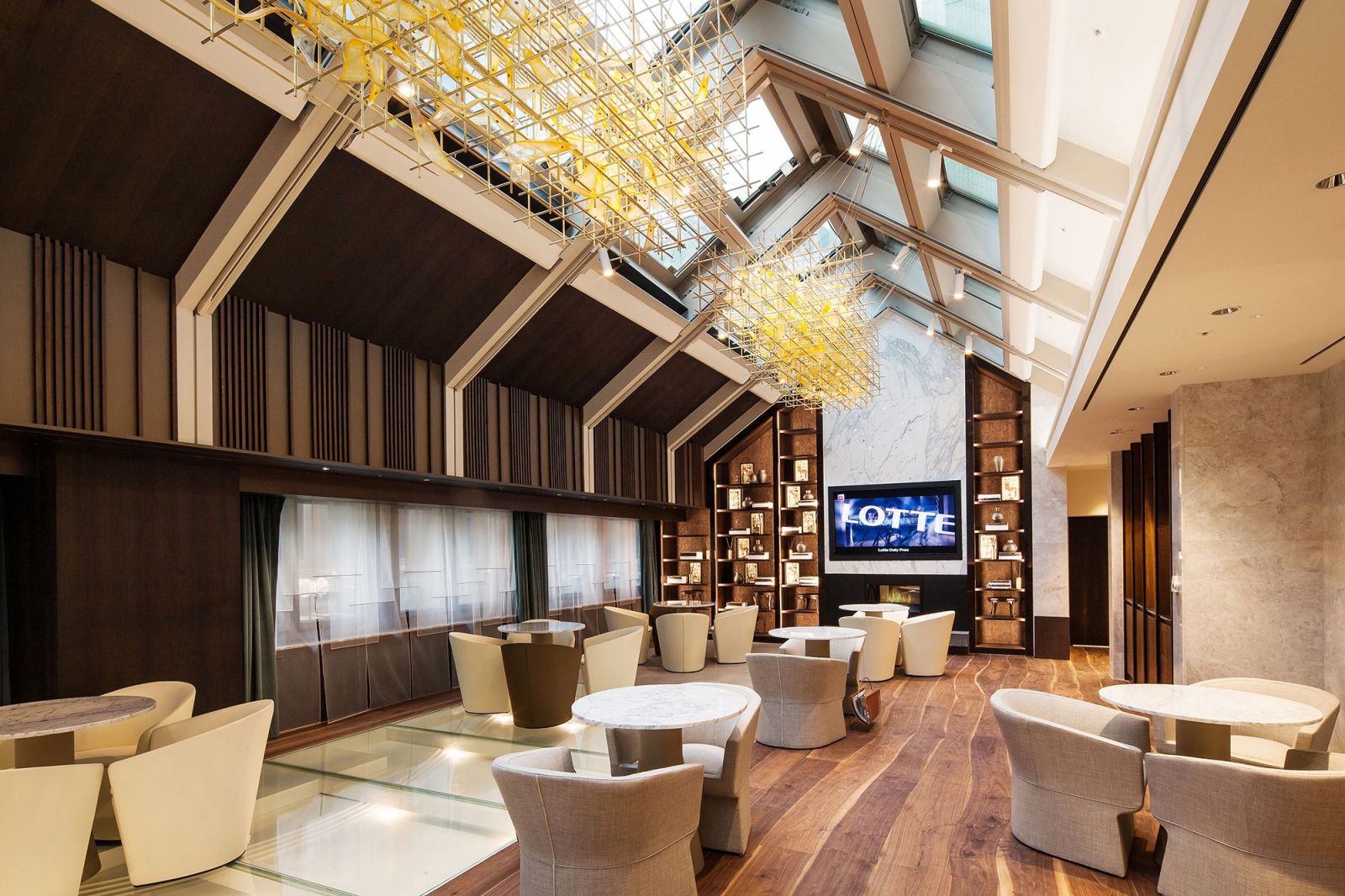 Lotte Duty Free's Star Lounge at its Myeong-dong store offers a rarefied atmosphere for the retailer's most upscale shoppers.
Online boom
In a travel retail sector that was historically slow to embrace social media as a communication tool and e-commerce as a selling platform, Lotte Duty Free has stood out like a beacon. Its brilliance at hallyu marketing, manifested in the Star Avenue entranceway to the main store and played out in numerous blockbuster campaigns, videos and promotions over recent years, has been complemented by a burgeoning online business. E-commerce now represents 25% of the retailer's sales, roughly doubt the share of five years ago. And Lee says there's much more room for growth yet.
"It'sa more complex business than people think because it has developed so quickly," he says. "We have to react with agility to those changes. Since we began our e-commerce business, it has grown really fast and we want to keep that growth on track. Within five years, if we double again, it will represent a 50% share of total sales."
But that would require a change to the current business model which is currently focused on serving only two sectors – foreigners visiting Korea and domestic travellers going abroad. If Lotte Duty Free could develop a broader online marketplace platform, sales could surge past the 50% mark, Lee says.
Licence to thrill – or kill?
One of the unwelcome side effects of the surge in duty free sales over the past two years is that it has encouraged the government and Korea Customs Service to issue more downtown licences this year in Seoul and Jeju.
That's a common refrain in South Korea – and a common source of angst. The same happened in 1995 prior to the Japanese tourism bubble burst and again in 2015/16 before the collapse in traditional Chinese tourism. In the latter case, many retailers, some struggling to survive, prompted an industry-wide surge in tour group commission rates and daigou-related rebates in order to attract customers. Today some of those newcomers are struggling badly and there is widespread conjecture that some will close or sell.
While the situation has settled down a little, especially in commission terms, a further proliferation of licences seems highly questionable at a time when the Chinese government can easily turn off the daigou 'tap' – with no guarantee that the previous flow will be replaced by the return of group and FIT tourists.
"Blocking the introduction of competent new players is not compatible with market principles," Lee says. "But it is important to remove barriers to doing business for players to improve their stability and encourage healthy and fair competition. However, judging from the current market condition, which is not normal, increasing the number of operators at this point may not have a positive effect."
More positively, he applauds the recent change in licensing system that effectively grants a semi-automatic five-year renewal of the original five-year downtown duty free licences. "With more stabilised business foundations and under healthy and fair competition, the Korean duty free industry can have a more competitive edge," he says.
Lee believes that the Korean duty free market should concentrate on developing attractively priced, well-ranged product offers, enhancing marketing strategies and operational expertise. Lotte Duty Free must focus on value creation through a more personalised, database-driven marketing strategy in order to combat the encroachment of Amazon and other online competitors. But it must also embrace some of their methodology, with mobile carts, pick up and go service and so on. Improved supply chain management is another priority, driven by enhanced digital technology.
Incheon blues
Lotte Duty Free's contentious decision last year to withdraw from several of its concessions at Incheon International Airport Terminal 1 due to huge financial losses improved the company's bottom line. But the exit cost it dearly in terms of market share. It's the perennial Catch 22 of airport retail – bid too high and you lose money, bid cautiously and you win nothing. So, how concerned is Lee about the airport tender model and how will Lotte approach bids in future?
"Looking at the big airports like Incheon and Hong Kong, it is really hard for operators to generate operating profits," he replies. "Those operators who do generate strong operating profits tend to have a sole [cross-category] licence – like King Power in Thailand and Dubai Duty Free.
"Where you have multiple retailers, it is really hard for operators to compete with each other while at the same time generating operating profits. And yet operating at the airport is actually key for retailers to develop stronger buying power, generate more marketing investment and so on."
Lee says that Lotte Duty Free has to be financially prudent in its bidding strategy. "If we can generate decent operating profits, we can go into large airports, but if not, we will be cautious," he points out. Small and mid-size airports, for example Lotte Duty Free's successful Vietnamese operations in Da Nang and Nha Trang, may offer a more sustainable route forward, he says.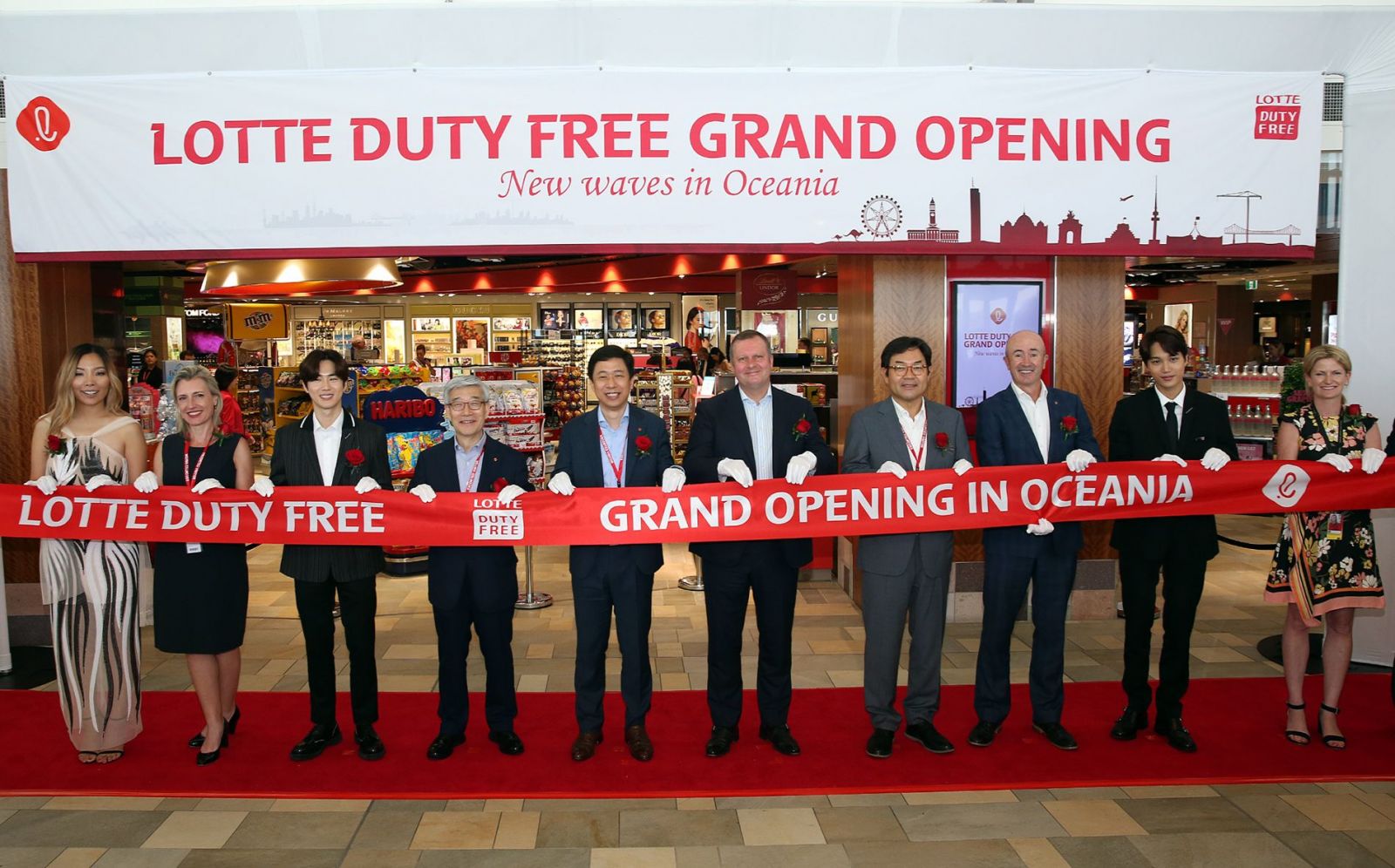 Red ribbon occasion: A proud day for Lotte Duty Free and for Kap Lee (centre) on 25 March as it marked its expansion into Oceania with a grand opening ceremony at one of its newly acquired JR/Duty Free stores at Brisbane Airport.
Global growth
Lotte Duty Free has made no secret of its global growth ambitions in recent years, stating its aim to be the world's number one travel retailer in several high-level interviews with The Moodie Davitt Report. But much of its remarkable growth has been at home while progress internationally has been modest. Overseas airport concessions have been difficult and costly to secure, with heavyweight bidding opposition and a high price of entry. Guam, Vietnam and Indonesia have been the footholds to date but the recent acquisition of JR/Duty Free's Australasian interests offers an interesting new geographical dimension to the business.
Lee says entering the region is an important stepping stone in the company's international ambitions. "To be a global operator, you need to meet some conditions, like having good partnerships with brands and understanding your customers well," he comments. "We are very familiar with our Korean and other Asian customers, but we don't really know so much about travellers from Western countries.
"The Australasian market has relatively small sales volumes right now, but it has big potential to grow. Also, there are a lot of global operators operating in that region. So, it's very competitive and therefore a big chance for us to test how well we can operate and compete. So, before we extend our business to USA and Europe, the Australia market is a stepping stone.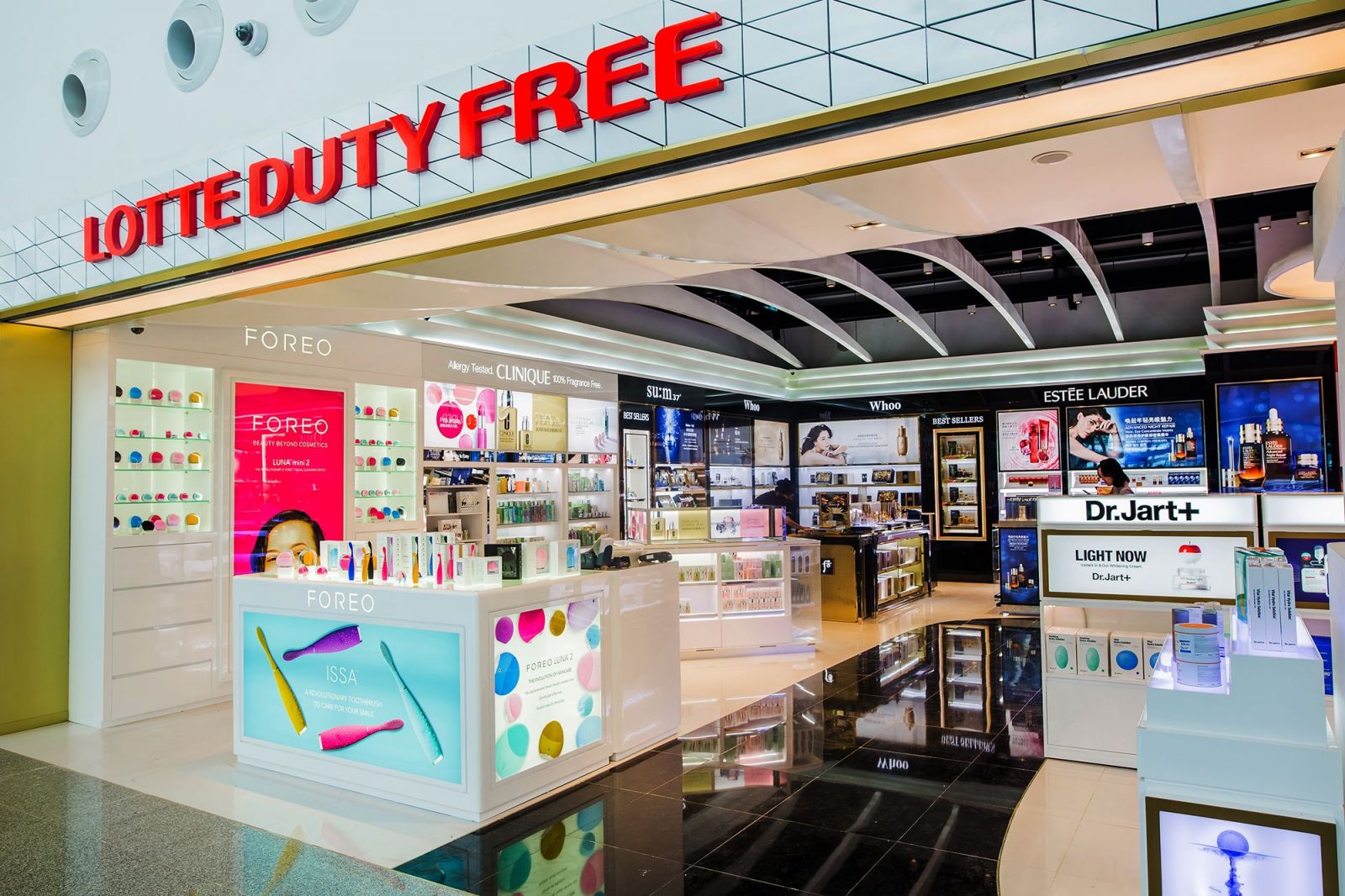 Lotte Duty Free has high hopes for its burgeoning Vietnamese business. Pictured is the company's operation at Da Nang International Airport, opened in 2017.
"As you know, we have successful airport operations in Da Nang and Nha Trang. We also plan to open more stores in Hanoi (Noi Bai International) Airport and Da Nang downtown this year in the second semester."
The company's prime offshore focus in Asia will be on developing business in tourism-driven cities, Lee says. Vietnam, which is witnessing a Chinese tourism boom, will play a key role, with planned expansion in bigger cities such as Hanoi and Ho Chi Minh City.
As our interview draws to an end, I ask Lee if the company vision of becoming the sector's biggest player remains in place. "Yes, ultimately we'll be the travel retailer number one," he replies firmly. Further M&A activity remains on the agenda, though he declines to spell out any details.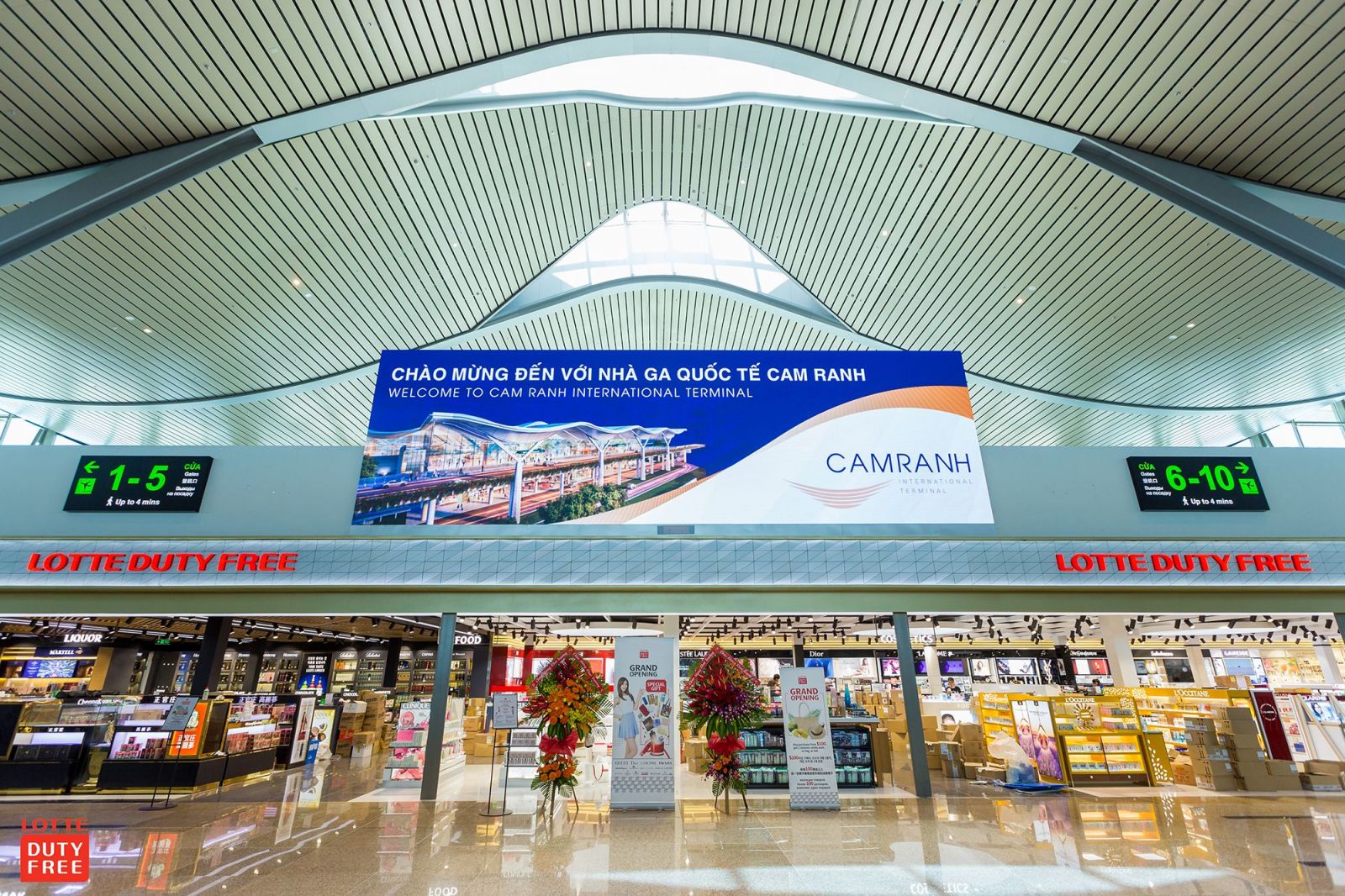 Surging Chinese and Russian visitor numbers suggest a strong future for Korean travel retail giant Lotte Duty Free's at Cam Ranh International Airport in Nha Trang, opened in June last year.
In this, his first interview since taking up the leadership role, does the new CEO have a single message for the travel retail industry worldwide? "I think that our priority is not just for Lotte Duty Free to grow independently but for the whole industry here to grow," Lee replies. "Yes, it is important to be the number one travel retailer but creating a new kind of platform for all operators to develop healthily is more important.
"The industry has focused too much on certain simple and superficial aspects of doing business," Lee concludes. "This has led to undesirable consequences, notably excessive commission payments due to intense competition. But in the new era, customer satisfaction has to be the first priority. As the Asia number one duty free retailer and the number two globally, it is our duty to provide customers with better and more satisfying services, so that we can have healthier competition."
In short, being a Lifetime Value Creator.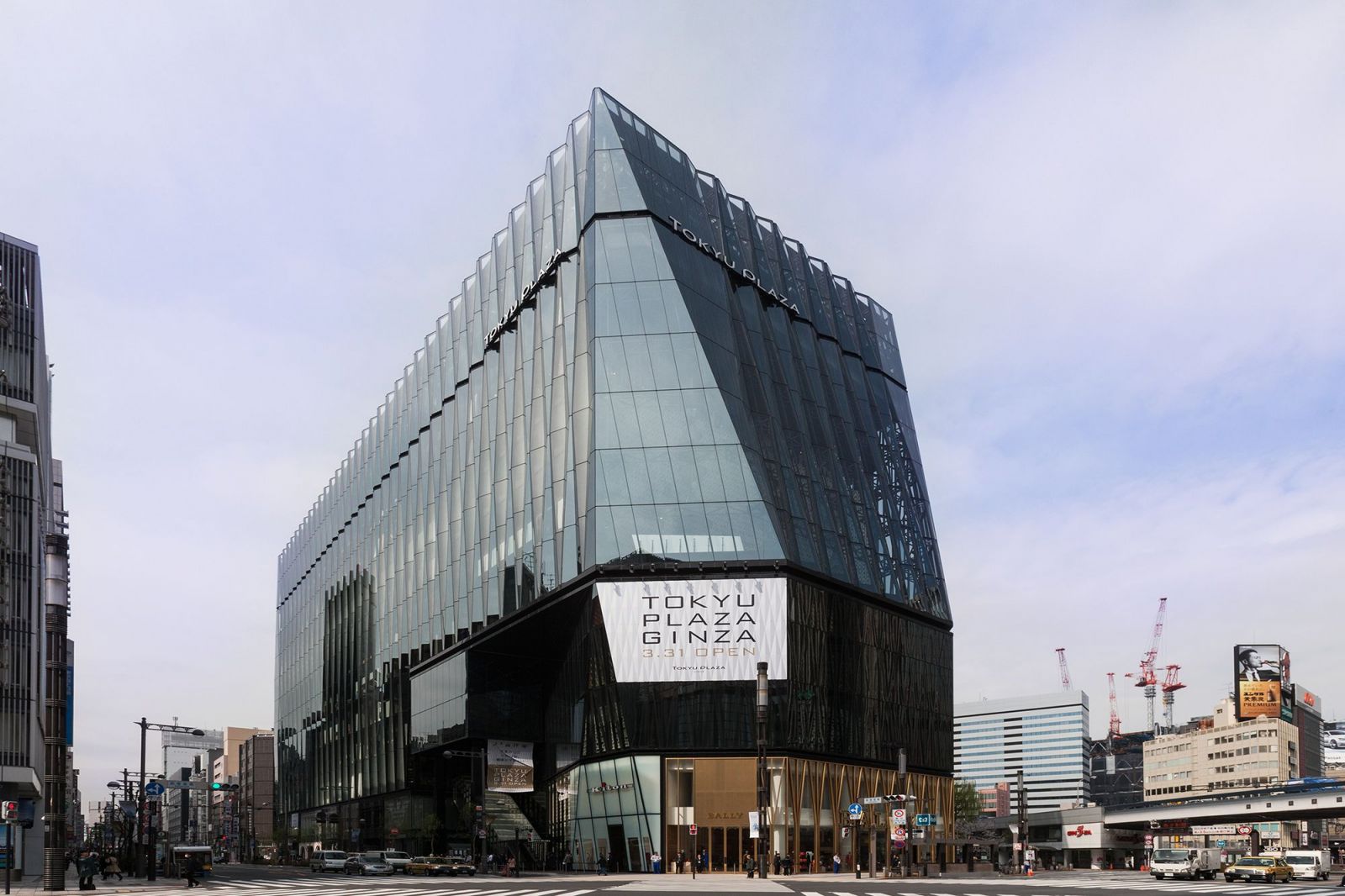 Lotte Duty Free opened its elegant store in Tokyo's swanky Ginza district in March 2016.
No sign of daigou slowdown in Korean duty free - yet
It's a bitterly cold morning in Seoul, about 6 °C, though it feels much colder, writes Martin Moodie. I'm standing outside Star Avenue, the Hallyu (Korean Wave) marketing entrance to Lotte Duty Free's flagship store in Myeong-dong, Seoul. And I am not alone.
This is the most popular duty free store in the world's biggest duty free market. Sales last year climbed by a remarkable 35% to an all-time high of over US$3.8 billion. Some 88% of sales were to foreign customers, most of them Chinese, led by daigou shoppers who have so dominated the Korean duty free business over the past two years since the THAAD anti-missile system row between China and South Korea escalated in March 2017.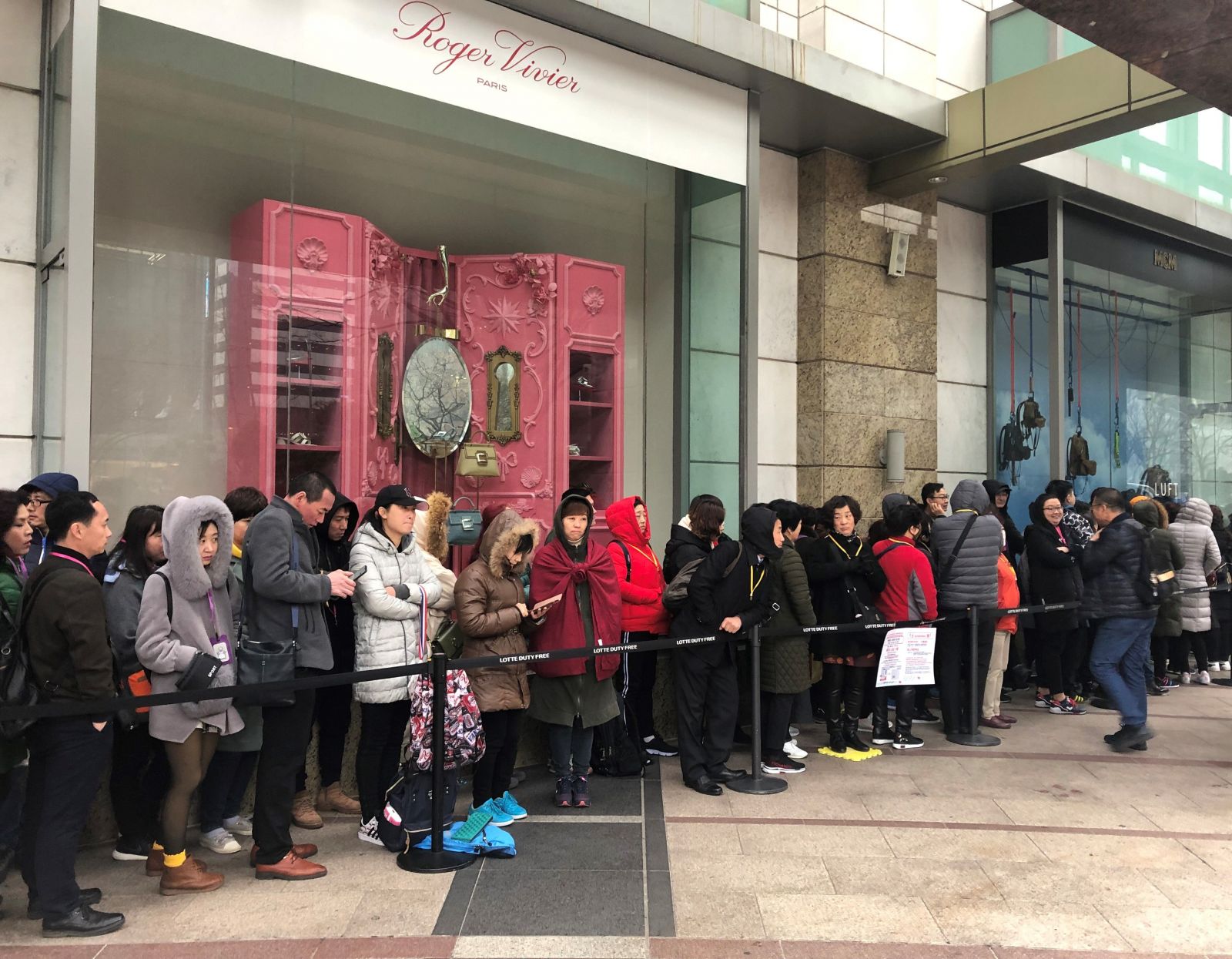 Daigou shoppers wait patiently for opening time on a bitterly cold Seoul morning. Some 90 minutes before the doors open, a queue of around 600 people snakes around the front and side of the building.
Korean travel retailers and their suppliers are anxiously monitoring the impact of China's new e-commerce law, introduced on 1 January, which is in part designed to crack down on the daigou trade. But if the tap is being turned off, there's little sign of it here. It's a full hour before the Lotte Duty Free store opens and already a snake-like queue of around 400-500 Chinese daigou traders are queued up alongside the side of Lotte Department store and around the corner onto Namdaemum-ro.
If you add in another 100, perhaps more, already, in the pre-booked Star Avenue express lane waiting area, that's around 600 'shuttle traders' as they're often called here, waiting to burst through the Lotte Duty Free doors and buy huge volumes of Korean and international beauty products, as well as a wide range of local fashion and accessories and certain international luxury and premium branded goods.
To any outsider, it's a remarkable scene but to industry insiders here it's just another day in Korean duty free. Similar scenes will be being played out outside Lotte's rivals as the daigou shoppers queue up early to ensure they can procure the items most in demand in China.
The daigou phenomenon has rewritten the rules of engagement here. Brands' long-held selective distribution principles have been scattered in the Korean winds – there's certainly nothing selective about what amounts to a mass redistribution market, a little China of duty free. But the vast amounts of money at stake have simply convinced most beauty brands at least to turn a blind eye.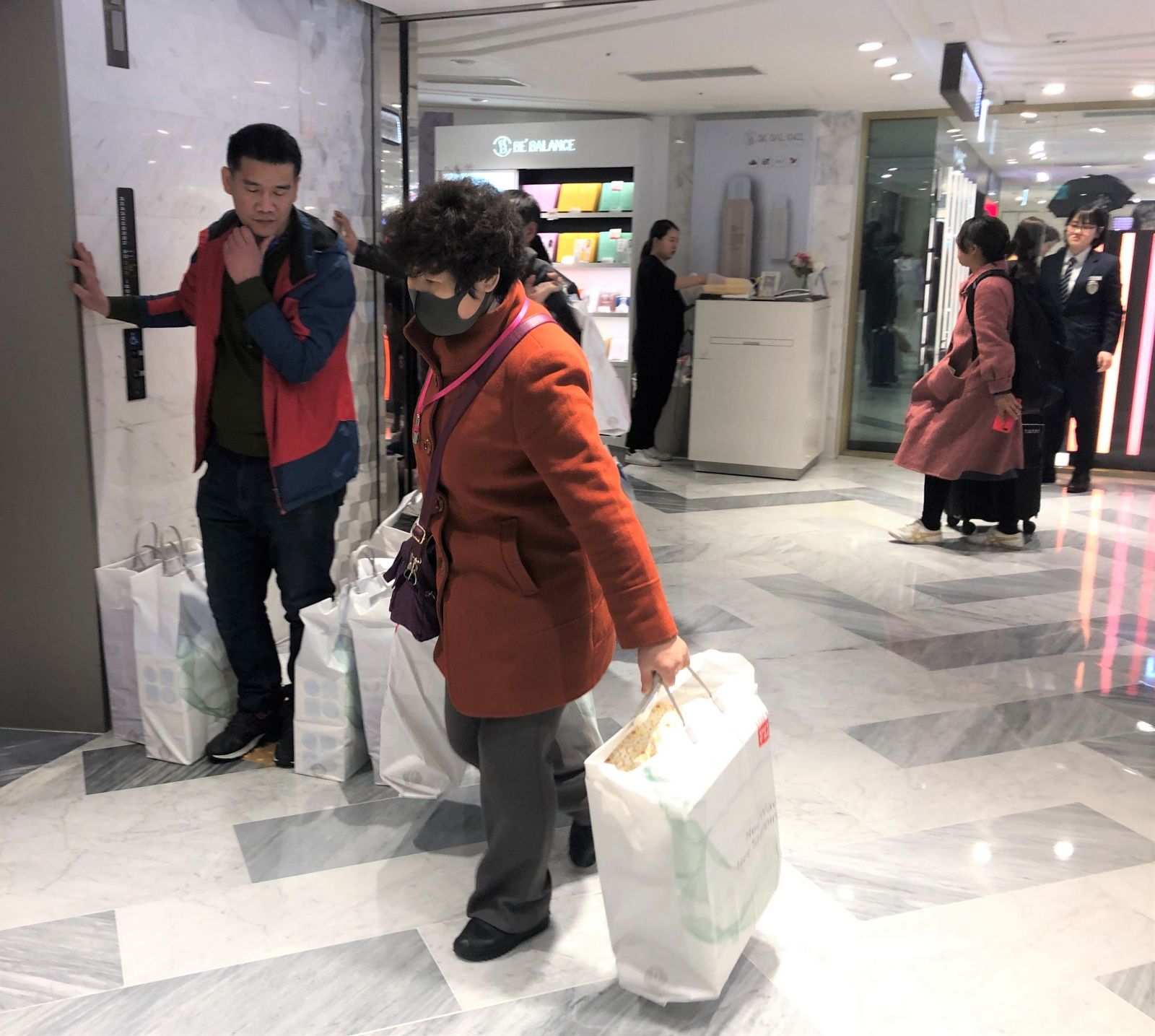 An older daigou shopper, laden down with purchases, makes her way out of the store.
SPECIAL KOREAN REPORT – COMING SOON
In the May edition of The Moodie Davitt Report Online and Print Magazine, Martin Moodie reports from Seoul on a Korean duty free undergoing profound change.
What does the advent of China's new e-commerce law spell for the daigou shopping sector that has so driven the world's biggest duty free market since 2018? What will an increase in the number of downtown duty free licences spell for existing retailers? Moodie talks to some of the sector's leading players and discovers an intriguing blend of optimism and vulnerability. He looks beyond the easy headlines of top-line growth and asks how healthy the market really is.
Including interviews with:
The Shilla Duty Free President of Travel Retail Division Ingyu Han
Hyundai Duty Free Managing Director Yuk Woo Seok
Lotte Duty Free Director Main Downtown (Myeong-dong) Store Steve Park
Shinsegae Duty Free MD Merchandising Team Director Seok-Ho Hong
Korean Air General Manager Inflight Sales Team Seung Joon Oh
Incheon International Airport Corporation Executive Director/Concession Development Group Chang-Kyu Kim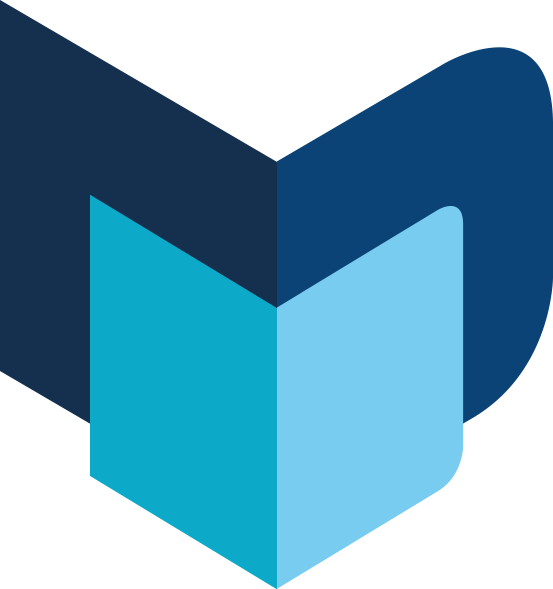 ---
The Moodie Davitt e-Zine | Issue 258 | 26 March 2019