Vichai Srivaddhanaprabha
The shocking death of King Power International Group and Leicester City Football Club owner and Chairman Vichai Srivaddhanaprabha after a helicopter crash on 27 October at the club was met with disbelief, shock and immense sadness among his family, company, club, industry and country.
Khun Vichai was a man synonymous with great achievements (King Power International's rise from a start-up to a travel retail top ten player; Leicester City's pursuit and ultimate realisation of its seemingly impossible dream to win the Premier League) but also with compassion, grace and humility. He gave and then gave again to all manner of causes, big and small. He touched many people in travel retail, as in his wider life, with selfless acts that made a difference.
No-one present at The Trinity Forum in 2011 or 2017 will forget the trademark Srivaddhanaprabha family warmth and welcome, nor Vichai's always understated warmth and innate sense of Thai hospitality. He was a great business leader and family man and his kindness and generosity helped make the world a better place.
One of the enduring memories of travel retail in 2018 came at The Trinity Forum in Shanghai in late October just days after Khun Vichai's death, when the audience stood as one in an impeccable observation of a minute's silent tribute to him. We honour Vichai Srivaddhanaprabha here posthumously and express our sorrow to his family and team once more.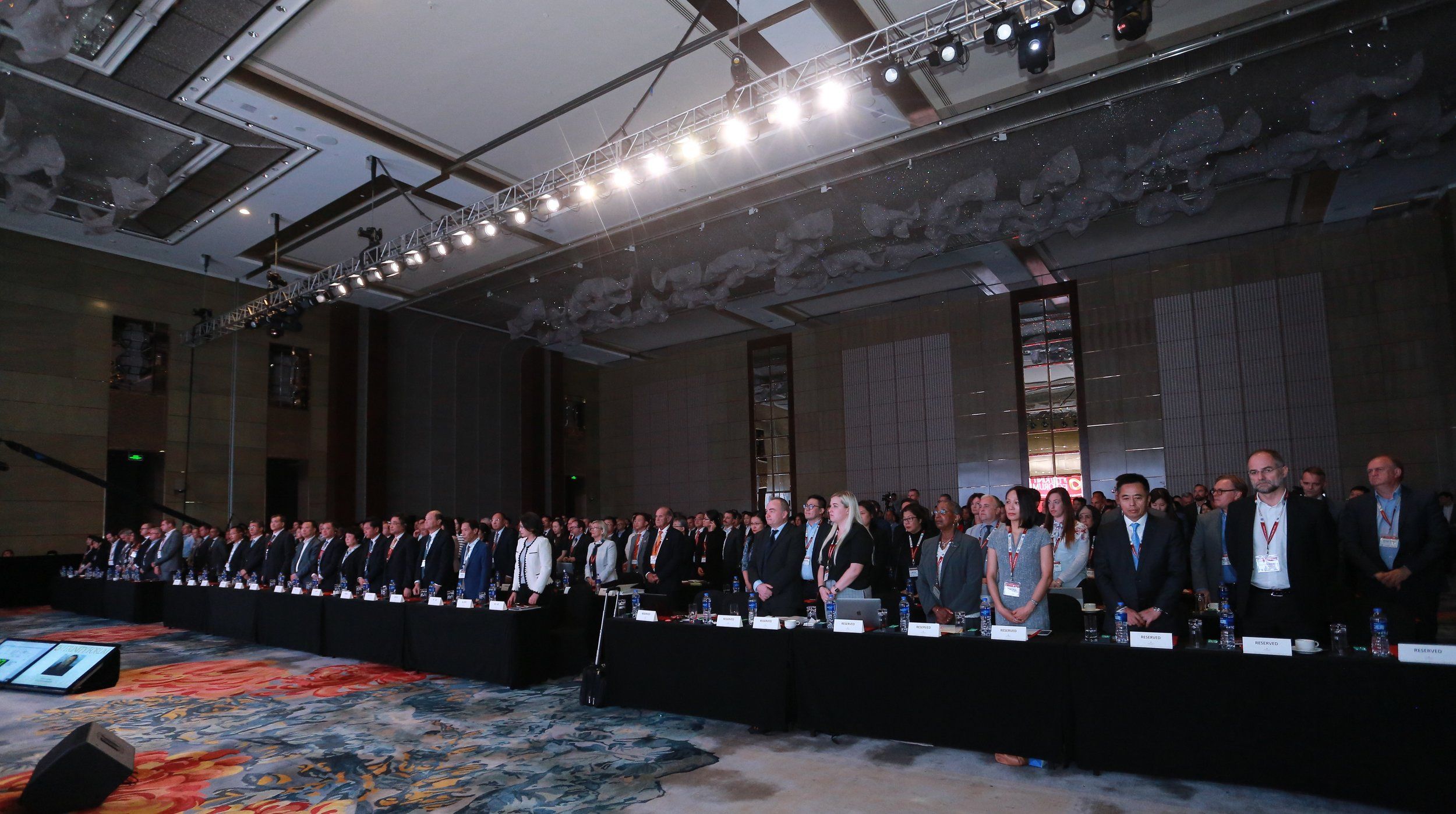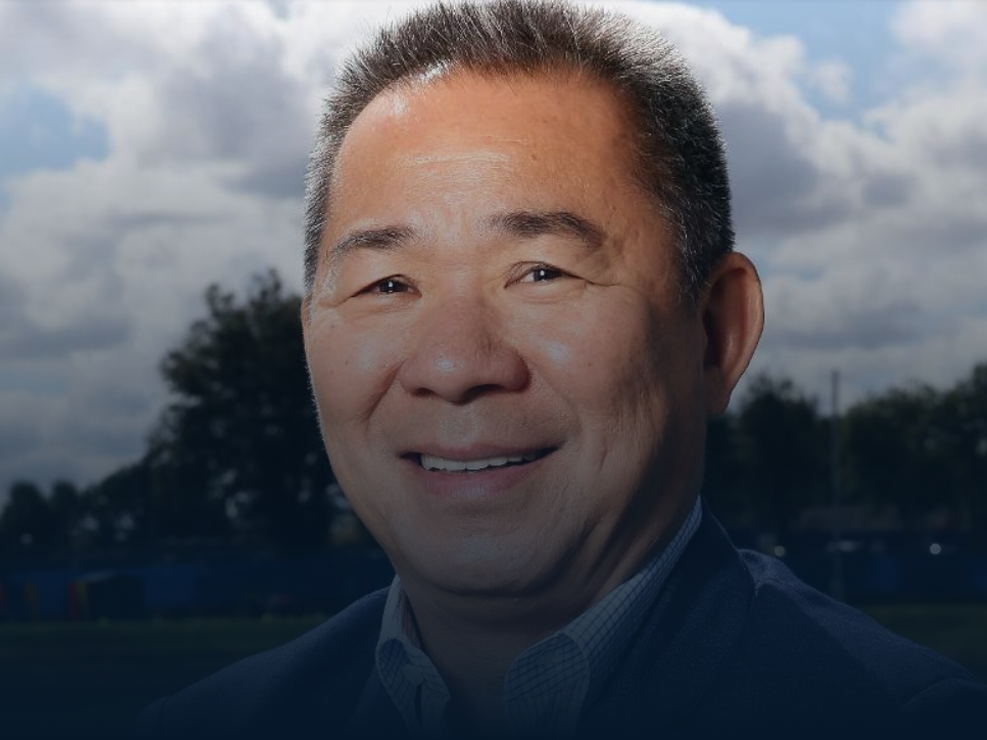 Vichai Srivaddhanaprabha: Business leader, family man and proud son of Thailand.
Akbar Al Baker
The blockade against Qatar over the past 18 months, led by Saudi Arabia, UAE, Bahrain and Egypt, threatened to bring the country to its knees. Trade, by air, sea and land, was severely disrupted, Qatari nationals in other states were forced to leave and there was a dramatic fall in air traffic (-22% at one point) into and out of Hamad International in Doha. Yet Qatar is bouncing back and its resilience can perhaps be typified by the attitude and approach of one of its strongest business leaders: Qatar Airways Group Chief Executive Akbar Al Baker.
Amid the turbulence, the airline continued to invest in new routes, and maintained its investment in marketing Doha as a destination and as a transfer hub. That has gradually begun to pay back, with traffic now rising sharply again. Crucially, Qatar Duty Free is posting solid growth after a flat previous year and is also investing in expansion. Perhaps most tellingly, the retailer has also struck some eye-catching partnerships with leading brand houses, among them The Estée Lauder Companies, Dior, Guerlain, Tiffany & Co., Tumi, Aigner and others, for new stores and concepts. Look out for some big announcements in early 2019. Make no mistake, external confidence in Qatar is returning, though Al Baker never lost it.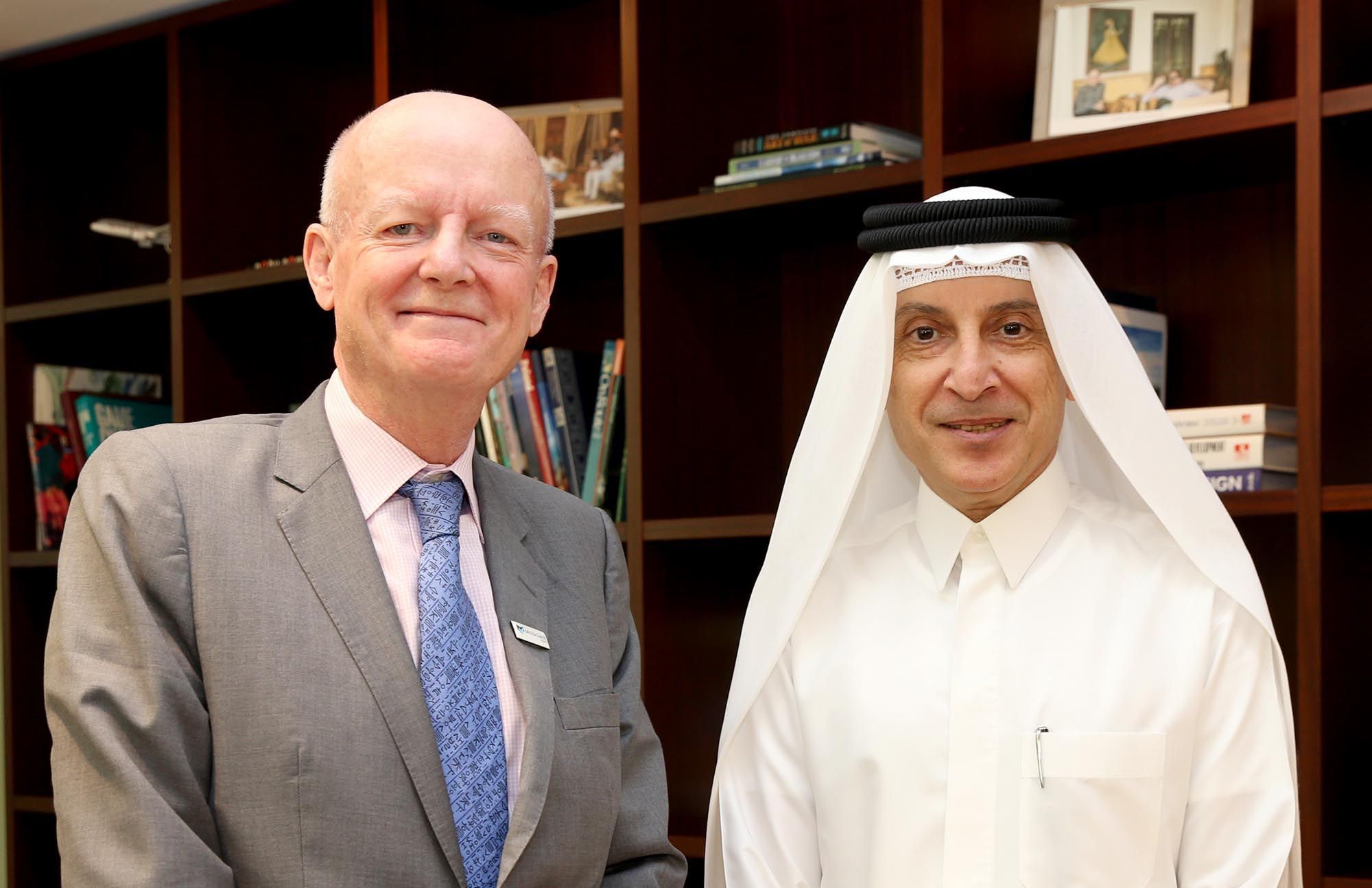 Reward for resilience: Akbar Al Baker (with Martin Moodie in Doha last month).
Charles Chen
It has been another landmark year for China Duty Free Group (CDFG), and for its dynamic and driven President Charles Chen, as China's pivotal role in defining the future of travel retail was rubber-stamped. The company continued the rapid expansion of its overseas footprint with the opening of the fine new Duty Zero by cdf stores at Hong Kong International, in partnership with Lagardère Travel Retail, cementing CDFG's status at one of the great regional hubs. And its progress at home was even more spectacular.
CDFG and Chinese e-commerce giant Alibaba Group signed a memorandum of strategic cooperation on 20 November that has huge repercussions for Chinese travel spending in the future. More of that spending is likely to come within China, with CDFG outlining ambitious plans to expand, backed by government support for its offshore duty free business, bolstered most recently by increased shopping allowances.
Other milestones in 2018 came with the acquisition of 51% of Sunrise Duty Free (Shanghai) Co Ltd, followed by the latter's capture of the key Shanghai Pudong and Hongqiao airport duty free contracts. These were complemented by several arrivals duty free contracts at Chinese airports and further expansion in the growing cruise sector. Expect CDFG to cement its place within the world's top ten and possibly top five travel retailers in 2019 and beyond, as it seeks to deliver on the rich promise of the Chinese travel market, at home and abroad. The man driving that growth deserves to be honoured here.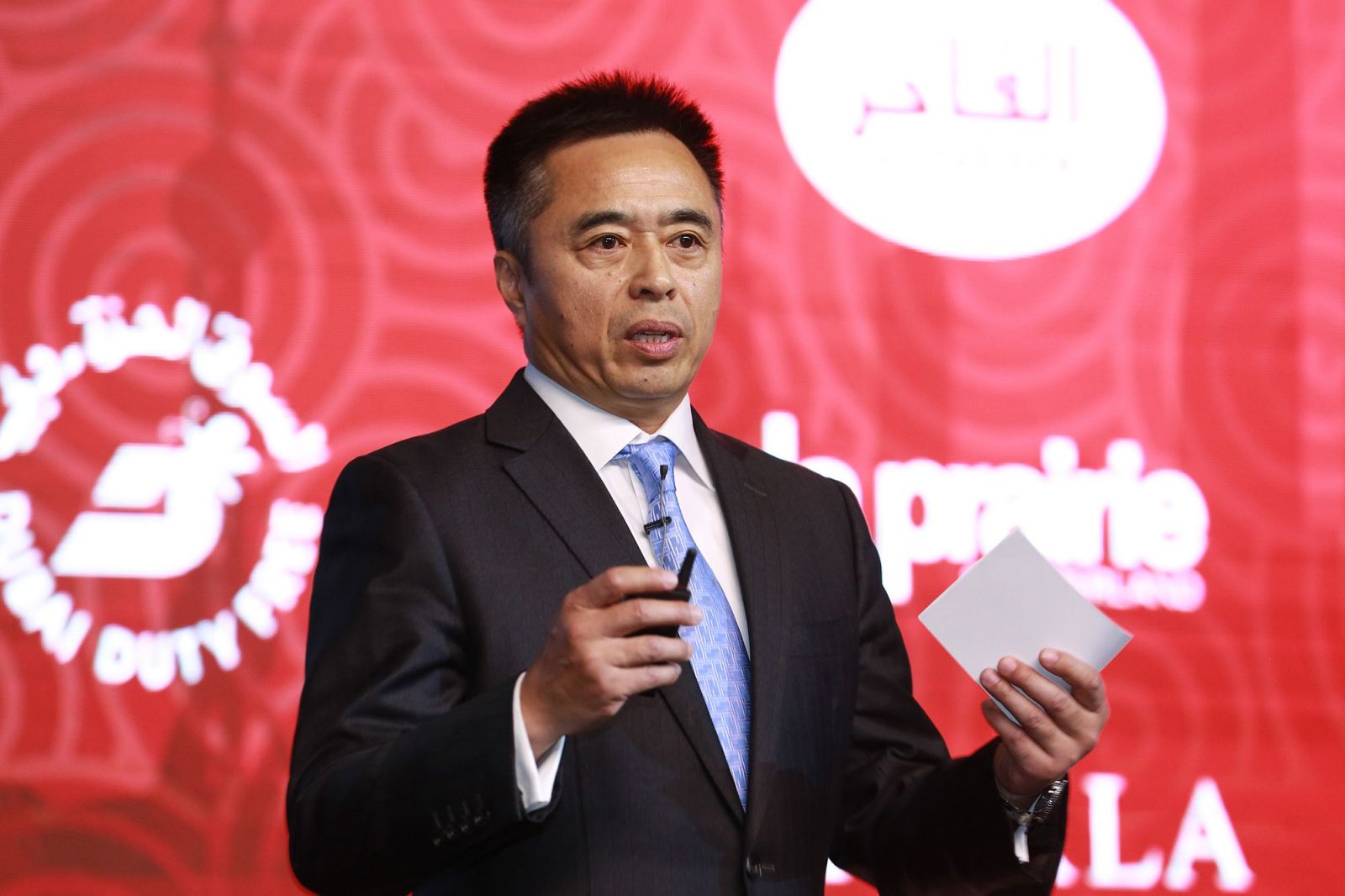 Charles Chen: Driver of dynamism at CDFG.
Bernard 'Benny' Klepach
When Miami-based airline-to-airport travel retailer DFASS unveiled its new corporate identity (3Sixty) and mission statement in October, it marked a new chapter in the story begun in 1987 by entrepreneur Bernard ('Benny') Klepach. The latest stage in the company's evolution is strongly related to its vision for the future of the business and how it will be defined by e-commerce. "A generational change" as Klepach called it.
3Sixty, said Klepach, will play a lead role as a disruptor and innovator in the travel retail sector,and above all redefine its relevance to the travelling consumer. Under Klepach's leadership, closely supported by former Nuance and Shilla Duty Free boss Roberto Graziani, that journey will be compelling to watch. The Klepach-led transformation is not confined to e-commerce; 3Sixty is also rapidly emerging as a vibrant airport retail force.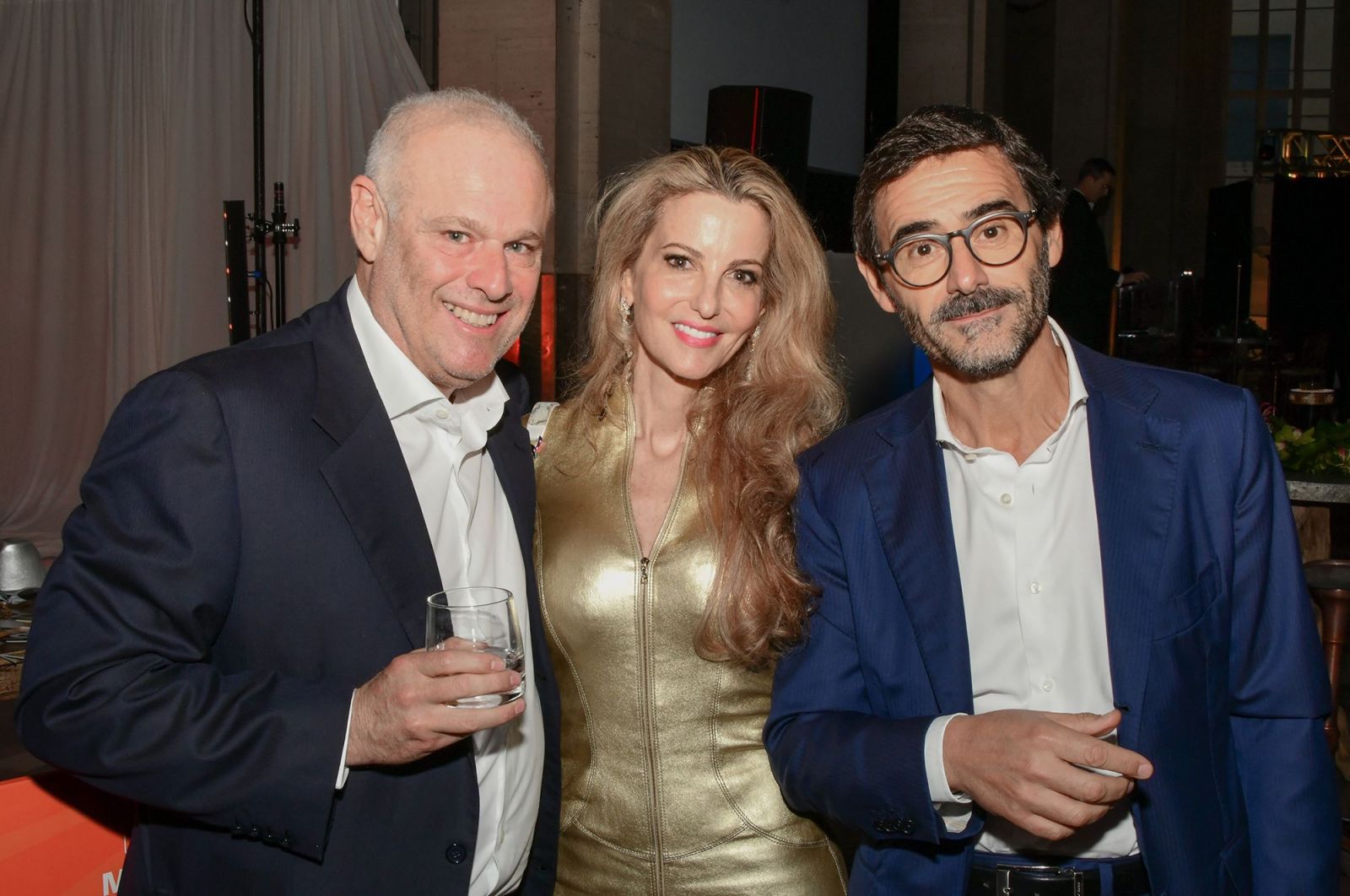 Turning 3Sixty: Benny and Juliette Klepach at the new company's launch with Executive Vice Chairman Roberto Graziani.
Cissy Chan
As Commercial Director of a major airport, you've had a good year if your team can attract a roll-call of the world's great luxury brands to compete and strike deals for your blue-chip boutique concessions. You've had a good year if you can open a series of diverse and dynamic new store environments in partnership with your core category duty free retailers, from liquor & tobacco to P&C to confectionery. You've had a good year if you can introduce an array of eclectic dining partners to your location. And you've had a good year if you can elevate the digital footprint of your airport to new heights, with striking campaigns from advertising and brand partners.
Hong Kong International Airport Executive Director – Commercial Cissy Chan has done all this and more to build the reputation of one of Asia's great airports this year, and richly deserves inclusion in our list for 2018.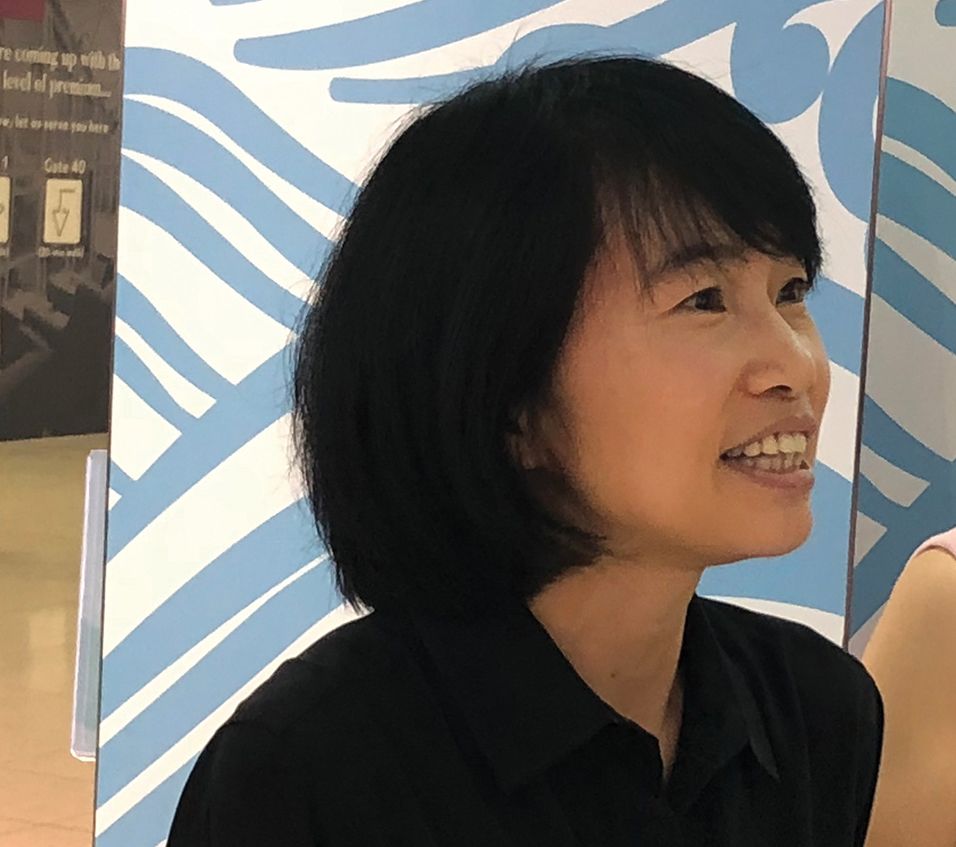 Cissy Chan: A memorable year for commercial development at Hong Kong International.
Inken Callsen
Not many initiatives led by a global travel retailer could attract the support and input of both its peers and many of the world's major brands. Yet Gebr Heinemann's move, initiated last year to create industry standards for the exchange of product-related master data, has gained strong momentum in 2018, with the pledge that its key brand partners, and (crucially) several of its retail rivals, will ultimately benefit.
Currently, to comply with retailers' listing demands, brand owners are required to manually fill out complex forms featuring multiple attributes about each SKU, and to do so for every retailer according to their individual criteria. The initiative to create a data pool in travel retail is an attempt to overcome this complexity through digitalisation, to reduce time and cost for all parties and to create a set of agreed-upon industry standards.
The driving force behind the project is Gebr Heinemann Director Fulfillment Inken Callsen. She and her team attracted over 30 brand owners and travel retailers Dufry, DFS, Lagardère Travel Retail, Aer Rianta International and Kappé International to a ground-breaking meeting in the topic in June to develop the Travel Retail Data Innovation Group.
It's the first attempt to create a global standard for product data, either in duty free or domestic markets. That is critical: in future, the competition won't come from within the industry, but from new channels such as e-commerce. Establishing an agreed basis for data standards is a requirement for travel retail to compete speedily and efficiently with other channels. Expect further steps forward in 2019, with Callsen, her colleagues and importantly, industry competitors working hand in hand towards a common goal.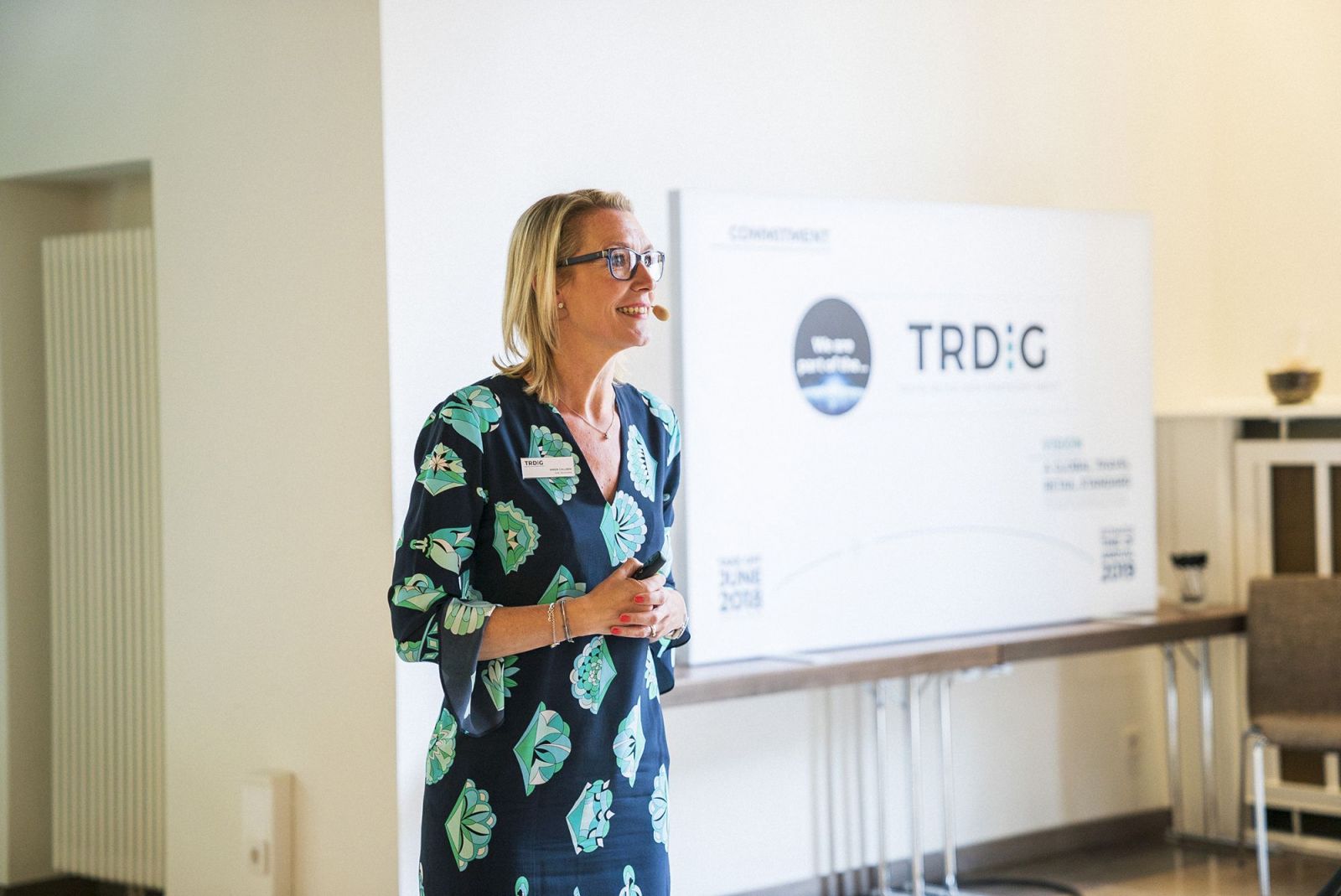 Inken Callsen: Leading a ground-breaking industry collaboration around master data.
Colm McLoughlin
In the week that Dubai Duty Free celebrates 35 years in business, it's fitting that we salute the great leader of that business and travel retail's modern-day global statesman. Colm McLoughlin, famously, was one of a group of Aer Rianta executives who travelled to Dubai in 1983 to set up a fledgling duty free business in the emirate. He stayed to head the company as it delivered US$20 million in first-year sales, and to help it become the world's best-known travel retailer and the largest at a single location.
This tribute isn't just about the past though. Any day now, Dubai Duty Free will hit US$2 billion in annual sales in 2018, representing a strong rise on 2017 and far outstripping traffic growth at Dubai International. That's testament to McLoughlin and his team and their commitment to investment, people, CSR and a relentless focus on service this year, as in every other. At 75, and going stronger than ever, McLoughlin is a living legend of travel retail.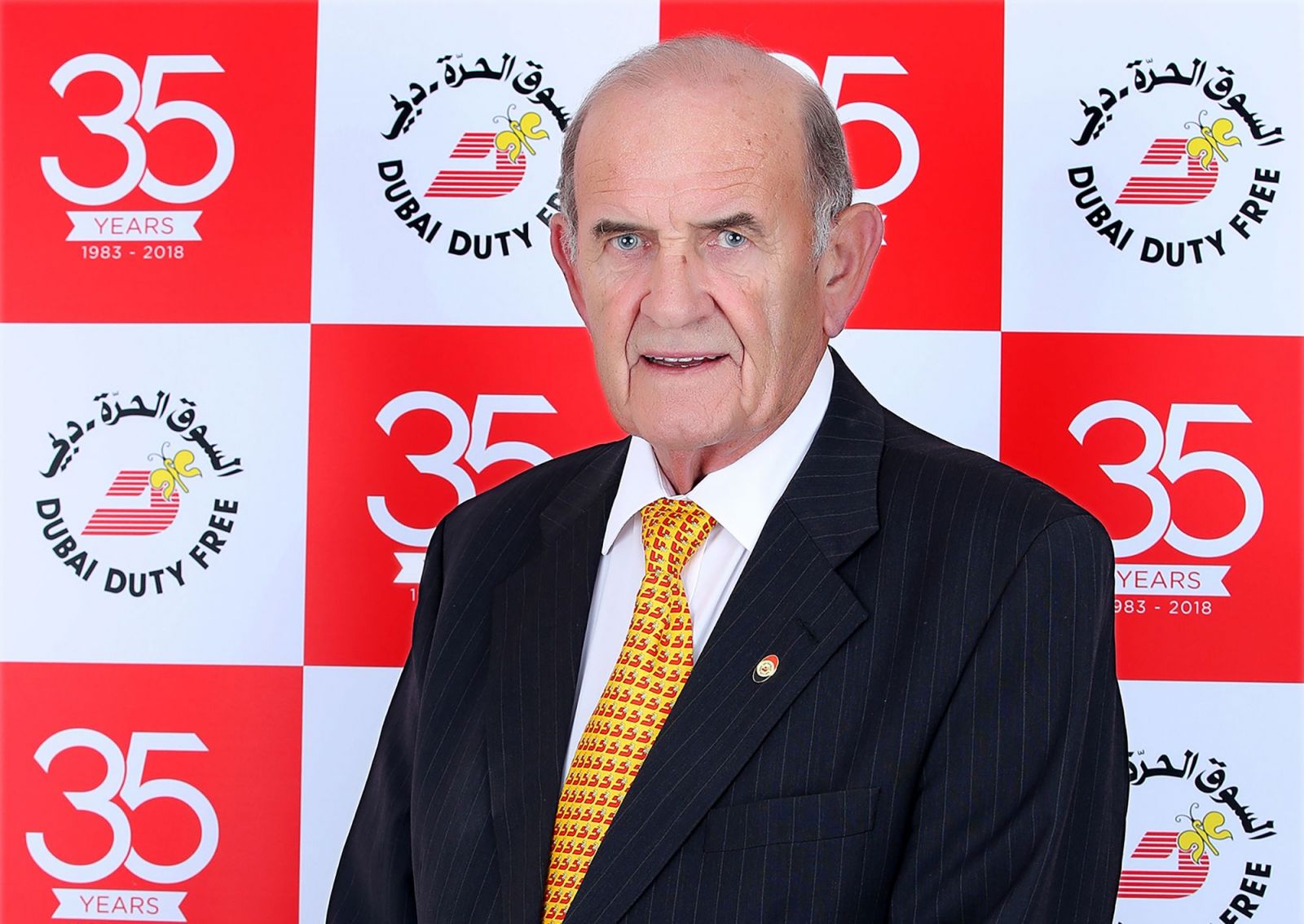 Colm McLoughlin: Saluting a great statesman of the industry.
Erik Juul-Mortensen
A key figure in TFWA's development, and a driving force behind the evolution of its exhibitions, conferences, research services and charitable activities, Erik Juul-Mortensen steps down this month as President of the industry's biggest trade association. His 19 years at the helm – which followed or coincided with his time heading the duty free divisions of Danish Distillers, V&S and Maxxium – saw profound change sweep through the industry, from the abolition of intra-EU duty free to retailer and supplier consolidation to the Chinese travel wave. TFWA has enhanced its status within the industry in that time, from maintaining Cannes as the undisputed global meeting place for the trade to the rise of the Singapore show (from tenuous beginnings) to the creation of TFWA Care, which has been a force for charitable good.
We may not have seen eye to eye on every issue over the past 19 years, but one thing is sure: Juul-Mortensen deserves huge respect and acclaim for his service to the business. No-one could argue that he did not put the interests of the association, and of the wider industry, first.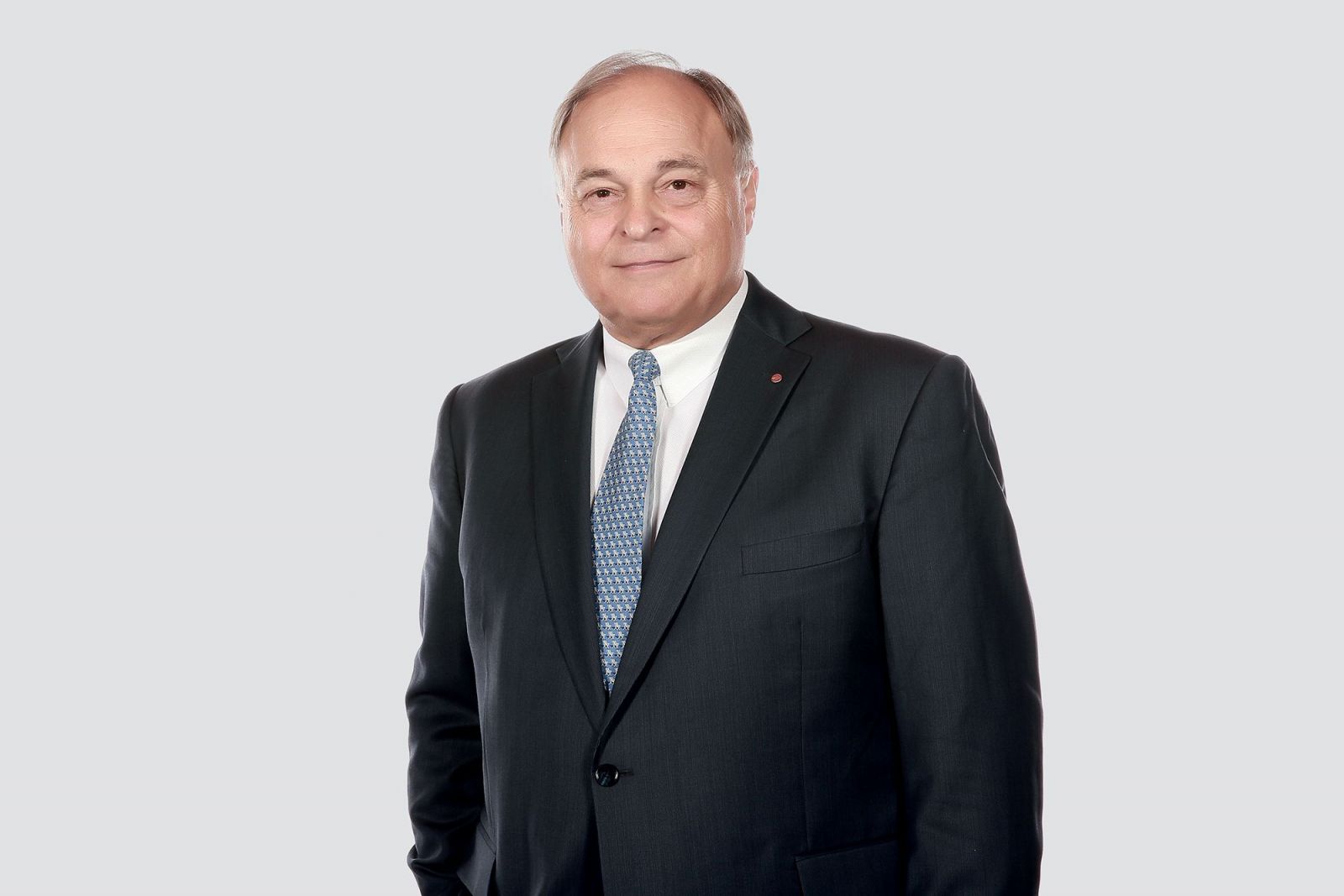 Erik Juul-Mortensen: Advancing the industry's interests.
Kate Swann
The planned departure of SSP Group's CEO in May next year – announced last month – will leave big shoes to fill for her successor, Simon Smith, currently CEO UK & Ireland. Swann helped transform the already well-established food travel specialist into a global heavyweight. Contract gains in major travel F&B markets such as the USA have been accompanied by growth in emerging markets, notably in Asia Pacific. She will leave on a high for other reasons too. SSP posted a sharp +24% hike in underlying pre-tax profit for the financial year ended 30 September, with sales up by strong single digits. Critically, Swann also led the company's IPO in 2014, which has since delivered huge returns for shareholders. From an opening price of 210 pence per share, the stock was valued at 640 just before we went to press. The business world will be watching intently for the next move in Swann's career.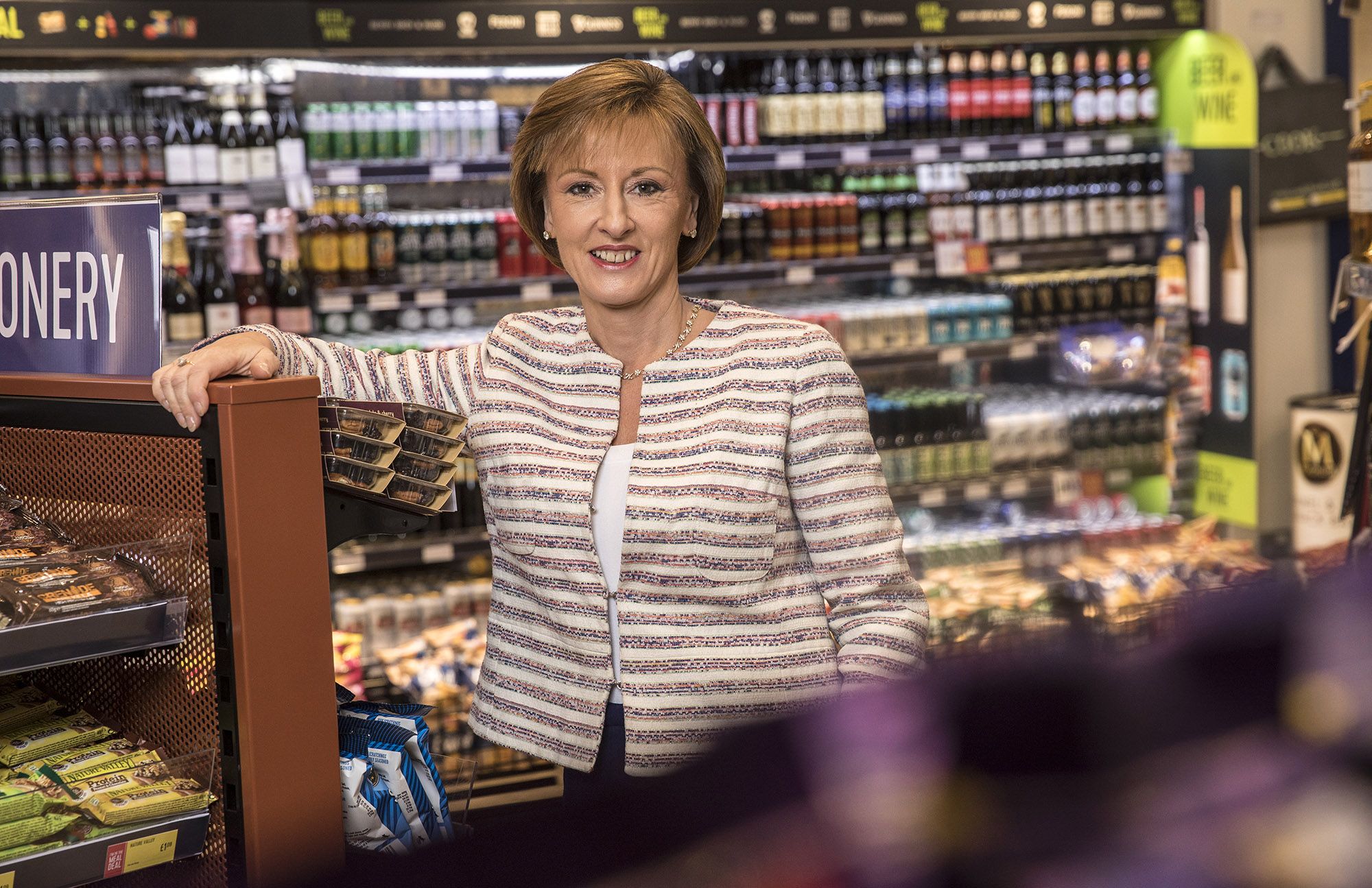 Kate Swann: Delivering on the growth plan and realising value for shareholders.
Marian Aldan-Pierce
The travel retail community has proved its credentials time and again when confronted by natural disasters, from Sri Lanka to Haiti and from the Philippines to Taiwan. Most recently, DFS Group responded swiftly to assist people – including around 90% of its local staff – who were affected by Super Typhoon Yutu which struck the islands of Saipan and Tinian in the Commonwealth of the Northern Marianas on 24 October.
In the aftermath of the damage left behind by the Category 5 typhoon, DFS Saipan President Marian Aldan-Pierce and General Manager Milan Rabold helped mobilise assistance for staff and local residents, from basic daily needs to deeper humanitarian relief.
Led by Marian and her colleagues, DFS went further than that though. The company set up an online fundraising website, pledging to match donations dollar for dollar. We're proud to have played our role in rallying the travel retail community, which has since responded with vigour. "As of today, we have over US$121,000 in the account, not counting what has been given/pledged off line," Marian told us last week. "Assistance to our employees, with the company's match of US$250,000 will be just over US$600,000 when all is set and done."
Such results don't just happen. They take courage, passion, determination and organisational skill of people on the ground. We salute Marian Aldan-Pierce and her team, and urge the industry to continue giving, via the dedicated website, to help those who lives have been destroyed.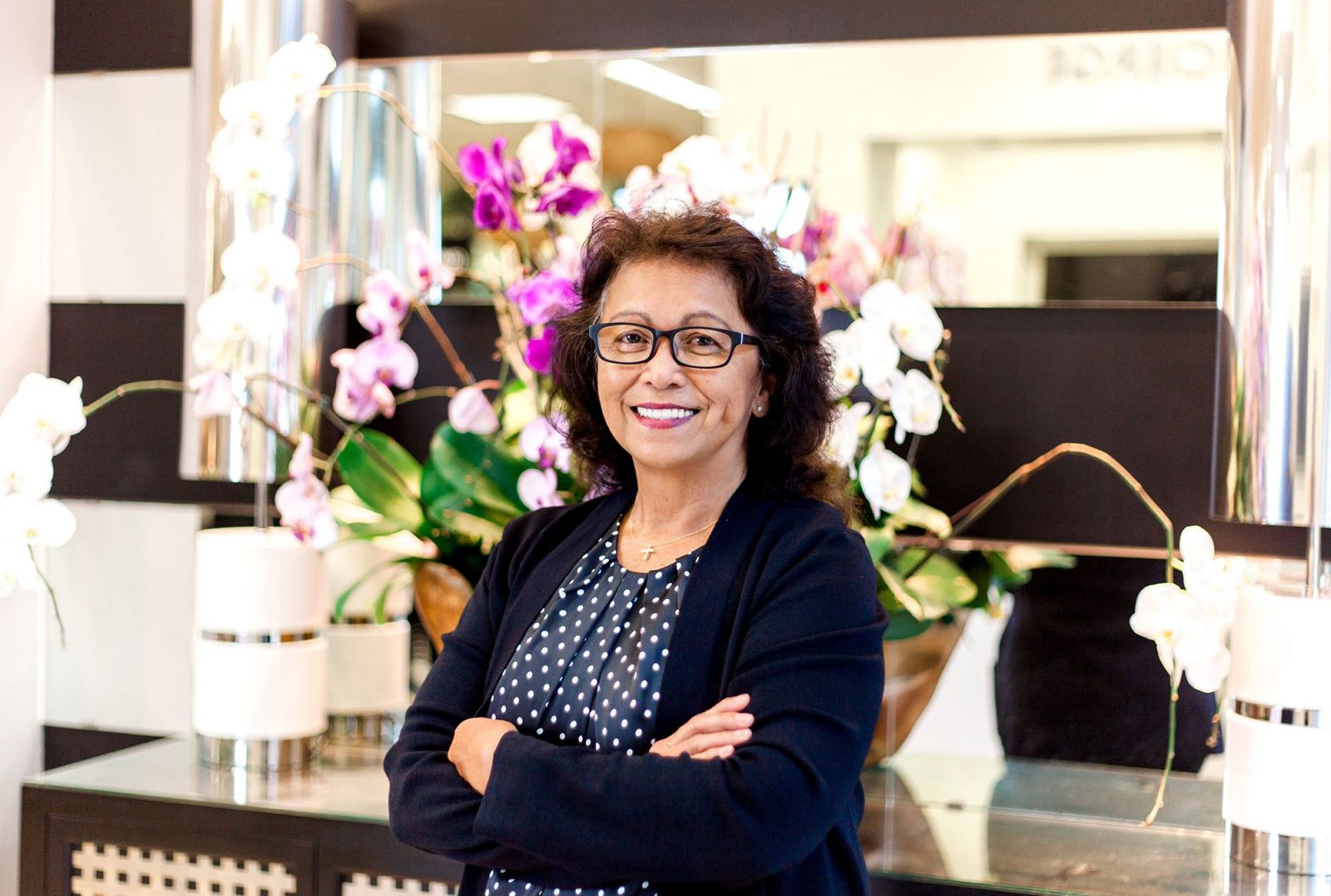 Marian Aldan-Pierce: Providing leadership for staff and the community.
Yungsik Son
The Shinsegae Duty Free CEO has overseen and driven tremendous growth for South Korea's third-biggest travel retailer - and its fastest-rising force. Leading figures in the luxury industry have always admired the highly qualitative approach of Shinsegae, first as a long-time premium department store retailer and over recent years as an emergent travel retail player.
This year, under Son's astute leadership, the retailer has stepped up its game even more. On 5 June it created a new, merged entity called Shinsegae DF Global that brings together its Seoul, Busan and online operations.  It also snapped up two concessions at Incheon International Airport Terminal 1, beating off intense competition from industry number two The Shilla Duty Free for the beauty and fashion businesses vacated by Lotte Duty Free.
Most significantly, the retailer opened its new downtown store in Gangnam, Seoul. Gangnam style? You bet. Shinsegae neatly dubbed the store a "mindmark" consumer experience, providing not only duty free shopping but also a Korean cultural and lifestyle immersion. Son said: "Shinsegae DF Gangnam store will be the starting point of a changing duty free industry as well as a global tourism destination."
Expect Shinsegae's progress to continue. The retailer also has international ambitions as well as those at home. With Son at the helm, it has every chance of delivering them.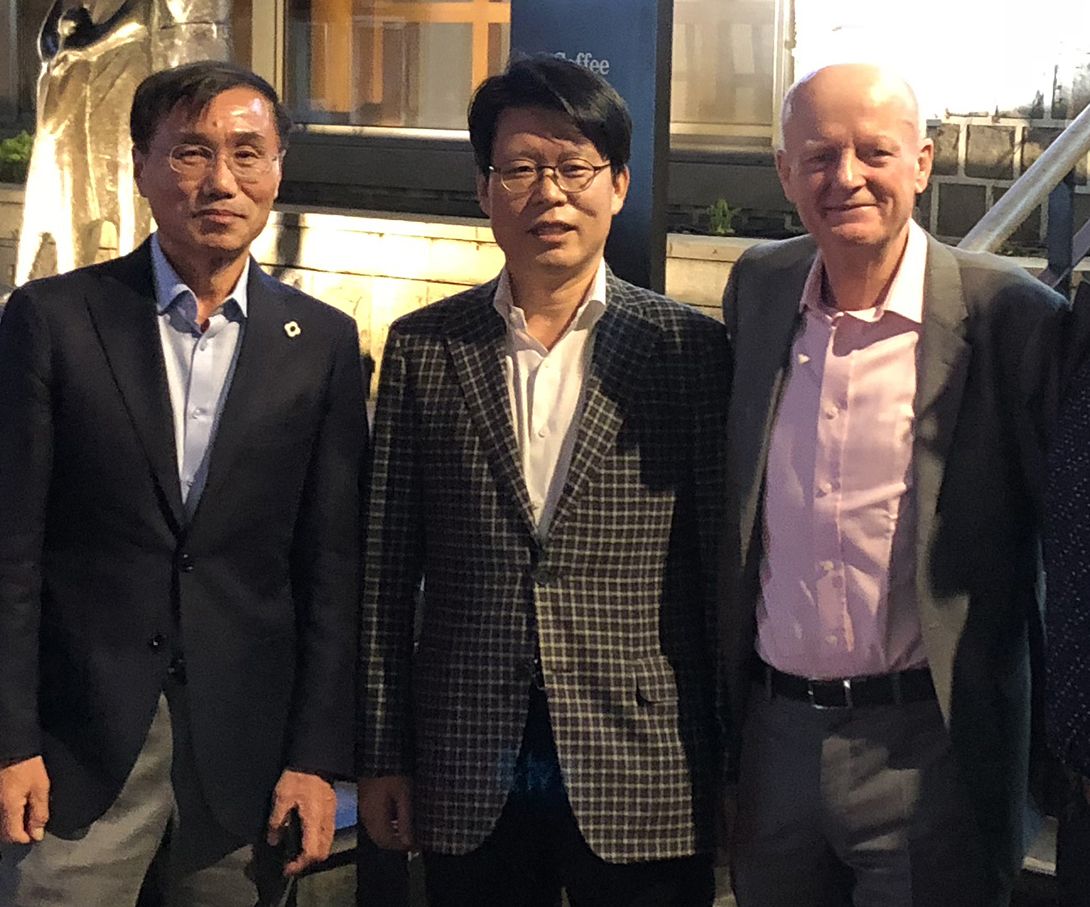 Shinsegae Duty Free CEO Yungsik Son (centre) with Shinsegae International CEO Jeong-ho (Jason) Cha and Martin Moodie in Seoul earlier this year.
Evelyn Danos
Sometime in coming days the owner of JR/Duty Free will sign off the sale of the company's Australasian interests to South Korean travel retail powerhouse Lotte Duty Free. The divestment will mark the poignant end of an era for family-held firm James Richardson, which has brought a proud and successful independent dimension to the business in Australia and New Zealand since it made its return to the region in 2005.
Some history is necessary here. James Richardson sold its Australian duty free operation, including 23 off-airport shops (trading as City International Duty Free) to Swissair in 1995. That acquisition, together with the 1995 purchase of Downtown Duty Free and in 1996 Allders International, formed the basis of The Nuance Group, which was in turn sold to Stefanel and Gruppo Pam in 2002 and later to Dufry. After divesting its Australian operations in 1995, James Richardson focused its duty free activities on its operations in Israel (where today it runs a thriving joint venture with Gebr Heinemann at Tel Aviv Ben Gurion Airport in Israel).
Since that unexpected but successful return to Australasia, the duty free world has changed markedly. Consolidation, led by duty free powerhouse Dufry has altered the competitive landscape and Australasian travel retail is now a competitive battlefield in which giants Dufry, Lagardère Travel Retail, Gebr Heinemann and Aer Rianta International all boast a presence. Inevitably that has meant the cost of entry from a concession fee perspective has escalated, while both contract retention and new gains are increasingly hard-fought. JR/Duty Free is no minnow (it ranked world number 16 in The Moodie Davitt Report's annual Top 25 Travel Retailers' league based on 2017 sales) but it finds itself surrounded by much bigger fish in a sea that could become increasingly voracious in coming years.
The sale (of the Australasian business only, not those in Israel and Tahiti) is therefore singularly well-timed. Evelyn Danos, the daughter of the company's legendary founder David Mandie, deserves immense credit for her foresight in returning to the business and in exiting it. She, together with JR/Duty Free's much-respected senior executives Garry Stock and Milton Lasnitzki have also brought much thought leadership and great integrity to the travel retail channel over many years and her inclusion in this year's list is richly merited.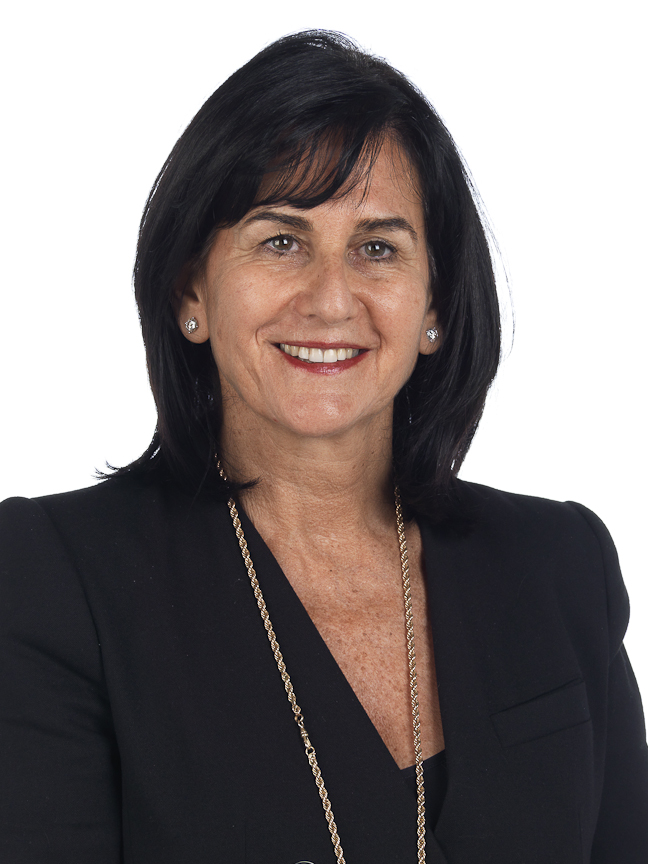 Evelyn Danos: Acumen, thought leadership and integrity.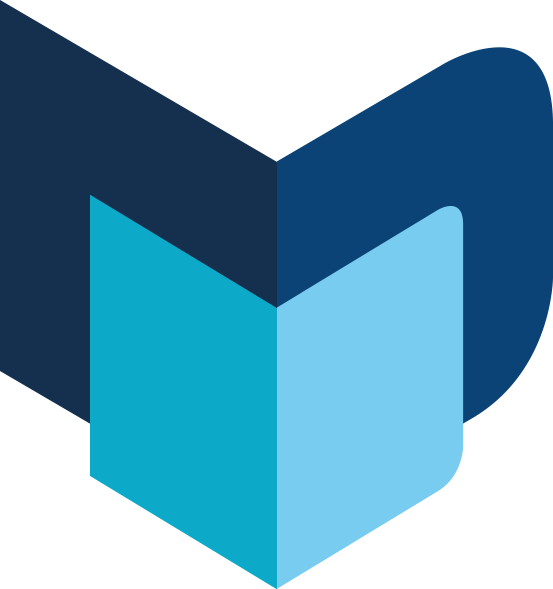 ---
The Moodie Davitt e-Zine | Issue 254 | 21 December 2018