The Moodie Davitt Report 'Duty Calls' Charity Dinner: Putting children and child safety first
Welcome to Duty Calls. This regular feature aims to shine a light on some of the most laudable examples of altruism and sustainability within the travel retail industry by companies that go beyond the call of duty (or of duty free). In this edition we reveal details of a new partnership between The Moodie Davitt Report and Friends International, which works with disadvantaged children, youth, families and communities across Asia, Africa and Europe.
The Moodie Davitt Report has nominated Asia Pacific charity Friends International as its beneficiary for The Moodie Davitt Report 'Duty Calls' Charity Dinner and other fundraising activities planned throughout 2019.
The Charity Dinner (see further details below*) is The Moodie Davitt Report's third such event, following hugely successful fund-raisers in Hong Kong in 2007 and 2012.
Friends International, which was founded in the early 1990s in Phnom Penh, Cambodia, has 25 years of experience working directly with disadvantaged urban children, youth, families and communities, across several countries in Asia, as well as Africa and Europe. The charity enables individuals who lack opportunities to become productive, independent citizens.
"Our fundraising initiatives will help raise support and awareness for Friends International's programmes on vulnerable and disadvantaged children in particular," explained The Moodie Davitt Report Events and CSR Director Michael Barrett.
"The programme, which Friends International runs in several countries across Asia, enables children who have come from very precarious environments to be raised in safe family homes, including children who have been abandoned in hospitals due to sickness or disability."
The funds raised will also help provide professional training for young adults who have not had the opportunity of a formal education, in industries such as beauty, tourism and hospitality.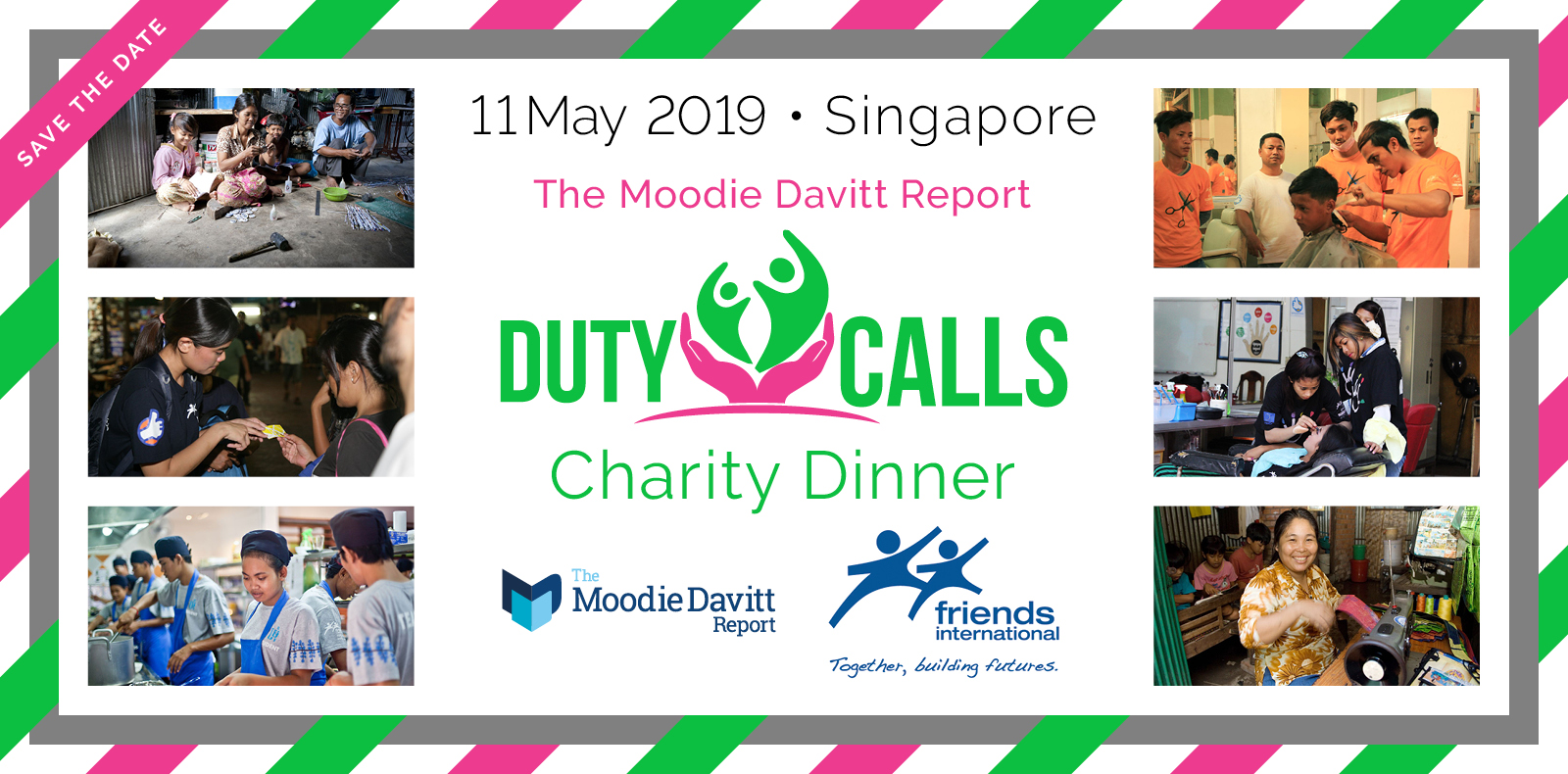 Save the date: Interest is building in next May's charity dinner.
Saving lives and building futures
The charity, whose maxim is 'Together, building futures' provides access to comprehensive services including medical care, shelter and food, whenever and wherever they are needed – on the streets, in communities and in prisons.
"This is all part of our holistic approach to assisting over 130,000 people a year to improve their lives," said Friends International Founder and Executive Director Sebastien Marot. "We also created the international initiative The ChildSafe Movement, which enables all of us – citizens, businesses and authorities, to play an effective role in protecting children and advocates on child protection to millions globally.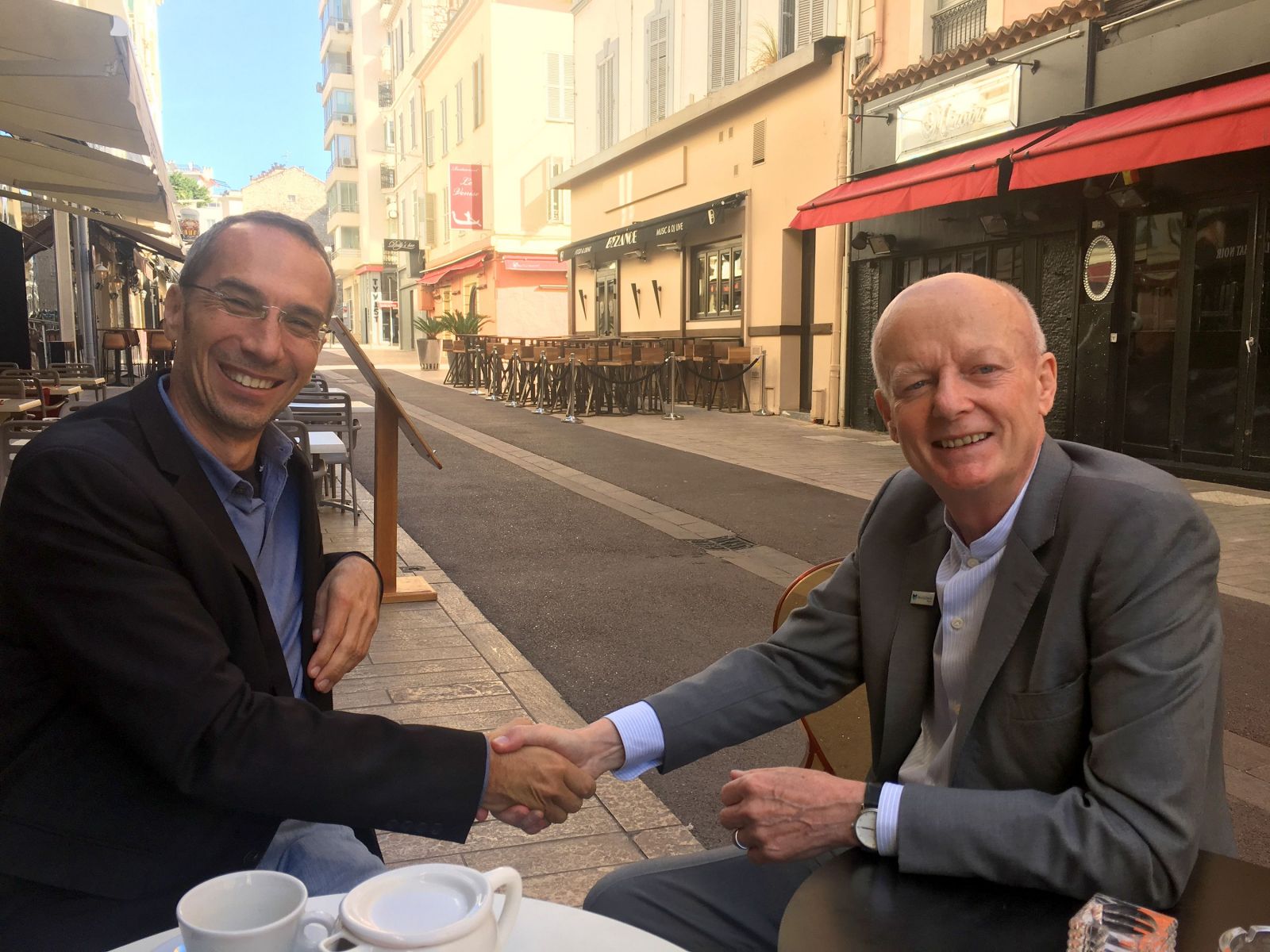 "Together, building futures": Friends International Founder and Director Sebastien Marot (left) meets The Moodie Davitt Report Founder & Chairman Martin Moodie in Cannes recently to cement the charity partnership.
"We are delighted to collaborate with the travel and travel retail industry and the opportunities to build awareness among international travellers around ChildSafe, as well as for the funds this partnership will raise for our child welfare programmes."
Each year Friends International supports thousands of children to return to their families, go to school or learn a trade and find decent employment. Working closely with the children's families, the charity empowers them to be able to support themselves, so that they no longer need to send their children out to work or into residential care.
The Moodie Davitt Report Founder & Chairman Martin Moodie commented: "We're very excited to partner with such a noble and well-established organisation with a strong track record across South East Asia and beyond. Children are our future, and we believe this cause hits the very heart of our industry.
"The work done by Friends International on child safety and on professional training with young adults in sectors closely connected to travel retail, and the potential to build awareness with international travellers and tourists on the importance of child safety, makes this partnership all the more meaningful."
The Moodie Davitt Report 'Duty Calls' Charity Dinner will be held in Singapore on 11 May ahead of the annual TFWA Asia Pacific event, and will bring the industry together for a spectacular evening. The dinner will not only raise funds for Friends International's projects, but also celebrate the industry's profound and long-standing commitment to CSR. A number of companies have already pledged support for the event. More details will be announced soon.
The Moodie Davitt Report will be launching a series of fundraising initiatives, to be announced in the near future, which will aim to rally the industry together around this worthwhile cause.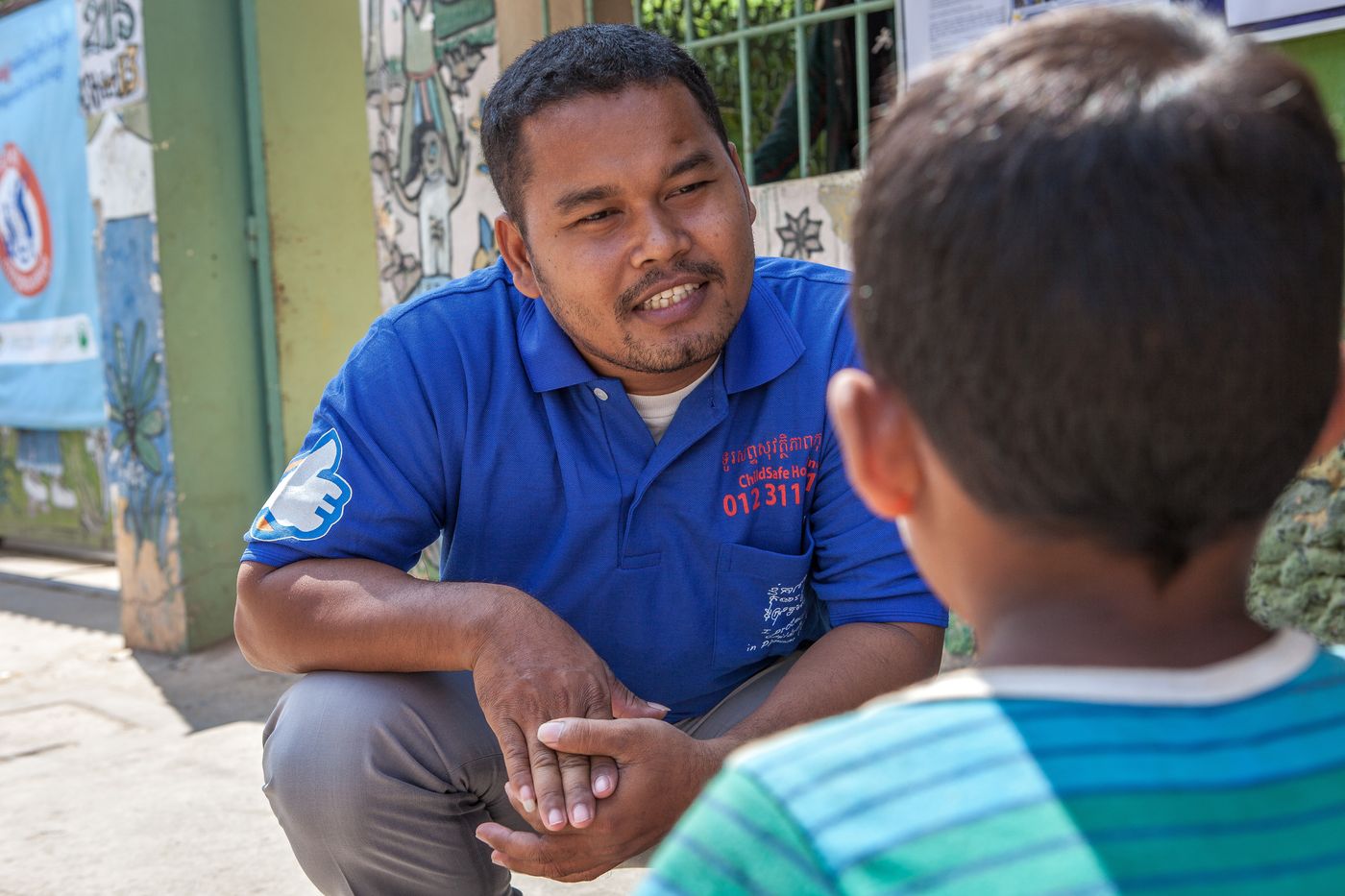 Sebastian Marot: "This is all part of our holistic approach to assisting over 130,000 people a year to improve their lives."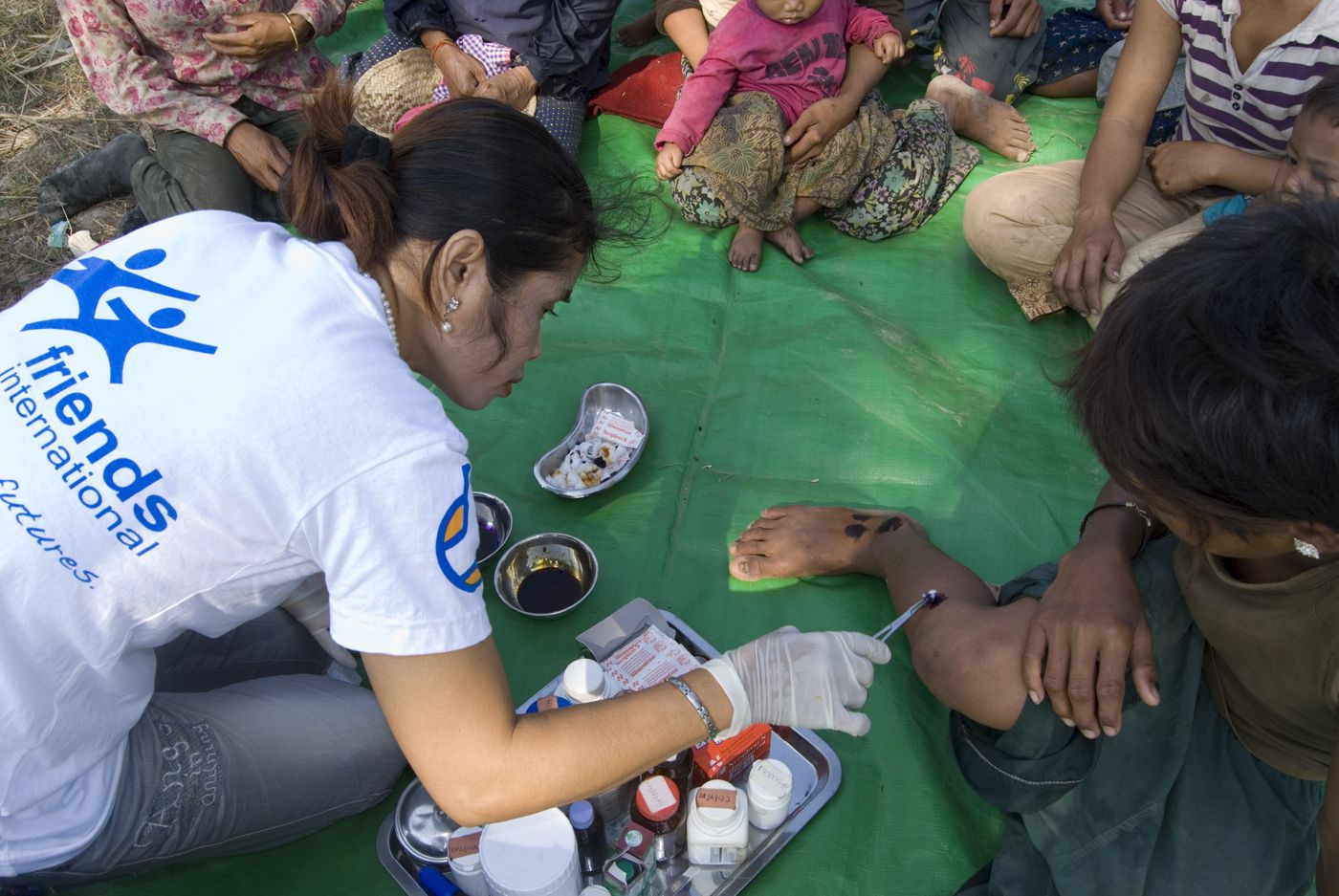 Outreach campaign: A doctor working for Friends International cleans an injury sustained by a child worker at the Siem Reap tip.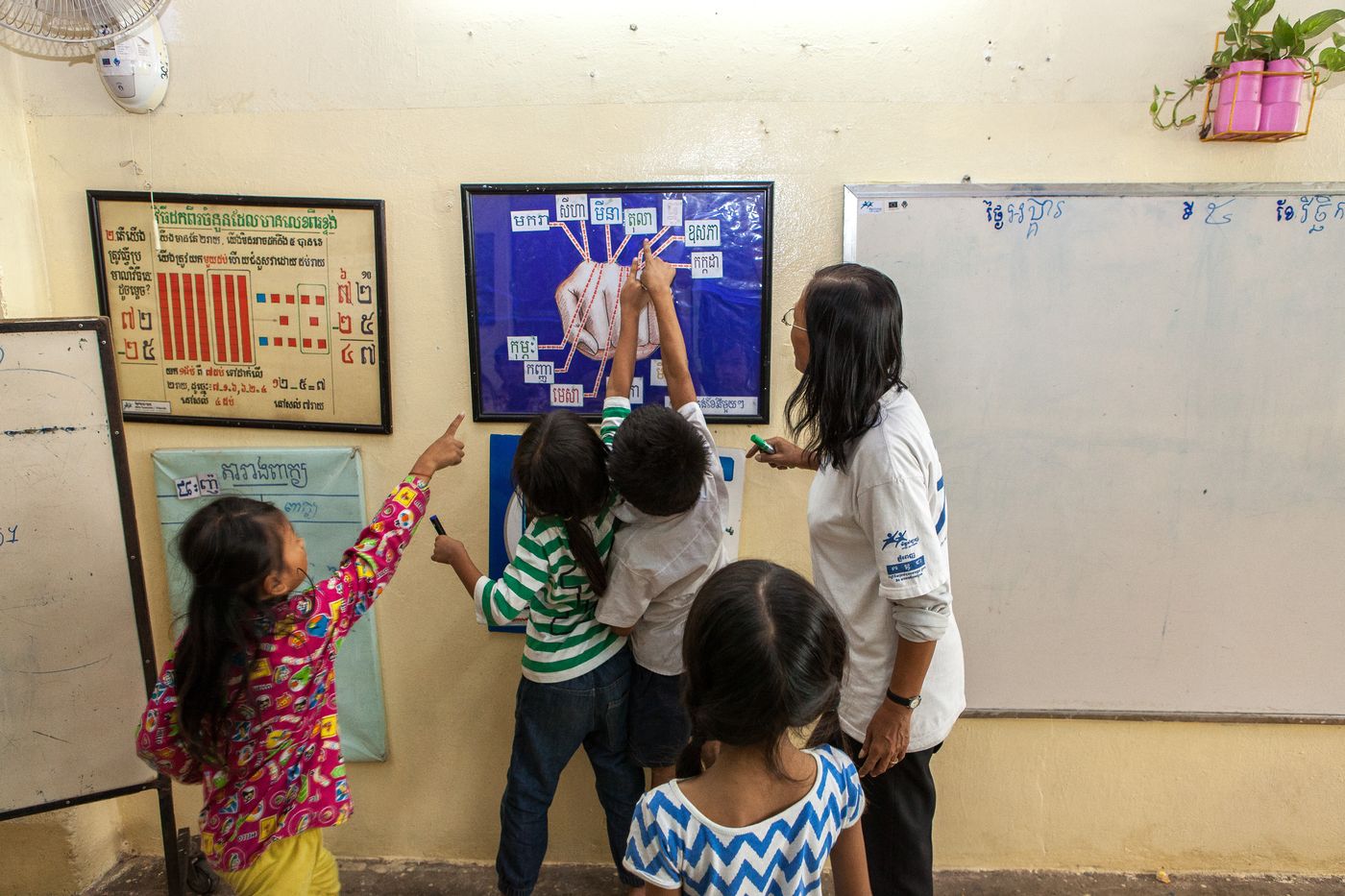 Young people and their families are empowered to help themselves with the support of Friends International.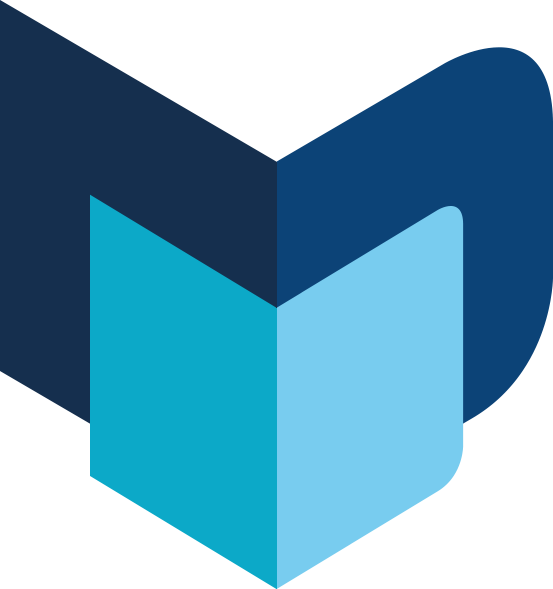 ---
The Moodie Davitt e-Zine | Issue 250 | 30 October 2018