---
Roberto Graziani on a DNA redefined
Omni-channel
Denoting or relating to a type of retail which integrates the different methods of shopping available to consumers (e.g. online, in a physical shop, or by phone) – Oxford English Dictionary
Roberto Graziani is the man charged with leading the transition of Duty Free Air & Ship Supply (DFASS) into a reimagined, refocused travel retailer. After years heading big industry corporates, The Nuance Group and The Shilla Duty Free, he faces a very different challenge in shaping the future of an archetypal entrepreneurial, often unorthodox, business; one crafted by the vision, energy and approach of a single man.
In a typically candid interview conducted on the day of the company's rebranding, Graziani told Martin Moodie that the creation of 3Sixty is a proactive response to the opportunities and threats of our times.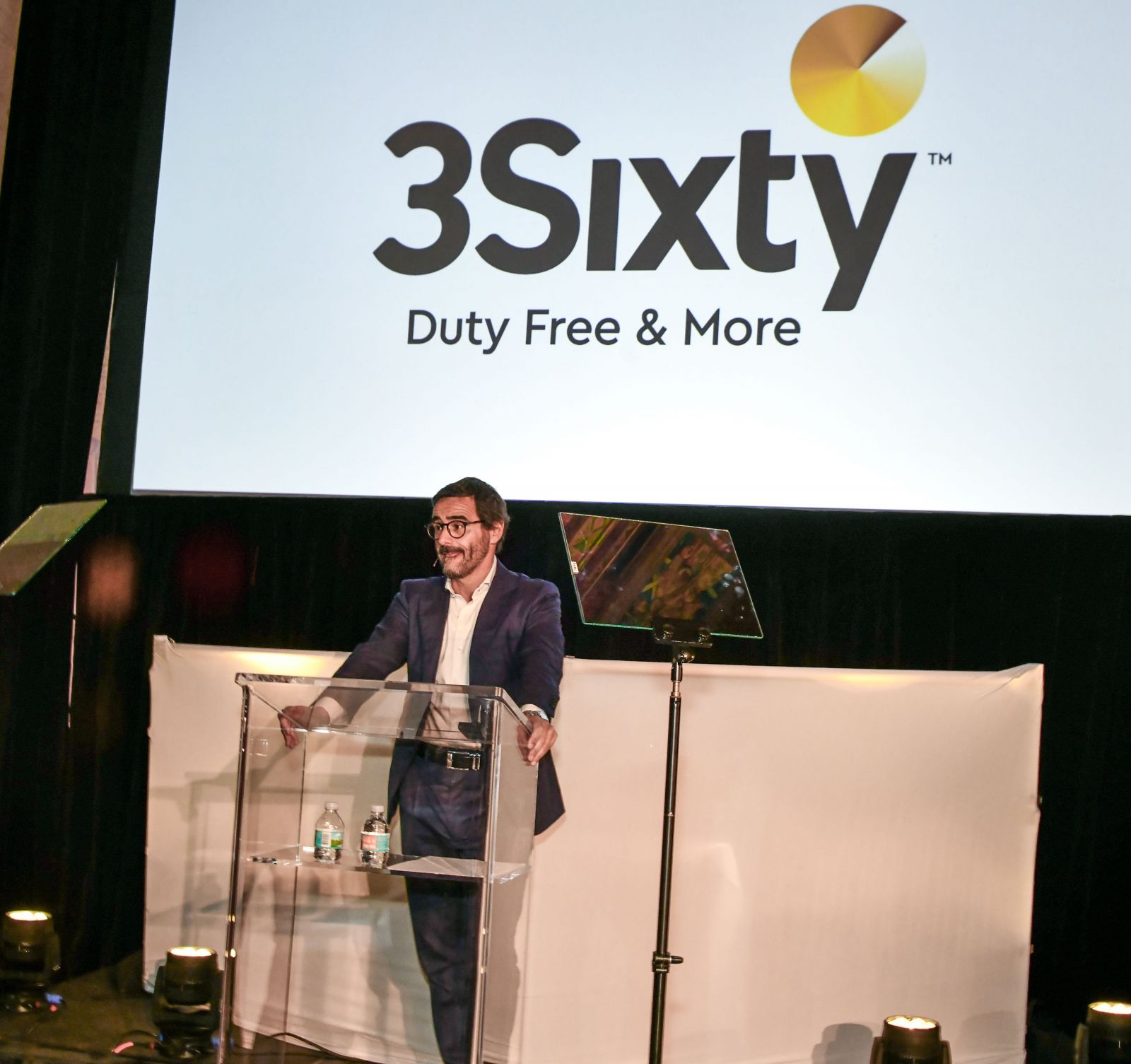 Roberto Graziani reveals the new identity, noting: "We understood our need to better leverage our strengths, improve our weaknesses and eventually modify our business culture to be more consistent with our current size and the role our company is now playing in the travel retail industry."
[All photos: Steven Shire]
Martin Moodie: Roberto, what we're seeing today is the creation of a new corporate entity out of a very traditional entrepreneurial one, re-imagined with a modern name, and forward-thinking vision. You've driven the whole project, what were your key goals when you set about it?
Roberto Graziani: Everything started from where the industry was going. The industry was and still is evolving rapidly. And DFASS was a company that was still doing business in the same way that Benny started doing it 30 years ago. He has tried to evolve and to use innovation, but… we needed to wake up, to understand the challenges that the business we were operating was going through and to rethink completely the way in which we should do business.
Omni-channel is the way in which we think the business has to be addressed in the future. Omni-channel has also driven the way in which we have defined our new name and logo. But the name and logo is a consequence of a process that starts with the re-definition of our DNA, our brand strategy – what we want to be internally and externally, what we want to achieve in the long term, and the way in which we want to do business with our partners.
I found in DFASS a company that hadn't put a lot of focus on building very strong, long-term, win-win strategy partnerships. Benny has very strong relationships, but apart from such personal relationships, I think the company was not doing business in that [long-term] way. And today you cannot achieve anything if you are just by yourself.
You need to have partners that are also helping you. The definition of the omni-channel business model was also achieved with the help of certain partners, who gave us ideas and pushed us in trying to do something different.
Specifically, Singapore Airlines?
No, not just specifically [them]. Though knowing that we are the biggest inflight operator, they wanted us to start exploring new ways of doing things. In my previous professional experiences, I never thought the inflight business model was interesting, because ten years ago I started seeing the decline of that business.
Brands that are still heavily involved in the inflight business – and all of them are, apart probably from Dior and Chanel – all felt the pressure that this business was shrinking. They pushed us to find a way to take advantage of and leverage the technology of today that allows the business to be done in a different way.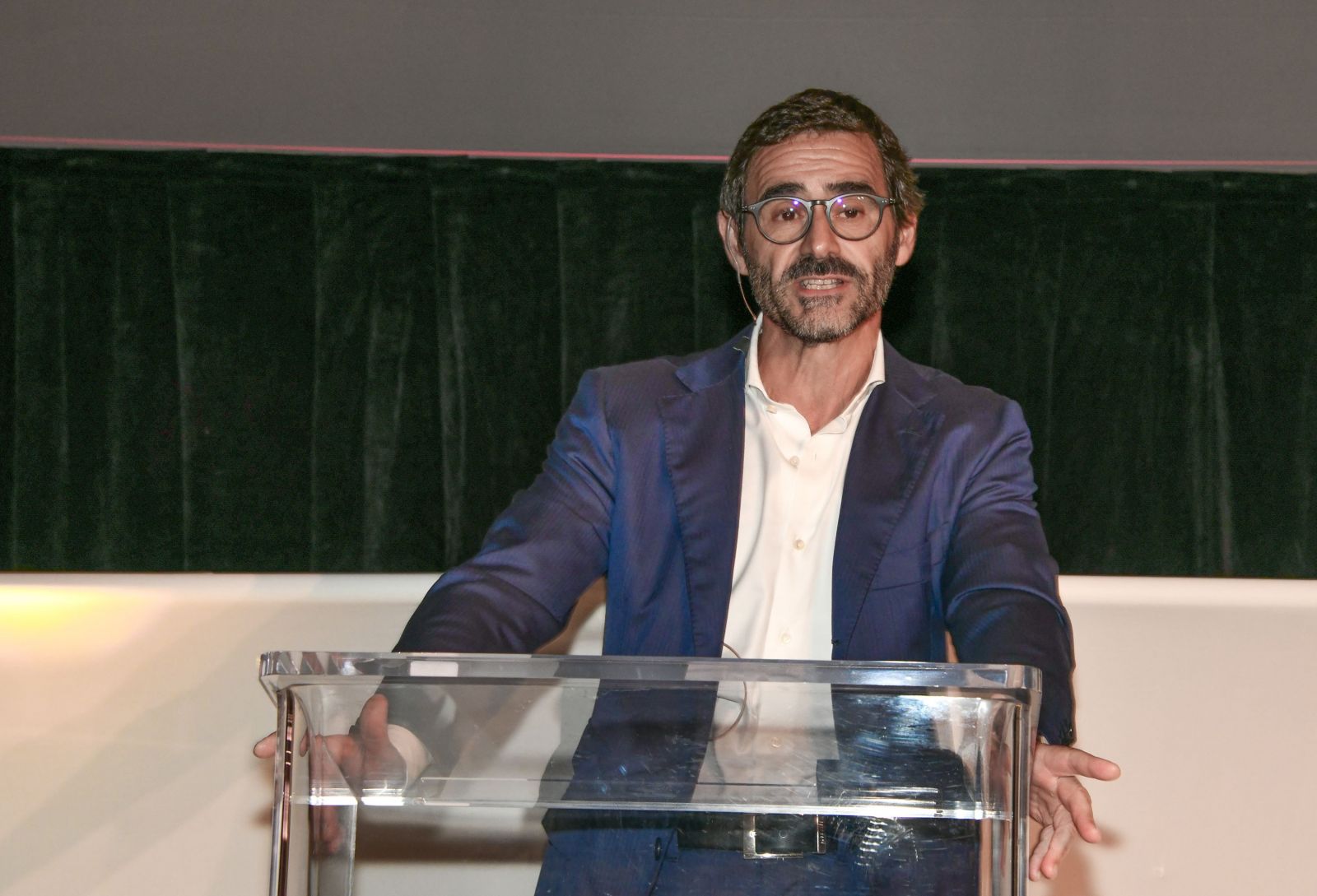 "The overall process has led us to create a new strategy for our brand, our DNA, with a new vision, mission and proposition statements and new brand values for the company."
It strikes me that those brands like the airline consumer base very much. They like who's flying around in all those planes around the world. But they have a very jaundiced opinion of the way their brands are sold within that channel – the historic, archaic method via the trolley and the inflight brochure. So, to rid that jaundice it was a matter of marrying that audience to their brands in a much more contemporary way. And I suppose that's exactly where you're coming from.
Yes, for sure. Another very important piece is to have a better knowledge about those customers and having the possibility to get from the airline all the data about their loyalty customers.
That also delivers huge value to the brands because they can now work with us in understanding who they are going to serve. In fact, we have got huge interest from brands, because they have understood that among the passengers Singapore Airlines serve, there are four or five million that are very high-end, loyal customers. PPS Club members have an incredible propensity in terms of spending money and shopping. And this is what they [the brands] are looking at.
Before, the airlines were a kind of poor relation within our travel retail sector. And yet what you're doing here strikes me as re-shifting the balance so they actually could become the epicentre. You are marrying the great brands of the world with great airlines, with great consumer insight, with what 3Sixty brings to the party: operational expertise. That's a potentially very strong combination.
If you see some statistics and watch how much now that the normal [domestic market] retail industry is evolving and how much market share that online is taking, especially in Asia, you could soon figure out that this model could be a very, very strong competitor of the airport retail model.
Because for an airport retailer to drive traffic to its own website is very difficult. Airport retailers don't have the exposure to the consumers that allows them to build a very strong brand. I never wanted to invest in the brand as a [airport] retailer, because travellers are travelling through an airport because of convenience, not because of the retailer who is there.
They are not thinking about the duty free retailer that is present in a specific airport when they are googling about shopping. Whereas if you are booking as a traveller through the airline booking system or even booking through other systems, the airline is a very strong brand. Already we have got a partnership with [Chinese travel services giant] Ctrip and others are coming.
We know exactly when the potential consumer is going to travel from where to where. That consumer doesn't even need to look for the [retail] website, because through the booking process we can immediately give him or her the possibility to enter into the shopping area – or to contact them with personalised offers from the date of the booking till the date of the flight and during the flight.
This model, I believe, has a very strong potential in the industry.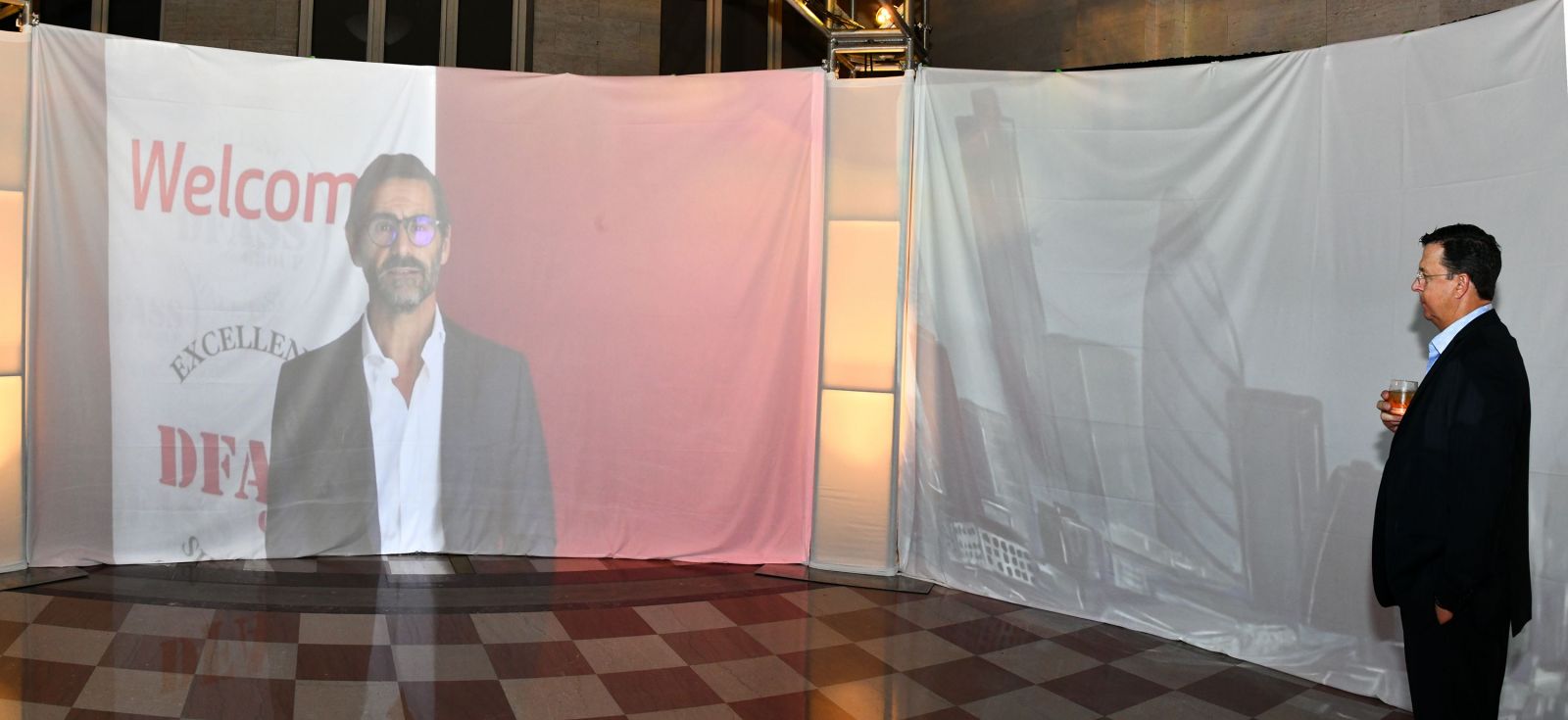 Coming full circle: Bacardi Regional Director Global Travel Retail Americas Geoff Biggs watches the Roberto Graziani message inside the 3Sixty experiential zone set up for the launch.
We've perhaps just seen the death knell of one of the biggest US retailers, Sears, which has gone the way of numerous other US and international competitors. Traditional bricks-and-mortar retail faces fierce attack all around the world, whether it's North America, Asia or elsewhere. Our sector, travel retail, seems vulnerable – and always did – to the e-commerce giants. And, yet, by and large, it has held its own in recent years and sales have grown.
Inflight retail on the other hand has been eroding. You seem to be saying that there's a future positive for travel retail, particularly inflight – or at least inflight omni-channel. What about airport retail if it also embraces this new world?
I think that from an airport retail perspective, it's more difficult to engage the traveller online, because you don't know the traveller until he's in front of your shop.
However, I do think that airport retail still has a good chance to succeed through in-shop innovation, through entertainment, through exposure of a mix of brands that are difficult to find in the domestic market – and even online sometimes.
So, I'm not saying that airport retail is going to lose its current appeal to the consumer. But it's also true that consumers are travelling through airports more and more but are looking at their own phones instead of looking around and therefore it's becoming more and more difficult to engage them.
At the end of the day, though, the airport is keeping potential consumers very close to the shops for a few hours. There is also the convenience of killing time and shopping while you are there. So, you have a captive audience and if you are a good retailer I think you have a chance to continue to do a good job.
But surely this omni-channel model – led by an airline, because you need to get in partnership with the airline, and you need to be able to use the consumer data that the airline has – is the way forward.
So, it's not that the consumer has to look for you, but you need to look for the consumer. And we have all the customer data to do that.
This, I think, could become a very powerful business model. Singapore Airlines is very committed to investing in deploying this model in a proper way. We also have other airlines with which we are working to implement something similar. The fact that Singapore Airlines wanted to have a majority in our joint venture [DFASS-SATS Pte Ltd -Ed] speaks quite loudly about their commitment to this kind of business.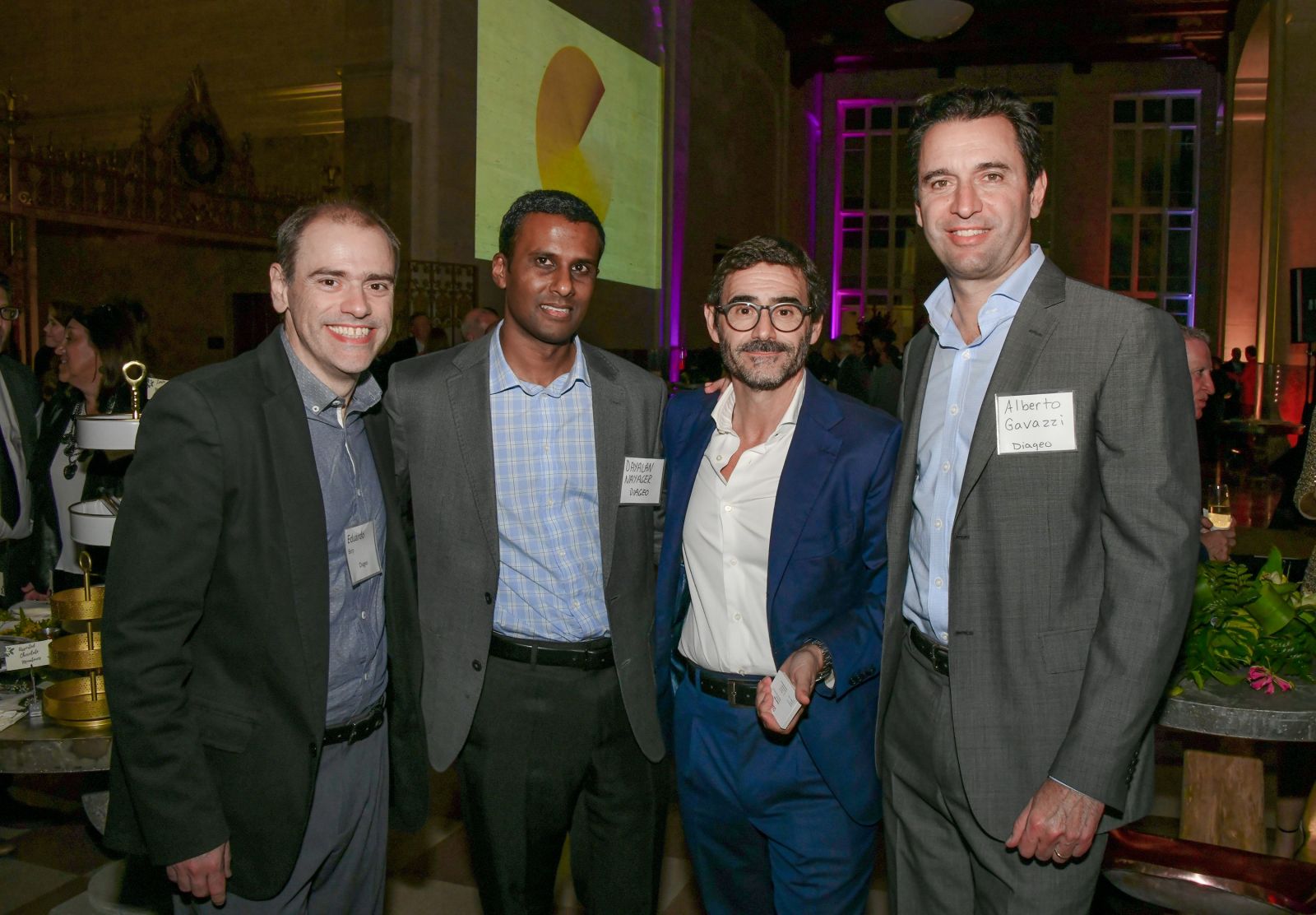 Roberto Graziani with Diageo executives (from left) Eduardo Barp (General Manager CCA - Caribbean and Central America); Dayalan Nayager (Managing Director Global Travel); and Alberto Gavazzi (President LAC, Global Duty Free and Global Sales).
To close, let's talk about Roberto Graziani. You've headed the Nuance Group and The Shilla Duty Free – two of the giants of the business – and have had great success with both. Probably one of the more unlikely career moves in our industry was the same Roberto Graziani joining DFASS, now 3Sixty, i.e. a classic entrepreneurial company founded by one man, and driven by one man's energy, passion and even quirks.
And yet you've come in here, and you've clearly been given a lot of freedom to operate. You're very much in the shared driving seat of 3Sixty's creation. So, tell us about what drew you to the role and how you're enjoying the ride so far.
As you said, after 15 years of Nuance first and Shilla afterwards, I had the lucky situation to decide what I wanted to do in my career. I could've stayed in Shilla. Nobody asked me to leave, but I was feeling more from a personal point of view quite a lot of pressure not to live so far away from my family and so on.
What I saw in DFASS was a project. I saw a potential opportunity together with all the challenges – and there are quite a lot of challenges! The company has been built and developed by an entrepreneur, not by a team of executives. The entrepreneur usually develops very well what he is interested in and he leaves back what he's not interested in. But those things are a must for a company when a company is becoming bigger.
I'm talking about processes, procedures, systems, and so on. When you are working with a very strong entrepreneur, unless you have your own strong personality, it's not easy because ultimately the entrepreneur could always have the last word.
So, I found the project interesting. I also realised that probably Benny was at a cross point of his entrepreneurial career. He did realise that to make a step forward he needed to bring in a more professional team of people in leading the business. And I said to myself, "Why not?"
It was not an obvious decision, but I have enjoyed taking it. I'm enjoying working with him and I'm enjoying working both with the people that were in the team before and those that we brought in since I arrived.
This project has really developed in a way that I envisaged from the beginning. Benny could have been a little bit, I would say, disappointed in a potential change of name. Yet I found him very enthusiastic and he embraced the opportunity and thought it was a really good thing to do. I hope we will be able to do with 3Sixty even more than what has been achieved with DFASS and I'm quite confident we will.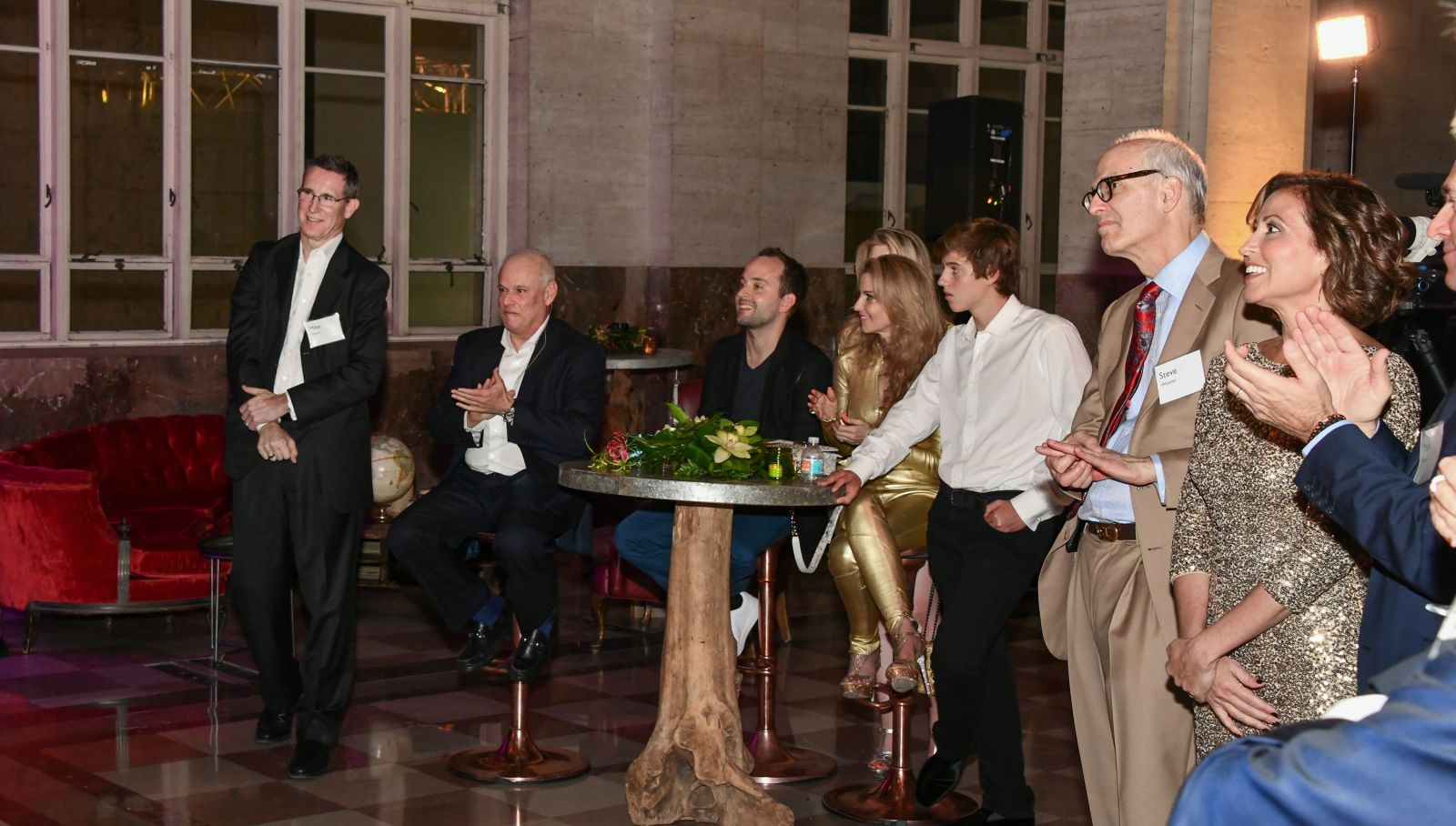 Future positive: Fellow management, the Klepach family, friends and business partners applaud as Graziani unveils the 3Sixty identity.
Designing a future-proof solution
London company Designhouse was responsible for the creation of the former DFASS Group's 3Sixty identity. Here, Creative Services Director Peter Dobie (below) outlines the rationale and approach behind the new look.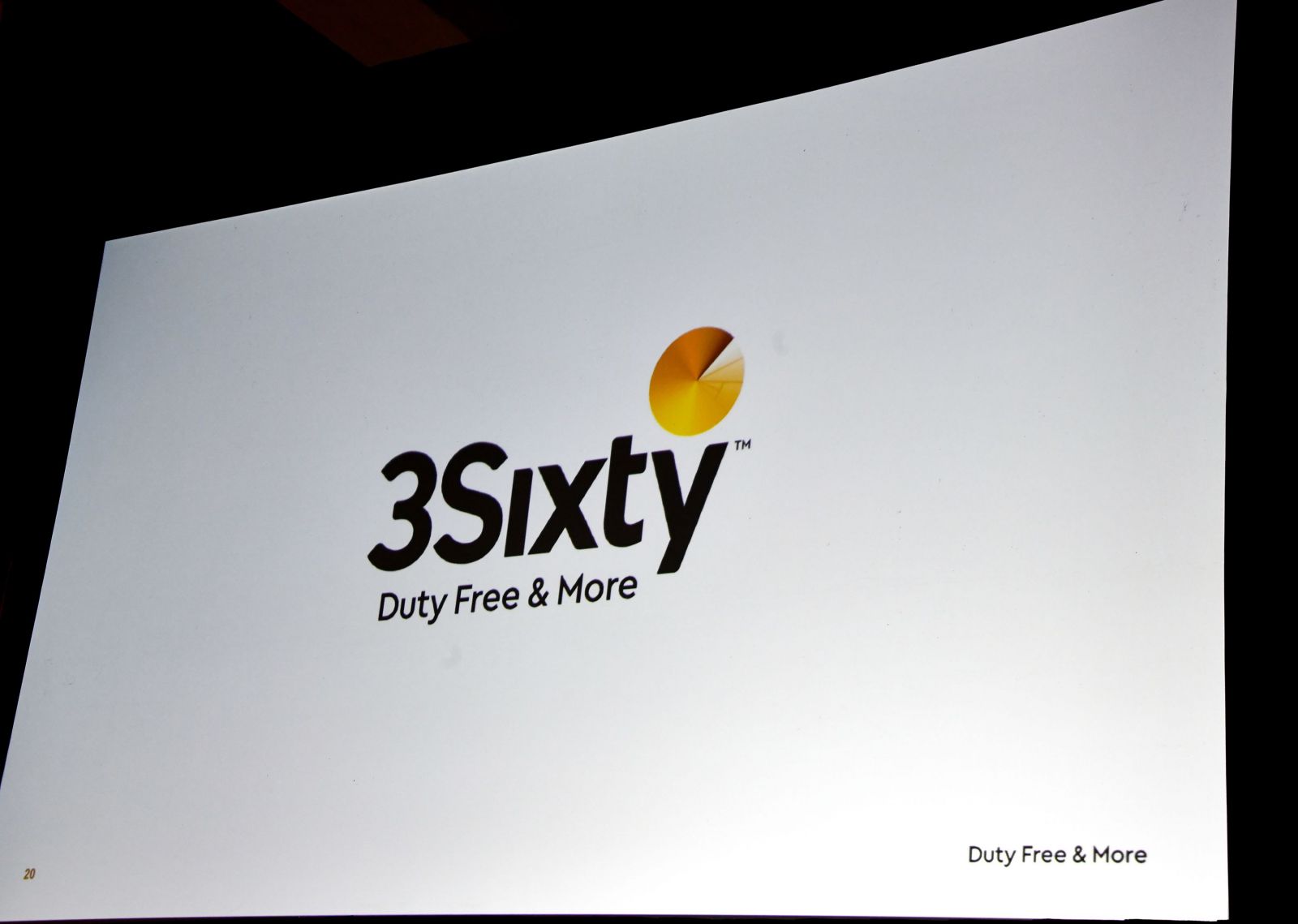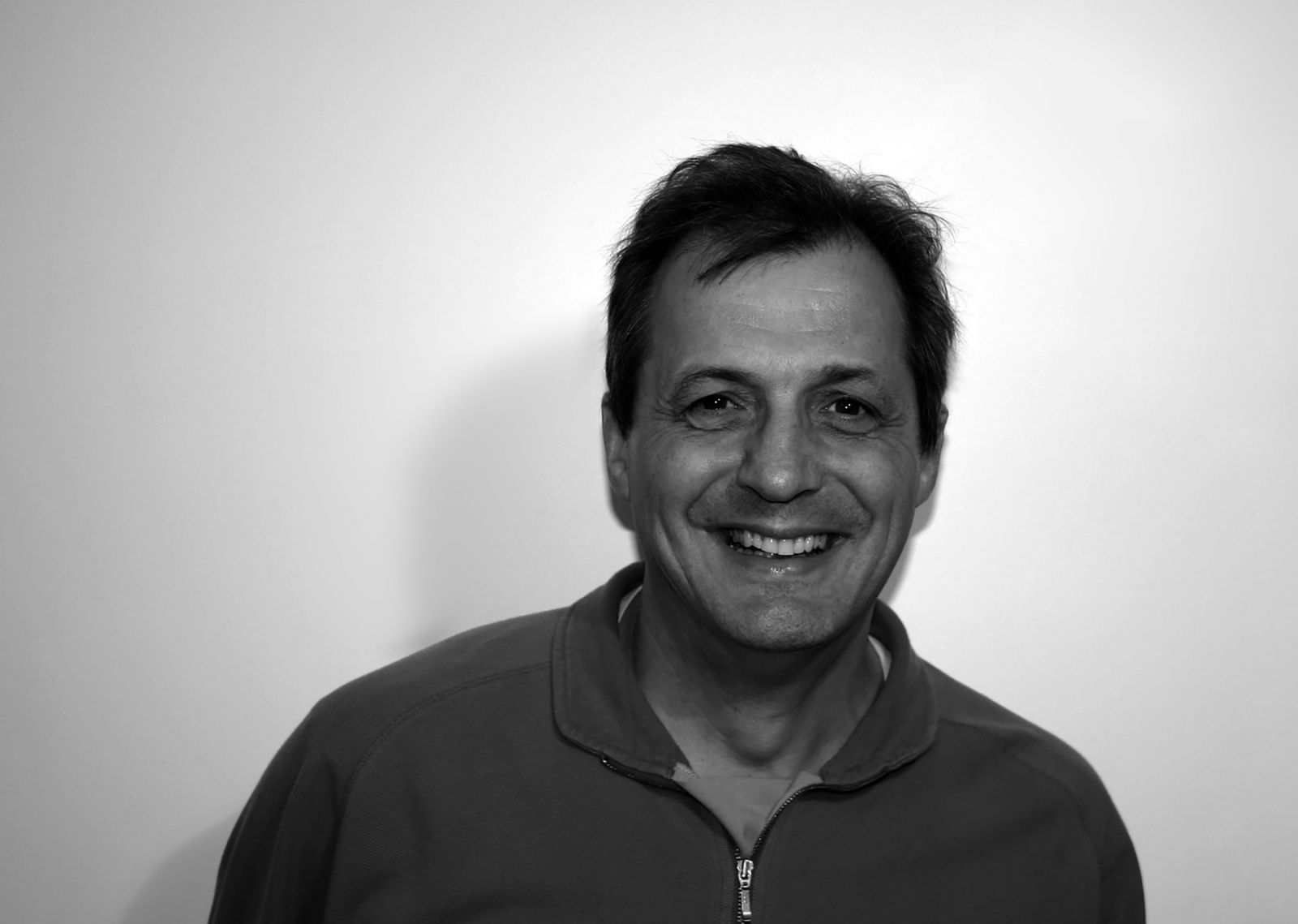 Peter Dobie: "DFASS's vision was to climb higher… to be able to spread their wings a bit further. When you go up high and nobody sees the horizon, it becomes a 360."
On the project scope
It was a lovely brief, particularly given that we've worked in the [travel retail] sector for some time. We've worked with a lot of people and the first thing we always do is look around the marketplace and see where there's a space.
Here we had a wonderful opportunity to look around and create a name that was disruptive in itself, but that also said something.
Their [DFASS's] vision was to climb higher… to be able to spread their wings a bit further. When you go up high and nobody sees the horizon, it becomes a 360. So, we were playing around with things like horizon, like vision, and then came the 360.
On the name and format of 3Sixty
There's a lot of 360s out there in all sorts of sectors. But when you actually mix an alpha and numeric, with a number followed by the letters, you create something the eye immediately goes back to because they can't quite work it out. They're using the number side of their brain and they're using the alpha side of their brain. So, the two create a bit of disruption.
The logo itself is disruptive. So, we started on a real positive.
On the design components
It's essentially a white brand, and by that, I mean that it works best when it's on a pure white background. The little [logo] device itself was meant to be like a radar sweep, which can be dynamic, can be turning, but also can reflect either sectors or audience types or where they're operating. So, we can bring that to life.
It has a unique font, which we drew for them. It's the combination of the three number, the sixty numeric and the little sweep, the roundel, is something we think that gives them the dynamics they can use in animation, in point of sale, and even to support individual products.
Importantly, it can change colour. It's essentially a gold mark on the logo itself, but we've given them a palette of secondary colours so they can start to evolve it. We've tried to design a brand from the floor up that doesn't have handcuffs on it. I think that's quite exciting.
We've tried to make it future-proof by this extended palette of colours. We've got a device that they can use whenever they have to promote brands. It will still help promote 3Sixty itself because we're using assets that they own that can be linked with other brands.
On the tagline 'Duty Free & More'
Again, it's trying to future-proof what they're doing because they don't want to be restricted by where they've operated in the past.
So, it was about just leaving it a little bit open-ended. It nails the duty free area but also says, "Hey, we're a bit bold. We're all about coming up with new ideas." And as technology changes, where will duty free be? Will it just be retail, and will you be able to buy and have it delivered wherever on the planet you live? While you may have to travel to qualify, it may not even be called duty free anymore.
There is no limit because we have to keep it open-ended. Because who knows what's going to be the next thing around the corner?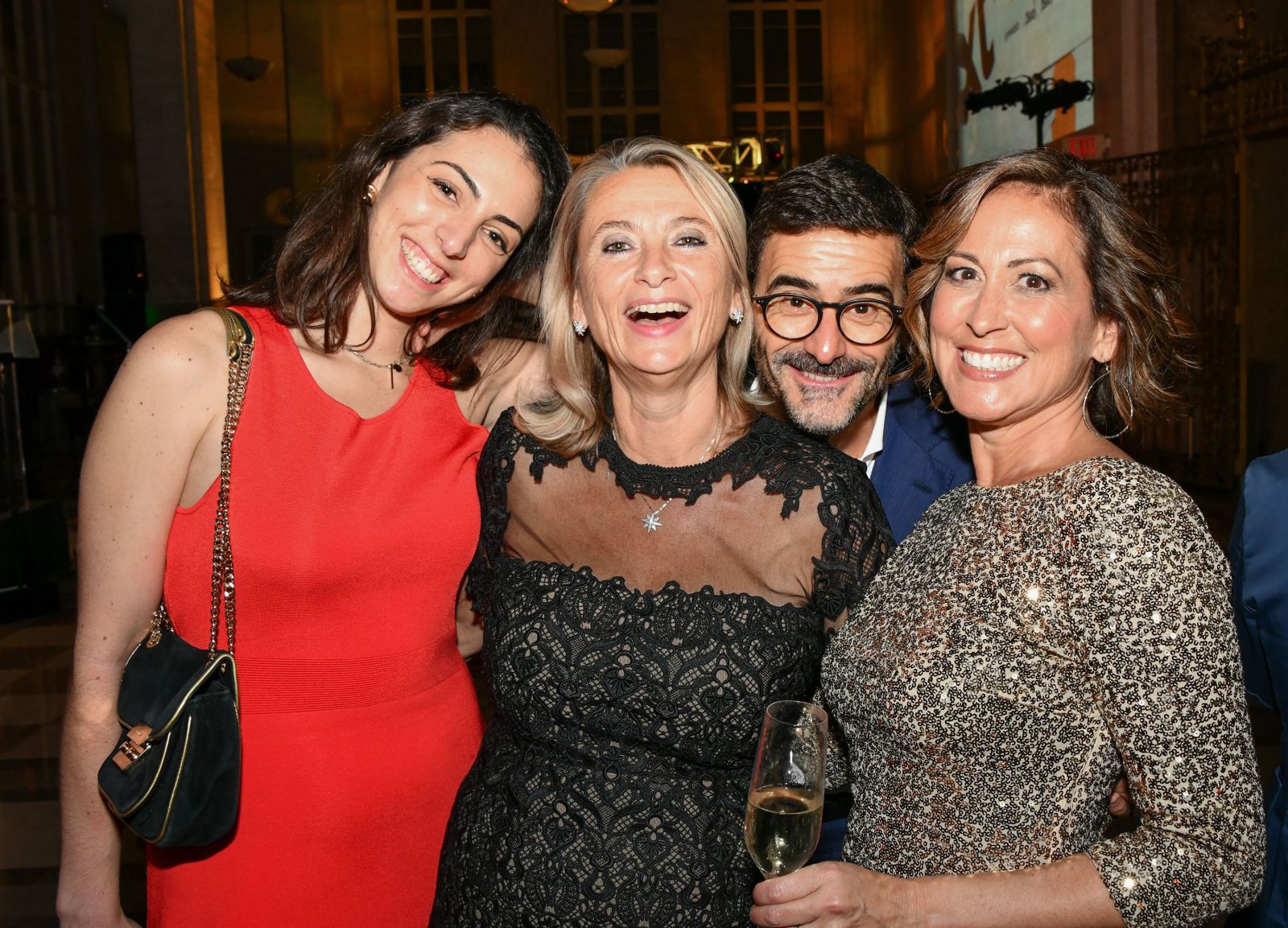 (Above) Roberto Graziani celebrates the moment with (from left) Designhouse Account Manager Stephanie Magistretti, Designhouse Managing Director Lavinia Culverhouse and 3Sixty Senior Vice President Vendor Relations Carolyn Mariani; (Below) Lavinia Culverhouse and Roberto Graziani share a lighter moment.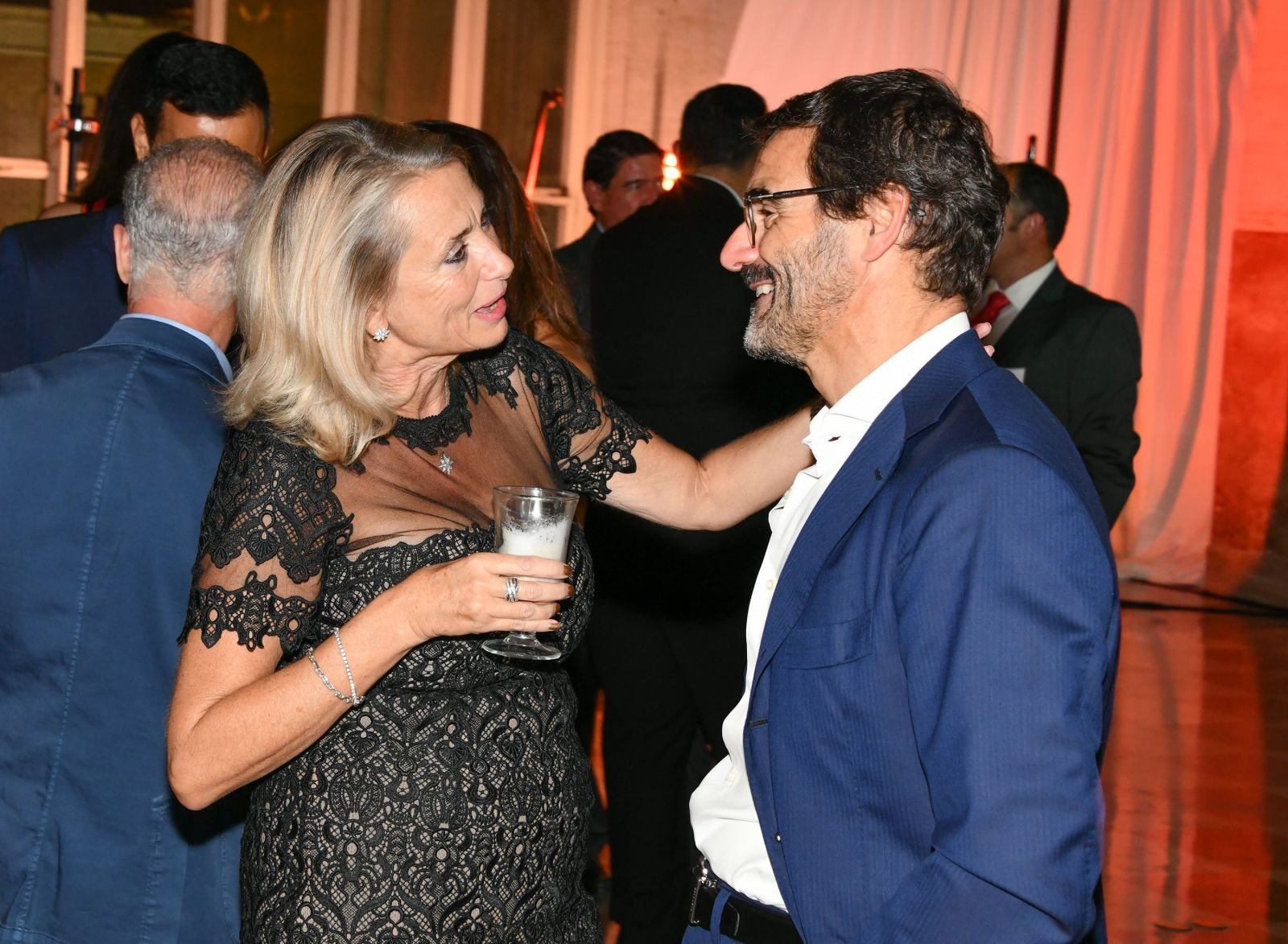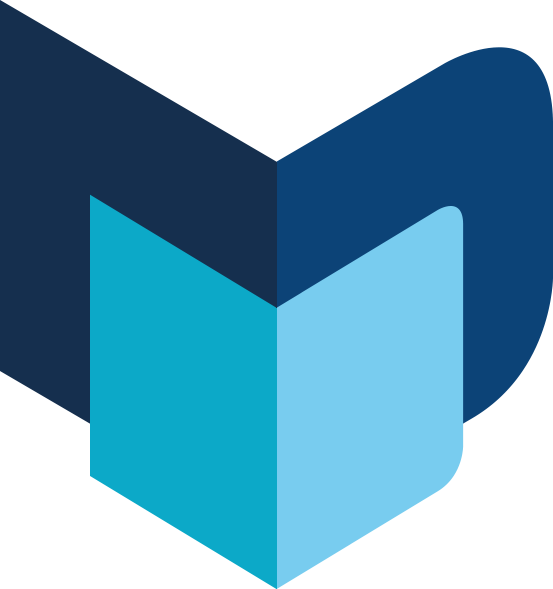 ---
The Moodie Davitt e-Zine | Issue 250 | 30 October 2018