---
Kian Gould, travel retail's
digital transformation man
Kian Gould, founder and owner of German company AOE, has been involved with some of the sector's key airports and retailers in managing their evolution into omni-channel players. AOE's OM3 solution has become the leading platform of choice for digitally transforming non-aeronautical revenues at key airports such as Frankfurt, London Heathrow and Auckland.
The company is also playing a key role with 3Sixty, the former DFASS, for which Gould has helped shape its key joint venture with Singapore Airlines and SATS announced earlier this year. With 3Sixty repositioned emphatically as an omni-channel travel retailer, Gould believes the company is well set to seize the opportunities in a fast-transforming sector. He spoke to Martin Moodie at 3Sixty headquarters in Miami.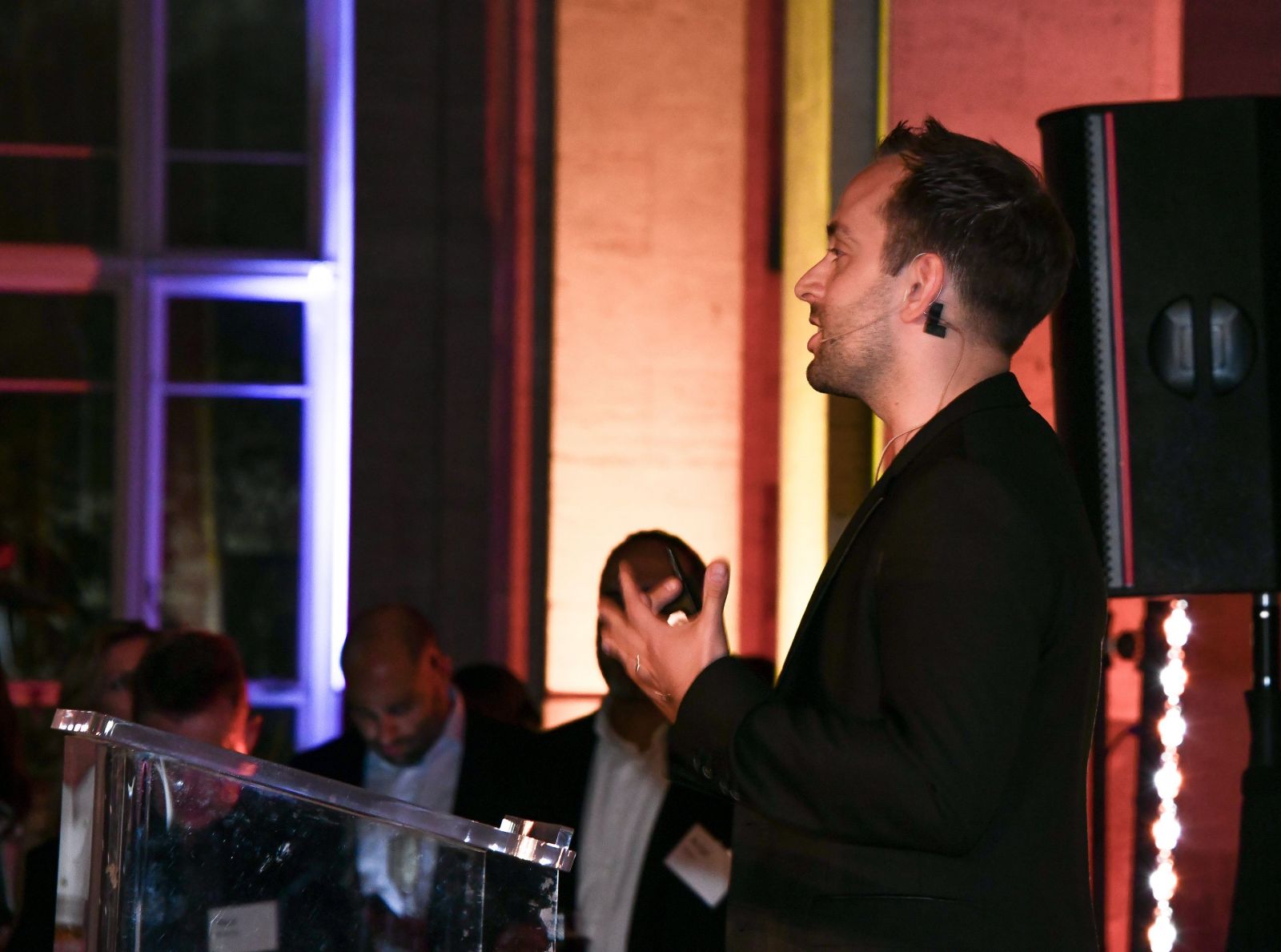 Kian Gould: "Now the data is becoming much more crucial in creating something unique. You can't sell the same stuff to every million passengers that run through your terminal anymore." [All photos: Steven Shire]
Martin Moodie: Kian, you have talked often about travel retail as a sector in – and in need of – transition. Sum up how you see the channel.
Kian Goud: The belief that travel retail shopping is fully impulse-purchase driven is an illusion that has been upheld for many years and it's just no longer the case. We are completely driven now by mobile and by planned purchasing. Decision-making has changed substantially.
We now spend four hours every day on our smartphones. In the USA, 25% of all e-commerce sales are already happening on mobile. In China, it's 75%. Out of the whole share of e-commerce, travel retail has such a tiny little pie with US$8.27 per flight leg, per passenger, in 2017.
That figure has been declining continuously, but we're actually targeting a pie of US$540 of online commerce and sales and US$6,000 of offline commerce that every one of these passengers spends elsewhere.
Annually?
Correct. Both figures are annually. A recent m1nd-set study shows that planned purchasing is even 3-4% higher than last year. So, it's a continuous trend – 81% of spending is on average now planned in advance. Gartner found in a study this year that 79% of purchasing decisions involve online search at some stage.
People don't get inspired anymore by seeing things in stores or on billboards, because we're online all the time and we see things online primarily.
Tell us about your work with Singapore Airlines, SATS and, of course, 3Sixty.
We are leading the way with this amazing Trinity in Singapore. Singapore Airlines' new KrisShop will feature a much more high-end luxury approach. The pillars of the strategy are to get customers that have a much higher propensity to buy luxury products to spend online.
We also want to create a personalised experience through integration and through loyalty and all of the data that we can get from an airline. That will create a personalised and special user experience offering the massive convenience of last-minute [purchase and fulfilment] to seat and home delivery and a vastly increased range of over 30,000 SKUs versus the 300 you can typically carry on the plane.
We believe that while digital won't replace physical retail, it's where future growth lies, absolutely.
"All the research of the last few years shows, crystal clear, that passenger figures are growing, engagement and conversion is collapsing."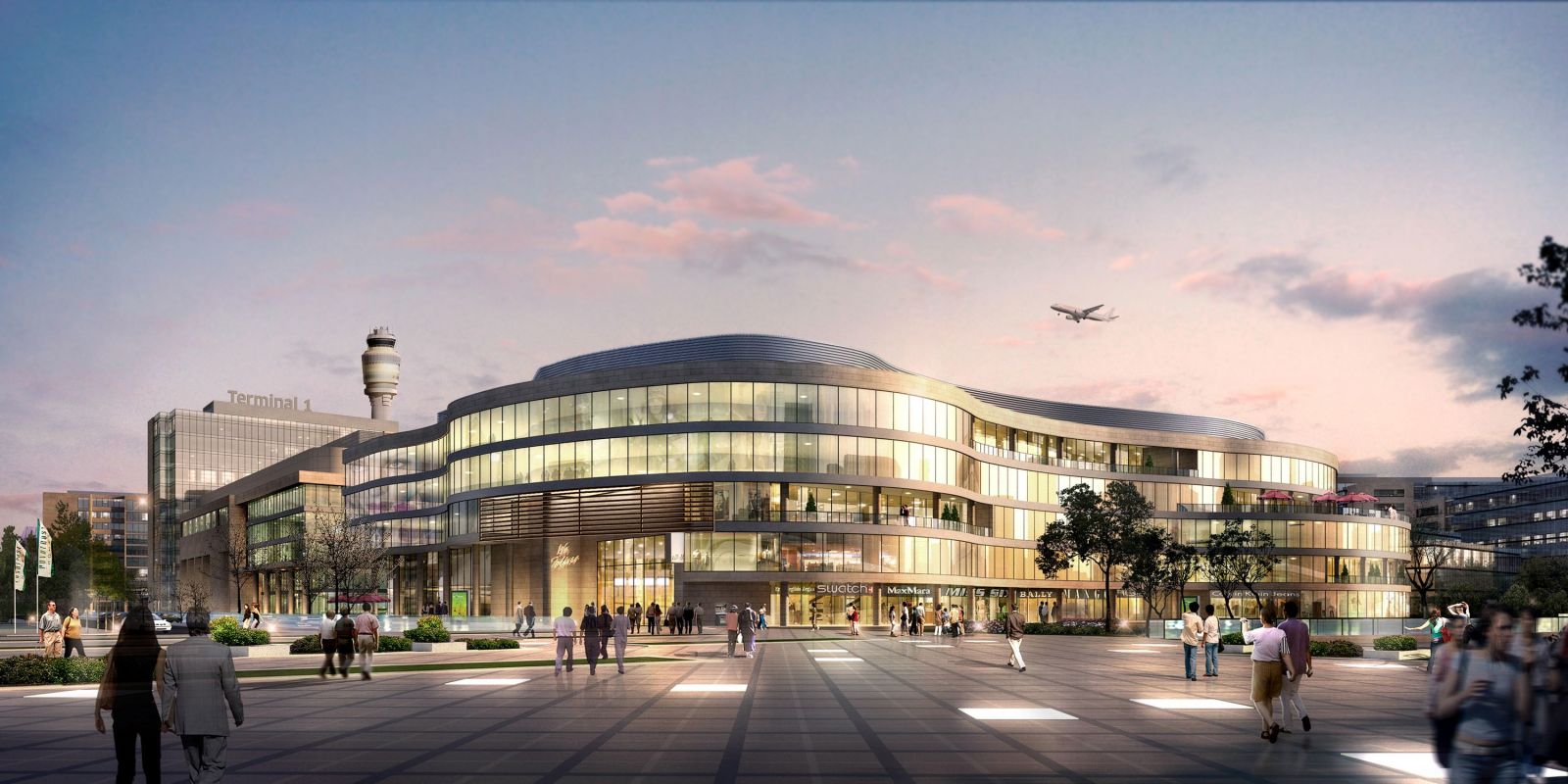 Much of the thinking that underpins the new 3Sixty branding involves a digital premise. Omni-channel is implicit in the name, isn't it?
I think definitely the digital strategy is very much driven by our research, our experiences, and our technology.
Benny Klepach is of the view that what 3Sixty is doing will help inflight retail move from what I called a kind of endangered dinosaur status to one that potentially could hold centre stage. Tell me why you think inflight retail will be so important going forward and how it will be recast?
There are two things that have the most potential when you're talking about inflight. Firstly, the flight attendants have the ability to spend time with the passenger. You're not in this typical ultra-rushed environment that you are at the airport where you're always worried about missing your plane and so on. That definitely offers a big advantage when you're talking about how to get high-end luxury products to a passenger.
Inflight in the past has not focused on luxury high-end products. No-one would carry a €20,000 watch on the plane hoping that they might sell it. But with pre-order you can now deliver any sort of product in any kind of price range to the plane and you can ensure that the flight attendants can create an experience around it, too.
But the aspect that from a digital point of view is much more exciting is that the airline carries such a wealth of data, especially about frequent flyers. The amount of data that Singapore Airlines has, for example, on a KrisFlyer elite member, which destinations they fly to, what kind of products they are interested in, and what their spending patterns are, is such a valuable source of information.
We can really use that information to target the experience in a completely different way. The vision is that when you log in as a member, you don't see the site that everyone else sees. You see a site that is catered to you.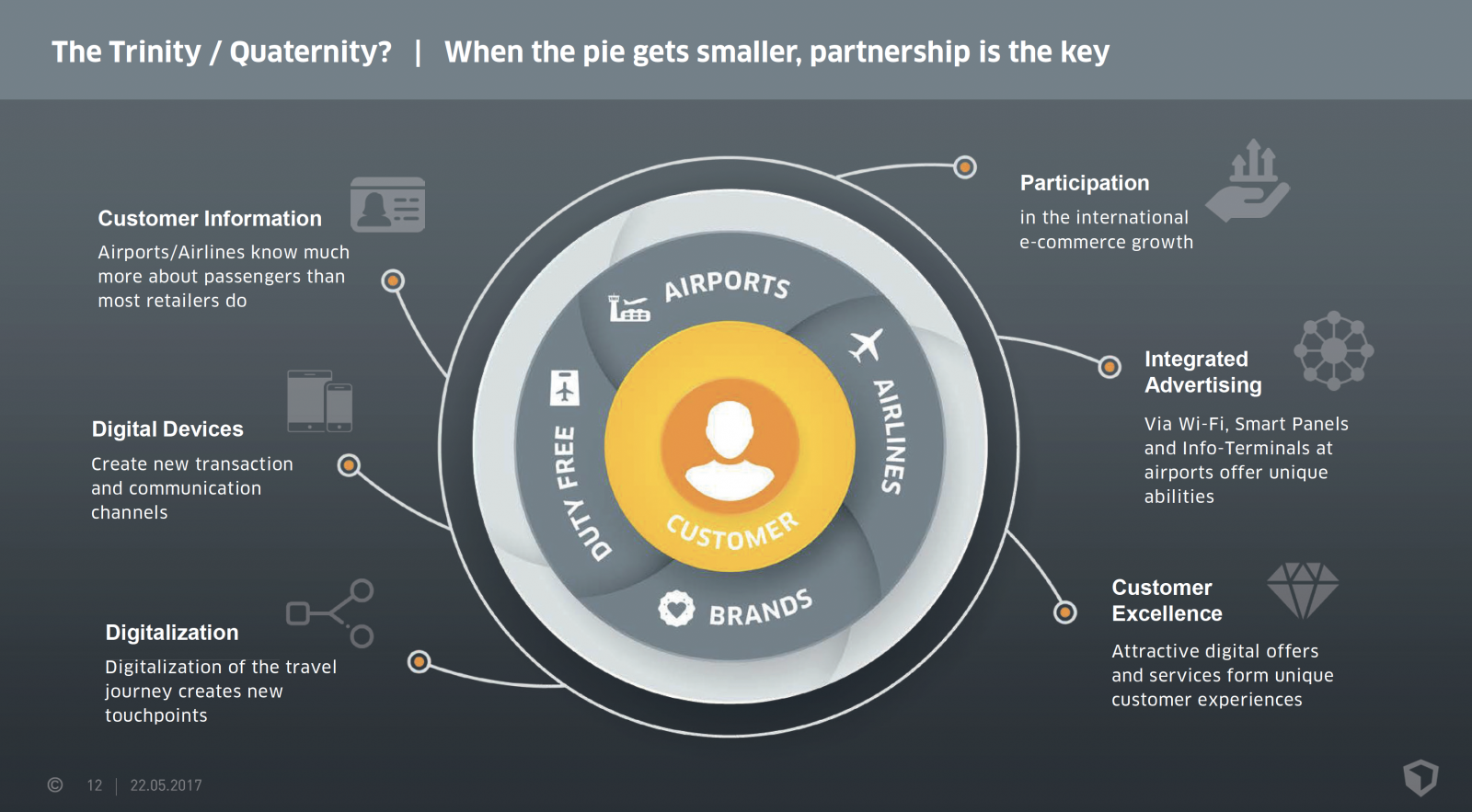 It's time that the famed industry Trinity admits a fourth member, Gould argues. [Graphic: AOE]
You refer to the potential kind of white-glove service scenario onboard in presenting a luxury watch. But surely the bigger opportunity is that it's not being presented onboard at all, that it's being delivered to the client's home?
It's a combination. I think home delivery makes sense in certain cases. So, of course, there's a big home-delivery market, in Singapore Airlines' case, for Singapore – either for passengers that are from there or people that are staying in Singapore.
Nevertheless, there's also a lot of potential down the road with collaboration in the 'quaternity' [see next question] sense because the airline has its warehouses in Singapore. And, so, when you're talking about someone flying in from another country into Singapore, then getting products on that one leg kind of flight is much more difficult. That's where partnerships with airports could come in, similarly to how AirAsia is doing it.
Just to explain, your 'quaternity', which is the Kian Gould way of killing off the Trinity I invented back in 2003…
Indeed. So, you would define that as the airport; the airport retailer, the brand; and, most crucially, the new member of this exclusive society…
Very interesting.
The airline has always been kept out of the loop. Before data became so relevant, it wasn't really clear what role the airline played. It was always separated from the whole retail picture.
But now the data is becoming much more crucial in creating something unique. You can't sell the same stuff to every million passengers that run through your terminal anymore. I think it becomes crucial that the airline is onboard [any partnership]. That's a process that is neither fast nor the easiest, but I think the realisation is growing significantly that it has to happen.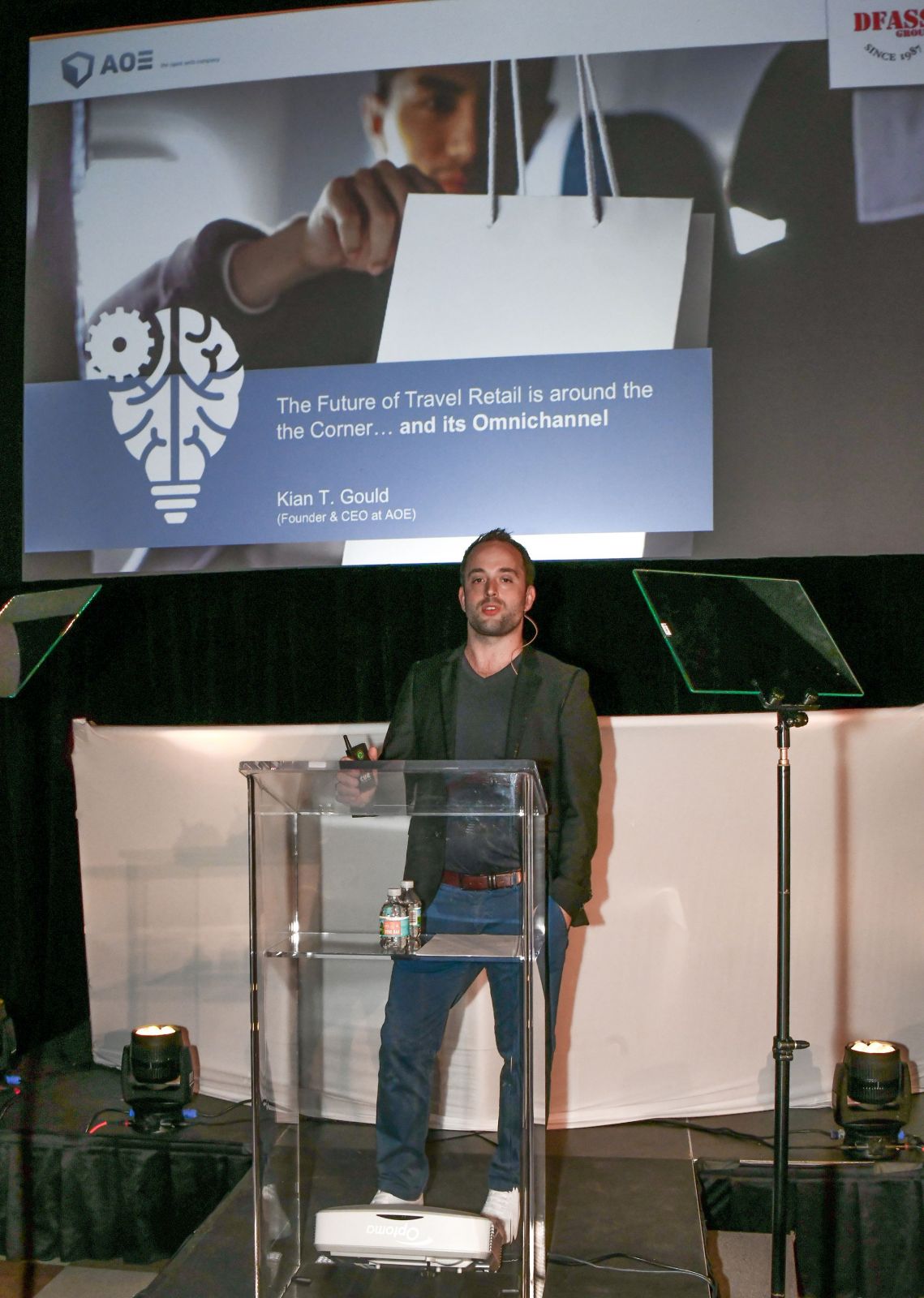 Kian Gould: "We think – and I can't emphasise this enough – that the future of digital travel retail is for the airlines and airports to embrace luxury shopping significantly more."
You've been vocal in the past in terms of how you describe some of the, shall we say, more conservative attitudes within the travel retail community. How interesting and exciting has it been to work therefore with what was a very traditional retailer in a very conservative sector – inflight – and be part of this re-imagining of who they are, what they are, and where they're going to go in terms of their retail model?
With 3Sixty, it's been surprisingly exciting. And Singapore Airlines have been extremely supportive and embraced what we have been doing. And, also, I've met with many brands… and they have all been very open to it as well, because we listened to their concerns.
Which are?
The concerns of these suppliers is [about saying], "I want to make sure they [the purchasers] are actually flyers. I want to guarantee that there's no grey market happening there. I want to ensure a brand-consistent experience online. I don't want my brand mixed with other brands on a promotional page." The latter are the sorts of things that the classic duty free retailers who have been doing 'Reserve and Collect' platforms have not followed and therefore have not gotten the blessing from the premium brands to be listed online.
It's something that has been a very exciting process and the successes we've seen have been very promising, so that big brands like L'Oréal and Estée Lauder say, "This is fantastic. We're onboard with this", when previously they used to restrict availability of their premium brands inflight.
Benny emphasised that point – he said that he's had tremendous interest from some of the blue-chip brands, and you just mentioned some of them. As we know, certain brands have either eschewed this channel for some time or been highly selective about what they offer within it. Here's the potential to re-unite some of the great brands of the world with the travelling consumers of the world.
What we have learned now offers very different understandings from when we started with Frankfurt Airport four years ago. We have learned that it's all driven by high end. People do not reserve a US$40 perfume that they can also buy on Amazon or in the Costco store.
What they do is reserve products where they're worried about availability. Or where, say, the tax advantages are big, because it's a high-ticket item. Or where they are worried about authenticity [of product supplied elsewhere].
We think – and I can't emphasise this enough – that the future of digital travel retail is for the airlines and airports to embrace luxury shopping significantly more. Why? Because there's really very little competition in digital luxury out there at the moment. This ability to combine a fully digital personalised experience with the ability to actually see the customer and speak to them and meet them is only possible in travel retail.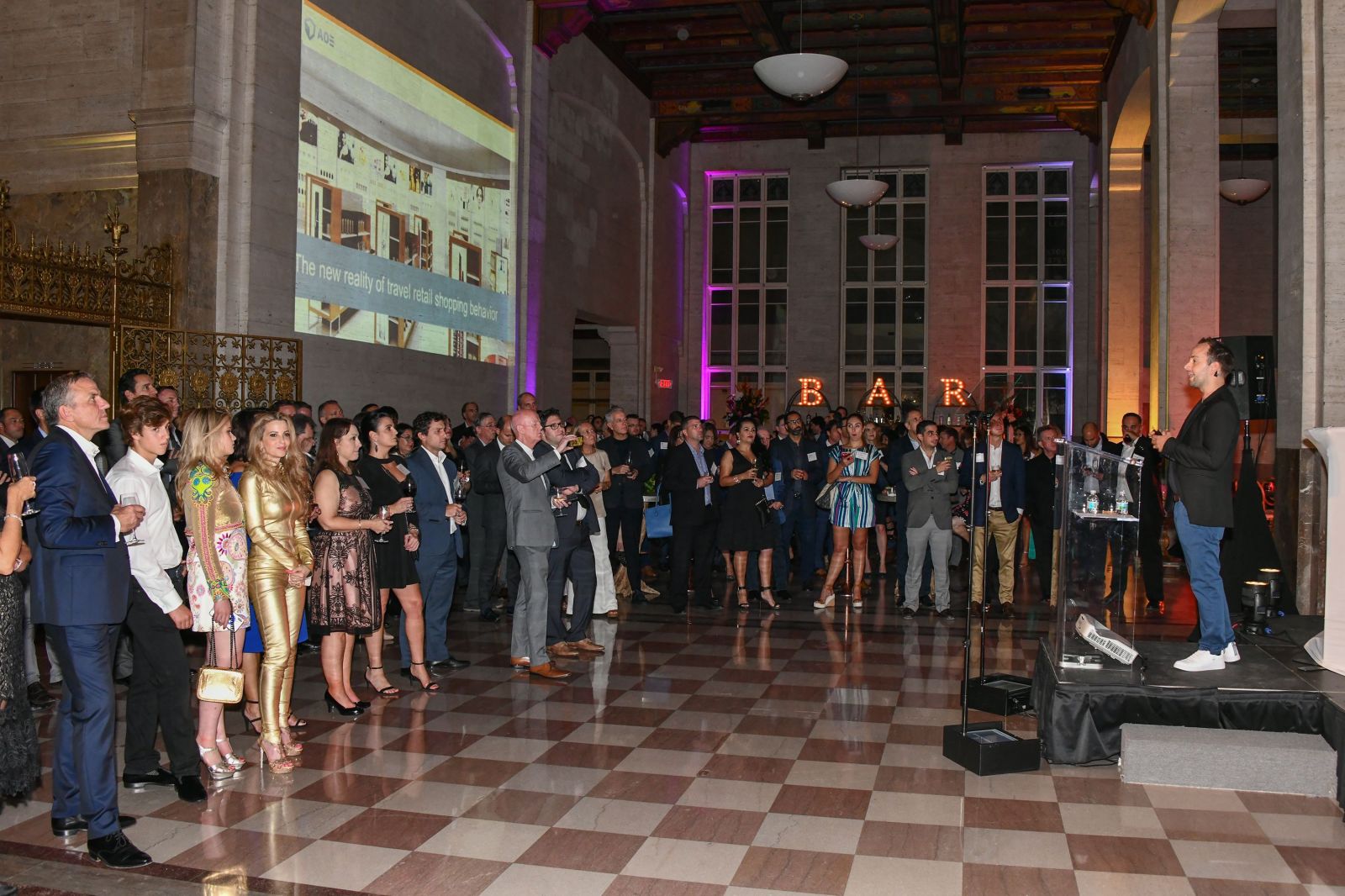 KIan Gould: "We have learned that digital is all driven by high end. People do not reserve a US$40 perfume that they can also buy on Amazon or in the Costco store."
And if you can link that with exclusivity of channel offering, even more powerful. You mentioned before the dynamic of the consumer being worried about availability. Well, of course, if something's exclusive to travel retail and can't by definition be got anywhere else, that creates that worry, that urge to buy. That combination has got to be super strong potentially, doesn't it?
Absolutely. And we're seeing that the travel retail world is not ready for it in some regards, because we actually receive some orders online now for, let's say, US$50,000-worth of cigars and we can't fulfill them, because of stock management issues.
How you manage stock at an airport or in an airline is just so different in relation to the kind of surprising orders you receive online some days. So, all this will change logistics and how stock management and availability has to be managed.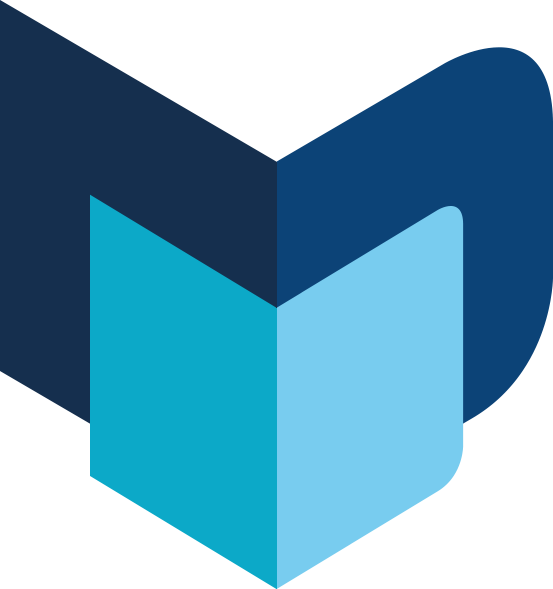 ---
The Moodie Davitt e-Zine | Issue 250 | 30 October 2018