11 OCTOBER 2018
---
The Moodie Davitt Stock Watch serves as an indicator of overall business confidence in the global travel retail & duty free industry. Share prices of major publicly listed companies that own travel retail operations are monitored on a weekly and year-to-date basis to offer an indication of business confidence in the sector.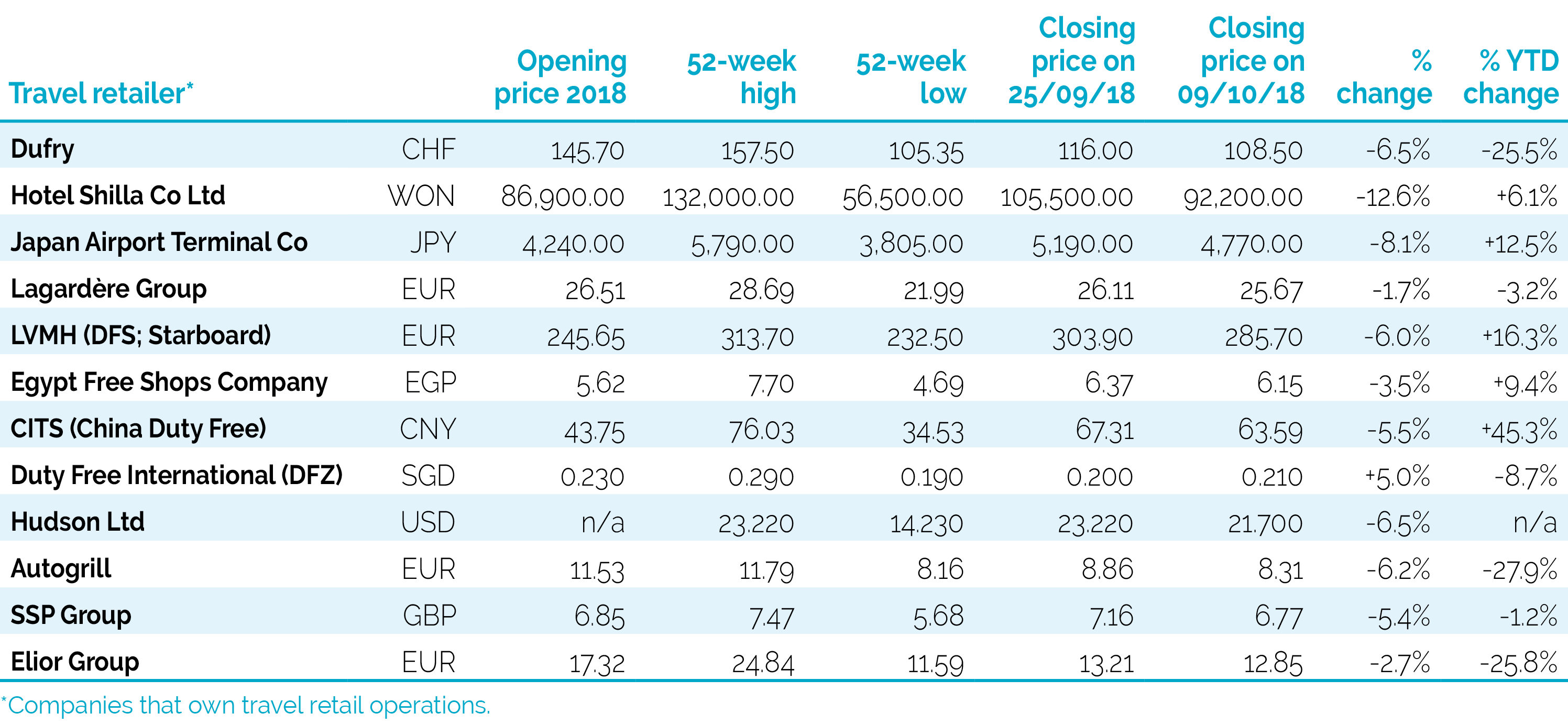 A possible Chinese government crackdown on the 'daigou' industry has impacted the stock market, hitting beauty and luxury companies in particular. Shares in Estée Lauder, Coty, Shiseido and Amorepacific were among those adversely affected.
Daigou buy goods abroad and resell them (often through well-organised networks) on the Mainland.
Chinese state-owned media CGTN ran a story on 5 October headed, 'Luxury brands feel pinch amid crackdown on daigou shoppers', which featured images and social media posts suggesting a concerted crackdown. CGTN also noted China's new e-commerce law, which takes effect on 1 January 2019, which is designed to both protect consumers and "maintain the market order". The law will apply not only to online shopping platforms but also to those e-commerce operators selling goods via social networks, including WeChat [a key platform for many daigou sellers].
If the daigou phenomenon were to come to an end the impact would be profound. The daigou trade was directly responsible for South Korea's otherwise contradictory +20.7% rise in duty free sales last year despite a -48.3% slump in Chinese visitors (who accounted for 46.8% of arrivals in 2016 and a much higher percentage of duty free spending).
Additionally, the Financial Times quoted Jefferies Equity Analyst Stephanie Wissink, who stated in a recent report that spending in travel retail's beauty segment – which accounts for 35% of travel retail purchases – had "cooled in the third quarter, while spending on spirits and confectionery had accelerated".
Among the travel retail-related companies we track in Stock Watch, shares in Hotel Shilla fell -12.6% in the current period (closing prices between 25 September and 9 October). Daigou are known to use its subsidiary The Shilla Duty Free's stores in South Korea to make some of their purchases.
Shares in two other Asia-based companies were also down: Japan Airport Terminal Co (-8.1%) and China Duty Free Group parent China International Travel Service (-5.5%).
DFS co-parent LVMH, which owns brands such as Louis Vuitton, Christian Dior and Sephora, saw a -6% decrease. The luxury goods group earlier this week reported a +10% year-on-year rise in revenue for the first nine months of 2018, to €33.1 billion. It noted a strong contribution from the Selective Retailing business group, which includes DFS and Starboard Cruise Services.
The retail division achieved organic revenue growth of +8% (+2% reported), and +14% excluding DFS' airport concession closures in Hong Kong. LVMH said: "DFS performed well, especially in Hong Kong and Macau. The recent openings of T Galleria in Cambodia and Italy progressed well."
Shares in Dufry fell to a 52-week low of CHF105.35 on 8 October. The company's year-to-date differential is now -25.5%.
It was a similar story for food & beverage powerhouse Autogrill. A 52-week low of €8.16 was recorded on 9 October. Shares in the company fell -6.2% in the current period and are down -27.9% since 1 January.
---
The Moodie Davitt e-Zine | Issue 249 | 11 October 2018