Hennessy stands alone and flies high
Hennessy officially opened its first flagship store in an airport at Hong Kong International in late September. At the launch, Melody Ng spoke to senior executives Bernard Peillon and Laurent Boidevezi about the Cognac brand's aims and ambitions for the travel retail channel.
Hennessy, the world's best-selling Cognac brand, has made its most emphatic statement yet of its belief in, and commitment to, the travel retail channel.
In late September, the 253-year-old Maison officially opened its first flagship store in an airport worldwide at Hong Kong International Airport (HKIA) – the jewel in the crown of the new Duty Zero by cdf.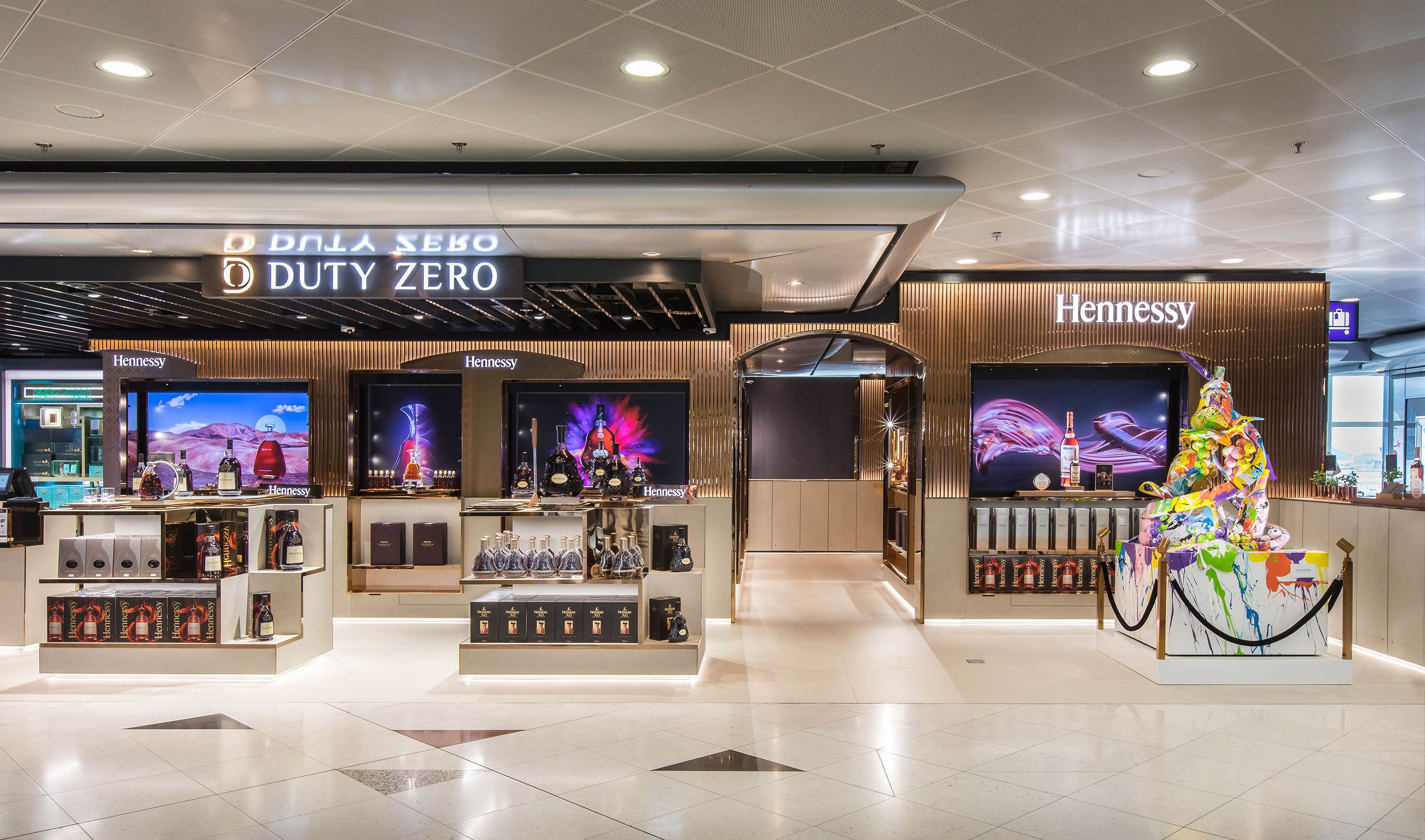 Milestone opening: The world's first Hennessy flagship airport store has landed in Hong Kong.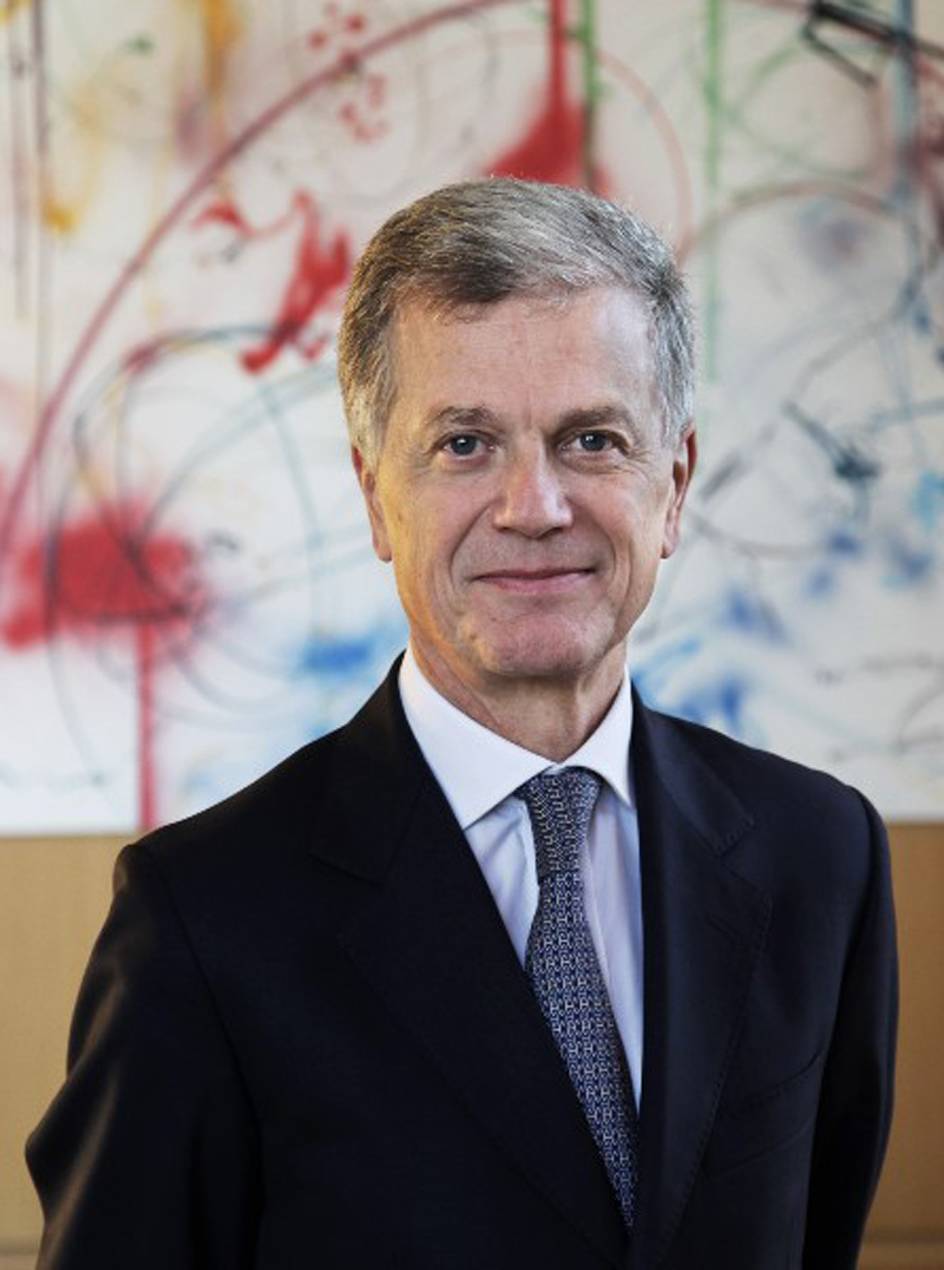 Hennessy Chairman and CEO Bernard Peillon: "The true expression – and true measure – of a brand is when it stands alone: does it fly or not? We know that luxury fashion brands such as Louis Vuitton and Fendi can, but the question mark has remained for wines and spirits."
(Photo: Richard Schroeder)
Moët Hennessy President of Global Travel Retail Laurent Boidevezi. "We believe consumers are looking for more experience, knowledge and engagement. We want to provide a more in-depth relationship and engagement than just, 'Good morning Mr Consumer, this is our bottle, thank you very much.' "
A stylish and expansive boutique spanning 65sq m, the House of Hennessy at HKIA represents "a new stage of maturity" for the brand, which is owned by LVMH Moët Hennessy Louis Vuitton.
"It means that Hennessy as a brand has created enough of an image, and enough of a desire for it, that it can stand alone," Hennessy Chairman and CEO Bernard Peillon told The Moodie Davitt Report at the grand opening.
"The true expression – and true measure – of a brand is when it stands alone: does it fly or not? This is a really new thing for the wines and spirits category – very few brands can do it. We know that luxury fashion brands such as Louis Vuitton and Fendi can, but the question mark has remained for wines and spirits."
Peillon revealed that results so far have been beyond the brand's expectations. "So I think the House of Hennessy here in Hong Kong is making the statement that we can [stand alone]," he says. "A new world has opened for us in terms of distribution."
Click above to view the chapter 'Hennessy Savoir-Faire' from the immersive VIP room.
The opening also reflects Hennessy's commitment to, and confidence in, travel retail. The channel has grown to become strategically important, according to Peillon. "For us, [travel retail] is like the third continent – there is China, the US and duty free.
"The way we view duty free is dramatically different today. It has evolved from offering a simple benefit of saving costs to become a place where we enjoy the shopping experience, and where we – as brand owners and producers – invest in from a visibility and image standpoint. It is the meeting point between a brand and its consumers, a very specific profile of people who can travel, who are open-minded and interested to experiment."
The appeal of the channel as a brand-building platform led Hennessy to open the first House of Hennessy concept outside the Cognac region at London Heathrow Airport in 2013, a dedicated pop-up that ran for three months.
Since then, Hennessy has continued to grow in travel retail and worldwide. According to LVMH, in 2017 Hennessy shipped 7.5 million cases globally and grew by +8% in volume, with "significant growth" in China and the USA despite supply constraints in the second half of the year. These constraints should be alleviated by its new Pont Neuf bottling and logistics site, which will help boost production capacity and increase output to some eight million cases sold and shipped annually.
Peillon attributes Hennessy's overall growth to a number of socio-economic factors. "Economic expansion, particularly in China, and the emergence of the middle class have created tremendous opportunity for luxury brands like Hennessy," he says. "Another point to note is the rise of a new way to comprehend luxury. Luxury is no longer about 'bling-bling'; it's more about substance and a greater appreciation for depth."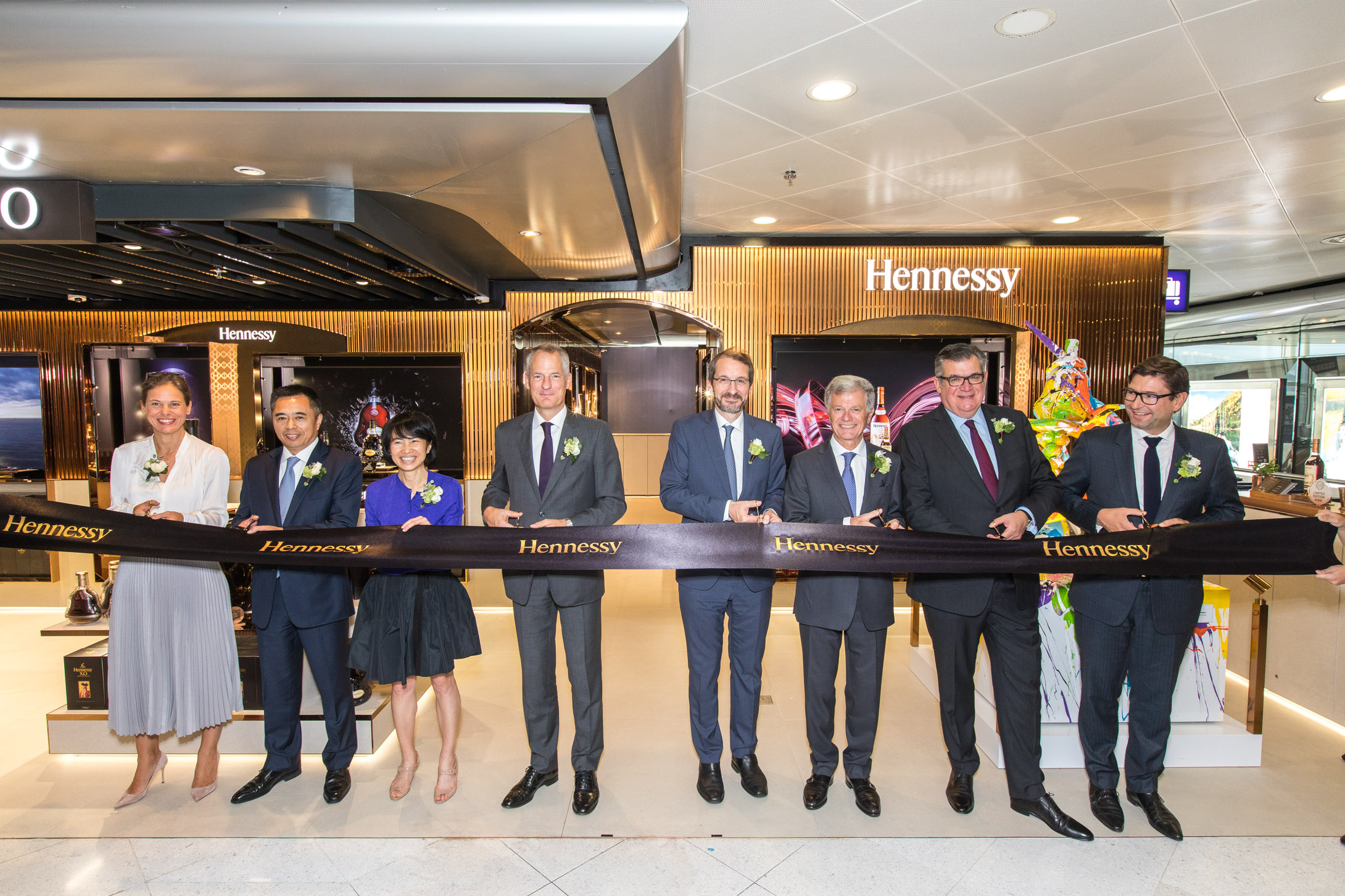 Celebrating a landmark in more ways than one: (From left to right) Moët Hennessy Managing Director Travel Retail Asia Pacific Vanessa Widmann; China Duty Free Group President Charles Chen; Airport Authority Hong Kong Executive Director Commercial Cissy Chan; Moët Hennessy CEO Philippe Schaus; Lagardère Travel Retail Chairman and CEO Dag Rasmussen; Hennessy Chairman and CEO Bernard Peillon; Moët Hennessy Executive Vice President Global Distribution Jean-Marc Lacave; and Moët Hennessy President of Global Travel Retail Laurent de Boidevezi.
Consumption has also become "much more sincere", Peillon notes. People are becoming more sophisticated and shifting their focus from a brand's products to its heritage and craftsmanship, he says. Authenticity is key. "So when you link the economic phenomenon with brands like Hennessy which have been in existence for more than 250 years, with roots and depth, it creates a formidable environment in which we can blossom."
Moët Hennessy President of Global Travel Retail Laurent Boidevezi echoes this sentiment. "We believe there is a strong demand for authenticity, consistency, savoir-faire, art de vivre and experiences," he says.
"Consumers today are looking for more and more interactive and engaging experiences. This idea of experiences is critical. I believe in this very strongly because you need to differentiate your retail offer from your online offer, and one way of doing it is by really bringing interaction and experiences on-site."
The House of Hennessy is "more than just a store", Boidevezi points out. Besides selling limited-edition, rare and exclusive products, it also seeks to immerse consumers in the world of Hennessy by taking them on an experiential journey with the help of digital and interactive technologies.
"Everything that we do at Hennessy, starting with the product, is an act of creation. Hennessy is not made, it is created," he says. "As far as the House of Hennessy's design is concerned, it was very much based on this act of creation that is rooted in the Hennessy DNA, and a tribute to our history."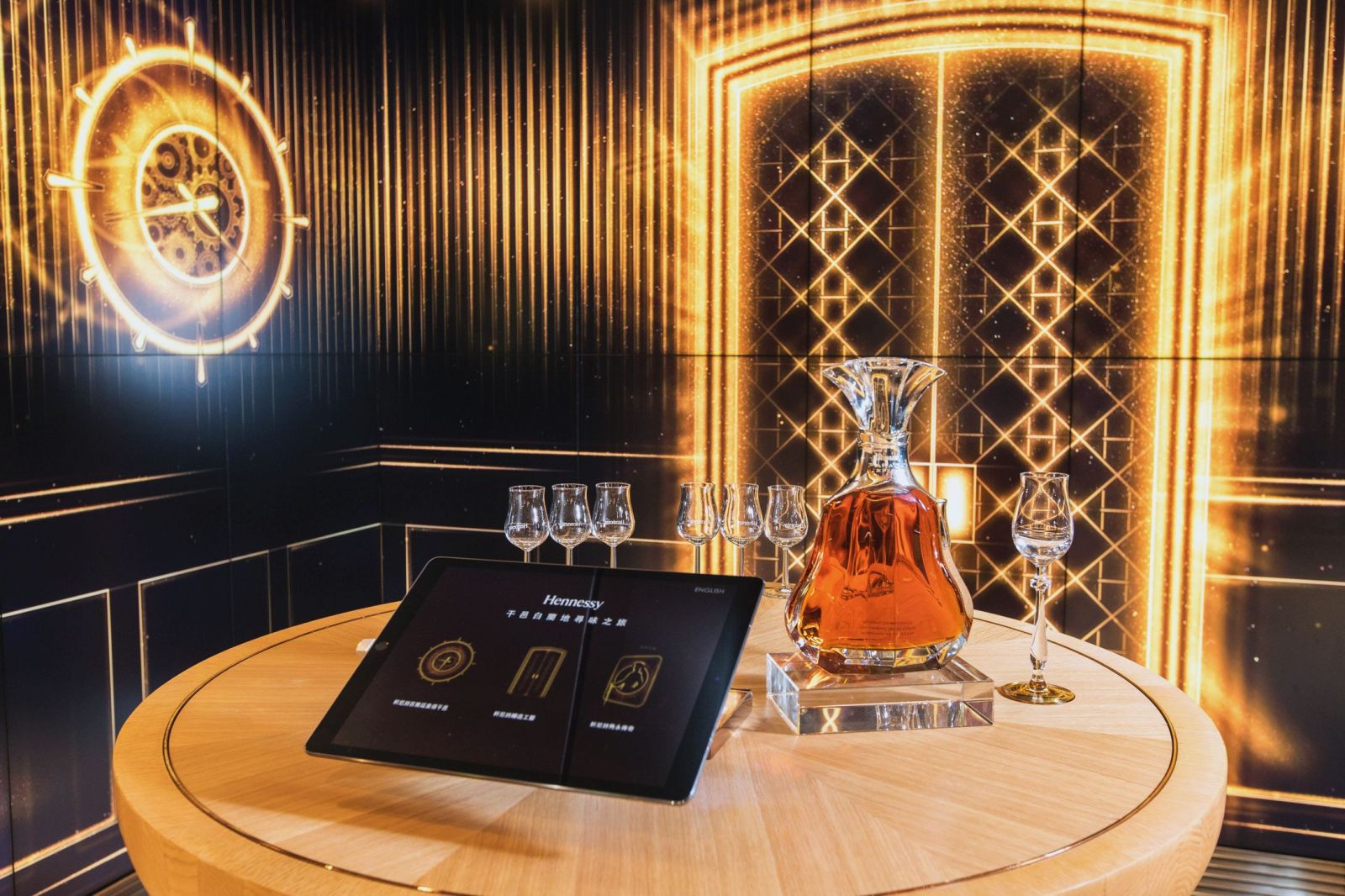 The immersive VIP room uses interactive technologies to bring a piece of Cognac to Hong Kong and aims to "[let] consumers discover what Hennessy is all about".
Malherbe, the French design agency behind the House of Hennessy, took inspiration from Château de Bagnolet, the historic French castle acquired by Auguste and Irene Hennessy in 1841. Built in the style of a Louisiana colonial house, the Château has been a symbol of French art de vivre and Hennessy heritage for more than a century, according to the Maison.
"What we wanted to do was bring a modern interpretation of Château de Bagnolet to Hong Kong," Boidevezi says.
Hong Kong, as one of Asia's major aviation hubs and a key gateway to China, is a strategic location for Hennessy. "If you look at the profile of our consumers in Asia and of course in Hong Kong, it is skewing towards the PRC, so the Chinese are extremely important to us," he says.
The first shipments of Hennessy to China and Hong Kong were in 1859 and 1866, respectively, he adds. "So we have had a long-lasting and historical relationship, which has accelerated over recent years. This year, we will have more than 150 million PRC Chinese travelling abroad, which is clearly much more than the peak from Japanese travellers during the 1990s. This number is expected to double in the next ten years and reach 400 million by 2030.
"From this you can clearly see the importance of travel retail and Hong Kong – there is a fabulous opportunity. China is a big market, but if you look at the penetration of Western spirits, it is quite limited, so we still have a massive potential with Chinese consumers."
Hennessy's Trinity partners, Airport Authority Hong Kong and CDF-Lagardère (the retail joint venture between China Duty Free Group and Lagardère Travel Retail trading as Duty Zero by cdf), were very supportive, he says, and gave the brand the creative freedom to propose something different.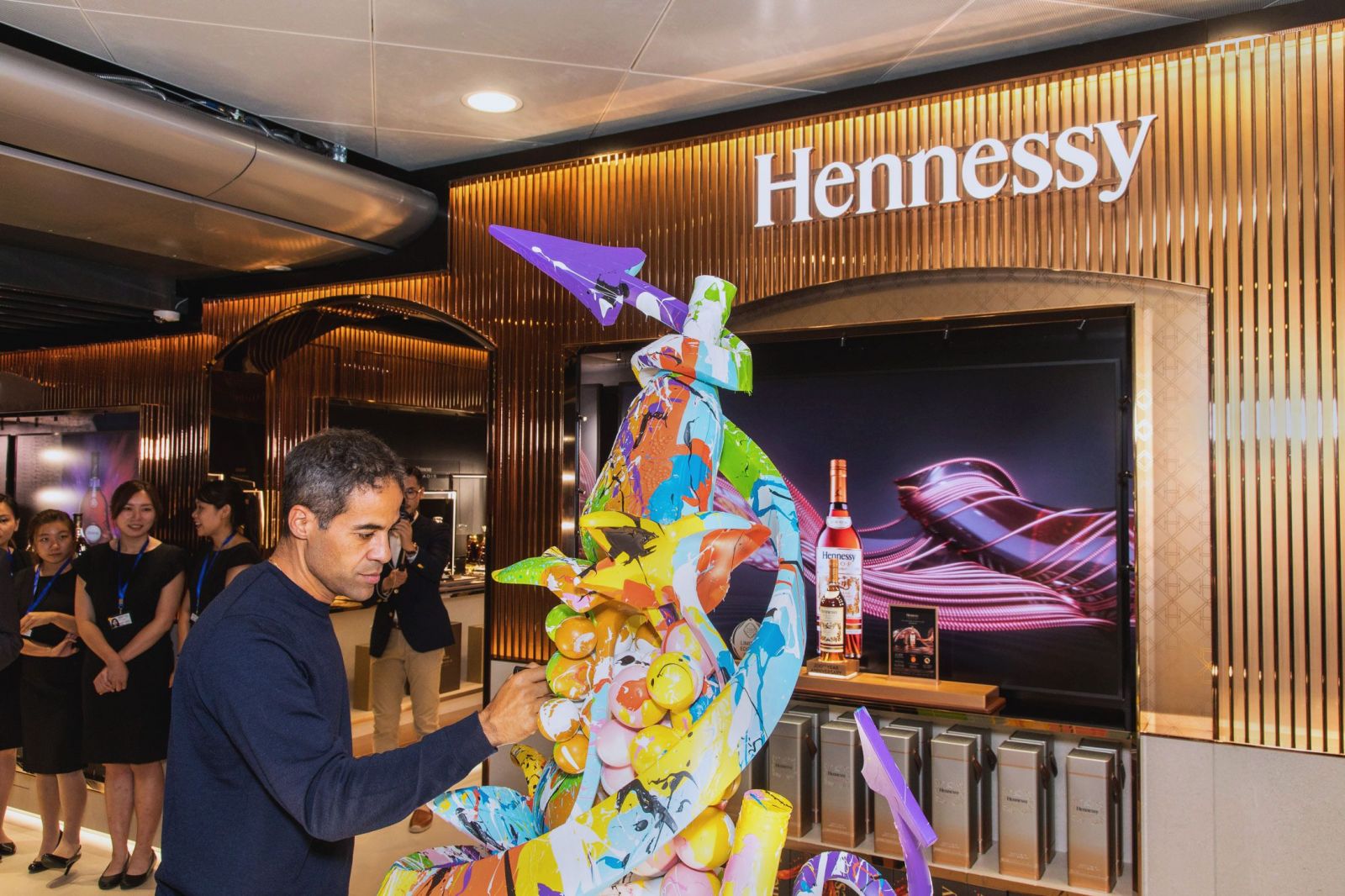 Pop (up) art: American street artist JonOne adds a brilliant touch of colour with this temporary installation.
"What can we bring to the consumer that they will not find elsewhere?" asks Boidevezi. "The pricing aspect is one, but we wanted to come with very specific offers. We have the Hennessy X.X.O Hors d'Âge which is a travel retail exclusive; the Hennessy X.O by Marc Newson, a famous Australian designer; the 6-litre Hennessy X.O Mathusalem which is unique; and of course, Edition Particulière, our most expensive product at HK$258,000 (US$33,011).
"We will also be coming with new launches such as Hennessy X.O Ice. And we will bring new and exclusive launches starting with HKIA. To keep things lively, we are going to change the product assortment every two months."
Digital is a key element of the boutique, and the aim is to engage consumers throughout their travel journey. That journey spans online campaigns targeting them before their trips, to the digital storytelling via iPads and the VIP room in-store, to post-purchase.
The immersive VIP room is the pièce de résistance of the boutique, illustrating three chapters of the Hennessy brand story – 'Hennessy Saga', 'Hennessy Savoir-Faire' and 'Hennessy Paradis Impérial' – using 22 floor-to-ceiling high-resolution LED screens and crisp surround sound.
"Everyone uses digital today, but where we try to differentiate ourselves is through the content," Boidevezi says. "The content we are offering is based on the idea of education. It is about letting consumers discover what Hennessy is all about. The whole concept behind this store is recognising that we won't be able to bring consumers to Cognac, but we can bring a piece of the Hennessy Maison and its heritage and art de vivre to Hong Kong."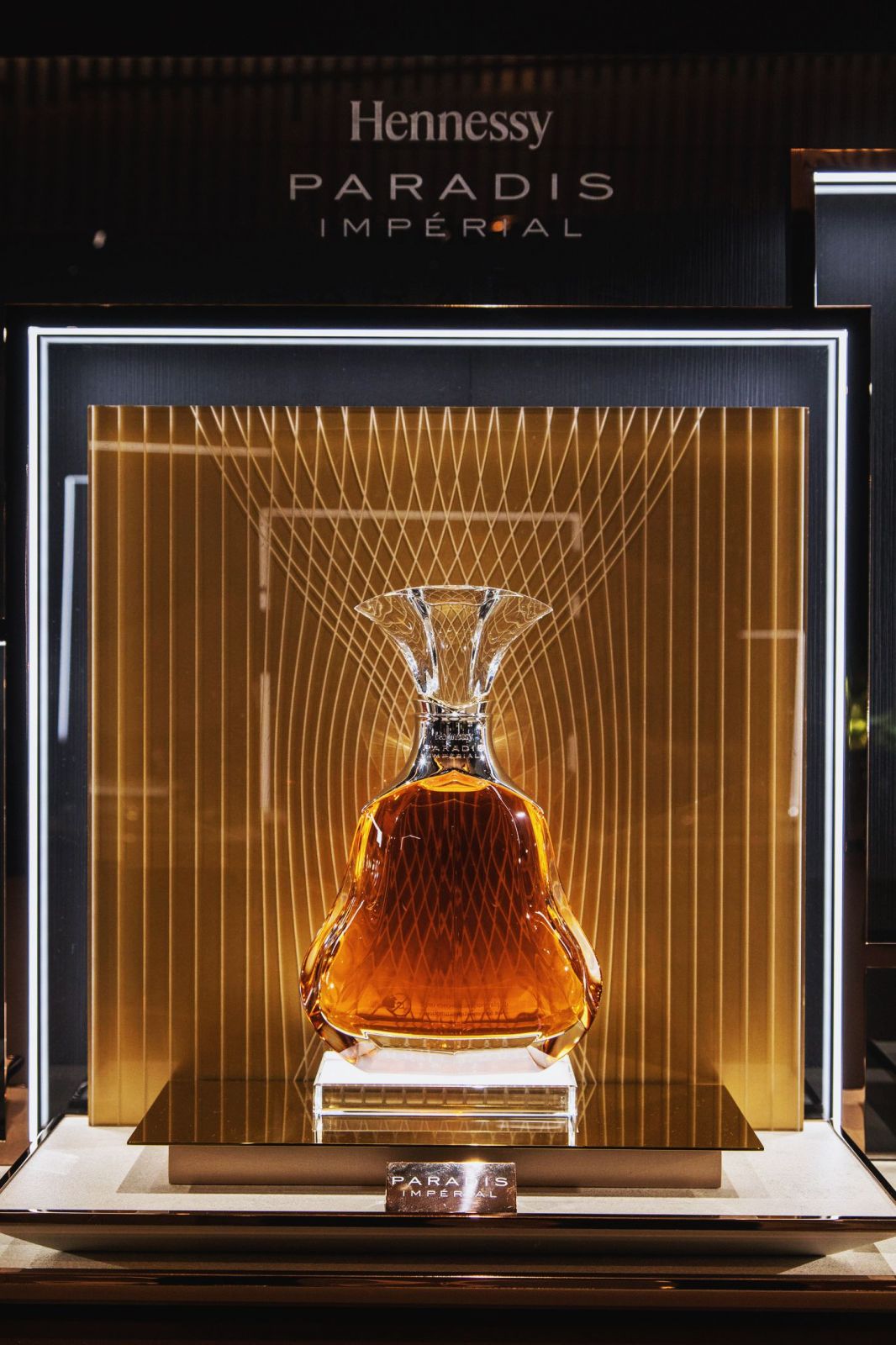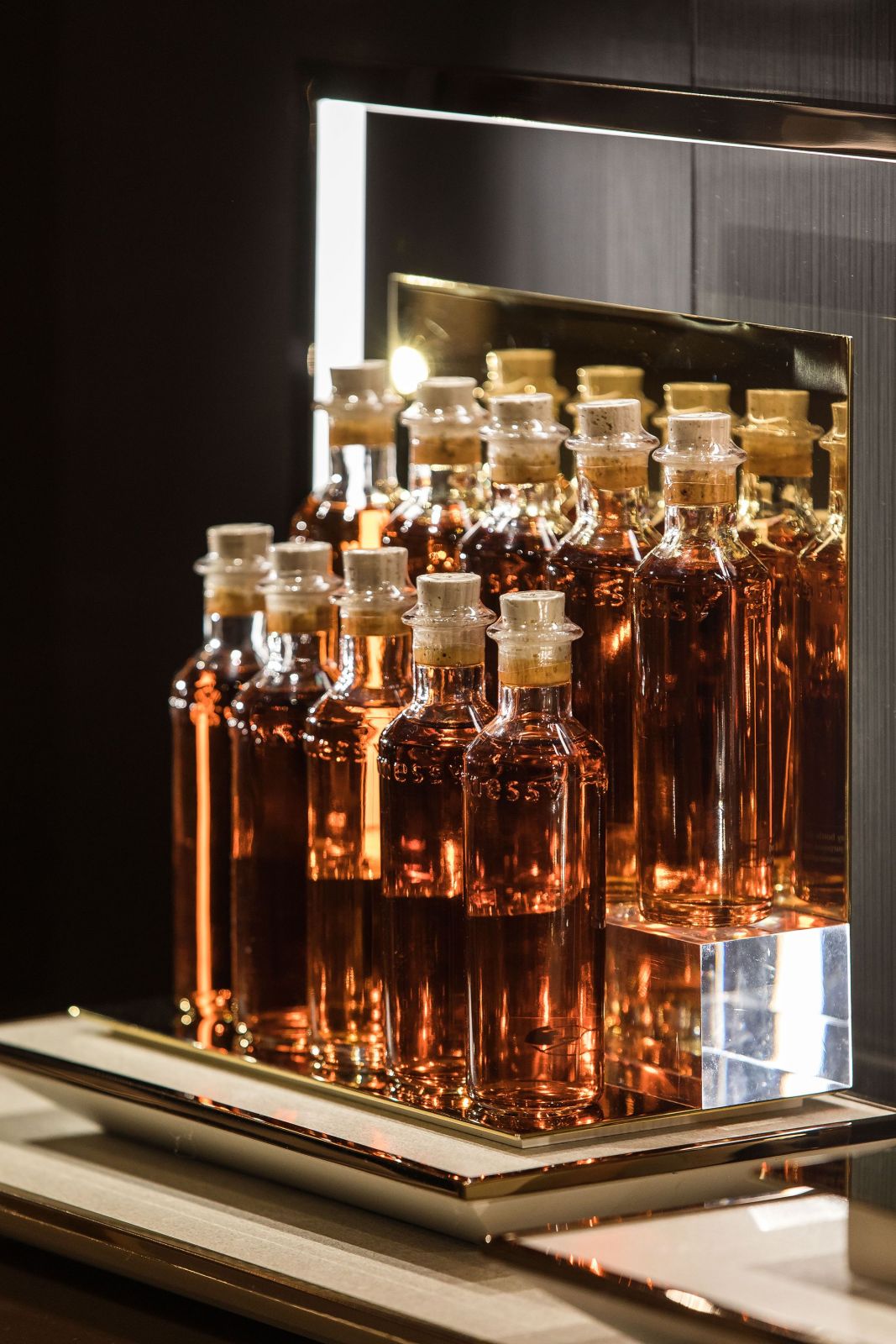 This experiential discovery of Hennessy will be led by the professionally trained, multilingual service staff. "We have just started dedicated training on the art of selling to make sure that the staff have the right tools to engage with the consumers," he says.
"It is a proprietary programme that is dedicated to Hennessy and we are just starting the pilot. It's a way of mastering our selling to the final consumer – the way you engage with them and the way you propose the offer. The idea is to have the consumers touch, feel and sense the authentic French savoir-faire, and to provide the best service you can expect."
Boidevezi is optimistic about getting travellers to slow down and enjoy the experience, despite the challenge of being in a time-pressured airport environment.
"We believe consumers are looking for more experience, knowledge and engagement. We know that consumers desire to further explore Cognac, and we want to provide a more in-depth relationship and engagement than just, 'Good morning Mr Consumer, this is our bottle, thank you very much.' That's the way we want to shift the paradigm," he says.
"We want to craft experiences. In the same way that Cognac is produced, it takes time. At Hennessy, we say that our Cognac is raised with kindness and attention, with firmness and affection. We have eaux-de-vie that are more than 100 years old. This idea of time is absolutely critical to everything that we do at Hennessy."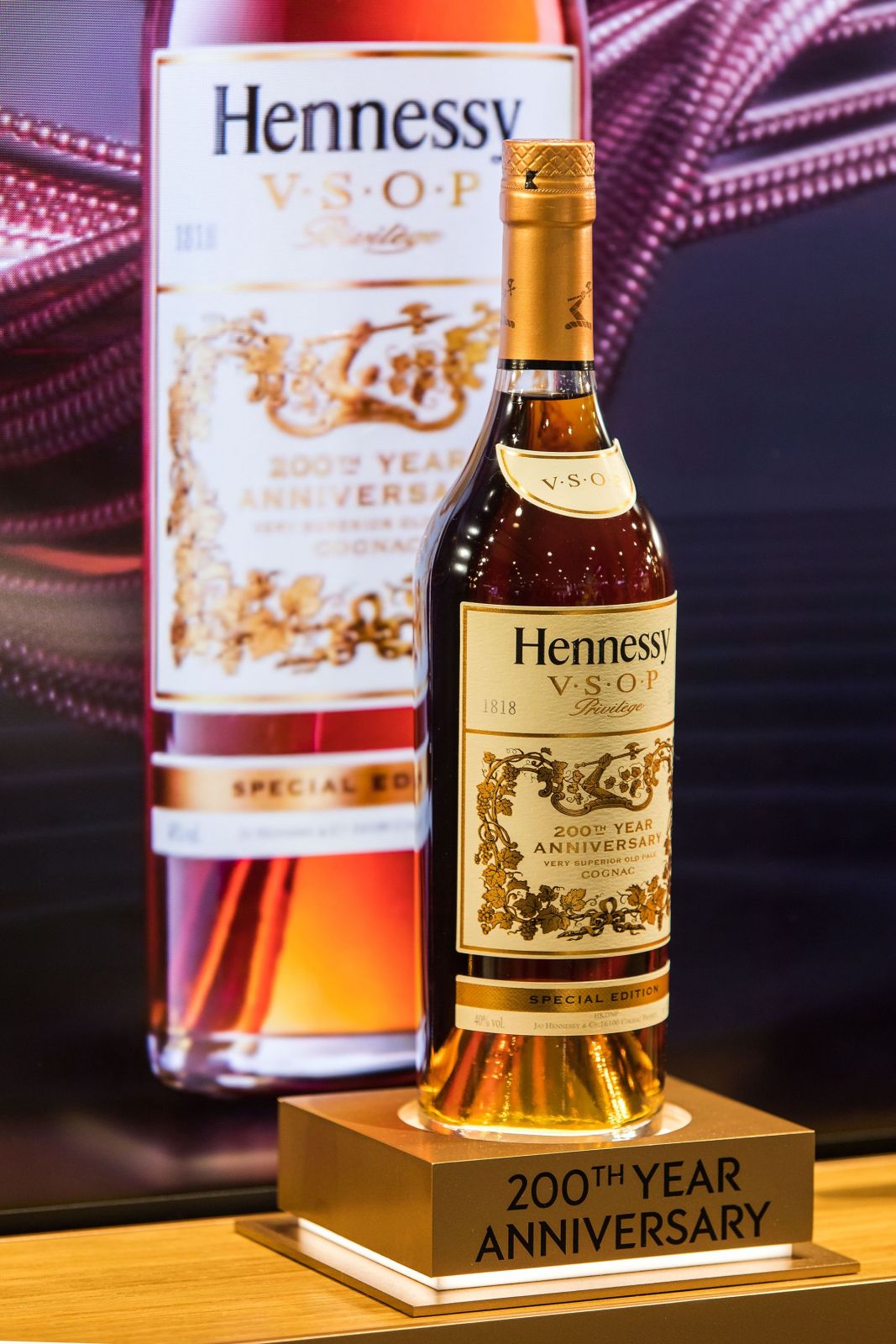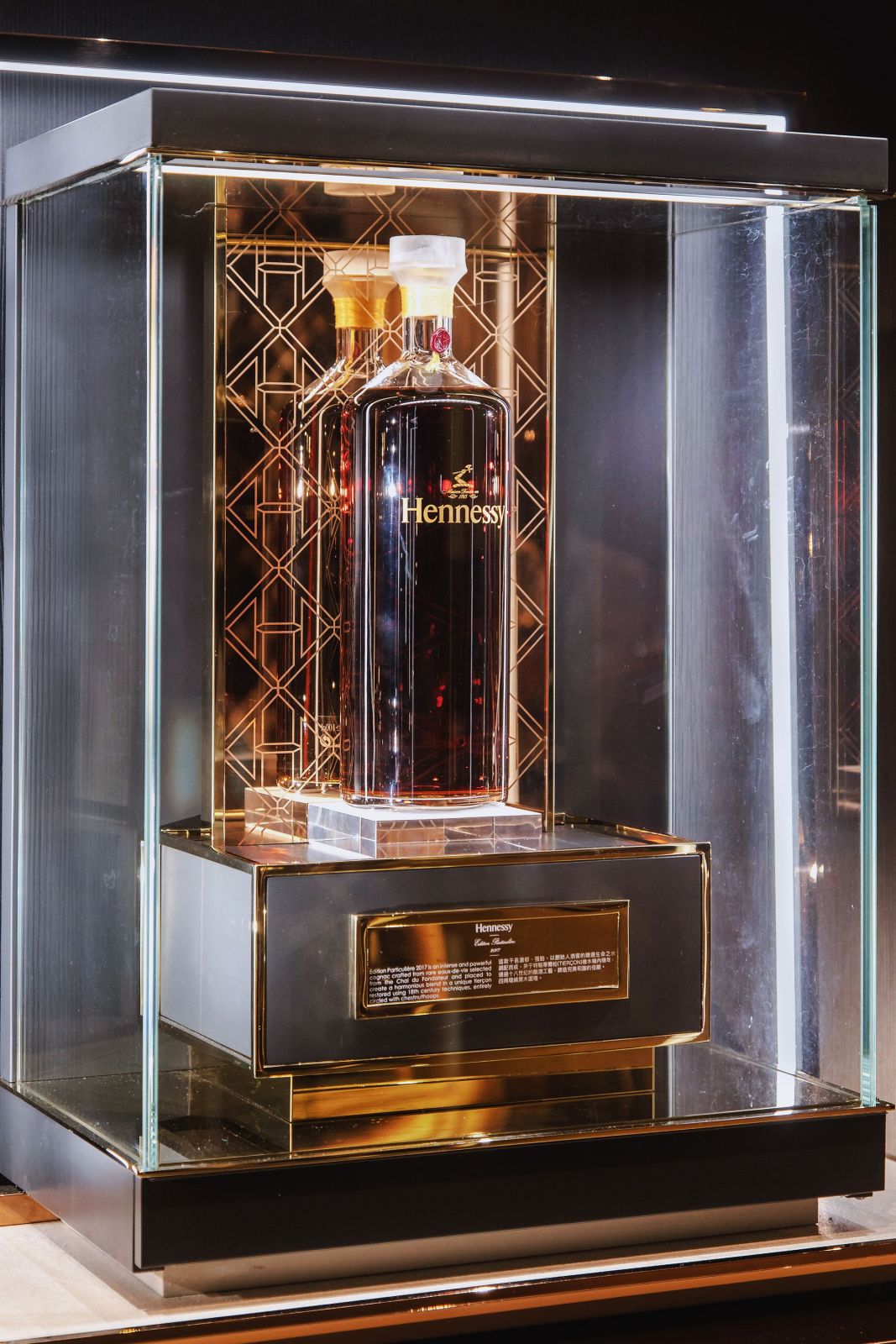 Boidevezi believes the new definition of luxury in airports is helping the brand. He says many airports are raising the bar on retail experience and giving travellers more reasons to arrive earlier to dine and shop.
"What we have done at HKIA is the kind of retail execution that you can find in a department store, in terms of look, feel and architecture," he says. And this is changing consumers' perception of airport retail and getting them to spend more time in the stores, he believes. "So instead of arriving at the last minute and rushing, they will go earlier for the dining experience and take the time to shop as well."
Based on initial results from the boutique's soft opening in June, Boidevezi says there is much cause for optimism. "I have to say that the results are very impressive, from both a quantitative and qualitative basis."
Sales at House of Hennessy have not cannibalised sales of Hennessy at the other Duty Zero by cdf stores, but rather "[added] to the overall number", he reveals. In addition, the best-selling products in value are the ultra-prestige items such as Hennessy X.X.O, Paradis Impérial and Edition Particulière, while the best-selling product by volume is Hennessy's flagship X.O.
"Retail operation is relatively new to us at Moët Hennessy so what is interesting is that we get massive consumer feedback," he says. "In a way, every day is a live consumer survey, and every day we learn, we tweak and we change – it's a constant."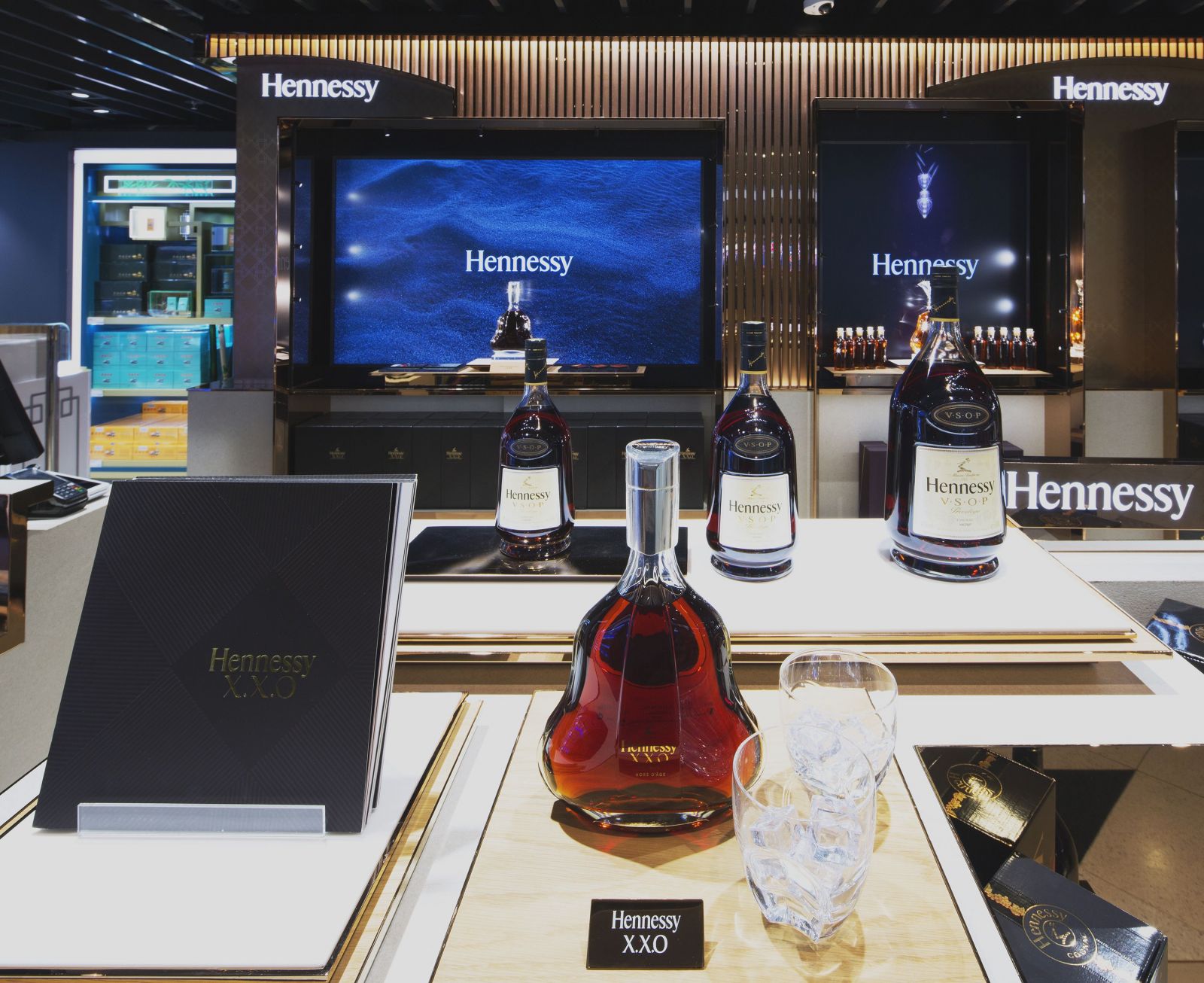 Since the soft opening, the product mix has been adapted and staff training has been enhanced to drive engagement and conversion.
At the macro level, global trends for the Cognac industry and wines and spirits category in travel retail also augur well for Hennessy. According to Bureau National Interprofessionnel du Cognac (BNIC), the global Cognac category is seeing record levels of growth. In 2017, global Cognac exports increased by +11% in volume and +14% in value, generating €3.15 billion in turnover.
In travel retail, wines and spirits grew by +8.5% – the second-fastest growing category after perfumes & cosmetics – to reach US$11.4 billion in 2017, according to Generation Research.
Boidevezi is positive in his assessment of the brand's performance in travel retail. "Overall we have been winning share in a growing market," he reports. "Hennessy in the Cognac world is by far the leading Maison globally. As a leader, it is our role to constantly challenge what we have been doing, innovate and show the way. Competitors will follow what we do, but that's the name of the game – in a way it's good because it will push us to think of something more. Our objective is to close the gap in everything we do."
It is vital that a long-term approach is taken, he says. "It's very different from the FMCG [fast-moving consumer goods] industry – here we are really building companies for the long term. Within LVMH, we don't really talk about brand positioning; it's really about the DNA and what is true to the brand.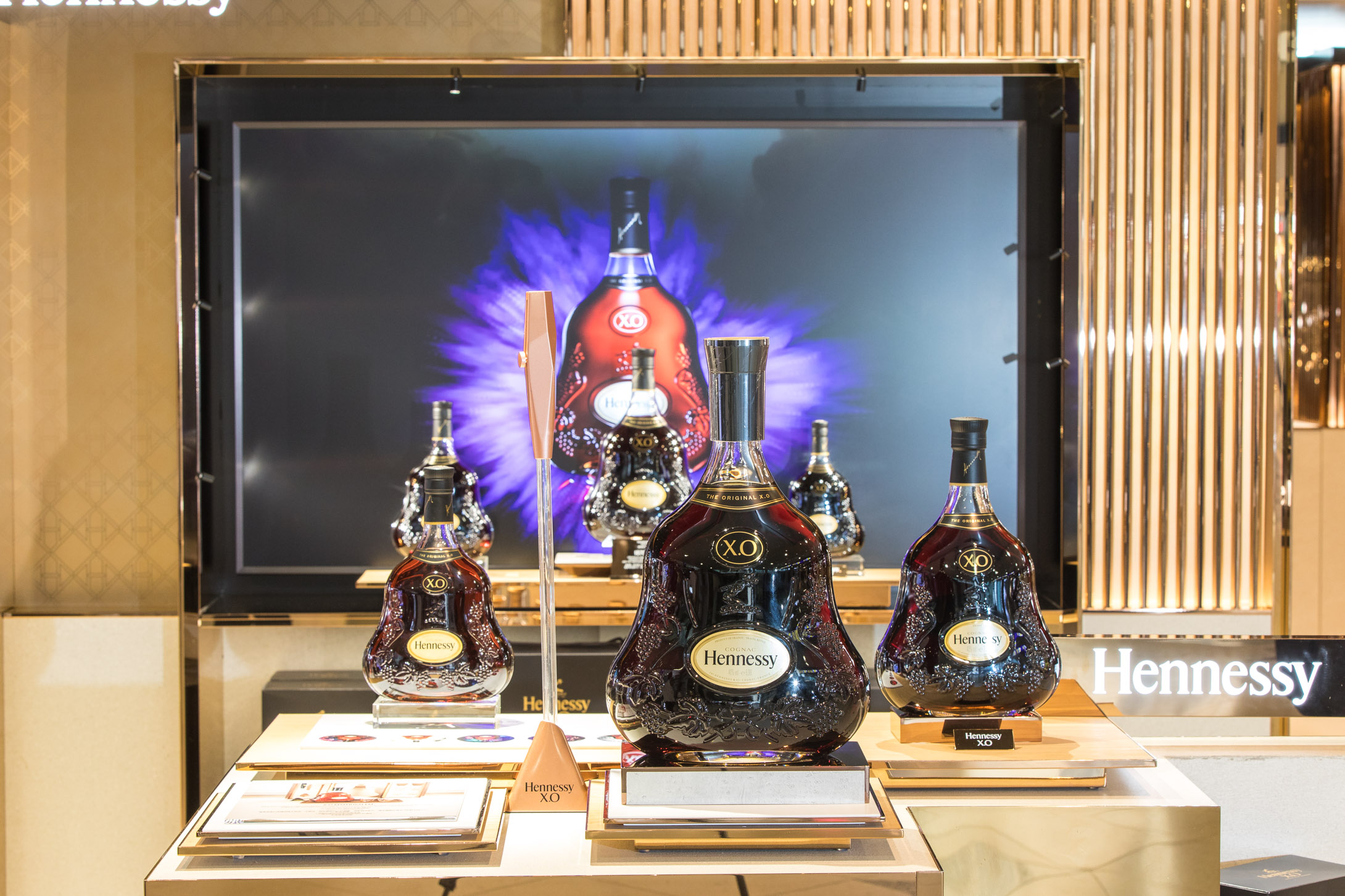 With a price range from approximately HK$600 (US$77) up to HK$258,000 (US$33,011), the product offering includes limited editions such as the 200th Year Anniversary VSOP and the 6-litre Hennessy X.O Mathusalem (above foreground, with only 55 pieces available worldwide).
"How do you keep Houses such as Hennessy, founded more than 250 years ago, true to its heritage and DNA and still be very contemporary and resonate with the consumer? What can we do today to make sure that in 250 years Hennessy will be, first and foremost, still up and ticking, and secondly, more desirable? That for me is the biggest challenge and what makes my job fascinating."
Assessing the goals for Hennessy in travel retail in the year ahead, Boidevezi says: "What we want to achieve is twofold – to reinforce our global leadership in travel retail, and to really leverage travel retail as an amazing platform to build and reinforce our brand desirability. Clearly, travel retail – and especially airport retail – is a fantastic platform for us to do so. The House of Hennessy in Hong Kong offers an amazing consumer experience and great brand exposure which we expect will further reinforce the desirability of Hennessy worldwide."
Strengthening its travel retail partnerships is also a priority for the brand. "We have extremely good relationships with our partners. What we want to do is to be the best partner of the best retailers. It's much easier to say than to execute, but that's the aim," he concludes.
"What we want to achieve, together with our retailer partners, is to transform and elevate travellers' journeys into memorable experiences. We are very much committed to our retailer partners and the airport authorities to go to another level."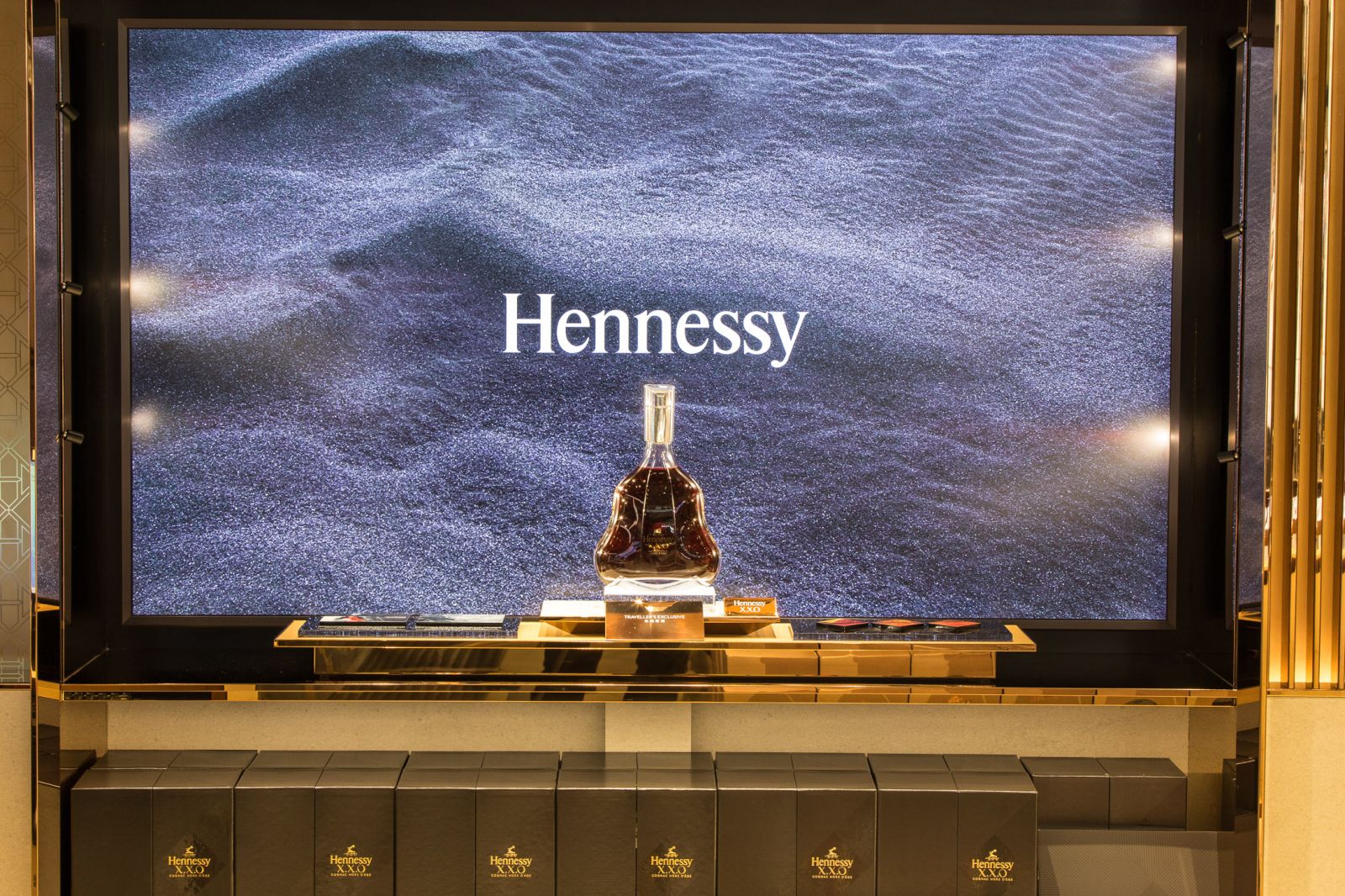 Innovative and Instagrammable
How Melody Ng reported on the Hennessy store opening at Hong Kong International Airport using The Moodie Davitt Report's Instagram feed.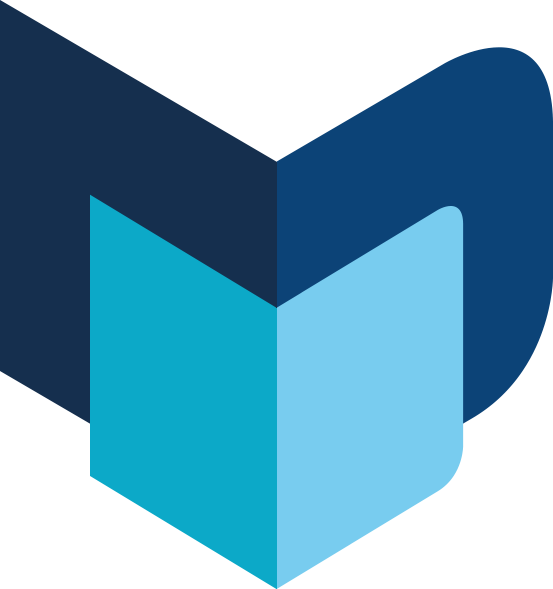 ---
The Moodie Davitt e-Zine | Issue 249 | 11 October 2018