THE FRONT LINE
CELEBRATING EXCELLENCE IN CUSTOMER SERVICE

Welcome to The Front Line, a regular feature championing the best in industry customer service, sponsored by Speyside blended malt whisky Copper Dog. Copper Dog is delighted to recognise the exceptional employees who are ultimately responsible for bringing all facets of the airport retail experience to life.
Each issue The Moodie Davitt e-Zine scours the world to introduce the real heroes of our industry – those who go the extra mile every day when serving the travelling public. Finding joy in serving customers well, Dubai Duty Free's Ray Livestre defines what loyalty and excellence is all about.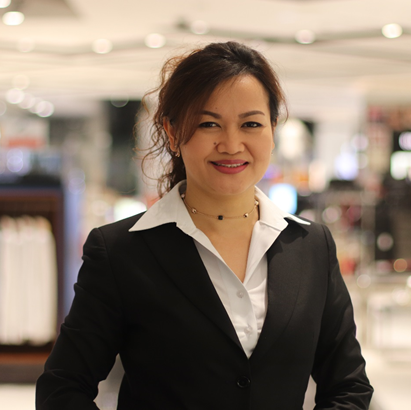 Role: Swarovski dedicated staff
Employer: Dubai Duty Free
Employer's comments: :After completing 11 years of service and twice being named 'Most Outstanding Employee of the Month', Ray has defined what loyalty and excellence is all about. She started her career in Dubai Duty Free as a sales assistant in 2007 and shortly after was selected as a dedicated staff member for the Swarovski brand.
For over a decade, the fashion area has been the permanent work station for Ray. It is both a challenge and a privilege to present the different facets of jewellery pieces to customers. Years of experience and countless jewellery training sessions have fully equipped her to be more confident in answering customers' queries and convincing them to make their purchase.
When at the workplace, Ray sees to it that customers who come into the shop are welcomed and offered assistance. Her utmost priority will always be customers and sales. On the other hand, when a new colleague joins the shop, she takes the initiative in doing orientation on products and procedures, since she is considered one of the most experienced staff members in the team.
Ray's comments: "Customer service is about exceeding customers' expectations as well as developing a relationship of trust with them. This is the reason why I find joy in serving people. Whenever I serve a customer well, it builds a sense of loyalty with them to either come back or tell their friends about the amazing experience they had at Dubai Duty Free."
---
To nominate an employee e-mail Martin@MoodieDavittReport.com with the following:
The employee's job title and length of service with your company
A short description of what makes the person exceptional
A quote or comment from them (optional) on their approach to customer service
A picture of the employee (preferably in a work environment) as a separate file
Copper Dog is a Scotch whisky which sums up all that is good about Speyside. A combination of eight Speyside single malts, Copper Dog is deliciously fruity with a hint of honey and spice.
---
The Moodie Davitt e-Zine | Issue 248 | 28 September 2018