28 SEPTEMBER 2018
---
The Moodie Davitt Stock Watch serves as an indicator of overall business confidence in the global travel retail & duty free industry. Share prices of major publicly listed companies that own travel retail operations are monitored on a weekly and year-to-date basis to offer an indication of business confidence in the sector.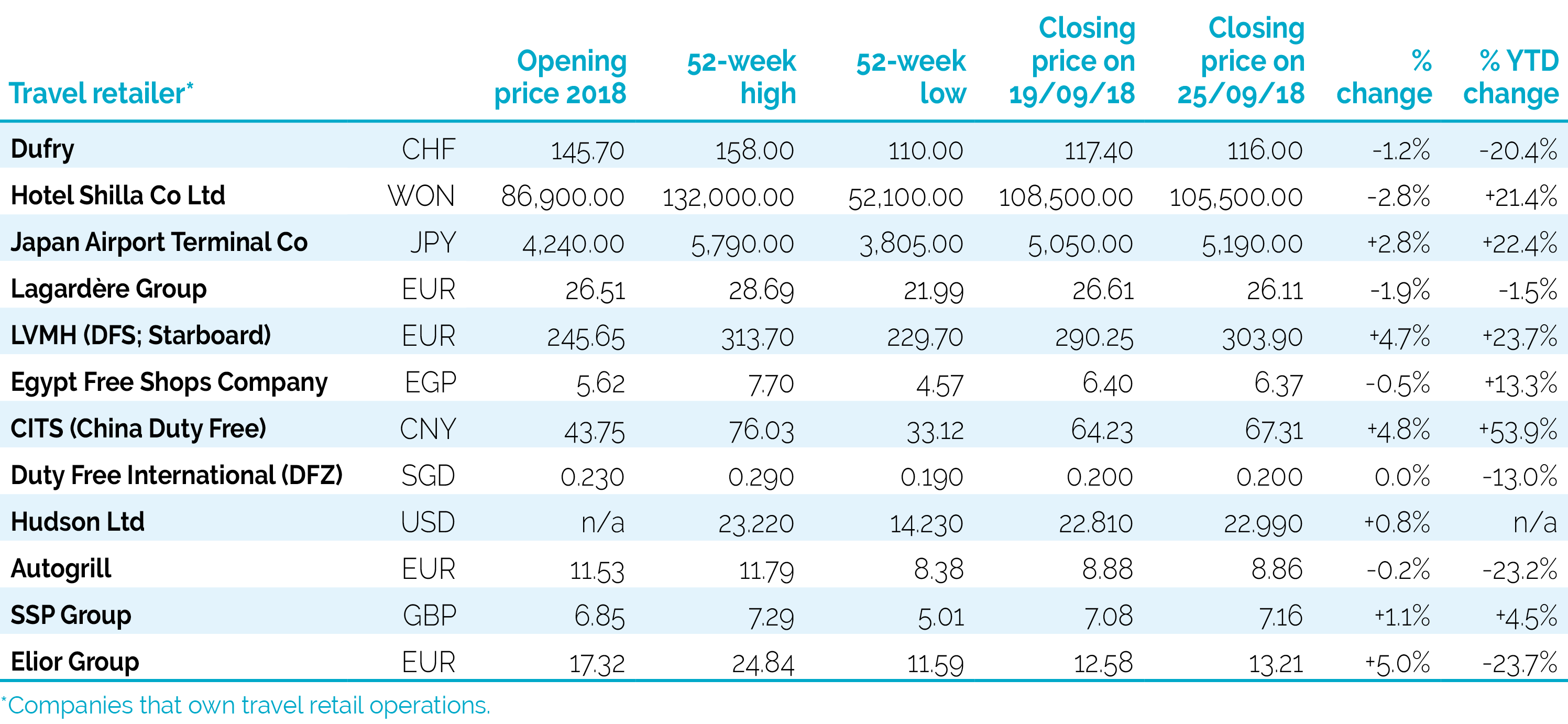 Shares in food & beverage company SSP Group hit a 52-week high of £7.29 on 21 September, just days before the company published its pre-close trading update. SSP's financial year runs to 30 September. It said Q4 like-for-like sales growth had continued at a similar level to Q3 (which was +2.7%), and was in line with expectations.
"Our expectations for like-for-like sales growth in the full year remain unchanged at between +2% and +3%," SSP added in the statement. "Like-for-like sales growth has been driven largely by increased passenger numbers in the air sector. Trading in the rail sector has remained soft during the year."
SSP noted that its acquisitions of TFS in India and Stockheim are performing well, and are expected to add +1.5% to revenue in the full year.
In the period tracked here (closing prices between 19 and 25 September), shares in SSP were up +1.1%, and are +4.5% ahead of where they were on 1 January.
Staying in F&B, Areas parent company Elior Group recorded a +5% increase in the current period, one of its more encouraging performances in a generally downward-trending 2018. Indeed, its year-to-date differential is -23.7%. That makes it the worst performing company among those we track, just behind another F&B company, Autogrill, at -23.2%.
Elsewhere, shares in China Duty Free Group parent China International Travel Service (CITS) were up +4.8%, continuing the company's positive momentum. Shares in CITS have now increased +53.9% since the start of the year, making the company our star performer so far in 2018 – and by some distance.
DFS co-parent LVMH is now ranked second in year-to-date improvement among the companies we track, at +23.7%. Shares in the company rose +4.7% this time.
On the other end of the scale, shares in Dufry have fallen to a 52-week low (CHF110 on 26 September) and are down -20.4% since 1 January.
---
The Moodie Davitt e-Zine | Issue 248 | 28 September 2018