It's a "gift to passengers", says Shannon Airport. The world's largest private diecast model aircraft exhibition was unveiled there this week and certainly adds colour and intrigue to the customer journey.

Jason Holland

reports.
Passengers at Shannon Airport are being invited to share in one man's life-long fascination with aviation in a new permanent public exhibition.
Shannon Group, which operates the airport in the west of Ireland (and which was the birthplace of duty free in 1947), has officially opened the world's largest private diecast model aircraft exhibition there.
The collection comprises 2,300 diecast model aircraft, with over 1,500 of them now on display and the rest to be rotated over time.
Retired Limerick man Michael Kelly, whose love affair with aircraft started as a boy at Shannon in the late 1950s, has assembled the hefty collection. He says it includes every popular plane to have flown as well as many lesser-known aircraft, right up to modern day versions.
Model aircraft take flight: Michael Kelly's collection outgrew his old farmhouse home at Farranshone, Limerick – but is now being proudly displayed at Shannon Airport.
The exhibition is located in the departures lounge. Some of the model aircraft are more than 40 years old, and all are 1:200 in scale with replicas of aircraft dating back to the 1940s.
Shannon Group Chairman Rose Hynes launched the exhibition on Tuesday (25 September). "Shannon is a place of homecomings and this is certainly among the best of them. This permanent display is a superb addition to the airport, a gift to passengers," she says.
"Making our passengers happy, making their time in our airport go by easily, letting them know we care, is something we work hard at. This exhibition is an example of that."
Michael Kelly says the exhibition launch is "a dream come true". "I fell in love with aircraft in the late 1950s, the first minute my dad brought me to Shannon Airport to spot aircraft as they landed and took off," he explains. "So, to have spent a lifetime assembling this collection and bring it back to where it all started is more than I could have hoped for."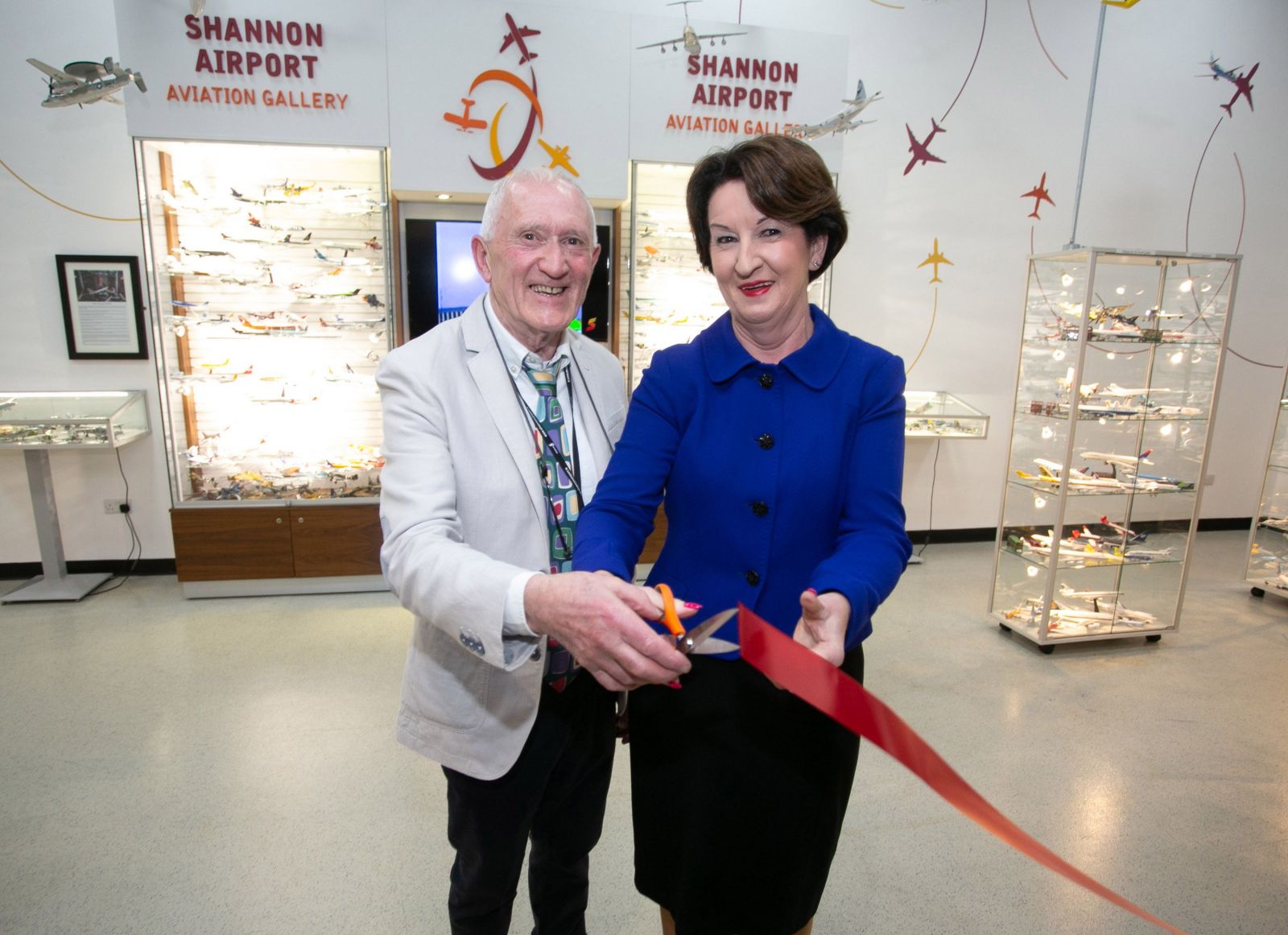 Model aircraft collector Michael Kelly and Shannon Group Chairman Rose Hynes at the opening of the exhibition.
Among the exhibition highlights are a range of Concordes that perfected take-off ability at Shannon Airport as well as the Sunderland aircraft owned by Al Capone from the 1930s and the McDonnell Douglas DC6 – the oldest aircraft replicated in the collection.
Other aircraft model replicas are the Antonov 225, the world's largest aircraft to fly commercially, which has also transited Shannon; the first Ryanair Boeing 737 aircraft; and the full Aer Lingus collection.
"We here at Shannon are delighted and proud to provide a home for such a wonderful and vast exhibition," said Shannon Airport Director of Airport Operations Niall Maloney. "Michael, through his determination and love of aviation, has managed to amass the largest collection of model aircraft in the world. It's in keeping with an airport that has probably broken more frontiers than any other of its size in the world."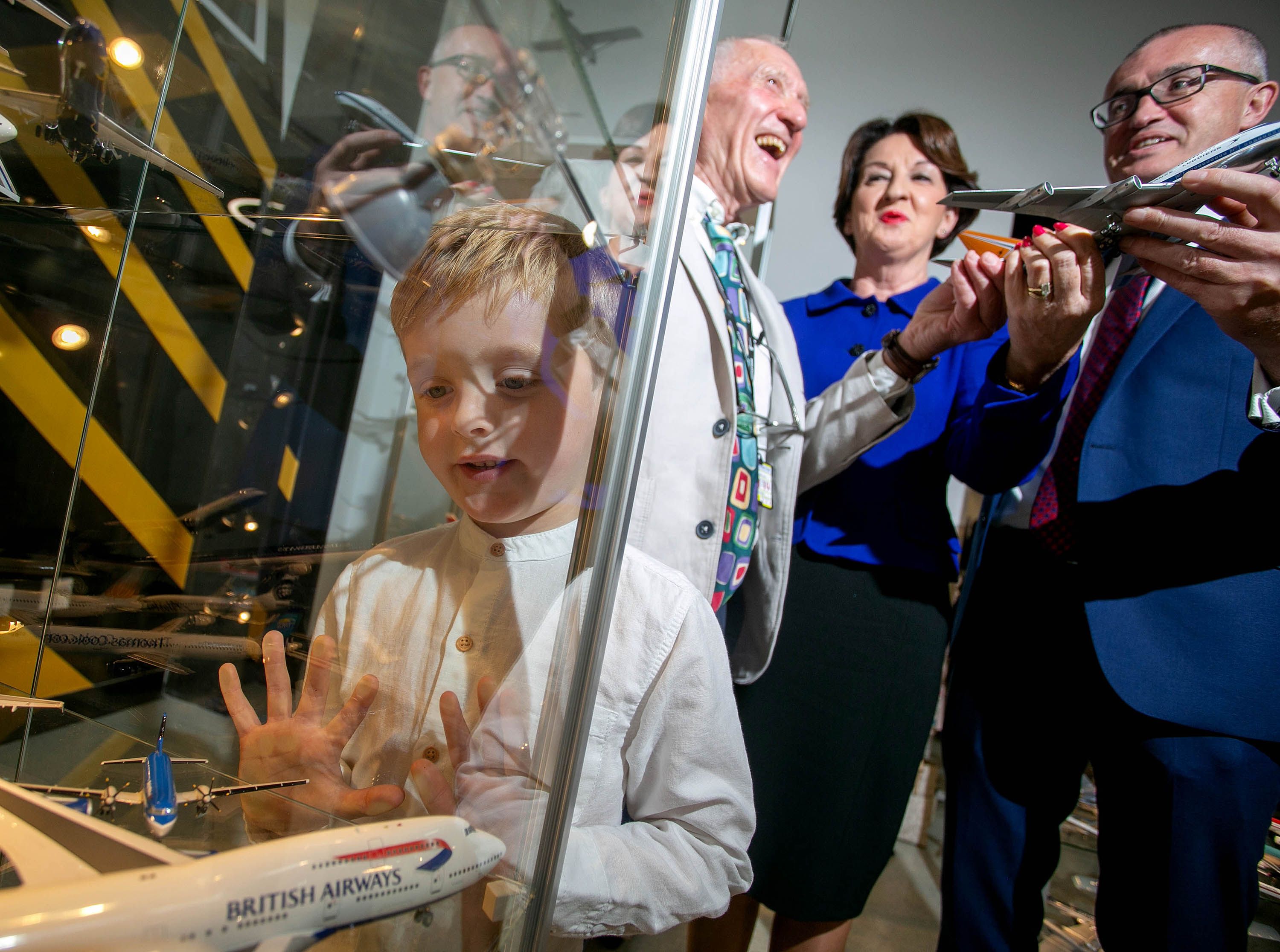 The exhibition aims to make passengers happy and has certainly engendered a sense of wonder in this young man.
This video offers a compelling introduction to the life of Shannon Airport's most famous son, duty free pioneer Dr. Brendan O'Regan.
Shannon Airport has a rich duty free heritage. Visionary and innovator Dr. Brendan O'Regan developed the world's first duty free shop there in 1947, a concept ahead of its time in the aviation world, and quickly replicated in airports across the globe.
In May 2017, on the 100th anniversary of his birth, Shannon Airport unveiled a bust celebrating the memory of Dr. O'Regan, accompanied by a six panel exhibition on his life and work, lent to the airport by Clare County Museum.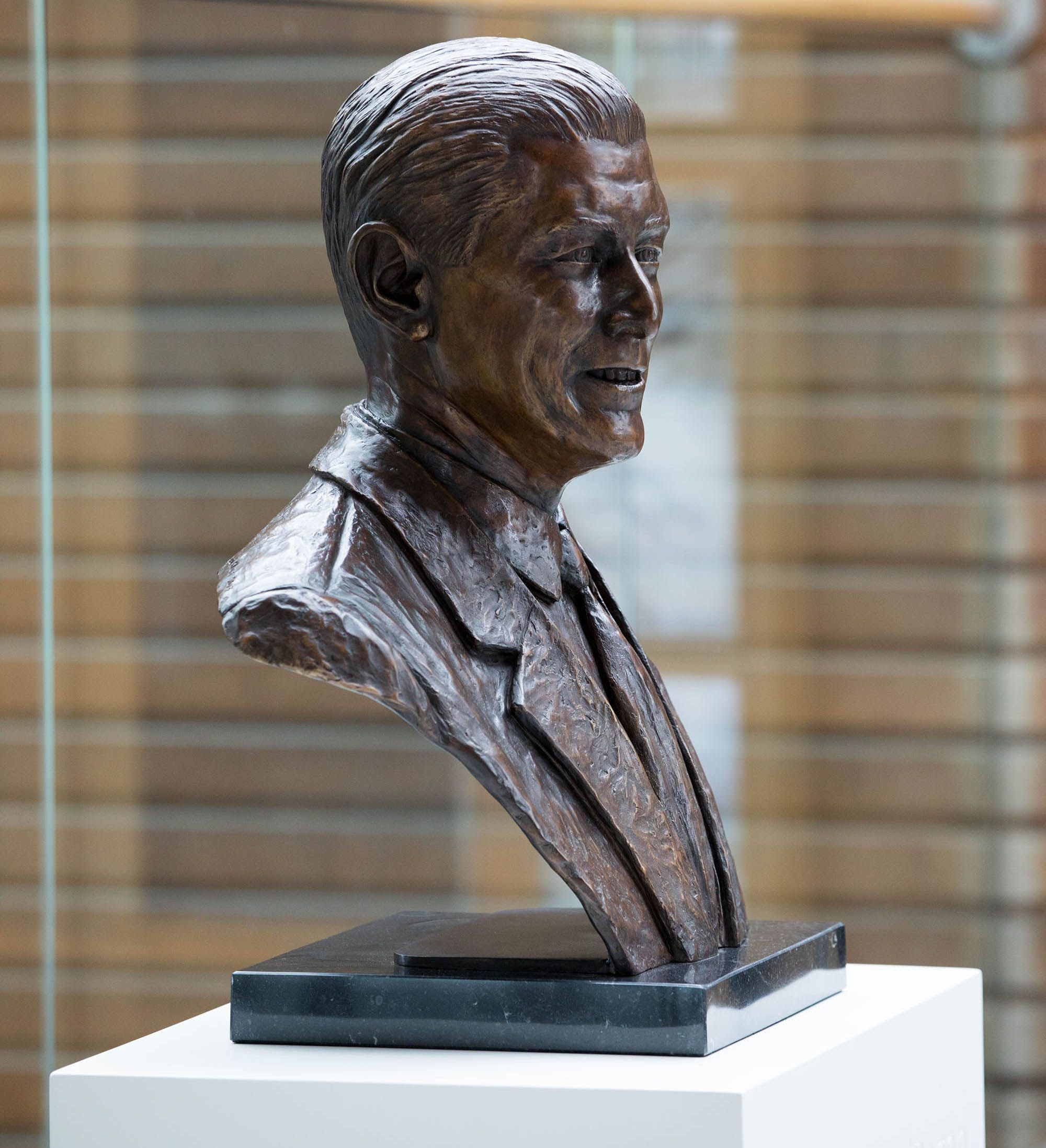 A bust of duty free pioneer Dr. Brendan O'Regan is located on the second floor of the Shannon Airport terminal building.
Image: Sean Curtin True Media.
The Moodie Davitt Report produced a special publication marking 70 years of duty free & travel retail last year. It can still be ordered .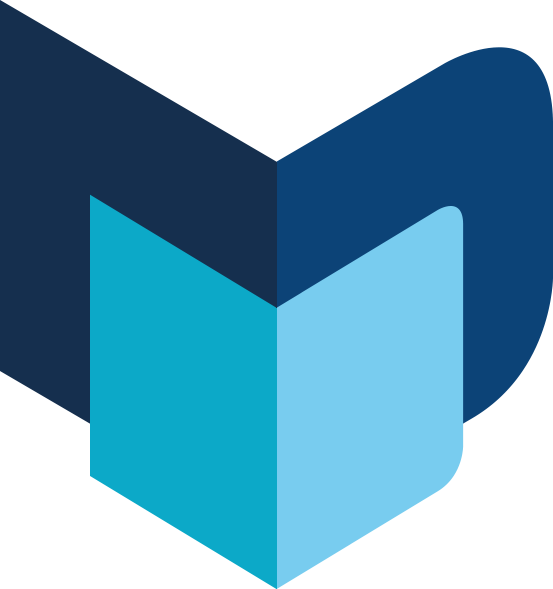 ---
The Moodie Davitt e-Zine | Issue 248 | 28 September 2018