24 SEPTEMBER 2018
---
The Moodie Davitt Stock Watch serves as an indicator of overall business confidence in the global travel retail & duty free industry. Share prices of major publicly listed companies that own travel retail operations are monitored on a weekly and year-to-date basis to offer an indication of business confidence in the sector.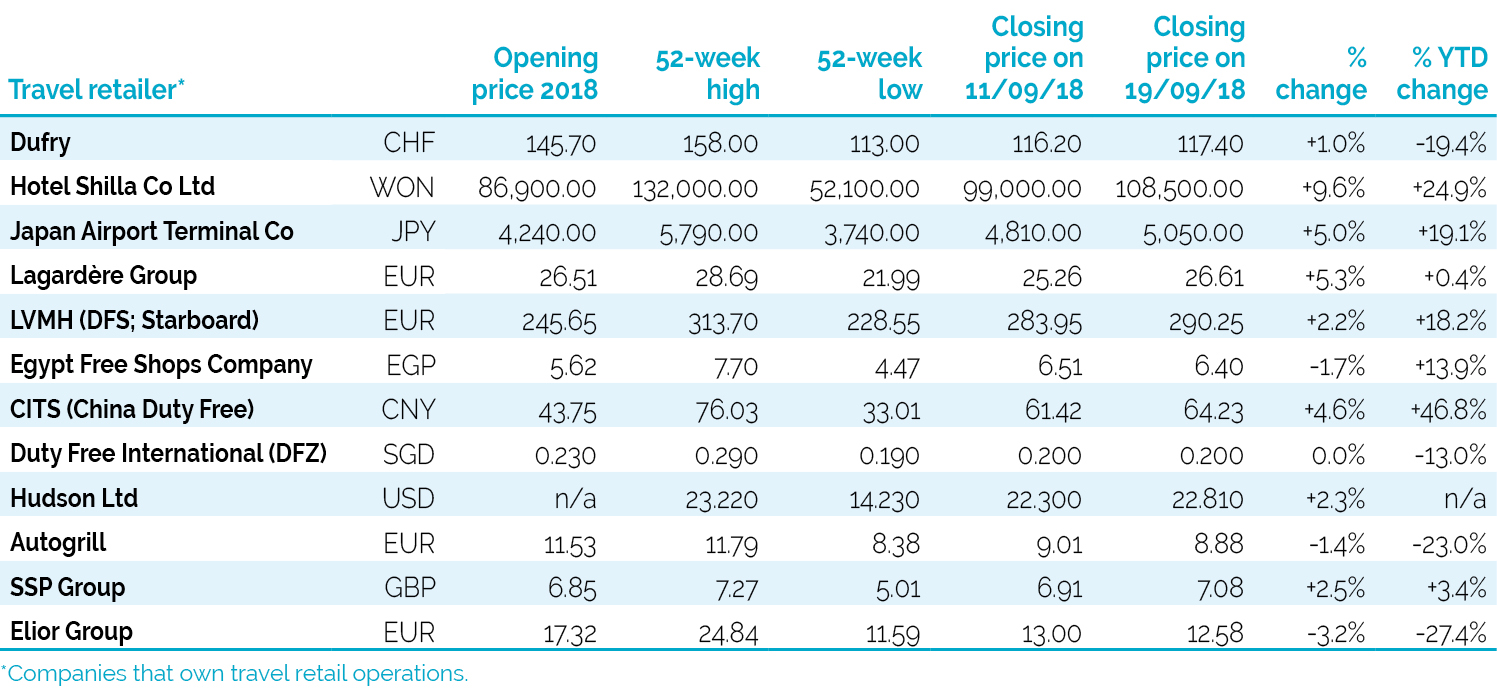 The Shilla Duty Free parent Hotel Shilla has been one of the top performers this year among the travel retail-related companies we track.
Shares in Hotel Shilla have dropped off though in the last three months since reaching a 52-week high of KRW132,000 (US$117.6) in mid-June. In the period covered here (closing prices between 11 and 19 September), shares increased by an impressive +9.6% in what the company will be hoping marks a return to form.
Hotel Shilla's year-to-date differential is now +24.9%, behind only China Duty Free Group parent China International Travel Service's (CITS) +46.8%. Shares in CITS were up +4.6% in the current period.
Shares in Lagardère Group and Japan Airport Terminal Co were also up strongly this time, at +5.3% and +5% respectively.
The world's largest travel retailer, Dufry, has not had a stellar year so far on the stock market. It saw a small +1% increase in the current period to halt successive declines. The company continues to grow its presence though, and as analysed earlier in this issue, officially launched its World Duty Free New Generation Store at Heathrow Airport Terminal 3 this week.
Dufry's subsidiary Hudson continued its positive momentum, with a +2.3% increase in the current period.
Among the food & beverage businesses we monitor, shares in Elior Group dropped -3.2%, following a -8.8% decline last time (closing prices on 28 August and 11 September). Shares in Autogrill fell -1.4% but SSP Group saw a +2.5% increase.
---
The Moodie Davitt e-Zine | Issue 247 | 24 September 2018