'This changes everything'
How industry giant Philip Morris International is rewriting the rules of tobacco engagement
Publisher's Introduction: May 31. World No Tobacco Day. A day on which the World Health Organization (WHO) and its partners highlight the health risks associated with tobacco use, and advocate for effective policies to reduce tobacco consumption. It's a high-profile day for the WHO's anti-tobacco agenda, generating copious volumes of media attention worldwide each year.
But this year saw an ostensibly unlikely contributor to those column inches. Both on the day before and on World No Tobacco Day itself, global tobacco giant Philip Morris International (PMI) placed full-page advertisements in several mainstream international and national media titles beginning with (on 30 May) the proclamation-turned-question "We're moving away from cigarettes, how about you?". It continued, "We've made the decision to build our future without cigarettes… Ultimately, we want to be in a position to stop selling cigarettes altogether. No cigarette company has done anything like this before. But the vision is clear. And the benefits are clear too. For everyone."
A day later, its World No Tobacco Day advertisement, which featured in numerous leading international newspapers (and, in B2B publishing, The Moodie Davitt Report), read: "1 billion people will start World No Tobacco Day with a cigarette.
"The harm caused by smoking is well known. Our view on the future is clear. We believe people should stop smoking and we support measures to dissuade people from starting. That said, people who continue to use cigarettes deserve a better choice. They should be able to switch to alternatives that are likely to be less harmful than continuing to smoke.
"Why would anyone deny them this opportunity? They deserve a sensible plan. With more than 400 world-class scientists, engineers and technicians, we've made the decision to build our future without cigarettes. To find out more, go to ."
The Moodie Davitt Report did indeed want to find out more. But instead of going to PMI.com, we went to Neuchâtel, Switzerland, to the Cube, Philip Morris International's impressive research and development centre, part of a US$4.5 billion push into research and development of what the company has dubbed 'reduced risk products'.
This is what we discovered. By Martin Moodie.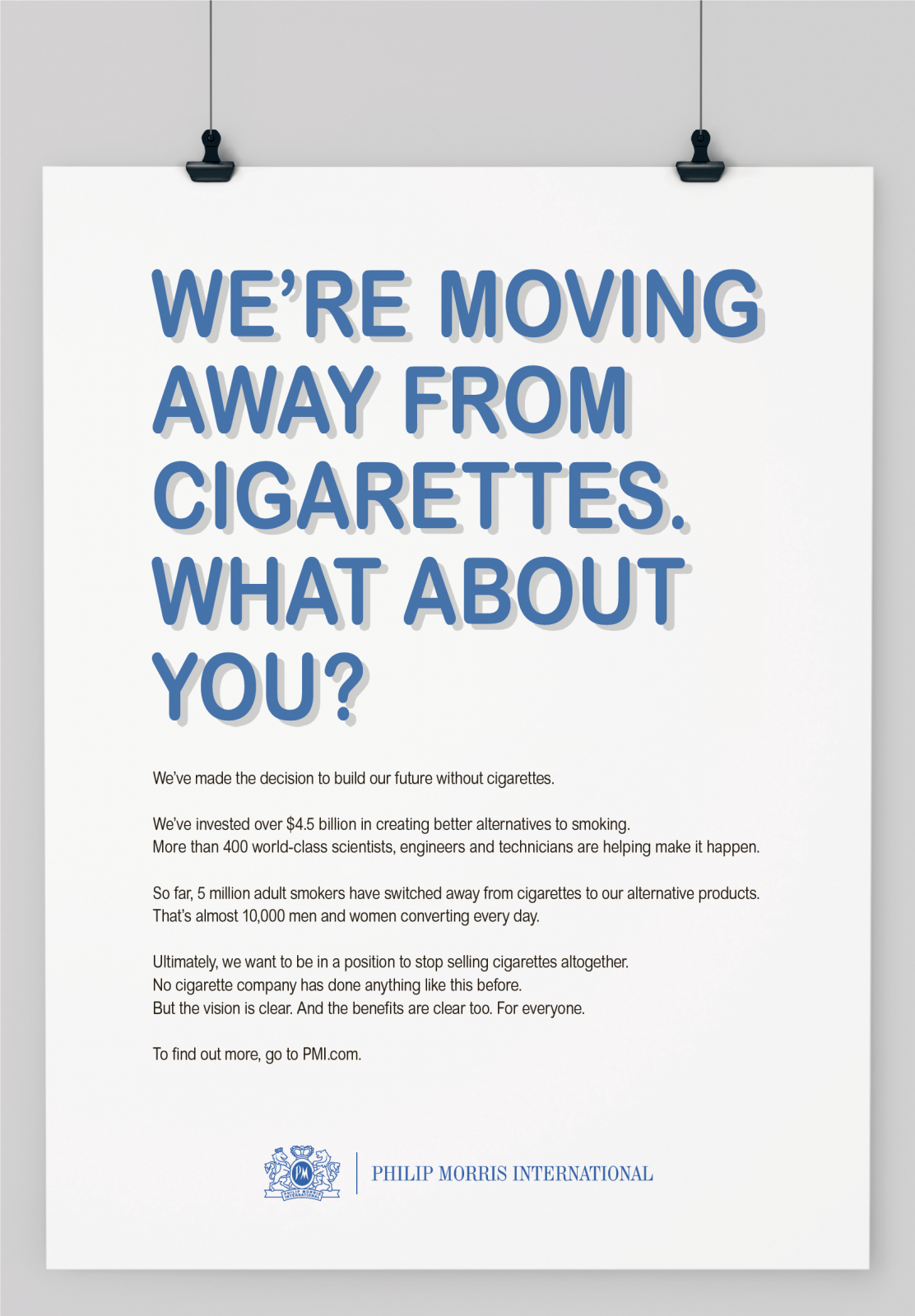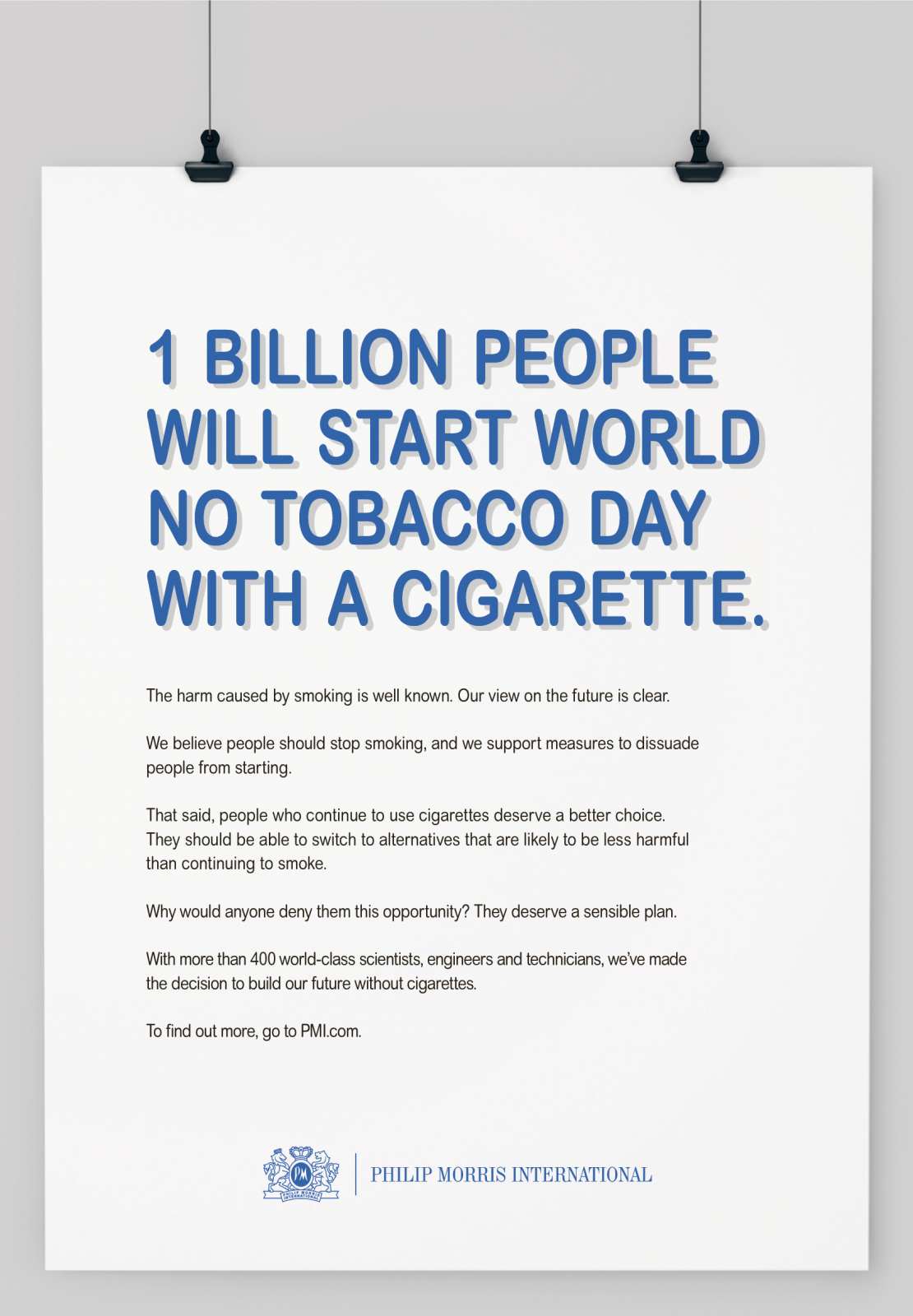 "We've made the decision to build our future without cigarettes… Ultimately, we want to be in a position to stop selling cigarettes altogether... the harm caused by smoking is well known." - Extraordinary statements from the tobacco giant.
Click on the icon to watch a fascinating insight into Philip Morris International's commitment to a smoke-free future.
Think Google headquarters crossed with an Apple Store and fused with an American Ivy League university campus. Throw in the ambience of, say, a multinational pharmaceutical research facility, a world-class medical institution, and the futuristic feel of a science fiction movie and you start to get an impression of the Cube, Philip Morris International's extraordinary glass hexahedron research and development (R&D) facility dedicated to smoke-free products, in Neuchâtel, Switzerland.
Park bench-style seating abounds, natural light flows in from the sky above and from Lake Neuchâtel just metres away through the floor-to-ceiling glass. There are palm trees, compact gardens planted with different tobacco variants, space-age ergonomic chairs and coloured stairways. It's a pristine Swiss hi-tech village meets Silicon Valley. And it's all smoke-free.
That's right. Smoke-free. Try putting those two hyphenated words into a single sentence alongside a name synonymous with big tobacco ten years ago and you would have been laughed at. But what's happening on the serene shores of beautiful Lake Neuchâtel is anything but a joke as the world's biggest tobacco firm by enterprise value (US$175 billion) and the second-biggest by net sales plots a smoke-free future. So smoke-free in fact that the main building is split into three sections – earth, wind and… water. Fire need not apply.
"Our ambition is to convince all current adult smokers that intend to continue smoking to switch to smoke-free products as soon as possible."
– André Calantzopoulos, CEO Philip Morris International
To understand the implications for the combustible (traditional) cigarettes sector (and for travel retail), consider both the scale of the initiative and of the player behind it. PMI owns six of the world's top 15 international cigarette brands, including the world's number one: Marlboro. Those products are the choice of 150 million consumers worldwide. The company operates in more than 180 markets, owns 46 production facilities around the world, and employs over 81,000 staff globally. In every sense, it is a global corporate powerhouse. And its core business? You guessed it. Combustible (i.e. flammable) tobacco.
Philip Morris International Chief Executive Officer Andre Calantzopoulos discusses the company's bet on smoke-free products with Bloomberg's Kevin Cirilli on Bloomberg Markets: Balance of Power.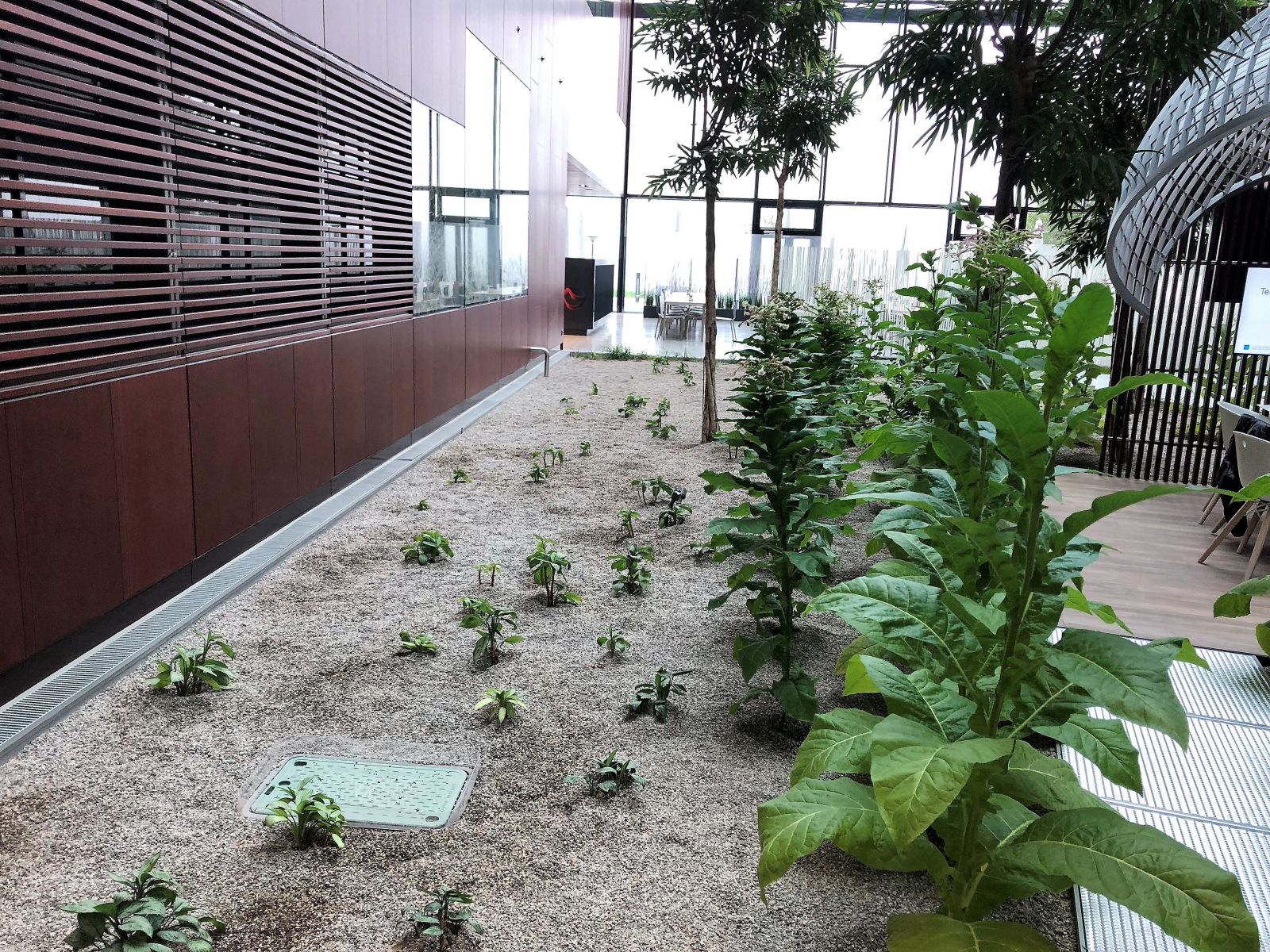 Taking a leaf from the corporate playbook: Tobacco plants offer a serene but suitable touch to the Cube environment.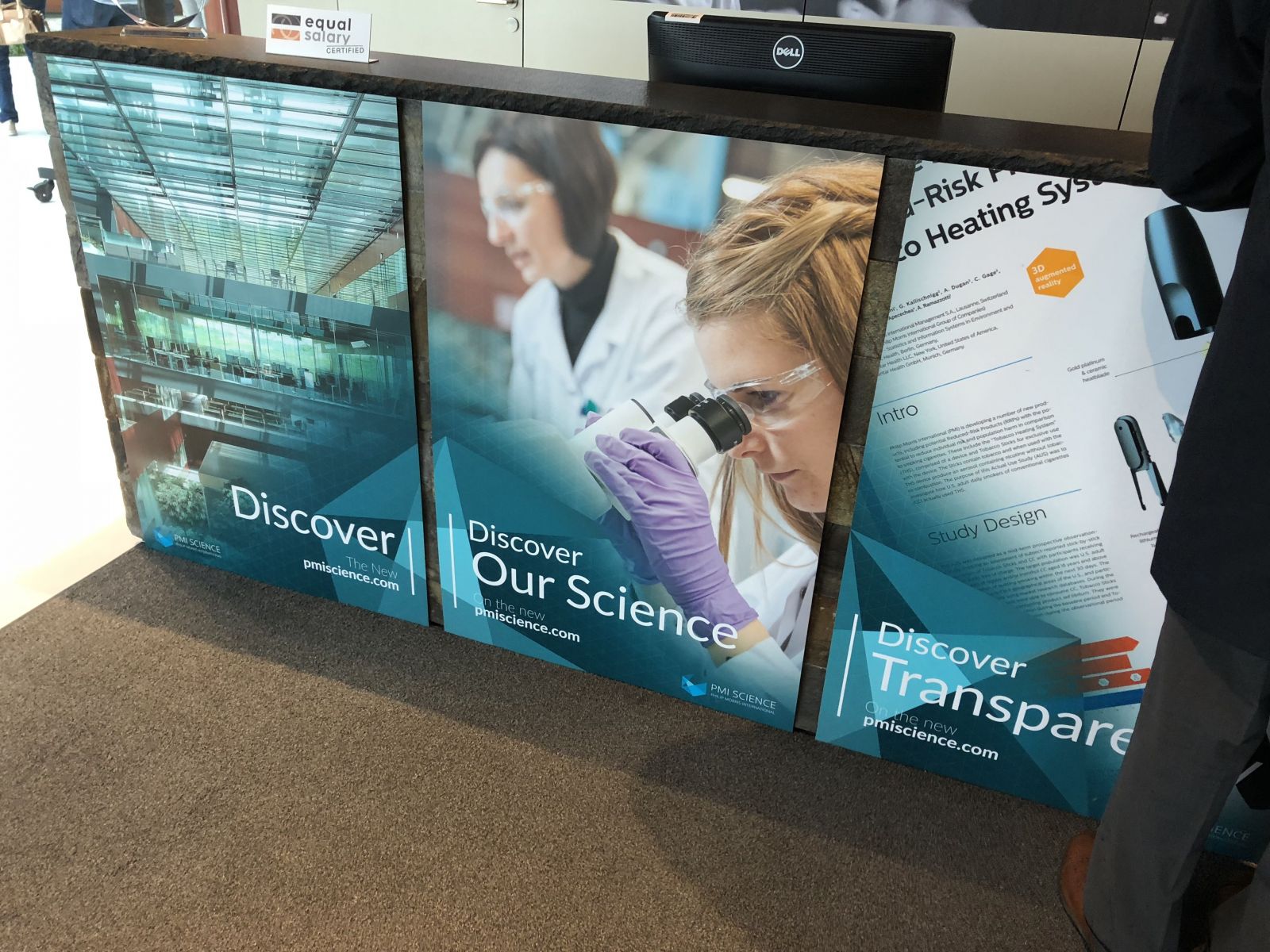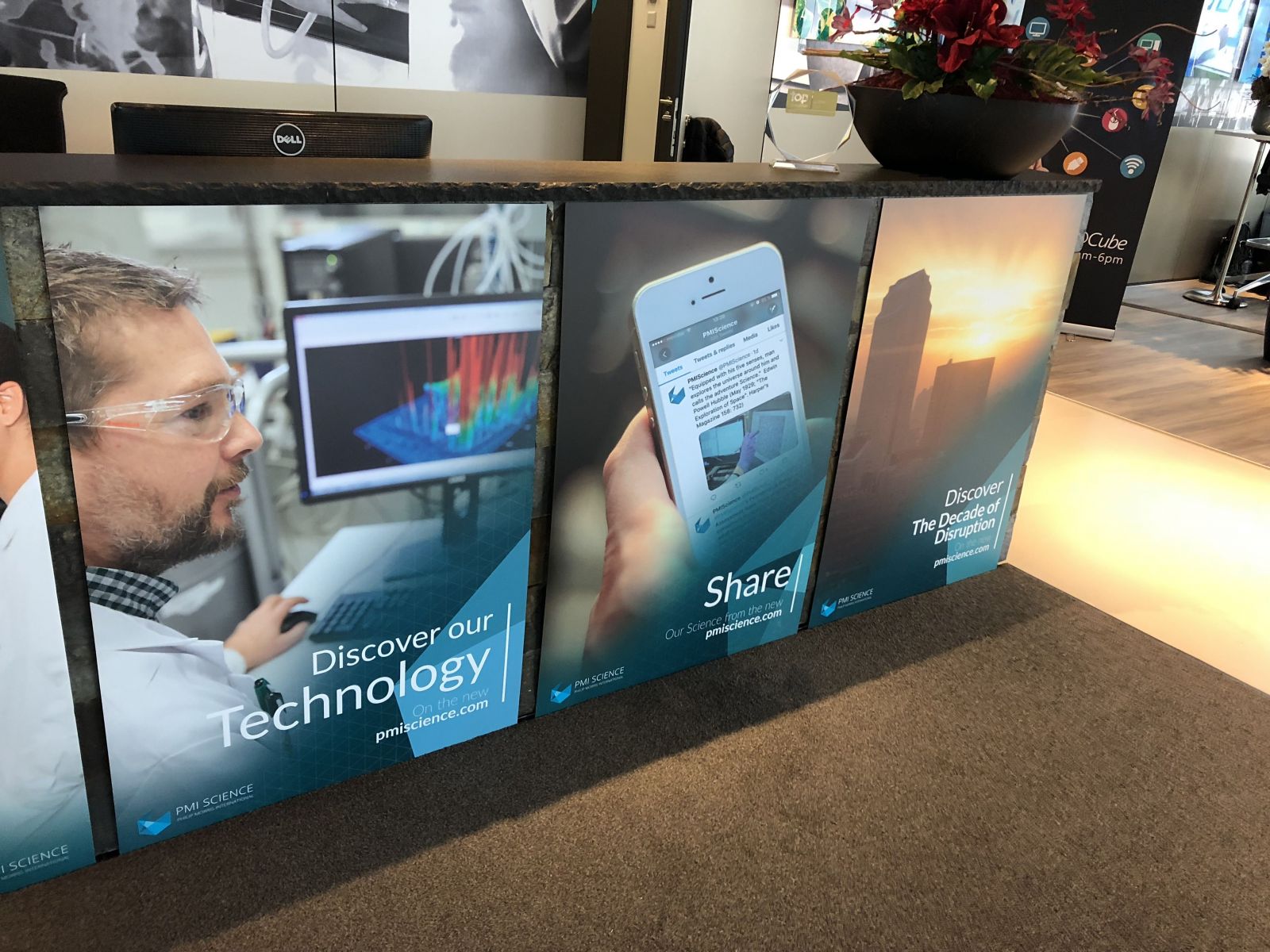 And yet… here's the extraordinary statement on the company's website. "We're dedicated to doing something very dramatic – replacing cigarettes with the smoke-free products that we're developing and selling." PMI describes that mission statement as the biggest shift in its history, adding, "and it's the right one for our consumers, our company, our shareholders, and society".
The company is putting its money where its mouth is to back up such claims. And we're not talking small change. To date it has sunk over US$4.5 billion into R&D facilities in Neuchâtel and Singapore and there's plenty more to come. PMI has also built new production facilities and converted former cigarette factories to meet the growing demand for reduced-risk, smoke-free products.
"Nicotine is the core of the problem but also the centrepiece of the solution."
– Mitch Zeller, Director of FDA's Center for Tobacco Products
Of those reduced-risk, smoke-free products (and PMI has had several in the works dating back to 1998), its flagship – and the one with the most commercial momentum – is IQOS (pronounced eye-kose), a product launched (in Japan) in 2014 that is designed to create a flavourful nicotine-containing vapour, without burning or smoke. PMI proudly states that approximately 6 million consumers have already switched from traditional cigarettes to IQOS, which is now available in 42 markets. Almost 10,000 men and women are moving away from cigarettes and converting to IQOS every day, the company says.
One of the taglines for IQOS is 'tobacco meets technology', a reference to the way that PMI's most advanced smoke-free product embraces sophisticated electronics to heat the tobacco in order to release flavours and nicotine. And it was IQOS, already rolled out in a number of travel retail locations, that served as the focus of The Moodie Davitt Report's recent visit to the shores of Lake Neuchâtel.
PMI predicts that the number of traditional cigarettes sold worldwide will drop from 800 billion in 2017 to around 550 billion by 2025, the kind of attrition rate normally guaranteed to give CEOs (and shareholders) sleepless nights. But hear this. The company also estimates that by the same date (2025) it will have switched 40 million smokers from combustible cigarette brands to its smoke-free products, with a resultant increase from around 36 billion units sold to 250 billion in the same time frame.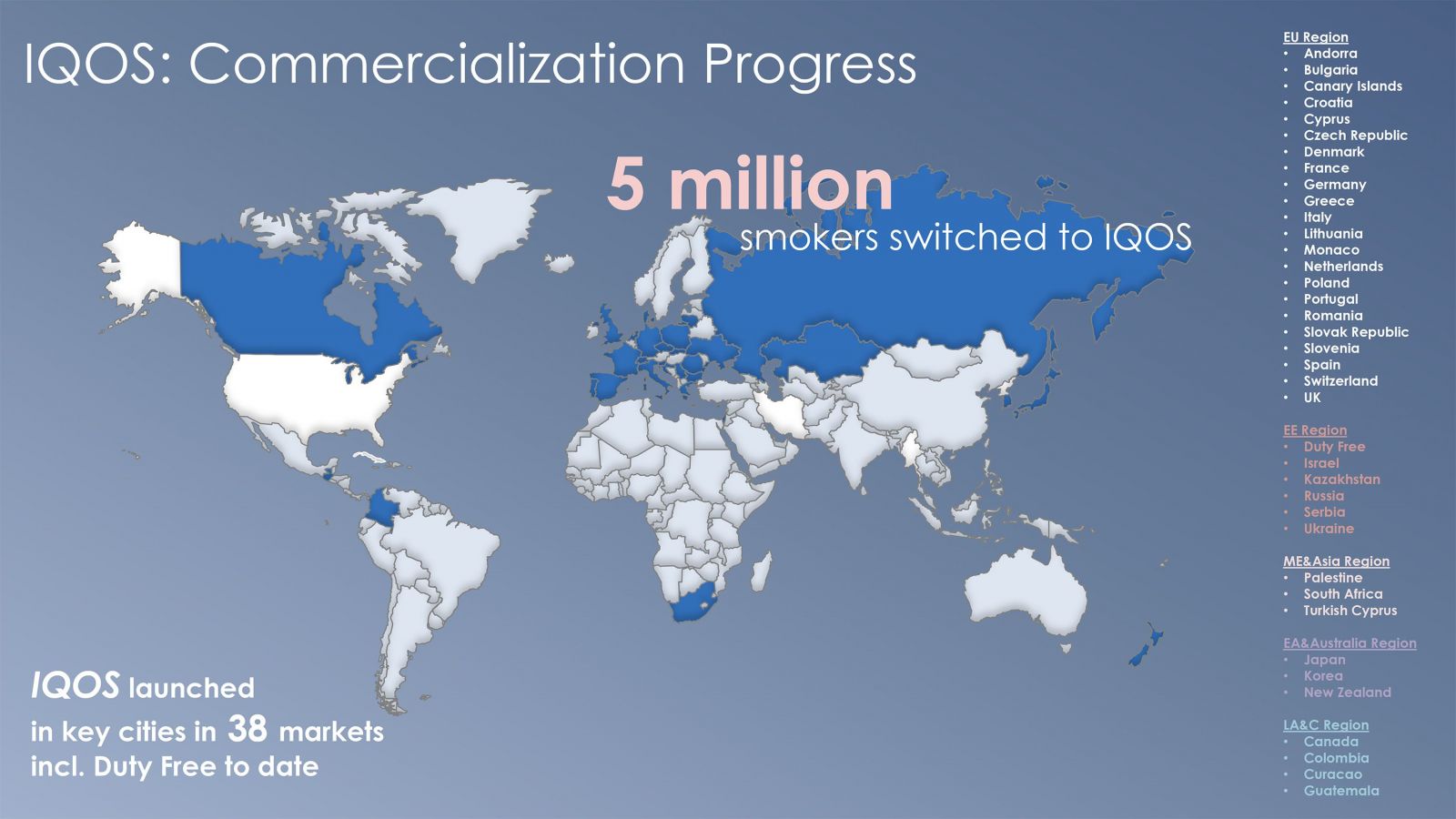 How things are heating up for IQOS worldwide.
Source: Philip Morris International.
IQOS is as big a departure from the traditional world of the Marlboro cowboy and scenes of chain-smoking executives in TV series Mad Men as you could possibly imagine. The tobacco heating device, available in multiple colours, could be perceived as being every bit as cool as, say, the latest iPhone while the range of accessories, which allow for personalisation and customisation, wouldn't look out of place in a high-class fashion boutique. Its neat tobacco units, called HEETS (or heat sticks), which fit into the device and are heated but not burned, are subtle and chic. [In fact, IQOS offers two different solutions to move away from cigarettes: one that heats tobacco and one, IQOS Mesh, that heats liquid. We are focusing on the former in this article.]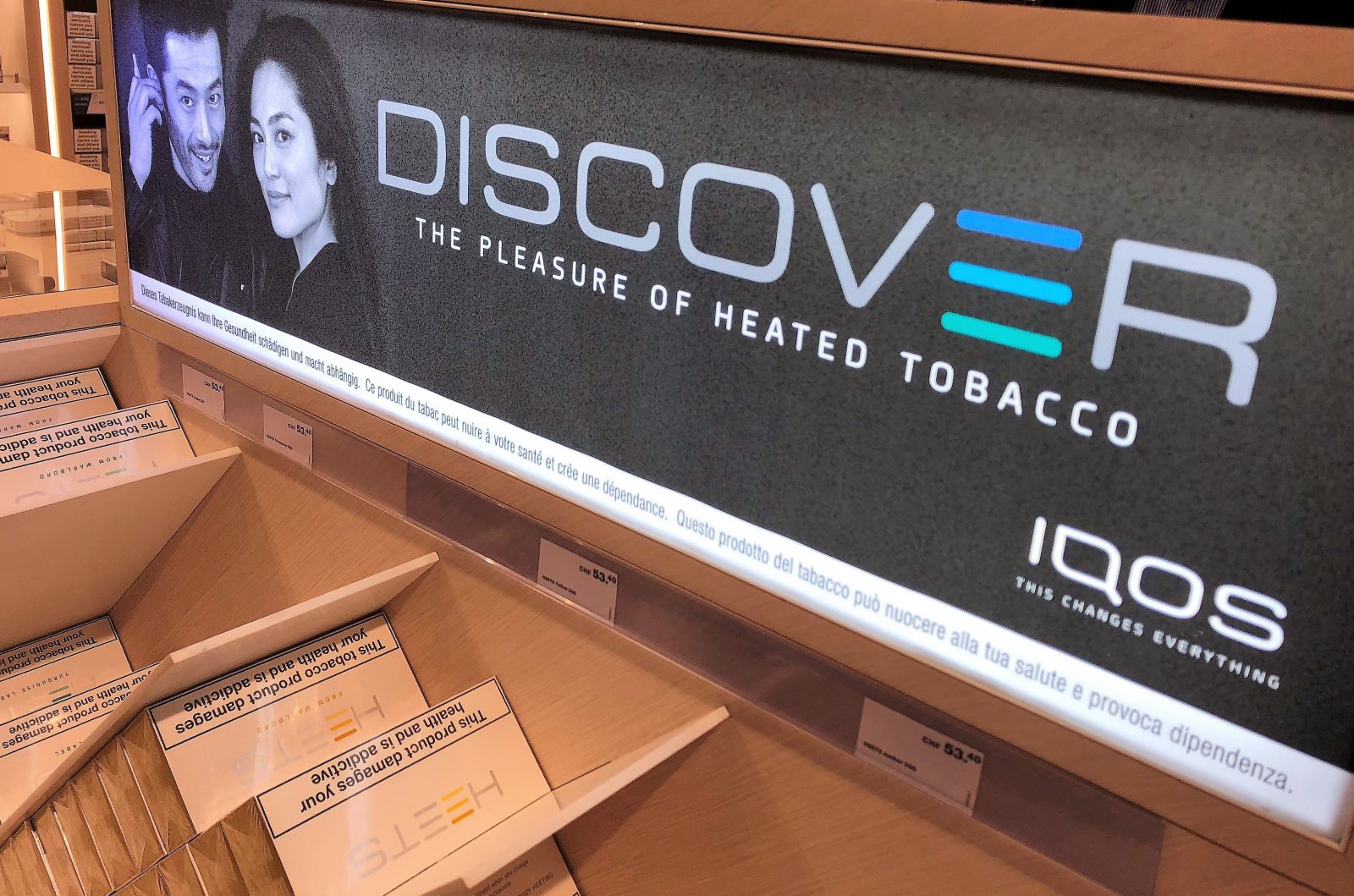 Slick, high-profile merchandising units are designed to make IQOS stand out from the mainstream tobacco offer.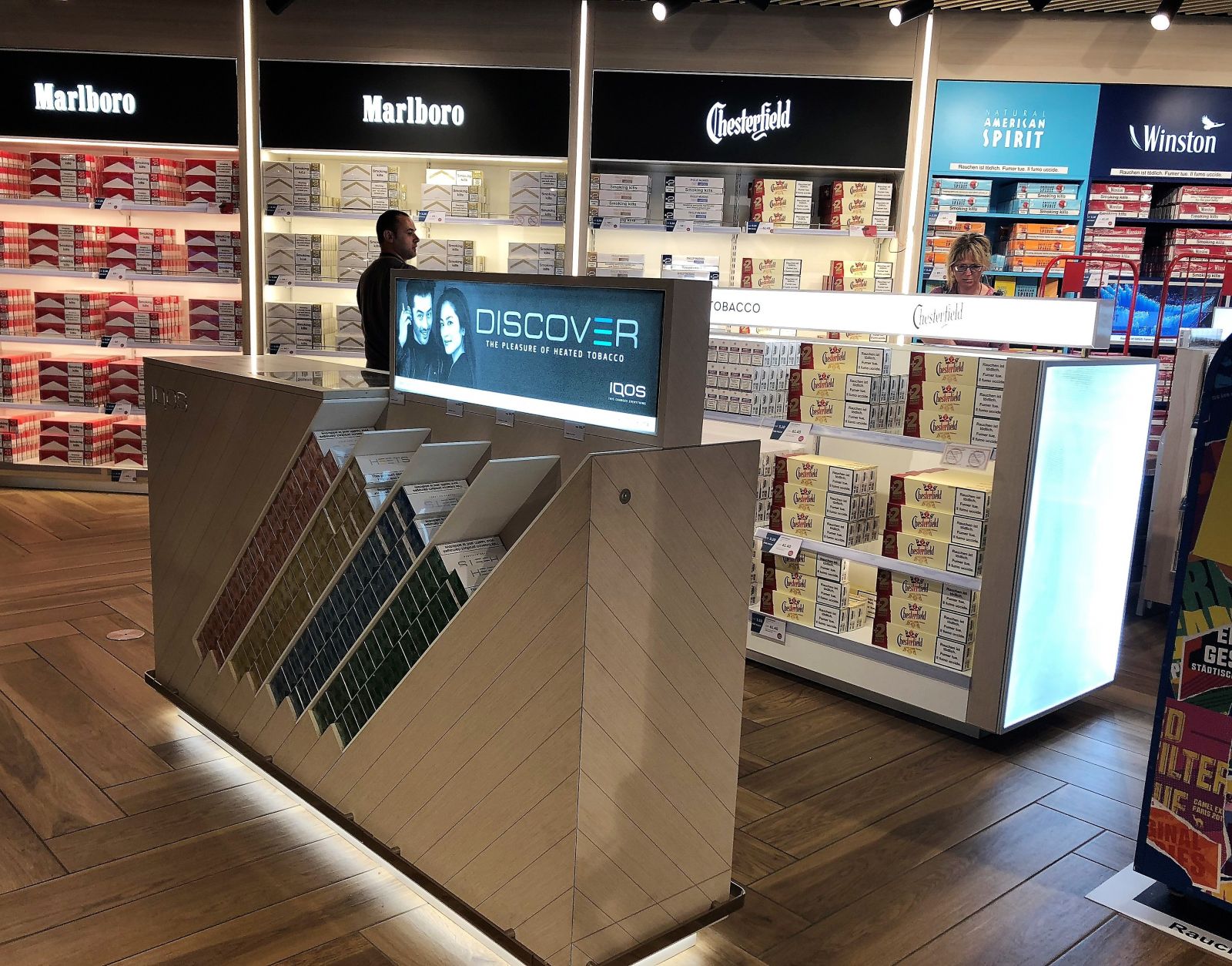 Philip Morris International investment in R&D capability
Invested over US$4.5 billion in Switzerland and Singapore R&D facilities.
Hired more than 430 R&D experts (over one-third of its scientists have a life sciences background).
Portfolio of over 2,900 granted patents worldwide.
Pipeline of around 3,750 pending patent applications.
58th-largest patent filer in EU (only tobacco company in top 100).
Source: Philip Morris International
Back to the product itself. According to PMI, the fact that the tobacco does not burn is the crucial point. In a combustible cigarette, tobacco burns at temperatures of over 600°C, generating smoke that contains large amounts of harmful chemicals. And IQOS? The tobacco is heated to much lower temperatures, up to 350°C, without combustion fire, ash, or smoke but still with the familiar taste of heated tobacco. PMI research shows that the levels of harmful chemicals are significantly reduced compared to cigarette smoke and it is pouring heavy investment into scientific research to validate that proposition.
"It is primarily the toxins and carcinogens in tobacco smoke – not the nicotine – that cause illness and death."
– National Institute for Health and Clinical Excellence, Public Health Guidance: Tobacco – Harm Reduction Approaches to Smoking
The company has hired over 430 R&D experts, including 300 world-class scientists, many with a life sciences background. One of them is Dr. Ignacio González-Suárez, Manager of PMI's External Verification programme.
González-Suárez holds a degree in Biochemistry and a Ph.D. in Molecular and Cell Biology from the University of Oviedo in Asturias, Spain and has 15 years of experience studying cancer, ageing and metabolic diseases. How did such an individual end up working in an industry so associated with cancer and other ailments? González-Suárez is unfazed and unoffended by the question, and non-apologetic. "I was sceptical but curious. And I was very impressed by the lab, the facilities and the R&D here," he comments. "All my life I have been involved in discovering solutions. Here you can restrict and prevent the speed of disease."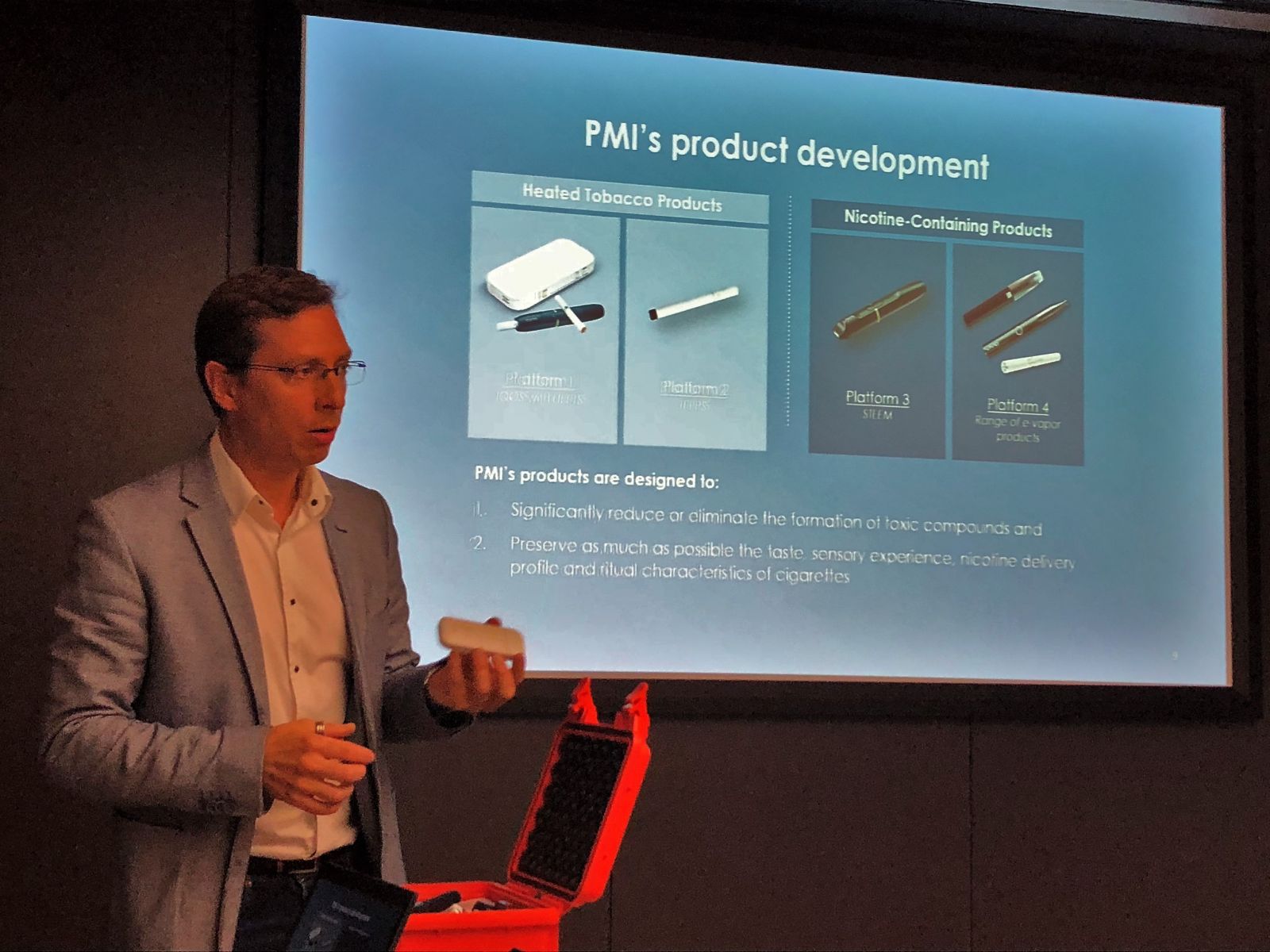 Dr. Ignacio González-Suárez: "All my life I have been involved in discovering solutions. Here you can restrict and prevent the speed of disease."
González-Suárez isn't asking anyone to take PMI's or his word for it that heated tobacco reduces risk. He can point to a welter of ongoing studies that are offering up impressive evidence that tobacco burning is the main cause of smoking-related disease. "The longer you smoke the higher your risk," he says. "You stop – the risk goes down. Smoking v switching v cessation. The absence of combustion is fundamental to product development. It's important to have nicotine but also to deliver it in an acceptable way. So you get the effect and the experience that will help smokers switch and fully convert.
"IQOS is not risk free," he adds. "You have to distinguish between zero risk and reduced risk." The words are chosen carefully, firmly in line with the company's avowed commitment to transparency and medical robustness. But there's no doubting the enormous optimism that he, and PMI, feel about the future of this brave new world as distant from traditional perceptions of Big Tobacco as the Marlboro cowboy is from the shores of Lake Neuchâtel.
"Compared with cigarette smoke, heated tobacco products are likely to expose users and bystanders to lower levels of particulate matter and harmful and potentially harmful compounds. The extent of the reduction found varies between studies."
The Moodie Davitt View
The development of smoke-free alternatives to traditional cigarettes, such as PMI's IQOS heated-tobacco device [we'll examine what the company's rivals are doing in future articles], is vital to the future of the category and to travel retail.
Besides the critical consumer and health repercussions, it's an initiative that potentially turns a troubled (though still vital) retail sector into a resurgent one. As such, The Moodie Davitt Report is committed to championing such a consumer and trade agenda while – importantly – maintaining our coverage of (and support for) the mainstream tobacco industry.
PMI and its peers have many hard yards ahead of them in convincing often highly sceptical governments and regulatory authorities around the world of the merits of traditional cigarette alternatives, but progress is being made. If the notoriously difficult U.S. Food and Drug Administration – to whom PMI has filed applications for the sale of IQOS in the USA – can be convinced, the global momentum is likely to accelerate fast. That would have rapid implications for travel retail. Already where, say, IQOS, is being sold in duty free (for example in Japan, South Korea and Switzerland), it is going gangbusters.
On the eve of World No Tobacco Day, PMI Chief Executive Officer André Calantzopoulos said: "Our short-term ambition is that one out of three of our consumers, 40 million men and women who smoke, will have switched to better alternatives by 2025. Ultimately, we want to be in a position to stop selling cigarettes entirely."
On every level, that is one of the seminal statements in the tobacco industry's long and chequered history. Yes, as one of the merchandising taglines for IQOS says, "This changes everything".
Travel retail a key channel for IQOS
IQOS, PMI's flagship heated tobacco product, is making rapid strides in travel retail, according to Philip Morris World Trade Corporate Affairs Manager Manuel Lira.
IQOS is now sold in over 30 duty free markets (in some locations just the HEETS, in others the IQOS devices also). The former come in four colours – amber (the strongest), yellow (mild), turquoise (menthol) and, in Switzerland only, green (a duty free exclusive, high-grade menthol). In the Swiss domestic market there are two further variants, brown and red. Packets of 200 are sold for CHF53.50 (US$55.10), the same price as combustible cigarettes.
At Dufry's impressively elegant Zürich Airport departures and arrivals stores, IQOS is prominently positioned within a high-profile tobacco offer. Slick and compact merchandising units allow easy browsing and pick-up, but the real talking point is an elegant 20sq m 'Guide and Trial' boutique corner in departures where consumers can trial the device and any of the HEETS variants. Well-trained staff are on hand to educate them on the devices and flavours and to answer any questions about the product. The ambience is relaxed and trendy (think Nespresso boutique meets Apple Store), there's coffee on hand and plenty of seating.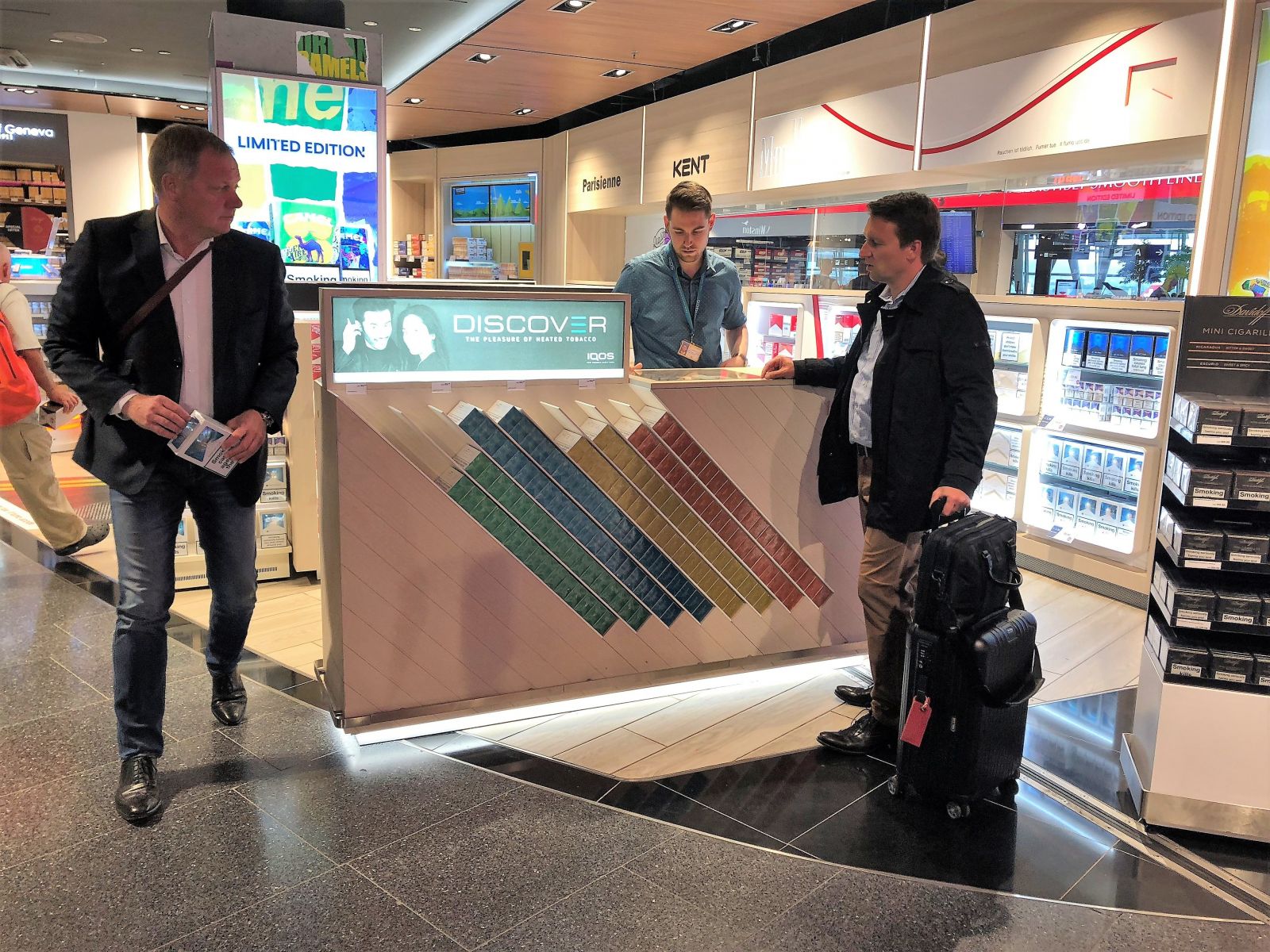 Airports offer an ideal platform to not only sell and promote IQOS but to convert smokers of traditional cigarettes.
PMI is insistent that the staff's first question to anyone showing interest in IQOS is, "Are you a smoker?". If the answer is no, then the conversation goes no further. IQOS, says Lira, is all about switching consumers not initiating them into the world of tobacco. "So we are converting a smoker into a better alternative," he says.
The strategy seems to be paying off. By February this year, over 5% of PMI's sales at Zürich Airport were from IQOS, despite having only been launched at the Swiss gateway in early 2016. In certain markets, Japan, Greece and Romania prominent among them, domestic conversion rates are way beyond company expectations and airports are seen as an ideal platform to accelerate the momentum. The Japanese business is soaring while in neighbouring South Korea, Lotte Duty Free even features an IQOS boutique at its modern tobacco and liquor store in Incheon International Airport's new Terminal 2.
In 2015, PMI startled the duty free industry by exhibiting only IQOS at the annual TFWA show in Cannes, an emphatic statement of the seriousness of its intent for the channel. As further domestic market opportunities open – including, hopefully, the biggest of them all, the USA – expect that commitment to be intensified. Duty free's critical dual status as both showcase and high-volume sales channel is set for one of its most intriguing examinations.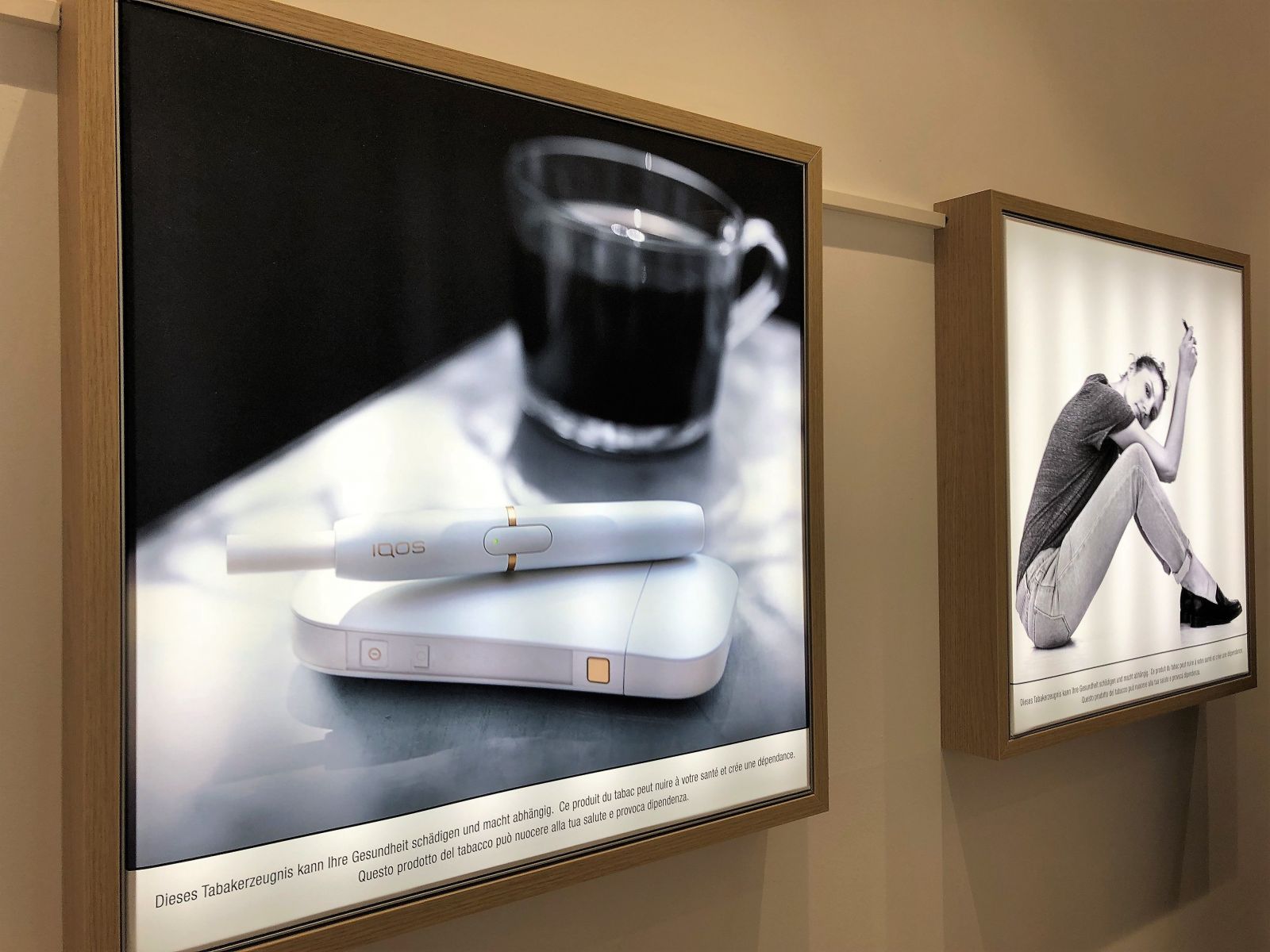 Nespresso meets Apple Store: The elegant 'Guide and Trial' boutique corner at Dufry's Zürich Airport store allows smokers to trial the device and any of the HEETS variants.
The HEET is on as old and new worlds converge
To one side, old cream-coloured production units crowd the factory floor, a dull, institutional, mass-production environment that feels like (and probably is) something out of the 1960s. To the right, separated by just a narrow walkway, stands a dazzling array of gleaming new-generation silver-grey machinery and ultra-modern technology.
Welcome to the old and new worlds of the global tobacco industry, side by side. We're in the Philip Morris International product factory in Neuchâtel, a near-3,000sq m facility where traditional combustible cigarette sticks are made just a few metres away from IQOS HEETS. It's the only dual-purpose (combustible cigarettes and reduced risk products) factory in the PMI world, capable of pushing out 15 billion sticks a year.
Currently production is skewed around 80% towards traditional products but that ratio is growing in HEETS' favour each year. PMI has so far invested some CHF30 million (US$31 million) here in two hi-tech production lines for the heated tobacco sticks.
It's a fascinating contrast. On the one hand the age-old process of processing raw tobacco and then converting it into cigarettes by wrapping the tobacco in paper and then adding filters and tipping paper. On the other a contemporary process that also starts with tobacco blending and grinding but morphs into a complex manufacturing operation that adds a tobacco plug, hollow acetate tube, polymer-film filter, cellulose-acetate mouthpiece filter, and outer and mouth-end papers. All set up for a smoke-free, burn-free experience.
Old or new? As the old adage has it, you pays your money, you takes your choice. For its part, PMI is convinced what choice that should be. The HEET is on.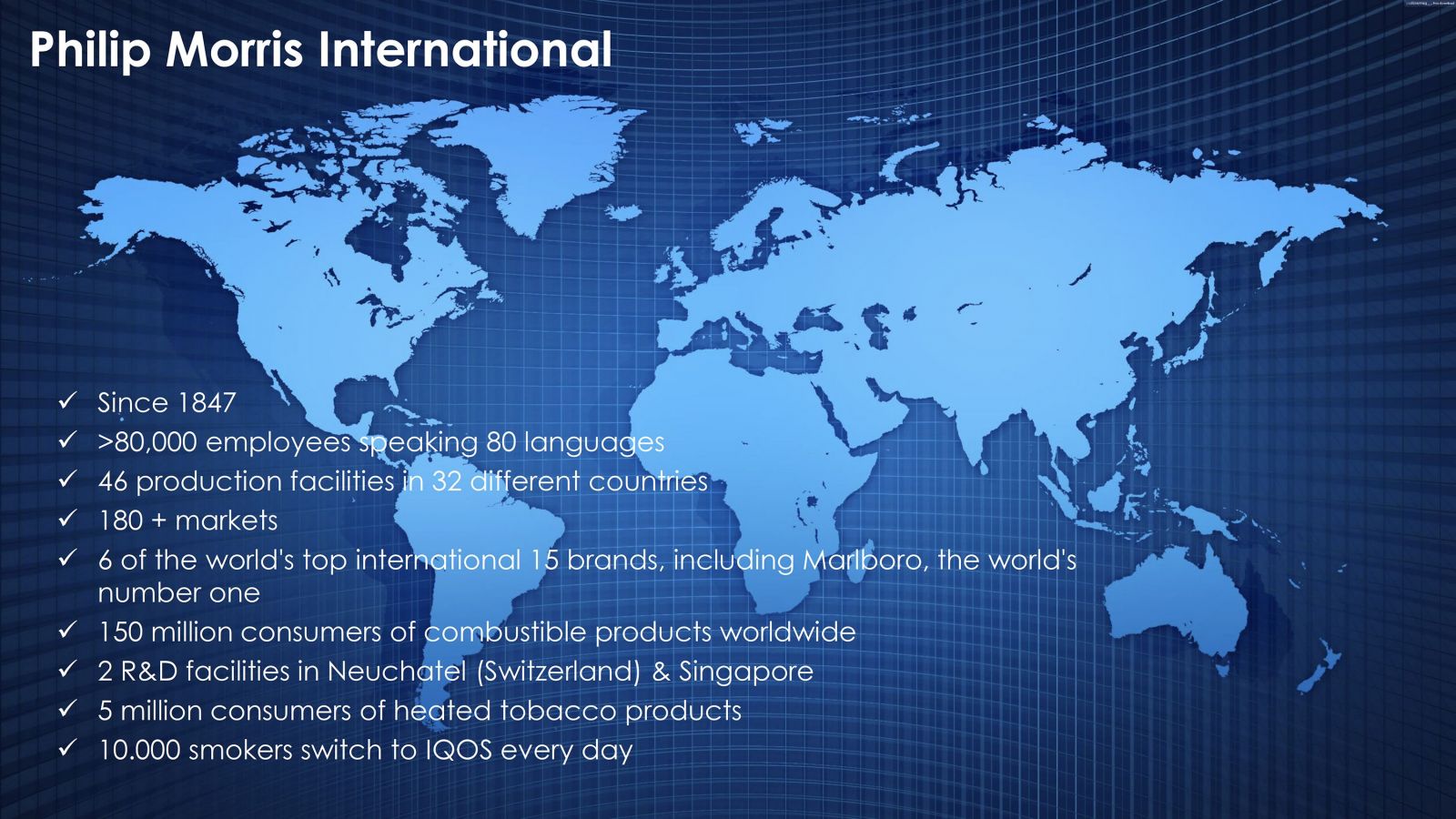 Philip Morris International is 'big tobacco' epitomised but its strategic mission differs startlingly from that of the past.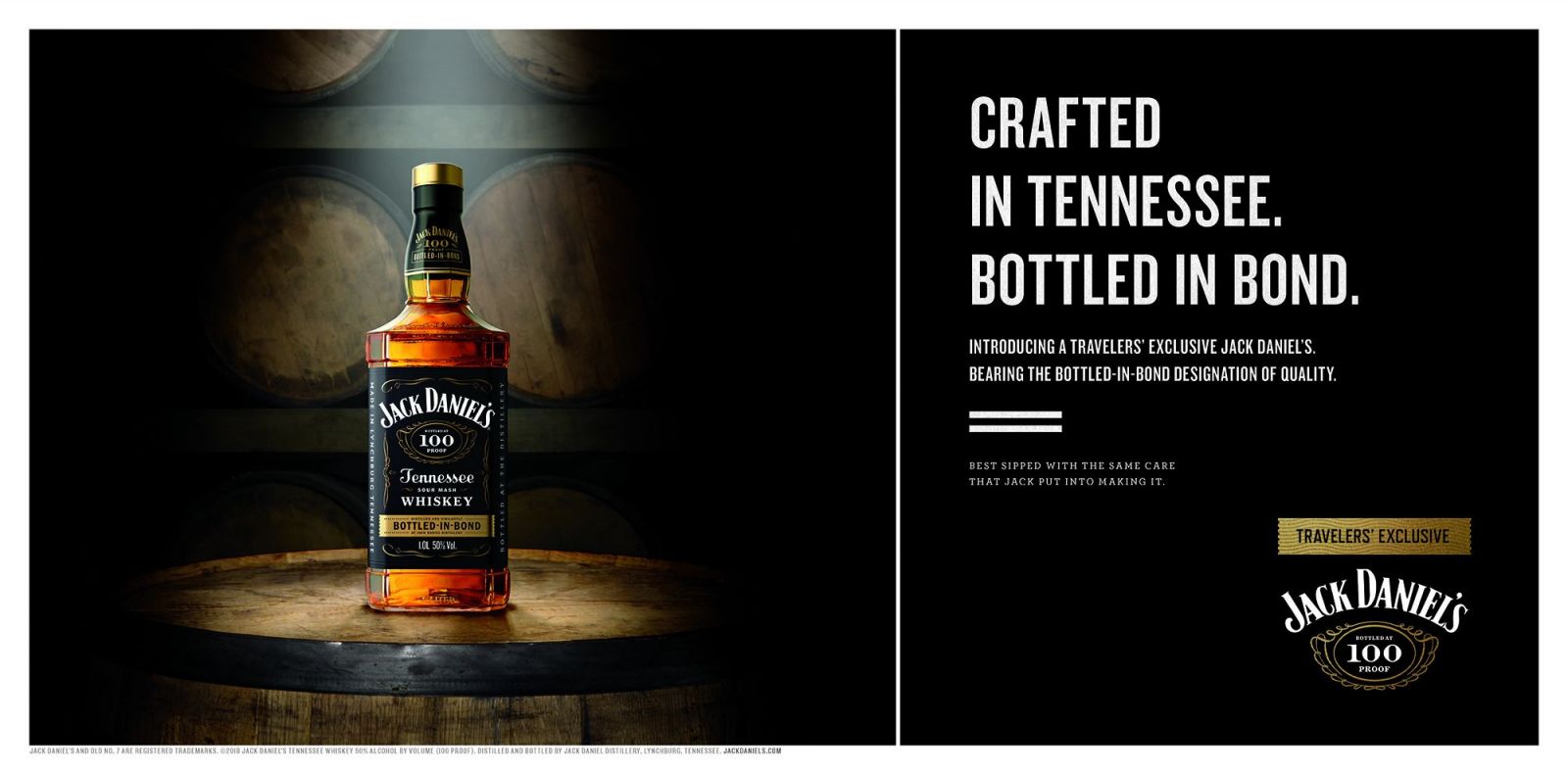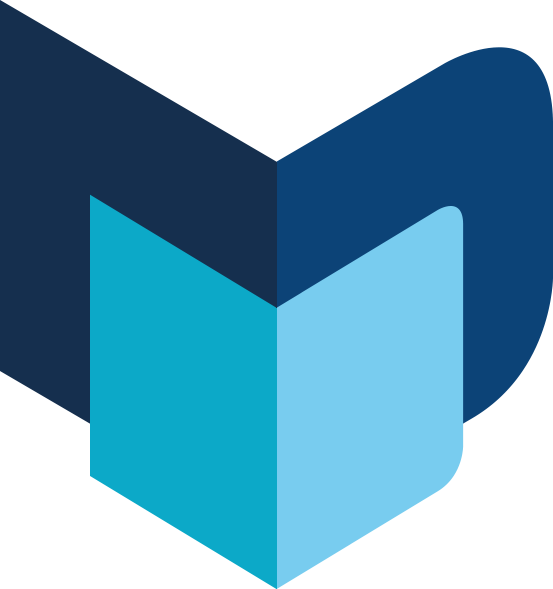 ---
The Moodie Davitt e-Zine | Issue 247 | 24 September 2018