Entering the
Spirits World
---
World Duty Free has always been a top-class exponent of spirits retailing (less so with wine) and that strength is to the fore again at Terminal 3, writes Martin Moodie. Besides the strong emphasis on digital engagement mentioned in earlier pages, the revamped store is notable for its excellent Scotch whisky (particularly single malt) range, dazzling array of gins and focus on exclusives.
The various spirits categories have been grouped into 'collections' to make shopping easier and more accessible. A Destination Tasting Bar anchors the store, allowing customers to sample featured brands, as seen with Diageo-owned Cîroc below.
While that's no longer a new concept in airport retail (it was pioneered several years ago by DFS Group at Changi Airport, working in close collaboration with Diageo), it's a highly effective one. What stands out here is the digital display fascia, which enables content to be instantly tailored to suit the particular passenger profile at any given time.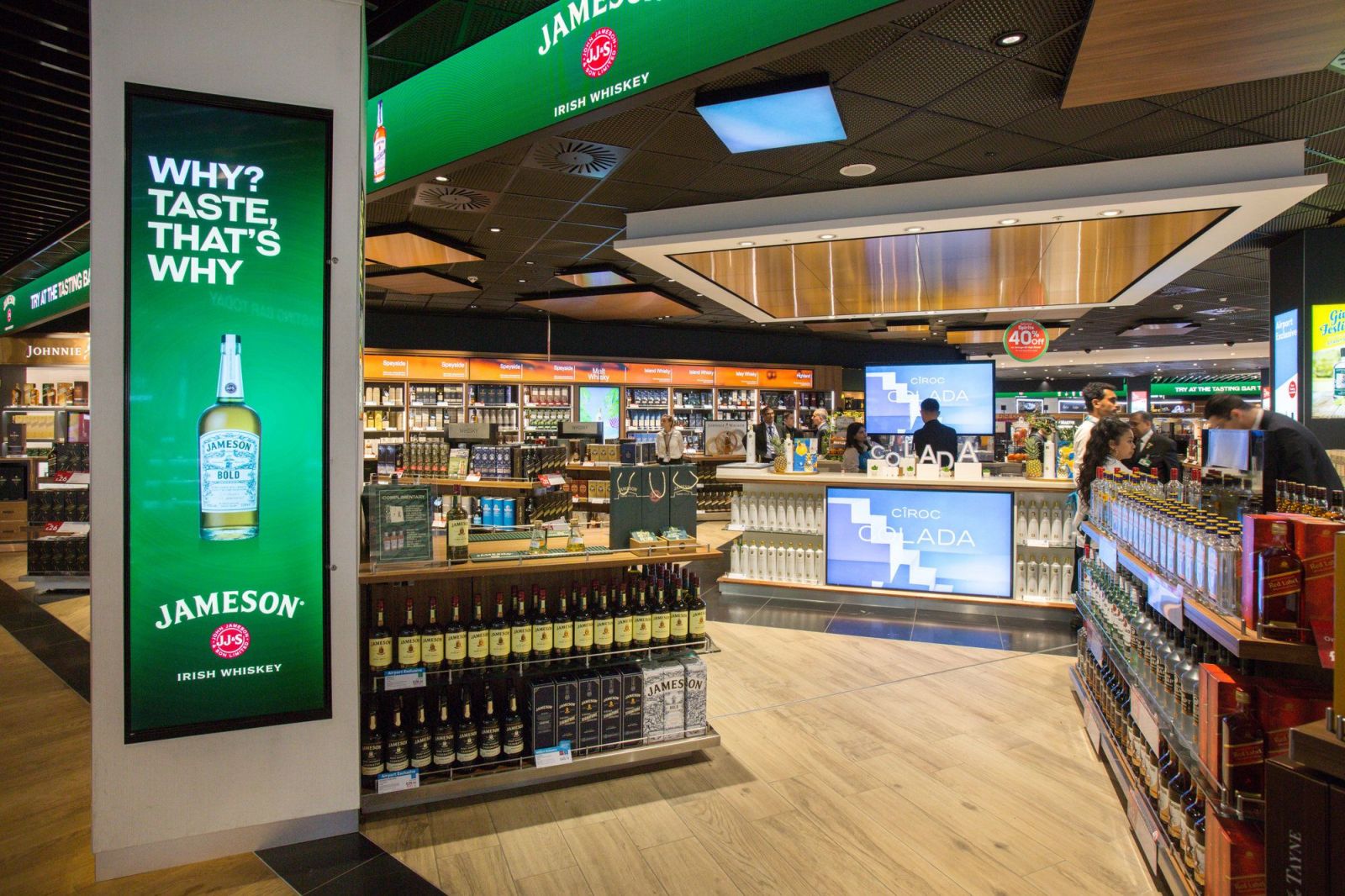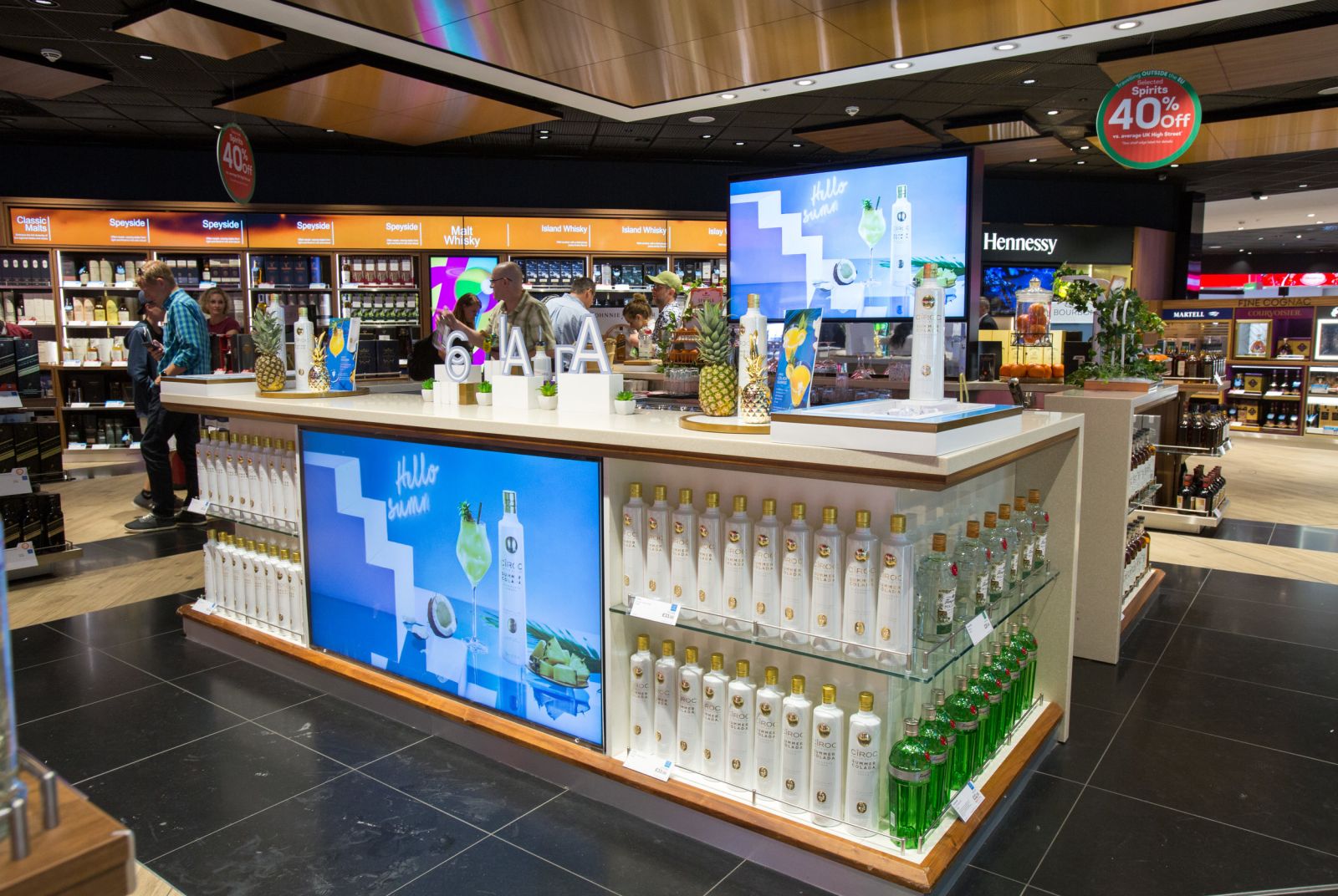 Cîroc around the clock: Or not, as the case may be. The digital display fascia allows content to be tailored to embrace different brands and target changing passenger profiles and nationalities at various times of the day.
A major talking point is the sheer number of airport or retailer exclusivities. A blue neck tag denotes airport exclusive and at points in both the main store and the perennially well-performing World of Whiskies boutique (surely one of travel retail's most impressive and durable concepts and arguably the original champion of 'craft' spirits, long before the term became an industry catchcry), the shelves are a sea of blue.
Among the catch-all (and, we think, often misunderstood by consumers) category of 'travel retail-exclusives', there are some notable attractions. We particularly like The Glenlivet American Oak Barrel Single Cask Edition from Pernod Ricard Global Travel Retail. Just 222 bottles of this beautifully presented, spicy and surprisingly robust Speyside single malt, priced at £350 (US$458) have been produced – each one of them for World Duty Free and, even better, only for the retailer's Heathrow stores.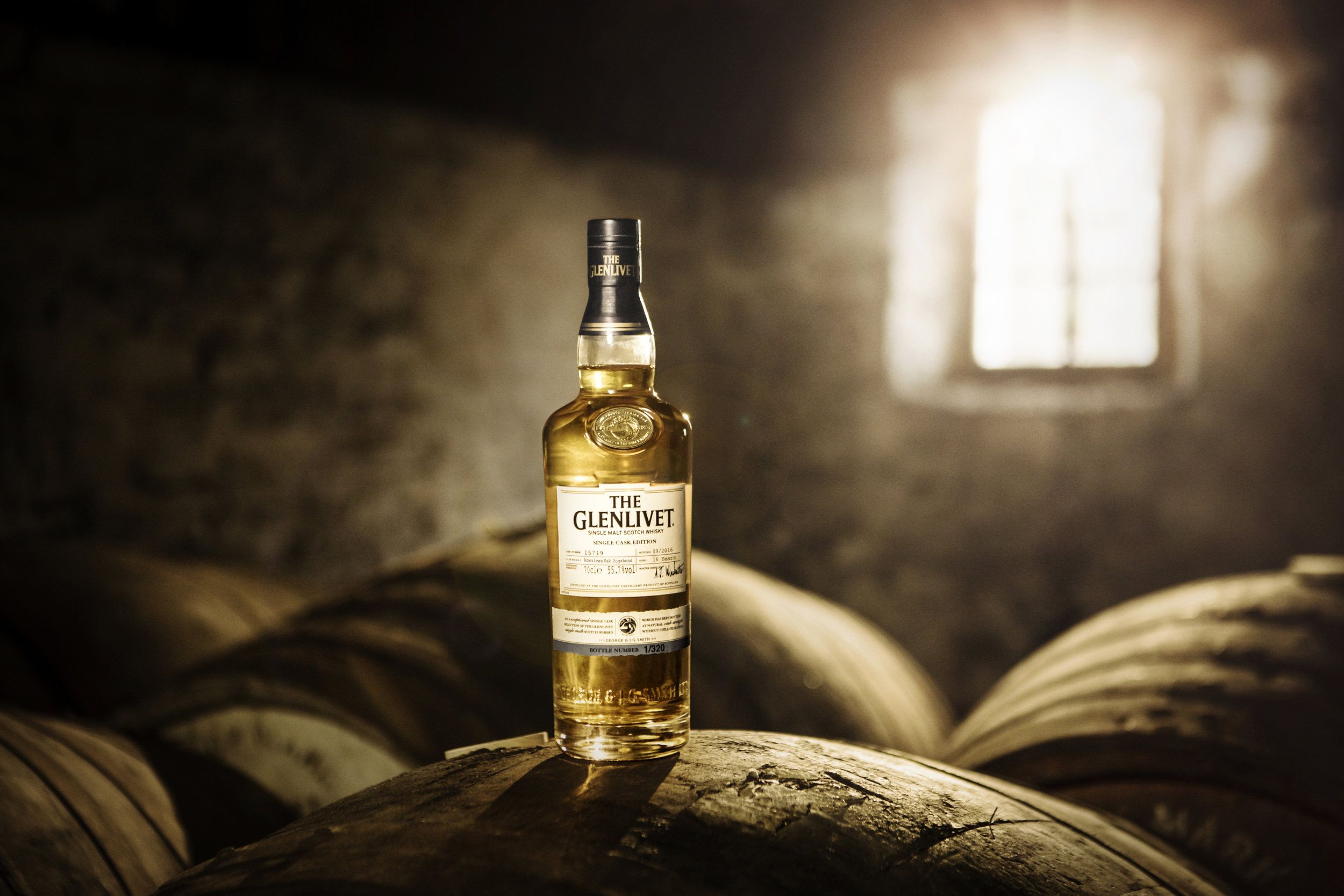 Roll out the (American oak) barrel: Just 222 bottles of this Speyside single malt from The Glenlivet are available, all of them through World Duty Free at Heathrow.
Consider those numbers for a moment. Heathrow's retail revenue per passenger in the first half of 2018 was £8.62/US$11.27 (up +2.2%). If World Duty Free can sell 222 bottles of this exclusive malt at £350, that's £77,700 (US$101,580) at retail, no doubt delivered with a healthy margin.
What a way to drive up average transaction values. No invidious domestic market price comparisons, no awkward online price benchmarking. A genuine exclusive with provenance (25 years' ageing in Speyside sounds pretty good to us) and authenticity. And each edition is bottled at cask strength, individually numbered and presented in a stylish wooden box.
On a bigger scale, there's Johnnie Walker Black Label Triple Cask Edition, a Dufry-only exclusive launched in June. Thanks to the powerful use of digital signage (pictured below) and strong on-counter promotion, there's no chance of missing the collaboration between the sector's retail giant, its biggest drinks supplier and the channel's (and world's) most popular spirits brand. It's the kind of exclusive – and relationship – that Dufry CEO Julián Díaz, called for at both of the last two years' Trinity Forums, when he urged brand partners to develop more (and more effective) channel and retailer exclusives.
His message seems to be getting home. Certainly the result earns a ringing endorsement from Heathrow Airport CEO John Holland-Kaye, who says, "We've got some really fantastic, exclusive products here that won't be found at any other airport in the world." Let alone in any high street or online offer. Those, surely, are the kind of credentials travel retail must increasingly aspire to.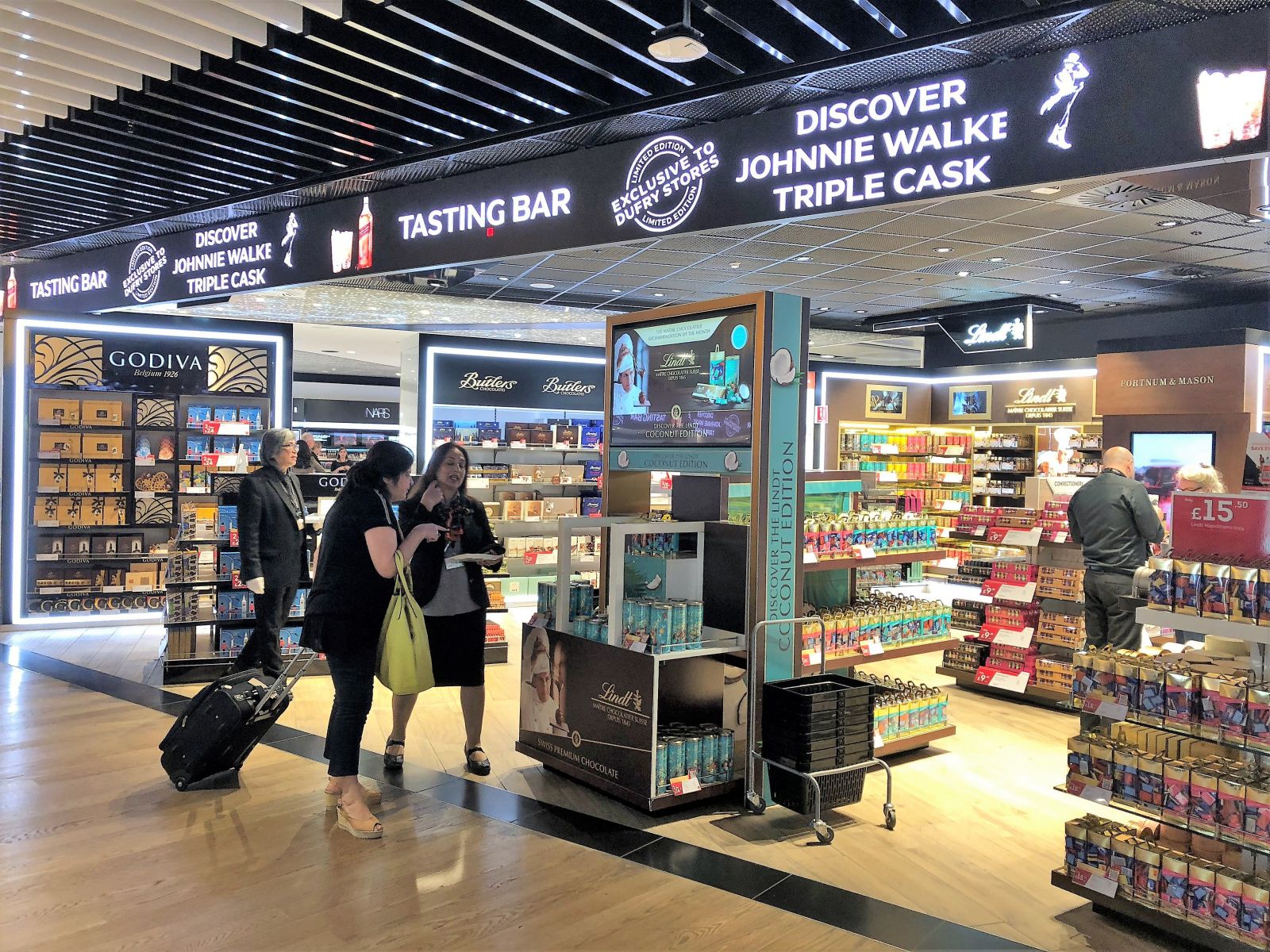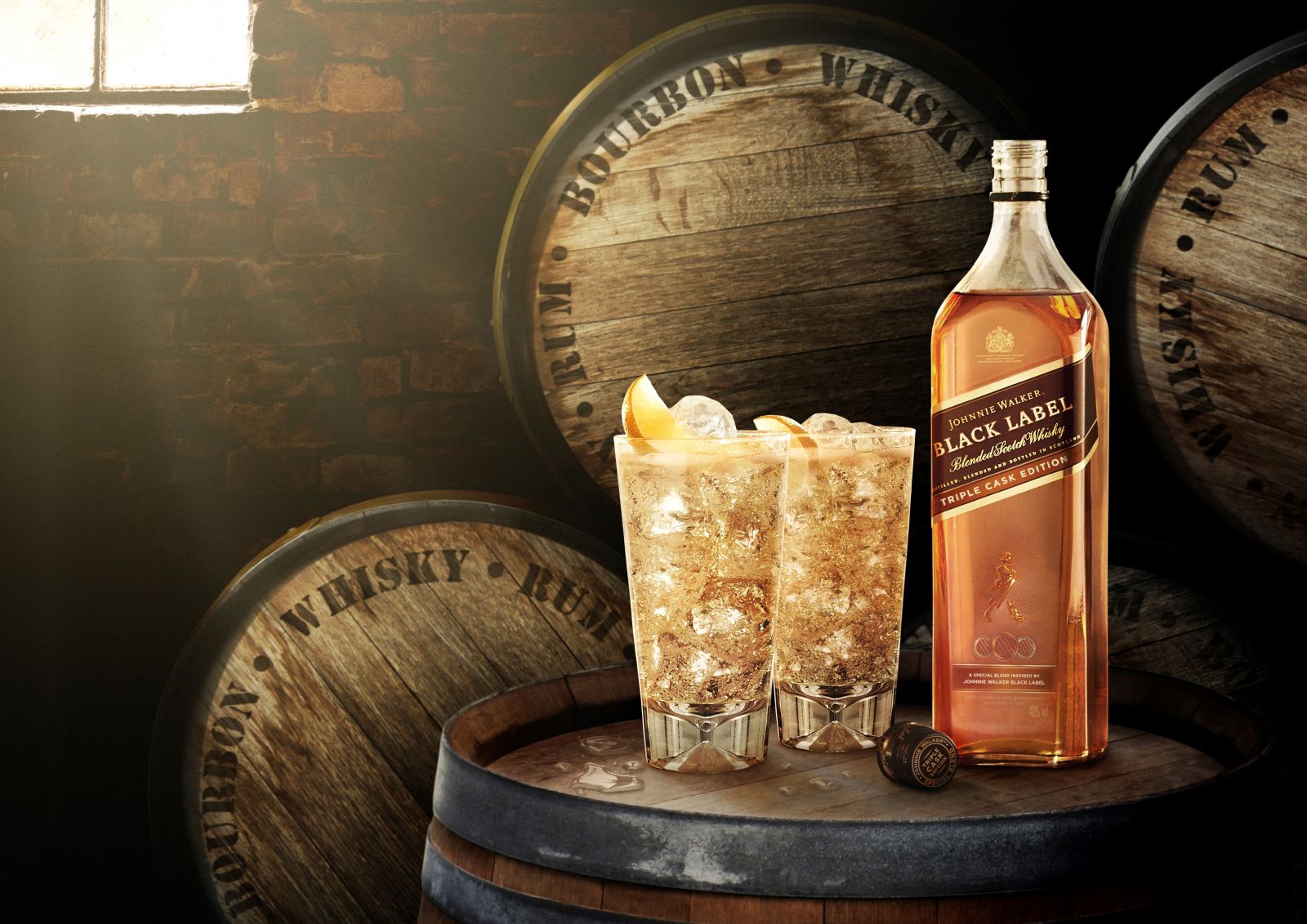 A duty free-exclusive in the purest sense: This time Johnnie Walker's striding man won't be stepping into any domestic markets.
Exclusives are not confined to the big boys either. Arguably the stand-out in a superbly eclectic gin line-up is Williams GB Gin, a Heathrow exclusive produced (ok, make that crafted) by Chase Distillery specifically for the airport. The line was originally created as part of a six-week long Heathrow-wide gin festival in late 2017 and it's been flying off the shelves at around the rate of British Airways departures ever since (a Chase pop-up in Heathrow T2 throughout July generated +154% uplift versus the four week pre-trend period).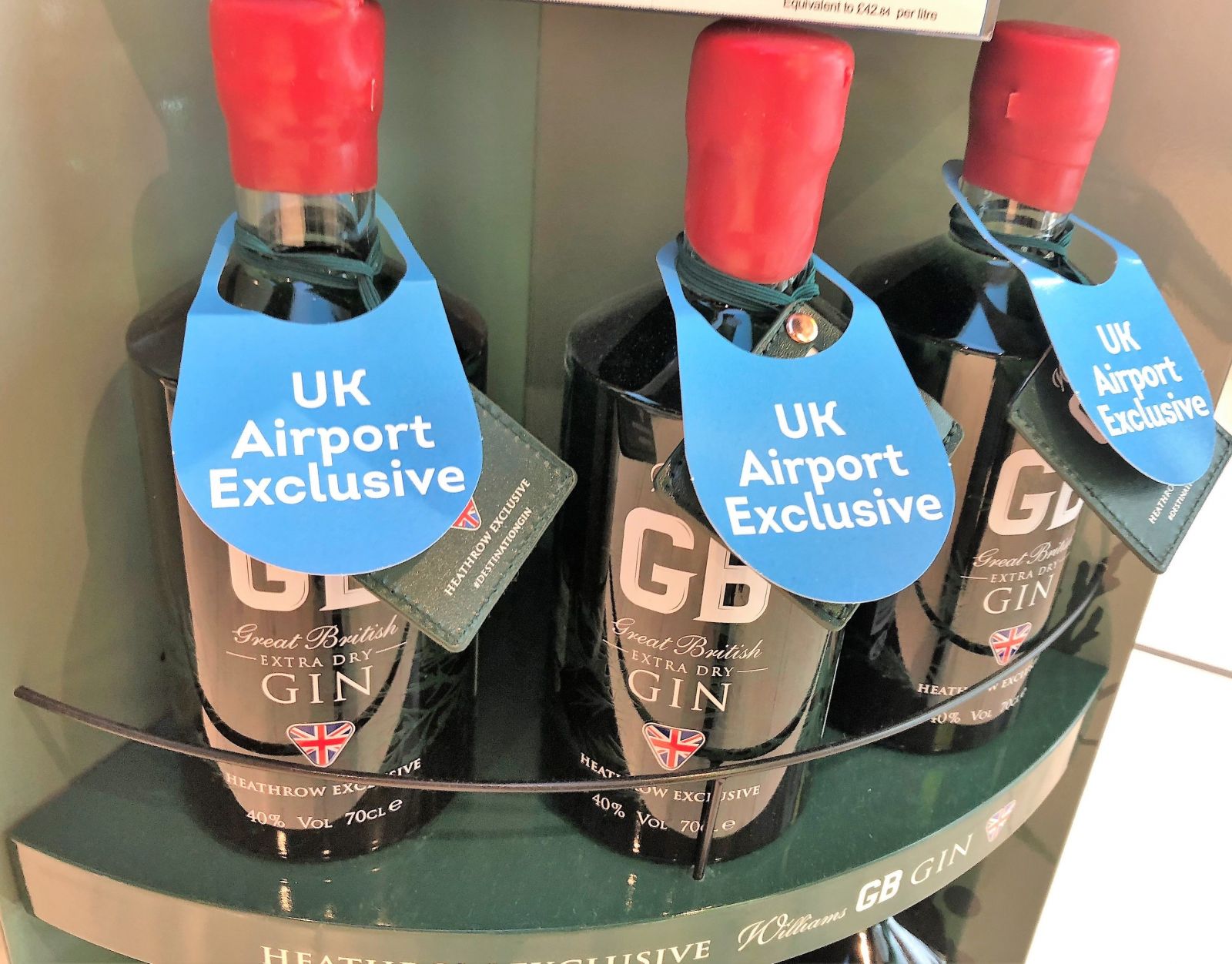 Giving Chase: Williams GB Gin from Chase Distillery, was launched in July 2017 as a Heathrow exclusive.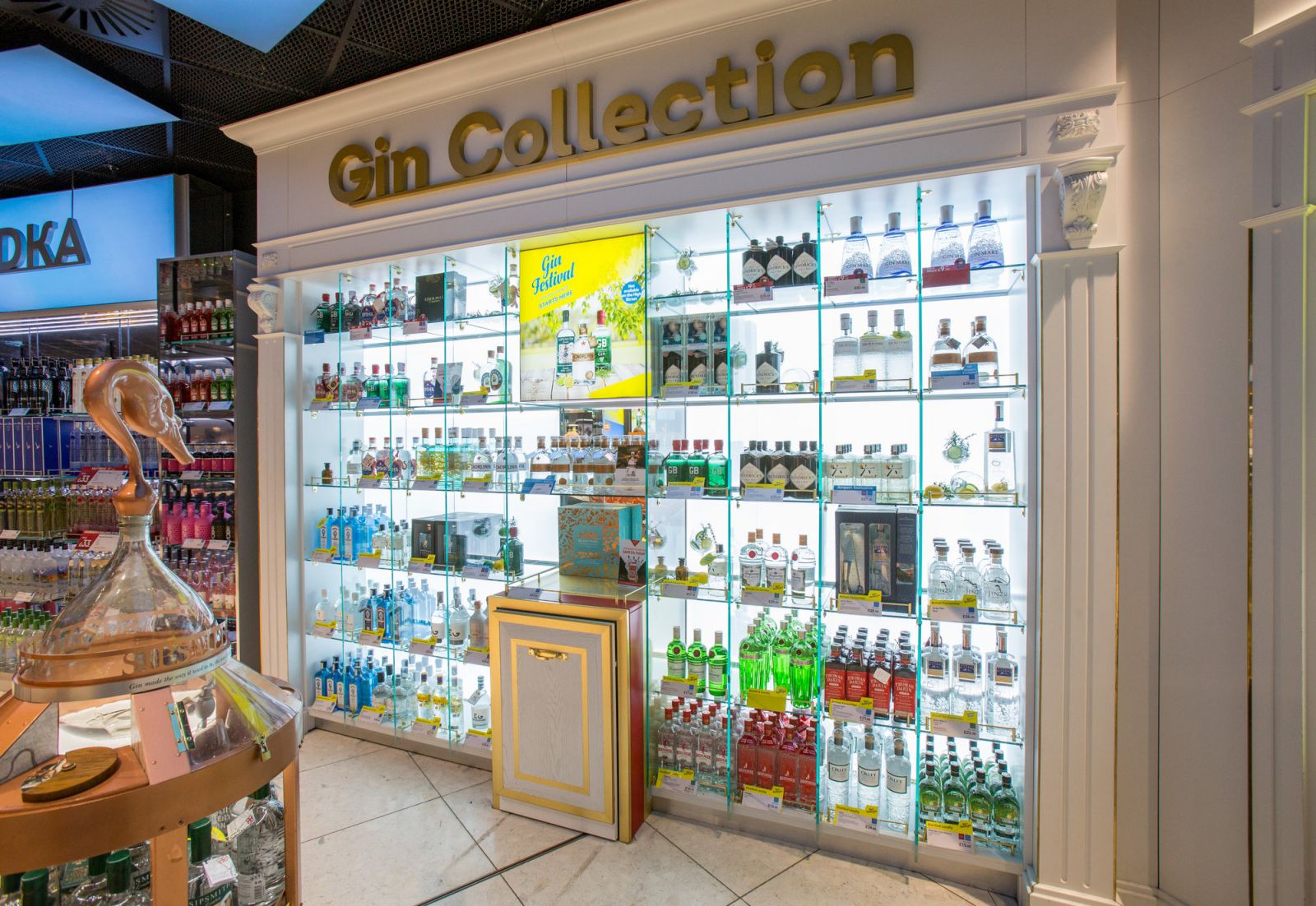 The perfect tonic: World Duty Free's dazzling line-up of mainstream and craft gins.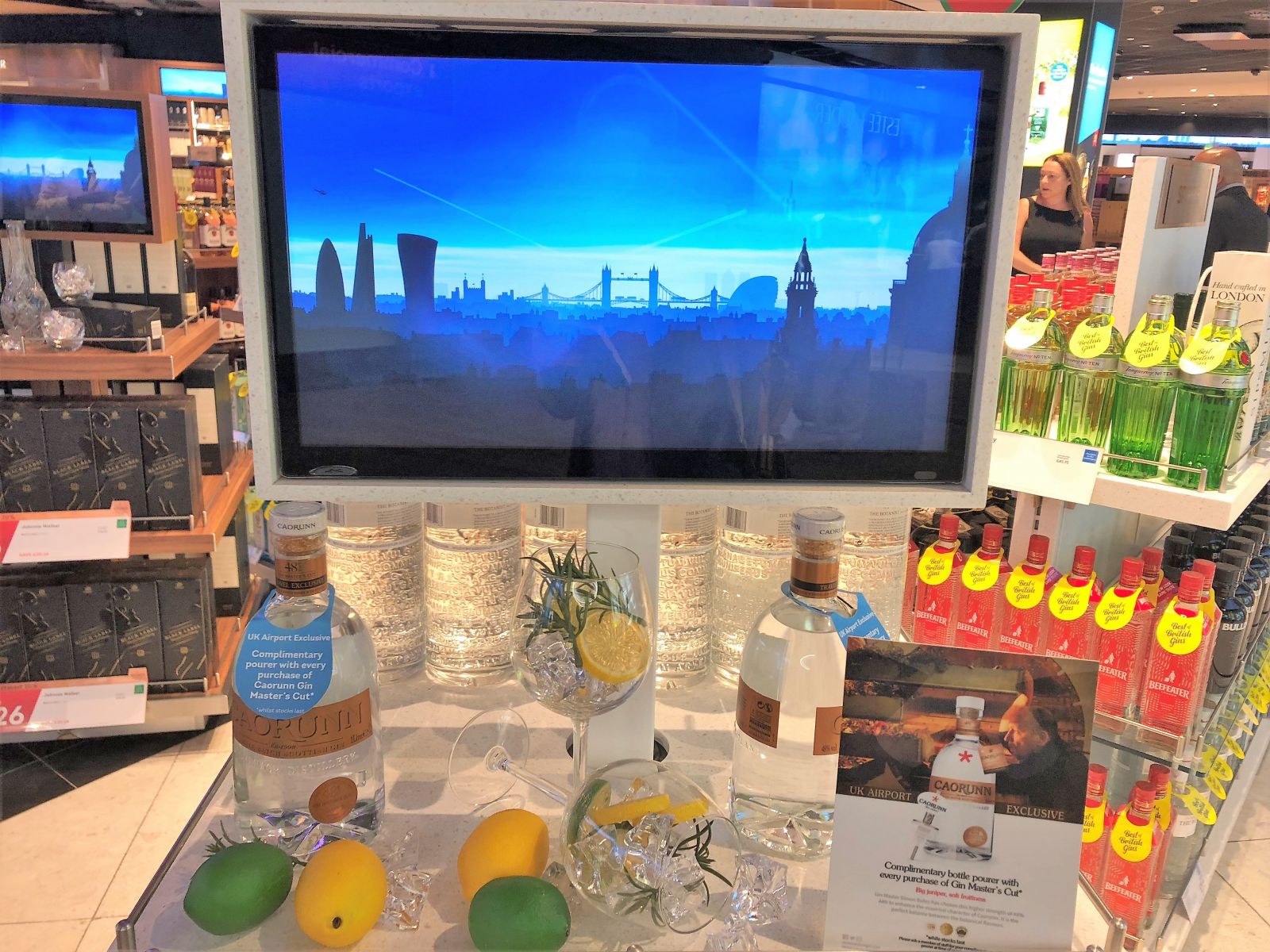 Another airport exclusive: Caorunn Gin Master's Cut.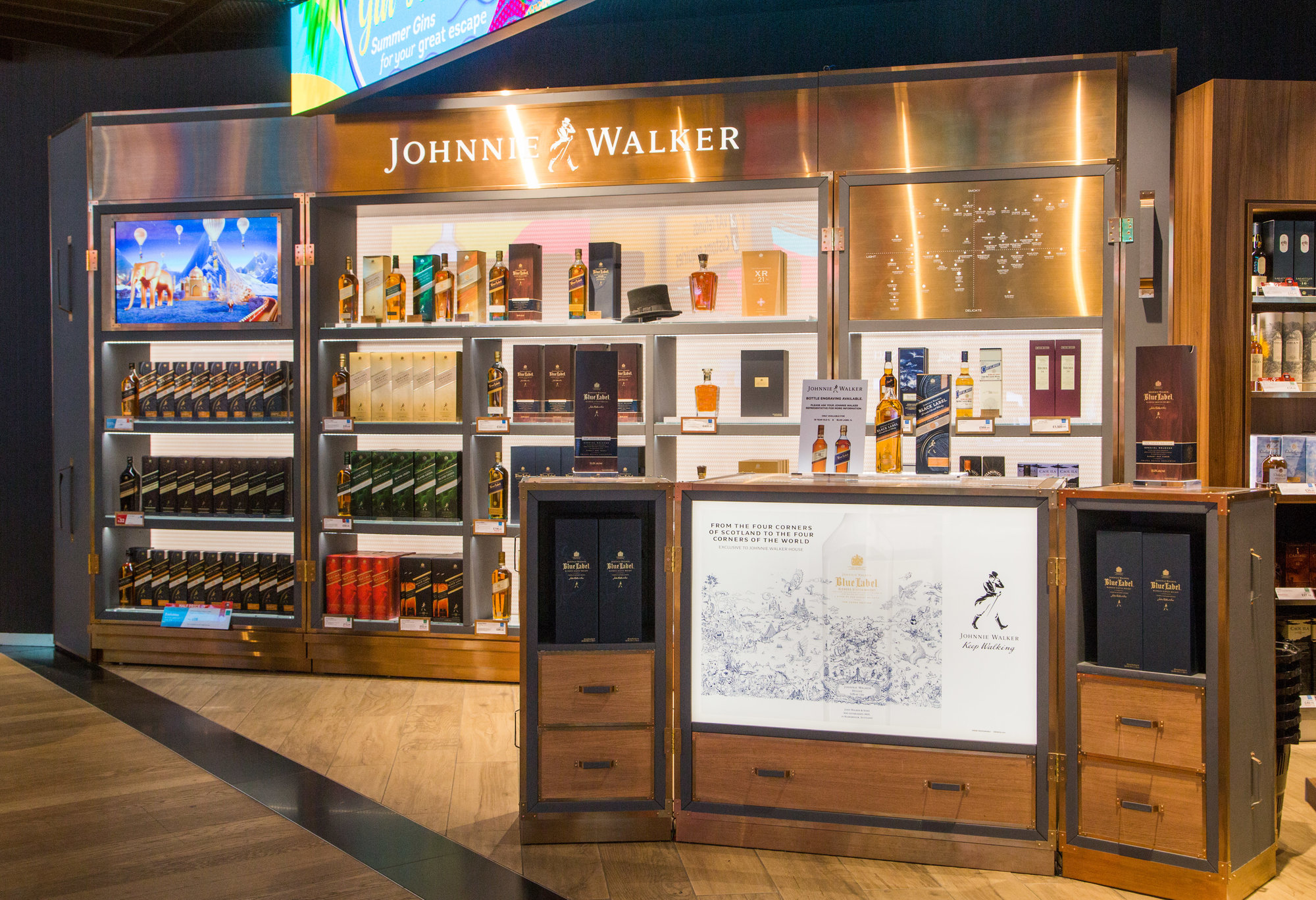 The House of Walker concept showcases the various incarnations of travel retai's leading spirits brand.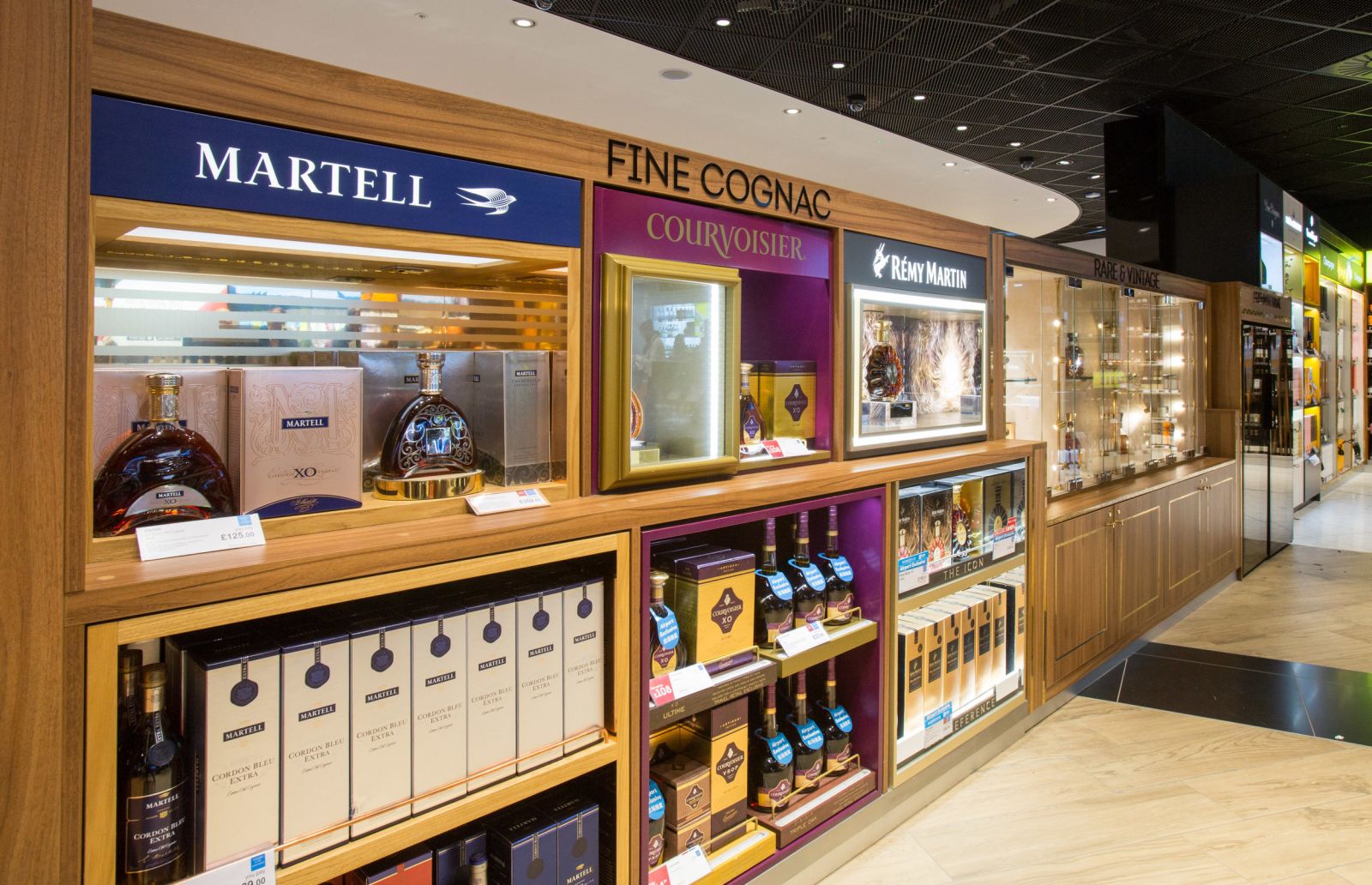 The Cognac offer is dominated by the big international brands (note the Rare & Vintage offer of ultra-premium spirits behind glass).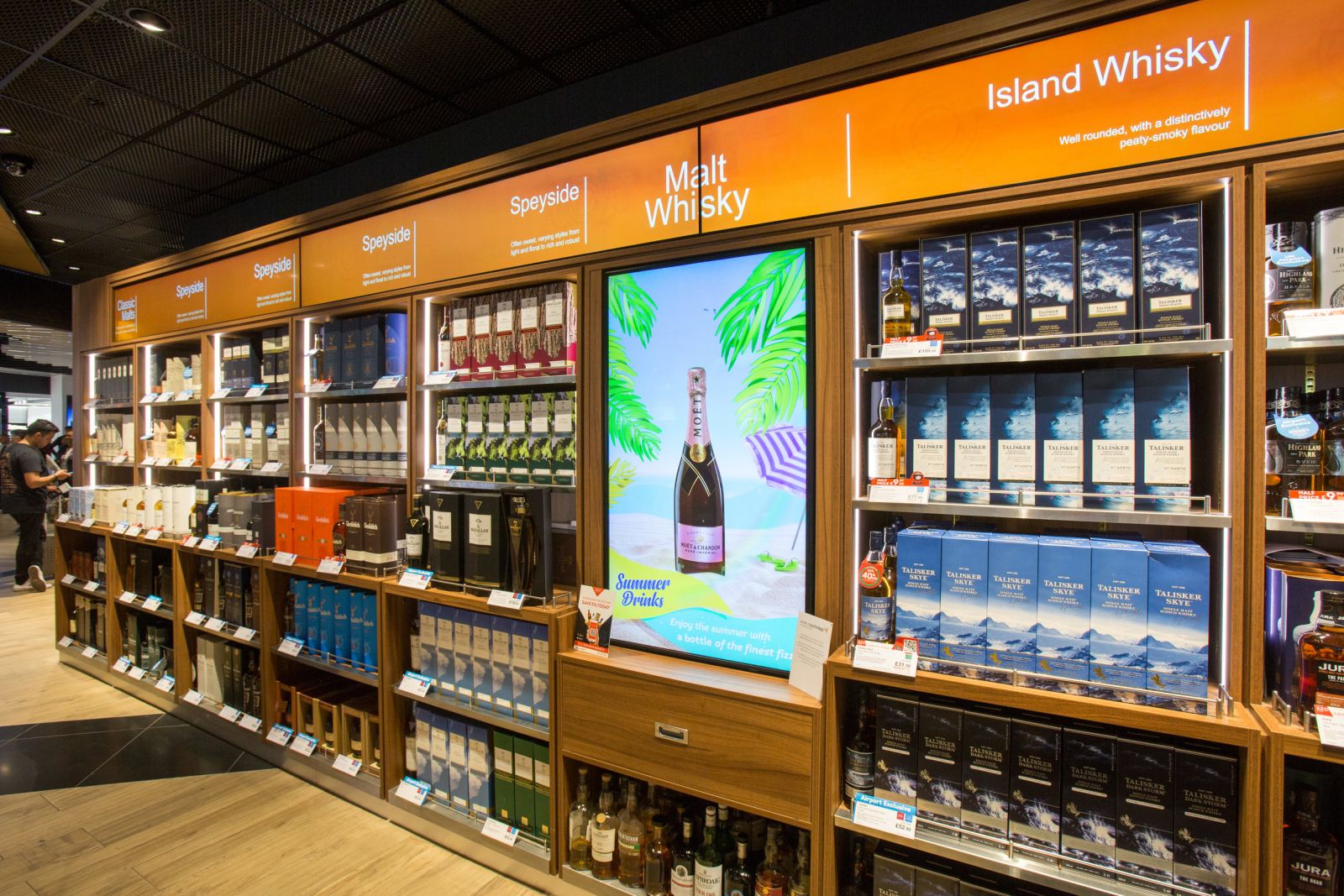 As befits the UK's leading travel retailer, World Duty Free has always boasted a very strong single malt and blended Scotch whisky offer and that's the case again here.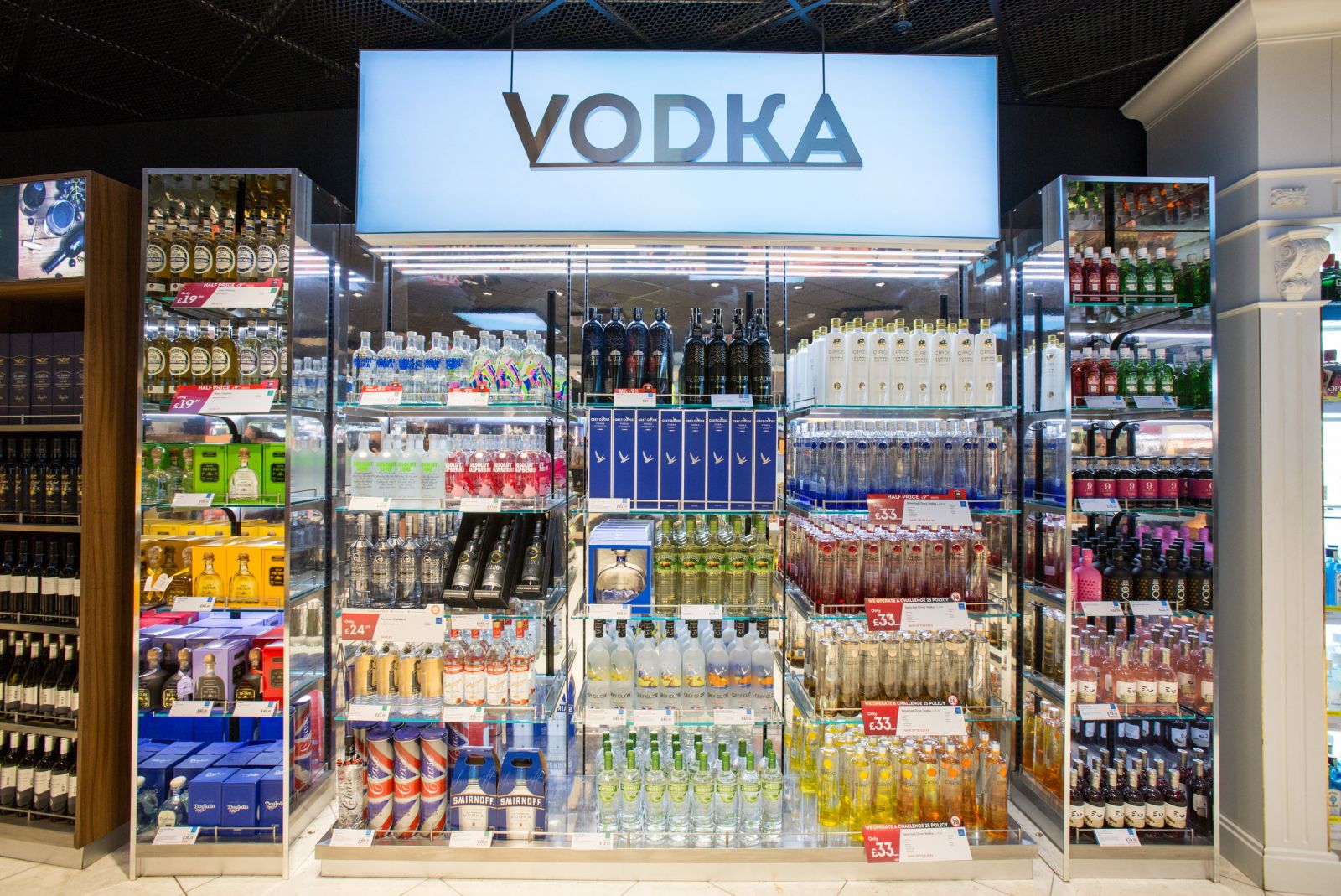 White spirits but with plenty of colour. The vibrant vodka display is alluring but why no signposting of the tequilas (to the left)?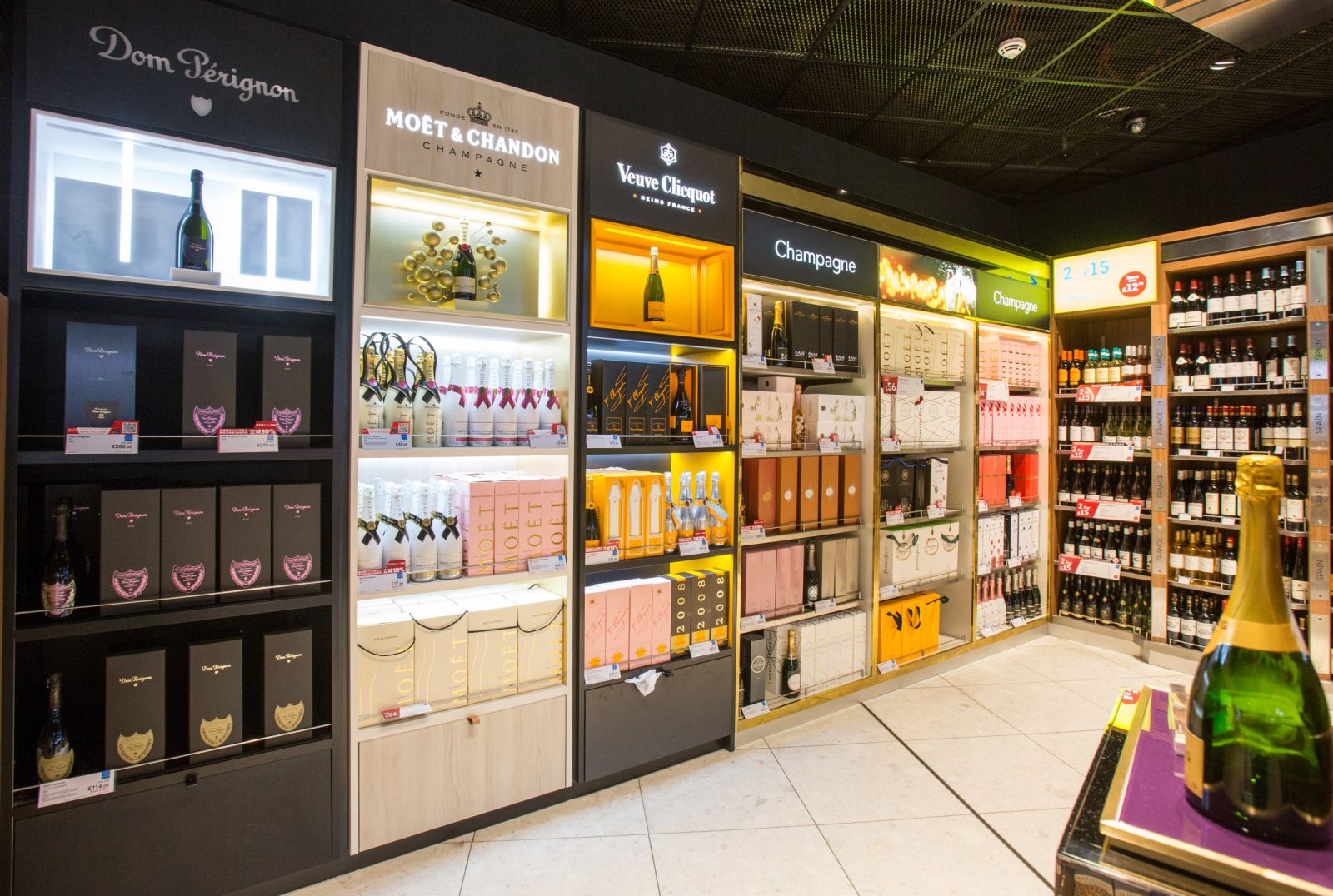 Nothing dazzling about the Champagne merchandising but Moët & Chandon and (especially) Veuve Clicquot must rank among the most beautifully presented brands in travel retail.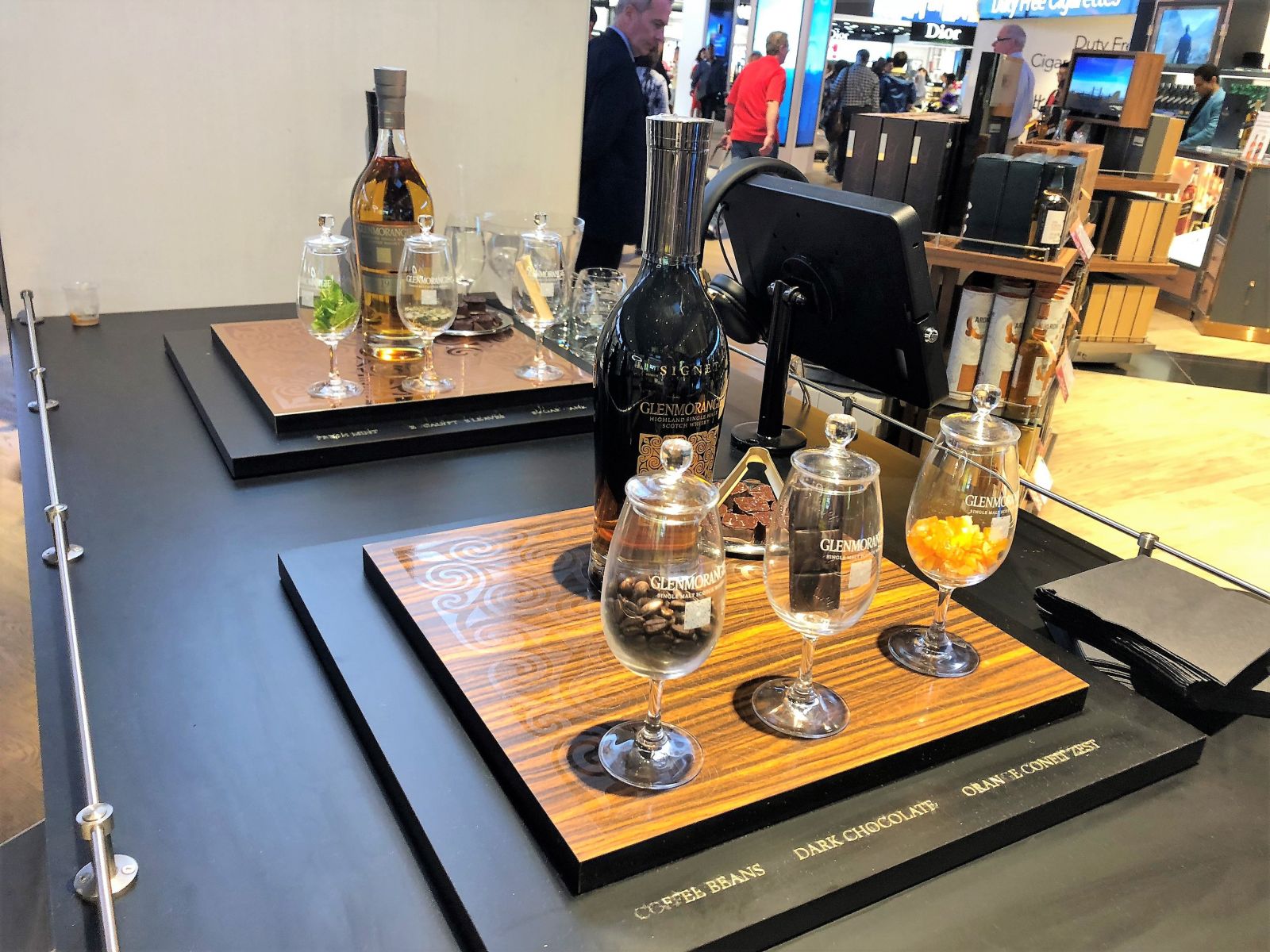 A classy display from LVMH-owned Glenmorangie with the emphasis firmly on education. Who says the big producers don't also represent 'craft' spirits?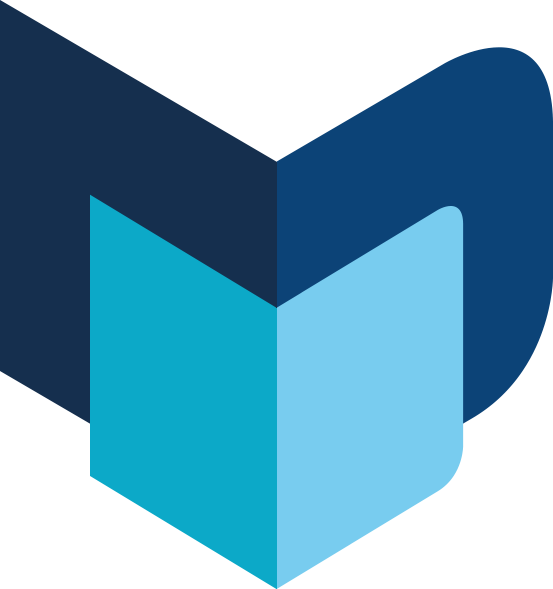 ---
The Moodie Davitt e-Zine | Issue 247 | 24 September 2018