THE FRONT LINE
CELEBRATING EXCELLENCE IN CUSTOMER SERVICE

Welcome to The Front Line, a regular feature championing the best in industry customer service, sponsored by Speyside blended malt whisky Copper Dog. Copper Dog is delighted to recognise the exceptional employees who are ultimately responsible for bringing all facets of the airport retail experience to life.
Each issue The Moodie Davitt e-Zine scours the world to introduce the real heroes of our industry – those who go the extra mile every day when serving the travelling public. No single day is the same for Dubai Duty Free's Claudette Sta. Ana, who sees every customer encounter as a new experience.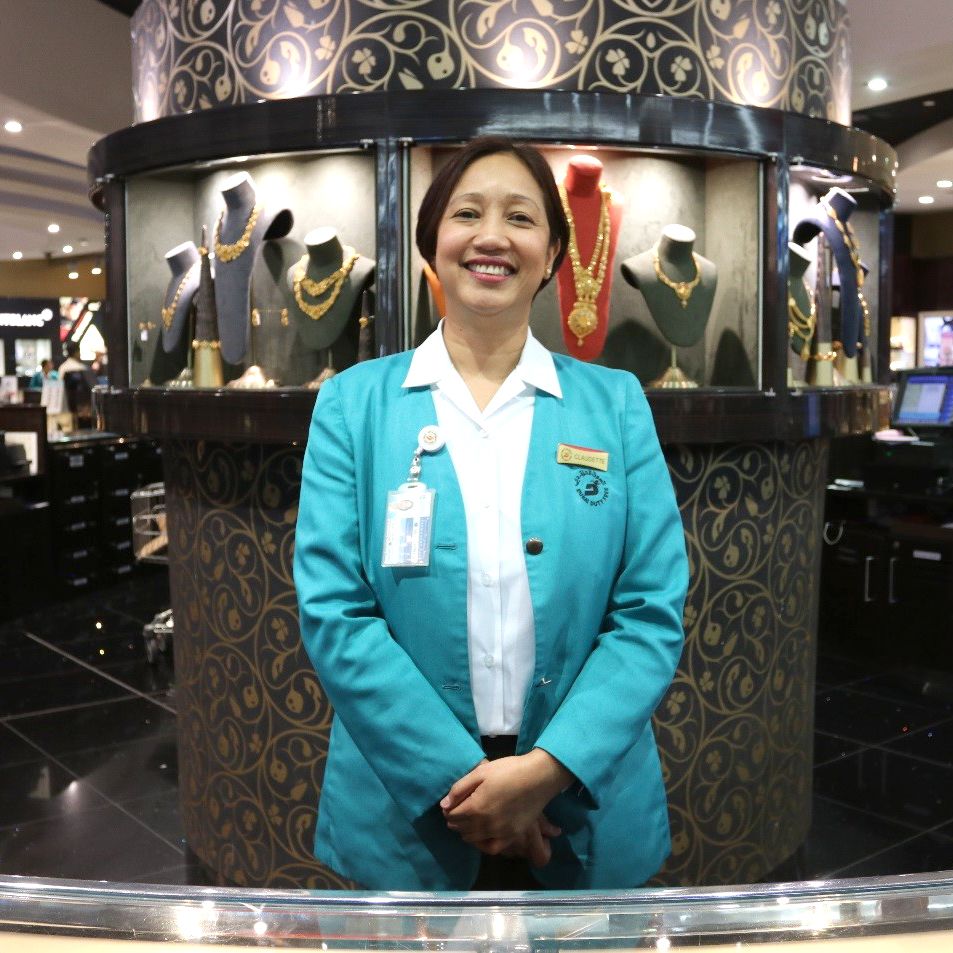 Employee: Claudette Sta. Ana
Employer: Dubai Duty Free
Employer's comments: Claudette joined Dubai Duty Free as a sales assistant in the summer of 2000. In her 18 years with the company, she has remained loyal and dedicated to her job. She has worked in different areas of the shop floor, and is currently assigned to the Gold Shop.
Selling gold and precious ornaments is quite challenging and requires a lot of patience – a skill which Claudette has acquired easily because of her natural customer service instincts.
Having an experienced staff member like her is a great help for the sales team in the shop because she serves as a mentor to the others. She selflessly imparts her wide product knowledge and experiences to her colleagues, who use them as learning tools. She also takes care of the overall upkeep of the shop, ensuring that the sales target is achieved and all other tasks are accomplished on time as expected by her supervisor.
As an individual, Claudette is calm and fun loving. These traits are appreciated by her colleagues and supervisors because it sets out a positive energy at the workplace. No single day is the same for her because she considers every encounter with a customer as a new experience. And although her customers come from different walks of life, she manages to get into a conversation with any of them.
Claudette's comments: "Every day is a completely new day at work. I meet customers who will be happy with my service and there will be those who are not, no matter how much I try my best. But in the end, I will be thankful to all of them because they all add up to the experiences that will put a smile on my face someday."
---
To nominate an employee e-mail Martin@MoodieDavittReport.com with the following:
The employee's job title and length of service with your company
A short description of what makes the person exceptional
A quote or comment from them (optional) on their approach to customer service
A picture of the employee (preferably in a work environment) as a separate file
Copper Dog is a Scotch whisky which sums up all that is good about Speyside. A combination of eight Speyside single malts, Copper Dog is deliciously fruity with a hint of honey and spice.
Each featured Front Liner receives a personalised Copper Dog bottle and dipper from the brand's home in Speyside. Additionally, Copper Dog will host a grand prize draw in late 2018 featuring the previous 12 months' nominated staff. One lucky Front Liner will win a VIP all-expenses-paid trip to Scotland, staying at the brand's superb Craigellachie Hotel in Speyside, Scotland.
---
The Moodie Davitt e-Zine | Issue 245 | 30 August 2018