Pink Fish is a Norwegian fast casual restaurant chain that is aiming to spawn a "modern food hero" across the rest of the world – salmon. The first airport opening will take place in early 2019, and many more could be set to follow.

Jason Holland

reports.
Sustainable, healthy, high quality, tasty and cool – with a sprinkling of humour. That's the recipe for an exciting food & beverage concept that could become an airport fixture in the years ahead.
Norwegian fast casual restaurant chain Pink Fish has heady ambitions in the travel channel and has, unusually, made Norwegian premium salmon "the star of the show".
The concept is already well-established on the Norwegian local dining scene and emphasises the purity of Norwegian waters and the freshness of salmon as key to the fusion of flavours it offers.
Pink Fish's vision is to be the first sustainable fast casual concept to take fresh, high-quality, salmon from the ice-cold Norwegian fjords, elevating it to new levels and creating a "modern food hero" across the rest of the world.
The concept offers an array of salmon flavours from Europe, Asia and America. These include Indian salad with tandoori, yoghurt and mint; Thai green curry with coriander and mint; Texas BBQ burger with coleslaw & BBQ sauce; and Hawaiian Poké with chilli marinade and crunchy vegetables.
Pink Fish recently announced its first airport restaurant opening, at Stavanger Airport, which will take place in early 2019. Further airport locations outside Norway are to be announced in the near future, and for the concept's founders, the sky is the limit.
Pink Fish is the brainchild of Bocuse dÓr [a biennial world cooking championship] winner and world champion Chef Geir Skeie, CEO Ronny Gjøse, and Chairman Svein Sandvik. The trio share a love of all things food-related and bring complementary skills to the table.
Skeie is the star chef, and handles all recipes and products. Gjøse is the seasoned food industry man, an expert in developing and growing restaurant chains and concepts. He has previous experience operating and developing over 80 restaurants for Umoe Restaurants and Blender in Norway at airports and shopping malls. He was also at the helm of a joint venture between HMSHost and Umoe restaurants for their entrance and tender at Oslo and Bergen airports in 2016.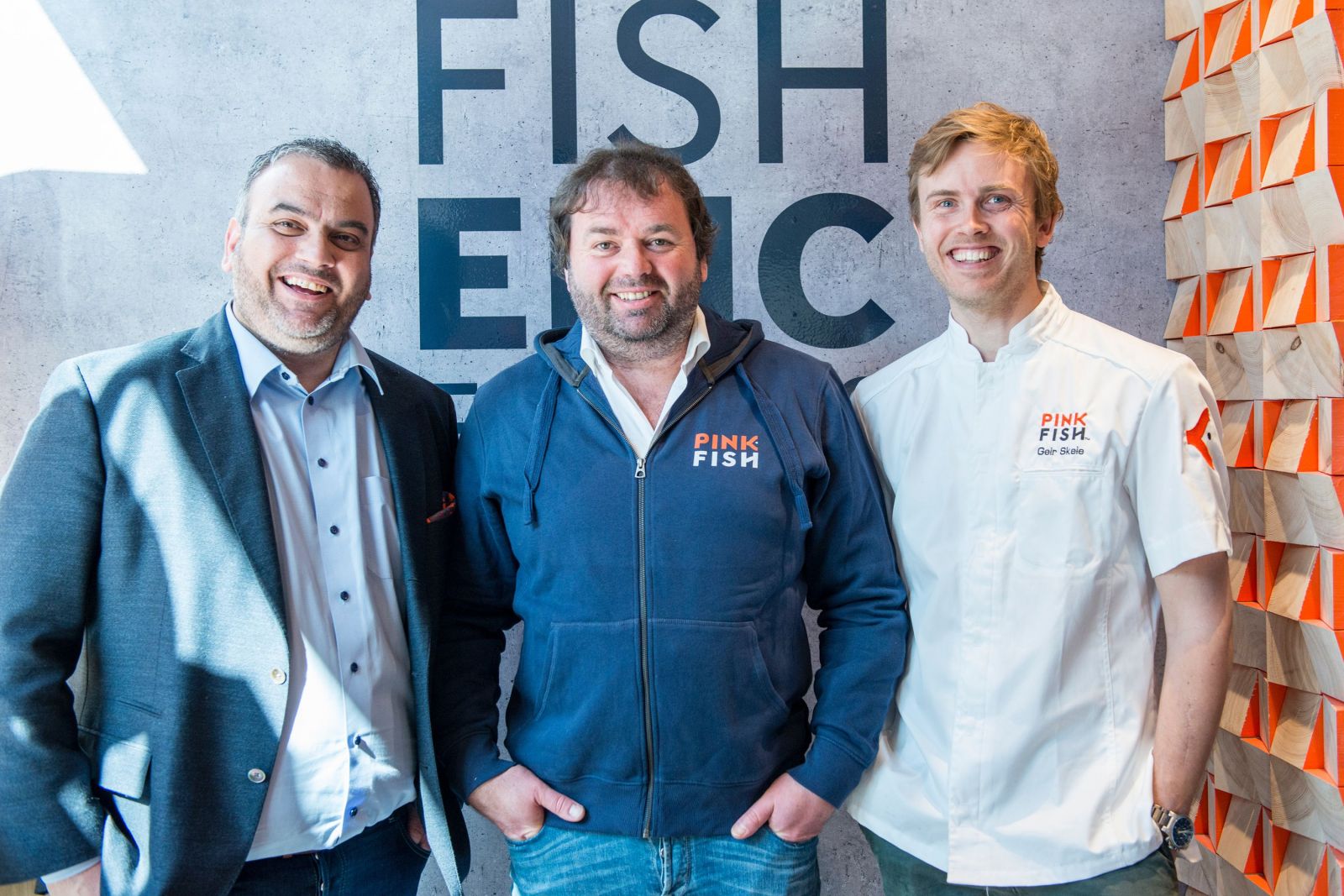 Showcasing salmon: Pink Fish's founders are (from left to right) CEO Ronny Gjøse, Chairman Svein Sandvik and F&B Manager Geir Skeie.
Sandvik represents the family business GSE Sandvik and completes the triumvirate of creative minds. He is an experienced investor within the shipping industry and is also an experienced foodie who has invested and been a partner with Skeie for the past ten years.
"For us, great tasteful food is what is most important," says Skeie. "To be able to show all the exciting flavours you can pair with Norwegian salmon is great fun, and we love challenging established truths about how seafood can be used. We are happy to share our recipes, to show people just how easy it is.
"In addition to delicious flavours, sustainability, traceability, openness and transparency are core values in the concept. At Pink Fish we only use biodegradable packaging, plastic is absolutely not in use. Our cutlery and straws are made of 100% natural starch, and the packaging from a bi-product from sugarcanes and corn. Norwegian farmed salmon is one of the most sustainable sources of protein there is."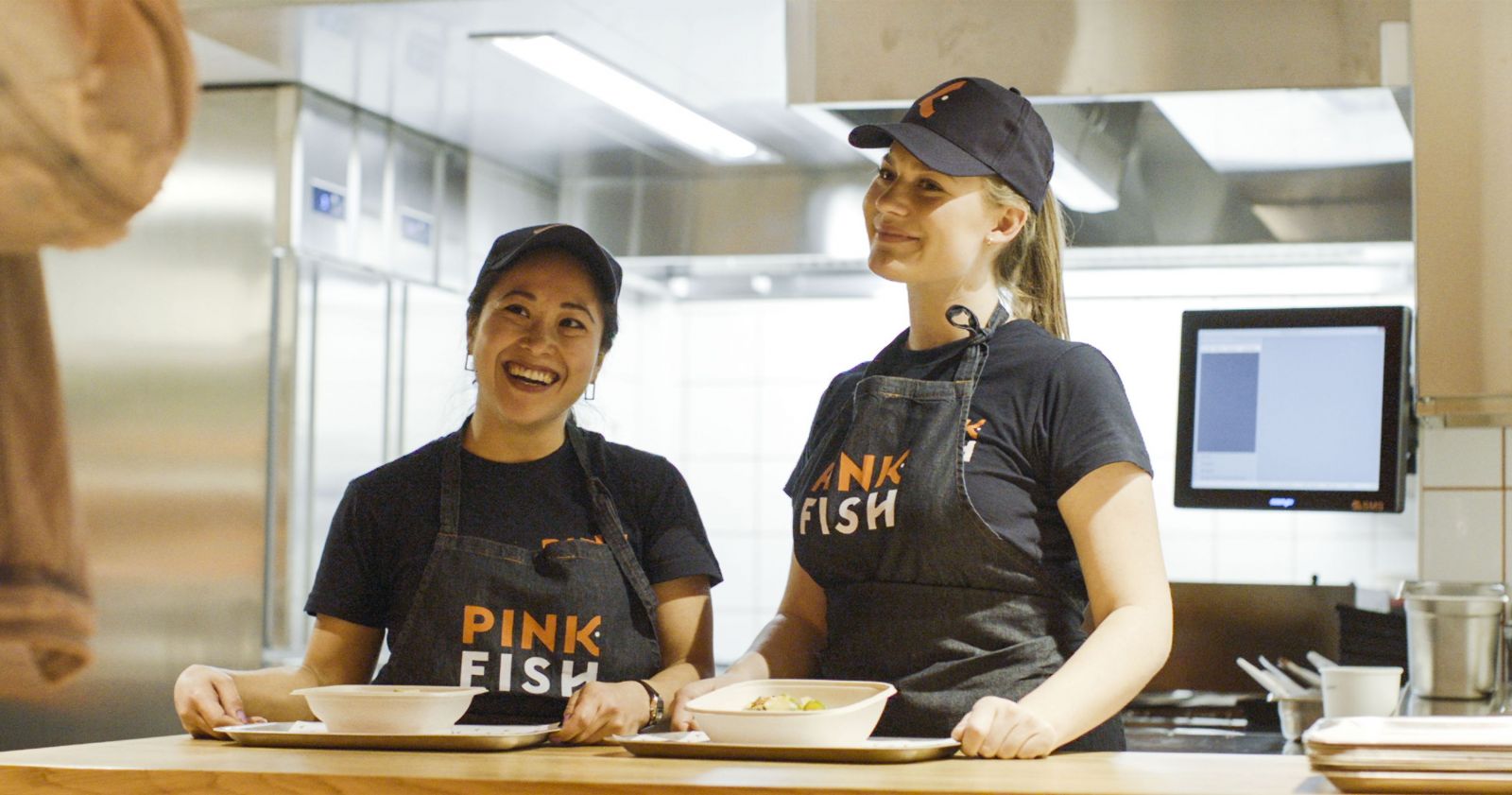 No plastic here: Pink Fish dishes are served in compostable packaging.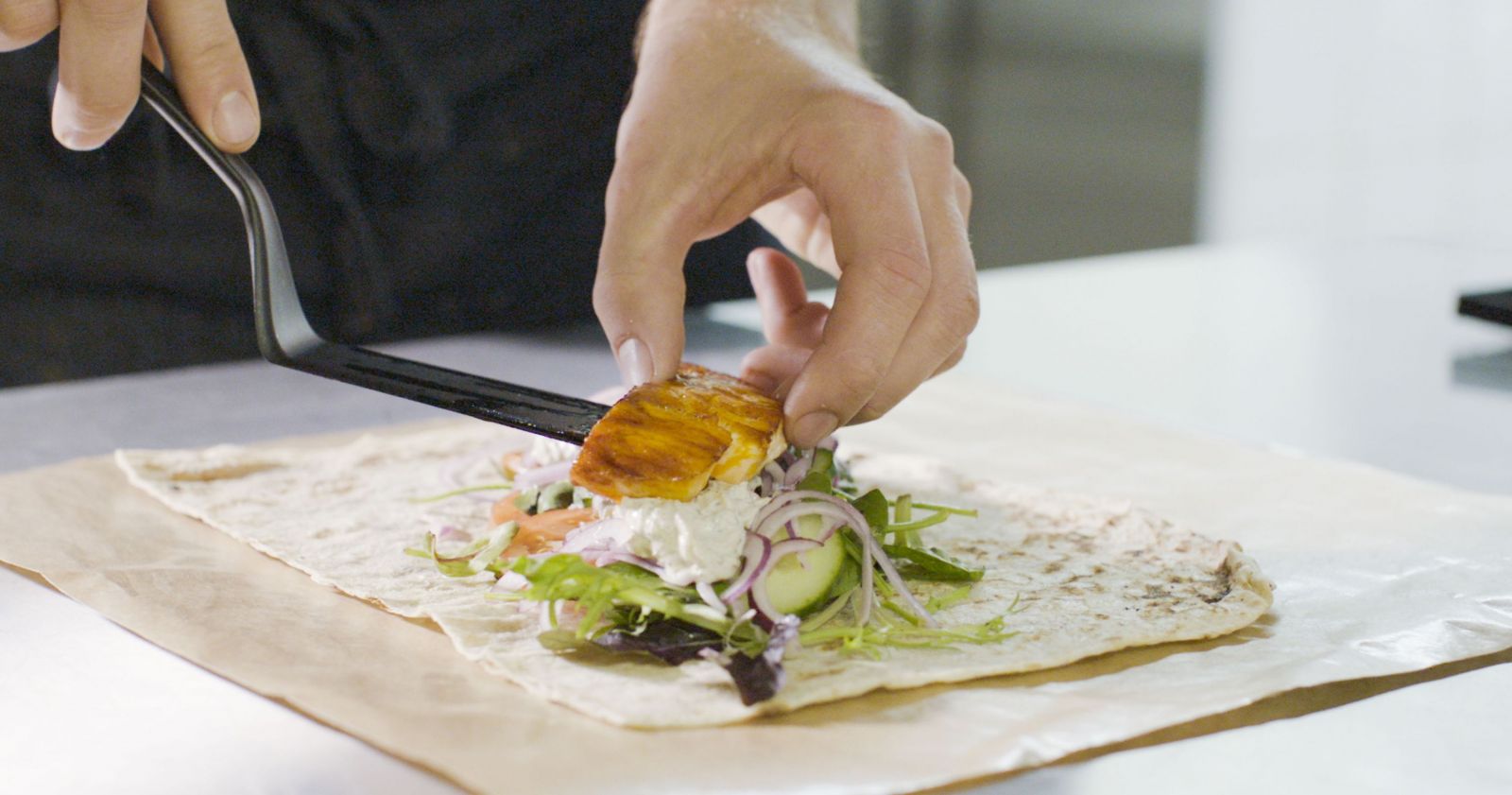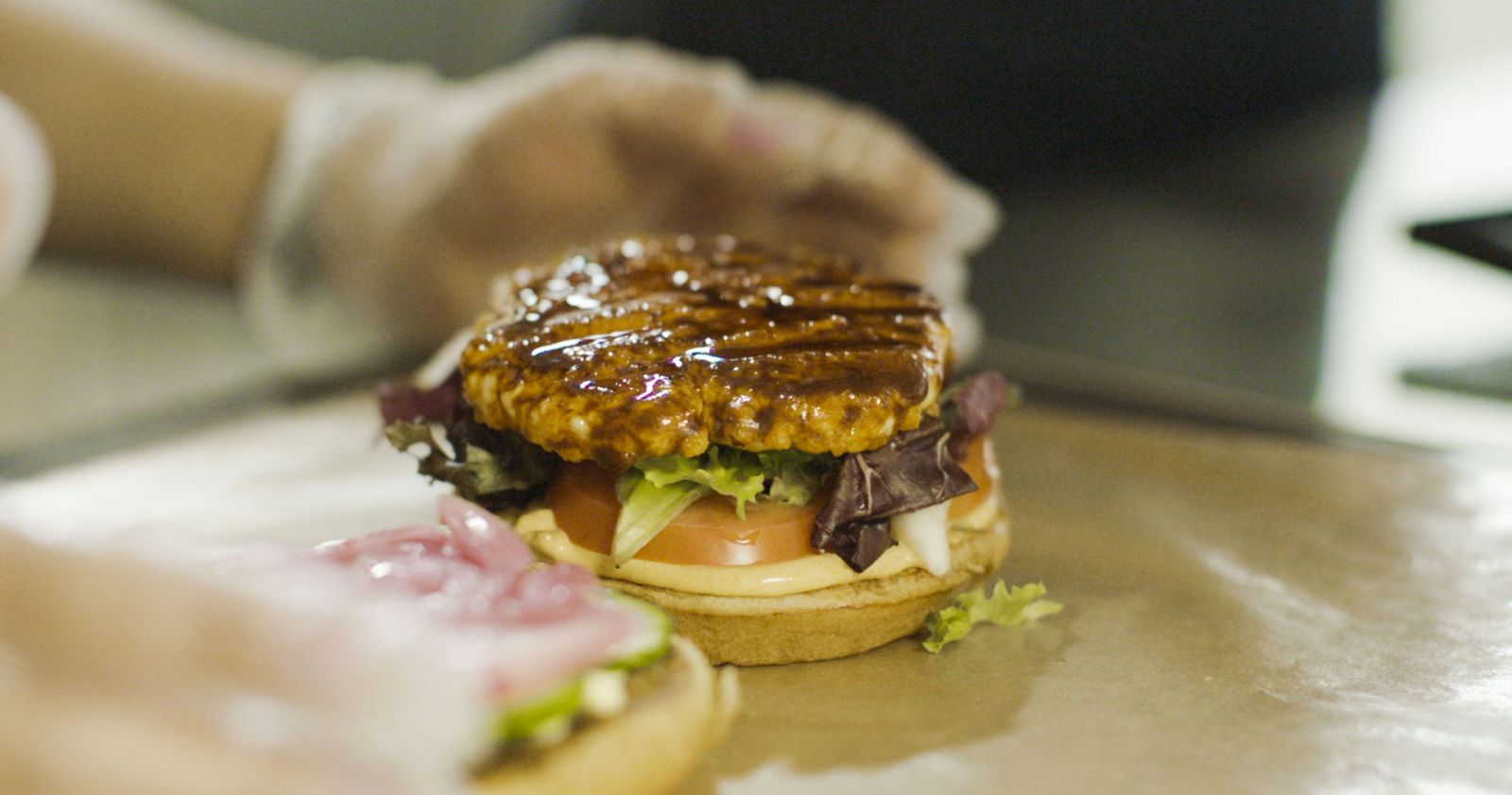 Gjøse says Pink Fish, which has been designed by Portland Design in London, was 'travelised' from the start. "Airports are ideal locations alongside busy high streets and shopping malls," he says.
"Research shows that people on the move are hungry for healthier options without compromising on quality or taste, which we are more than happy to provide in the form of fresh and contemporary Norwegian salmon dishes with flavours from all over the world."
In the following Q&A, Gjøse details how the concept came about and what makes it so exciting, and reveals why Pink Fish is so timely in an evolving airport food & beverage channel.
Q&A: Pink Fish Co-Founder Ronny Gjøse
Can you describe the thinking behind the Pink Fish concept and how it came about?
Pink Fish has a very exciting story that has shaped our concept from the start. Co-Founder and Chef Geir Skeie is passionate about Norwegian seafood – arguably the best seafood in the world. He had founded three successful seafood restaurants already, but had this dream about a concept that would allow him to show all the delicious flavours you can create with seafood to the world.
By chance, we were introduced, and sat down with our third partner Svein Sandvik. It was instant magic. We quickly saw that we'd like to make something down to earth, something that was scalable and easily accessible, and that a fine dining/casual restaurant was not the way to go.
After pairing up with Portland Design, who've been involved from the beginning, the fast-casual concept Pink Fish was born. We've chosen to focus on Norwegian salmon, as it is already renowned for its superior quality all over the world. It is also easy to source all year, all over the world at consistent quality which is very important for delivering the same Pink Fish quality in any restaurant in any market at any given time.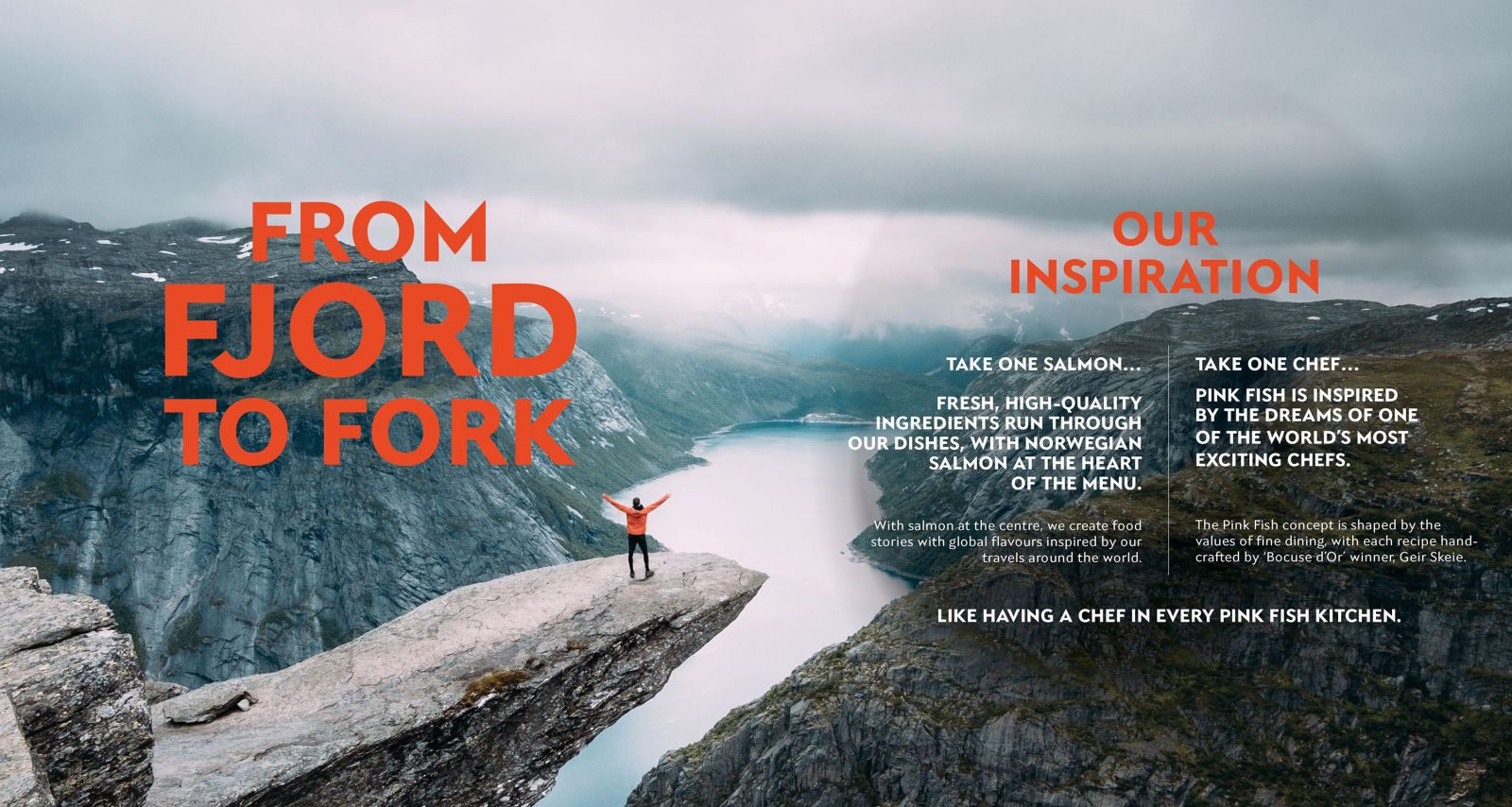 From fjord to fork: Pristine Norwegian waters and the freshest of fish combine to inspire salmon dishes with a myriad of twists.
What are Pink Fish's main features and what makes the concept stand out?
Pink Fish is thoughtfully designed, with bright colours and a clean Nordic feel. It has many distinctive features that pop out and are immediately recognisable as Pink Fish. We use an icon inspired by a salmon head (or tail – depending on how you look at it) in all communication, and have it featured prominently in each restaurant. We only use digital menus, with high visibility to showcase our delicious food and to communicate differently through the meal day.
Our menu is inspired by Geir's travels around the world. Our burgers, salads, wraps, hot pots and raw bowls each have one American, one European and one Asian flavour. In this way, we can serve a wide variety of flavours in a way that is easy to communicate, and we can showcase all the different tastes we can add to the hero product, the Norwegian salmon.
Geir's goal is to showcase the excellent quality Norwegian salmon to the world, and for us, the best way to do that is to show how easy it is to use salmon in dishes you may already know and love, but haven't really thought of as a match for salmon. To accomplish this, we're sharing our recipes openly, both in our restaurants and online to allow our customers to cook their favourite Pink Fish meal at home. By doing this, we're also showing just how easy it is to cook great quality, tasty food from scratch.
Fast casual and fast food concepts within seafood are extremely underdeveloped, and Pink Fish really offers something unique. We deliver high quality food, in compostable and environmentally-friendly packaging. Speed of service is extremely high and the concept is 'future ready' – meaning we are delivering on our customers' needs, both physical and digital.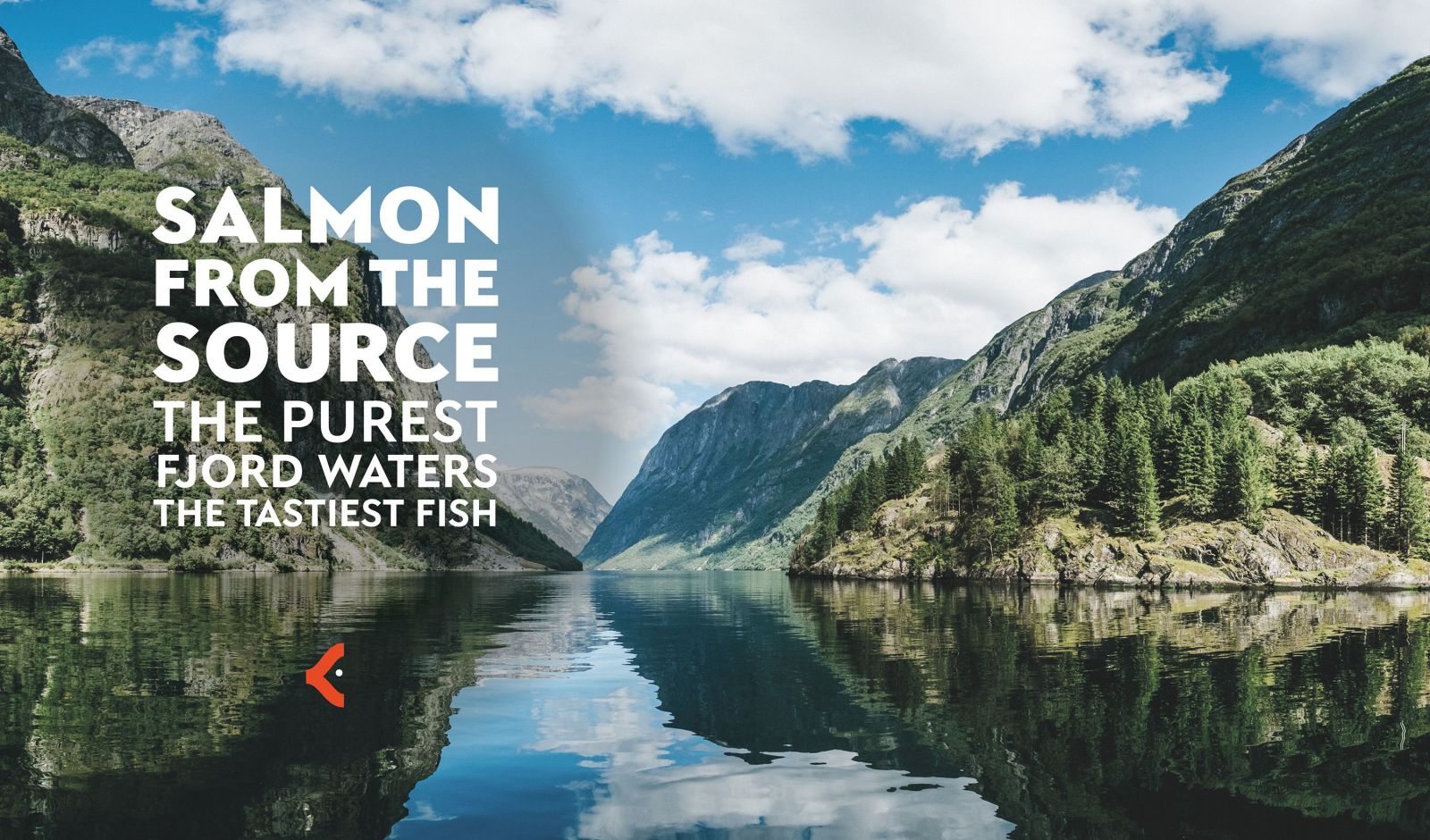 Gone fishing: The concept promotes sustainability and healthy eating but also evokes a sense of wonder.
What are your aims and ambitions for Pink Fish?
We're working towards a goal that in ten years Pink Fish will be a well-known brand in the world. We've said that we want to open 1,000 restaurants internationally; but who knows – it may be many more! We are in dialogue with different potential joint venture and franchisee partners, and our first international restaurant will open in Asia in the first quarter of next year. We have already set up support offices in both Singapore and China, and they will support our growth and operations in those markets.
What is your assessment of the opportunities in the travel food & beverage channel? Does it present a good fit for Pink Fish, and why?
Absolutely. Pink Fish is designed to operate at high street locations with high footfall, urban shopping malls and traffic locations such as railway stations and airports.
The travel food & beverage channel has many exciting opportunities, and it seems travellers are becoming more interested in more varieties. They are seeking more quality and healthier options, without compromising on flavour and quality.
Pink Fish was 'travelised' from the start, and both my experience in operating at airports for over ten years and Portland's insight in this channel mean that there are many thoughtful details featured. These include power outlets at every table and custom-made tables to offer easy access and make it easier to fit luggage. Also, as a fast casual concept we deliver premium quality food quickly, which is important for people on the go.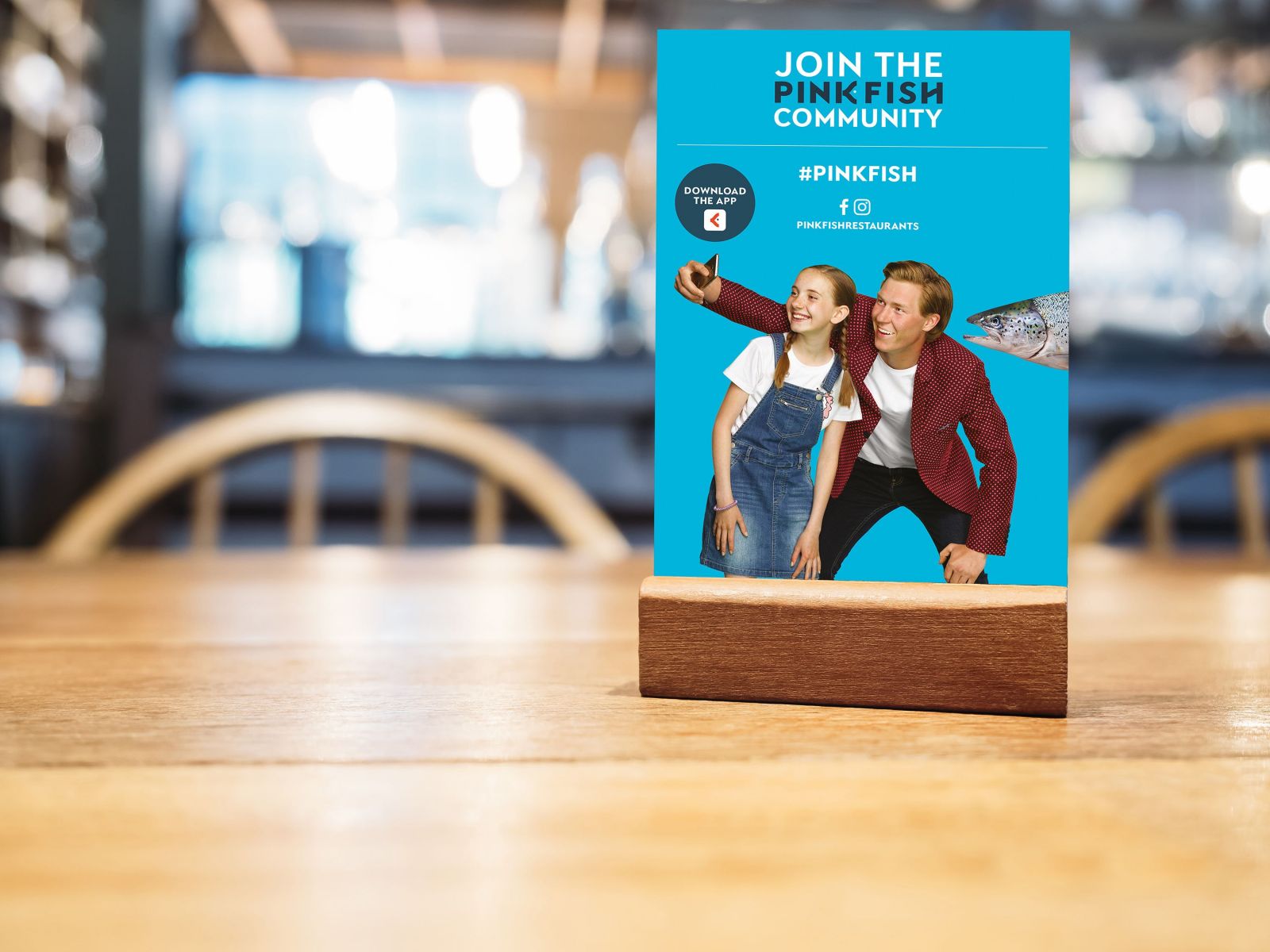 Standing out: A quirky communication campaign is raising awareness of the brand.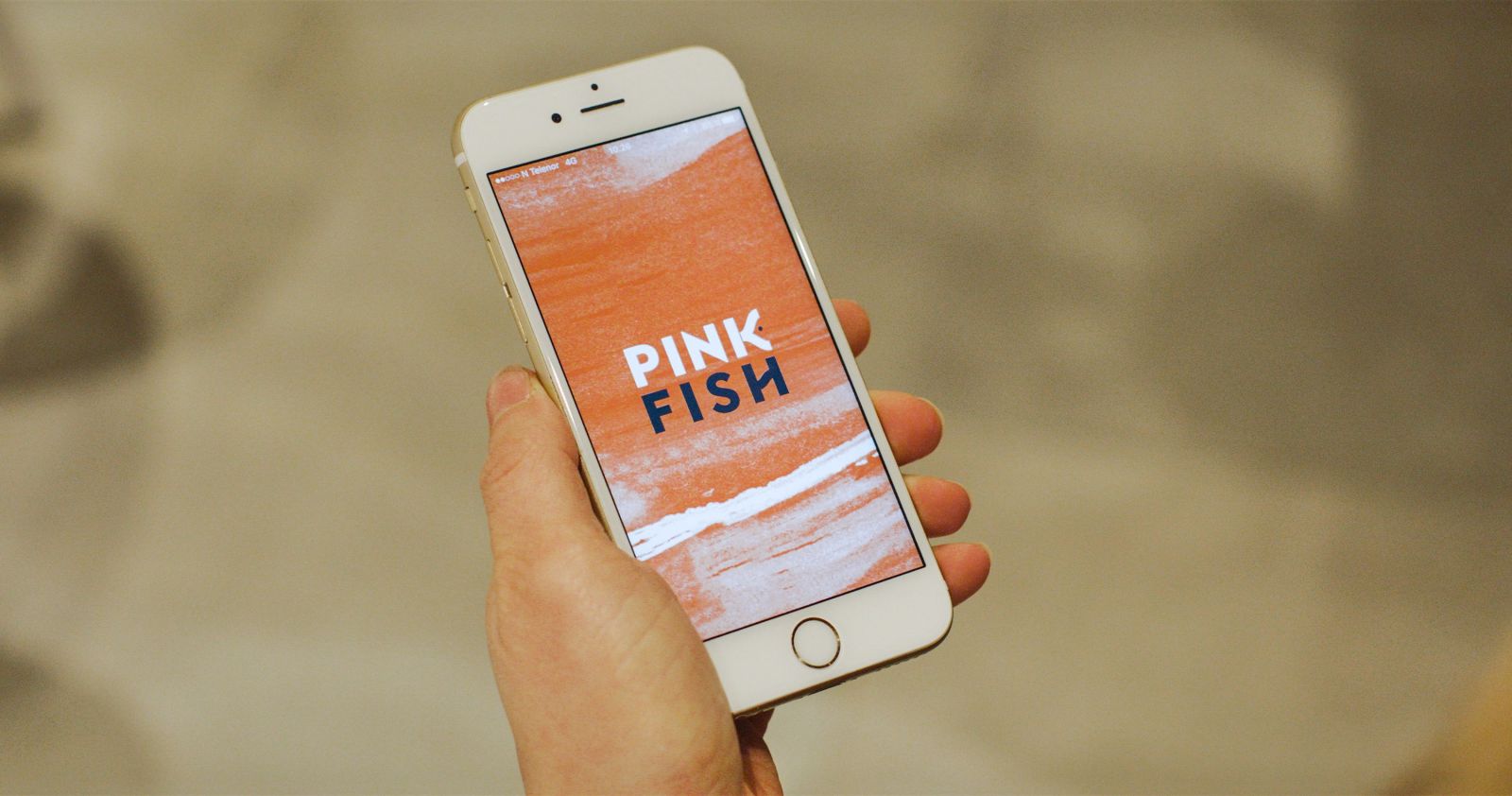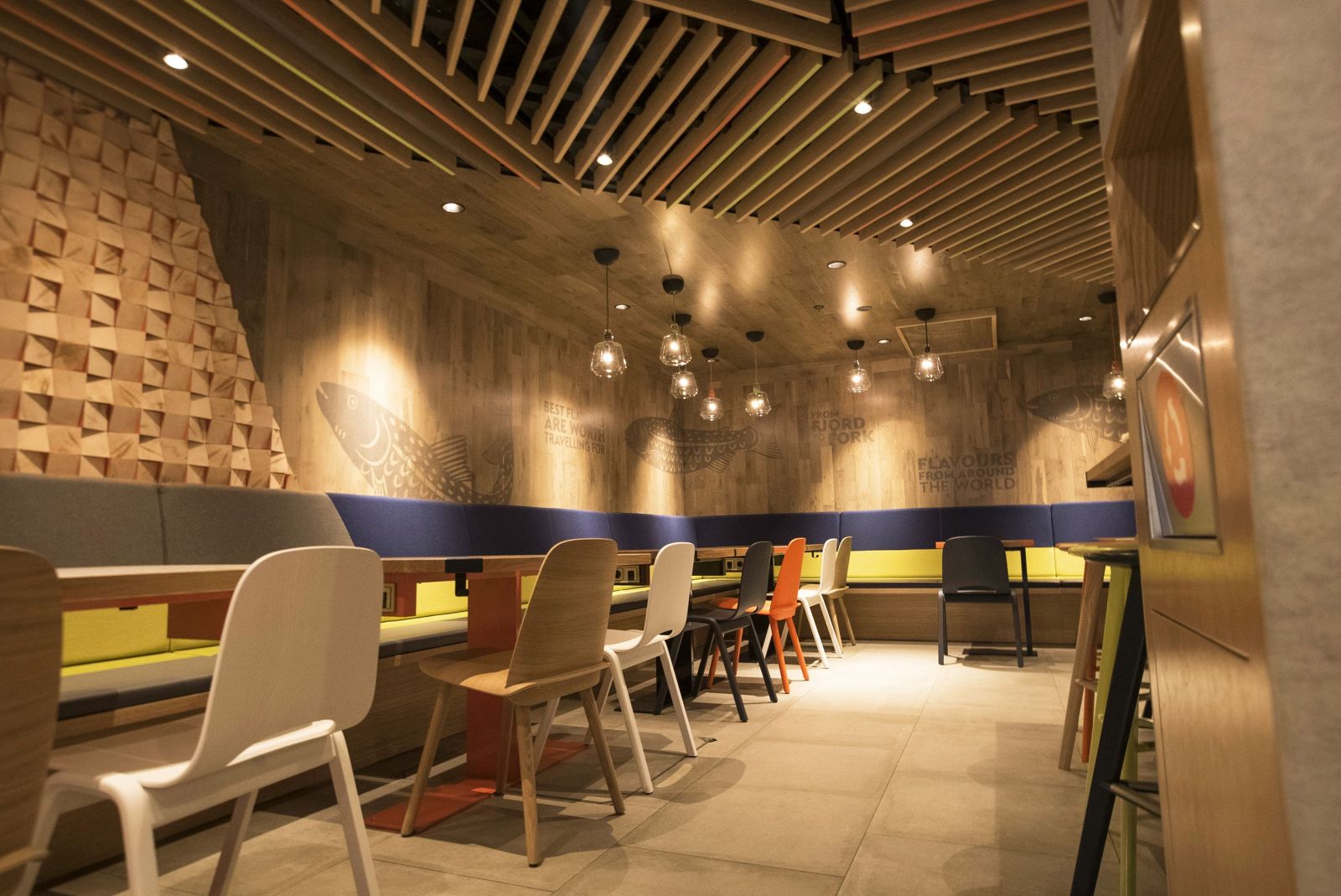 The concept has been designed by Portland Design, which is well-respected in the travel space. Has that played into its suitability for the channel?
Portland Design have been crucial to development of Pink Fish. We've worked closely with [Managing Director] Ibrahim Ibrahim, [Director of Environments] Lewis Allen and the whole Portland team from idea to concept realisation. Needless to say, their expertise in travel-oriented brands together with our experience and vision has contributed to the excellent fit Pink Fish is for travel locations.
Do you see Pink Fish as part of a growing movement in travel food & beverage emphasising different, healthier and better quality food? Or do concepts such as Pink Fish need to drive this change in mentality in the channel?
I believe it's a bit of both. Research shows that travellers are increasingly interested in quality and healthier options, and a wider variety of brands. However, it's difficult to make those choices when only traditional brands are on offer and burgers, pizzas and sandwiches are all over the place.
When new, exciting brands become available in travel locations, it will greatly impact the way travellers eat, and the wider range of options will definitely drive a change in behaviour. We're happy to see that we're not alone, there are a number of excellent new brands popping up in travel locations worldwide these days, and it's crucial that landlords make it a little bit easier to come into locations. I often see that their tenders are extremely complex, meaning 'normal' F&B operators don't have the skills or capacity to attend.
Quickfire Q&A: Chef Geir Skeie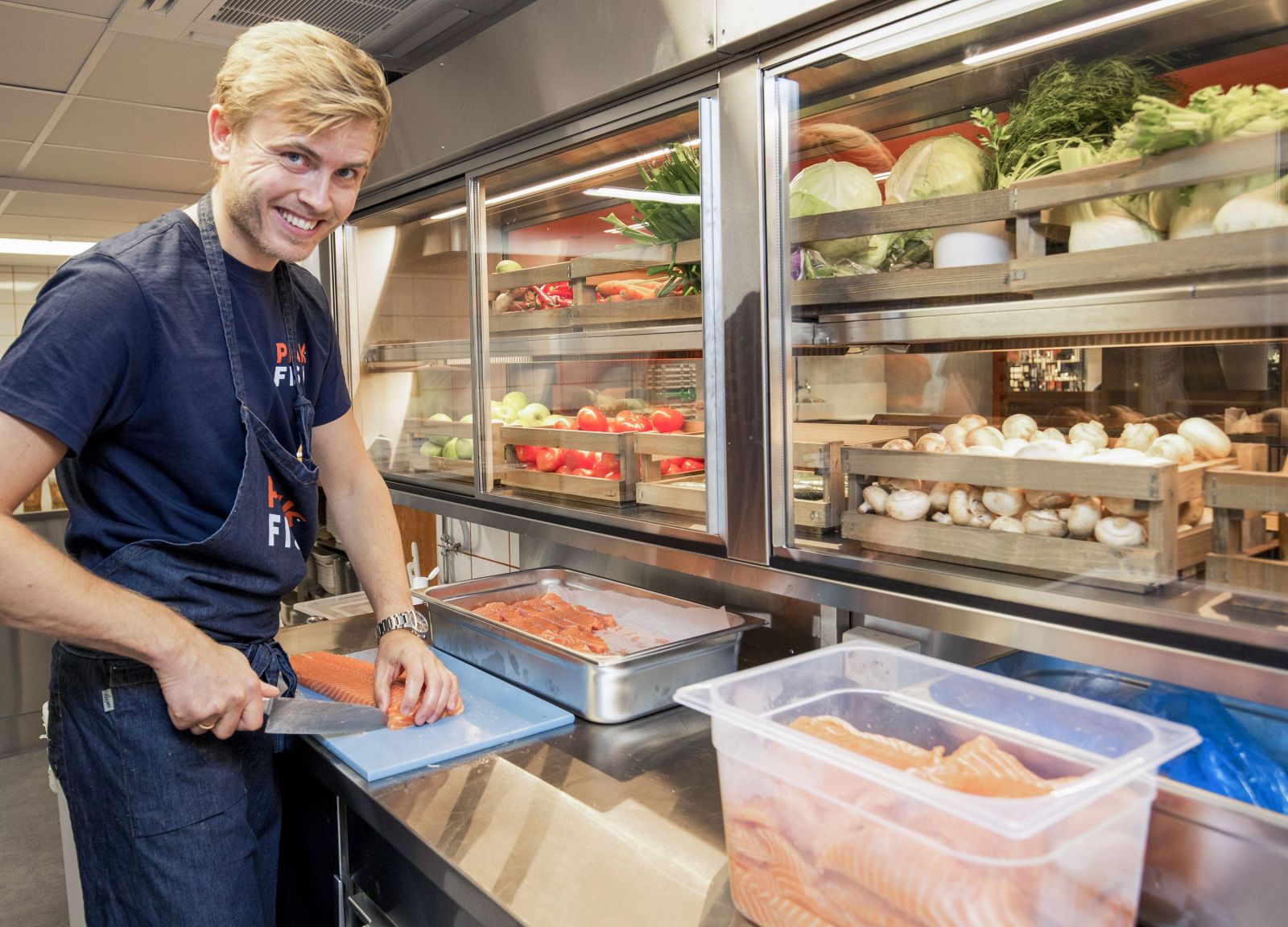 How would you describe your style of cooking?
It is focused on the raw materials and flavours from the world. There has been a lot of focus on seafood in the last ten years, trying to show the everyday person how many possibilities there are.
What are the keys to creating a successful airport food & beverage dish?
The key is to make it look appetising while at the same time it should taste exceptional, be served fast, and be easy to take away.
What is your favourite meal to cook? And to eat?
This is not really possible to answer as it depends on mood, weather, time of year, the setting – but I do really enjoy cooking Norwegian seafood.
Based on your travels, what are some lesser-known current or upcoming foodie trends to look out for?
I think Middle Eastern food is up and coming, with its fresh flavours and very healthy cooking. Similarly, Lebanese cooking. This is because they are focused on seafood and vegetarian dishes.
---
The Foodie Report e-Zine | Issue 246 | 14 September 2018