14 SEPTEMBER 2018
---
The Moodie Davitt Stock Watch serves as an indicator of overall business confidence in the global travel retail & duty free industry. Share prices of major publicly listed companies that own travel retail operations are monitored on a weekly and year-to-date basis to offer an indication of business confidence in the sector.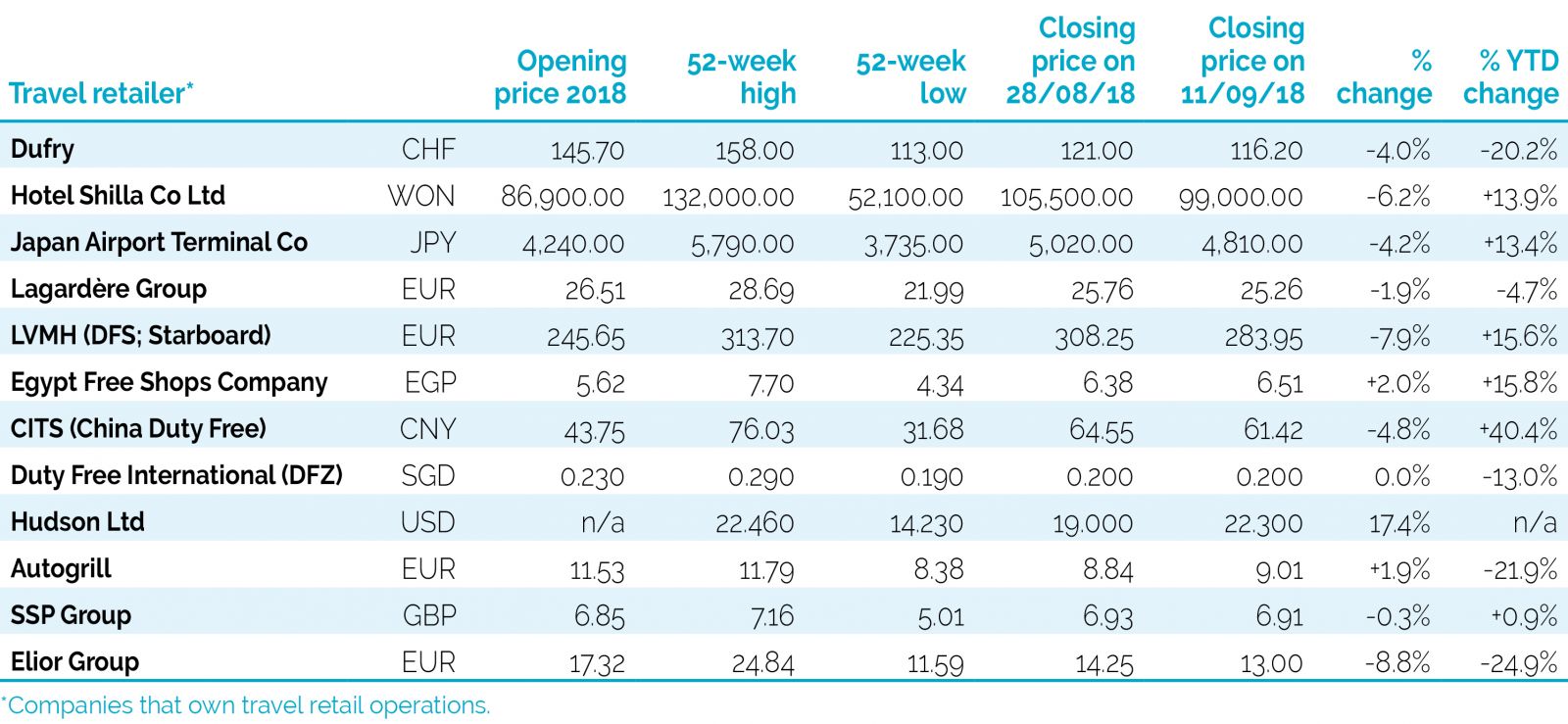 Shares in Hudson surged +17.4% in the period tracked here (closing prices on 28 August and 11 September), continuing the Dufry subsidiary's strong recent performance. A record high of US$22.46 has been set, and Hudson is now trading relatively well following a poor start on the New York Stock Exchange since launching in February.
The story was not the same for the majority of the other travel retail-related companies we follow, not least Hudson's parent company Dufry. Shares in the retailer fell -4%, and are now down -20.2% since the start of 2018.
Shares in The Shilla Duty Free parent Hotel Shilla, China Duty Free Group parent China International Travel Service and Japan Airport Terminal Co were down -6.2%, -4.8% and -4.2% respectively. All three of the Asian companies have a positive year-to-date differential however, at +13.9%, +40.4% and +13.4% respectively.
Shares in DFS co-parent LVMH tumbled -7.9%, but remain +15.6% ahead of their 1 January price. The company recently posted a +10% year-on-year increase in first-half 2018 revenue, to €21.8 billion. The Selective Retailing business group, which includes DFS, posted organic revenue growth of +9% (+15% excluding the closure of DFS concessions at Hong Kong International Airport). Profit from recurring operations was up +39%.
Among the food & beverage businesses we monitor, shares in Elior Group dropped -8.8%. Subsidiary Areas was awarded an eight-year contract to open seven new establishments at Malaga Airport earlier this month. Elior has struggled in 2018, with shares down -24.9% since the start of the year.
Autogrill has also struggled this year, but saw a small +1.9% increase in the current period for a new year-to-date differential of -21.9%. In late July, the company reported +5.2% year-on-year consolidated revenue growth in the first half of 2018, to €2.1 billion. Like-for-like revenue growth was +3.9%, and was largely driven by a strong +5.3% increase at airports.
---
The Moodie Davitt e-Zine | Issue 246 | 14 September 2018