The retailer view
One of the pioneering global travel retailers, DFS, was among the first to tap into the blooming crafts spirits category with a dedicated zone, at Singapore Changi Terminal 4.
It offers a showcase for craft products, and houses craft and small-batch beers and spirits from around the world in a curated collection for travellers. "The collection aims to invoke the stories and passion of a new generation of brewers and distillers who put innovation, authenticity and local culture into their craft," says DFS.
Craft beers are available on tap for tasting as well as a rotating selection of spirits. Travellers are also invited to make their own cocktails at the nearby cocktail bar, adding another element of interest, notably for Millennials.
At the launch of the T4 store, DFS Group Managing Director, Singapore and Indonesia Wilcy Wong noted: "We wanted to make things much more interactive here. Instead of making the cocktail for the customer, we invite them to make their own and to get involved themselves. It's more about doing than simply sampling and it ensures that people have an experience and can learn."
Of the craft zone in particular, Ms Wong said: "This is about being niche, different but also experiential. This concept around craft is also about tasting, which is important. We feature some local and other Asian beers that travellers can sample and then purchase. The same applies to small batch gins, vodkas, whiskies. We change the brands on offer regularly. Craft is new for us; beyond the traditional brands it's a way to introduce niche into the offer."
The keys to the store, and to the craft zone, are to ensure engagement levels are high, keeping travellers in the store for longer.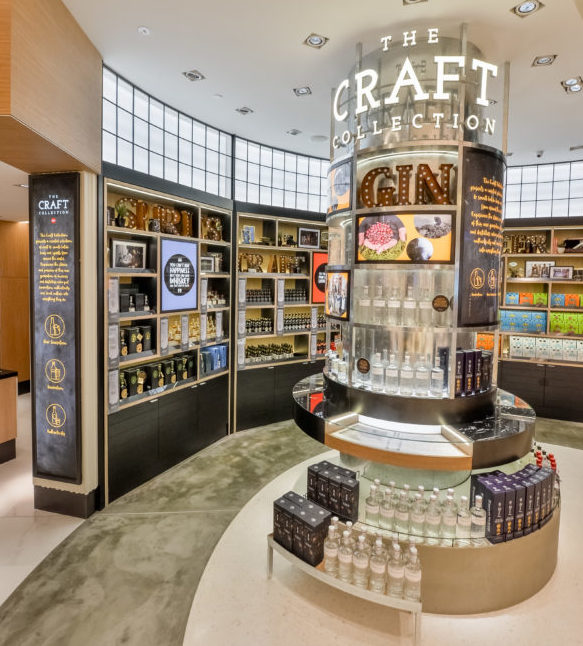 The Craft Collection at the DFS store in Changi T4 showcases the hottest trending categories from craft beer to gin.
In recent weeks, Aer Rianta International (ARI) has made a big statement about its craft credentials with the opening of its new Dublin Terminal 2 The Loop wines & spirits store. Space for the drinks category – in a design developed by The Design Solution – is much enhanced, with a strong focus on newness. Key elements include an evolution of ARI's signature The Irish Whiskey Collection concept; much-improved ranges in international whiskies, notably Scotch and American; a special focus on Cognac and Armagnac via a dedicated luxury area; enhanced space for liqueurs led by Irish cream liqueur brands such as Baileys and Coole Swan, and a stunning range of gins and vodkas each in their own space. This is led by a striking personalised gondola for Drumshanbo Gunpowder gin at the heart of the zone.
Among the highlights of the craft area are the 30-plus new gins on offer, presented in a zone that shouts 'discovery' towards the rear of the store.
ARI Global Head of Category Paul Hunnisett says: "As an industry we must constantly innovate and differentiate our offering to compete and we feel that this new store sets a new standard in driving customer engagement."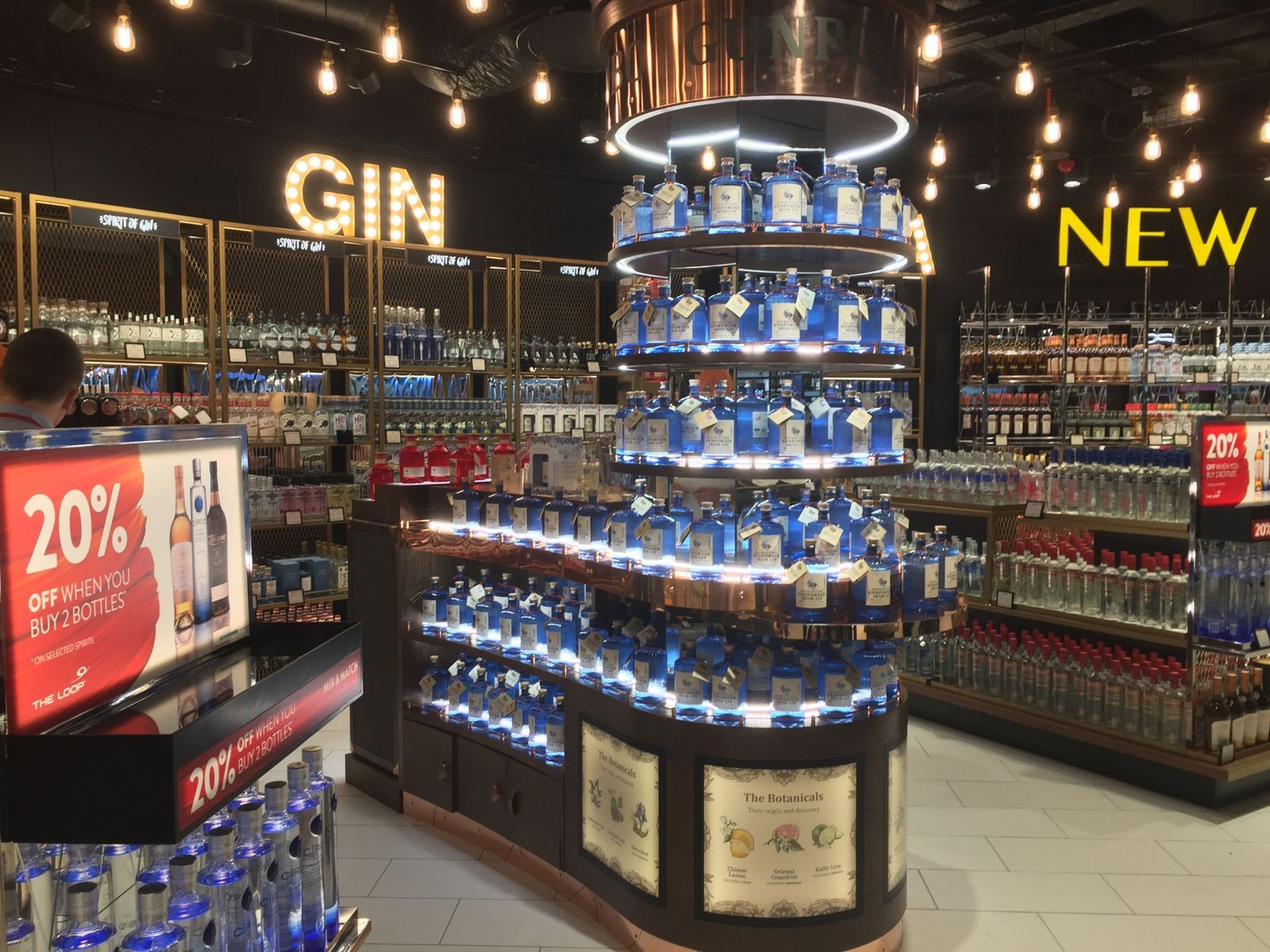 Drumshanbo Gunpowder gin is the best-selling spirits SKU at The Loop Dublin Airport Terminal 2, and appears here (along with sister brand from The Shed distillery, Sausage Tree vodka) in a specially designed gondola that magnifies the brand superbly.
Outside Irish whiskies, gin is the store's great growth category. Hunnisett explains: "Gin was 5% of our liquor business three years ago, and is 15% today, with triple-digit growth in that period. That's no accident. We have invested in it along with brand partners, brands like Gunpowder, Dingle, Listoke and many others. We have exclusives, we have our own team who created The Loop gin with Glendalough, which adds to the story. We have intentionally done this category radically different from the past. We think we have the best gin range in global travel retail, with over 80 SKUs. It will grow and we'll do more. We have the next 20 gins ready to go already once we update our space plans."
As well as the brands named above, others include Silver Spear Gin, Old Carrick Mill, Garnish Island Gin, Beara Gin from Ireland, Gin Scapegrace from New Zealand, and Edinburgh Gin and Bulldog Gin from UK.
The presentation has to speak to a different audience today, as Hunnisett acknowledges.
"White spirits have a very different look and feel. We wanted to reflect the way people drink now – if they go into a bar, they are met with a choice of with 20 gins, 20 tonics and 20 garnishes. So we have tried to bring to life the places where people are drinking today, the 'speakeasy' style bar, with distressed metal furnishings, with neon signs and so on.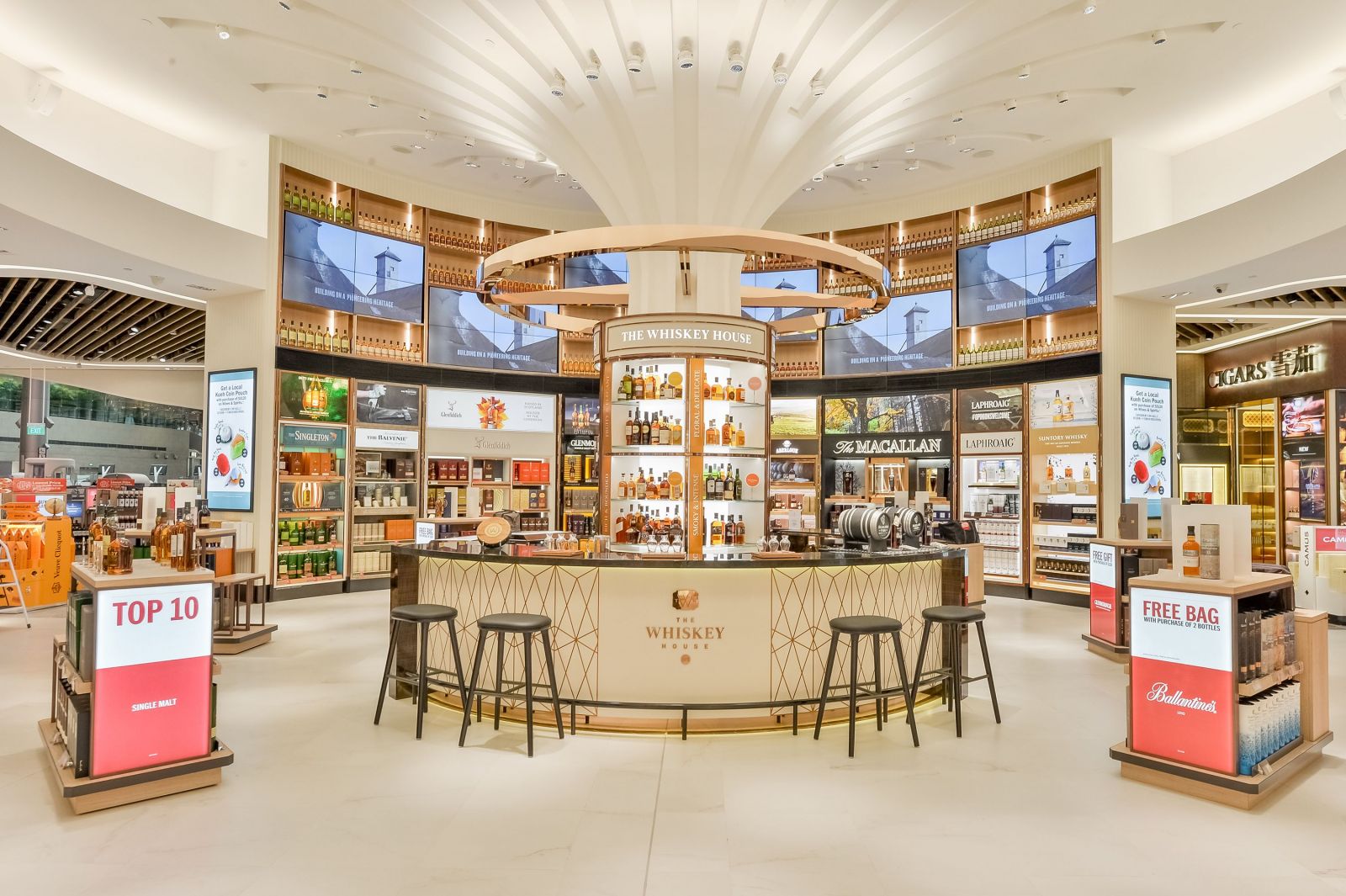 "This is about being niche, different but also experiential," says DFS of its craft zone at Changi T4.
"We have intentionally tried to go quite generic so we have not done much personalisation, but we can still being the brands to life. Gunpowder and Sausage Tree vodka have their own areas and a HPP zone at the front does the same for Hendricks now. We have also introduced an area called 'New' and that is key. People travel a lot more often than they used to so we need newness for the passenger who is through the airport four or five times a year."
Product knowledge is key to develop the craft spirits business, and brands' input is critical. "We have 15 of our own BA's, aided by the investment of our brand partners," says Hunnisett, "and that's part of trying to keep momentum going in categories like gin. When you have 80 gins you need someone to tell you what the difference is between a Gunpowder and a Dingle or a Hendricks and a Bombay Sapphire. The moment you cannot do that you have lost them."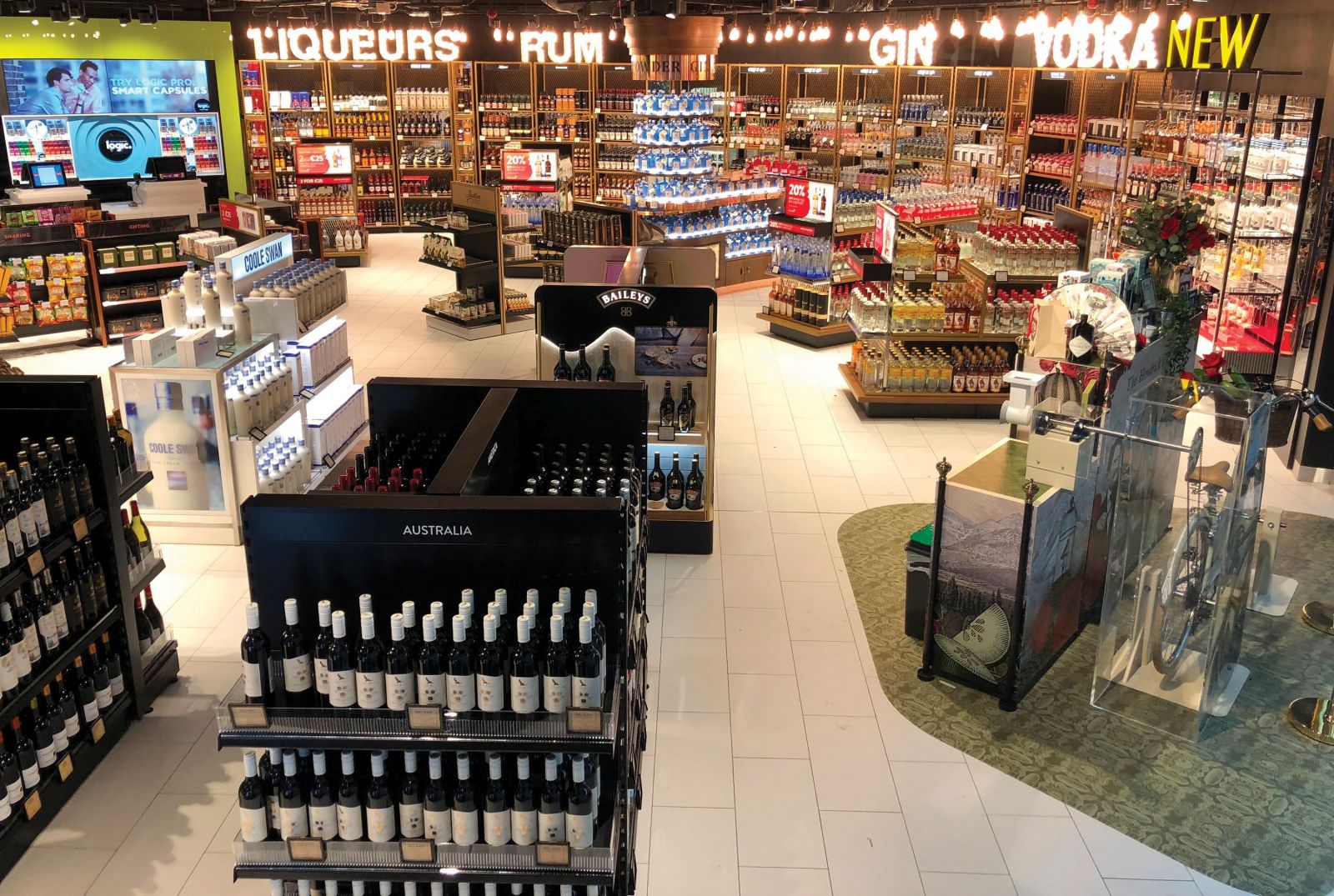 ARI has put a strong focus on craft spirits in its Dublin T2 The Loop wines & spirits store.
Lagardère Travel Retail is another retailer that has made craft spirits central to its plans for the category. Senior Category Manager – Liquor Sandrine Verrecchia-Godin says there has been an explosion in new micro-distilleries over the past few years, and it is vital to respond. "We are embracing this craft trend and are adapting our offer strategy to answer this new demand," she says.
Verrecchia-Godin notes that this new, disruptive craft trend is being driven by changing tastes among younger drinkers. "Millennials are more and more interested in history and production methods (authentic hand-made craft) in what they drink," she says. "They don't want to consume what their parents used to drink. They are less brand loyal and are more about discovery."
So the production selection in-store must always take craft spirits into consideration – and offer new stories, authenticity, discovery, and new flavours.
Lagardère Travel Retail says its Aelia Duty Free store at London Luton Airport is a particularly good example. "We focus most on craft spirits in whisky and gin there," says Verrecchia-Godin. "We will offer a 'Discovery' area with a disruptive offer. Tasting is key as well. In gin, the craft offer has been around for few years, especially on UK platforms, with excellent results."
Verrecchia-Godin believes that craft products can disrupt the offer and attract new customers in travel retail – and thinks that vodka still has strong potential for growth as a craft category. However, she would like to see more travel retail exclusives from emerging craft brands to differentiate the offer.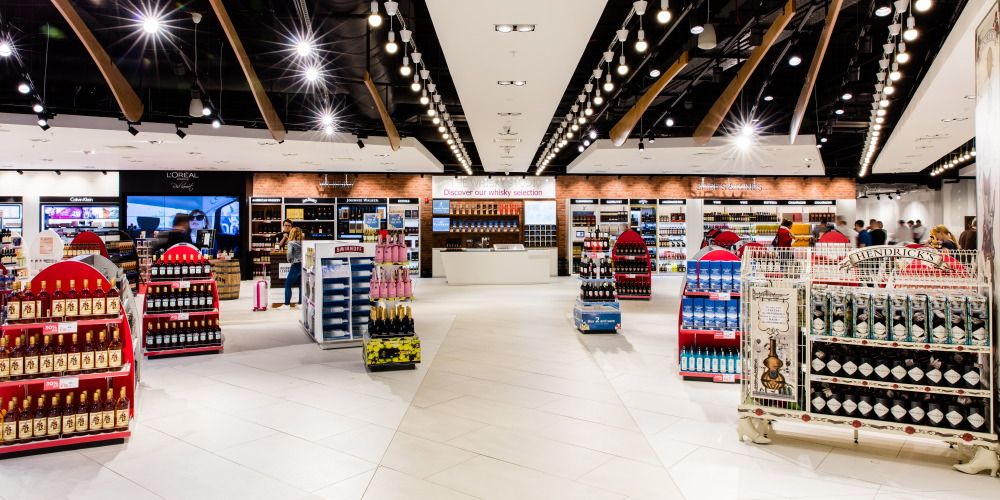 Lagardère Travel Retail has similarly embraced the craft trend at London Luton Airport.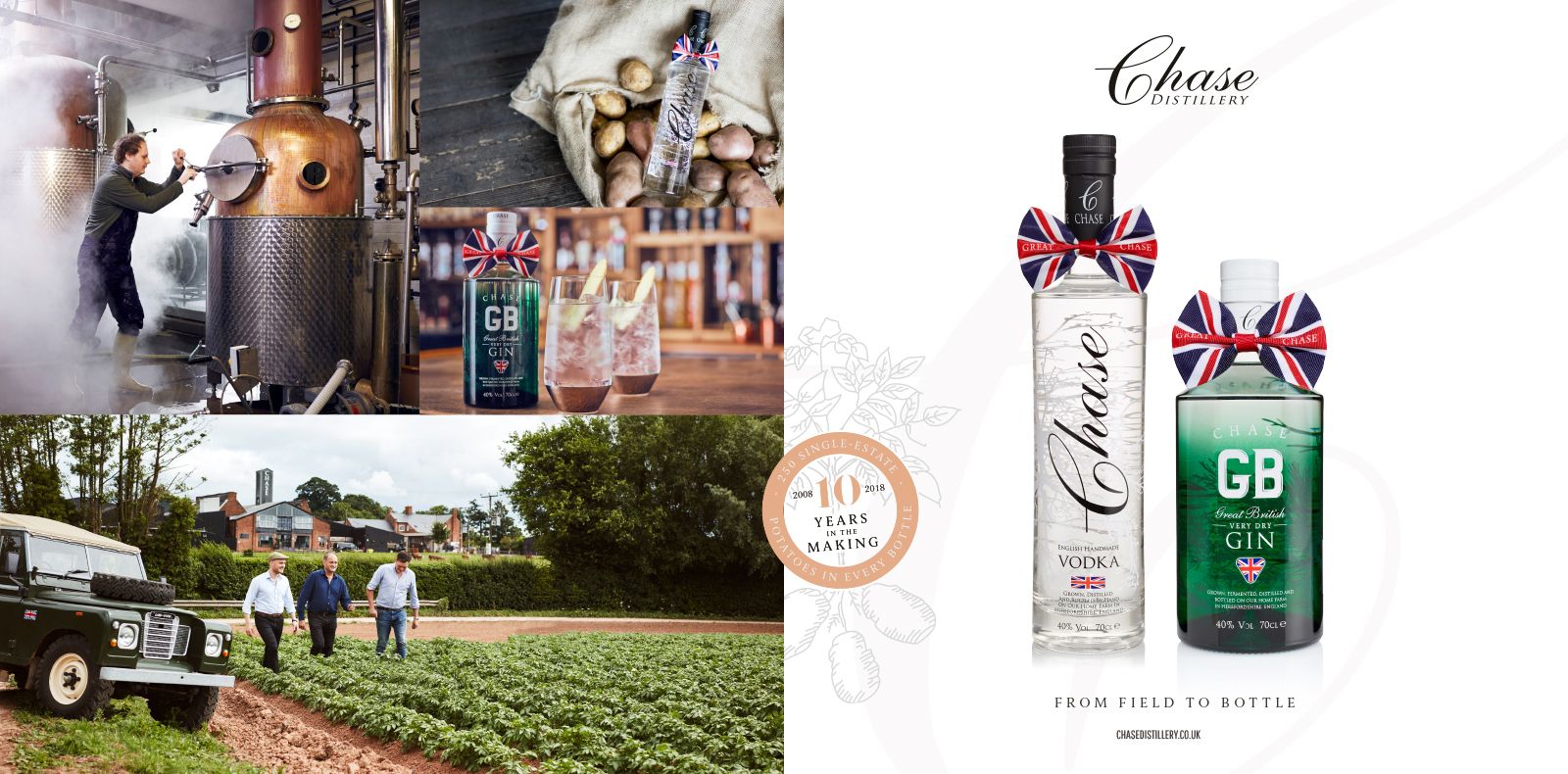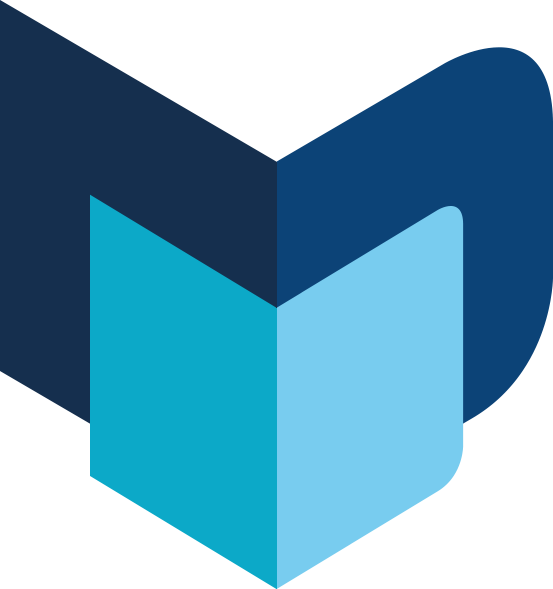 ---
The Moodie Davitt e-Zine | Issue 246 | 14 September 2018