Colombian Emeralds International's Ivette Robert always seeks to improve and become better at her job, and is held up by the company as an example of capability and dedication.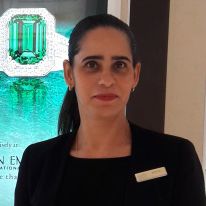 Employer: Colombian Emeralds International - Aruba
Employer's comments: Colombian Emeralds International is recognising Ivette as an excellent achiever because of her dedication in always seeking to improve and become better at her job.
Ivette is a great team player and is very dedicated – she gives 100% of service to the customer and the company. She consistently reaches her set targets and is always willing to help out when needed. She is an example of capability and dedication.
Ivette's comments: "I began in the jewellery business about 16 years ago and I can really say I fell in love with jewellery and have especially become very passionate about selling emeralds.
"Meeting new people every day and creating a beautiful story, while also being part of it, is a delightful experience that I can live day by day."
The employee's job title and length of service with your company
A short description of what makes the person exceptional
A quote or comment from them (optional) on their approach to customer service
A picture of the employee (preferably in a work environment) as a separate file

The Moodie Davitt eZine
Issue 273 | 12 December 2019
The Moodie Davitt eZine is published 20 times per year by The Moodie Davitt Report (Moodie International Ltd).
© All material is copyright and cannot be reproduced without the permission of the Publisher.
To find out more visit www.moodiedavittreport.com and to subscribe, please e-mail sinead@moodiedavittreport.com