---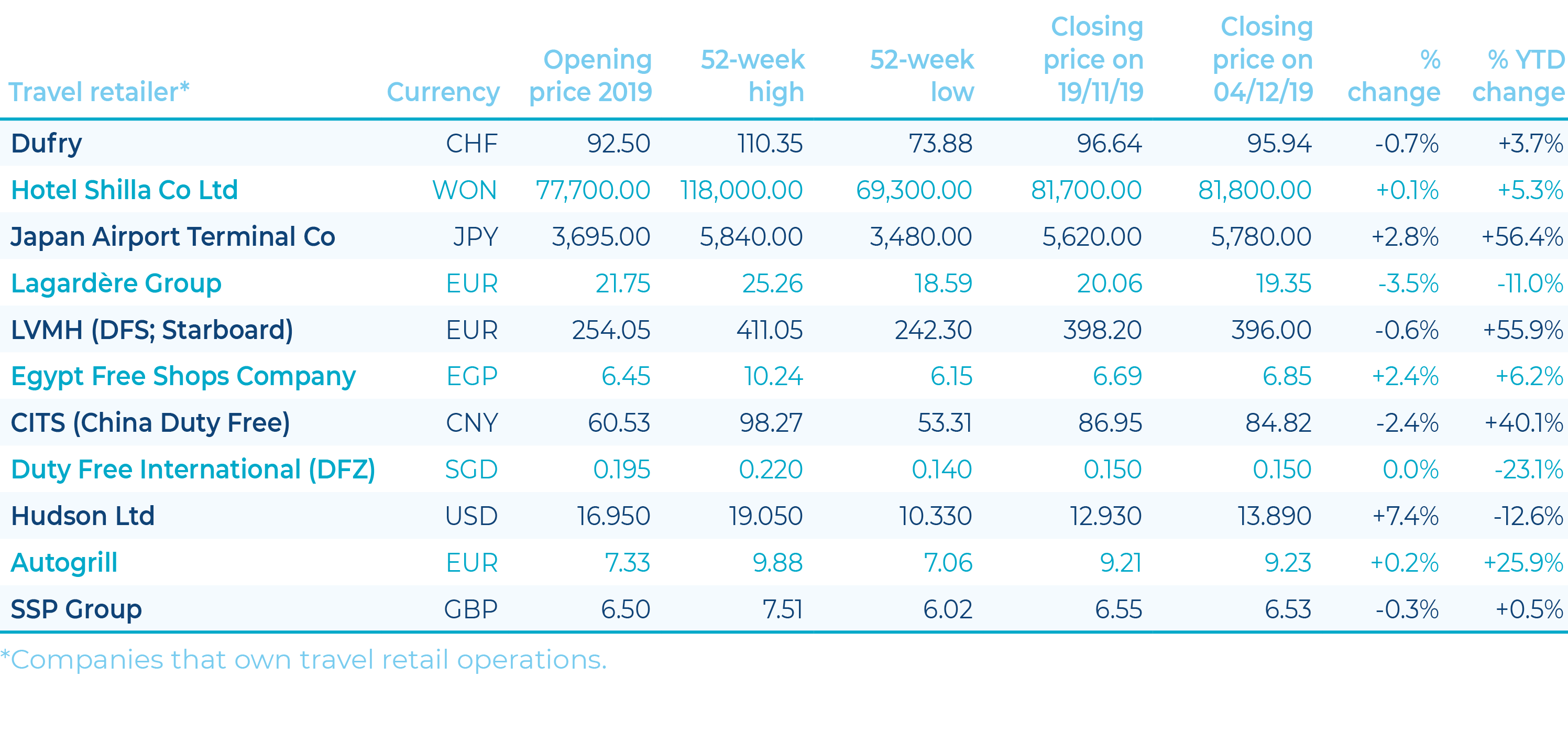 The end of the year is drawing near and four of the travel retail-related companies we track can report strong double-digit increases in their stock price so far in 2019.
Shares in Japan Airport Terminal Co (+56.4%) and DFS co-parent LVMH (+55.9%) have risen the most; either could be our top performer for the year – there is one more Stock Watch column in 2019. Shares in China Duty Free Group parent China International Travel Service (+40.1%) and Autogrill (+25.9%) have also gone up steadily in 2019.
Looking back over the past few years, shares in Japan Airport Terminal Co have returned to mid-2018 levels – and slightly exceeded them in the past few weeks. The closing price of JPY5,780 on 4 December is still far short of April 2016 levels, when shares approached JPY8,000, but the company will hope the positive trend on the stock market continues in 2020.
As for LVMH – which recently added high-end jeweller Tiffany to its brand mix – shares have risen steadily since mid-2016, save for a blip in the last few months of 2018. A new 52-week high of €411.05 was reached in the period tracked in this column (closing prices between 19 November and 4 December).
Shares in China International Travel Service have similarly risen since the start of 2017, with some turbulence at the end of 2018. By contrast, shares in Autogrill are still some way short of a 'golden period' between April 2017 and June 2018; its closing price on 4 December was €9.23, compared to around €11.50 in that timeframe.
In the current period, Hudson Group was the top performer with shares increasing +7.4%. On 26 November, the Dufry-owned specialist travel retailer revealed a new brand identity and that it would henceforth be known simply as Hudson.
Elsewhere, only shares in Lagardère Group moved by more than +/-3%, and even then only just, with a -3.5% fall. Both Hudson and Lagardère Group have negative year-to-date differentials, at -12.6% and -11% respectively. They are joined only by Duty Free International. The company's -23.1% decrease is the largest among the companies we monitor.

The Moodie Davitt eZine
Issue 273 | 12 December 2019
The Moodie Davitt eZine is published 20 times per year by The Moodie Davitt Report (Moodie International Ltd).
© All material is copyright and cannot be reproduced without the permission of the Publisher.
To find out more visit www.moodiedavittreport.com and to subscribe, please e-mail sinead@moodiedavittreport.com