---
A fresh perspective
Before being appointed as Aer Rianta International (ARI) CEO in 2018,

Ray Hernan

worked with some of the most prestigious domestic retailers in the UK and Ireland. At one of his first major speeches to a travel retail audience, at the recent MEADFA Conference in Oman, Hernan shared his early impressions of travel retail and discussed how the industry matches up to the domestic market.
ARI's current and future presence
"As an organisation, we're based in Dublin, but we've now operated in four continents, and we have a footprint today of about 16 locations across those continents. We will hopefully be going up to 18 locations in the very near future, with two airport openings in Montenegro. 
"That will be our first time in mainland Europe in many years, and we're delighted with the opportunity there. It's a sign of the way ARI has attempted to do business over the years. We've gone into regions early and I believe Montenegro is a location that is going to evolve and develop and become a very, very big deal over the coming years. 
"Then we expect our 19th airport, in Abu Dhabi at the Midfield Terminal where we are delighted to be the operator of the perfumes & cosmetics offer, to open in 2020. 
"We're focusing a bit more now on the Middle East, which is really our heartbeat and our heartland. In excess of half of our turnover is now generated from this region, and we've been here for many years. We've been operating or involved for over 35 years in this region, and indeed our first foray into this region was in providing some consultancy support for the fledgling Dubai Duty Free. One of our first employees that we had to support in that operation many, many years ago was Colm McLoughlin, and dare I say what was Ireland's loss was Dubai's gain. It's amazing what Dubai achieved over many years, and certainly they're the benchmark for our industry now in this region. 
"We're now operating in six countries in the Middle East. We've been in and out of some locations like Damascus and Kuwait, but the one thing we will always continue to do is see how we can continue to drive our offer here. There are huge amounts of investment; I'm envious of the level of investment that has gone into tourism and the airport infrastructure here. As an industry, that gives us a massive opportunity to expand over the coming years. 
"I would also like to reference Bahrain. Bahrain was our first venture in the region from an airport operations perspective in 1991. Recently we have just announced another ten-year extension to the contract there, which I'm delighted with, given that the new terminal at Bahrain Airport will be opening next year."
Partnership and the commercial model
"The critical thing at the centre to everything that we do here in the Middle East is partnership. Our business has been built fundamentally on joint ventures; we do not operate any business in the Middle East unless it's a joint venture. Yes, we manage the operation in most instances, but I suppose it's our agility and our flexibility that have been critical for our success, and certainly under my auspices, I do not see that changing for the foreseeable future. 
"As somebody that was really fighting to get people through the doors of different department stores in both the UK and Ireland during some very difficult years, I was very envious of travel retail, where you had a captive audience. The number one reason to come to an airport was not to buy, but you had guaranteed footfall. What is fantastic about our travel retail industry is that the growth projections for that are not comparable to the rest of the retail environment, so again we are in some way insulated from what has been going on out in the broader retail environment. 
"However, my observation is that it is a complex business, and the level of regulation, the amount of things that we have to go through, be it security, product supply-chain challenges, but also the way we operate is complex, and I don't see that changing. What we'll certainly need to do as an industry is make sure we don't make it any more complicated than we need to. 
"Because of the finite length of our contracts, we need to continue to either find new business or extend the contracts that we've already got. So critical and first and foremost for all of us is that we need to have a good relationship with our airport partners, and sometimes we may forget that. If you do not succeed in winning business, then no matter how good you are in terms of the retail or the customer, it's irrelevant, so we need to continue to evolve and meet the expectations of the airports.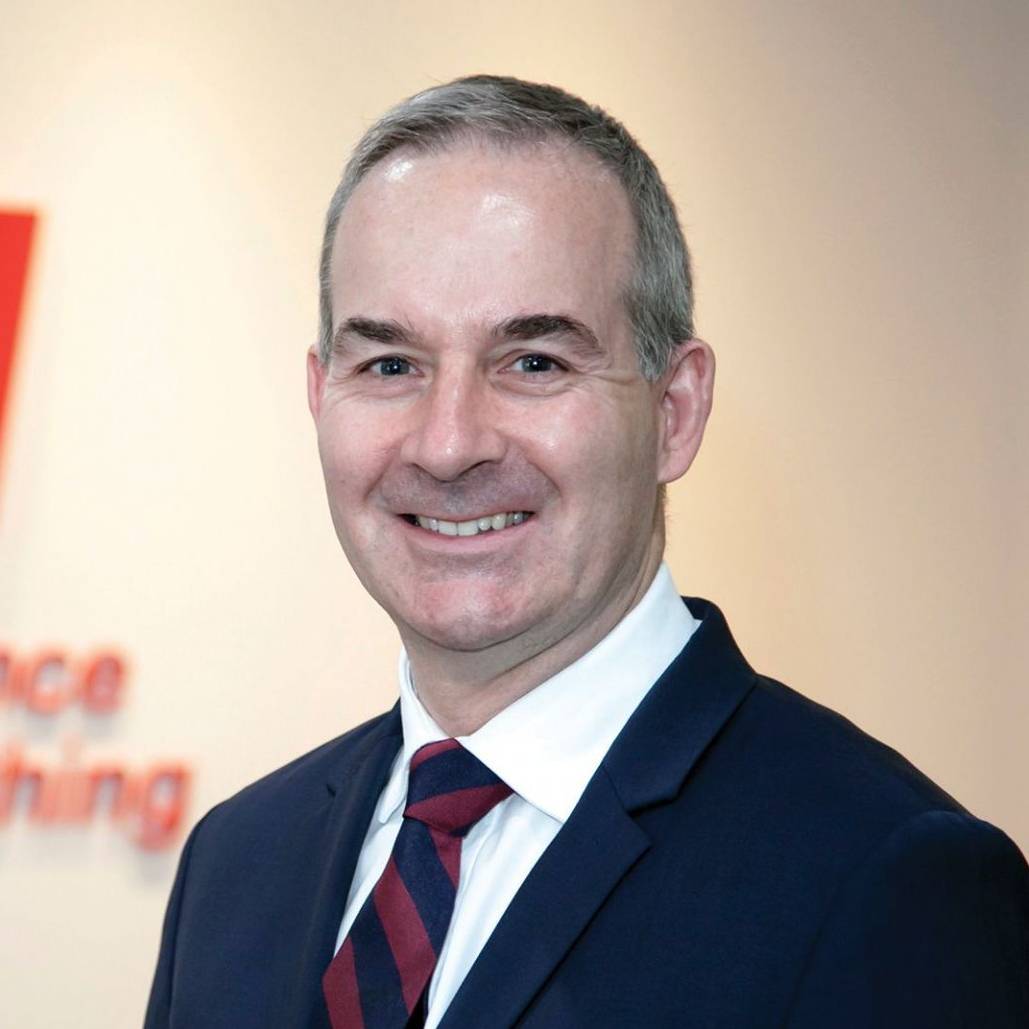 Ray Hernan: "The Middle East is really our heartbeat and our heartland"
"The commercial model has evolved and continues to evolve, but compared to downtown retail it is very different in terms of length of tenure: five-year contracts seem to be the norm and I was a bit taken aback by that. The level of concession fee is phenomenal. If I think the concession fee is the equivalent of a rent downtown, there is no comparison between what we are paying as operators in any airport worldwide versus what we would be paying for a normal unit even on the best streets in the world. 
"I believe there's a massive challenge here and the way I define it is around an imbalanced risk profile. Apart from just high concession fees, we're now faced with the minimum annual guarantee (MAG) model, so that means the whole risk profile of retail and exposure in airports is very much now on the retailer, and that I believe is going to have to change. The way we change that is by working much more in partnership with airports and brands and everybody else in the industry. 
"For this industry to be sustainable and successful for us all, we need a far greater partnership model. It cannot be landlord and tenant. It must be absolutely working hand-in-glove, sharing information. If we work much more in partnership in terms of sharing data, we will maximise the revenue stream not just for ourselves but for our airport partners as well."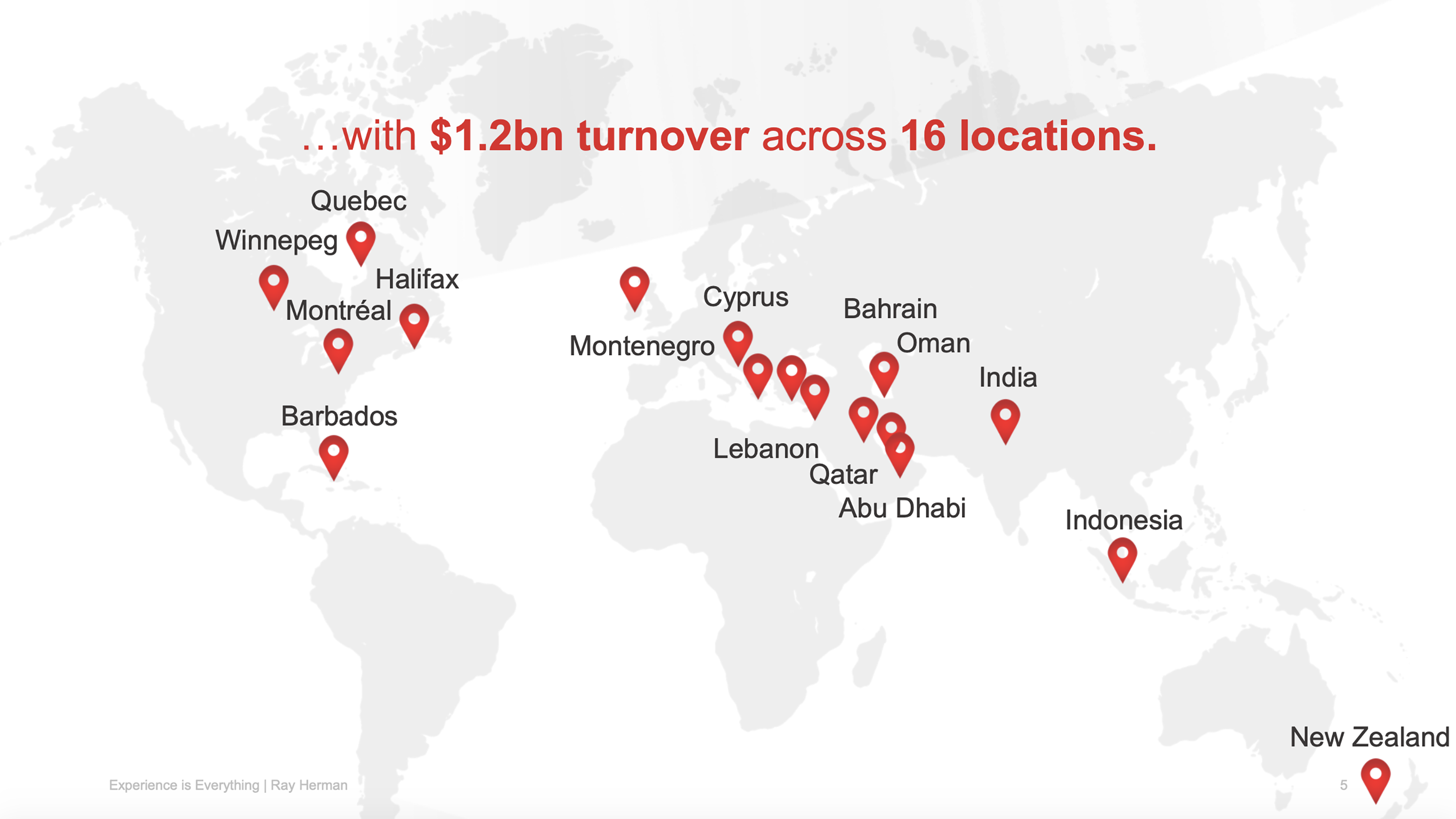 Global ambition: ARI operates in four continents with a footprint today of 16 locations – and this number is growing
Data and digital
"It is my personal view that as an industry we are lagging behind what has been achieved in innovation on the high street and indeed around customer knowledge.
"We have very little personalisation going on here in this industry, and it is something that I think is reflective of our capacity to access customer data. What are the first touchpoints for anybody travelling? It tends to be booking their flight, and we don't have access to airline data. I know people are increasingly talking about the Quarternity, but we're still the Trinity. How we break that mould and how we get access to data is going to be a critical aspect of the success of our business.
"What I'm also saying when I talk about customer knowledge is, how do we engage with the customer? Our personalised communications to our customers are so far behind where the high street has evolved to, and again that is something that is certainly a focus now for our own business and indeed I know many other operators as well. 
"We need to look at all the different touchpoints with the customer before they get to the airport. I was very intrigued when I was at The Trinity Forum [in Doha] a number of weeks ago to hear that approximately 80% of the people that are intending to buy will go online now to review our product range, to make the inquiries and also to do price comparison. That means increasing the pre-trip communication to talk about the breadth of our offer is going to be critical going forward."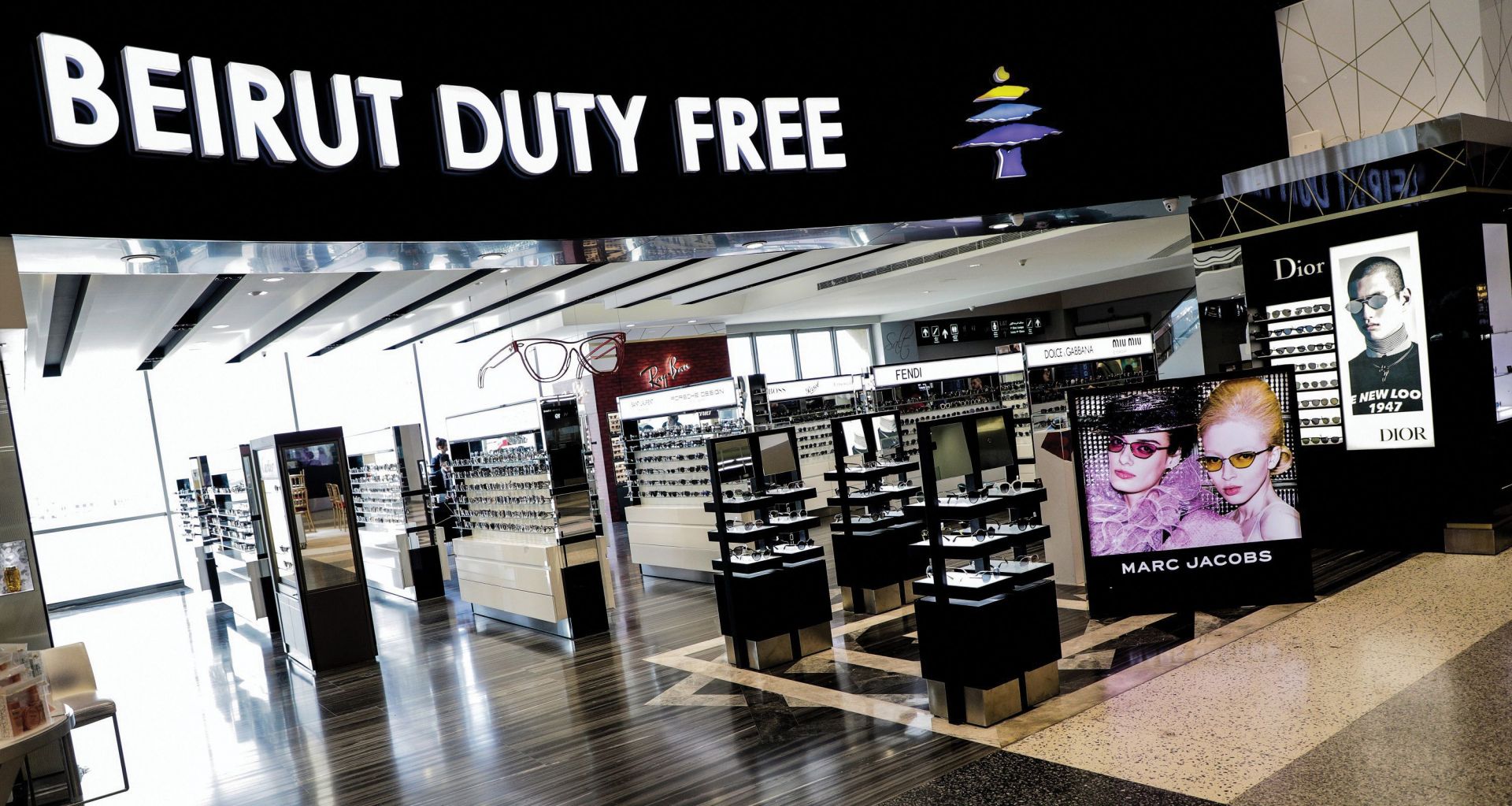 Future focus: Improving the customer experience is vital – but so is enhancing customer knowledge to provide targeted and personalised offers
The shopping experience
"The shopping experience has to become much more holistic. It's not just about the retail shop. It is about what is in the airport overall, and that is something we were very conscious of as a high street retailer. You must have a blend of F&B and entertainment, because if customers don't want to have the experience, they will just go online and that has hit high street retail very hard. We've been in some ways insulated over the last number of years by that, but we need to change at a pace, otherwise we will be next. 
"We should also be leveraging technology to become more efficient in the back office, where it can help us to digest and assess where customers are spending or not spending. In one of our airports, we're trialling technology that is allowing us to do a lot more heat maps about where people are coming into our store, measuring the actual people that are coming into our area and then looking at the true conversion rather than the penetration rate that is normally a common metric within the industry."
Price perception
"Whether it's buying a coffee in an airport, paying for a car park or indeed buying a product, there is a view that airports are expensive. It's not so much the case here in the Middle East in the context of duty free, but in a lot of other regions where there is duty paid, there is a perception that when you go to an airport the customer expectation is to be fleeced and that is something we need to change. We need to change that mindset and trying to move people away from just talking about price and talk about the exclusivity of offer, the breadth of offer and indeed the excellent customer service that we can provide. 
"Another metric that is common to both the high street and travel retail is the conversion factor. To put it in context, my understanding is that 20% conversion is probably the average in travel retail, but if you weren't achieving 40% conversion on the high street you would not succeed, so there is a huge gap there. I understand that the rationale for coming to an airport is very different to the way you go shopping, but fundamentally you have to make sure you have the offer right to get people in. I believe when we get people into our shops in the travel retail environment we are getting better, but I still think we have a long way to go." 
Dwell time
"Dwell time is a huge challenge for us, and we must ensure that we enrich that time through being much more innovative around our entertainment offer. That's not just down to retailers, it is down to the airports as well. 
"There are lots of distractions now in airports. We're competing with Wi-Fi, with people on their mobile phones, and food & beverage has certainly upped its game in airports.
So we are competing for that time-poor passenger, and certainly our own experience is that the amount of time spent in terms of retail spend, the time in our shops, is continuously declining."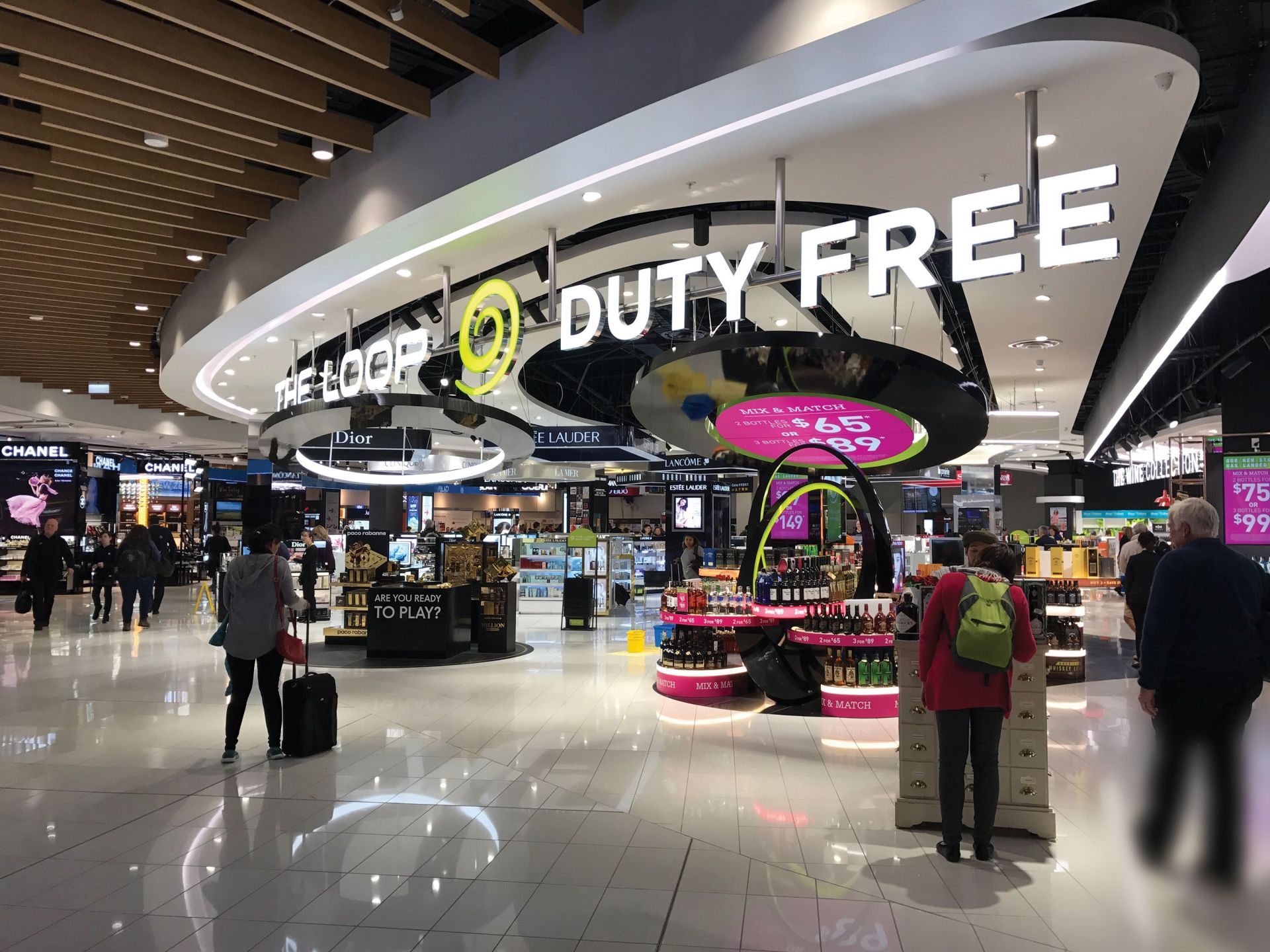 ARI brand The Loop operates at the home base of Dublin Airport, and is committed to innovating and testing new ideas
Shopping experience
"Fundamentally we are still a customer service-focused business, and core to that service is still our staff on the floor. That's why I'm delighted we have been making huge progress in many of our locations in terms of upskilling our staff, encouraging them to engage with the customer.
"Technology is an enabler, but you will rely on your staff member to get that sale over the line, and again it was a huge emphasis certainly in our own organisation to continue to drive the level of training and the level of product knowledge."
Sustainability
"The world has changed. Sustainability is at our door, and I believe as an industry we're not succeeding in really selling our message about the amount of good work that has already been done both by brands and indeed operators. Brands have moved on in the evolution: palm oil has been reduced and organic products are being manufactured.
"From the travel retail perspective, we're putting a lot of effort now into how we sell the story about recycling and what we use single-use plastics for. There's a really good story there, and I think MEADFA and all the different organisations, as well as the individual operators, need to promote that good work a lot better in the industry."
The Middle East opportunity
"Within every challenge comes an opportunity, and certainly none more so than in the Middle East, which is becoming much more of a destination where for many years it was seen as a transit point. A great example of that is here in Muscat: it's a hidden gem, and I would agree with Oman Airports Management Company CEO Sheikh Aimen Ahmed Al Hosni, who said that promoting it as a tourist destination is critical. I'm delighted to see the amount of investment put into tourism, and I'm envious not just of the amount of money that's been invested here in Oman, but across the region, and we need to leverage that.
"By becoming a tourist destination it means that the customer is being more fragmented. We are seeing more families coming into the region, and our product offer is going to have to reflect that change, so we need to have an increasingly diverse offer.
"We need to broaden our product range. There's a lot more products that we should have in airports, but we cannot bring them in because we're not going to be able to get the margin we require to bring them into the airport to be relevant for the customer while paying the concession fees that are currently being charged. I believe, in terms of working in partnership with airports, we need to review how we remain relevant in terms of the diversity of our offer but at the same time still make it commercially viable to change and broaden that offer."
Q&A
Hernan was then invited by conference co-moderators, The Moodie Davitt Report President Dermot Davitt and TFWA Managing Director John Rimmer, to remain on stage for a short question and answer session. Here are the edited highlights.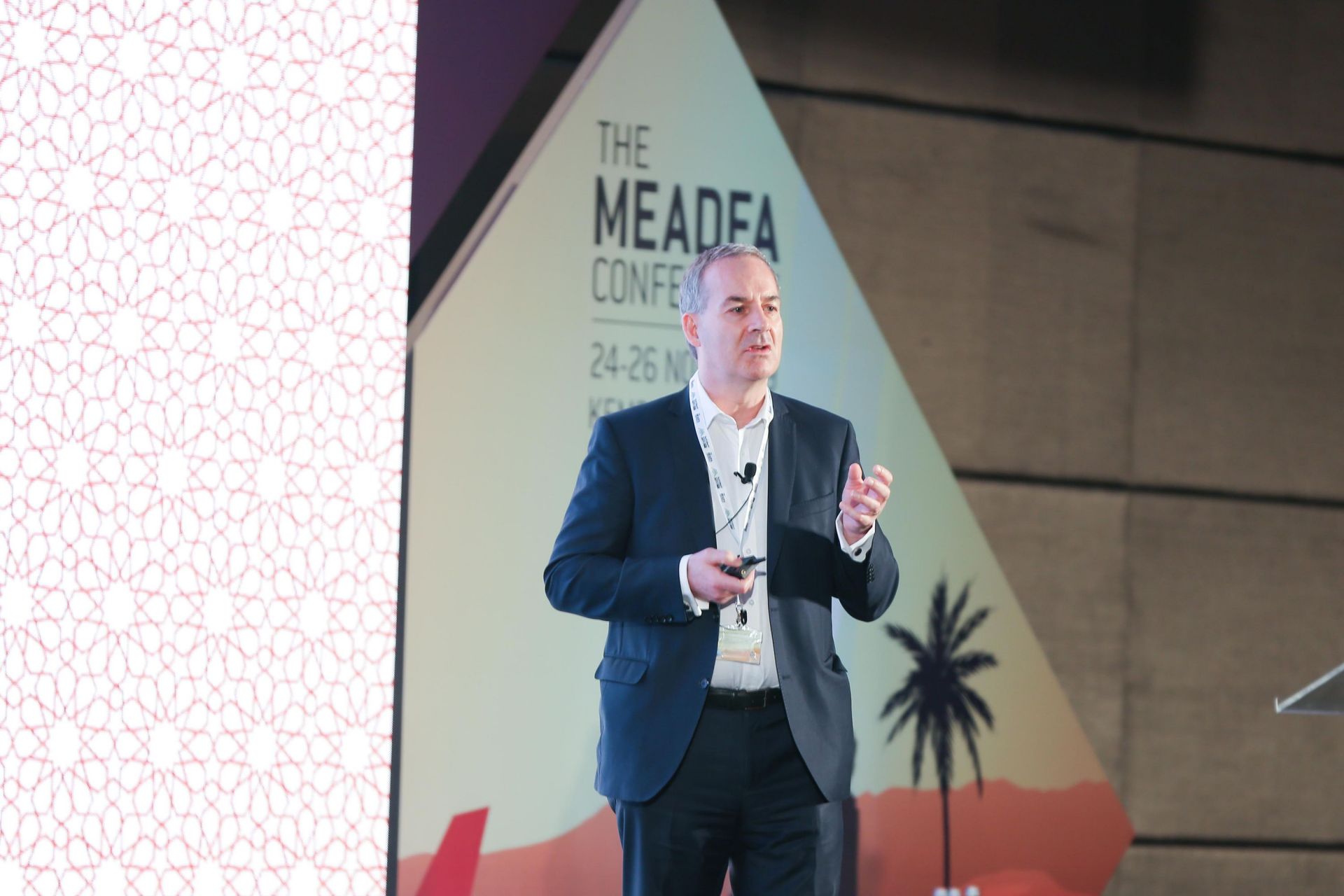 Ray Hernan: "My understanding is that 20% conversion is probably the average in travel retail, but if you weren't achieving 40% conversion on the high street you would not succeed, so there is a huge gap there"
Dermot Davitt: If I make you the tsar of travel retail and you then dictate how the commercial model is going to change for the benefit of us all, consumers and the industry, what ways in particular would you rebalance that relationship, and what's the ideal airport relationship from an ARI point of view?
Ray Hernan: I would like for us to almost be seen as an extension of the airport, rather than just renting the space. This could be as simple as making sure that the signs for gates try and encourage people to stay within the retail areas and other key areas to maximise the spend, rather than sending people to the gate an hour and a half before the flight is due to depart.
There are conflicting challenges. The airport is focused on safety, security and getting people efficiently through the airport as quick as they can, while we need to keep people in certain areas before they go to the gates. I believe what we're going to have to do more of is using mobile technology to bridge the gap and use click & collect services for people that are going to the gates earlier.
Dermot Davitt: At Dublin Airport you're part of the airport company, which differs from the model where you might be a joint venture (JV) partner or have a management contract elsewhere. Is there a particular model that works for you better in certain locations than in others?
Ray Hernan: I honestly believe that the JV is going to be the way it is going to go. I think there is a greater sharing of the upside and the sharing of the risk. It is very important just for our own sanity to make sure that we have a trusted partner, a partner that knows the location and that over many years we can build that type of partnership relationship.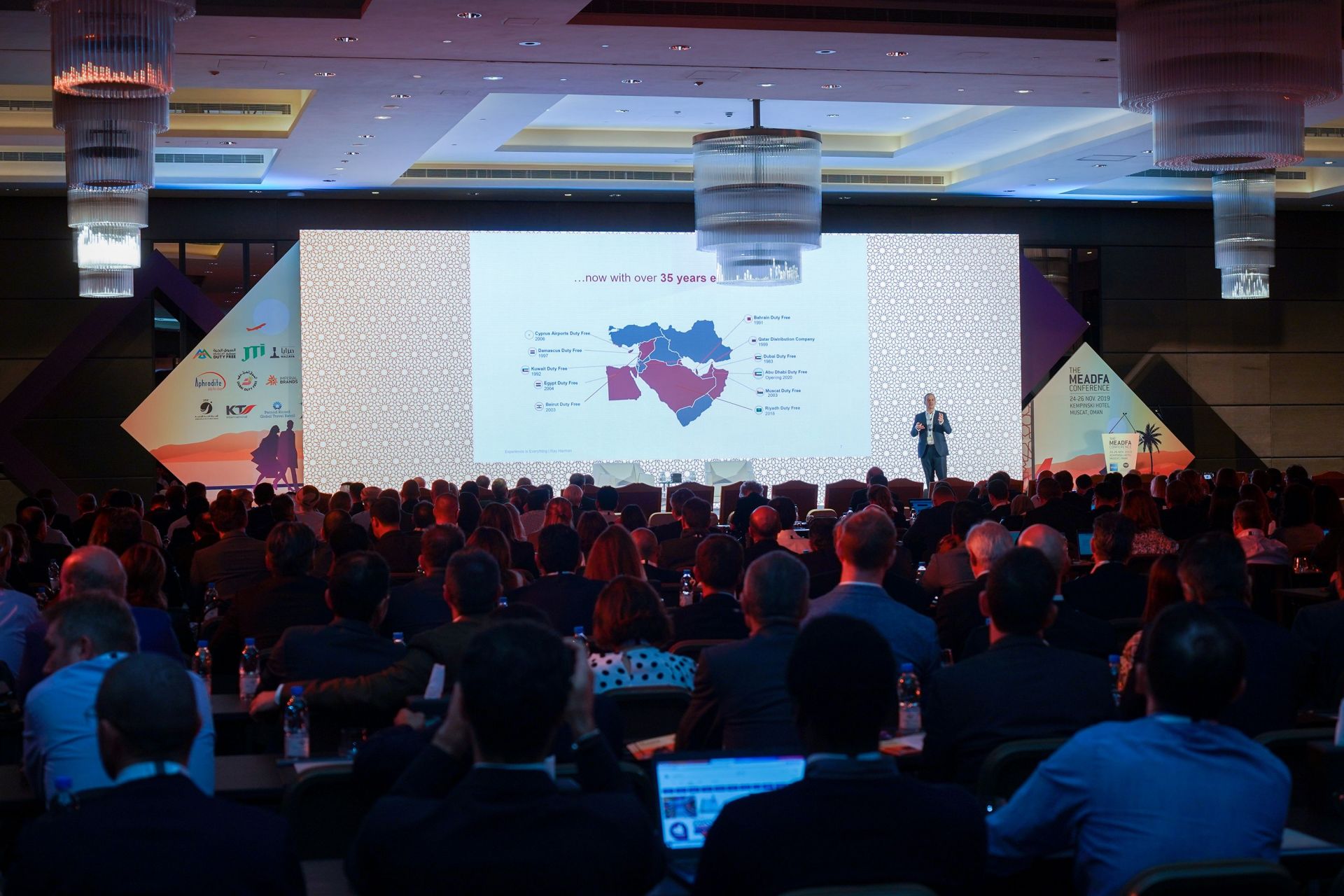 Hernan discussed a range of topics in his speech at the MEADFA Conference in Oman, which was held in November
Dermot Davitt: Do you think we have enough flexibility built into the business where concepts or brands dive in and out of fashion very often, but can't be replaced as readily as maybe they could be on a high street?
Ray Hernan: Capital expenditure is so expensive to airports that we tend to do deals with brands for a long period of time, and we're not successfully bridging that gap to have more of the flexibility, so I do see a scenario where there is probably going to be more pop-ups going forward. There are an awful lot of brands out there that say: 'Yes, I'd love to get involved, but it's too expensive, and I'm not sure. I don't know travel retail enough.' Something that we're experimenting with now in Dublin is where we're going to have dedicated spaces for pop-ups, and they can be there for six months of the year and not longer than that. It gives us the flexibility to change brands, depending on whether they're successful or not, and for the brands to be in a middle ground, where they don't have to invest a huge amount of money and they can test the market.
Dermot Davitt: The brands themselves will say they want certainty over the long term too, so from an ARI point of view what does a great partnership with a brand owner look like?
Ray Hernan: Apart from meeting them in Cannes every year it's about trying to provide the feedback, what we're experiencing on the ground and what the customer is saying. I think it is critical for the brands and ourselves as well as we have huge pockets of information and data.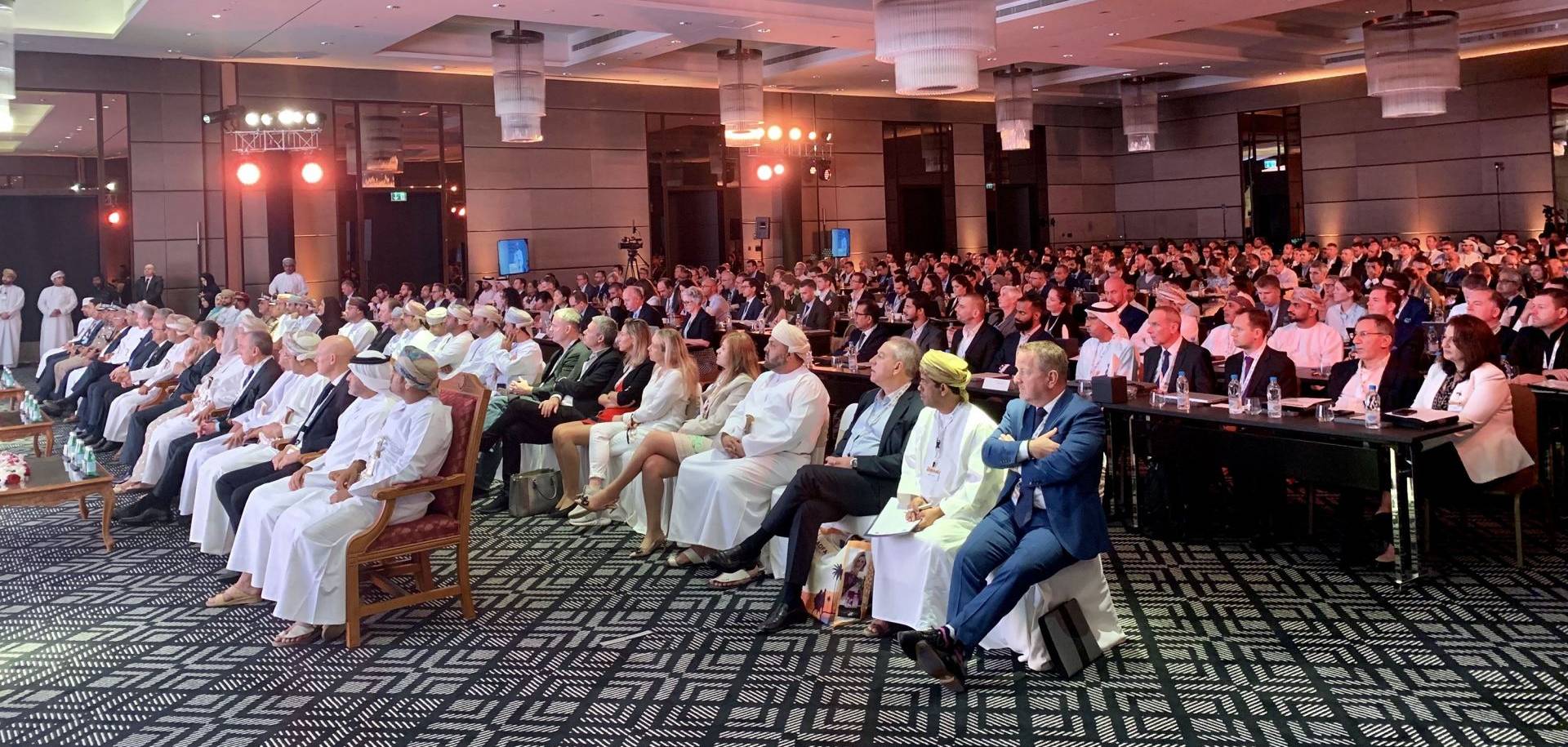 Hernan highlighted major openings to come in Bahrain and Abu Dhabi, plus a new European location in Montenegro
John Rimmer: We've heard from the delegates that retailers often have a lot of data. They don't often share that data, and sometimes they don't know what to do with the data that they hold. What are you doing at ARI to address that issue, and what do operators, in general, need to do more of to generate more transparency about the business and provide us with some meaningful market data, which arguably we don't have today?
Ray Hernan: When I was working in Ireland in retail, nobody could benchmark how they were performing. What we succeeded in doing through one of the business federations was that we sent in our data by category every week, and it was collated and we knew if our percentage was up or down in the week on categories. I think that is something, be it through MEADFA or through another third party that would be very beneficial, that if we were able to provide this data on a monthly basis by category anonymously. It would be a step forward in the right direction. I think we're going to have lots of baby steps here, because it is about trust, and we have businesses that are PLCs as well, so we need to see how they can have confidence that they can share their information in an open forum.
Dermot Davitt: There's a theory about tailoring the offer to the consumer and targeting them correctly with an ecommerce offer. Is this critical and where is ARI in terms of that journey overall?
Ray Hernan: We launched our new ecommerce website in Ireland a number of months ago, and we'll be launching now and broadening that out within New Zealand and Canada in the New Year. I think all of us will agree that we're not looking at the omnichannel as being a massive revenue generator online; it is more of a shop window.
Dermot Davitt: Where are you targeting for future business?
Ray Hernan: The main priority will be Asia Pacific. It's a very competitive marketplace, and it is something that we've just put our fingers in every so often, but if we want to be serious we're going to have to commit more resources to that region. I think there are a lot of opportunities there in many, many countries driven by the tourism trade, the investment in airports, the investment in hotels, and we would be remiss not to go in there. But we have to do it in a very managed way, and we have no interest in driving revenues. We're a relatively small operator compared to some of the behemoths that are there now, and we need to continue to be agile, focus on the partnership model, getting to know a country and getting to know a marketplace before we really invest, because we cannot afford to be investing and making losses.

The Moodie Davitt eZine
Issue 273 | 12 December 2019
The Moodie Davitt eZine is published 20 times per year by The Moodie Davitt Report (Moodie International Ltd).

© All material is copyright and cannot be reproduced without the permission of the Publisher.
To find out more visit www.moodiedavittreport.com and to subscribe, please e-mail sinead@moodiedavittreport.com