---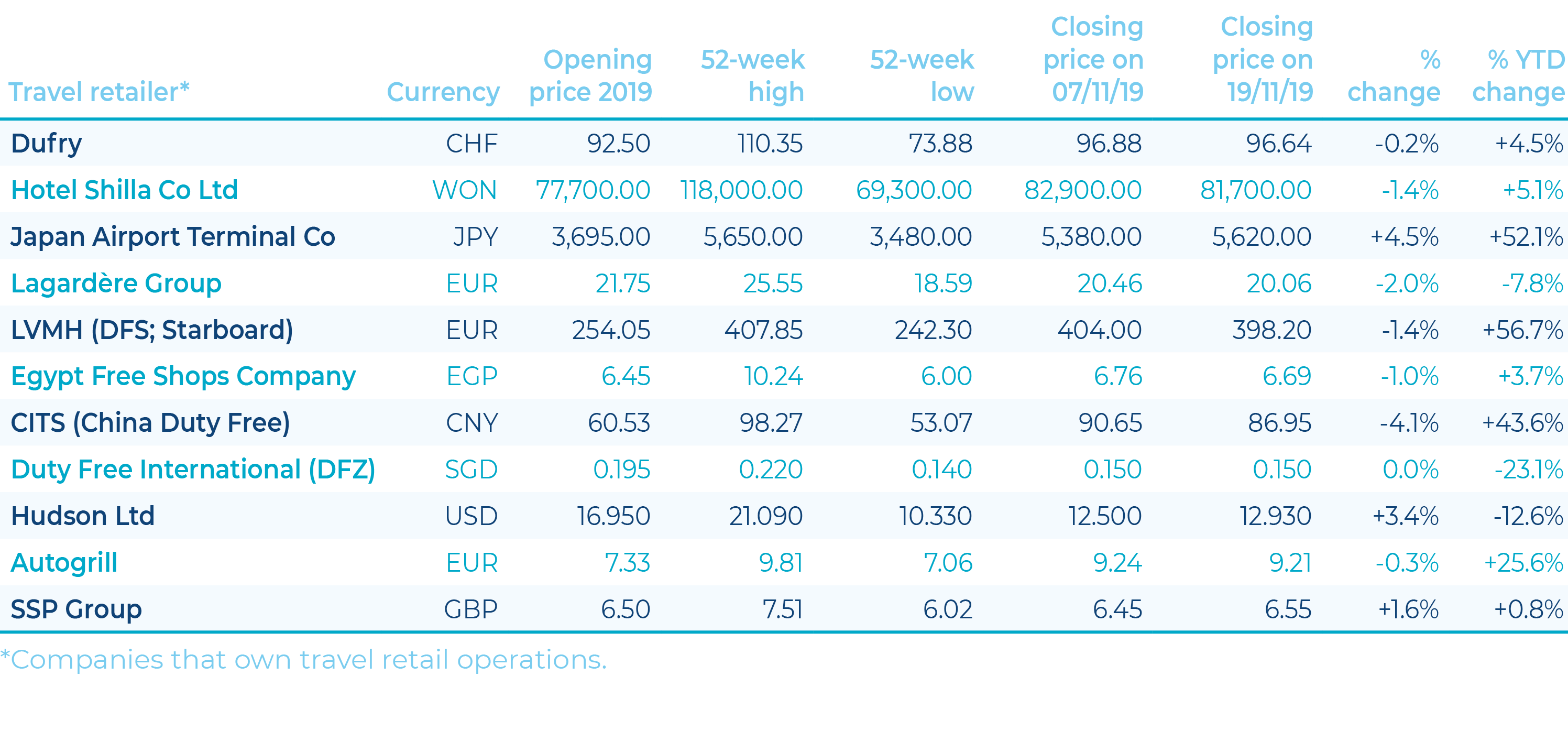 Shares in both Japan Airport Terminal Co and DFS co-parent LVMH reached new 52-week highs in the period tracked here (closing prices between 7 and 19 November).
There has been a steady rise in the share price of Japan Airport Terminal Co since around August/September, with growth in October particularly strong. The new 52-week high of JPY5,650 was reached on 19 November, and the upwards trend looks set to continue. Shares in the company increased by a total of +4.5% in the period under review, and are up +52.1% since the start of the year.
Only LVMH has recorded a stronger performance this year, with shares up +56.7%. In the current period, shares ultimately fell -1.4%, despite reaching a new 52-week high of €407.85.
Shares in China Duty Free Group parent China International Travel Service (CITS) fell by the biggest margin this time, at -4.1%, but the company is performing well overall in 2019. Its year-to-date differential of +43.6% is the third best among the travel retail-related companies we track, some way ahead of fourth placed Autogrill (+25.6%).
Another food & beverage company, SSP, has announced a strong set of full-year results for the 12 months ended 30 September. The company also revealed a deal to acquire 14 outlets from hospitality company Red Rock at Perth and Melbourne airports in Australia. This followed the earlier signing of an agreement for the operation of 17 F&B outlets in the new terminal of Bahrain International Airport.
In its results announcement, SSP said group revenue hit £2,794.6 million, a rise of +7.8% year-on-year on a constant currency basis, comprising like-for-like sales growth of +1.9%, net contract gains of +5.6%, and a further +0.3% from acquisitions. At actual exchange rates, total revenue grew by +9.0%.
Underlying operating profit of £221.1 million was up +12.1% at constant currency and +13.3% at actual exchange rates. Reported profit before tax climbed by +7.8% to £197.2 million.
"The new business pipeline is strong across all our geographies both this year and next, and we've announced a £100 million share buyback which further demonstrates our confidence in the future of the business," said CEO Simon Smith.
"The new financial year has started in line with our expectations and, while a degree of uncertainty always exists around passenger numbers in the short-term, we continue to be well placed to benefit from the structural growth opportunities in our markets and to create value for our shareholders."

The Moodie Davitt eZine
Issue 272 | 26 November 2019
The Moodie Davitt eZine is published 20 times per year by The Moodie Davitt Report (Moodie International Ltd).
© All material is copyright and cannot be reproduced without the permission of the Publisher.
To find out more visit www.moodiedavittreport.com and to subscribe, please e-mail sinead@moodiedavittreport.com