---
The changing face of foreign exchange
In many countries the use of cash is declining and the trend is also reflected in airports. Foreign exchange operators are therefore having to innovate to keep passengers using their services.

Kevin Rozario

finds out how.
The foreign exchange kiosk is one of the most familiar – and expected – facilities in an airport, regardless of whether a passenger uses them or not.
Large intercontinental hubs often maintain a strong network of them across their terminals. At London Heathrow Airport there are currently over 40 such units in its four terminals, as well as cash ATMs (automated teller machines) offering both sterling and foreign currency.
"It's important for the service to be physically accessible as an essential part of the passenger journey," says a spokesperson for the airport. "We know that consumers from a variety of markets value the convenience of collecting cash from the airport in more than 50 currencies." The service at Heathrow is available from the first flight until the last, and can be booked up to four hours before travel.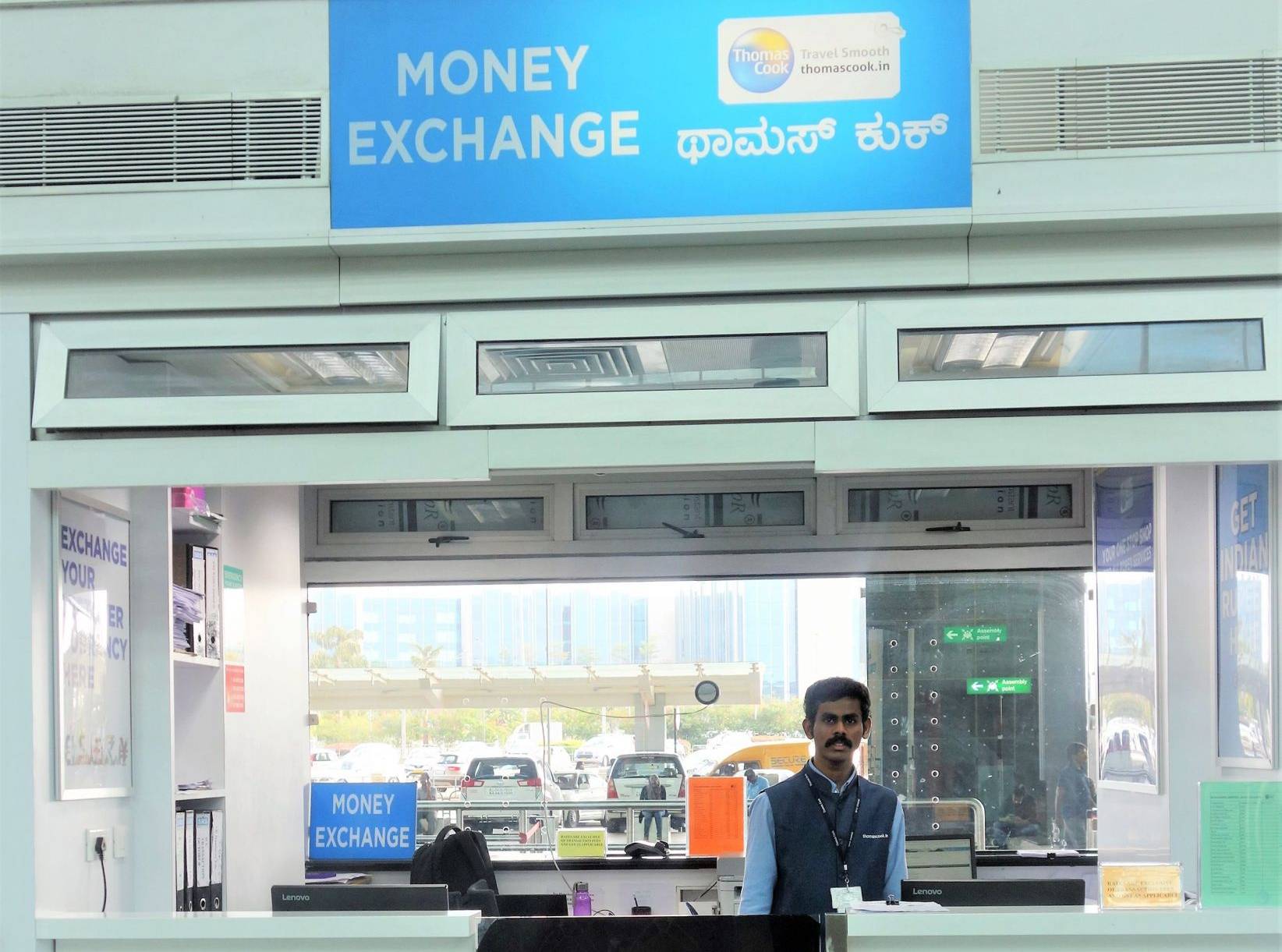 Evolving offer: Kempegowda International Airport operator BIAL regards foreign exchange as "largely a service offering", but says there are still a large number of passengers who prefer to transact in cash
Australia's Sydney Airport works with foreign exchange and local banking players such as Global Exchange, ANZ and Travelex. Head of Media & Communications Josh Clements tells The Moodie Davitt Report: "Customers can access 21 foreign exchange bureaux across the international and domestic terminals, saving valuable time that can be better spent enjoying their airport experience."
However, the market is changing. Consumers – and that includes passengers – are being encouraged to transact more online and that is affecting airport operations. "We've seen a rise in pre-ordering currency. It is a cost-effective option that allows for reviewing different prices and pre-ordering at a rate that suits them," says Clements.
At Kempegowda International Airport, India's third-busiest gateway with more than 33.3 million passengers in the 12 months to March 2019, operator Bengaluru International Airport Limited (BIAL) has noticed a trend towards using less physical cash "and this is visible in the area of foreign exchange as well" says a spokesperson. "As online and non-cash transactions gain traction, passengers travelling to international locations prefer the safety of these modes of payment."
"Largely a service offering"
Nevertheless BIAL confirms that "foreign exchange services are essential as there are still a large number of passengers who prefer to transact in cash". Kempegowda International has six locations for these services, which are strategically located for convenience. However the spokesperson notes: "While a source of revenue for us, foreign exchange is largely a service offering."
Singapore Changi Airport is of a similar view. Of its foreign exchange business it says that "it is more of a service for our passengers which takes up only a very small percentage of the offerings at the airport".
Does this mean that foreign exchange players will have to work harder to maintain their relevance and sales? After all, today's travellers have easy access to online tools to find the best exchange rates – or just use their existing credit cards or phones to make payments when they travel instead.
Spanish company Global Exchange Group is one of the largest airport foreign exchange players. By the end of 2019, it will run a network of more than 300 branches located at more than 55 international airports in over 20 countries.
The company is far from worried about any moves away from cash and has set out bullish growth plans. Over the past three years it has moved from being a Latin America-focused player to one with branches in Australia, Brazil, Denmark, Hong Kong, Russia, Switzerland and Turkey. This has made it the world's second-biggest company in the sector with a 10% market share at airports (in 2018).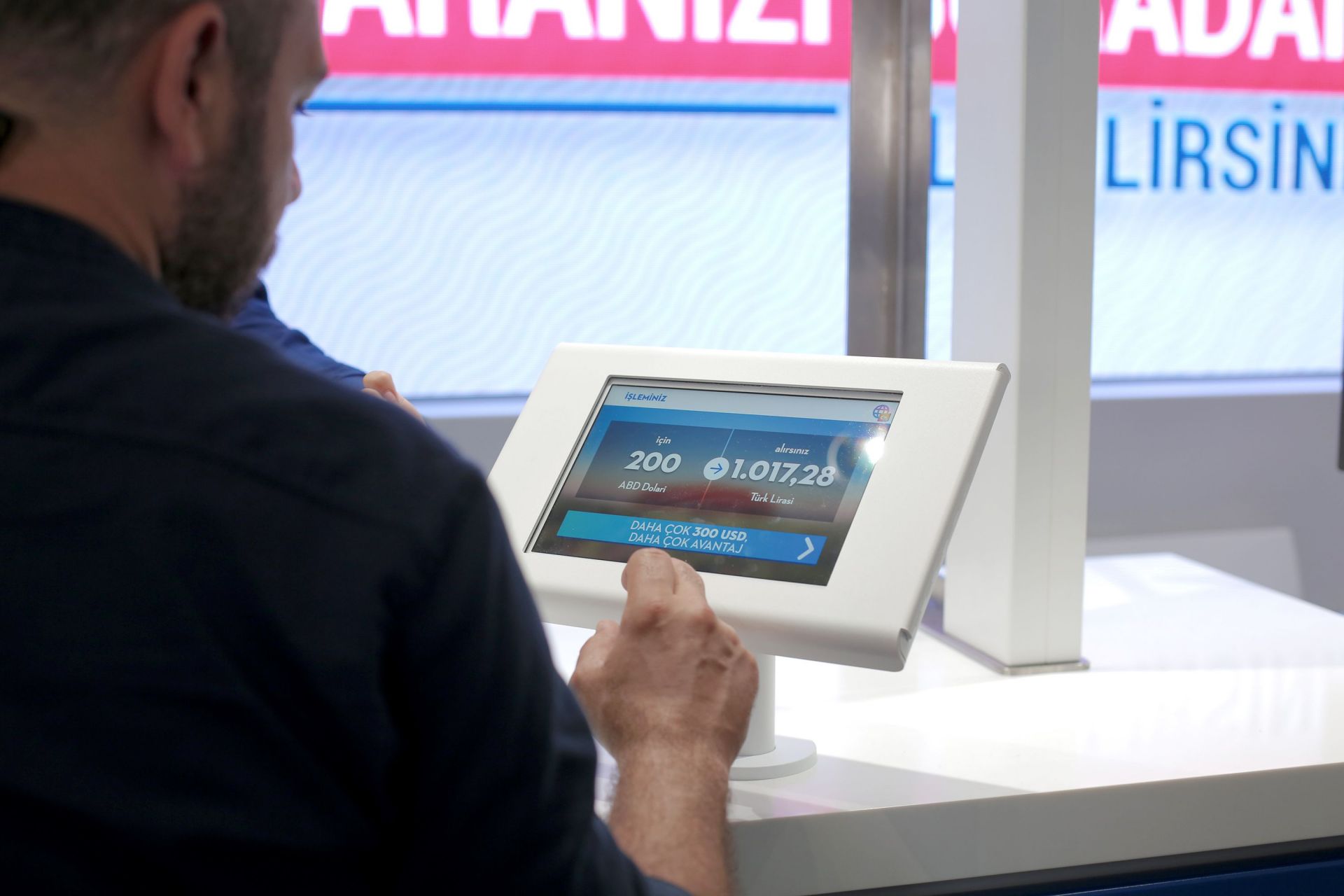 Global growth: Global Exchange Group has ambitious growth plans and has moved away from being largely a Latin America-focused player
President Isidoro Alanís has stated that he wants to double Global Exchange's customer base from 5.5 million in 2017 to ten million by 2021. In 2019 the company saw growth in both operations and volume. Between January and October 2019, operations increased by more than one million, or +27%, versus the same period the previous year. This was helped by the opening of new branches at airports such as Istanbul (with 41 locations) and Vladivostok (on Russia's east coast).
Travelex, its bigger rival in the market (and part of the Finablr Group), has a presence at over 1,200 stores at both on-airport and off-airport locations worldwide in more than 70 countries.
In the nine months to September 2019, company growth slowed to +1% (at constant exchange rates) to generate £607.7 million (US$785 million). Of its seven trading regions, three contracted; the worst being the Middle East & Turkey (-7%) driven by the group exiting Istanbul Atatürk Airport in April following its closure to passenger traffic. Excluding Turkey, the region would have been up by +7% thanks to growth in the UAE and Qatar.
Europe was also flat due to the expiry of the group's VAT contract with operator Paris Aéroport, though Travelex continues to provide foreign exchange walk-up services and ATMs under a separate contract.
Both companies use an array of methods to attract consumers at airports. At Global Exchange, a spokesperson says the company first looks "for competitive, easy access locations within the airport. We work to make them visible, with a first-class image and strong design. We achieve this by working hand-in-hand with some of the most prestigious architecture firms specialised in airports."
More important, says the group, "is our human capital which truly makes a difference". Global Exchange's staff are trained to be commercially oriented but empathetic with customers. "We take care of them in their own language, clarifying doubts and offering different benefits such as our free buyback policy," the spokesperson says.
At Travelex North America, where the company has more than 210 stores on-airport and off-airport, Head of Marketing Laurie Chan says: "In terms of our airport locations, we use general best practices around building awareness and making sure people know we're there to service their needs. Activations around seasonal campaigns, key events and holidays, travel aids and giveaways are some of the ways we do that.
"As we think about how we better serve our customers and help them prepare for their travel abroad, we want to be a part of that excitement and energy around the travel experience."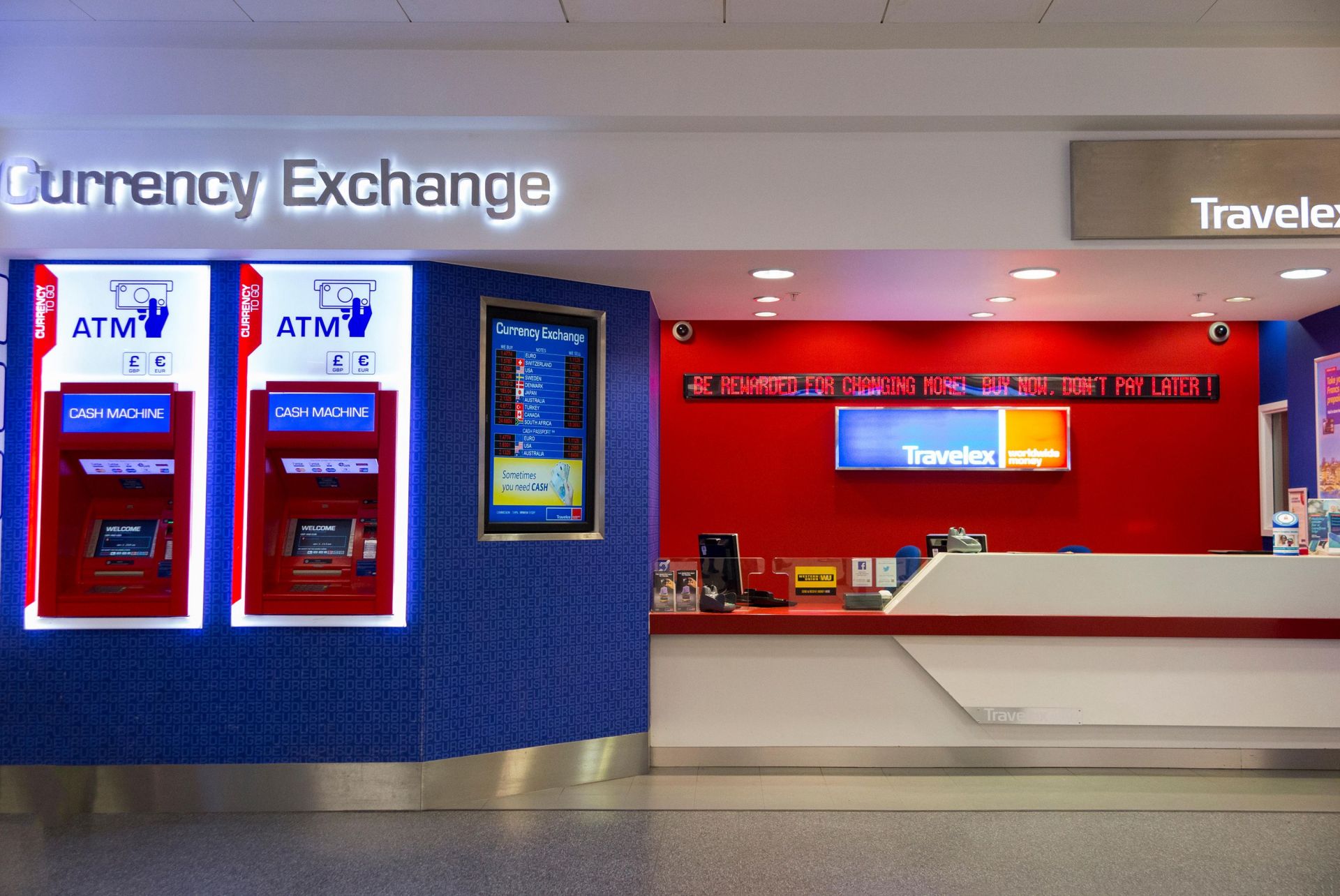 Focus on value and innovation: Travelex has a presence at over 1,200 stores at both on-airport and off-airport locations worldwide in more than 70 countries
Widening the services offered
The most popular service at airports tends to be currency exchange and it is also the most profitable. However other services can include tax refunds, international money transfers or SIM card sales.
"We know, as a general trend, that people spend more time packing than planning for their foreign currency needs and we are continually working to change that," says Travelex North America's Chan. "We provide cash for customers who prefer having cash on hand. This is more relevant when travelling to countries that are off-the-beaten path where there may be technology challenges or language barriers."
Travelex also has its pre-paid Travel Money Card – an option for those who prefer a convenient and secure payment option. The card comes with an app where you can order cash as needed and reload on-the-go. "We have seen our Travel Money Card grow with increasing trends in the number of reloads and currencies involved, so we know that our customers are continuing to use the card as they embark on trips abroad," explains Chan.
Technology has also been used to win over travellers. Global Exchange has developed an exclusive touchscreen multimedia system in full colour that is incorporated into its counters. It includes automatic multilingual assistance (25 languages) via chat to eliminate the language barrier. "This system is unique in the sector and allows us to improve communication with the customer and generate greater confidence," claims the company.
Meanwhile Travelex is focusing on value. Chan says: "Ultimately our goal is to always provide more value and this could come through new products and services or through partnerships to provide a more connected and rewarding experience around the travel journey. We have a few exciting initiatives in our product pipeline around this value creation."
A secure future?
So with tech and other innovations coming through, is the future of the familiar foreign exchange kiosk secure? So long as it is considered an important service by airports for travellers it will continue, but it is morphing to some degree.
London Heathrow, for example, is relocating foreign exchange bureaux to more convenient locations such as the gates as a test. Meanwhile a trial in Terminal 4 is using a mobile unit that can switch locations throughout the day depending on where the perceived need is.
Heathrow's spokesperson says: "Both these initiatives aim to ensure passengers can conveniently access travel money wherever they are in their airport journey, with a view to establishing what combination of outlets best suit our passengers."
At Sydney, Clements says: "We'll continue to focus on ensuring customers can access a range of convenient services. While exchanging currency at the airport is not always going to meet everyone's needs, we're focused on providing on-airport options, including a competitive currency exchange offer, that customers can access before or after their flight. This includes online ordering, promotional offers and a click-and-collect service at the airport."
Airport locations continue to serve a need for a broad enough segment of passengers to ensure that it is not going away anytime soon. And with traffic continuing to increase year-on-year, led by emerging markets, demand for airport cash is also expected to remain robust, even if it declines as a share of the business.
Travelex's Chan concludes: "Foreign exchange options at airports will continue to be important in the next 12 months as many travellers prefer to wait until closer to the date of their trip to get foreign currencies. Our job is to provide a secure, convenient, and personalised service to customers, no matter how or where they chose to exchange their money."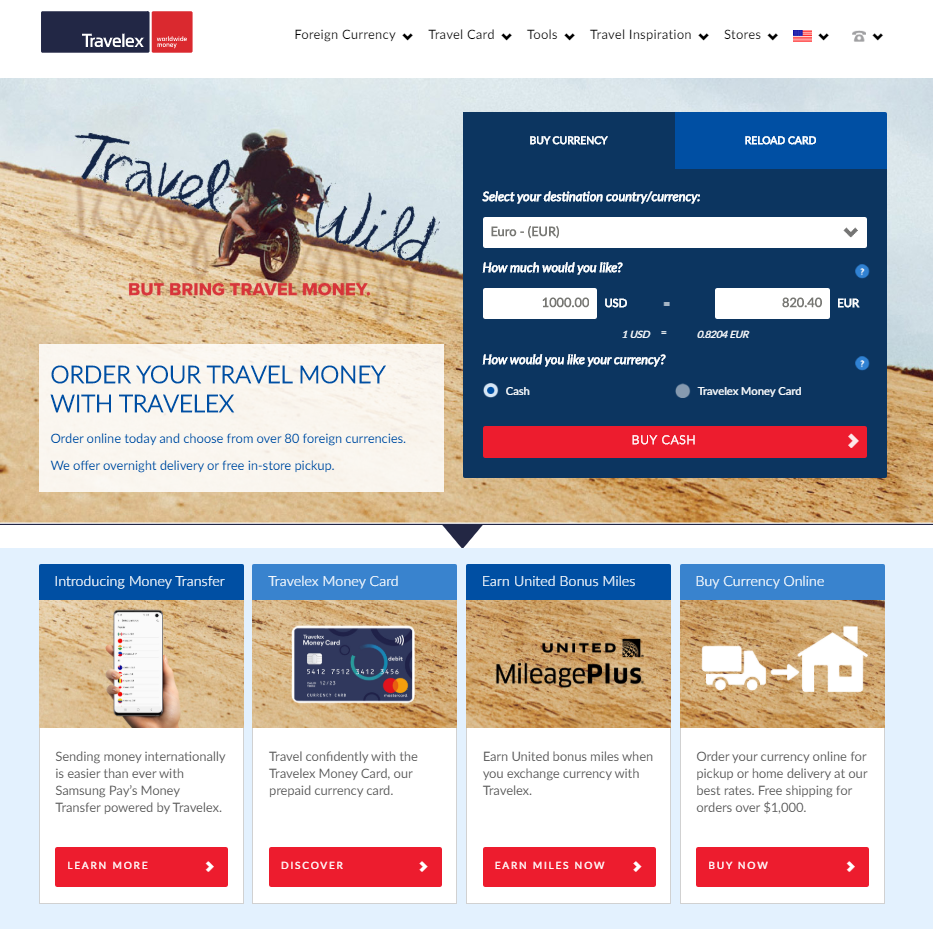 Opportunity over threat: The airport foreign exchange sector is adapting to today's digital, online world. The Travelex homepage is pictured.
A question of value
The Moodie Davitt Report asked the big foreign exchange players whether they needed to battle against perceptions that airport rates are not good value. This is what they said.
Global Exchange Group: "It is necessary to work to change these perceptions about high rates at the airport. The reality is that airport rates cannot be compared with high street rates, banks or currency exchange branches, or other businesses located outside the airport. When customers exchange money at the airport, they benefit from other advantages not offered outside the airport. In certain countries it is safer to make a currency exchange at the airport instead of a city centre. We also have 24-hour airport branches, availability of more than 70 different currencies, and employees who speak a minimum of two languages."
Travelex North America: "The reality is that there is a cost to doing business. In airports, everything is more expensive – from food to drinks to entertainment. When you think about the value of convenience, access, and advice, that is part of the value equation that we offer in airport locations – it is not purely about the exchange rate. At Travelex, we want the customer to have a great experience and we're continually exploring a more holistic value offering. This may be in the form of other travel related services or perks as part of the currency exchange."
The five currencies most in demand in the first half of 2019
The top five currencies overall have remained historically the same for both Global Exchange and Travelex North America. However, Global Exchange notes that the Chinese yuan has now overtaken the pound sterling in its ranking. "It is quite likely demand will continue at the same levels in the short term, with slight modifications," the company says.
Travelex's currencies are its top five but not in order. "They trade pretty consistently but we see shifts when there are big events – for example during the World Cup and the Olympics. Also around big holidays and festivals like the Cherry Blossom festival in Japan, Carnivale in Brazil, and the Calgary Stampede we can see big upswings," says Travelex North America Head of Marketing Laurie Chan.
US dollar
Euro
Chinese yuan
Pound sterling
Japanese yen
Pound sterling
Euro
Mexican peso
Canadian dollar
Japanese yen

The Moodie Davitt eZine
Issue 272 | 26 November 2019
The Moodie Davitt eZine is published 20 times per year by The Moodie Davitt Report (Moodie International Ltd).
© All material is copyright and cannot be reproduced without the permission of the Publisher.
To find out more visit www.moodiedavittreport.com and to subscribe, please e-mail sinead@moodiedavittreport.com