---
Dubai Duty Free targets repeat of US$2 billion sales performance
Dubai Duty Free Executive Vice Chairman & CEO Colm McLoughlin tells Dermot Davitt how the world's leading travel retailer at a single airport is recovering from a slowdown in early 2019 and why he expects it to hit the US$2 billion sales mark for the second year running. [This is an edited version of a feature from the Official MEADFA Guide, published by The Moodie Davitt Report to coincide with the annual MEADFA Conference in Muscat on 24-25 November.]
Dubai Duty Free hit a new sales high in 2018, breaking the US$2 billion barrier for the first time, and maintaining its prominent top ten position in The Moodie Davitt Report's annual Top Travel Retailer rankings.
By comparison, 2019 has been a year of challenges, according to Executive Vice Chairman and CEO Colm McLoughlin, although he remains upbeat about the prospect of matching last year's US$2 billion turnover mark.
"In sales terms we are down just -1.25% year-on-year (as of early October) but we expect to recover that before the year ends," he says.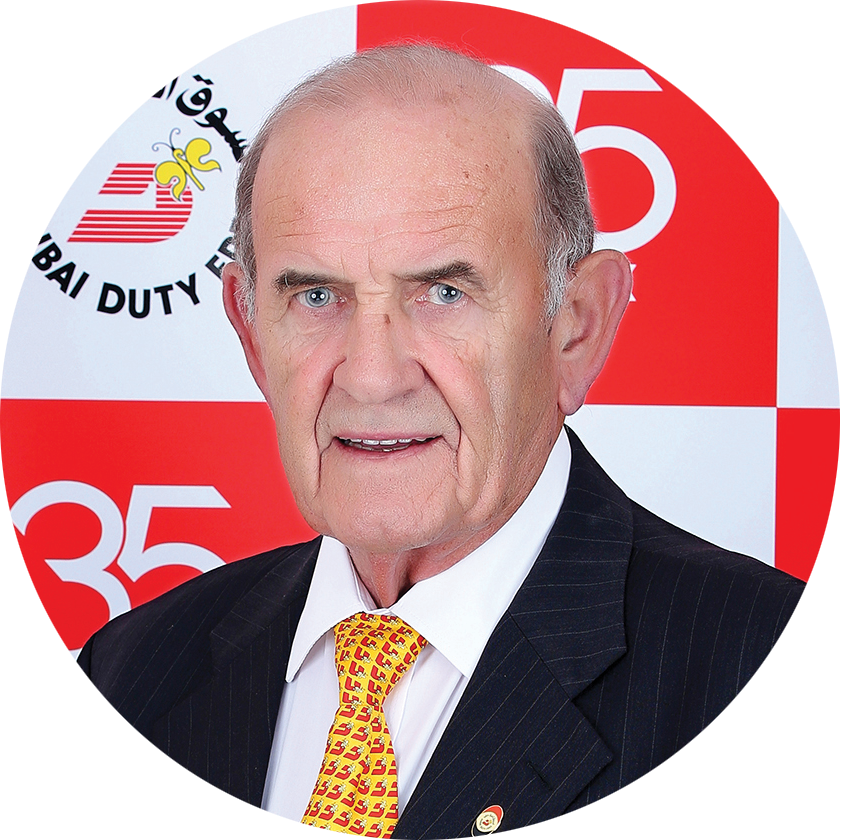 Colm McLoughlin: Upbeat about hitting the US$2 billion sales mark again this year
Colm McLoughlin talks to Dermot Davitt about progress and performance in the year to date (video in association with Marshall Arts International)
"There were a number of factors that affected our business earlier in the year. We had lower than expected passenger numbers due to a runway closure at DXB, which lasted for over 40 days. That meant a slight drop in traffic.
"We are still affected by the luggage restrictions levied by many carriers [limiting the weight of carry-on purchases -Ed]. These restrictions have led to customers returning items, mainly food items, for which they are refunded, but overall it's a negative experience. We hope that we can find a solution soon."
The addition of VAT and excise duty on products continues to have an impact on sales in arrivals, particularly on tobacco. "Arrivals used to be 9% of our business and now it is 6% but we have more than recovered that in departures," says McLoughlin.
Also, the recent introduction of the Digital Tax Stamp on cigarettes has resulted in a (short-term) shortage of popular brands in arrivals, but this situation should improve, he adds.
"Travel retail exclusives are important in creating a unique selling proposition to passengers and in ensuring that we stand out from other retailers"
"We will sell 71 million items of merchandise in our shops this year, and do 27 million transactions on our registers. We have managed to lift penetration and sales per head also, so if the trend continues, we are confident that we can recover what we lost earlier in the year and hit that US$2 billion mark."
Dubai Duty Free continues to invest for sales growth, and McLoughlin points to some positive factors influencing the operation.
"Key drivers for us have been the expansion and refurbishment of the retail environment, which has continued for the past year; the strengthening of partnerships and the investment we have made in digitalisation."
Major store upgrades include a full refurbishment of Concourse C, which is now more "attractive, accessible and shopper-friendly", says McLoughlin. Other big projects have centred around fashion, with the relocation of Salvatore Ferragamo and the opening of new Gucci and Chanel shops in Concourse B. "We have seen how impactful the fashion area in Concourse A has been and we wanted to recreate that in B," he says.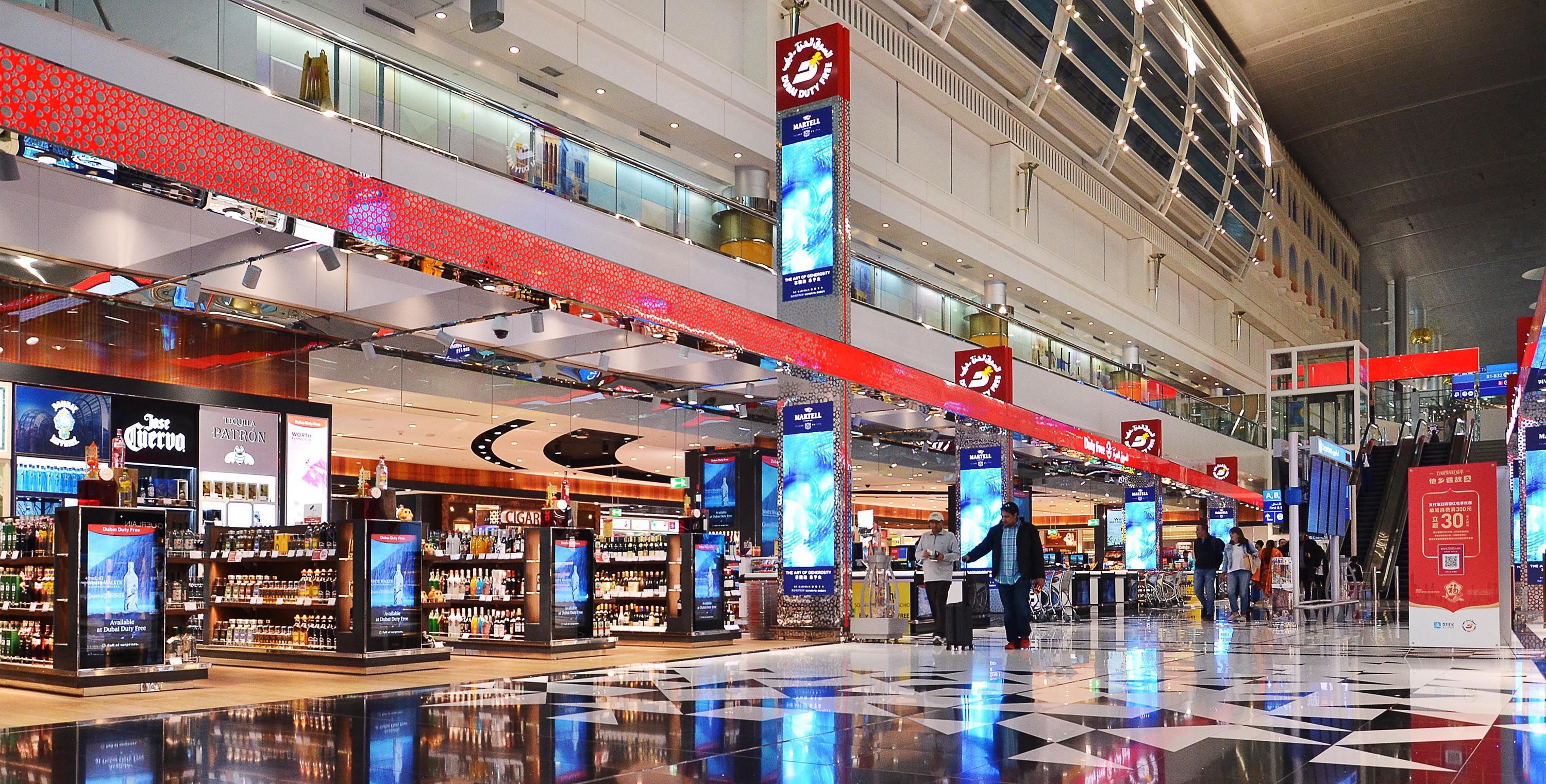 Retail in Concourse C is now more "attractive, accessible and shopper- friendly", says Colm McLoughlin
Other projects at DXB have improved the retail offer and customer experience, he adds.
"In Terminal 3, work has commenced on one of the arrivals shops which will ultimately improve visibility for arriving passengers, while a special concept shop with a unique identity will also be ready early next year."
Phase Two of the Concourse B refurbishment, including an overhaul of the two Food Plus shops in Concourse B East and West, should be completed by December. The Concourse B Food Plus Shop and Gifts from Dubai will be merged while Gifts from Dubai in the Central spine will be removed. Also, in Concourse B, the new Maison Christian Dior shop located at the West Side of the concourse opened in September.
In another move, Dubai Duty Free is opening a Concierge Shopping Service at two locations at the Emirates Business Class Lounge (Terminal 3). The company is also at an advanced stage of concept design for a new-look Gold Shop in Concourse B, to be completed in 2020.
Another factor McLoughlin cites as an important sales driver is enhanced partnerships, and not only with brands.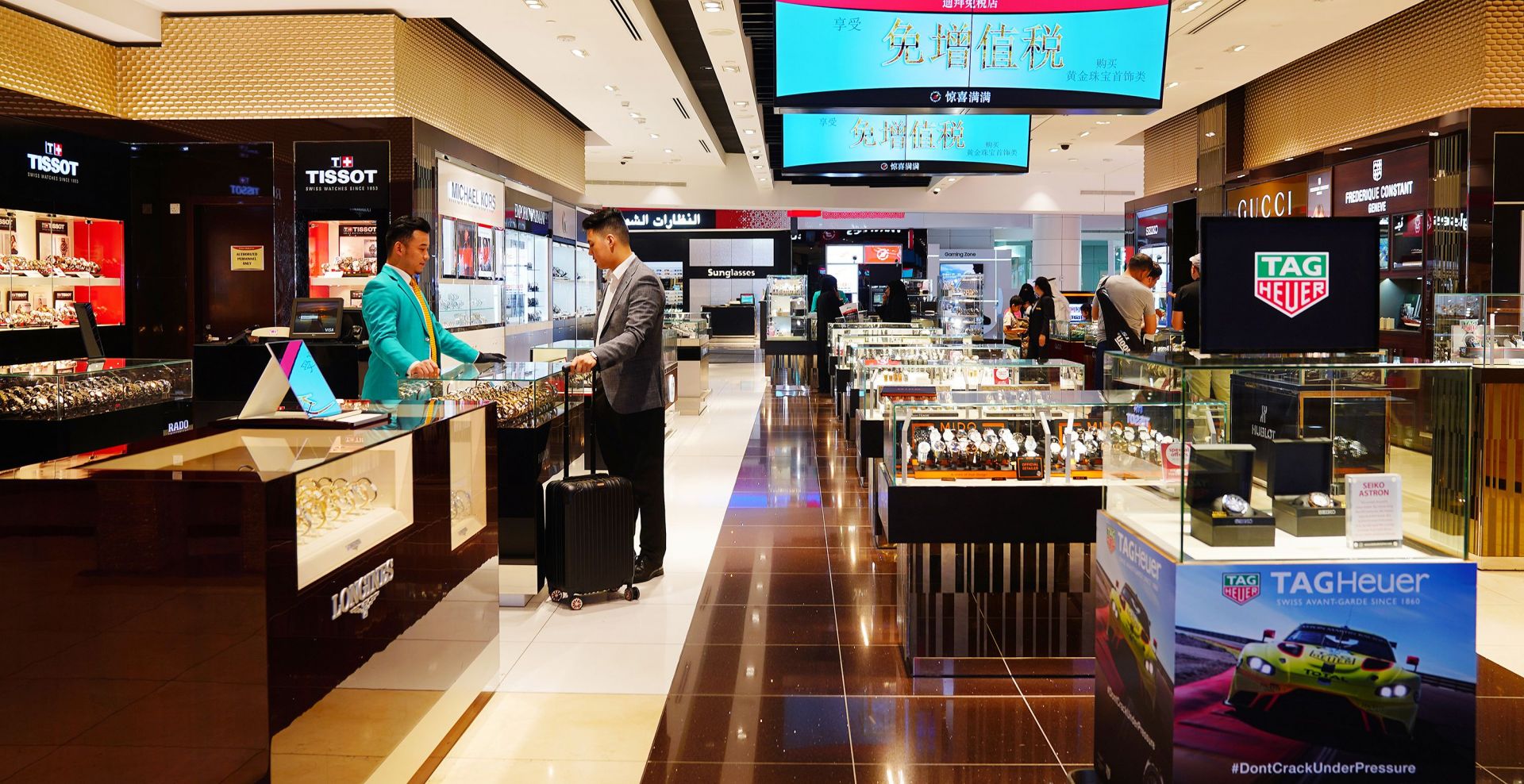 Themed promotions: Targeting the Chinese shopper at DXB Concourse D
"An example is our partnership with Emirates Skywards which allows its members to buy using their Skywards miles. This has been very well received, resulting in over 1 billion air miles (January to August) being redeemed this year, with a value of US$4.65 million, which we believe is incremental spend."
More generally on industry relationships, he notes: "A good partnership ensures that a 'win-win' for both the brand owners and the operator. Needless to say, a partnership which offers competitive advantage to us is always considered healthy." For brands this means playing a role in helping Dubai Duty Free increase footfall and helping increase average transaction value and penetration.
One important tool in achieving this is through the introduction of regional and global exclusives.
McLoughlin says: "Travel retail exclusives are important in creating a unique selling proposition to passengers and in ensuring that we stand out from other retailers, including those in the competitive downtown market.
"They help to create excitement and to solidify the image of Dubai Duty Free as a must-visit shopping destination. This year we have had four travel retail and six worldwide exclusives in the P&C category with brands such as Jo Malone, Bvlgari, Elie Saab, Lancôme and MAC. In liquor we ran 21 retail exclusives across 17 brands including Chivas Regal, The Glenlivet, Glenfiddich, Johnnie Walker and Jack Daniel's, to name a few."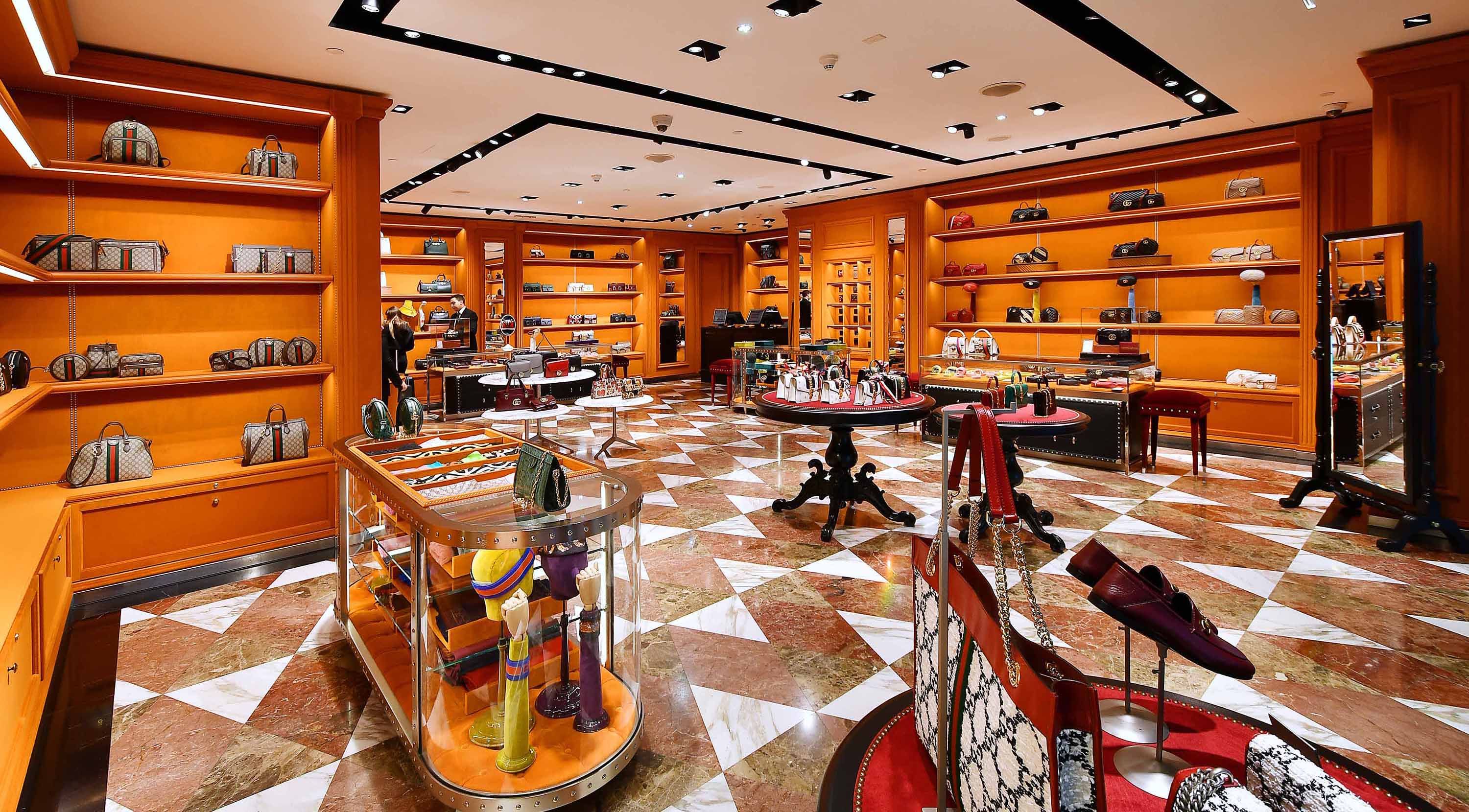 The new Gucci store in Concourse B builds Dubai Duty Free's luxury credentials
Crucially, such campaigns help to push purchase values above the average. McLoughlin says: "Categories such as liquor, perfumes, confectionery and electronics respond very well to these promotions. We have run several Perfume Bonanza weekend promotions and Watches Weekend Bonanza offers, which deliver immediate sales results.
"In categories such as liquor we have been focusing on promotions with premium products such as Cognac and high-end whiskies to drive average transaction value upwards. We ran a Liquor Mania promotion with -30% off selected liquor and we had -10% off the full allowance at Dubai Duty Free in arrivals."
In June and July, Dubai Duty Free ran a promotion targeting Chinese passengers with -8% off on all XO Cognac purchases. During this two-month period, the retailer sold 1,339 bottles of XO Cognac valued at a combined US$344,000. The success of this promotion prompted the company to repeat it from 12 to 19 September, offering -20% off on XO Cognac and above.
Dubai Duty Free aims to further lift penetration and ATV through an updated digital marketing and customer engagement programme that will be in place by year-end, and with a range of training, recognition and award schemes for staff.
Beyond the impact of store investment, partnerships and campaigns, McLoughlin anticipates a bounce in business from Expo 2020, hosted by the emirate of Dubai for six months from October next year. Dubai Duty Free will open an Irish Village close to the Ireland Pavilion at the exhibition, which should present opportunities for collaboration.
"We are all very excited about Expo 2020," says McLoughlin. "Having visited the site recently, I can say that it really is going to be a fantastic event. It will bring an estimated 25 million people to Dubai in the six-month period. Obviously, these kinds of inbound figures provide us with a fantastic opportunity to reach a global audience and we are working with Expo on merchandising opportunities as well as other areas."
Despite slightly slower sales early this year, the investment in store enhancements, tailored promotional campaigns and the prospects of a boost delivered by Expo 2020 means Dubai Duty Free management is confident of a return to growth in the year ahead and beyond.

The Moodie Davitt eZine
Issue 272 | 26 November 2019
The Moodie Davitt eZine is published 20 times per year by The Moodie Davitt Report (Moodie International Ltd).

© All material is copyright and cannot be reproduced without the permission of the Publisher.
To find out more visit www.moodiedavittreport.com and to subscribe, please e-mail sinead@moodiedavittreport.com