---
Aerotropolis – a lifestyle and culturally relevant centre beyond travel
Highlighting the power of design and the need to create game-changing experiences, Kevin Roche, Global Retail Sector Leader at Woods Bagot, gave an insightful presentation at The Trinity Forum 2019. Roche, who has spent his career in retail design including ten years with luxury conglomerate LVMH, explains here how travel retailers can remain culturally relevant as customer expectations soar.
The spectacular Jewel at Singapore Changi Airport, with its rain vortex, tropical forest and sky nets, has reportedly welcomed 50 million visitors in its first six months. In the USA, Dallas-Fort Worth Metroplex has a 36-hole golf course and 400,000 jobs within a five-mile radius. Beijing and Dubai are building whole cities in the airport. Airports are becoming cities within cities. They are becoming tourist destinations in their own right, lifestyle villages and urban communities.
In an age when passengers are booking flights based on their favourite terminals, airports are not only competing with each other. They are also competing with best-in-class downtown retail and lifestyle destinations for their customers' share of time and wallet. International travellers with finite budgets are deciding whether to shop at the airport, or in revitalised city centres, repurposed malls and department stores, which are now being designed with more than 50% of their turnover targeted at the travel consumer.
With duty free as a value proposition losing its competitive edge, and online shopping ever-encroaching, retailers must avoid the toxic creeping sameness that has brought down the American department store.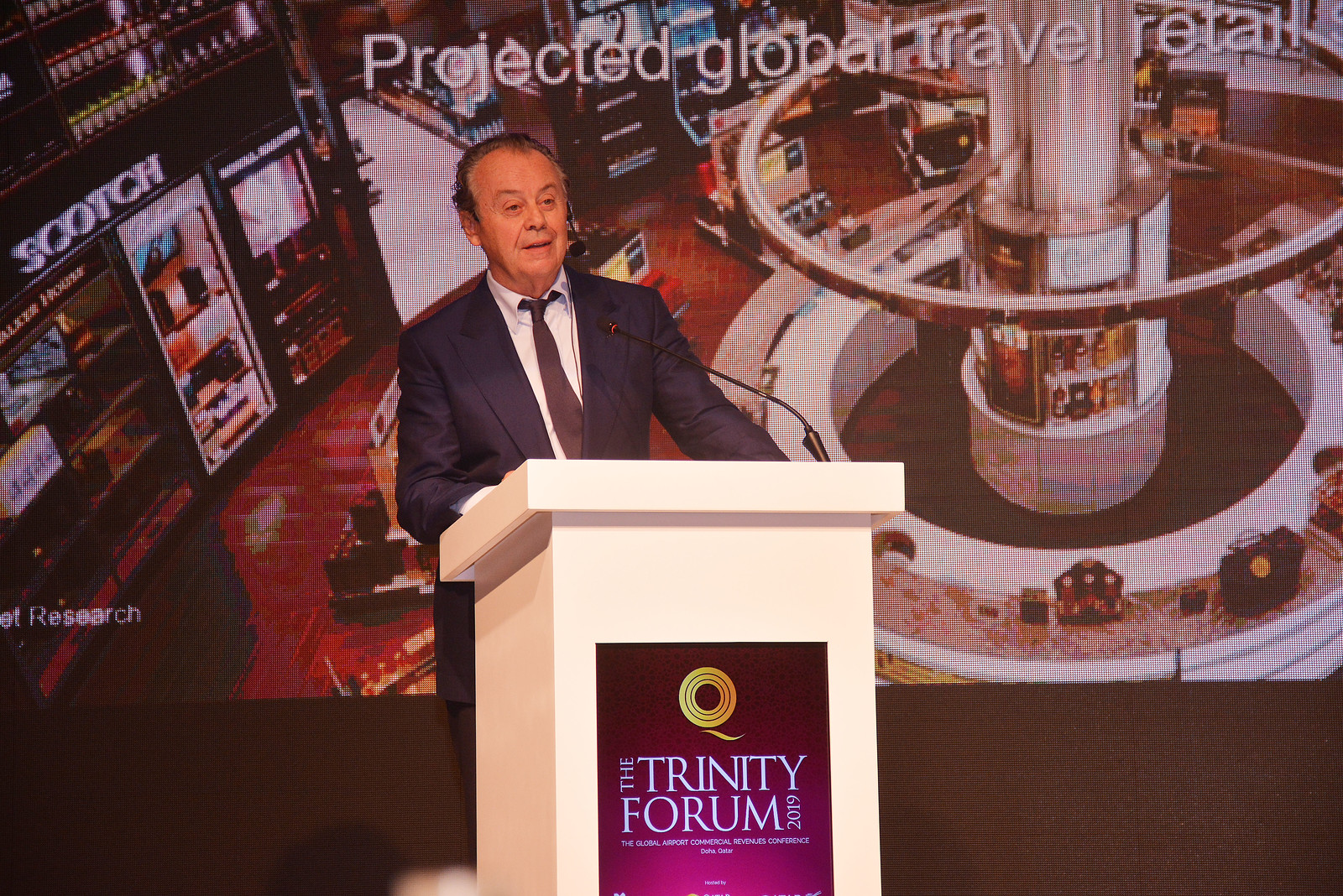 Kevin Roche: "The travel consumer wants to be immersed in local architecture, interiors, history, food and people. This is why one travels, to experience the destination."
Gone are the days of leased boxes lining airport concourses. To remain competitive, tomorrow's airport retailers must offer their increasingly discerning customers an extraordinary experience. Let's be honest: we are selling stuff no one really needs. The future lies in how you deliver a seamless travel experience embracing the uniqueness of each destination, or the commonly used term 'Sense of Place' – easy to say but hard to truly deliver.
The competitive edge provided by a captive audience and duty free transactions may be waning. Today's retailers are challenged by emerging consumers completely in charge of what they buy and where they buy it. Everything is available from the palm of your hand and will soon be delivered by a drone to your front door. With global travel retail sales projected to hit US$125 billion by 2023, the challenge of converting traffic to browsing to sales will be a game changer.
So how, exactly, can travel retailers remain culturally relevant?
Provide a strong Sense of Place
Gone are the generic 'anywhere' departure halls. Instead, airports are telling passengers they have arrived somewhere special that is deeply tied to the city they serve. Today it is all about context and authenticity. Edo Alley, in Japan's Haneda Airport, is a shopping and dining area styled like 19th-century Tokyo. The new Harvey Milk terminal at San Francisco International sells sourdough bread and has a redwood play area. Schiphol in Amsterdam has a tulip house.
As airport costs (tendering, occupancy, capex and marketing) continue to rise, the every four- to eight-year tender environment challenges true innovation. Airports are now competing with revitalised high street lifestyle centres, galleries and department stores who realise the travel consumer can make up more than 40% of their annual turnover. This has an impact on their strategies, merchandising, marketing and in store experiences, not to mention the demand for a keen Sense of Place.
Be interdisciplinary
Terminals are taking cues from across the spectrum of design typologies: these include lifestyle centres, mixed use urban destinations with workplace, entertainment attractions, theatrical and concept food & beverage, fitness and sports facilities, services of all kinds, and hospitality choices. At the Funan mall in Singapore (pictured above), a new experiential retail centre, people go to shop, but also to attend the theatre, take a class, work out, and simply work.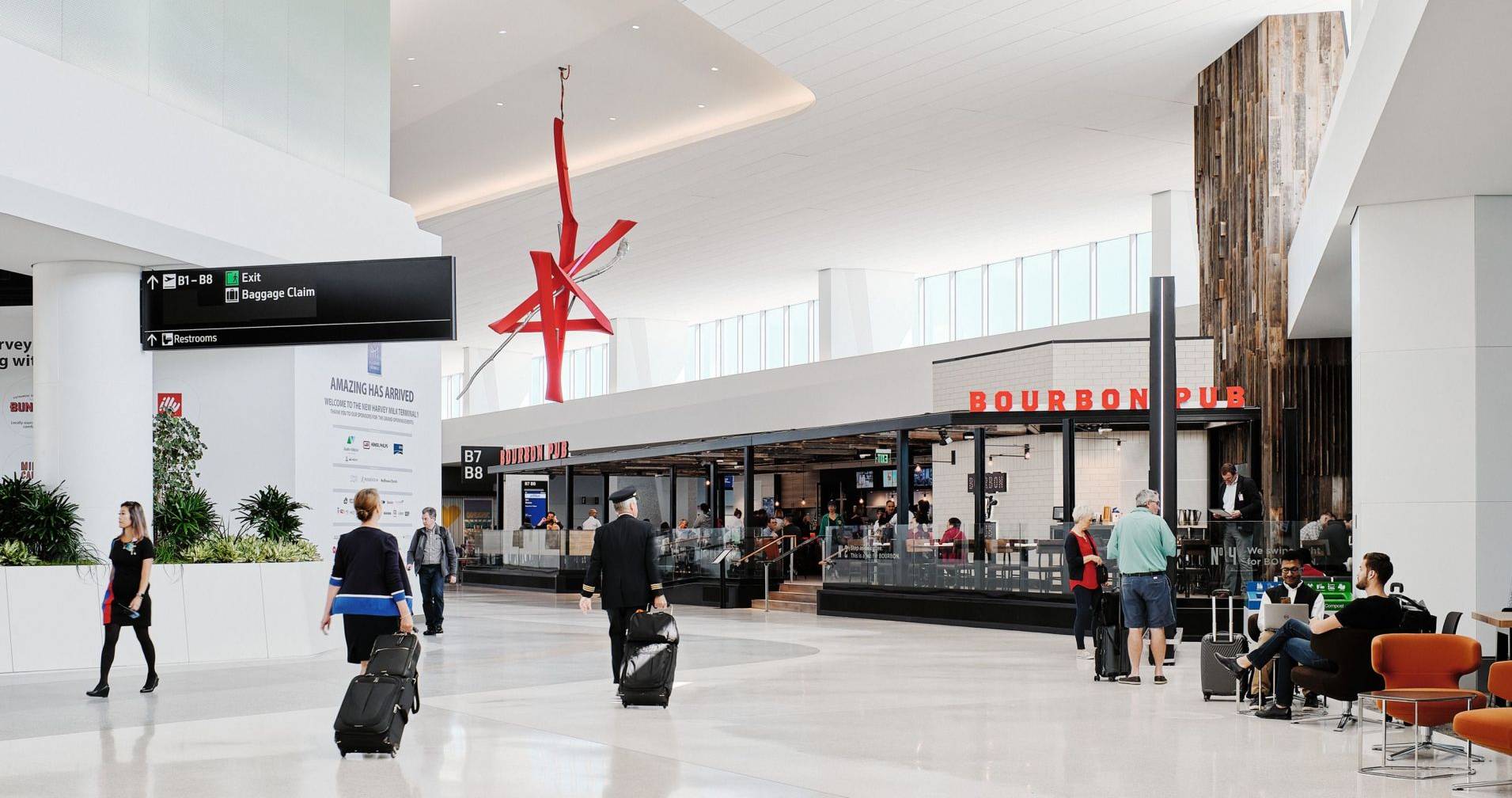 Timely opening: The new Harvey Milk terminal at San Francisco International captures the local atmosphere and celebrates the city
Be culturally relevant
The hospitality industry may understand the travel consumer better than the traditional travel retailer. Hotels understand that a bed is just a commodity, but the power of the destination is the unique selling proposition, their USP. The travel consumer wants to be immersed in local architecture, interiors, history, food and people. This is why one travels, to experience the destination.
Investing in an extraordinary experience requires patience and long-term investment. The European 'grande dame' department stores, unlike their American counterparts, are still thriving. Brands like Harrods, Selfridges, the Four Seasons, Le Bon Marche and LVMH, DFS Gallerias remain successful because they prioritise long-term over short-term profit. Along with global attractions like KaDeWe [Berlin department store Kaufhaus des Westens], the Meatpacking District in New York, Westfield's Century City in Los Angeles, Canton Road or the IFC mall in Hong Kong, and Tokya's Ginza district, they are must-see attractions. These organisations don't sacrifice the experience for growth, but drive growth from the quality of the experience.
The PricewaterhouseCoopers report, 'Global Consumer Insights Survey 2019', states that it is time to introduce metrics that measure consumer experience. "Because consumers today are so discerning and powerful, it's their perspective that most organisations need to invest far more in customer experience (CX). Measuring return on experience (ROX) will help understand earnings on investments in the parts of your company directly related to how people interact with your brand."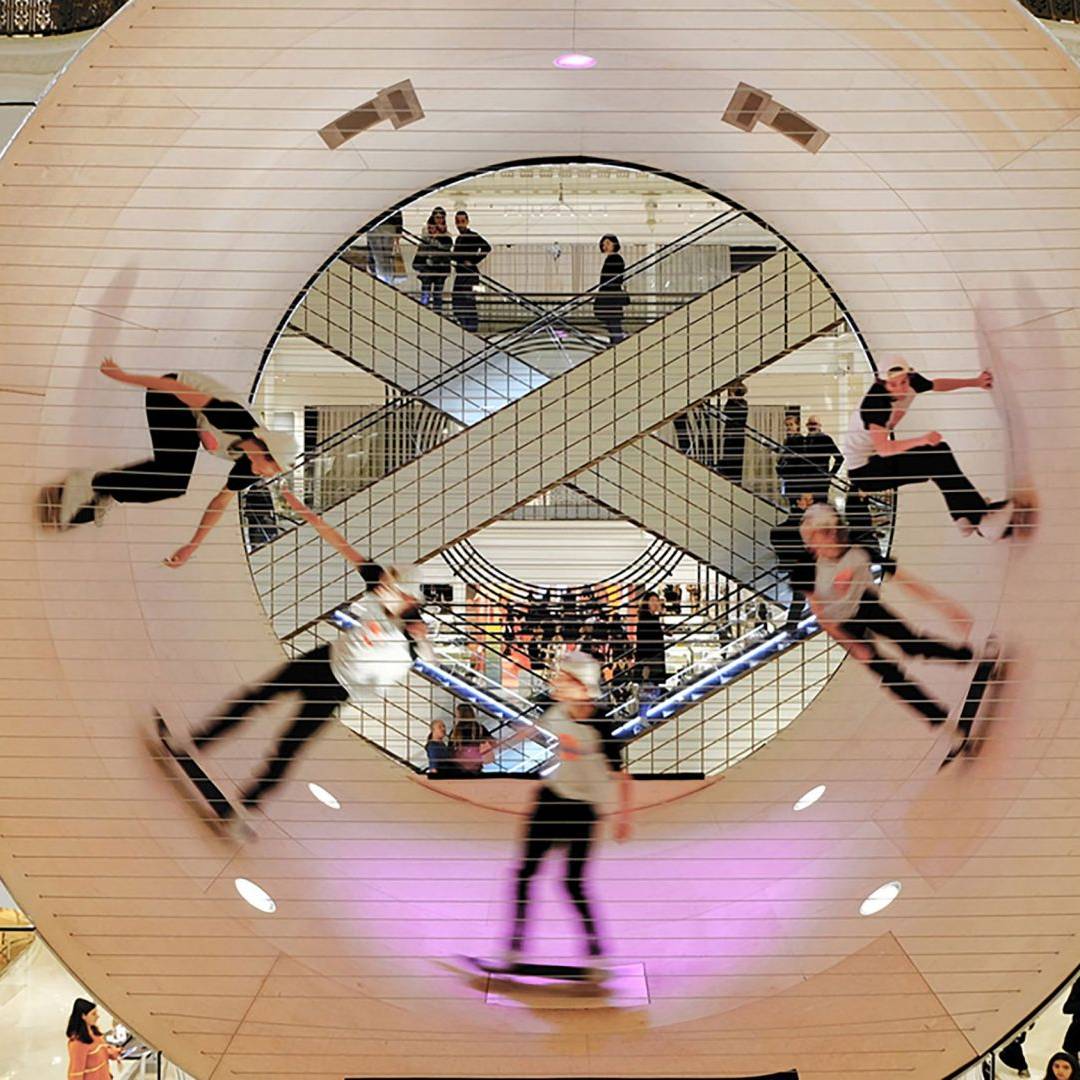 Lifestyle centres should be mixed use urban destinations, blending business and leisure
Invest in great and relevant design
As Alibaba and Amazon move into the airport market, they will change the game. Duty free is less of a draw. There will always be a better price. Are you offering your customers a convenience, or a choice? To distinguish themselves, travel retailers must weave the highest level of design into the culture of their brands and into the guest experience of the airport. Iconic, statement buildings designed by 'starchitects' are not enough. It is imperative these structures represent the humanity they are built to serve on a personal, human and individual scale; that they are filled with all the diversity, activities, services and commercial offers available in the cites they serve.
Collaborate
The new model of authentic, interdisciplinary, long-term design requires enlightened airport commercial leadership and a partnership with innovative F&B operators, retailers and hospitality and service providers.
In today's environment, where retail developers have moved into airport development, airport management teams are now retail developers and retailers/F&B operators are pursuing master leases, innovation has never been more necessary.
In a world where everything conceivable is available in the palm of your hand, merchandise is dropped from the sky and there is always a better price, there is significant opportunity for these centres of humanity we call airports to not only transport, but to deliver all the richness of the vibrant cities they serve by design.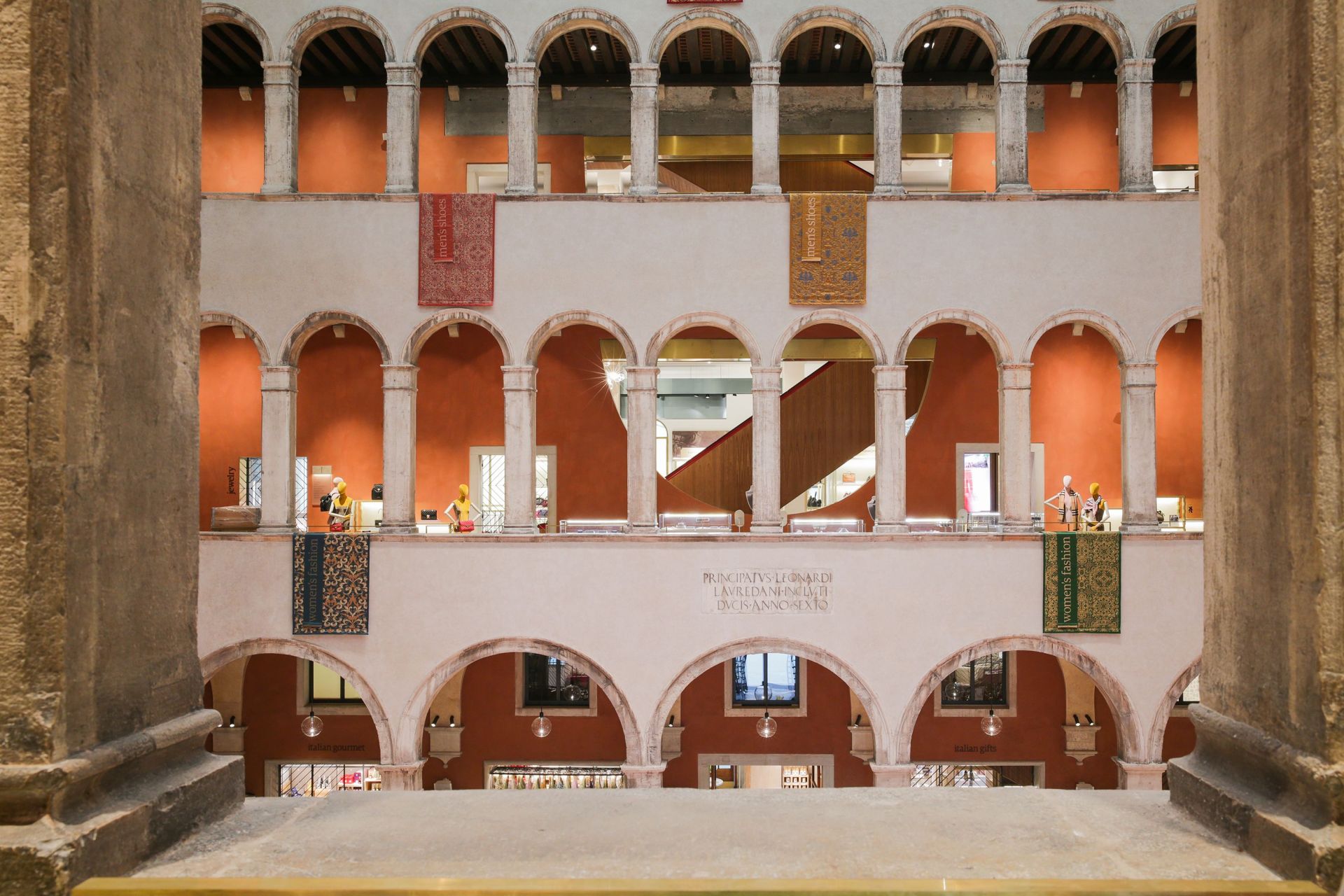 Extraordinary environment: The majestic T Fondaco dei Tedeschi by DFS in Venice combines compelling experiences and a powerful product assortment

The Moodie Davitt eZine
Issue 272 | 26 November 2019
The Moodie Davitt eZine is published 20 times per year by The Moodie Davitt Report (Moodie International Ltd).

© All material is copyright and cannot be reproduced without the permission of the Publisher.
To find out more visit www.moodiedavittreport.com and to subscribe, please e-mail sinead@moodiedavittreport.com