---
Tender time in Korea
Duty free retailers in South Korea are anticipating three tenders across multiple channels in coming months, writes The Moodie Davitt Business Intelligence Unit's Senior Retail and Commercial Analyst Min Yong Jung.
As well as the soon to be announced tender at Incheon International Airport T1, duty free retailers in South Korea are awaiting bids for the Incheon Ferry Terminal shops plus further downtown licences for small and medium-sized companies (SMEs).
As reported, the latest tender for downtown duty free licences (large conglomerates only) attracted only one bid, from Hyundai Department Store Duty Free.
The next major downtown duty free bid covers SMEs in Seoul and Chungnam, with applications open from 23 March to 31 March 2020.
There is no limit to the number of duty free licences that Korea Customs Service (KCS) can issue for SMEs, as long as the review committee approves of the plans submitted. The regulatory market entry barrier is lower for SMEs with the pass grade at 600 points out of a 1,000 total in the review process. While the legal barrier to entry is low, other barriers such as economies of scale and pricing, marketing and others remain high, making the channel difficult for smaller companies.
A further tender is planned at the Incheon Ferry Terminal, although this has been delayed from December until June 2020.
Duty free sales at Incheon Ferry Terminal fell from KRW24.2 billion (US$20.8 million) in 2016 to KRW21.2 billion (US$18.2 million) in 2018. Previous tenders resulted in no bids and according to sources in Korea, there is limited interested in participation from the large duty free retailers, with 2019 sales also showing a declining trend.
Resellers make up a significant portion of duty free sales at Incheon Ferry Terminal, with sales to this channel estimated at around 80% of the business. Resellers often use duty free concessions (currently operated by Entas Duty Free and City Plus) as the last stop to purchase liquor and tobacco products before returning home; these categories account for 80% of sales.
Meanwhile, Korea's major duty free retailers will be vying for new concessions in the upcoming anchor store tenders at Incheon International Airport Terminal 1. These are for eight concessions where current terms expire in August 2020.
The Incheon T1 concessions that will come to market in coming weeks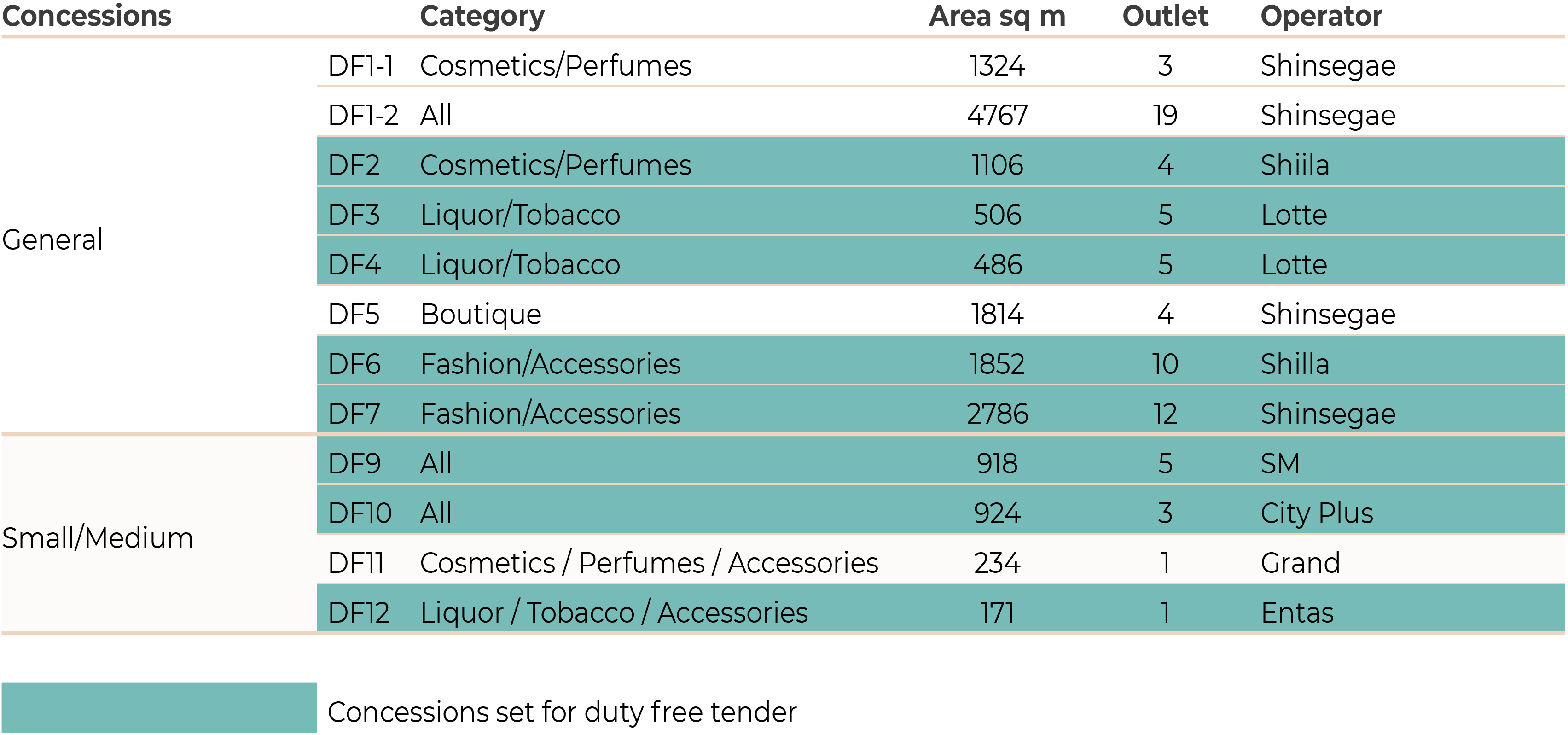 Source: Moodie Davitt Business Intelligence Unit
Unlike the duty free tender for downtown stores that ended with just one bidder, the tender for duty free concessions at Incheon Airport is likely to be a heated affair. Among five of the concessions for large corporations, The Shilla Duty Free will seek to defend three (DF2, DF4 and DF6). Lotte Duty Free and Shinsegae Duty Free have one concession each currently and will be eyeing the chance to gain at the expense of Shilla in a key location.
The cosmetics & perfume concession DF2 is expected to be especially hotly contested. Shilla currently operates the category at Incheon International Airport, Changi Airport and Hong Kong International Airport, giving it a strong position in three of Asia's biggest airports. Lotte Duty Free is likely to push hard to regain its presence in this category (which it exited at T1 in February 2018).
Although the P&C category will be of keen interest to Shinsegae, industry observers believe the company may be less aggressive in its bid. The company acquired three new duty free concessions last year and the strong bids for those has resulted in lower profitability this year.
Incheon International Airport has yet to release the official dates for this tender, as it finalises plans to extend the contract period from five to ten years and reviews a concession fee scheme that alleviates cost pressure on retailers.
Industry observers note that given these factors, the eagerly awaited tender could be called in January. Incheon International Airport Corporation has said that finalising the tender at the earliest opportunity is critical to ensure market participants and regulatory bodies have ample time to review their proposals.
Following the bid process, Incheon International Airport will submit a list of competitive offers and their scores to KCS. Customs will convene a review committee to decide upon the preferred bids and to negotiate contract terms with the airport.

The Moodie Davitt eZine
Issue 272 | 26 November 2019
The Moodie Davitt eZine is published 20 times per year by The Moodie Davitt Report (Moodie International Ltd).

© All material is copyright and cannot be reproduced without the permission of the Publisher.
To find out more visit www.moodiedavittreport.com and to subscribe, please e-mail sinead@moodiedavittreport.com