What they said about The Trinity Forum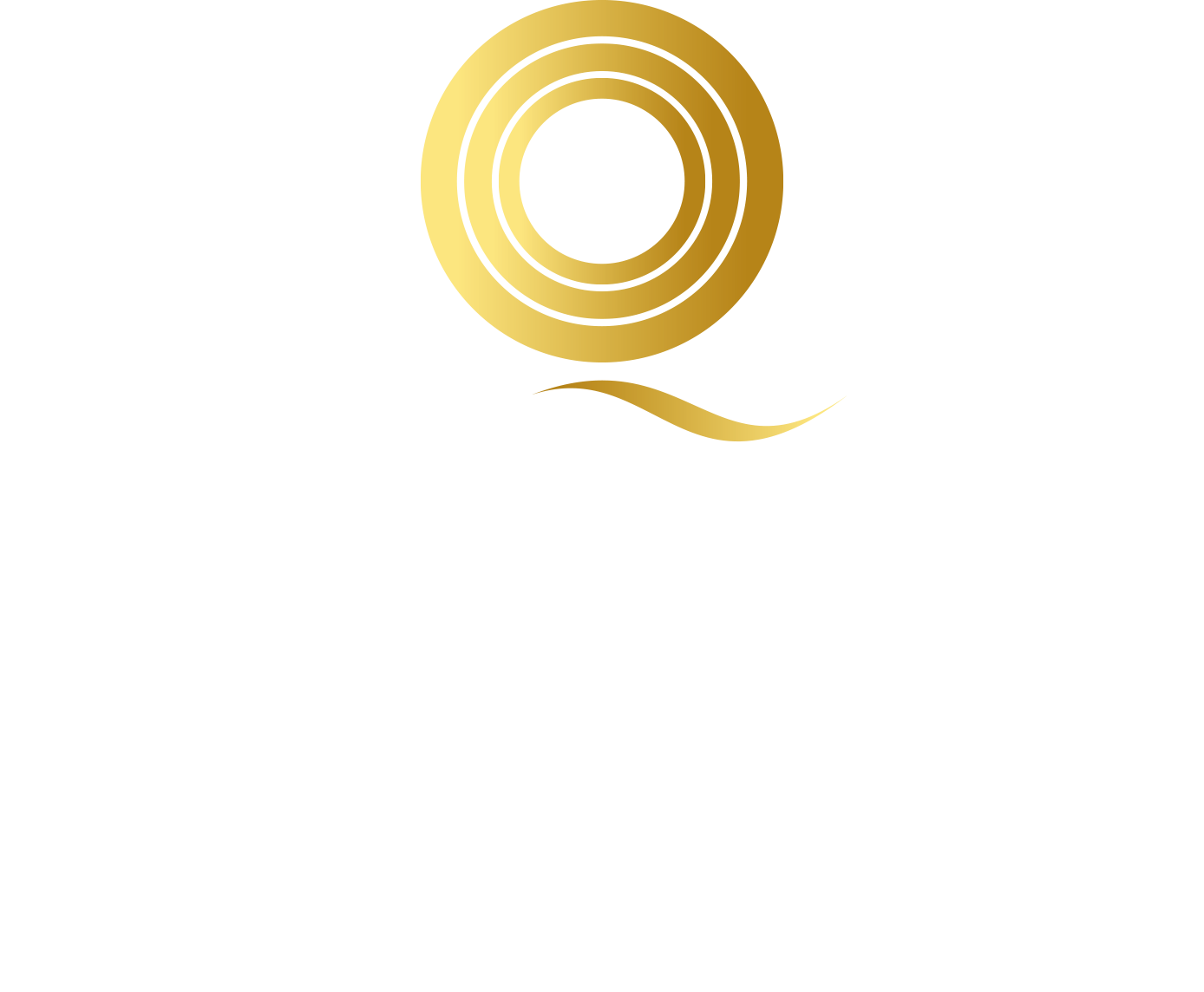 Delegates were effusive in their praise for the speakers and quality of presentations at this year's event, and thoroughly enjoyed the varied social and networking programme. As always, some work-ons were identified – and these will be assessed in time for The Trinity Forum 2020. Stay tuned to The Moodie Davitt Report for details of the venue and dates in due course. Here, we present some of the best of the reaction to what was a dynamic, dramatic and enlightening event in Doha.
"Thank you #TrinityForum2019 it was an absolute privilege to share our data and content journey with an esteemed group of global brands, airports and duty free operators from around the world."
oOh! Media Chief Commercial & Product Officer Robbie Dery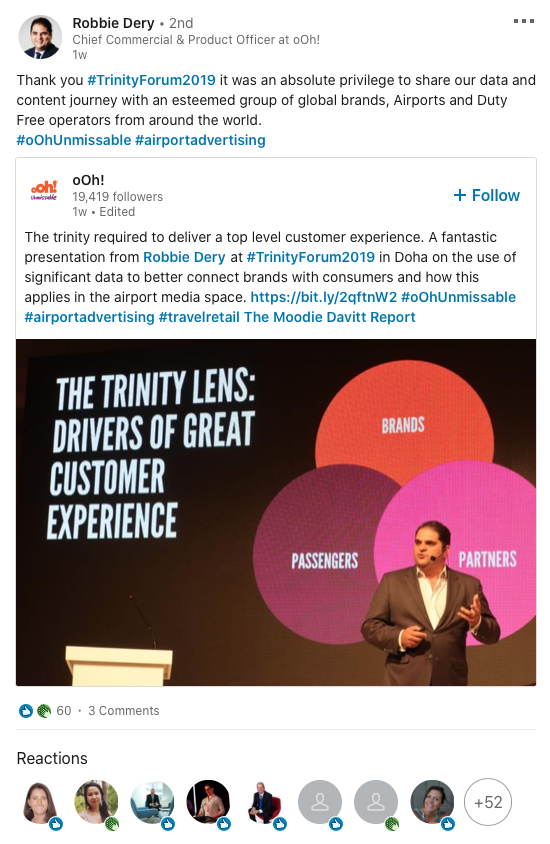 ---
"Trinity Forum 2019 walking the walk at Doha's Hamad International Airport with some great airport digital signage. Looking forward to two days of learning, sharing and collaborating."
PSI Managing Director Ben Milne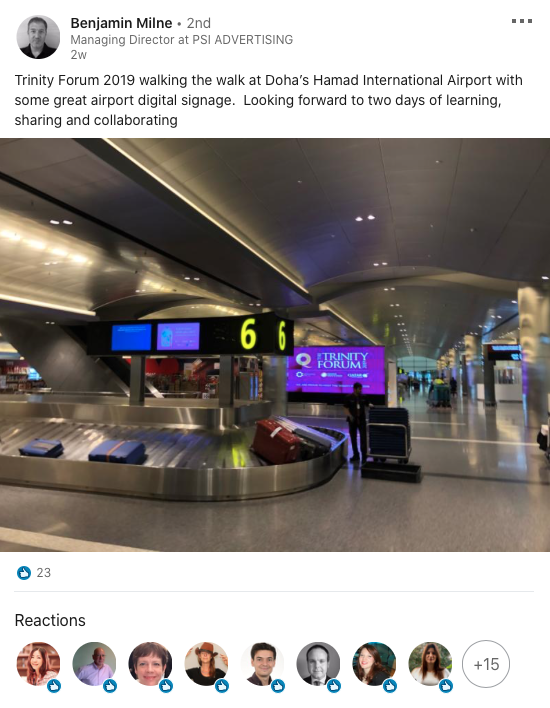 ---
"What an amazing two days it has already been at the Trinity Forum 2019. Thanks to Qatar Duty Free's golf tournament and to The Moodie Davitt Report for organising the events and giving brands an opportunity as well to showcase their products this year. Looking forward to the last day ahead!"
Cabinzero / TNG Europe Sales Director - Global Travel Retail Denz Van Der List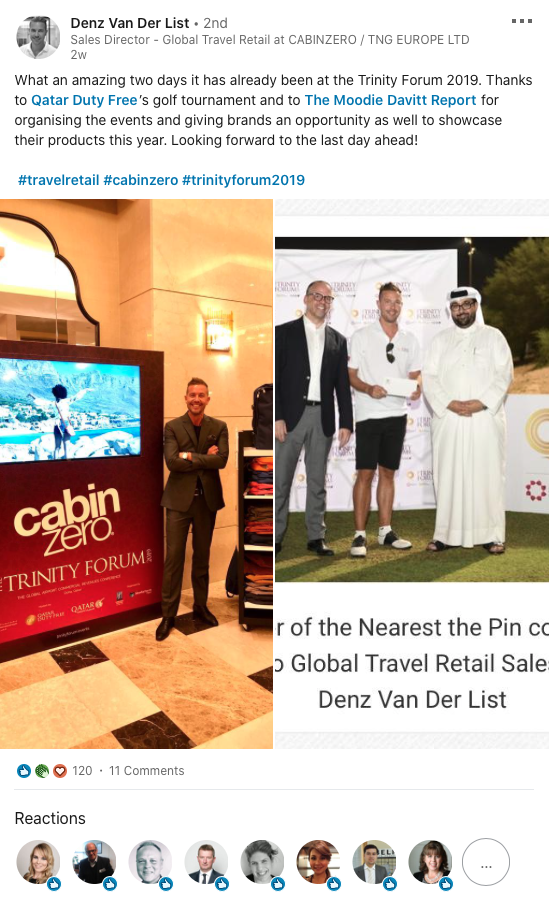 ---
"Congratulations Melvin Broekaart of Aircommerce for his #AI strategy in winning the inaugural #TrinityChallenge 'dream RFP' for Nirvana Airport! The $10k prize money (10,000 books) is heading to Room to Read ...a brilliant charity helping children in #Cambodia learn to read. Reading is the key to so much freedom and advancement and we should never take it for granted. Here's to the future of those children. Sponsored by Mondelēz International as part of the excellent #TrinityForum2019 organised by The Moodie Davitt Report."
Corporate Communications Senior Consultant/Global Media Relations Director Anne Kavanagh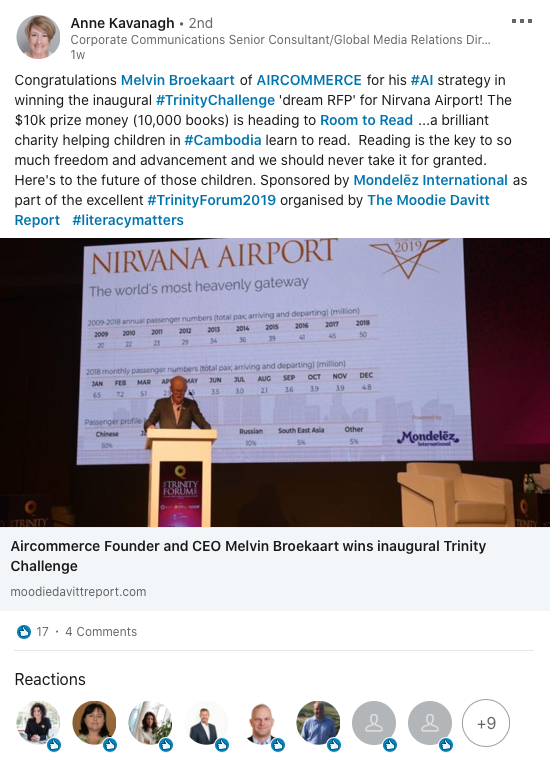 ---
"Trinity Forum 2019 – Doha – Proud to present Lagardère Travel Retail's Phygital solutions to deliver our Vision: Provide the Best Innovative Shopping experience that makes each traveller feel valued. Phygital is a journey about relationship building and we are moving ahead."
Lagardère Travel Retail Group EVP Marketing & Digital Stéphanie Metz-Thevenod
---
"The Concourse team have had an informative, inspiring and energetic time during The Trinity Forum 2019 at The St. Regis, Doha over the last couple of days. Thanks to The Moodie Davitt Report, Airports Council International – ACI World and ACI Asia-Pacific, plus joint hosts Hamad International Airport, Qatar Airways and Qatar Duty Free, for providing such a well-run and engaging event!"
Concourse Group Marketing Manager Jessica Howells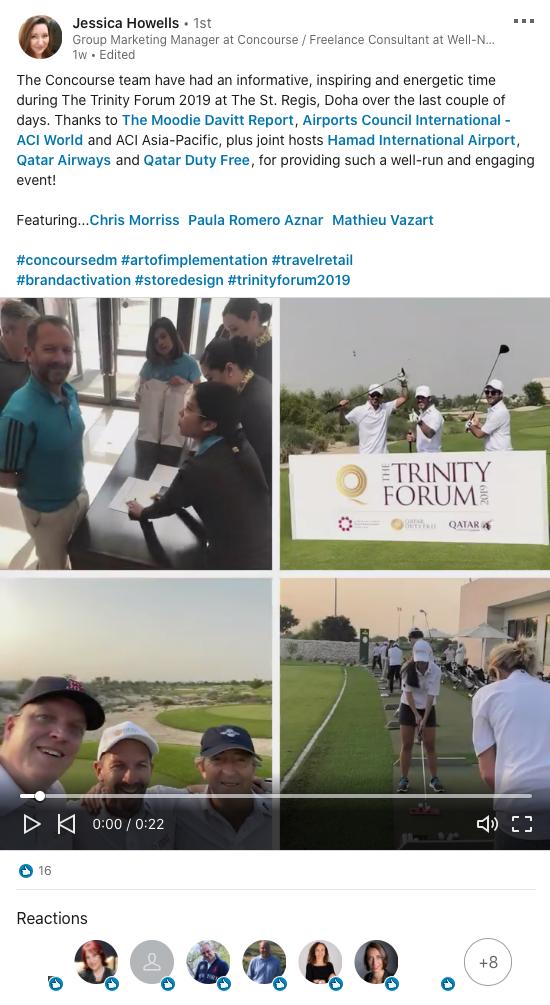 "What Martin Moodie did for us to conclude The Trinity Forum is hard to put into words. Simply fortunate to say we are in the same industry as this most remarkable, empathetic and unrelenting force of nature.
"My first Trinity Forum experience was nothing but brilliant, and it won't be my last. Learnt a lot about the airport and aviation business too."
Wild Tiger Founder and Chief Brand Officer Gautom Menon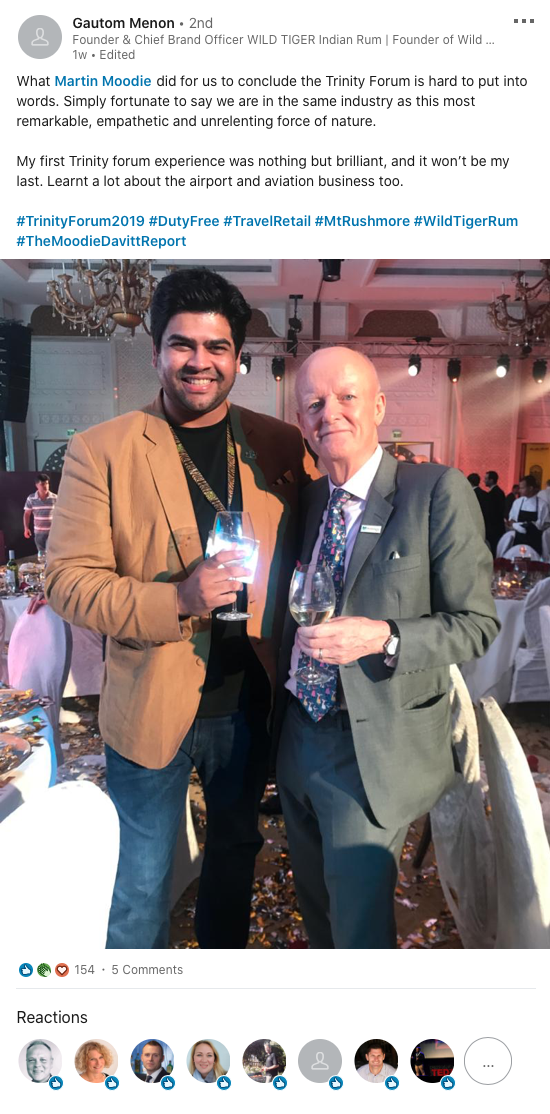 ---
"Aircommerce won the inaugural Trinity Challenge with our Conversational Ecosystem for passengers, receiving a US$10,000 donation to chosen charity Room to Read.
"Thank you Mondelēz International, The Moodie Davitt Report and judges Jaya Singh, Glyn Williams and Benjamin Milne."
Aircommerce Founder and CEO Melvin Broekaart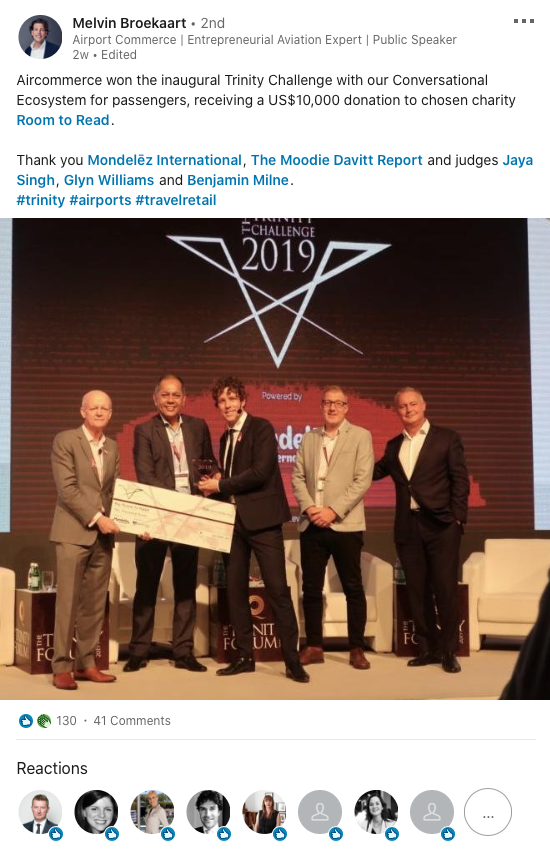 ---
"It was an honour to participate in the Asia Pacific Travel Retail Association (APTRA) exchange at #trinityforum2019. Thank you Grant Fleming and Martin Moodie."
APTRA Board Member and William Grant & Sons Travel Retail Managing Director Ed Cottrell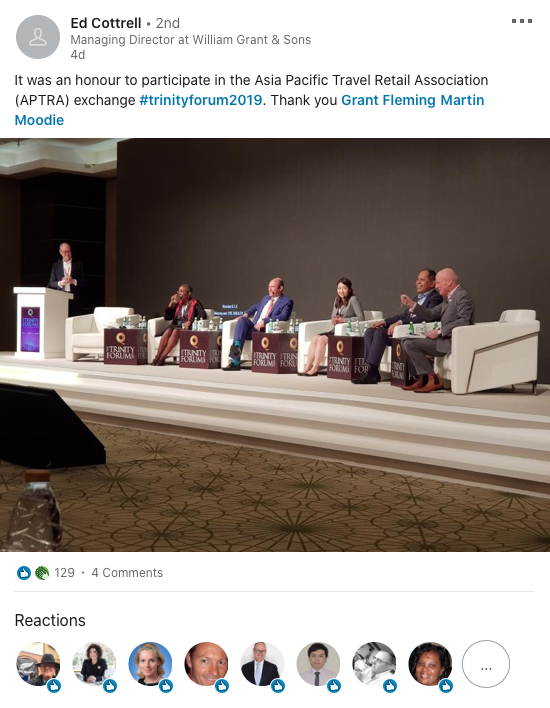 ---
"The Airbuy team had a very informative and inspiring time last week during The Trinity Forum 2019 at The St. Regis, Doha. Airbuy Solution was selected as one of the three finalists in the Trinity Challenge 2019. Congratulations to Aircommerce and its Founder Melvin Broekaart who won the challenge.
"Thank you #TrinityForum2019, The Moodie Davitt Report and the sponsors Qatar Duty Free Qatar Airways Hamad International Airport for inviting us, it was an absolute privilege to be a part of such an engaging event."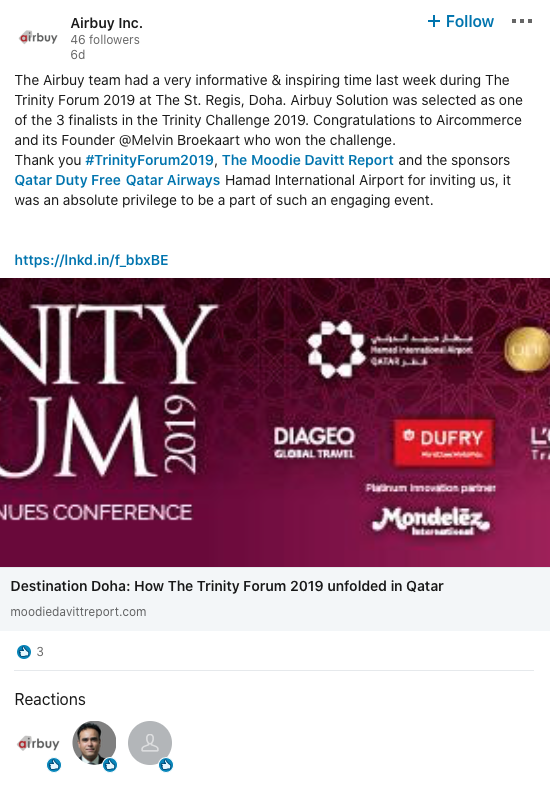 ---
And some more comments from delegates:
"Kevin Roche was a special highlight. It is always good to look out of the industry at surrounding trends. There were several very good speakers and interesting content – including the very candid content from His Excellency Akbar Al Baker."
"High-quality and engaging speakers throughout, especially the session featuring Pernod Ricard's Mohit Lal and CDFG's Charles Chen."
"My first Trinity; it exceeded expectations. The events outside of the presentations were just as good as the formal part."
"It was incredible to hear His Excellency Akbar Al Baker's thoughts and opinion on the challenges Qatar faces, while Nestlé International Travel Retail General Manager Stewart offered arguably the strongest and most critical comments during The Trinity Forum."

The Moodie Davitt eZine
Issue 271 | 19 November 2019
The Moodie Davitt eZine is published 20 times per year by The Moodie Davitt Report (Moodie International Ltd).

© All material is copyright and cannot be reproduced without the permission of the Publisher.
To find out more visit www.moodiedavittreport.com and to subscribe, please e-mail sinead@moodiedavittreport.com