---
Stepping up to the Trinity Challenge Aircommerce – an innovative tool that provides information and offers through existing messaging apps – won the inaugural Trinity Challenge, receiving a US$10,000 donation from The Moodie Davitt Report to chosen charity Room to Read.
The Trinity Challenge is a new feature for The Trinity Forum, the result of a partnership between Mondelez World Travel Retail and The Moodie Davitt Report to encourage a pioneering mindset and challenge prevailing industry wisdom.
Entrants were asked to pitch a new idea that could be implemented at Nirvana Airport – the original concept airport from the 2005 Trinity Forum – a hypothetical aviation hub at the heart of one of Asia's hottest tourism destinations. There is plentiful space, investment budget and a far-sighted landlord, but commercial revenues have lagged behind strong passenger growth in recent years.
Participants were asked to revitalise this side of the airport operations. Concepts had to involve the participation and investment from all three members of the Trinity and were required to drive increased penetration, higher average transaction value and greater frequency of purchase.
Three shortlisted finalists – Airbuy, CapsuleTransit and Aircommerce – pitched their concepts to an esteemed industry panel in Doha. Led by Mondelez World Travel Retail Managing Director Jaya Singh, the line-up also featured PSI Managing Director Ben Milne and Harding Retail Senior Vice President, Asia-Pacific Glyn Williams.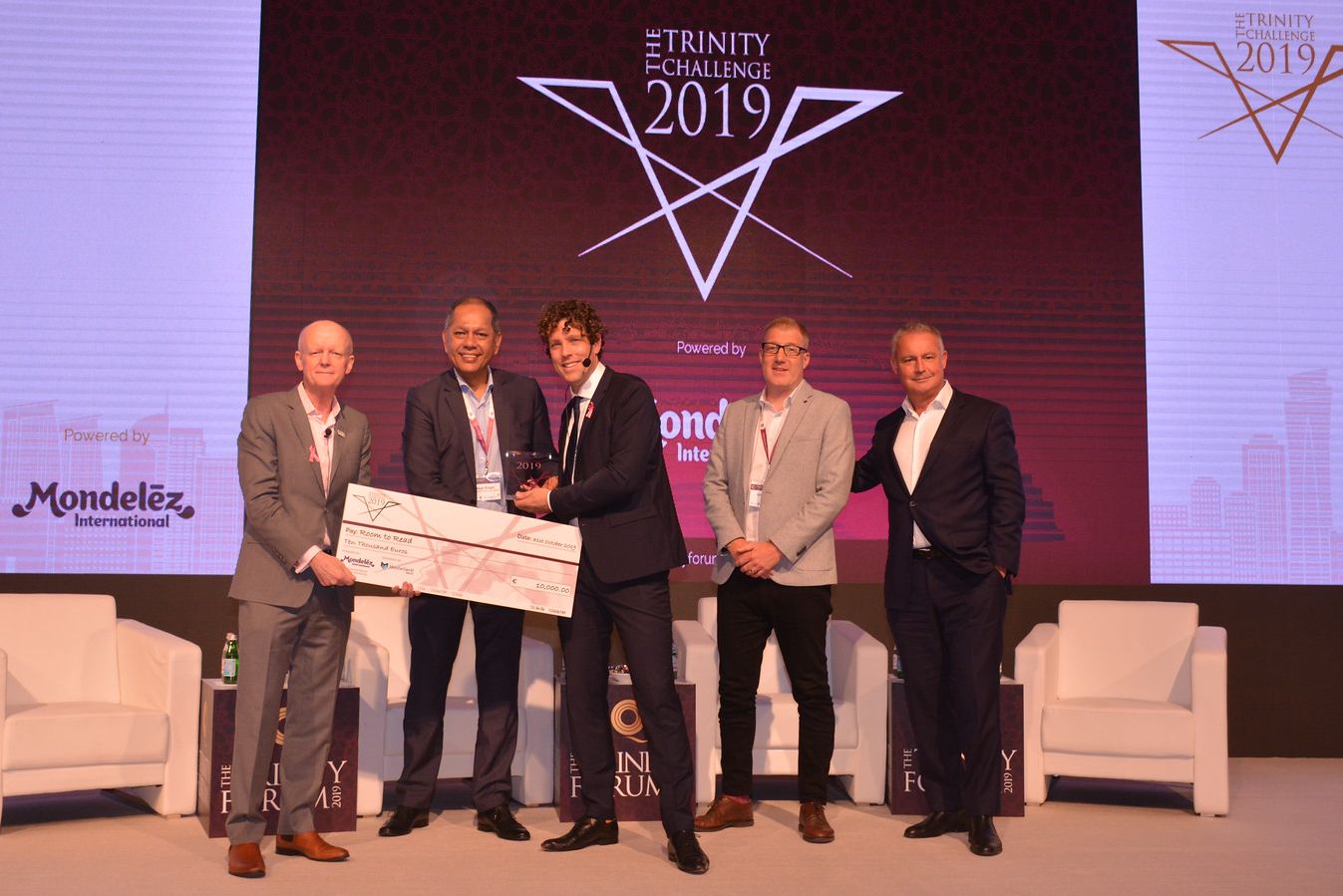 Trinity Challenge winner: Aircommerce's Melvin Broekaart accepts the cheque for US$10,000 to be donated to chosen charity Room to Read
To be one: Singh neatly demonstrated that big things could be achieved if the Trinity worked closer together and shared ideas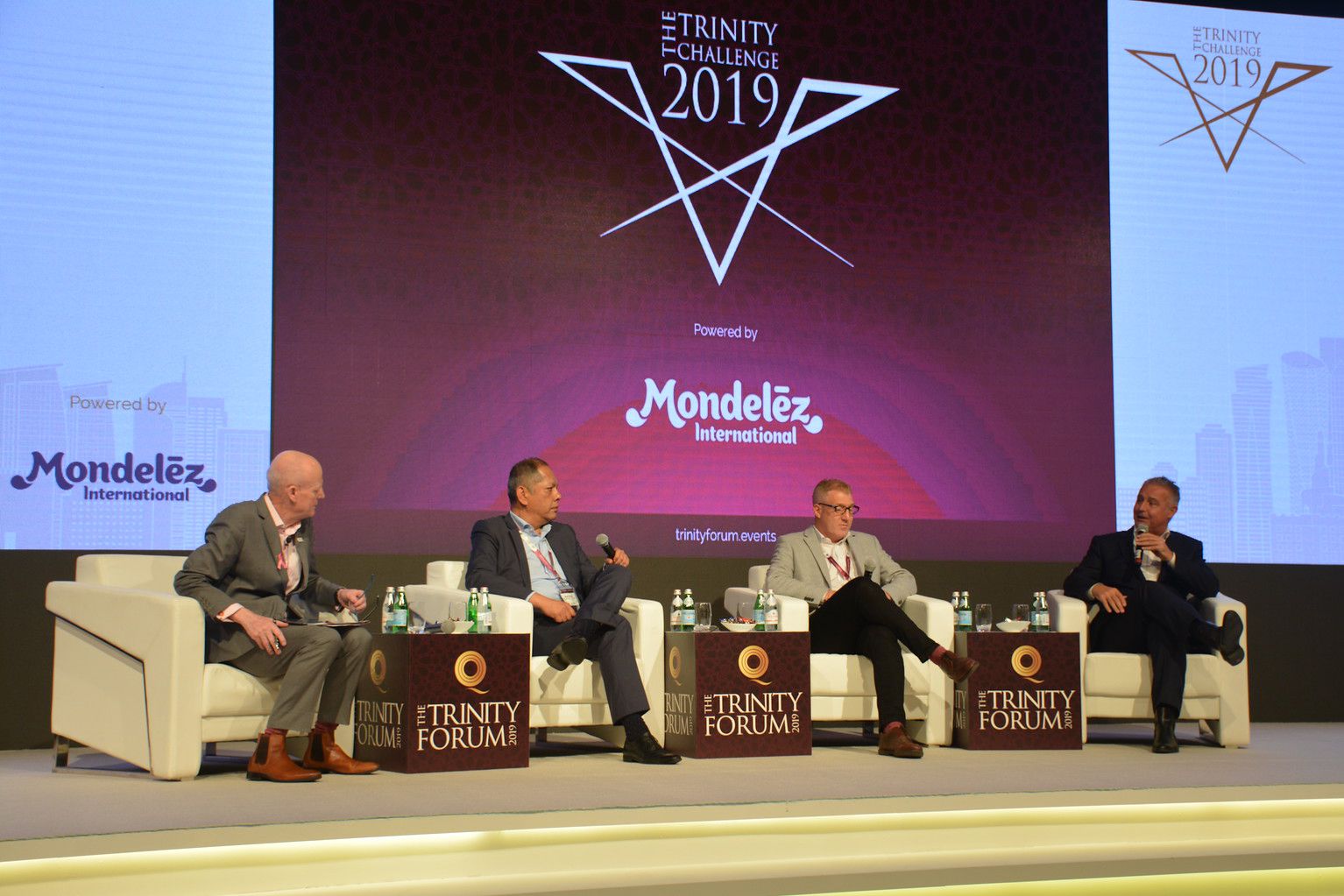 Celebrating innovation: Martin Moodie with the judging panel of (left to right) Mondelez World Travel Retail Managing Director Jaya Singh, PSI Managing Director Ben Milne and Harding Retail Senior Vice President, Asia-Pacific Glyn Williams
Ahead of the finalists' pitches, Singh described Mondelez's thinking behind the contest and his hopes for it. "The Trinity Challenge is about delivering innovation, value and thought leadership and is a place to share new ideas," he said. Singh said that while Mondelez's category vision has driven many innovations, more can be done within the Trinity to share ideas. "It is all about closer engagement," he said. "The Trinity needs to be activating and innovating as one."
"This shortlist of three brave organisations have stepped up to the challenge and may have a breakthrough for our hypothetical Nirvana Airport," commented Singh.
The first presentation was delivered by Airbuy, an AI-driven customer engagement platform that delivers "a seamless omnichannel solution" according to Chief Product Officer Mandar Garge. The company's approach is to target, engage and convert customers.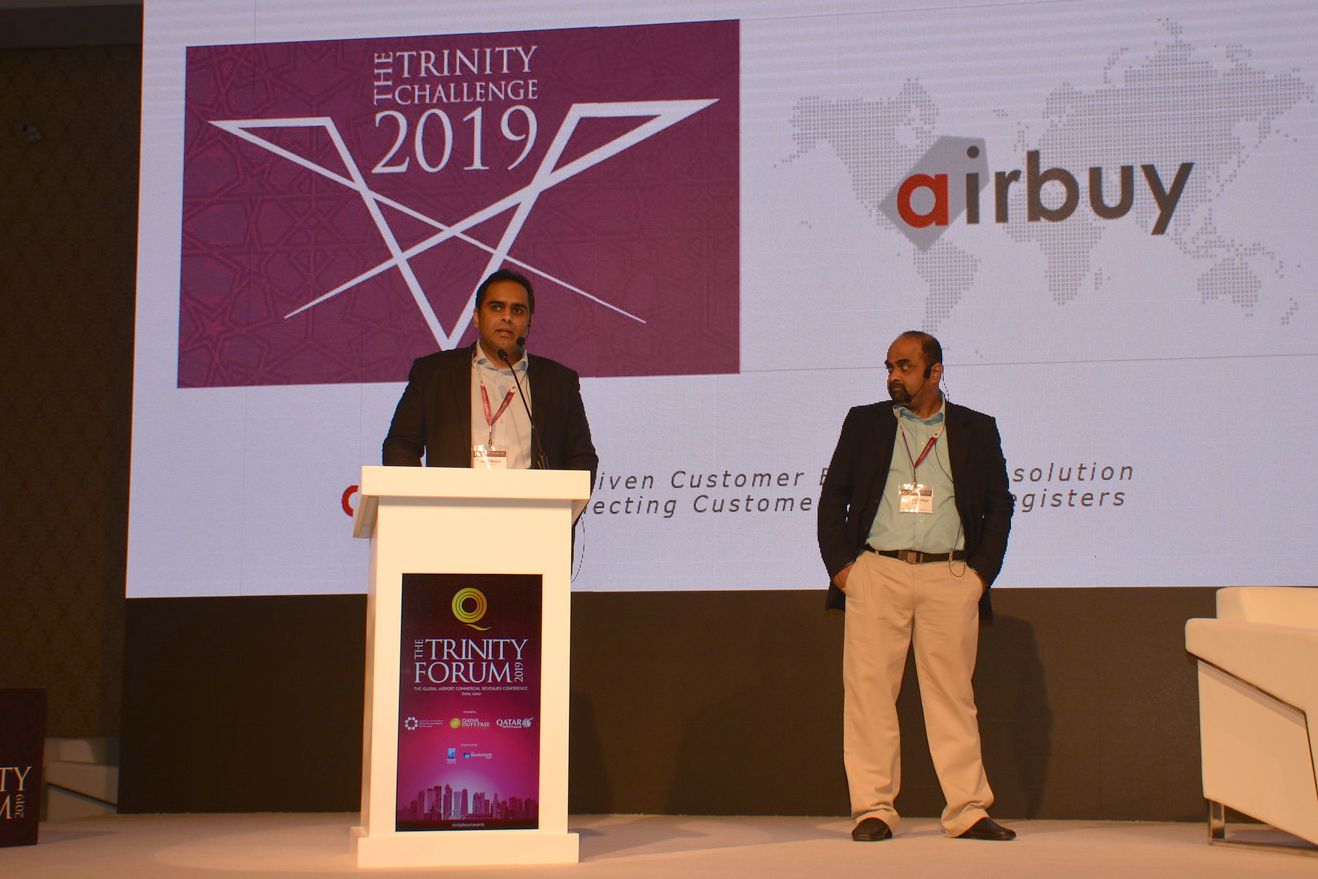 Customer engagement: Chief Financial Officer Jasjit Makol (left) and Chief Product Officer Mandar Garge introduced the Airbuy solution
"Airbuy integrates products and offers from Trinity partners and has the ability to reach out to passengers at different points in the customer journey," he said. "Airlines help us to get the data, and we then target passengers with the right set of offers, expanding the shop window beyond the airport. Two of the most important moments in the customer journey are the booking confirmation email and the check-in email."
As well as reaching passengers at the right time, the right kind of products must also be offered. Garge said products from the passenger's destination would be particularly appealing. "With targeted offers and merchandise the likelihood of conversion is high," he said.
"We are continuously building the platform and the output is beneficial to all of the Trinity," Garge concluded. "Airbuy helps to offer a personalised journey for each customer."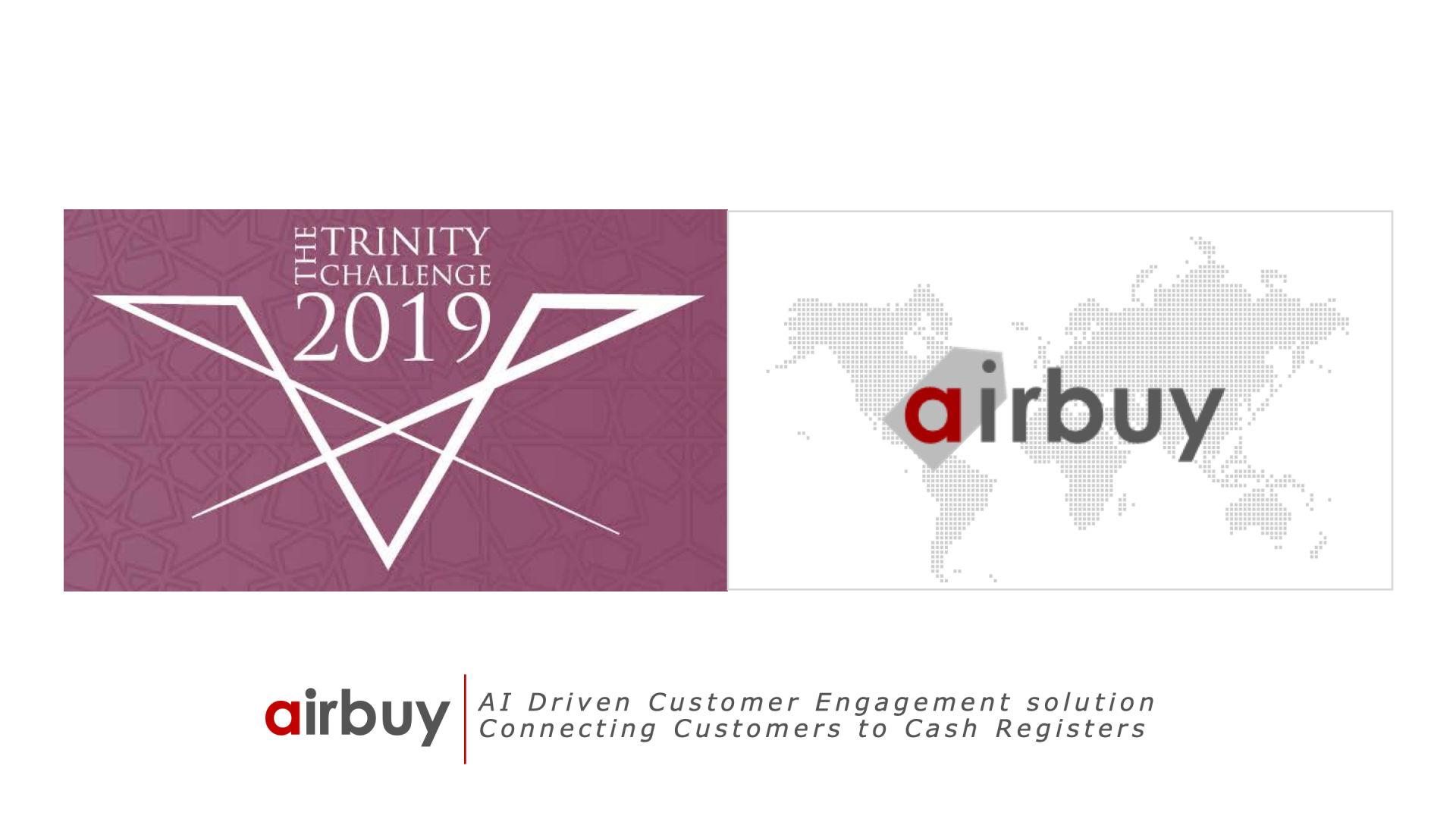 Airbuy aims to deliver "a seamless omnichannel solution"
---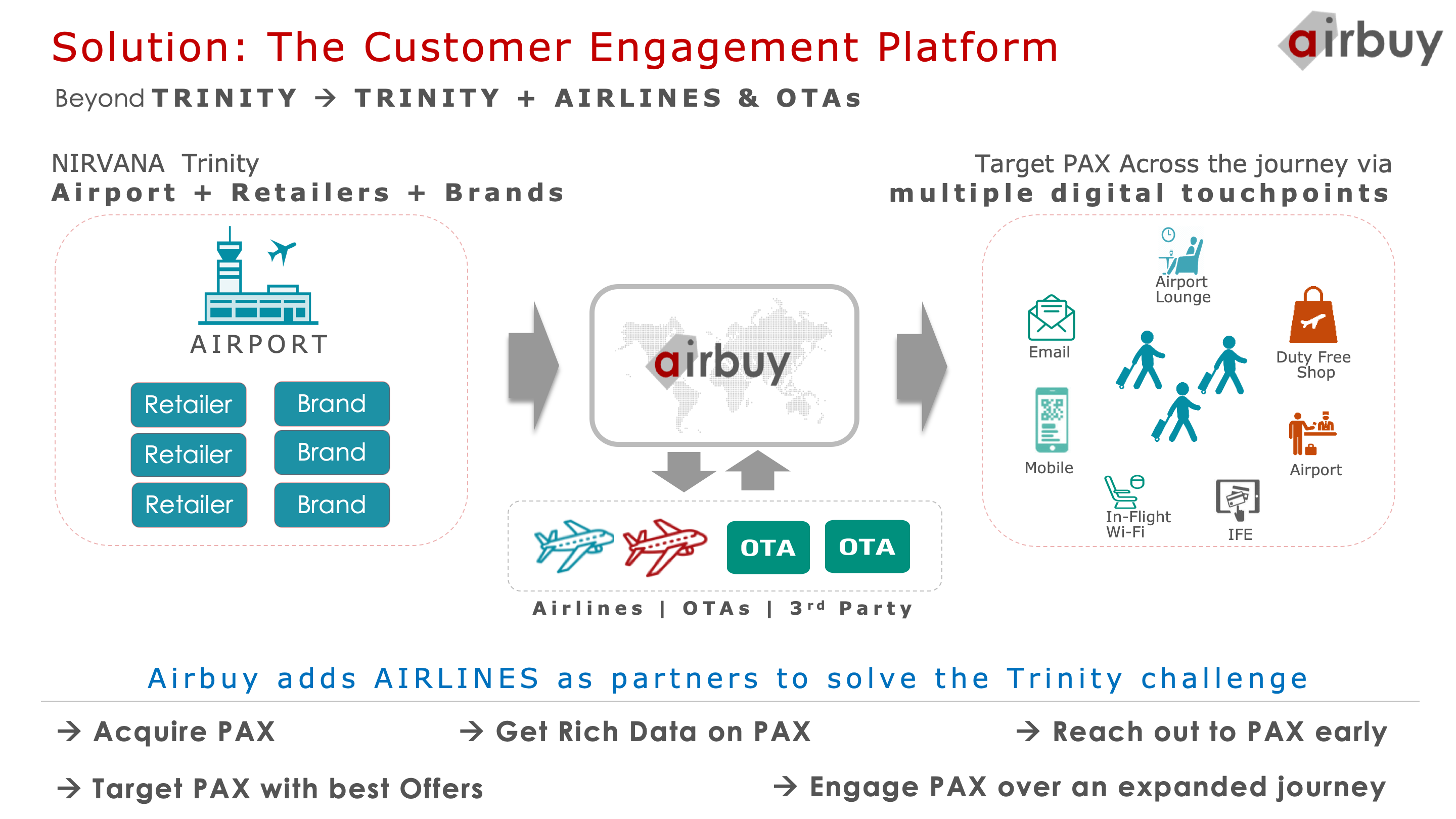 Airline data can be used to reach passengers throughout their journey
---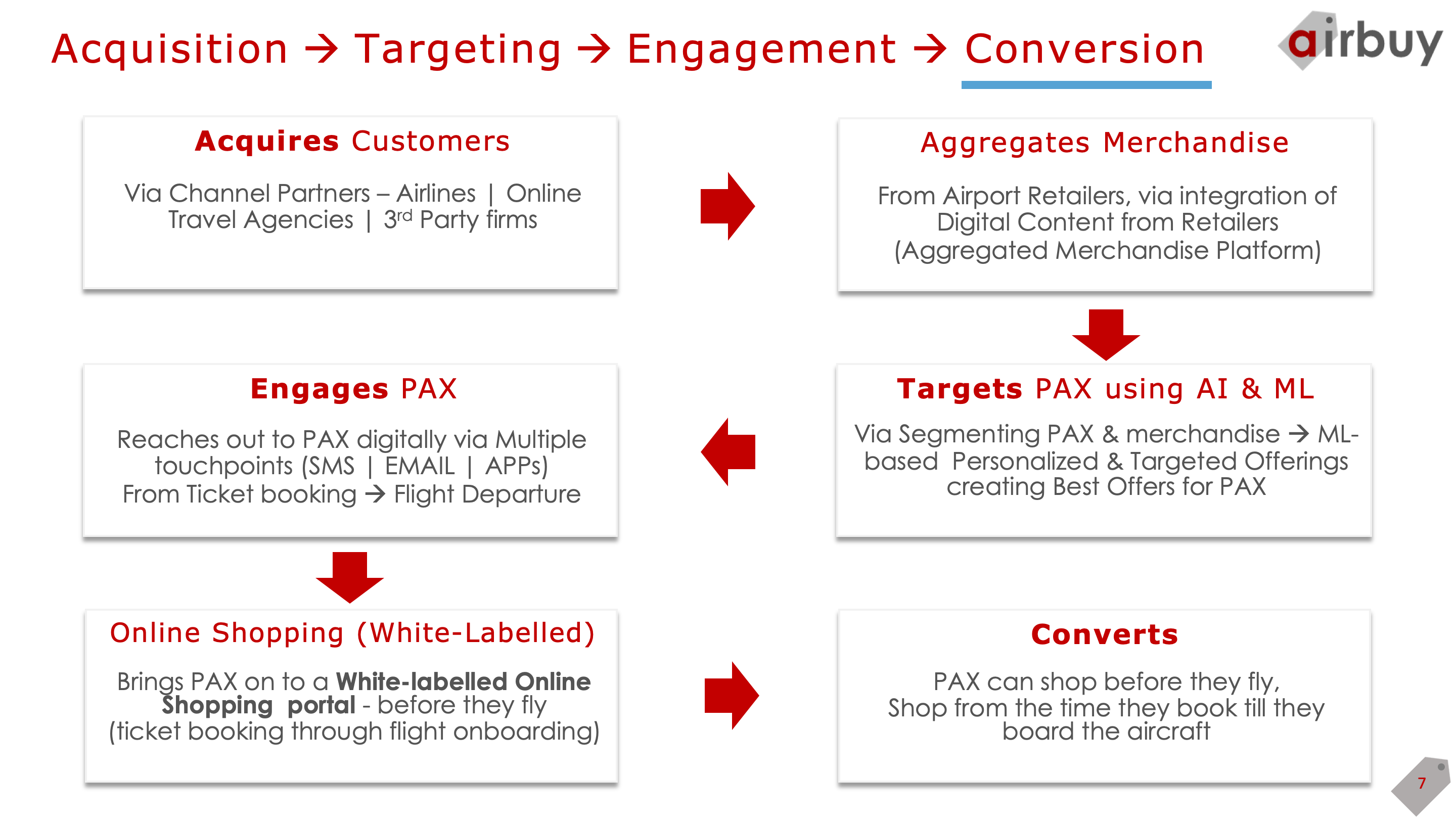 A targeted offer brings about a better chance for conversion
---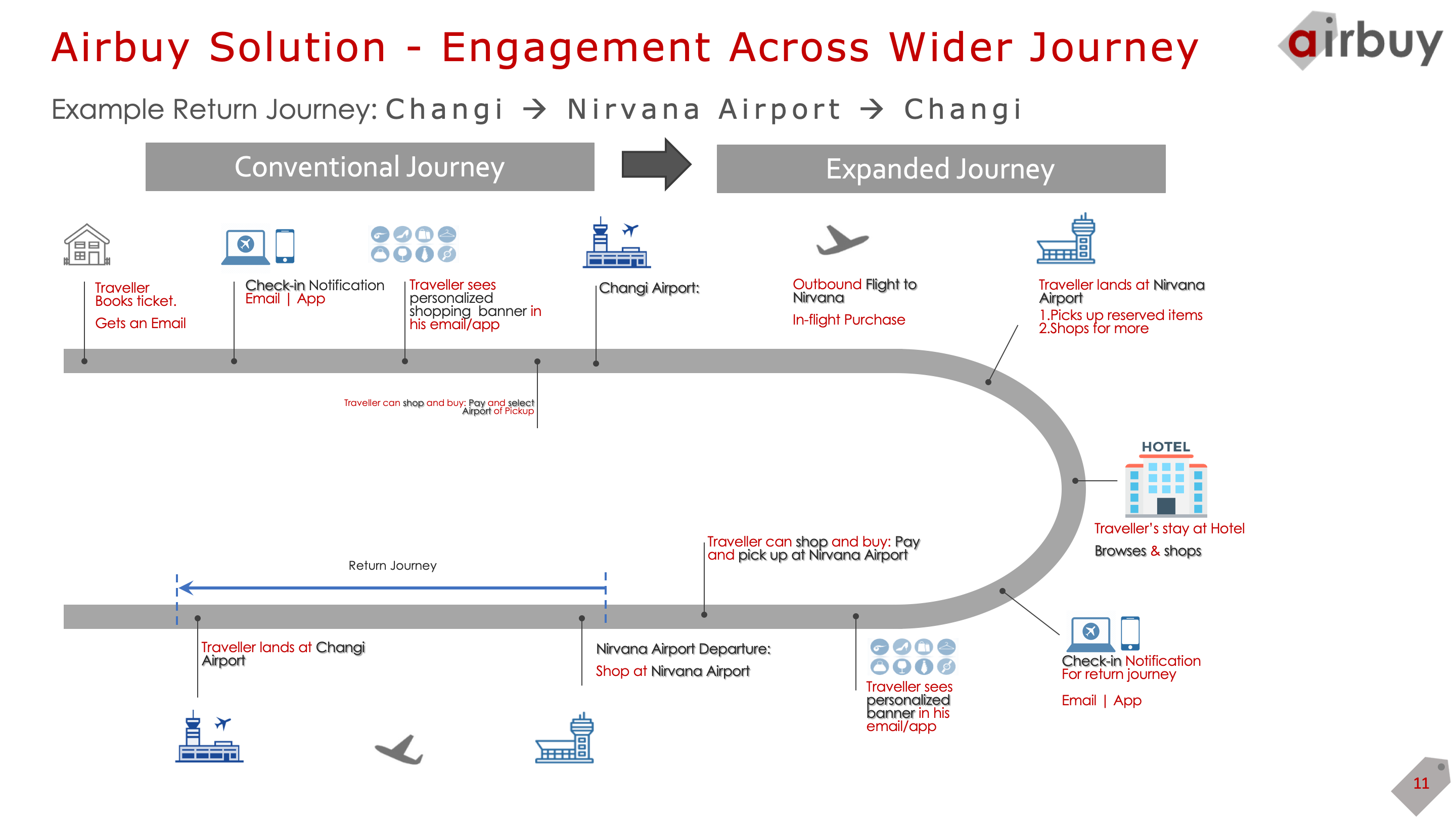 Airbuy is "expanding the shop window beyond the airport"
Next, CapsuleTransit CEO Ryan Loo offered an intriguing solution to the problem of low dwell time at Nirvana Airport: a capsule hotel concept. Crucially, the pods can be located throughout the airport and passengers can choose their timeslots rather than paying for a full night. This will in turn encourage better dwell time and improve commercial revenues at the airport, he argued.
Loo delivered a presentation on CapsuleTransit and enhancing the consumer experience later on Day Two; a full report on that can be read later in this issue.
The judging panel were keen though to find out how CapsuleTransit could work with other stakeholders to stimulate spending during their stay, rather than simply increasing dwell time. Loo agreed that there was potential for passengers to order duty free products – whether on their smartphone or a provided tablet – for pick-up later.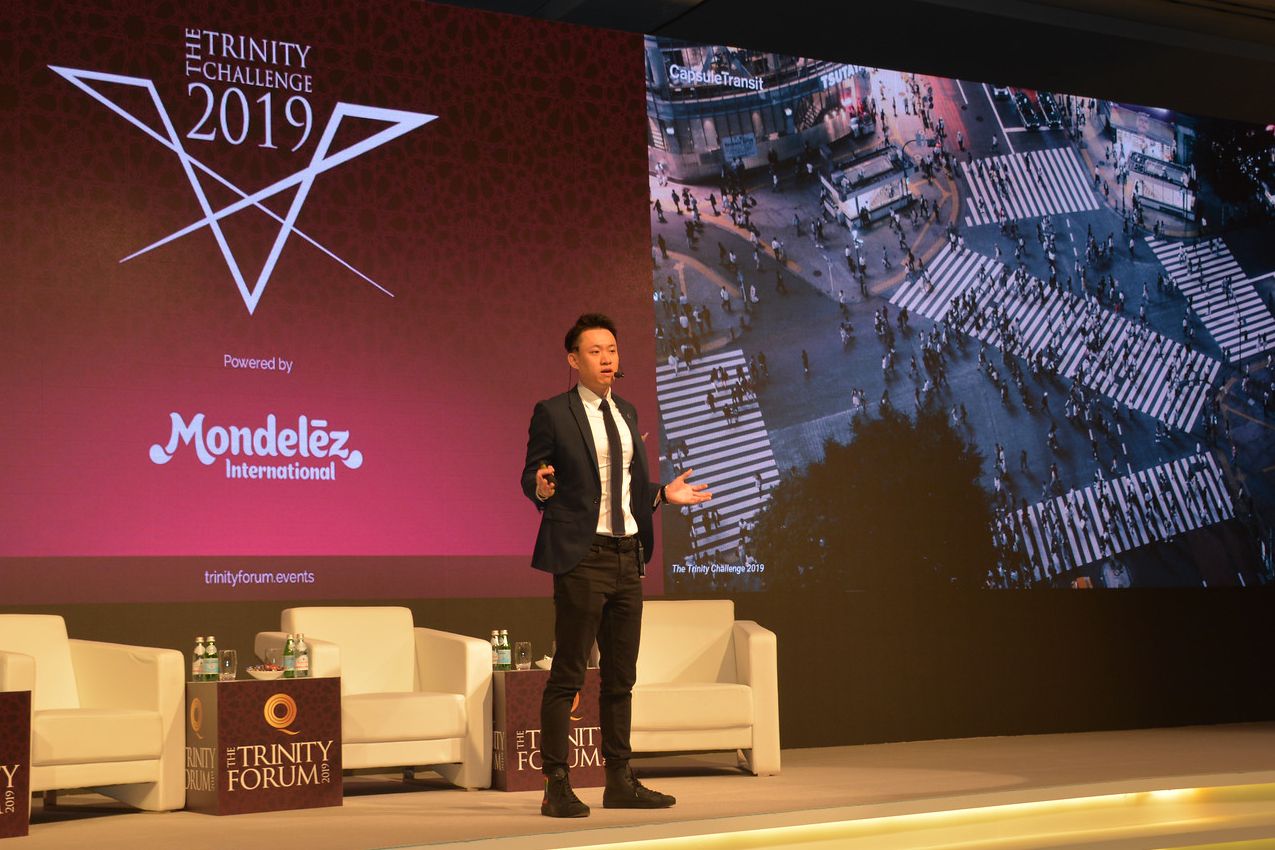 Extended dwell times: Ryan Loo detailed the benefits of his capsule hotel concept
Nirvana Airport offers great shopping options but low commercial revenues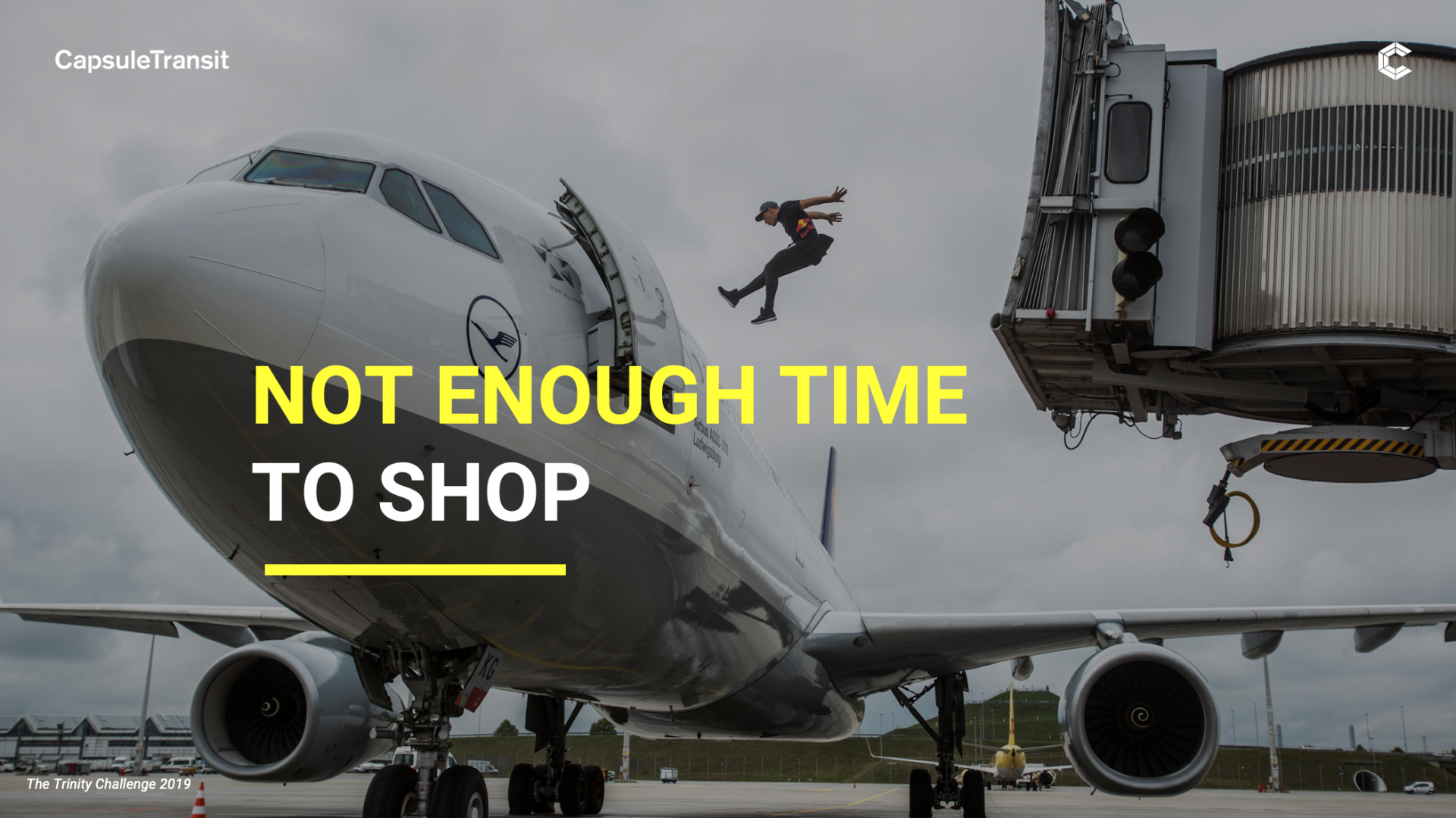 Passengers simply do not have enough time to shop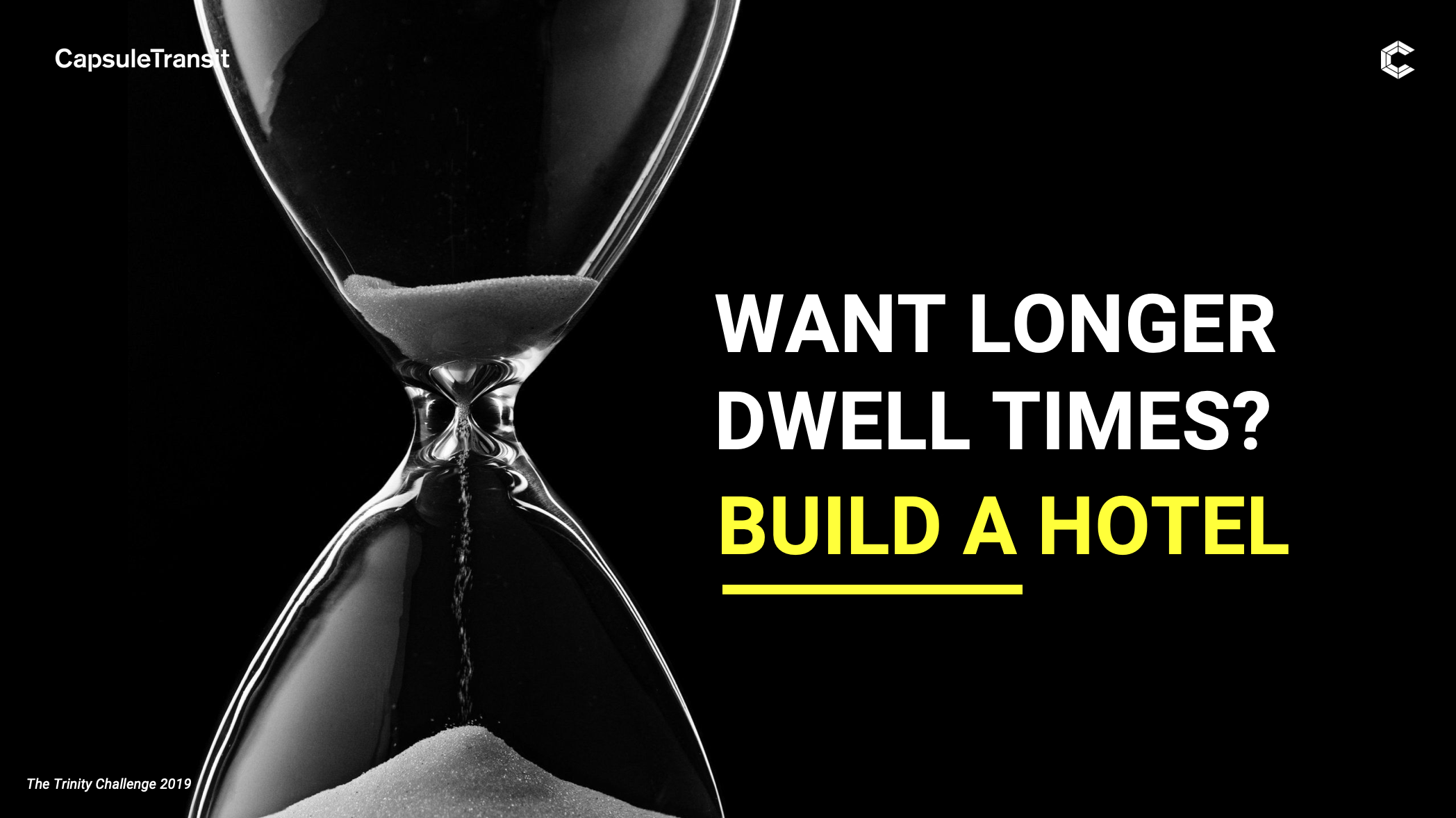 One solution is to build a hotel to increase dwell times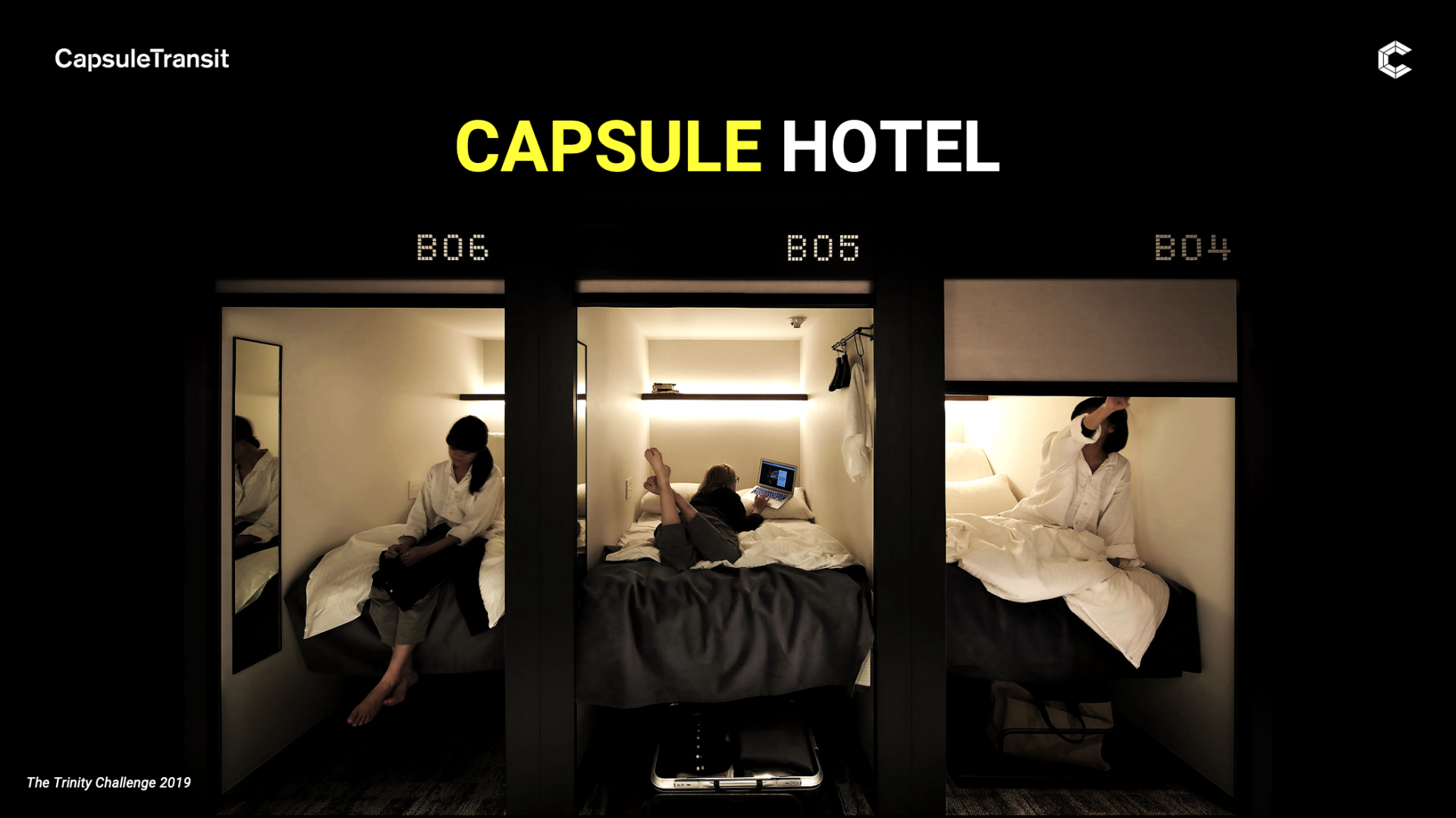 Capsule hotels make the most of space and are highly convenient
Finally, Aircommerce Founder and CEO Melvin Broekaart introduced an artificial intelligence (AI) tool, which seeks to increase penetration "by seducing more passengers to make use of the already existing, amazing commercial venues present" at the airport.
Broekaart questioned whether non-buying customers no longer liked the product assortment at airports – or rather whether they simply did not know the assortment well enough anymore as they were not visiting the stores. Aircommerce creates a "conversational ecosystem" using existing messaging apps to drive engagement, meaning there is no download required.
"Aircommerce informs passengers about airport commercial venues, brands and experiences that can be found on their route to their gate and that truly matter to them," he explained. "The AI-based conversational commerce tool doesn't require any new apps on the passengers' phones and is heavily personalised and self-learning."
Passengers simply start a conversation on existing messaging apps such as WhatsApp by scanning a QR code or clicking a link. QR codes are placed at landside and airside locations throughout the airport. They can instantly receive a special offer, immediately pay from within the conversation and then pick-up in the indicated store.
Broekaart demonstrated an example conversation, emphasising the simplicity and ease of use for passengers. He also presented the business case for the tool, imagining a hypothetical situation where it had been implemented at Nirvana Airport a year ago. "So far it has led to a +5% increase in penetration. There has been strong net profit growth. It also relies on each participant in the Trinity: airports have to place the QR codes, airlines have to share their data, and retailers and brands have to share offers."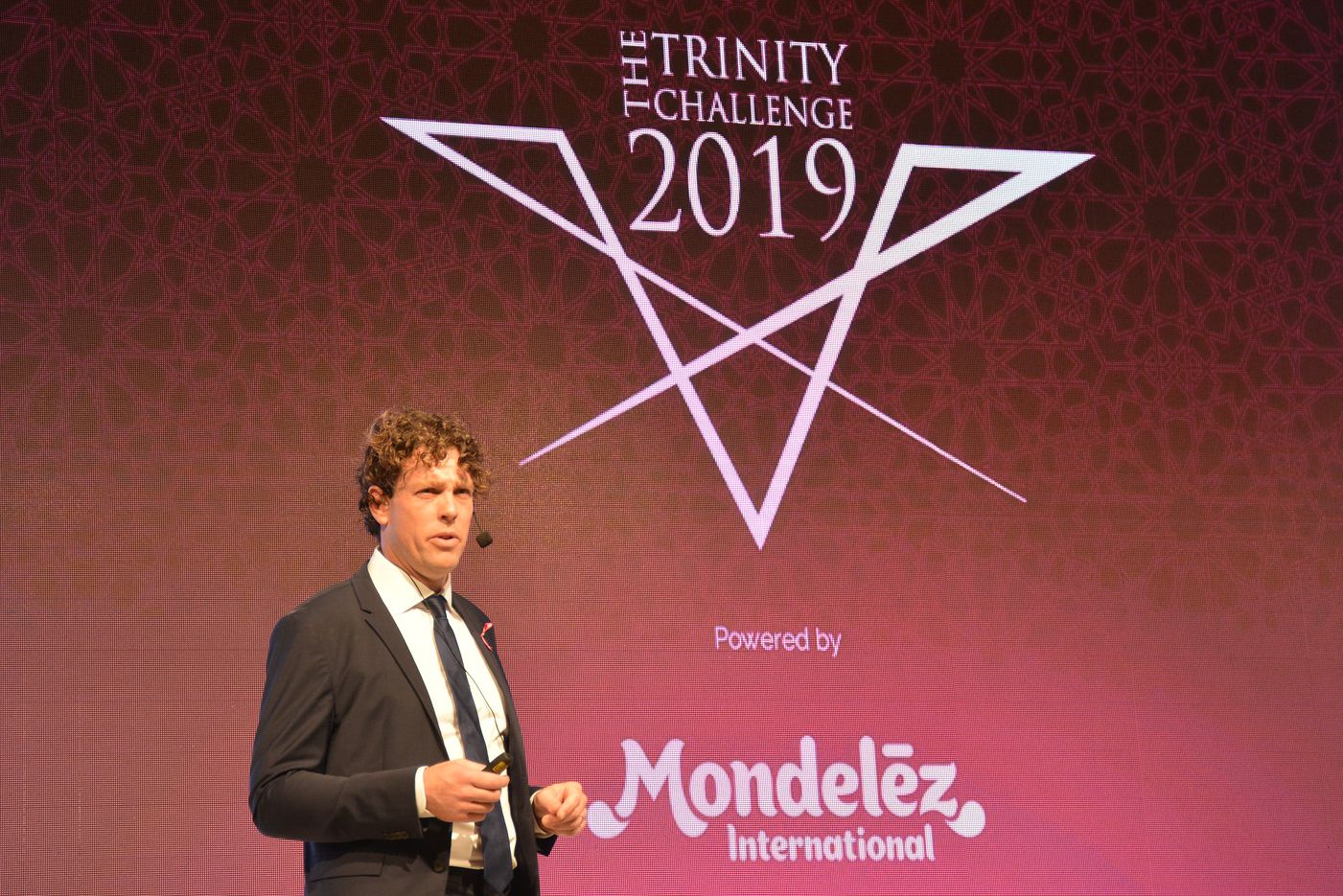 "Aircommerce informs passengers about airport commercial venues, brands and experiences that can be found on their route to their gate and that truly matter to them," says Melvin Broekaart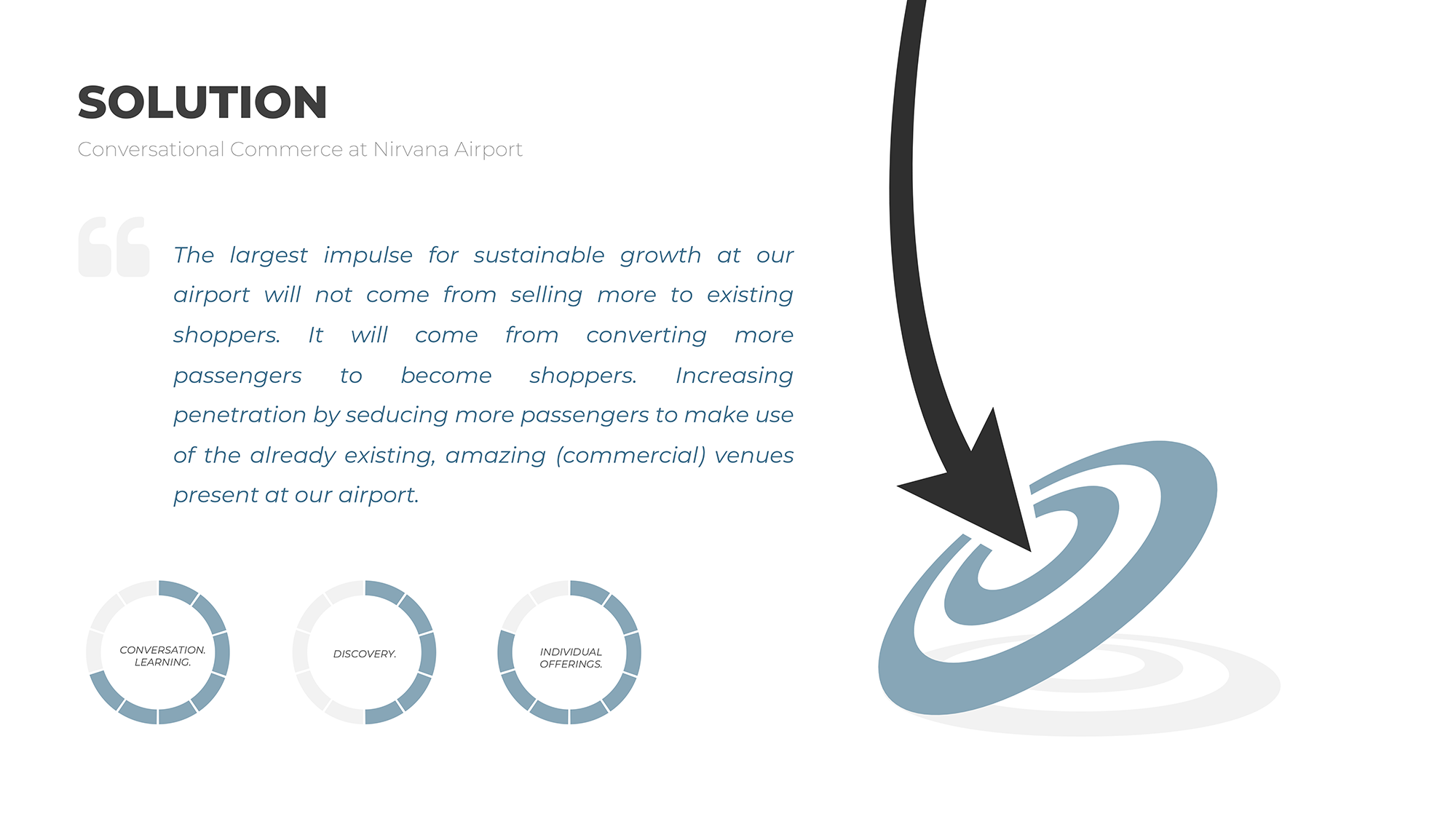 The Aircommerce tool drives consumers to existing retail venues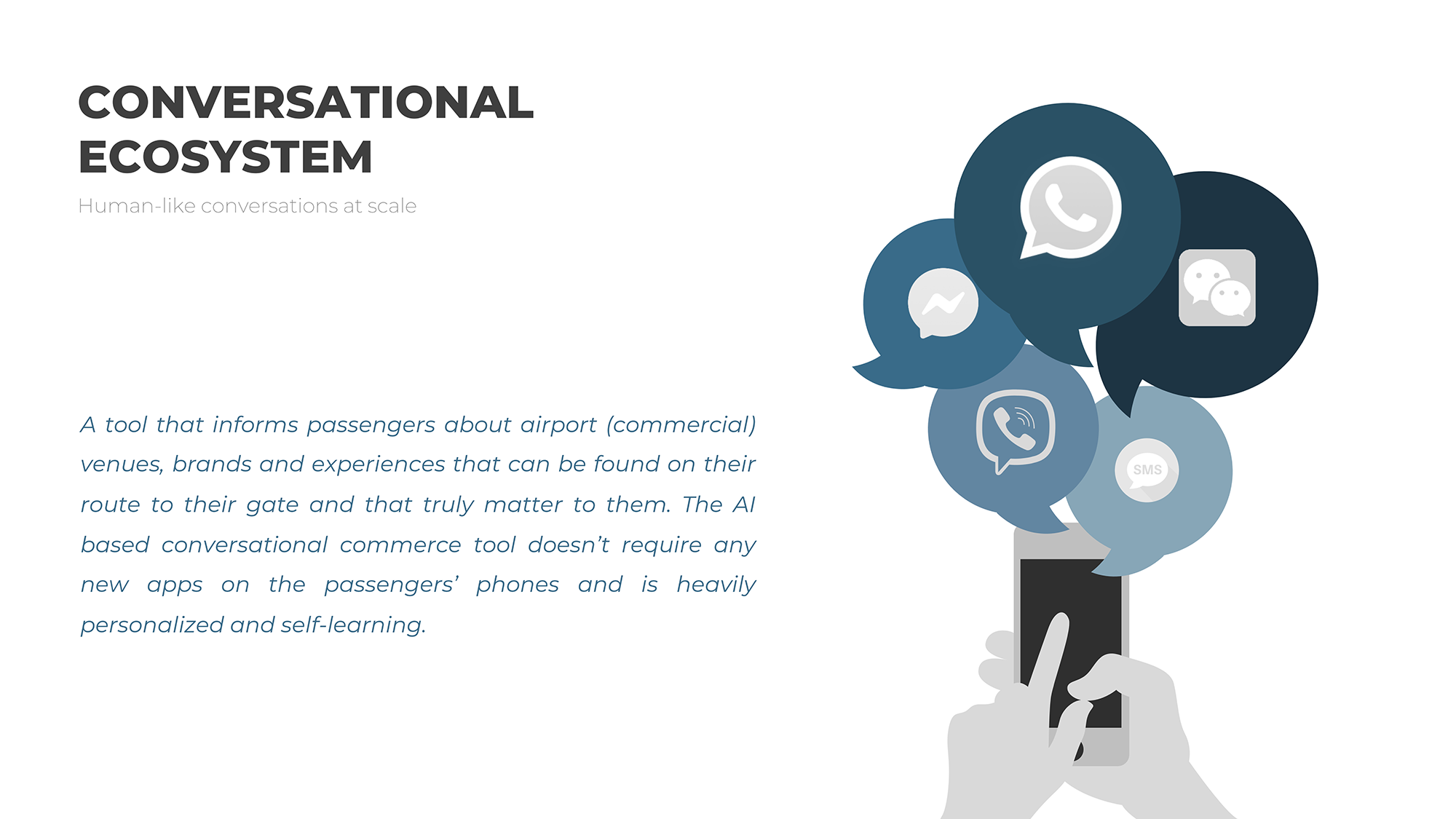 It creates a "conversational ecosystem" using AI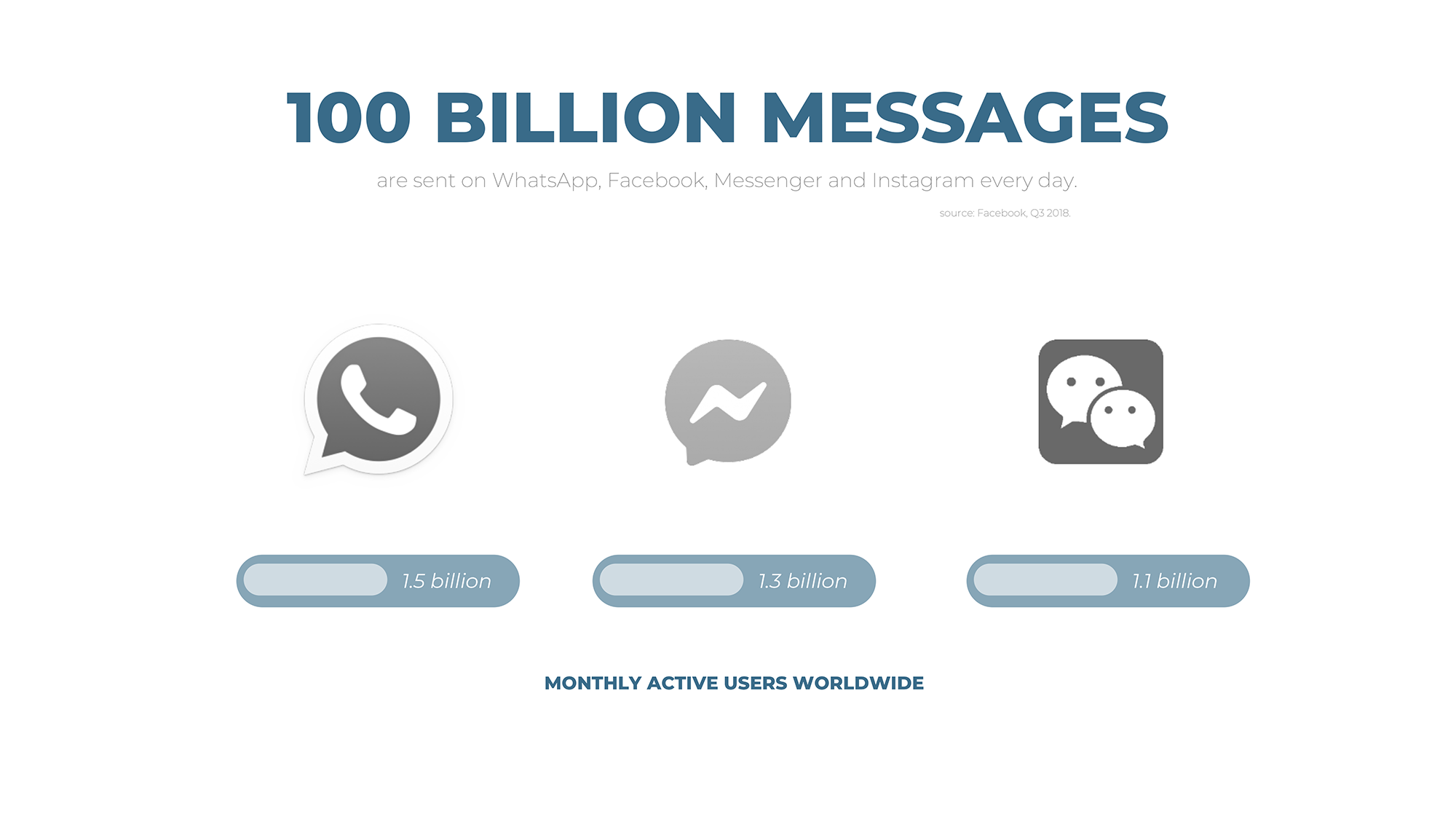 Conversations take place on popular existing messaging apps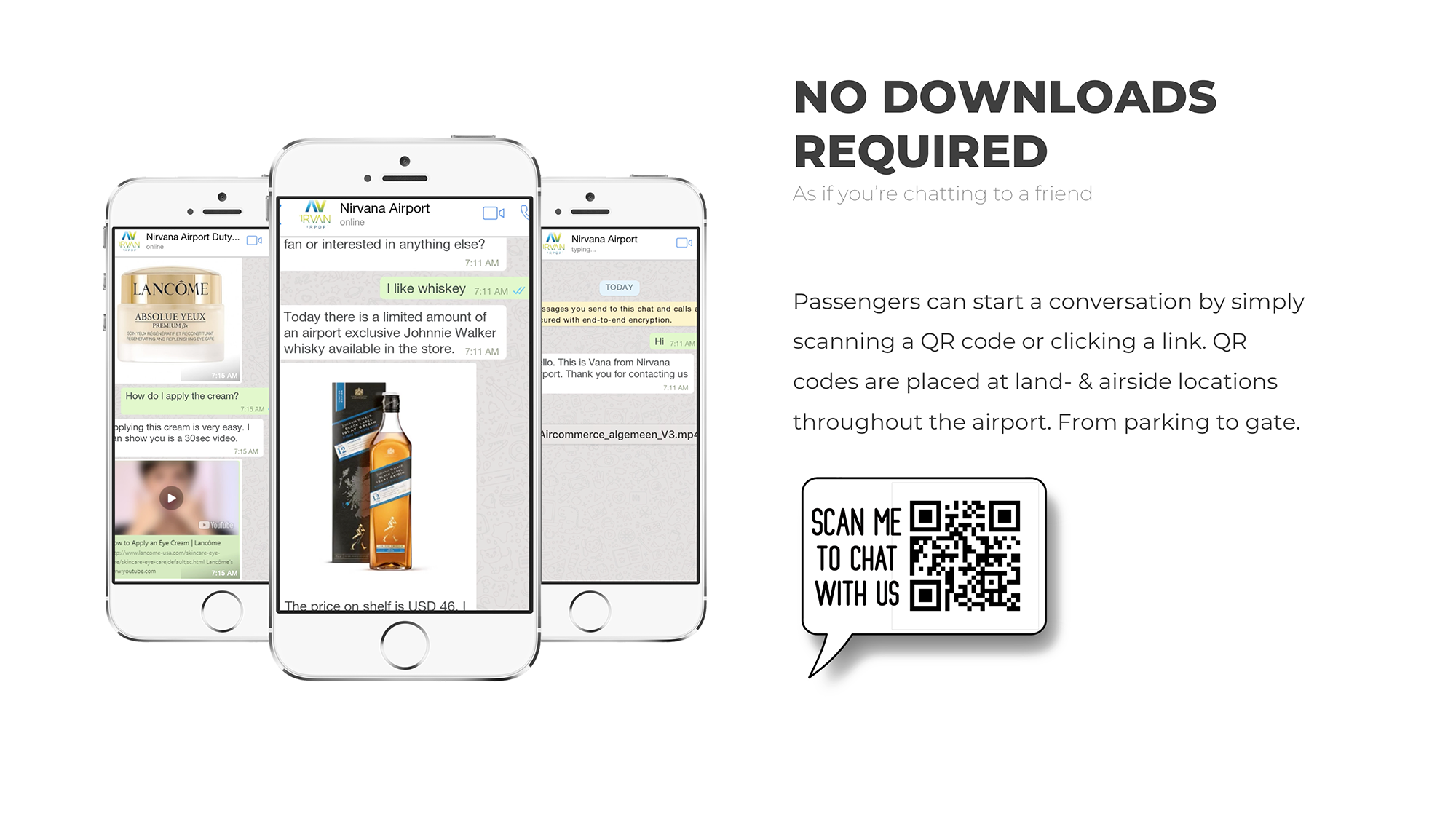 Crucially, no download is required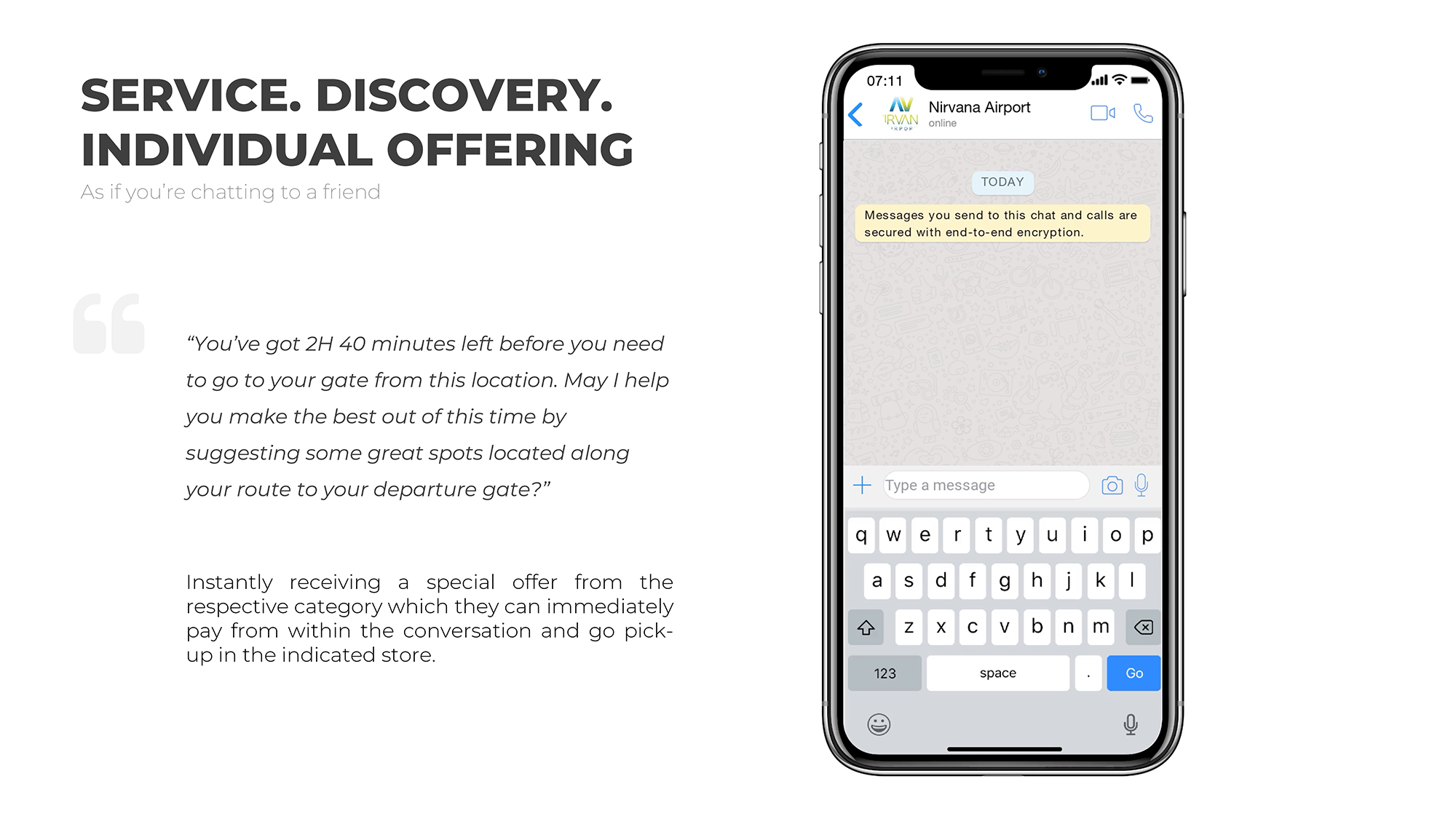 Messages come through "as if you are chatting to a friend"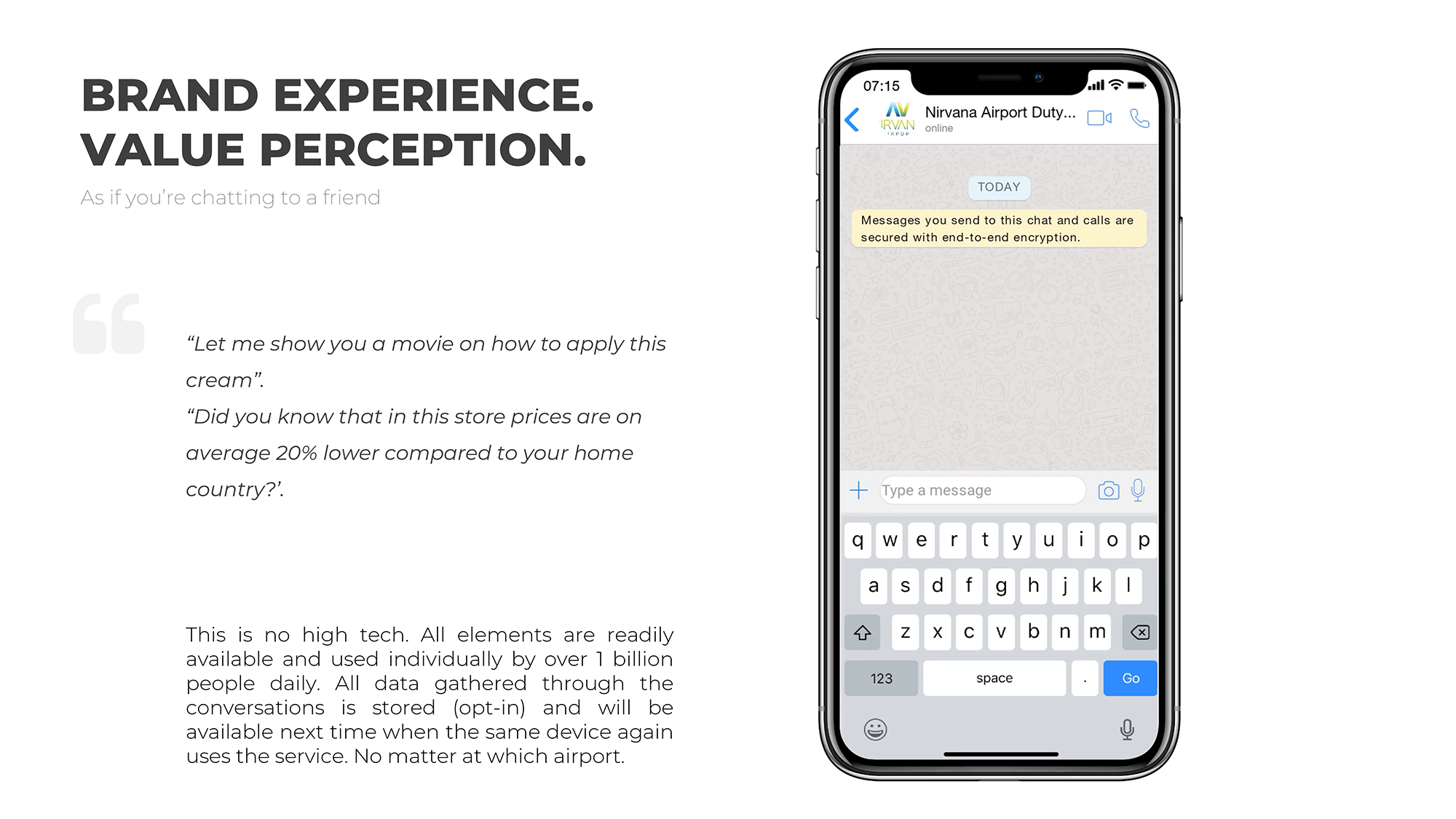 It does not use high tech; all elements are readily available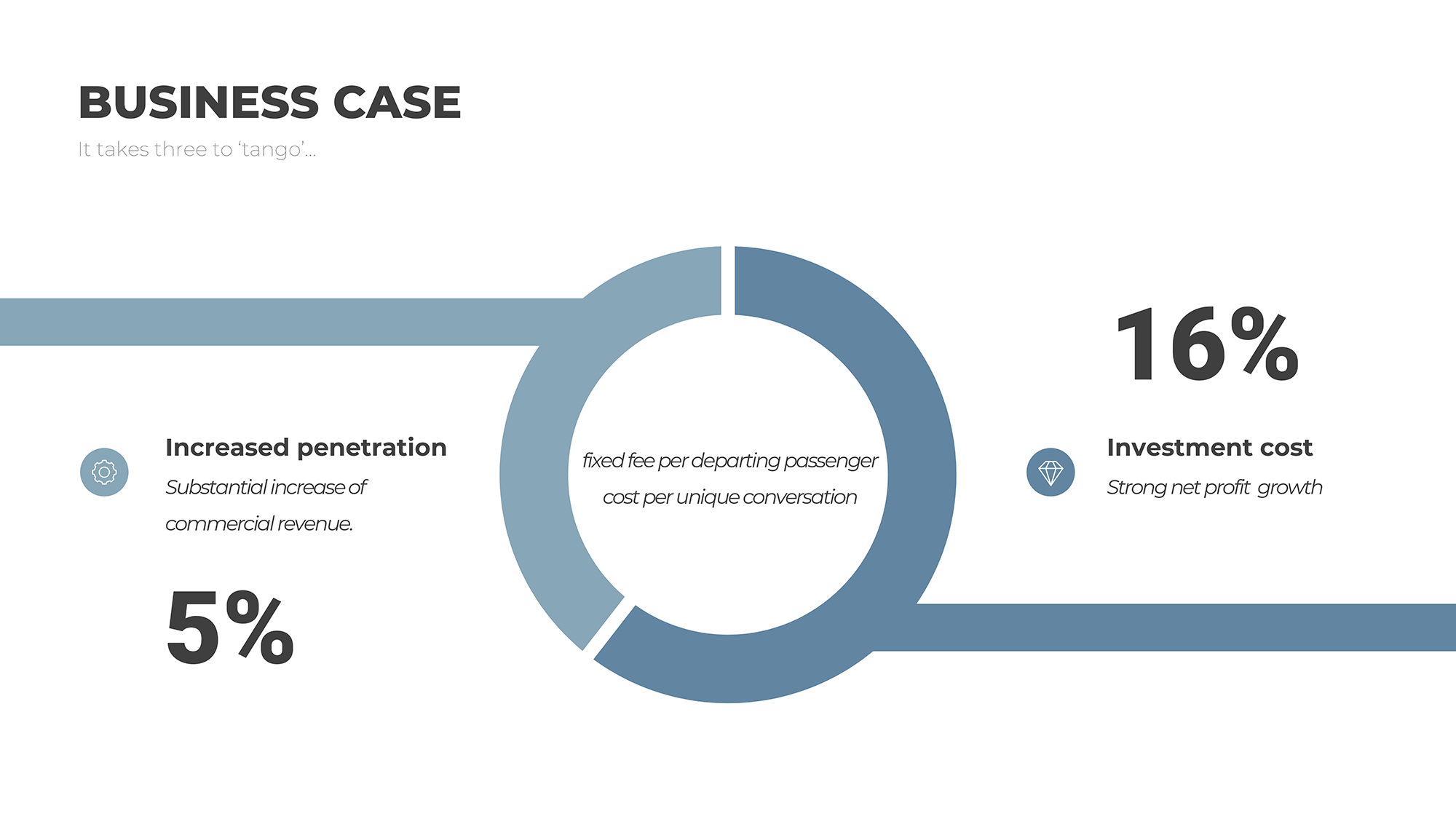 The tool leads to increased penetration, according to Broekaart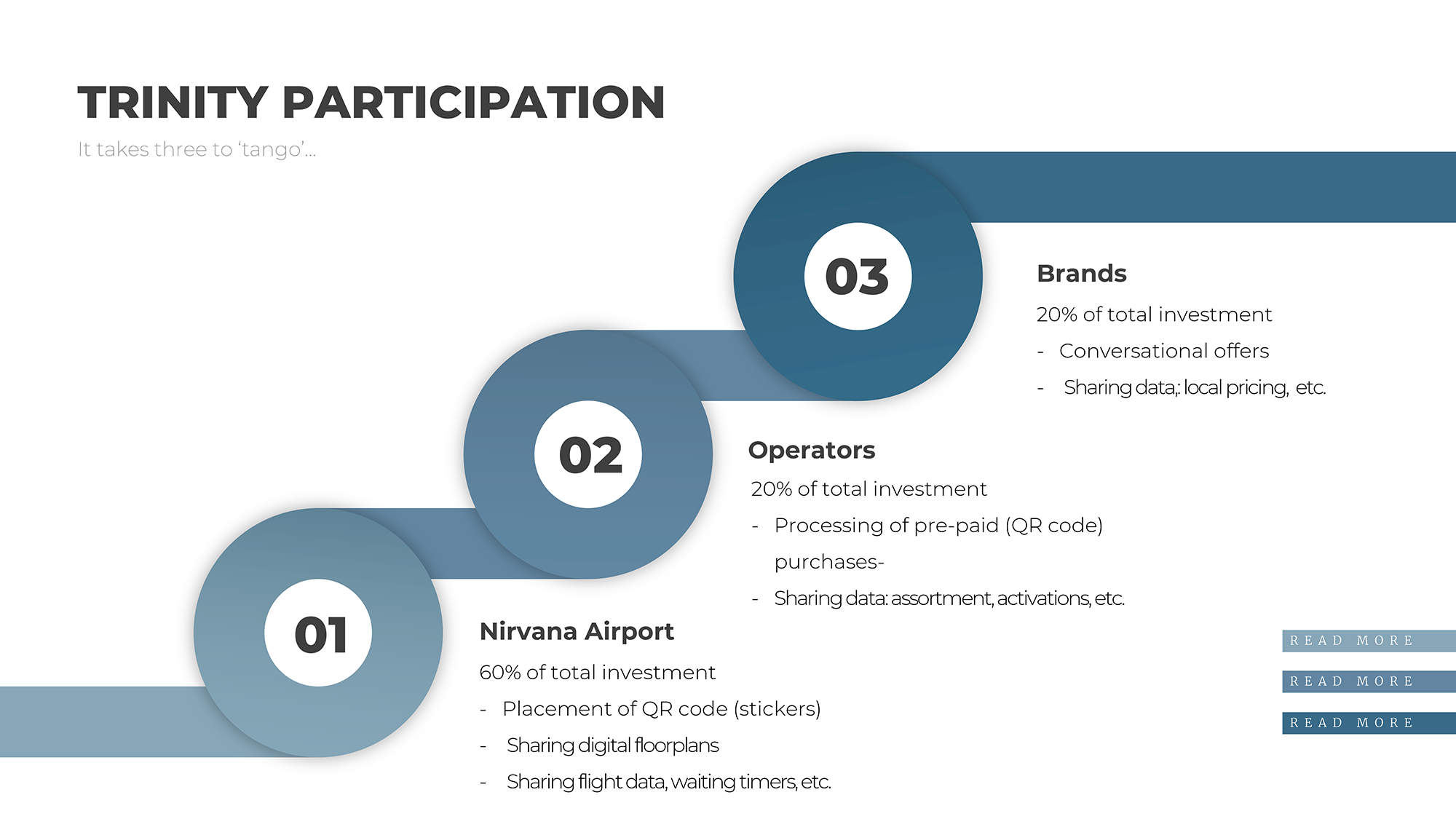 While the participation of all members of the Trinity is required
The simplicity of Broekaart's Aircommerce concept won over the judges (and a public vote by show of hands), who unanimously selected it as the winner. "It talks to passengers in a way they are used to engaging with," said Williams.
Milne added: "It's invisible, which is why I like it. The conversation is conducted in a human way."
Accepting the Trinity Challenge award, Broekaart said the next step was to roll out the solution in airports, and it is ready for large-scale testing.
Some 10,000 children in Cambodia will benefit from Broekaart's win, as that number of books will now be distributed in the country as a result of the winning charity donation. Room to Read aims to help children learn to read in a fun way.
Concluding the session, Singh praised all the shortlisted finalists, saying that combined they could help create a "potential silver bullet solution". "They all mentioned a need to co-create, and this is a function of having all stakeholders involved," he said.
Ten thousand tales: About Room to Read
Think about the power of one book to inspire a child's imagination. Now multiply that by 10,000. With the winning donation, non-profit organisation Room to Read will provide 10,000 books to children across schools in Cambodia. These books have been commissioned by local authors and illustrators and published by Room to Read for their school libraries.
Room to Read's overarching aim is to transform the lives of millions of children in low-income communities by focusing on literacy and gender equality in education. Working in collaboration with local communities, partner organisations and governments, the organisation helps develop literacy skills and a habit of reading among primary school children, and support girls to complete secondary school with the relevant life skills to succeed in school and beyond.
In Cambodia, Room to Read is committed to helping the country rebuild its educational system from the ground up, operating in government schools within Banteay Meanchey, Kampong Cham, Kampong Thom, Prey Veng, Tbong Khmum and Siem Reap.
"Cambodia's young readers lack affordable Khmer-language books. With that in mind, we have prioritised publishing local language children's books since the early days of our operations in Cambodia," Room to Read stated. "Our Literacy Program also establishes school libraries, constructs or renovates school rooms, and trains teachers on a phonics-based approach to literacy instruction."

The Moodie Davitt eZine
Issue 271 | 19 November 2019
The Moodie Davitt eZine is published 20 times per year by The Moodie Davitt Report (Moodie International Ltd).

© All material is copyright and cannot be reproduced without the permission of the Publisher.
To find out more visit www.moodiedavittreport.com and to subscribe, please e-mail sinead@moodiedavittreport.com