Success is never owned, it's rented, and the rent is due every day. That's the approach taken by Duty Free Caribbean's Shawn Alfred – who loves fun but works hard and has a heart of gold.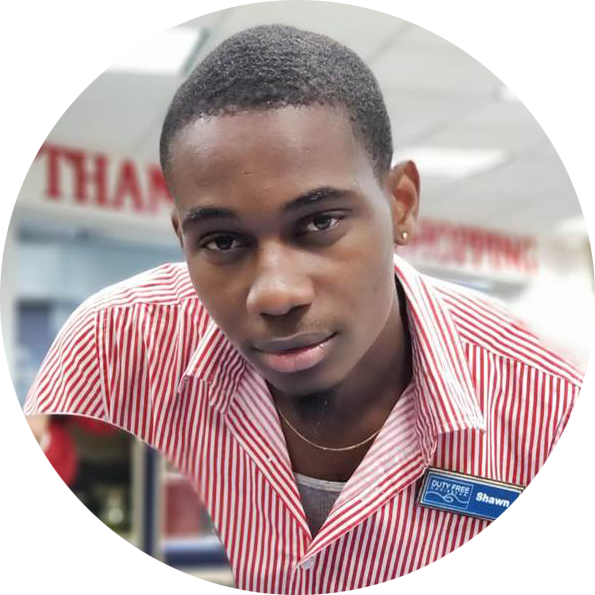 Employer: Duty Free Caribbean La Place Carenage
Employer's comments: Shawn is a hard worker and a charismatic, fun and loving being who has a heart of gold. He commenced his employment at Duty Free Caribbean La Place Carenage as a part-time seasonal employee on 1 November 2015 after leaving a full time employment with a popular wholesale company in St. Lucia.
He was determined to do better and felt that he had much more to offer; hence his decision to risk a full time employment for a part time one. Shawn often expressed to his manager and colleagues that he would give his all to be the best at his job and that once an opportunity presented itself we would have no choice but to rehire him. He was indeed correct!
Shawn worked remarkably well, showed great levels of professionalism, customer service and sales skills throughout his part time stint. At the end of his tenure as a part time employee, an opportunity for a permanent position was available and it was a no brainer to hire him to fill that position as he had acquired the skills necessary to get the job done.
Shawn has since represented the Duty Free Caribbean/Dufry brand well by not only obtaining numerous 'Top Gun', or top sales, certificates, but also by increasing the company's client base both locally and regionally. He leaves that lasting impression with his customers.
Shawn gets the job done and is not afraid to 'go get that money' and go the extra mile. He has taken part in in-store and outdoor promotions to showcase the company's services and goods and has even been a model at the yearly Easter Fiesta fashion show event. Shawn believes that success is never owned, it's rented, and the rent is due every day – so he works hard every day to ensure that he reaps the benefits that he deserves.
Shawn's comments: "My three-year tenure as a permanent sales associate of Duty Free Caribbean has been a life changer. It has made me a more confident person; I am now able to approach any customer and just be myself.
"I have learnt the skill set of upselling, link-selling, cross-selling, merchandising and have become a better sales professional. I have definitely grown in my career choice and that is gratifying. I enjoy and look forward to coming to work and interacting with my internal and external customers.
"This amazing journey was not possible just by myself; it was the hard work and determination of my store manager Vernessa Henry Long, my former supervisor Melissa Millington and my fellow team members who encouraged me and groomed me into becoming the best employee I can be. Moreover I am thankful that I got a chance to be part of such a beautiful team, or should I say, family."
The employee's job title and length of service with your company
A short description of what makes the person exceptional
A quote or comment from them (optional) on their approach to customer service
A picture of the employee (preferably in a work environment) as a separate file

The Moodie Davitt eZine
Issue 271 | 19 November 2019
The Moodie Davitt eZine is published 20 times per year by The Moodie Davitt Report (Moodie International Ltd).
© All material is copyright and cannot be reproduced without the permission of the Publisher.
To find out more visit www.moodiedavittreport.com and to subscribe, please e-mail sinead@moodiedavittreport.com