---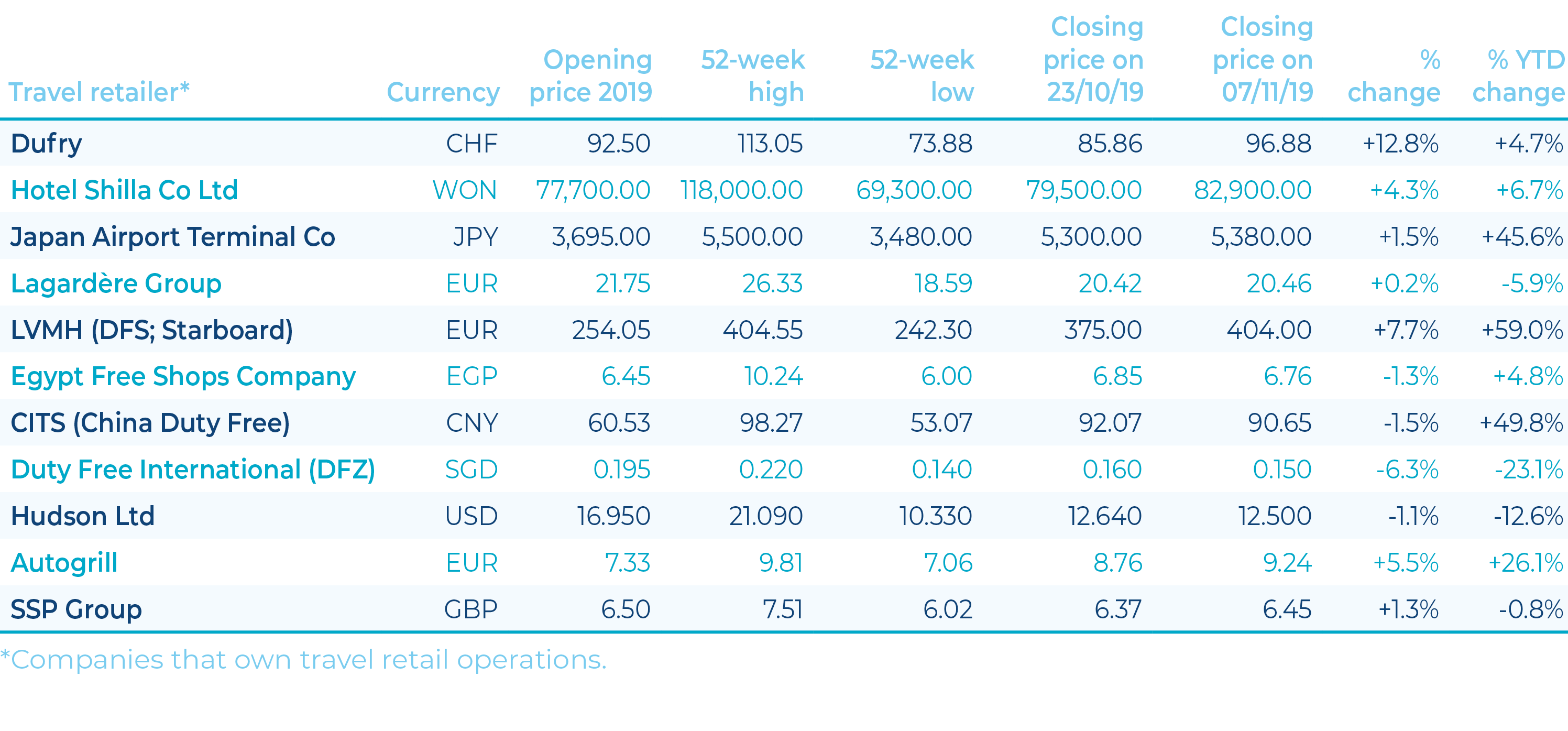 Accelerating third-quarter organic growth helped Dufry post a +1.8% increase in nine-month turnover year-on-year to CHF6,682.0 million (US$6.75 billion) on 5 November. This caused a spike in the company's stock price, from CHF89.82 early in the day (already up from CHF86.46 at the close of 4 November) to a closing price of CHF91.96.
Overall, shares in Dufry jumped +12.8% in the period tracked here (closing prices between 23 October and 7 November).
Dufry's results were buoyed by a solid rise in organic growth for the year to date (+2.9%), to which like-for-like growth contributed +0.1%, showing a major improvement versus the past quarters and turning positive.
"The continuous improvements in the first nine months of 2019, where we reached an organic growth of +2.9%, clearly show that we are on the right track to achieve our targets," said Dufry CEO Julián Díaz. "Excluding South America organic growth for the nine months amounted to +5.4%. These achievements are the result of focused commercial initiatives we have launched in several markets."
Two days after Dufry announced its nine-month results, Lagardère Travel Retail posted a +6.3% year-on-year rise in like-for-like revenue to €1.15 billion (US$1.26 billion) for the three months to the end of September, with growth across all regions.
Overall in the nine months to the end of September, revenue for the duty free retailer was €3.15 billion (US$3.45 billion). This represents +6.4% growth like-for-like and +15.5% consolidated; the difference between like-for-like and consolidated was due to the acquisitions of Hojeij Branded Foods and Smullers, Lagardère said.
Shares in parent company Lagardère Group rose only +0.2% in the period tracked here though, and are down -5.9% since the start of 2019.
Hotel Shilla, parent company of The Shilla Duty Free, posted its financial results in late October. The company recorded a +20.9% year-on-year increase in consolidated sales to KRW1,475.3 billion for the third quarter but operating profit fell -15.6% to KRW57.4 billion.
The Moodie Davitt Report Senior Retail and Commercial Analyst Min Yong Jung noted that despite gaining market share in Korean duty free, costly commissions and promotions offered to Chinese resellers plus a decline in Korean customers eroded profits for the quarter. The company's overseas duty free business was badly hit by falling sales in protest-hit Hong Kong.
Shares in the company rose +4.3% in the period covered, and are up +6.7% since 1 January.
Among the other companies we track, shares in DFS co-parent LVMH were up +7.7%, while shares in Autogrill rose +5.5%.

The Moodie Davitt eZine
Issue 271 | 19 November 2019
The Moodie Davitt eZine is published 20 times per year by The Moodie Davitt Report (Moodie International Ltd).
© All material is copyright and cannot be reproduced without the permission of the Publisher.
To find out more visit www.moodiedavittreport.com and to subscribe, please e-mail sinead@moodiedavittreport.com