---
LVMH gives kiss
of LIFE
Welcome to Duty Calls. This regular feature aims to shine a light on some of the most laudable examples of altruism and sustainability within the travel retail industry by companies that go beyond the call of duty. In this issue, we see how LVMH brands have underlined their commitment to sustainability best practices and to exceed responsible environmental standards. By Colleen Morgan.
This video highlights the Future LIFE programme and the LVMH Group's 25-year commitment to sustainability
LVMH Group has underlined its commitment to sustainability and its brands' aims to uphold the highest level of environmental performance.
As host of a major Future LIFE New York event on 24 October, LVMH highlighted its Initiatives For the Environment (LIFE) programme and the actions taken by its brands in North America.
The event was led by LVMH North America Chairman & CEO Anish Melwani and LVMH Group Senior Vice President of Environment Sylvie Bénard. It featured presentations and panel discussions by senior leaders of a number of LVMH's brands, including Louis Vuitton, Sephora, Benefit Cosmetics, Fresh, Marc Jacobs and Colgin Cellars.
Each company discussed sustainability best practices and steps they have taken to meet and exceed responsible environmental standards in areas ranging from product eco-design, sourcing, and waste management, to energy consumption in stores and at production sites.
Sephora US noted that all of its stores, headquarters and distribution centres are using 100% renewable energy.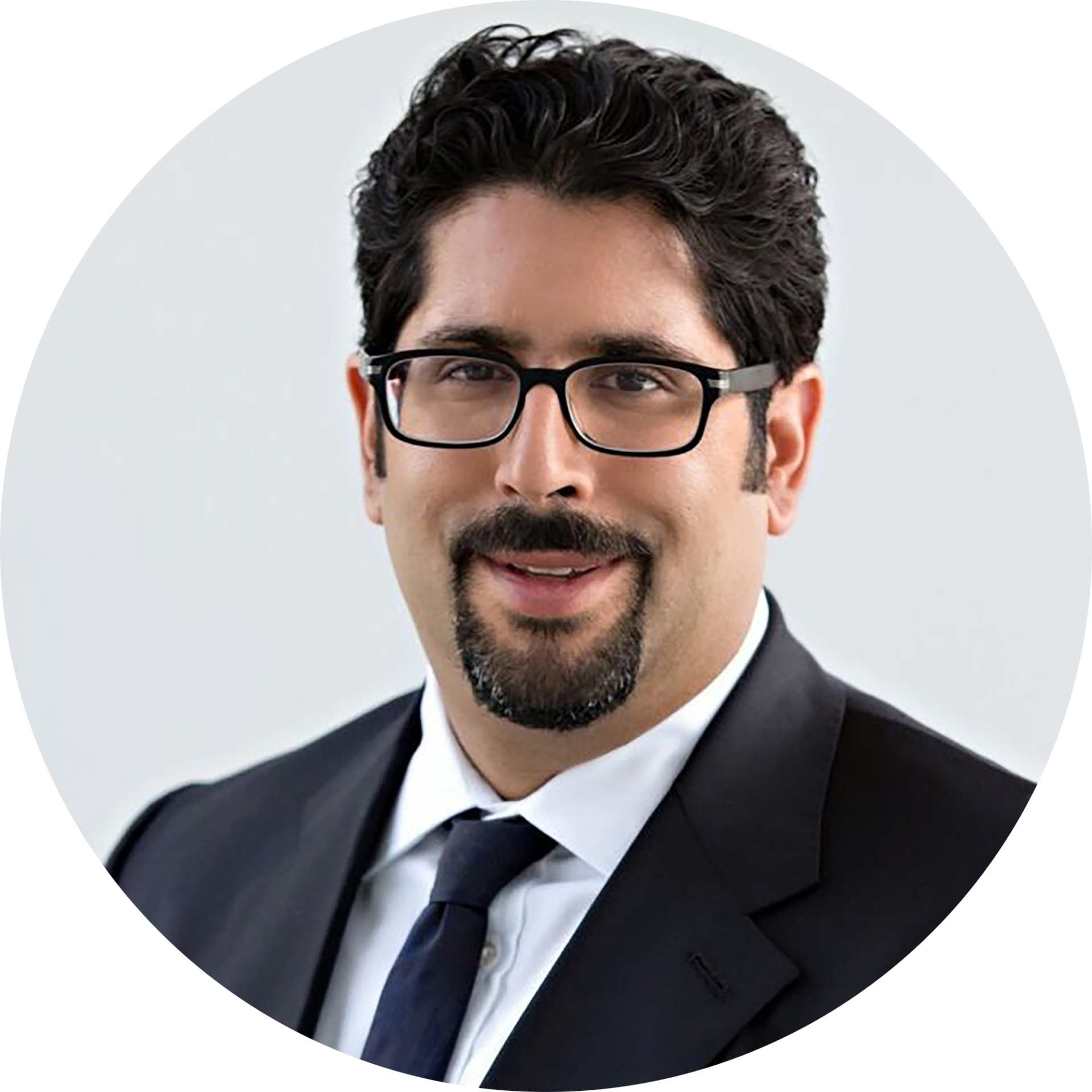 LVMH North America Chairman & CEO Anish Melwani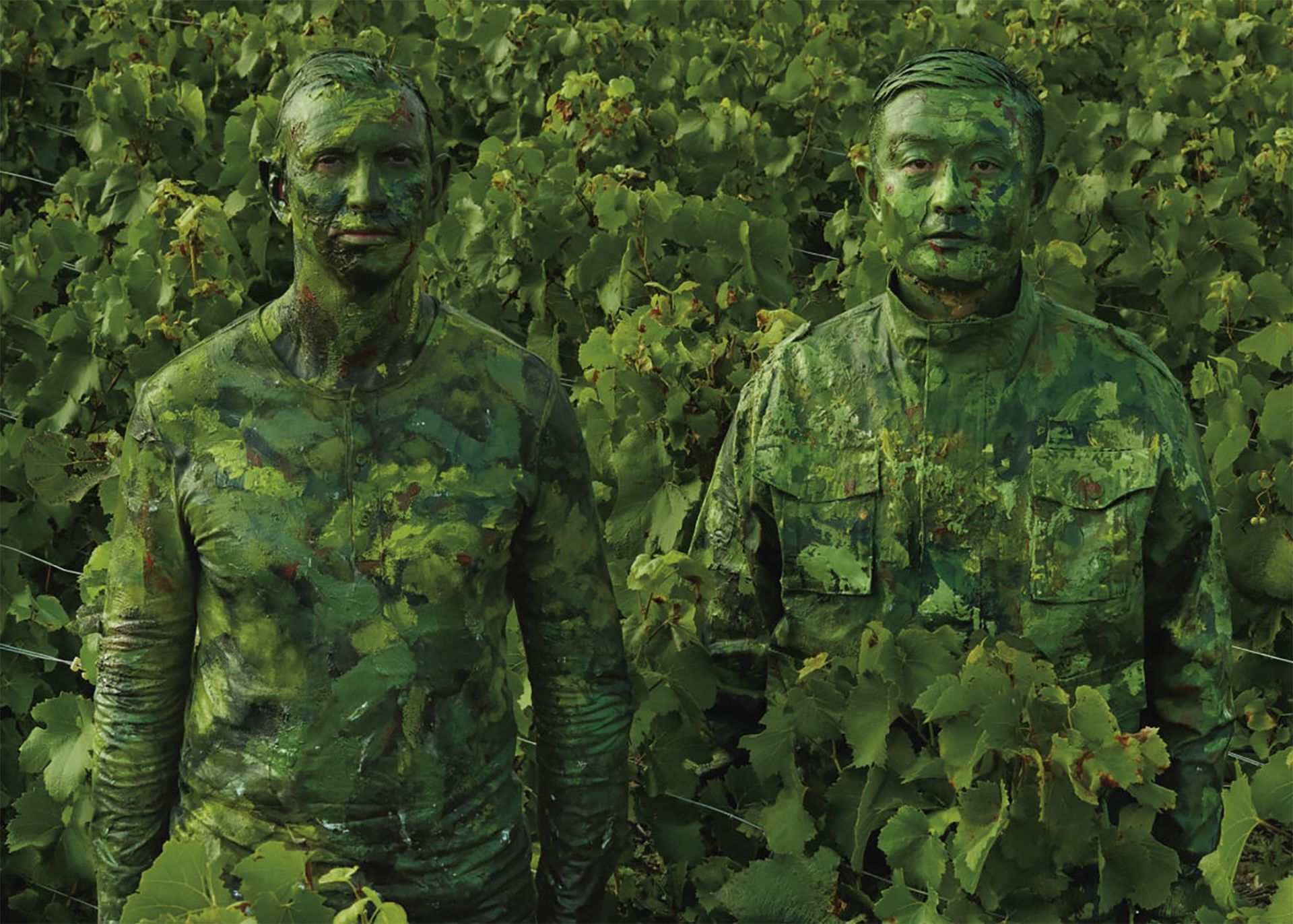 Going green: The cover of LVMH Group's 2018 sustainability report. Photo: Maison Ruinart, © Liu Bolin
Going green: The cover of LVMH Group's 2018 sustainability report. Photo: Maison Ruinart, © Liu Bolin
Women's luxury ready-to-wear and accessories designer Gabriela Hearst was a special guest at the event. Hearst's namesake brand, which is regarded as one of the leading emerging brands in environmental responsibility, gained the backing of LVMH Luxury Ventures earlier this year. The fund supports "already iconic" emerging brands.
"The US is a key market for LVMH," Melwani said. "It is the largest single market for us globally, with strong continued growth potential.
"The environment is a major focus for our people here, and this forum is an opportunity for them to share their perspectives and celebrate the actions already being taken to enhance sustainability across their businesses. We are proud to see our American Maisons so committed to this goal."
At Future LIFE New York, LVMH North America Chairman & CEO Anish Melwani and Sylvie Bénard, LVMH Group Senior Vice President Environment, welcomed senior executives from LVMH Maisons in New York to highlight environmental initiatives
LIFE PROGRAM DYNAMICS
In 2015, all the Houses incorporated LIFE into their strategic plan. A source of innovation and creativity, it speaks a common language that heavily involves senior management. All actions are consolidated by the Group and are supported by LVMH's Environment Department.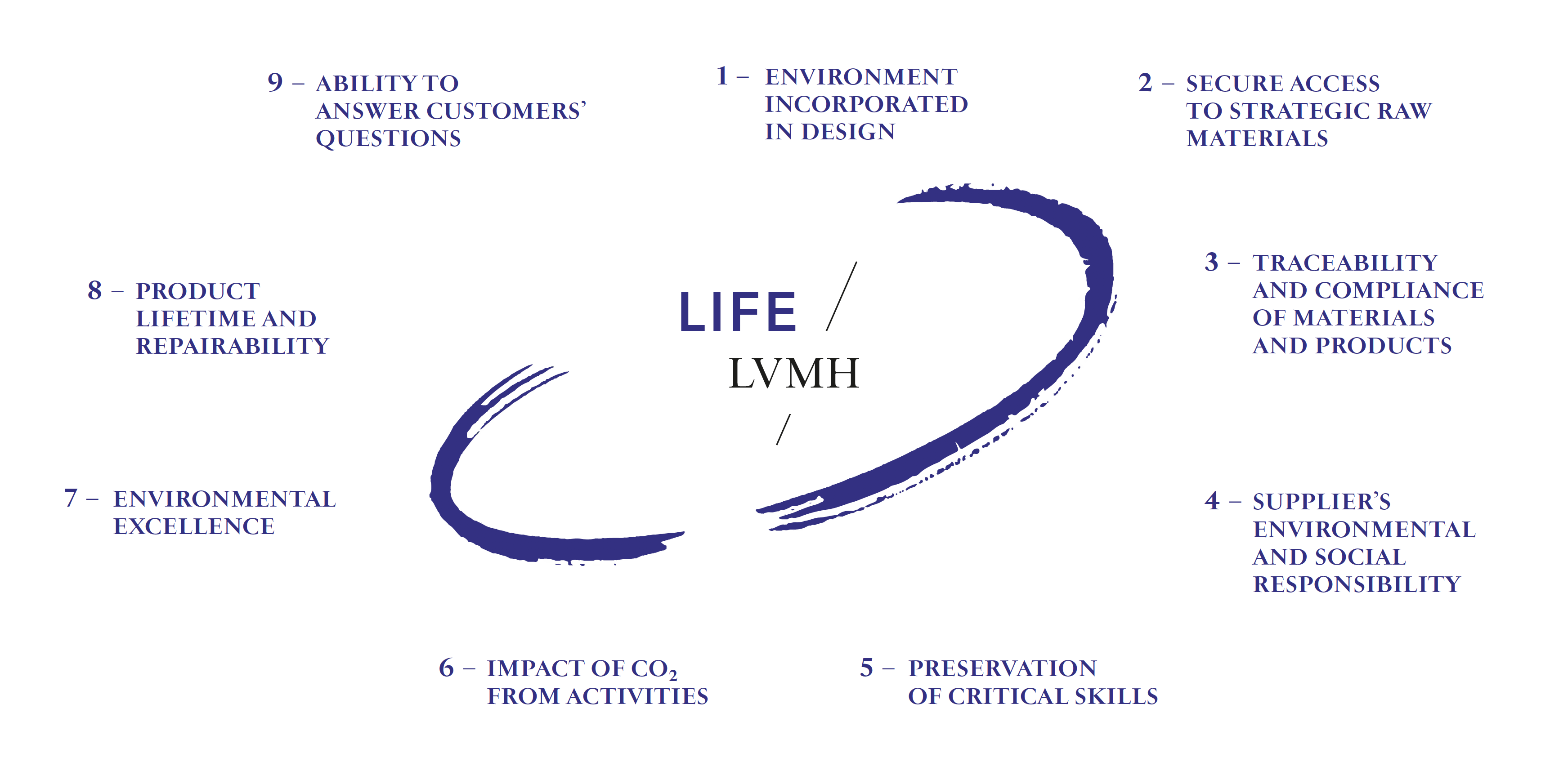 Circle of life: The key objectives of the LIFE 2020 programme
LVMH reaffirmed commitments made at a Future LIFE event held in Paris on 25 September, reiterating that it is ahead of its sustainability roadmap and close to achieving the 2020 LIFE objectives this year.
"LVMH has been engaged in protecting the environment for more than 27 years, pursuing a long-term vision through a holistic and science-based approach," the group stated, adding that it "assumes a responsibility for exemplary performance in all aspects of environmental sustainability".
The LIFE programme was created in 2012 and implemented in the sourcing of raw materials, products' conception, production and retail operations of all of LVMH's brands.
With just a few months to go until 2020, LVMH said the Future LIFE events provided an opportunity to highlight the Group's accomplishments in four fields – Products, Supply Chain, CO2 and Sites.
The group highlighted examples which demonstrate its brands' "environmental dynamics".
Renewable energy:

With renewable energy already representing 27% of LVMH's energy mix in 2018, the 2020 target of 30% is likely to be exceeded.

CO2 emissions:

The Group is on track to meet the target of reducing its CO2 emissions by -25% by 2020.

LVMH Carbon Fund:

Financed 112 CO2-reducing projects in2018.

Waste management:

91% of waste was reused, recycled or transformed into energy in 2018.
Bénard commented: "Following the progress report on our 2020 LIFE objectives and the launch of new initiatives in Paris last month, it made perfect sense to choose the US to hold this event.
"Our Maisons here have long been committed to environmental matters, and we are pleased to give them a platform to share so many testimonials about the initiatives they are pursuing within the framework of LVMH's LIFE programme."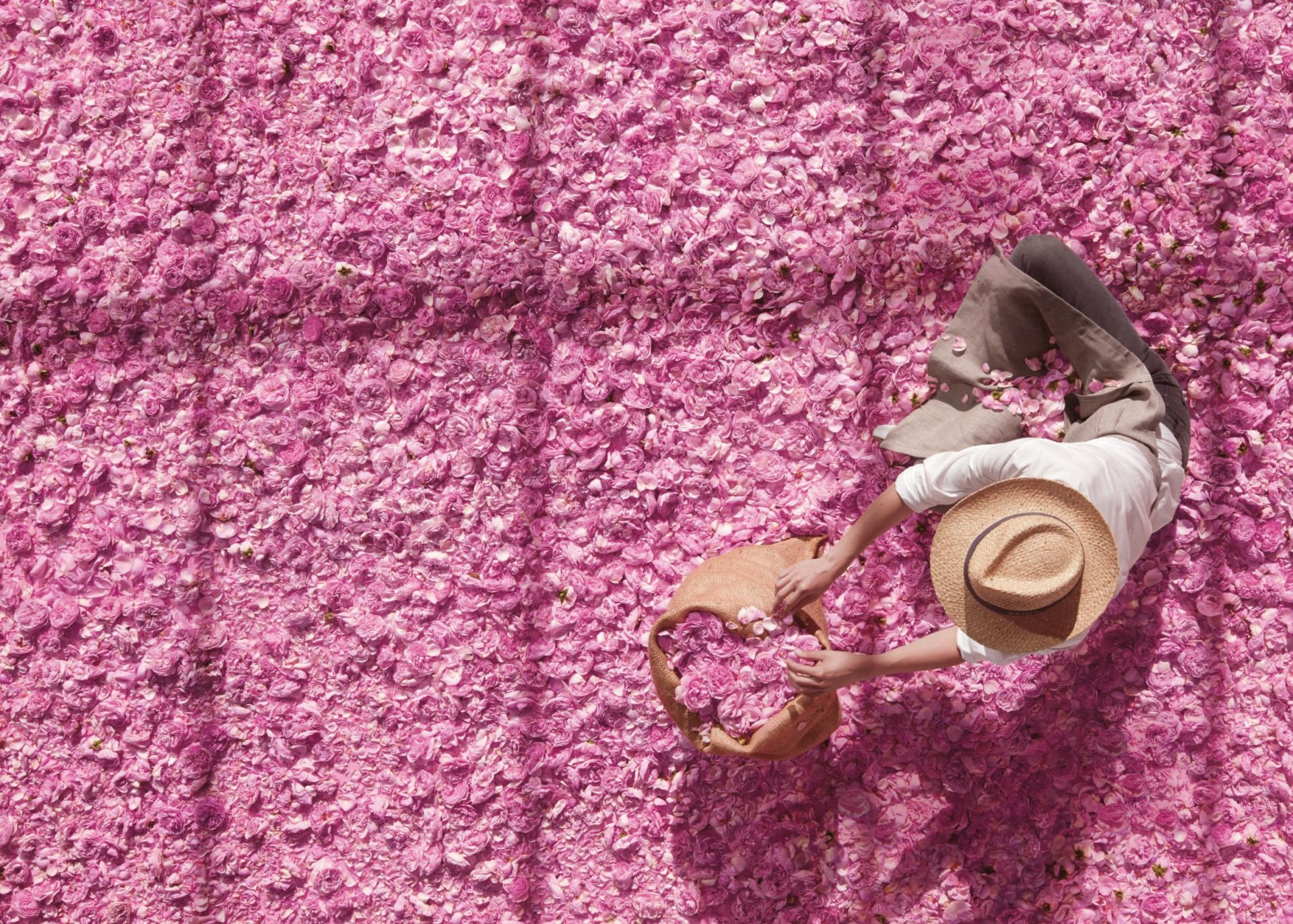 In 2018, LVMH made further progress toward its goal: environmental excellence. Thanks to the commitment of its Houses, the mobilisation of its 156,000 employees, and the momentum generated by LIFE 2020, progress was significant in the four areas the Group's ambitions for 2020 fall under: products, supply chains, sites, and the reduction of greenhouse gas emissions to combat climate change. Photo © Pierrick Jégou
LVMH recently announced new strategic partnerships to support the Group in its sustainability and biodiversity efforts. A €10 billion investment in Amazon emergency aid and preservation includes a Man and Biosphere collaboration between UNESCO and LVMH.
Another partnership, with the Solar Impulse Foundation, aims to identify innovative and efficient clean technologies to combat environmental issues.
LVMH identified four key LIFE 2020 objectives:
Product:

A +10% improvement in Environmental Performance Index (EPI) of LVMH Group products.

Supply Chain:

LVMH will monitor more closely the traceability and conformity of the raw materials used to create its products while preserving natural resources and applying the highest standards across 70% of procurement chains, and across 100% of procurement chains by 2025.

CO2 objective:

The Group will reduce its CO2 emissions by 25% by 2020, pursuing initiatives introduced to fight climate change.

Sites:

All sites will target an improvement of at least +10% in environmental performance at all sites and stores (water, energy, waste).
LIFE 2020 OBJECTIVES

The Moodie Davitt e-Zine Duty Calls feature highlights environmental and socially responsible initiatives around the globe where people and the planet are the priority. If you have CSR projects, big or small, that you would like featured in Duty Calls, please contact Jason Holland at Jason

The Moodie Davitt eZine
Issue 271 | 19 November 2019
The Moodie Davitt eZine is published 20 times per year by The Moodie Davitt Report (Moodie International Ltd).
© All material is copyright and cannot be reproduced without the permission of the Publisher.
To find out more visit www.moodiedavittreport.com and to subscribe, please e-mail sinead@moodiedavittreport.com