On location: KrisShop launch
---
KrisShop reimagines inflight retail
Inflight shopping reborn as an omnichannel marketplace with the airline centre stage in the travel retail channel instead of a fringe player in inexorable decline.
That was the message last month as KrisShop's joint venture partners – national carrier Singapore Airlines, travel retailer 3Sixty and ground services provider SATS – unveiled a new-look omnichannel platform that will "help redefine travel retail in years to come", in the words of KrisShop Chief Executive Officer Chris Pok.
The Moodie Davitt Report Founder and Chairman Martin Moodie was on location at the spectacular launch at Raffles Hotel, Singapore to provide exclusive coverage of one of travel retail's most significant innovations of recent times.
Prologue: Forget all the dismal talk over recent years of inflight retail being a sector in relentless decline. 'Opportunity' was the mantra as KrisShop Chairman and Singapore Airlines Senior Vice President Sales & Marketing Campbell Wilson celebrated the relaunch last month in Singapore of the KrisShop brand and website.
"We saw an opportunity in the trends towards online shopping and technological advancements that allowed more personalised omnichannel sales and fulfilment," Wilson (see interview on following page) told guests during the celebratory event at Raffles Hotel, a splendidly appropriate venue given its own iconic Singaporean status and recent reopening after a lengthy closure for refurbishment.
"We saw opportunity in our huge customer database of more than 35 million people; our personalised marketing technology; our global reach; and our logistics capabilities.
"We saw opportunity in a substantial currency form via the miles held by our frequent fliers, which currently exceeds more than S$600 million in value. This can obviously be spent on goods and services as well as flights.
"We saw opportunities in the audience sitting in front of their personal inflight entertainment screen hour after hour, day after day as they travel across the world," Wilson continued.
"So together with our partners, SATS and 3Sixty, we're bringing all these assets together to seize the opportunity by transforming KrisShop from an outsourced concessionaire focusing principally on inflight retail and sales to an omnichannel e-retailer, fully supported by all the shareholders' resources."
In celebration of the launch, KrisShop curated a pop-up exhibition divided into several experiential zones, each showcasing a different retail feature of KrisShop.com.
KrisShop.com is a shopping platform for our times. It enables customers to order merchandise up to just 60 minutes before flight departure with delivery of a wide range of goods direct to their seat.
The platform, slick and as easy on the eye as it is to use, also offers a much-expanded range of goods and services, while addressing many of the key contemporary themes of travel retail – personalisation, customisation, CSR, localisation and provenance key among them.
Underpinned by AOE's OM³ back end programme for the ecommerce platform (see page 14), KrisShop effectively rewrites the rules of airline retail. Wilson's repetition of the word "opportunity" was both deliberate and appropriate. Here is an airline that has seen threat, smelled disruption and turned them instead into a vibrant positive.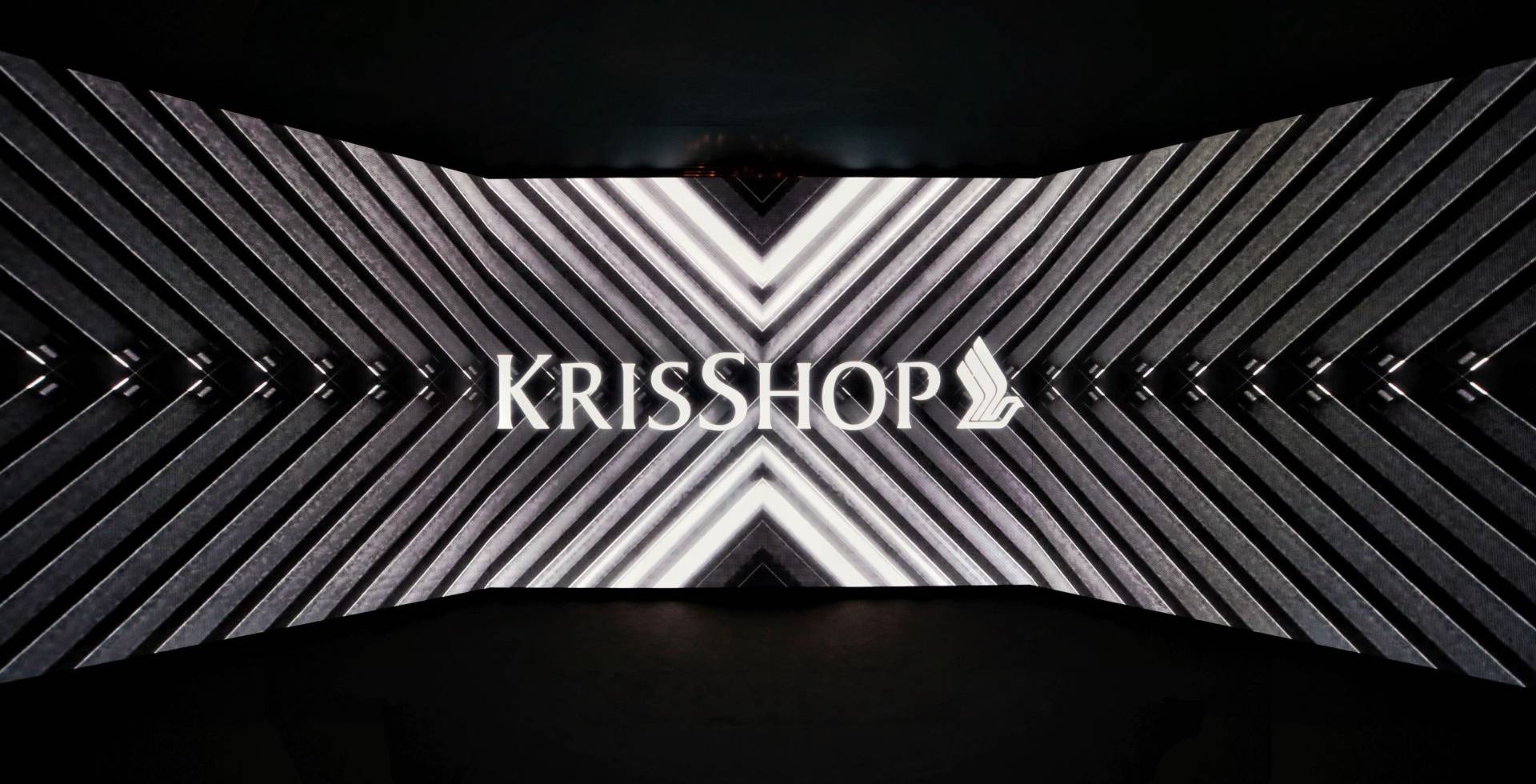 Pop-up exhibition: An immersive LED room highlighted the KrisShop experience
If you're going to make a statement about the future of airline retail in the digital age, make it immersive, make it sensorial, make it engaging. That was the philosophy that underpinned the KrisShop relaunch last month. The event featured an experiential tour for media, trade and KOLs that showcased the new retail platform through a spectacular pop-up exhibition highlighting some of the goods, services and concepts on offer.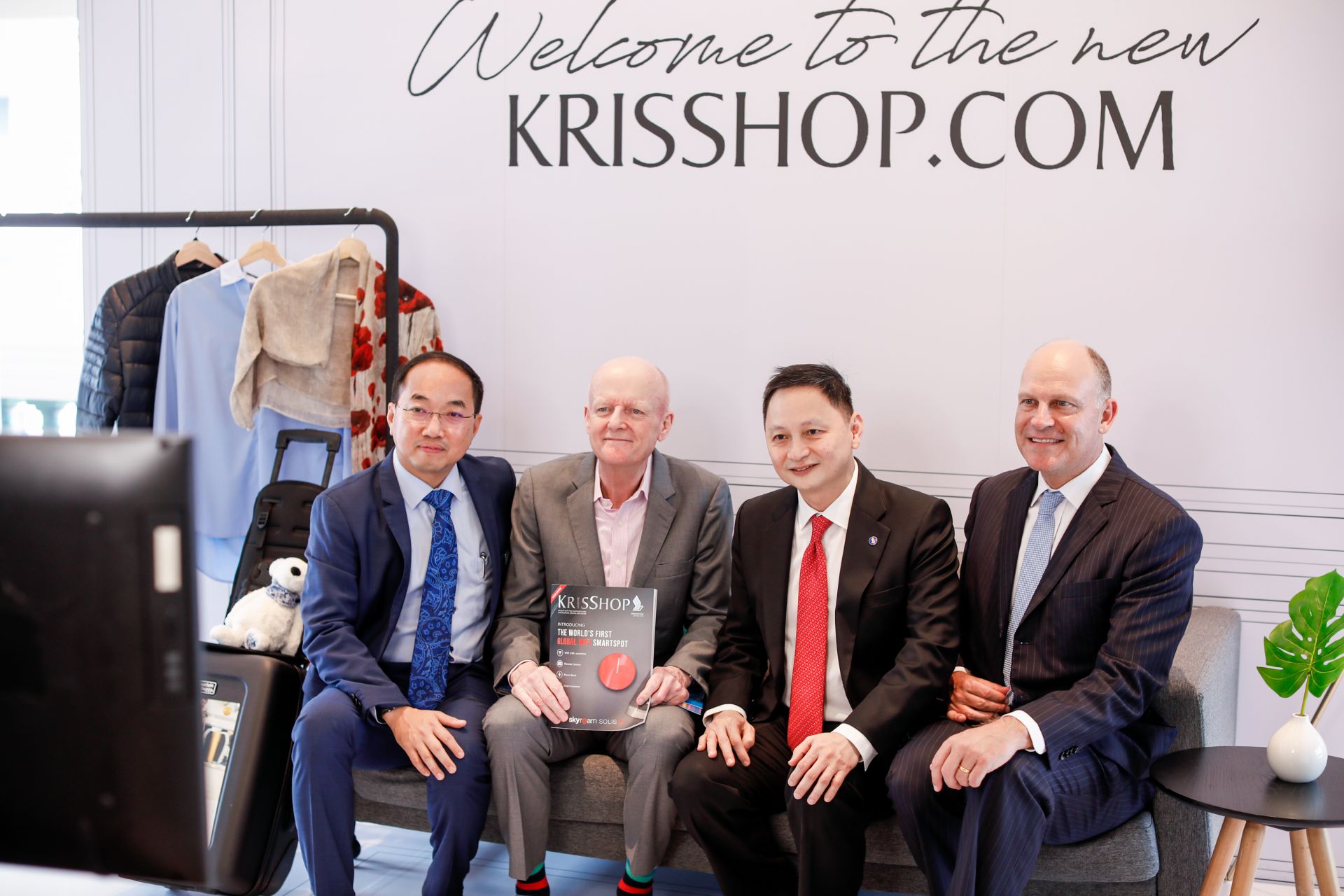 From left to right: KrisShop CEO Chris Pok; The Moodie Davitt Report Founder & Chairman Martin Moodie; Singapore Airlines CEO Goh Choon Phong; and KrisShop Chairman Campbell Wilson pose for a social media photoshoot
"Over the years, the travel retail industry has experienced a radical disruption driven by digitalisation," the retailer noted. "KrisShop seeks to embrace a holistic omnichannel approach to deliver an integrated shopping experience that engages its customers at every step of the journey – both online and offline. Advancing beyond a retail catalogue, KrisShop.com aims to re-invent itself as the go-to lifestyle ecommerce website that caters to the needs of all shoppers, whether they are travelling or not."
"By re-imagining the whole travel retail experience, we're just looking at ourselves and asking, 'What more can we do for consumers? What more choices can we offer?' "
– KrisShop CEO Chris Pok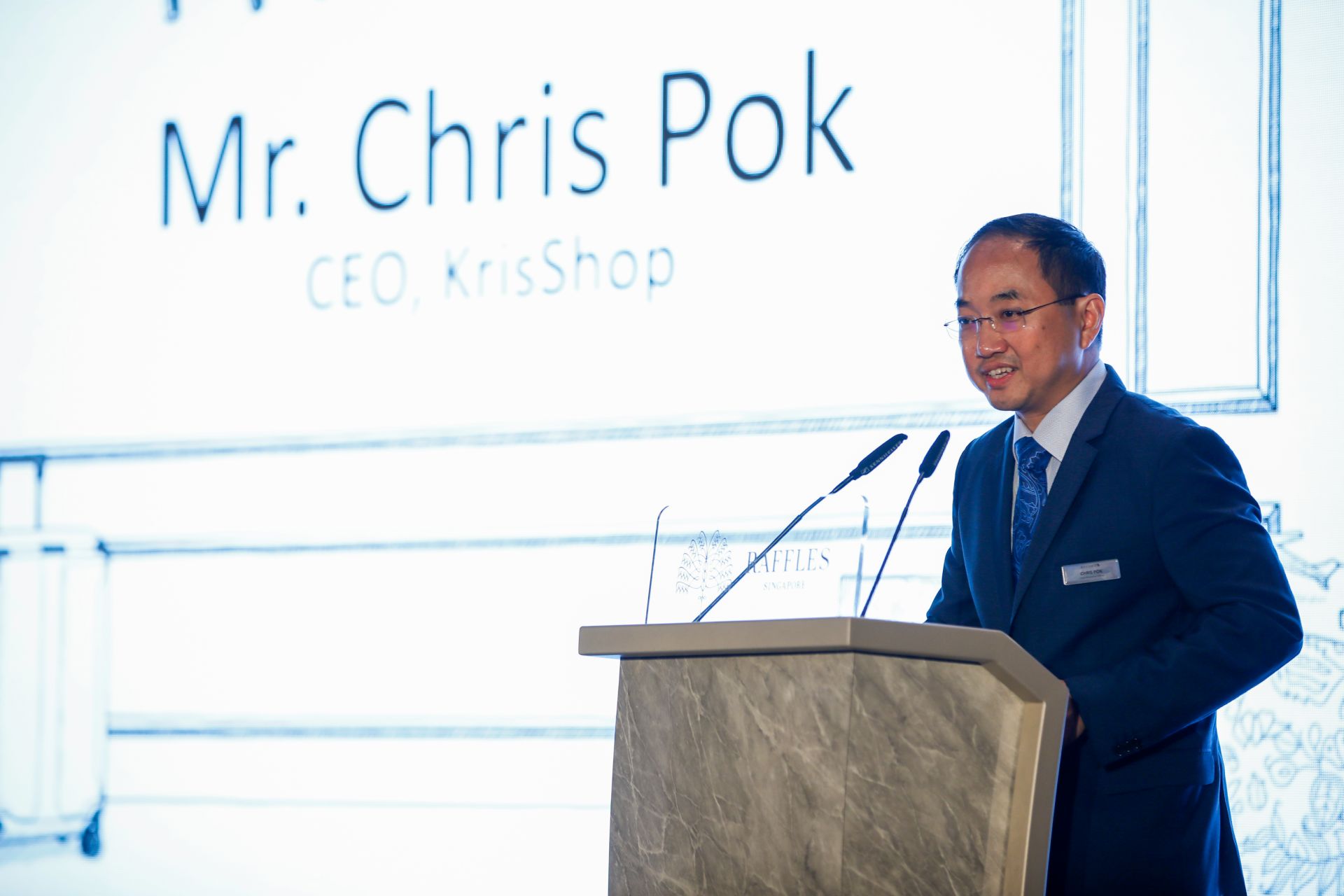 The revamped website sports a clean look with a new interface that includes intuitive features for swift and smooth navigation. Multiple new initiatives enhance convenient payment, pre-order and delivery services.
The pop-up exhibition tour highlighted both the platform capabilities and the product and concept offer. It began with a journey through an immersive LED installation room that introduced guests to the new KrisShop. Upon exiting the immersive area, guests were led to experience a range of KrisShop concept stores showcased below.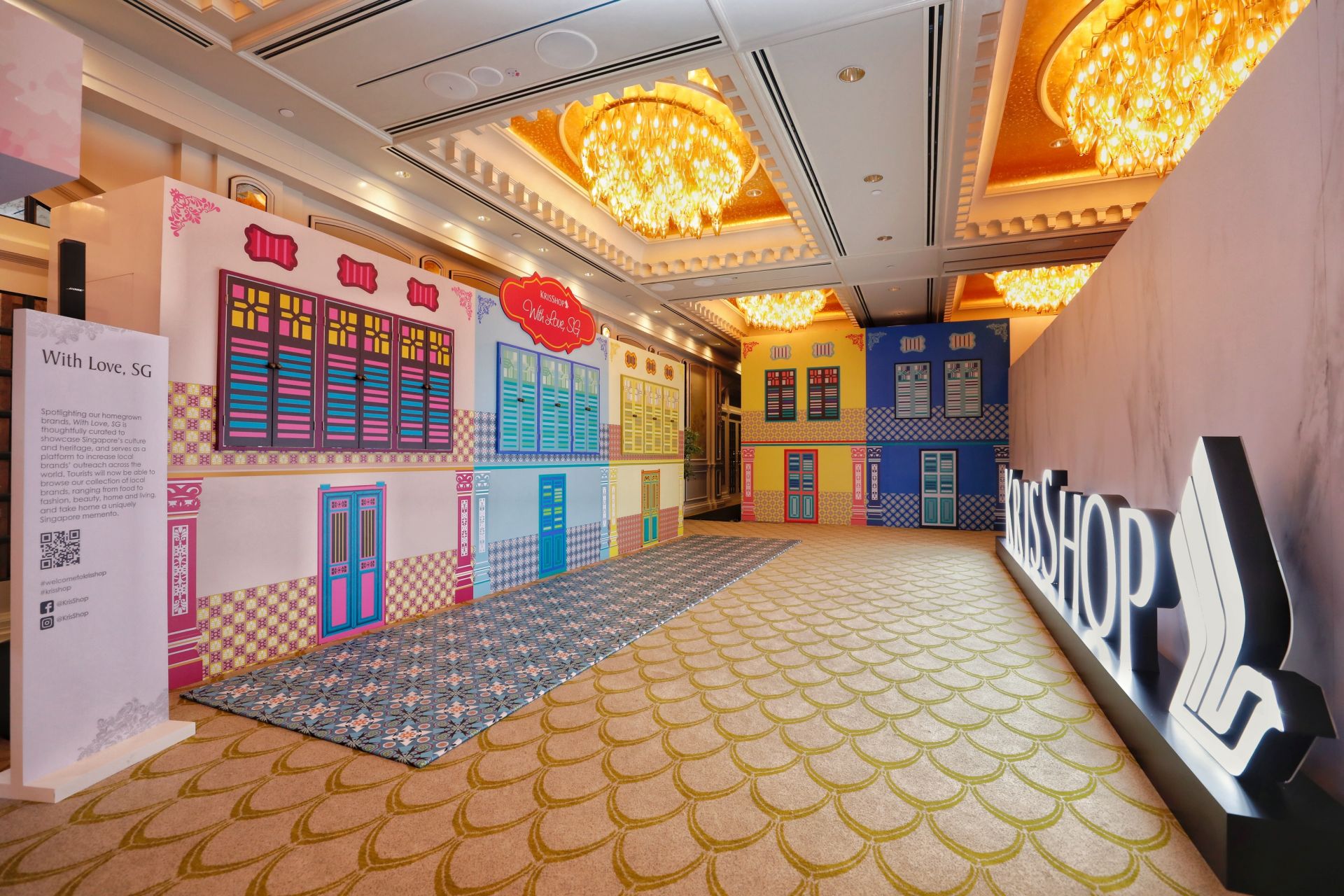 Spotlighting homegrown brands unique to Singaporean culture, With Love, SG is all about supporting local.
The exhibition features a nostalgic Peranakan façade with windows and doors that can be opened for guests to explore the local products hidden behind.
In collaboration with The Art Faculty and Tinkle Arts, KrisShop Cares is dedicated to giving back to the community and supporting those in need.
Net proceeds from the curated products and artworks go towards the partner communities to support their causes and artists.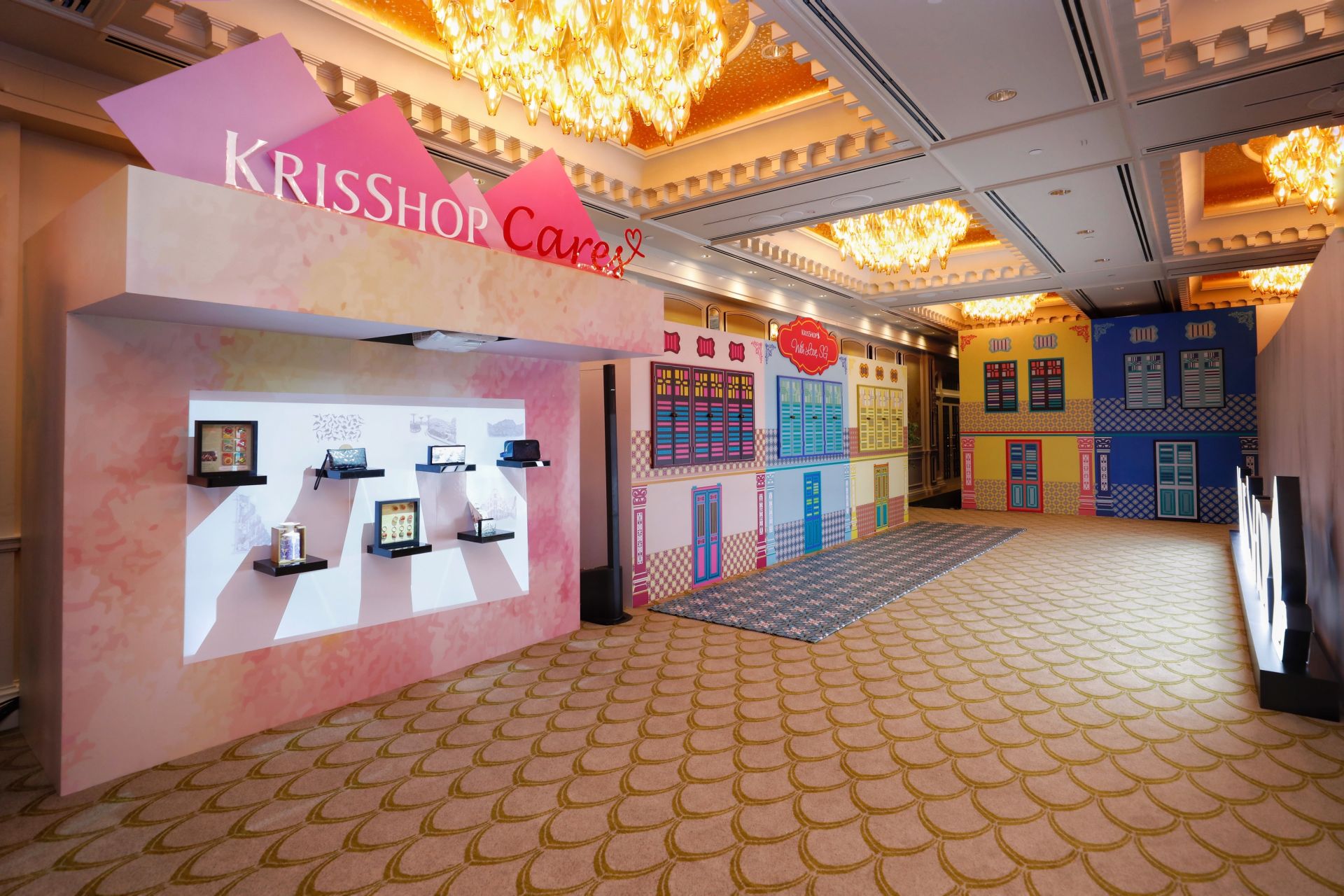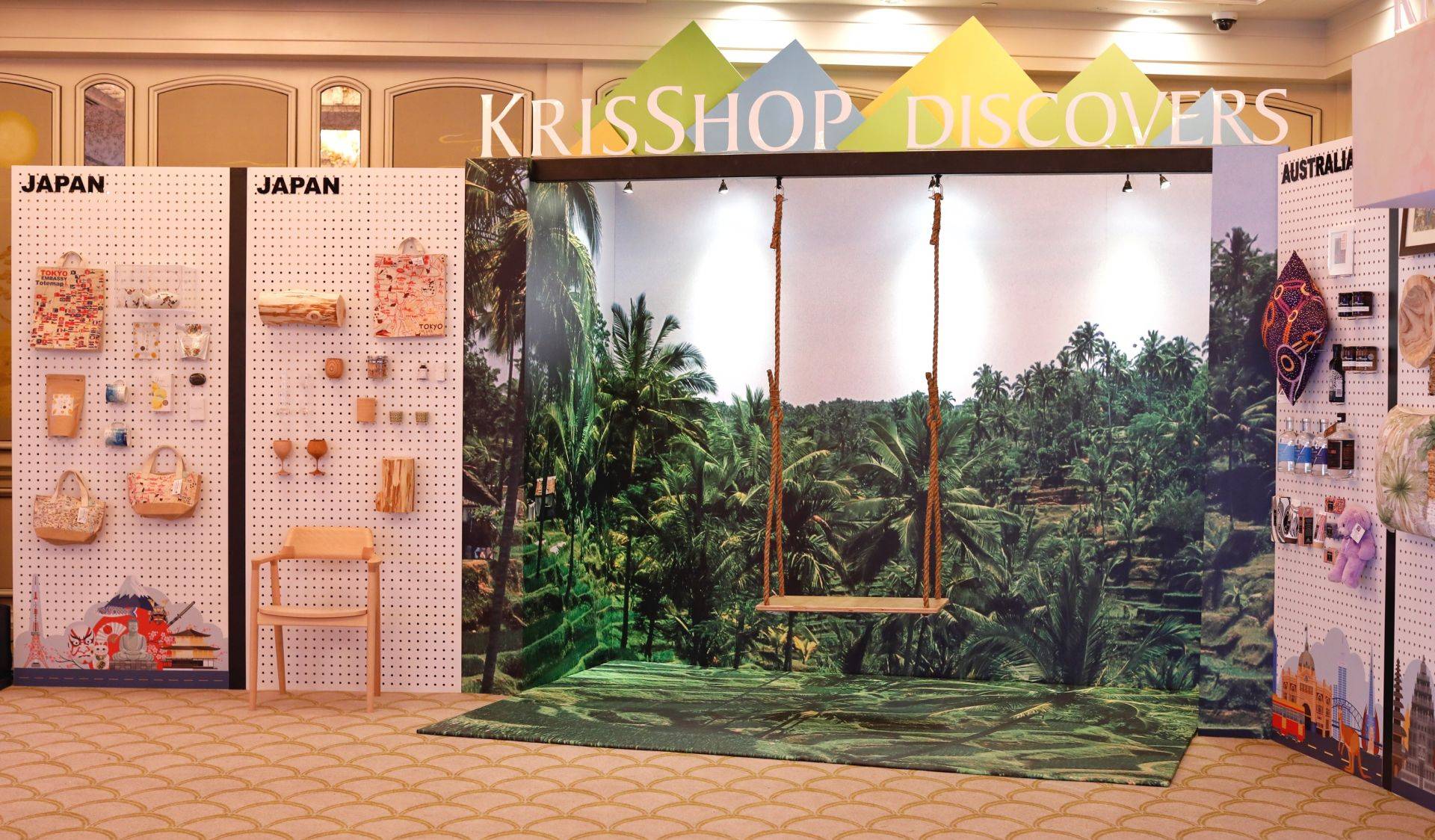 This concept focuses on niche creations curated by KrisShop. Each piece is imbued with the heritage and personal stories of artisans around the world.
Through an Instagrammable swing and a wall featuring the latest KrisShop Discovers collections, the exhibition invited guests to follow KrisShop to discover new places and products.
KrisShop Moments is a new concept store that offers customers a range of services including floral delivery, beauty and wellness treatments, special hotel room offers, hotel dining promotions and tourist experiences, designed to inspire people to create their "very own special moments".
The exhibition communicated this through a relaxing spa bed that invited guests to take some time to rest and "live in the moment".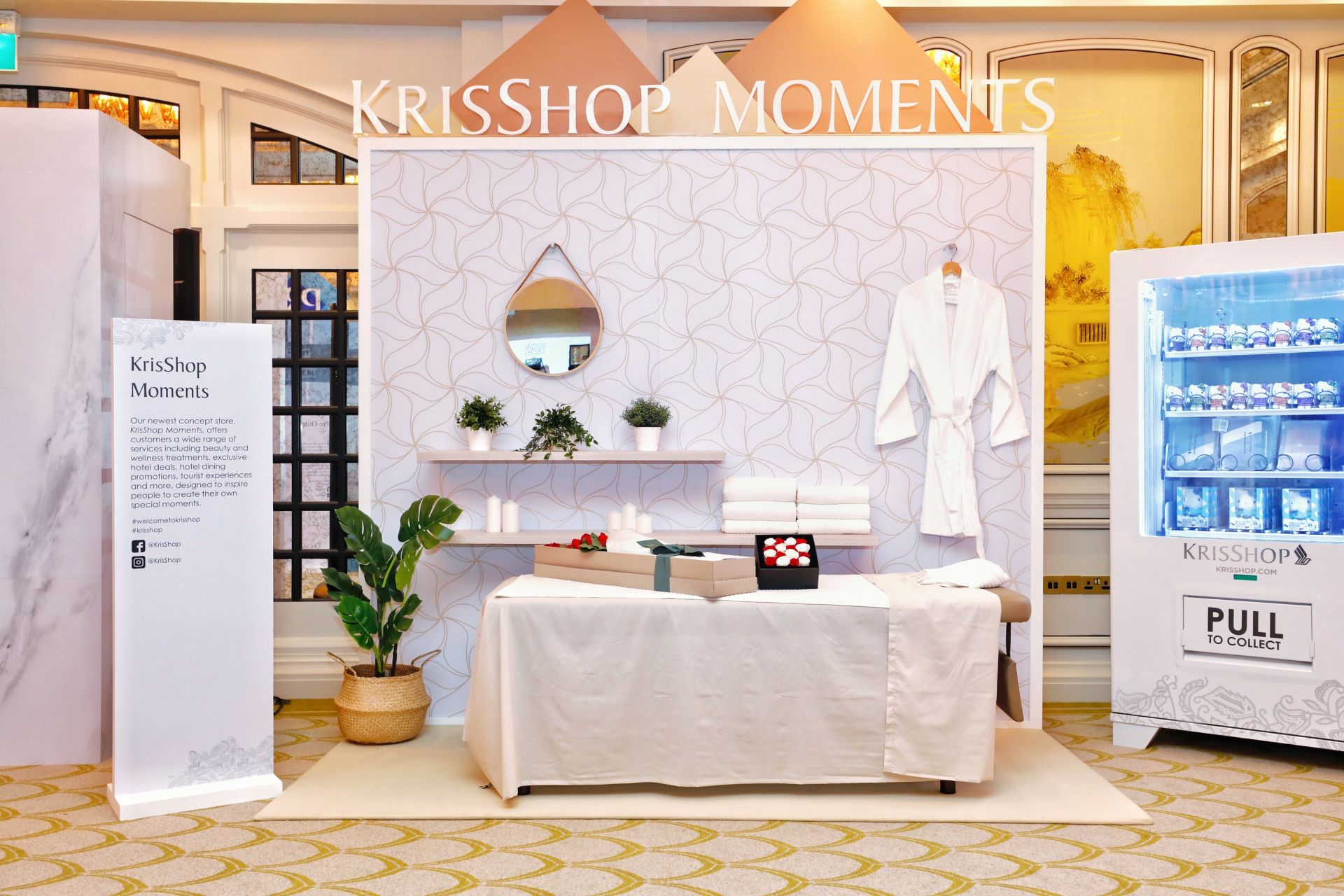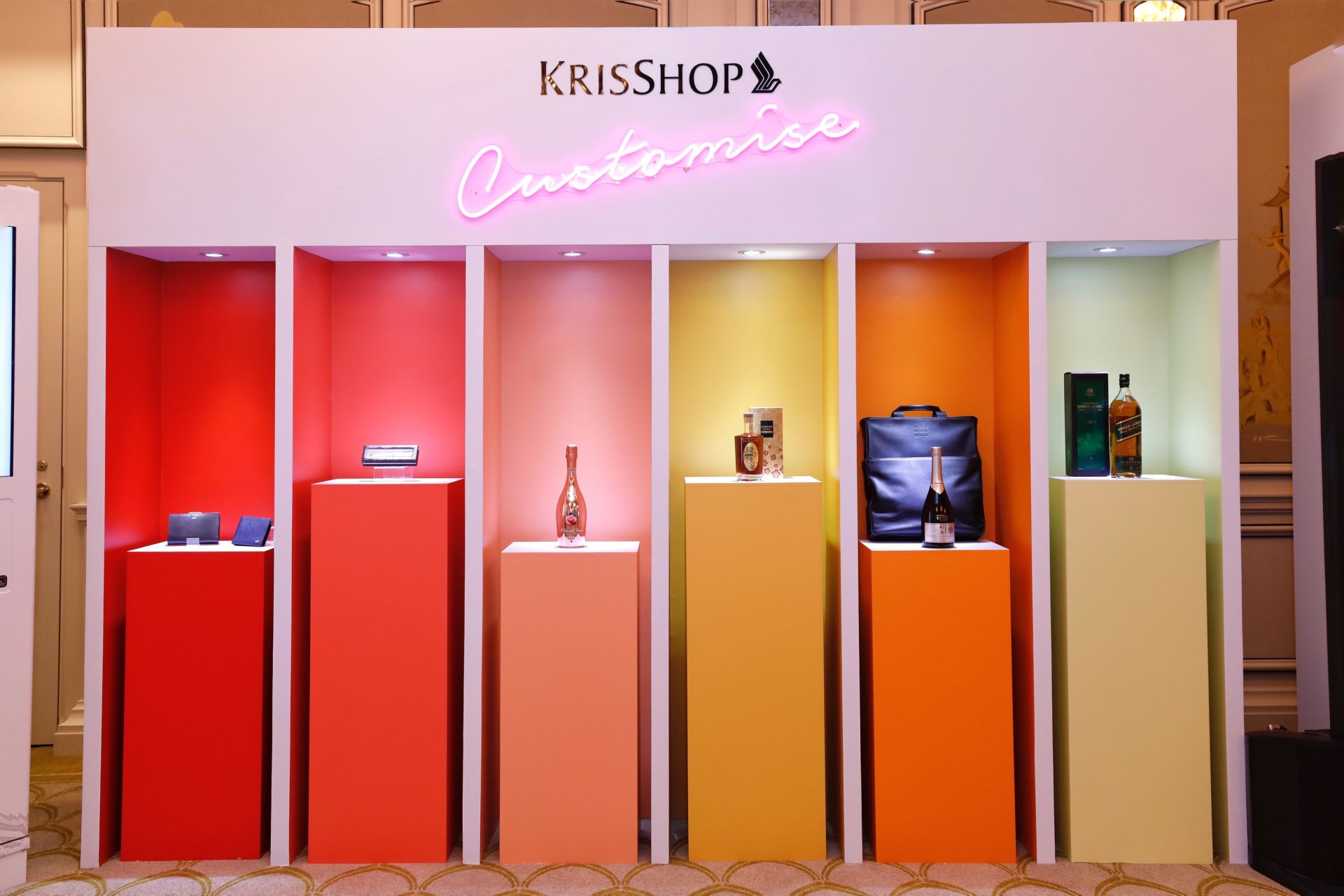 This value-added service offers customisation touches such as personalised engraving on fragrance bottles, wine bottles and leather bags.
"We look at it from the consumer point of view… that is the centre of why we are undergoing transformation," says KrisShop CEO Chris Pok, speaking to The Moodie Davitt Report moments after the launch (see podcast below for full interview). "Without a doubt, we are observing a few trends with the rise of ecommerce. Consumers are becoming more and more digital. Consumers are more about 'I want it now. I want instant gratification.'
"Consumers also have more choice nowadays. We are just putting everything together and saying, 'Look, if we are to meet the needs of today's consumer and tomorrow's consumer, what must we do?'
"We have a customer base of 35 million people. We have a currency in the form of KrisFlyer miles which people can tap into. We have a brand inherited from Singapore Airlines which people trust. We have heritage of service excellence from our parent. How do we put this all together and how can we craft our retail offering based on all these factors – taking into consideration what the consumer wants today? That is at the core – what the consumer wants.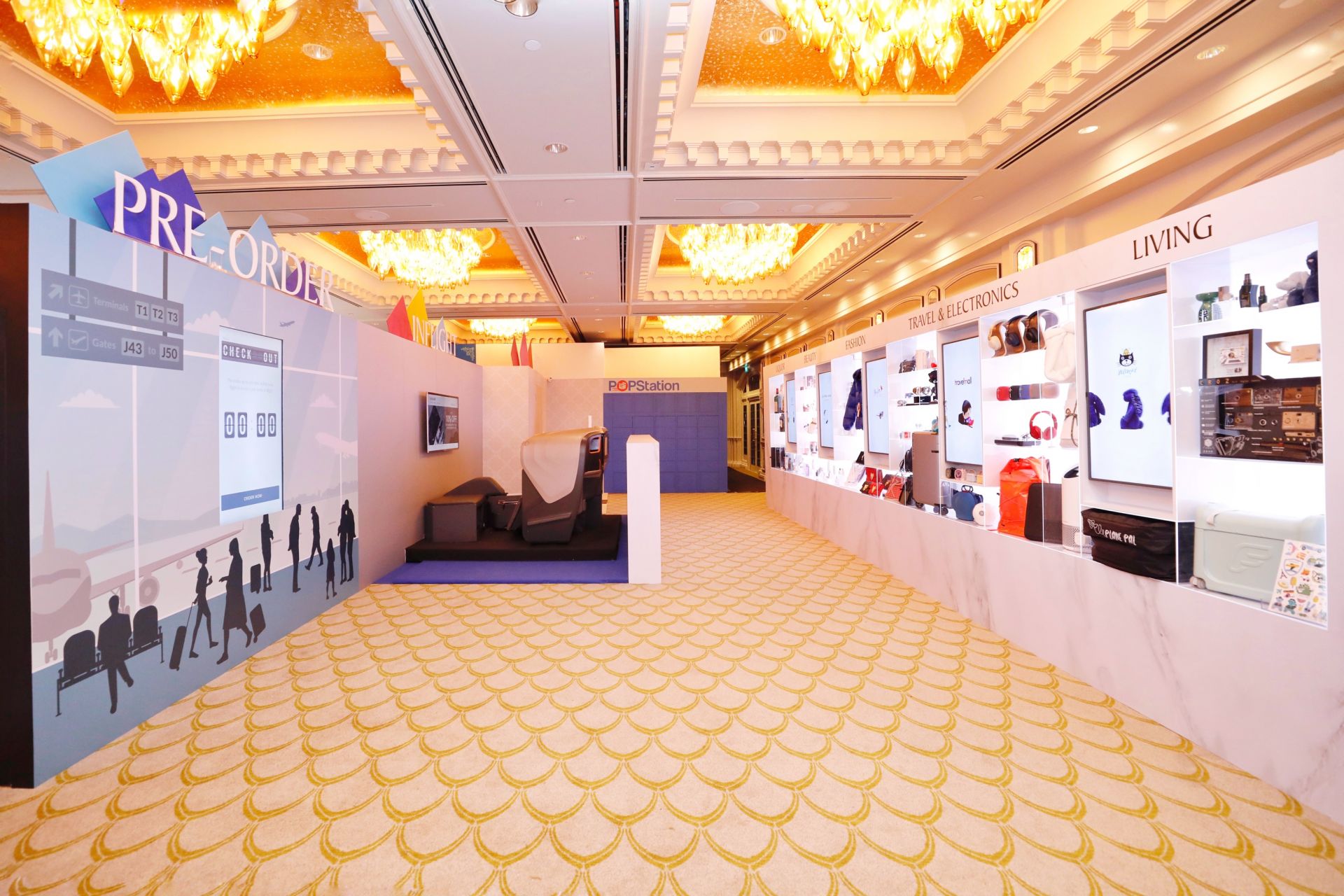 Passengers will be able to order up to 60 minutes before flight departure on Singapore Airlines, SilkAir or Scoot flights with seat delivery
Immersion in a retail wonderland: Guests discover the engaging new world of KrisShop
"The airline has always been associated with the sales carts, the catalogue. But these put a lot of pressure on the airline, because of the high inventory holding costs. It puts a lot of stress on the brands as well, because of the way the brands may be presented. And it also limits the kind of options that we can offer to consumers.
"So, by re-imagining the whole travel retail experience, we're just looking at ourselves and asking, 'What more can we do for consumers? What more choices can we offer? What assets does the airline have? And how can we re-utilise them better for the purpose of delivering a travel retail experience for our customers?"
Big questions that require complex answers. Such an ambitious transformation into a fully fledged omnichannel retailer of scale won't be easy, Pok admits. Fulfilment capability will be key; so will brand relationships. "You have to earn the trust of the brands, that you are presenting them in the right way at the right time," he comments.
But Pok says that brand companies are excited about KrisShop's potential. "They are very open to working with us. KrisShop's role is to deliver content from them to the consumers and that is a role we are very willing to play."
How great is that potential? "All the challenges and questions that we've raised so far are solvable," he responds. "So, once we solve them, like with any ecommerce or digital business, actually there's no limit to what we can do."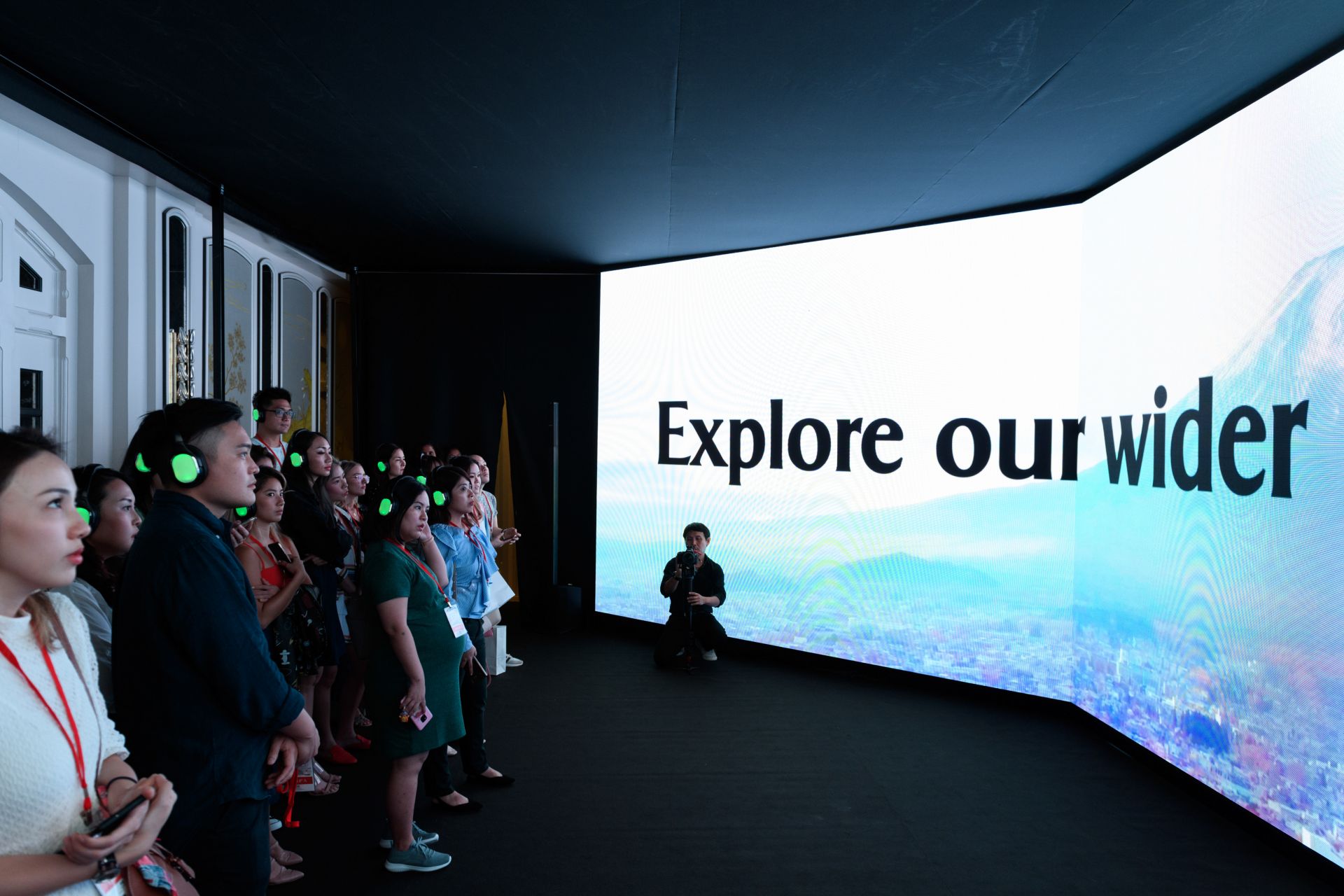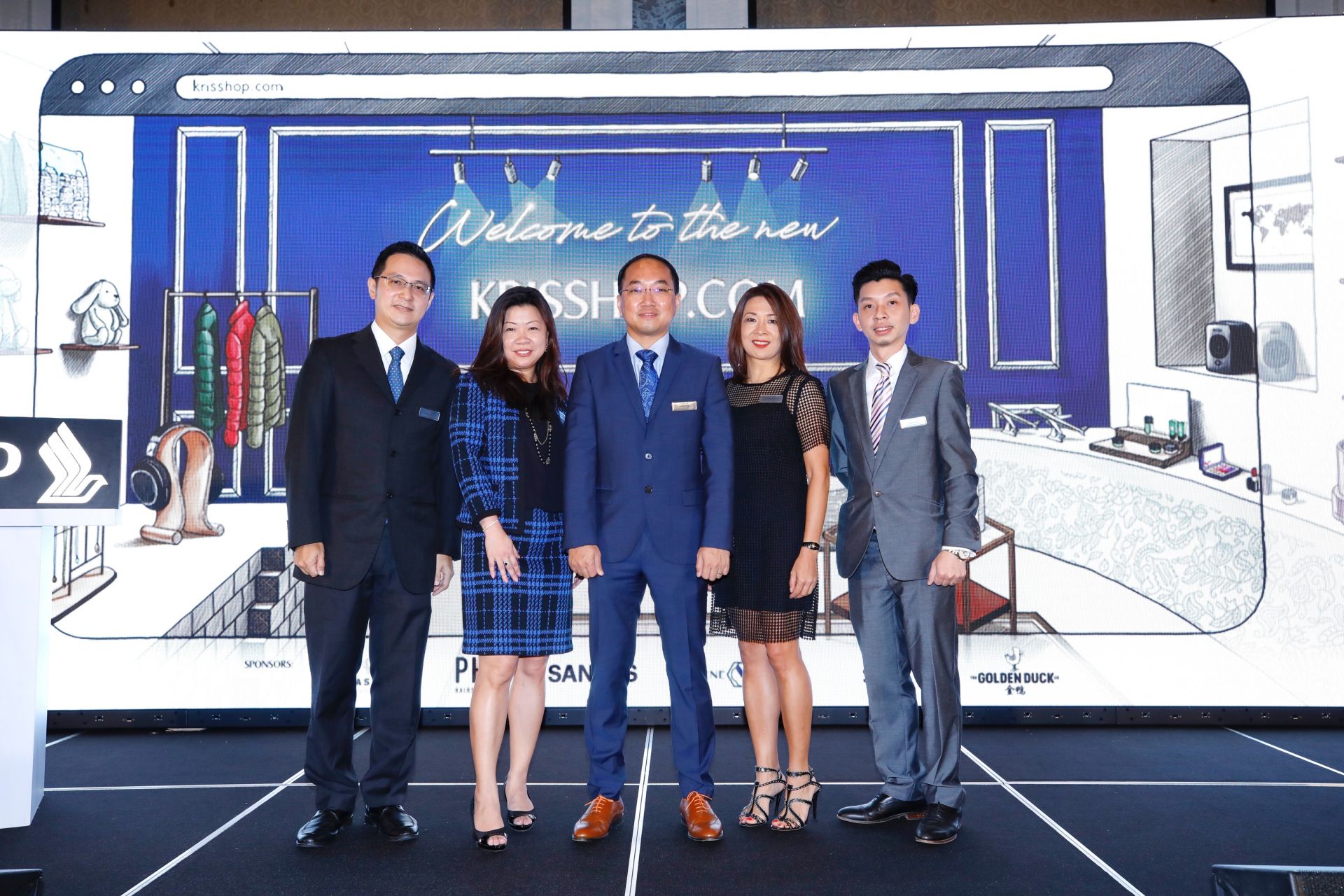 A proud KrisShop CEO Chris Pok (centre) with (from left) Logistics and Operations Director Patrick Kwang; Human Resources Director Jassy Tan; Chief Commercial Officer Raelene Johnson; and IT & Data Analytics Director Jacky Koh. (Photo: The Good Folks)
New, fresh, localised
"It's really a new business model that we are trying to differentiate from everybody else," says 3Sixty Executive Vice-Chairman Roberto Graziani (pictured right) of the revamped KrisShop. "But it's not simply about being hi-tech. Technology is just a need so that we can have the omnichannel. The real focus is on the commercial proposition.
"We want to offer something different, something new, something fresh. We are trying as much as possible to be close to the customer, following and anticipating their moves and needs. The idea is to give them a very high level of service, which is very important for us. That's the reason that we want to have so many touchpoints.
"We want to expand the localisation, for example by offering products from our home base in Singapore. We also want to offer newness from different [Singapore Airlines destination] countries… bringing our customers the best and most exciting products from around the world. In a world that is changing very rapidly, we have to pay attention as to how we keep up the novelty. We need to be flexible and change as the business changes."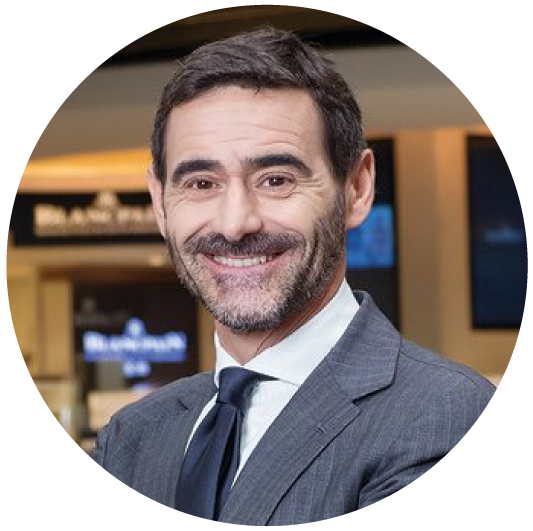 Graziani, a former leader of travel retail giants The Nuance Group (now Dufry) and The Shilla Duty Free, says that the tripartite KrisShop model encourages such flexibility and dynamism. He praises 3Sixty's joint venture partners, saying that all three parties share a strong commitment to creating a highly successful business out of an inflight retail channel that he believes has been in perennial decline for many years.
Although the product range will be extensive, it will be tailored to the specific traveller audience. KrisShop is not trying to create an Amazon of the skies, Graziani insists. "Nobody wants to compete with Amazon," he says. "We don't want to go in that direction. Our customer base is the traveller. Our customer is taking the opportunity to use our services even if they're not travelling, but we don't want to go into open competition by offering a product that everybody else could offer."
Visions converge
Graziani pays tribute to 3Sixty (formerly DFASS) Founder & Chairman, Benny Klepach, who he says had both the vision and courage to adapt from being a conventional inflight retailer. "He's a visionary, he's able to learn from everybody he speaks with, and then he's able to foresee where the business should go. Then you need to have the capability to transform this vision into something that is feasible, practical and has the potential return on the investment it requires.
"However, if you didn't have an airline that also backed and shared this vision and was ready to invest in it, then it would have been difficult to transform it into reality. We are very pleased that Singapore Airlines has shared our vision when we have presented them with a potential new business model. They have been very consistent and very committed to such a vision since the beginning."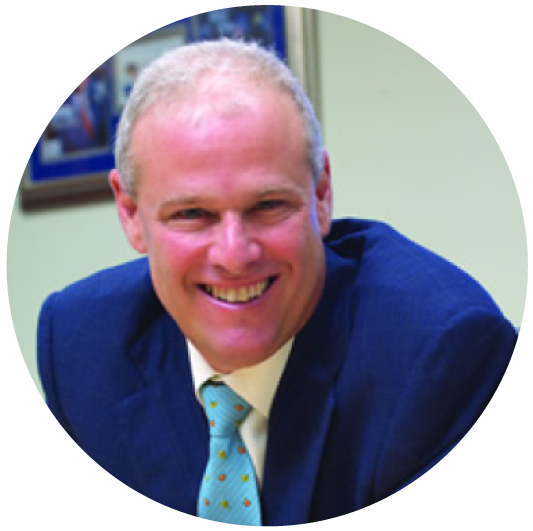 The look of the future – today
"This is a very proud day in the evolution of our company," 3Sixty Founder & Chairman Bernard ('Benny') Klepach told The Moodie Davitt Report on the day of the relaunch.
"This is the new, contemporary and cutting-edge face of airline retail. It is how inflight shopping will look in the future and we are truly excited about the potential of the KrisShop platform and to be part of this technological and retailing breakthrough."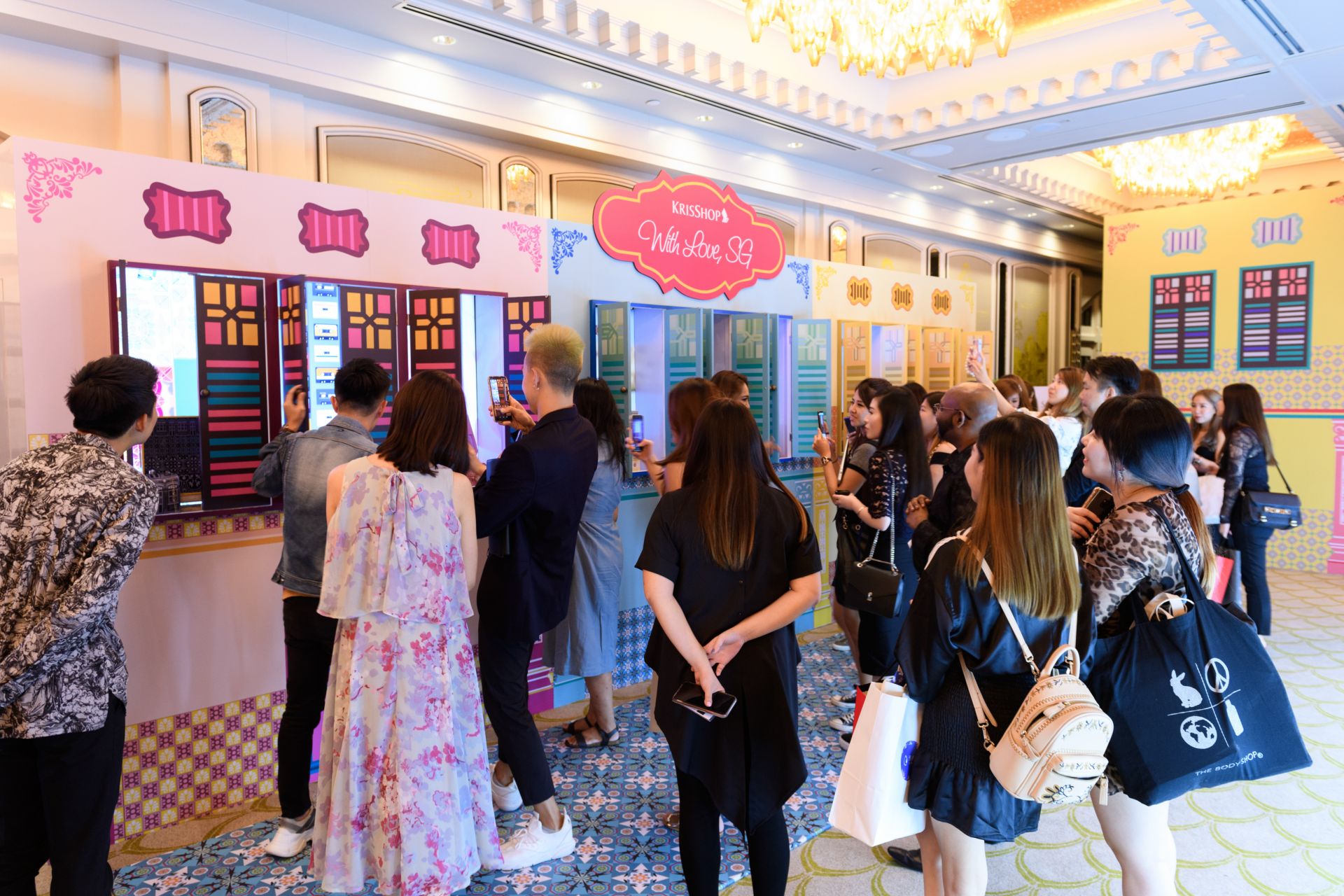 KOLs and consumer media flock to the nostalgic Peranakan façade that opened up to feature a range of local products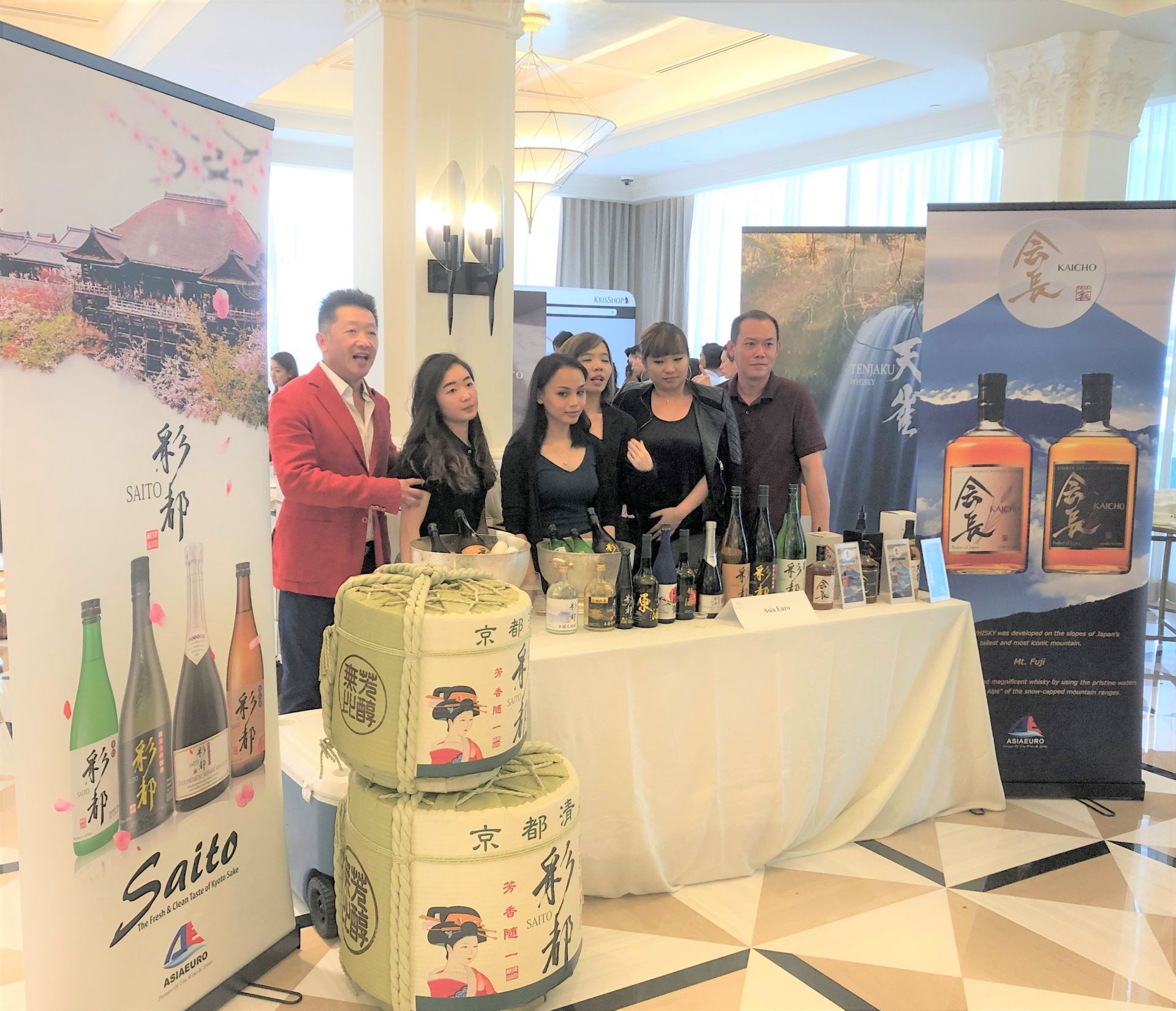 On the final day of the exhibition cabin crew got to discover some of the brands on offer through the omnichannel platform
Reaching beyond the sales carts
To fulfil its ambitions of redefining the airline role within the travel retail sector, KrisShop CEO Chris Pok says that KrisShop had sought to address some fundamental questions:
• How can KrisShop sell beyond the sales carts?
• How can KrisShop deliver the premium brand experience that is aligned with Singapore Airlines as well as brand owners that it works with?
• How can KrisShop engage its customers via offline touchpoints to drive online sales, or vice versa?
The answers have come via a series of KrisShop initiatives, some of which are new to the travel retail industry. Highlights that are being rolled out include:
• Project 60: Working with SATS and 3Sixty, KrisShop has developed the ability to enable customers to order merchandise up to 60 minutes before flight departure on Singapore Airlines, SilkAir or Scoot flights with delivery to their seats. This offers a vast improvement from the former 24-hour limit. "This enables KrisShop to reach out from the time a ticket is booked until they board a plane," says Pok.
• Multiple payment options: New payment options including KrisPay, Apple Pay, Samsung Pay, and Alipay will be available on KrisShop.com for added flexibility and to cater to the different payment preferences of customers.
• Hotel delivery: In collaboration with selected hotel groups, guests may opt for their purchases to be delivered straight to their rooms.
• KrisShop on KrisWorld: KrisShop is working with Singapore Airlines and inflight entertainment system providers to bring the KrisShop.com experience to passengers. Soon, KrisShop.com will be available as a dedicated inflight channel and deliver an "engaging and content rich shopping experience to our travellers as well as a transactional shopping site for delivery onboard or to home", Pok pledges.
• Premium delivery experience: KrisShop is working with Singapore Airlines to marry the renowned cabin crew service with high-end product fulfilment so that onboard delivery is comparable to that in bricks and mortar stores.
• Self-collection POPStation: KrisShop will designate POPStations for hassle-free self-collection, marking the seamless convergence of the online and offline consumer experience.
• Silver Kris Lounge: The lounge experience will be enhanced to better feature KrisShop in a more active and experiential manner in both Singapore and at selected locations around the world.
ABOUT KRISSHOP
KrisShop is Singapore Airlines' (SIA) flagship travel retailer, formerly known as the Singapore Airport Duty-Free Emporium. The company was founded in 1974 and operates as a subsidiary of Singapore Airlines Limited.
In November 2018, a joint venture was formed between SIA (which holds a 70% stake), ground handler SATS (15%), and duty-free retailer 3Sixty (previously DFASS Group, also with 15%), designed to provide an omnichannel ecommerce platform committed to bringing accessibility to customers through flexible delivery options and online pre-order services.

The Moodie Davitt eZine
Issue 266 | 4 September 2019
The Moodie Davitt eZine is published 20 times per year by The Moodie Davitt Report (Moodie International Ltd).

© All material is copyright and cannot be reproduced without the permission of the Publisher.
To find out more visit www.moodiedavittreport.com and to subscribe, please e-mail sinead@moodiedavittreport.com