On Location Special Report
---
An encounter with Parfums Christian Dior's creative genius
François Demachy
François Demachy's attendance at the Dior Les Parfums Podium launch at Hamad International Airport underlined the importance that the beauty house lent to the occasion. Demachy is a quiet, modest and understated man, more at home crafting scents of genius in his Grasse laboratory than being in the public limelight of a world-exclusive launch featuring his creations in one of the world's highest-profile airports.
But he took clear delight in seeing the quality of the partnership and how it had showcased his work to such elegant and vibrant effect. He took some time out to tell Martin Moodie about his approach to perfume creation.
Martin Moodie: François, when you set about creating a fragrance, what are your key aims in delivering to the end consumer?
Francois Demachy: A perfume is a liquid in a nice bottle but if the liquid stays on the shelf, it's dead. Completely dead. The way to make it alive is to wear it. And so, it's not that we have to explain it – because I don't think that you can explain a perfume – but you can talk about a perfume with people.
Part of my job is that, to try to tell the true story about the perfume – what inspired me to create this one or that one. And just to try to make people understand a little bit more of the perfume and what is behind it… because perfume belongs to the culture of each people.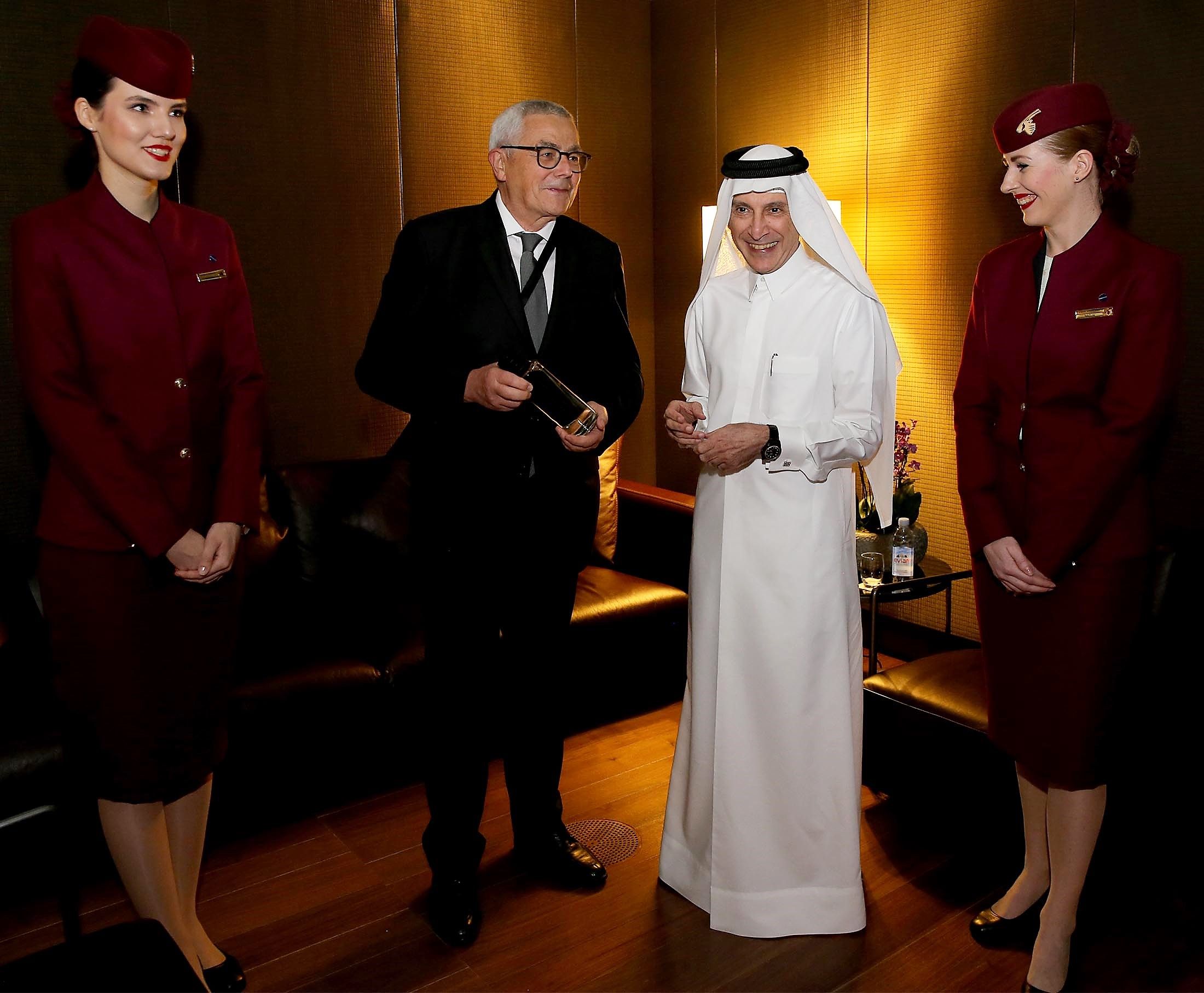 (Above and below) François Demachy and Akbar Al Baker exchange gifts just before the grand opening. Demachy created a fragrance exclusively for the Qatar Airways Group Chief Executive.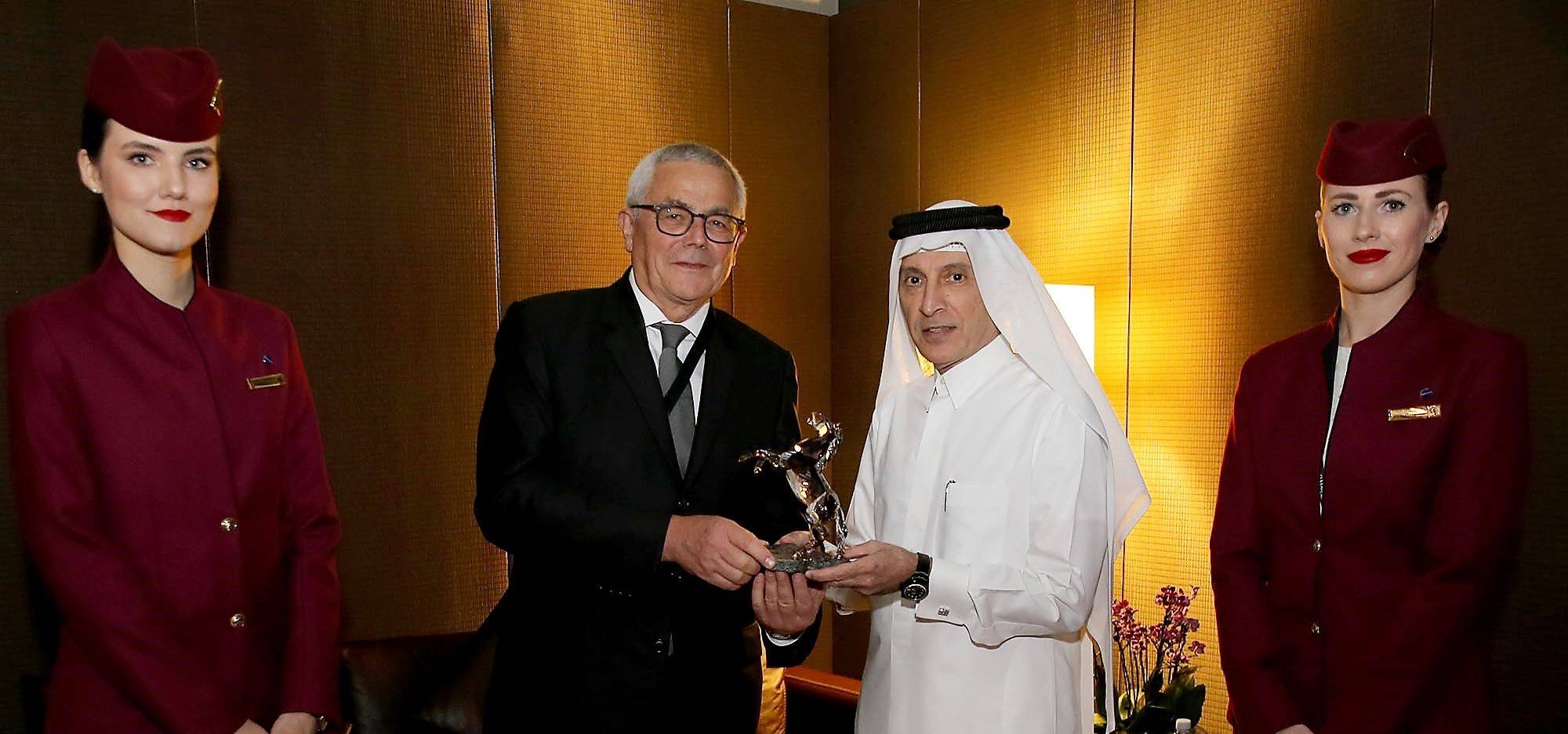 You mention storytelling. So many consumers today are looking for what is behind a brand. They're looking for provenance, for authenticity, for differentiation. And you, I think, are trying to provide all of that with the multiple expressions that one sees on the podium. There is so much of you there. There is so much of Dior and Dior's history. And the terroir, as wine people would say, and the provenance of Dior, all expressed. How key, then, is authenticity to you?
For me, it's the base of the perfume. That's why when I came to Dior 13 years ago, I asked also to be responsible for the purchasing of the raw materials because I think that the perfume starts from there.
It is the same thing for cooking. If you know the origin and the quality of your ingredients, almost 50% of the job is already done. And it's a big part of your authenticity. Not as with some other brands that buy a perfume which is already made and, in fact, they don't know what is inside. I think that's not the right way to sell a perfume.
If you sell a perfume, you have to know exactly what you are selling because it's your responsibility. And it's your responsibility to share the quality, to share the different elements. It's a kind of transparency. I'm sure that in a few years transparency will be everywhere, including in the perfume [sector], because nobody can accept any more to buy something – and something quite expensive – without knowing what is really inside and the way that it has been made.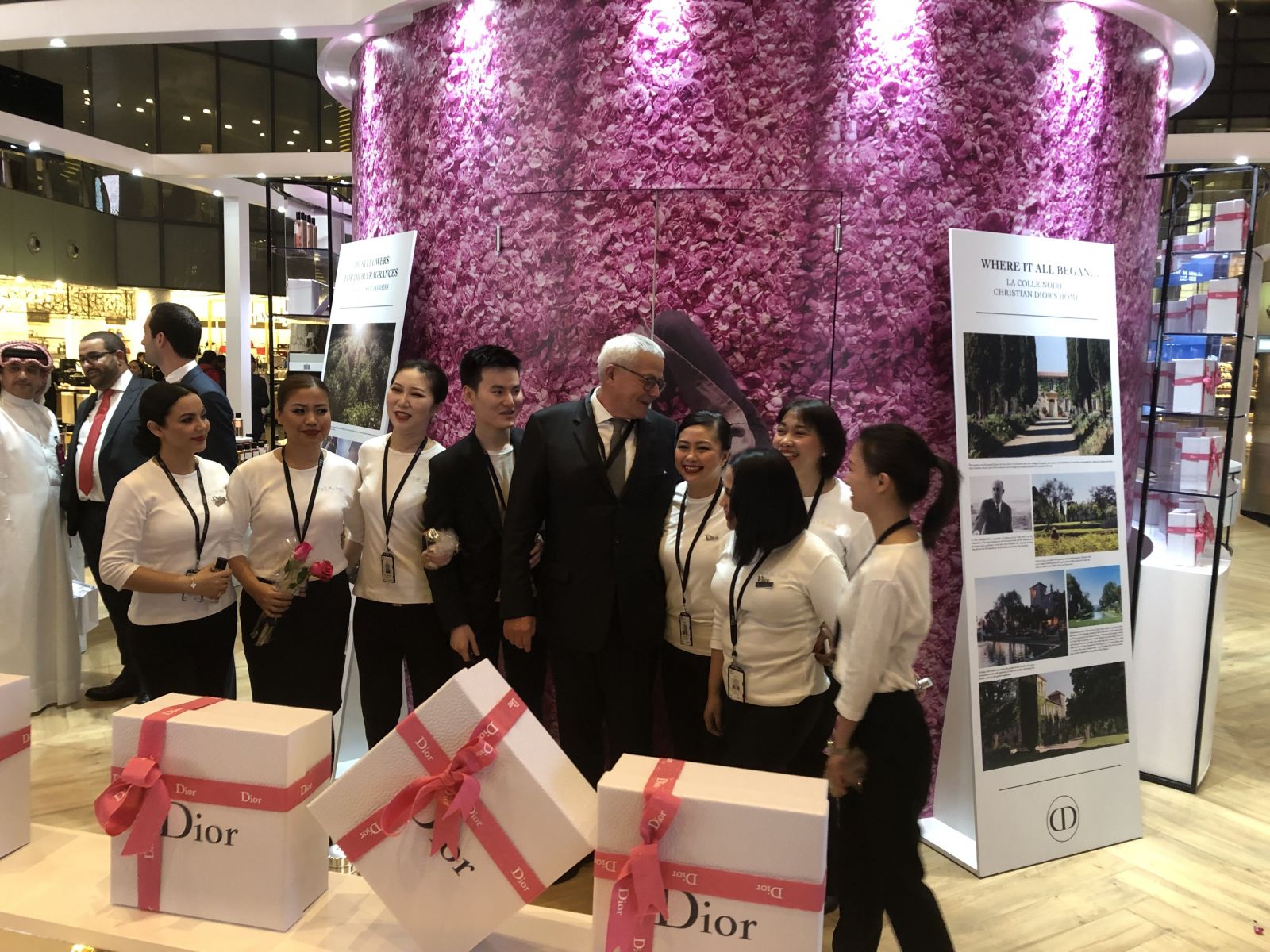 François Demachy enjoys a fun moment with the Qatar Duty Free beauty advisors.
With a new Dior perfume, where do you enter the process? And how is your role counterbalanced with the commercial imperatives of a perfume, which are obviously crucial?
Well, there's a big difference between, say, Maison Christian Dior and a regular perfume like Joy. If it's for Joy, or Miss Dior or whatever, the starting point is a project. And the project begins with the thinking of the marketing people. After that, they show me a brief.
I start always [on such briefs] with many different directions. If you choose only one you are never sure it will be the right one. Even with several you are not sure. And after I set to work, I develop it. It's like an architect. You start from the basement. So, you try to build and to follow your idea through. Sometimes it works, sometimes it doesn't. The main problem I have is to know when to stop. And that's really difficult for me.
For Maison Christian Dior it's different, because I proposed the perfumes without any prior project [briefing]. It's like what we call in French 'recreation' – at school between all of the courses you have some free time. And so, Maison Christian Dior is my free time.
How much do you enjoy that free time? I imagine it must be a liberating experience.
Yes. In fact, I don't have too many constraints. I don't have any constraints of price. But for the regular perfume I have a constraint of time, which is not the case for Maison Christian Dior. It's when I think I am ready. And, as I told you, it's really difficult to say yes, okay, I am ready. And so sometimes it could take many months.
Tell me about your art and constantly finding new inspiration. How do you do it?
I don't consider it art as such. For me, it's more art craft because I can't compare my work with some artist like Mozart, for instance. It's different. The big difference is the quantity. You make a perfume but you will produce a perfume many, many times. So that's a big difference from art to art craft.
As for the inspiration, we are only like an interpreter or like a witness of that we see, and what we feel, of the people. We get some ideas and we try to put some of these ideas into smell.
I have had the chance to know a little bit more than other people – except fellow perfumers – about smell. And so, I try to put together a different smell in a way that makes a perfume. That is what I have learned. It's a question of experience and a question of emotion and that's it. And, you know, when you talk about art, for instance, a musician they can do a lot of different pieces of music with only eight minor different notes. That's all. And by chance we have more than 700 different ingredients. So, it's easier.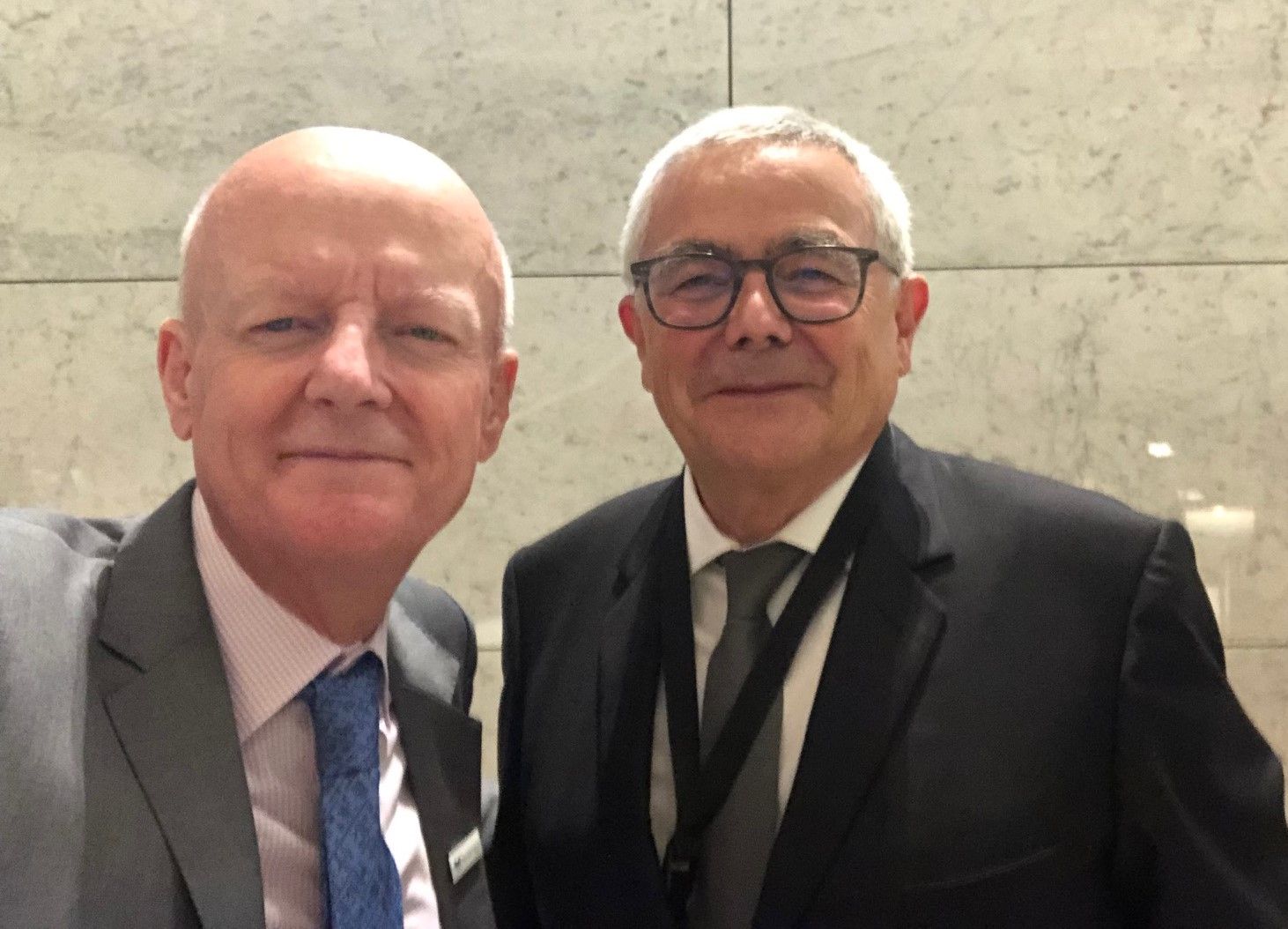 Martin Moodie catches up with François Demachy to learn about the perfumer's creative spirit.
It's a long way from your laboratory in Grasse to here in the Middle East in Qatar. Is it exciting for you to see their interpretation of your interpretations, as it were – a gleaming international airport with people going into a multi-sensorial room and experiencing the sights, the colours and, of course, the aromas of your scents. It's extraordinary as a consumer to experience it. What's it like as the creator to see it?
First, there's the sense of place. Because the Middle East and also Doha, as we know, are part of where perfume was born. And so, people here know about perfume very well. They know about the seductive part of the perfume but, also, the mystic part. And that's really important for me.
That's why, for instance, yesterday and the day before I spent some time visiting the local perfumers and to see how they blend, what kind of perfumes they offer, the way they use a perfume and so on.
It's always interesting and you're always learning something. And the way they infuse the perfume here with many flowers is interesting because the taste is changing a little bit from the really strong wood [characteristics of the past] and they are going a little bit more for floral perfumes. That for me is really important.
This airport is amazing. And look at this scene [the podium]. It's around 20 metres long. It's incredible and I am very proud of that, for sure, to see my perfume among all the things in such a big ultra-modern airport.
I think that we bring something here but we are also learning from here. In this region there is something very historical. There are a lot of old stories, and a lot of tradition. And here is a big ultra-modern airport and an ultra-modern city. The contrast is amazing.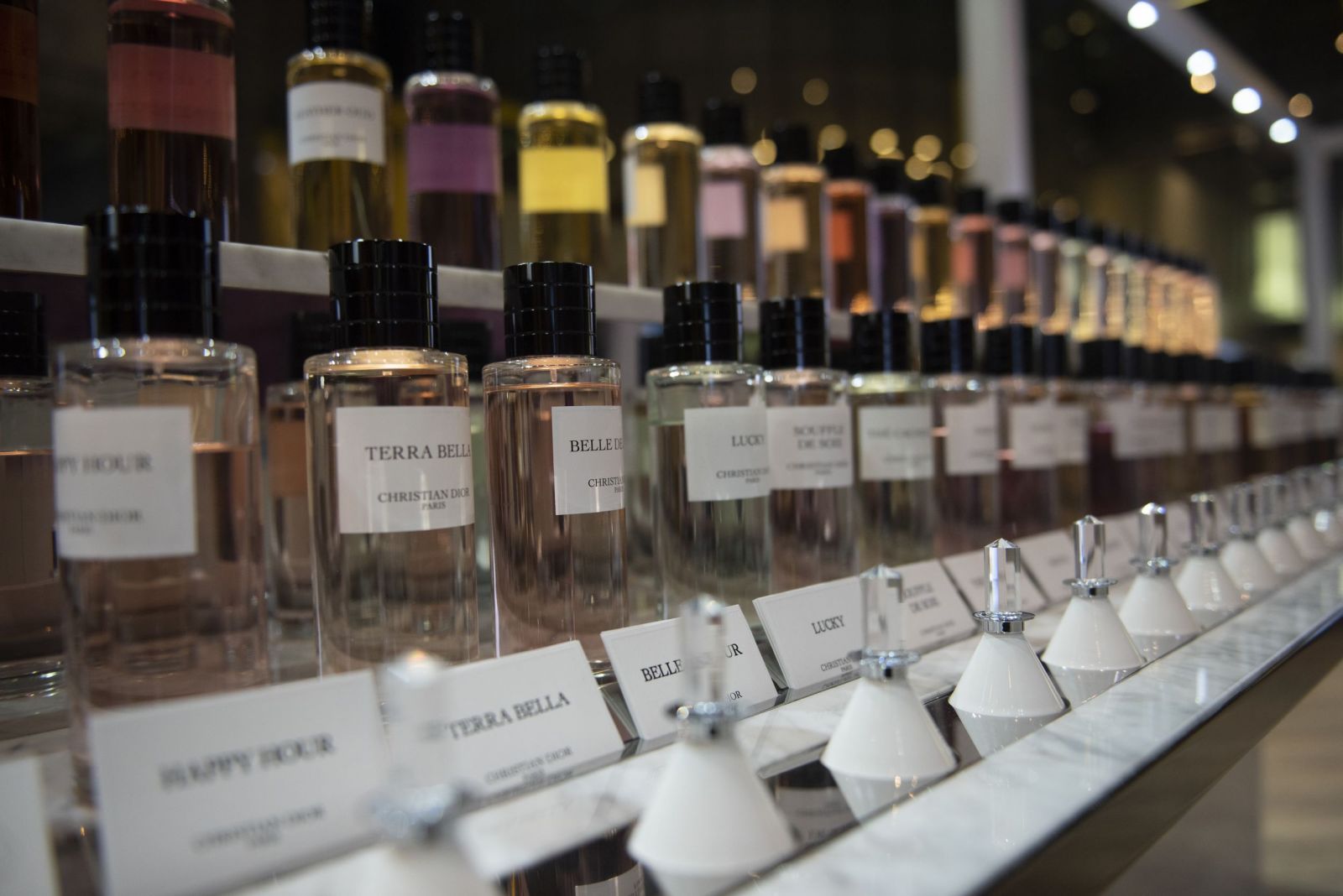 "With Maison Christian Dior, I propose the perfumes without any prior briefing. It's like what we call in French 'recreation' – at school between all of the courses you have some free time. And so, Maison Christian Dior is my free time," says François Demachy.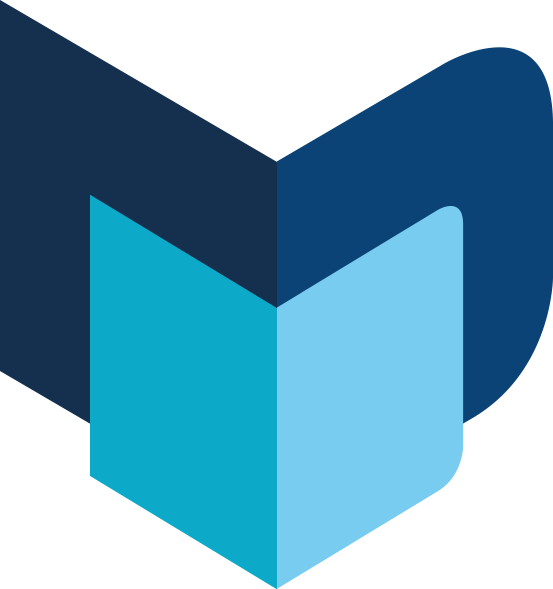 ---
The Moodie Davitt e-Zine | Issue 253 | 3 December 2018