---
Akbar Al Baker creates opportunity out of crisis
Qatar Airways Group Chief Executive His Excellency Akbar Al Baker is one of the most influential and outspoken figures in world aviation. Al Baker has spearheaded the extraordinary rise of Qatar Airways, which operated only four aircraft in a regional capacity prior to his appointment in 1997. Today, the Doha-based airline flies over 200 aircraft to more than 150 destinations across six continents.
Al Baker is also CEO of several divisions of the national airline – including Qatar Executive, Hamad International Airport, Qatar Aviation Services, Qatar Aircraft Catering Company, Qatar Distribution Company, Internal Media Services and Qatar Duty Free.
In August 2017, he was elected Chairman of the Board of Governors of global aviation industry body International Air Transport Association (IATA), a position he assumed in June 2018. Al Baker is also a member of the Executive Committee of the Arab Air Carriers Organization and a non-executive Director of Heathrow Airport Holdings.
Martin Moodie sat down to talk to His Excellency during a recent visit to Doha. As usual Al Baker pulled no punches during a compelling interview.
THE BLOCKADE AGAINST QATAR
Martin Moodie: Let's start with the big picture, Your Excellency. Crisis out of opportunity are the words that came to mind when we talk about the blockade against Qatar [started in early June 2017 and led by Egypt, Saudi Arabia, the UAE and Bahrain -Ed]. That had direct repercussions for your airline, your airport and of course your country. And yet, I was looking at a public statement you made the other day, and you noted that June, July and August 2018 had seen year-on-year traffic growth rebound strongly. So how much has this blockade hurt you?
Akbar Al Baker: Well, it had a drop-off – over -22% in passenger traffic – because suddenly we lost a very large chunk of our network. People got frightened about coming here as it was a conflict zone [and they feared] that something could happen if they were here. So, the passengers started to avoid using Qatar Airways.
But now, comparing this year vis-à-vis the first three months of the blockade, we have had an increase of over +11% in passenger numbers. Incidentally, as far as our duty free is concerned, we were up by +1% [during the first three months of the blockade], which means that when you are comparing apples with apples passenger spend increased.
For September, October, November 2018… it is again a double-digit growth [in traffic].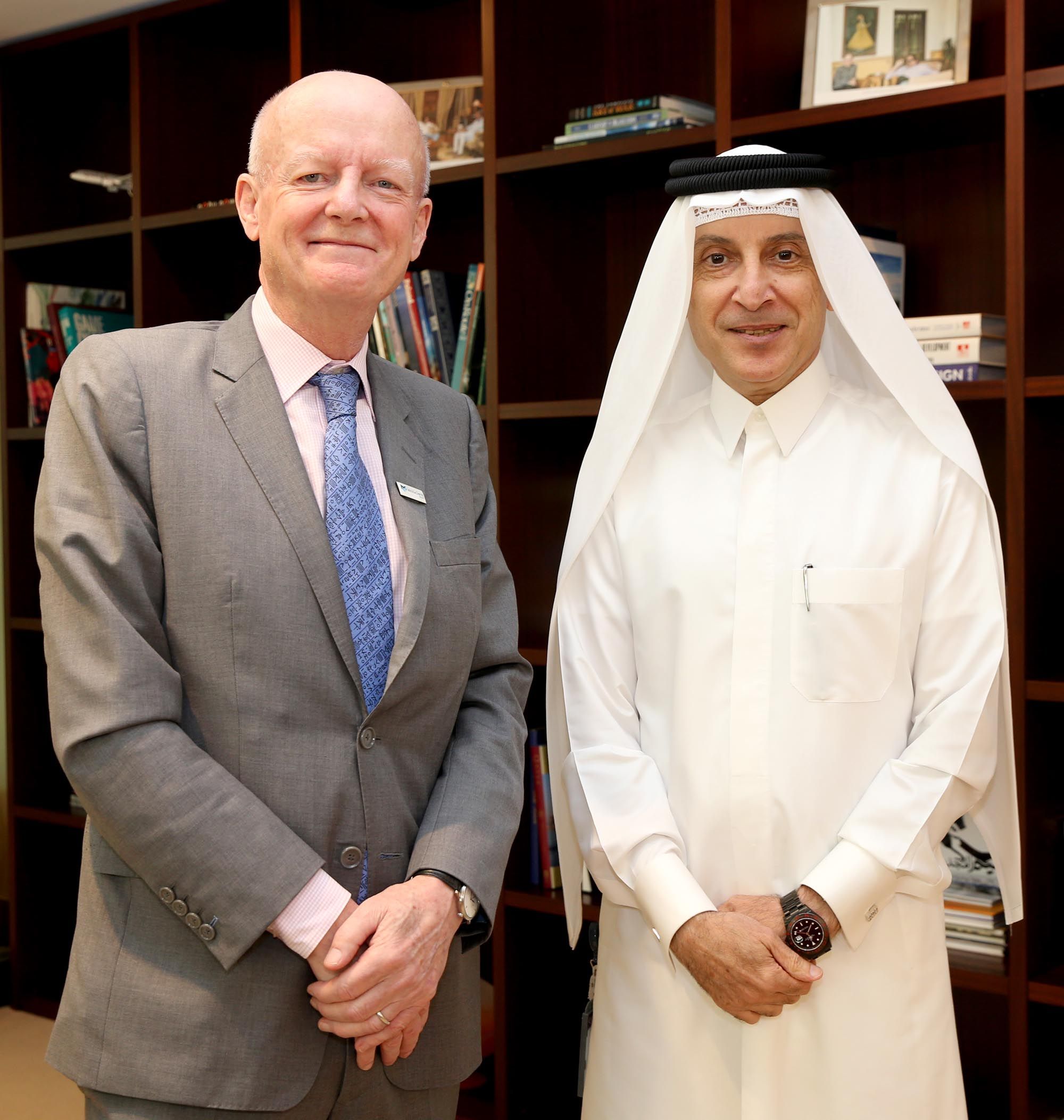 Qatar Airways Group Chief Executive His Excellency Akbar Al Baker and The Moodie Davitt Report Chairman Martin Moodie after their recent interview at airline headquarters in Doha.
Your Deputy Prime Minister said today, "Qatar is stronger than ever".
Yes, because the blockade was a blessing in disguise. We are now more independent than we were. We were relying on the Port of Jabal Thuaileb for transshipments. We were depending on the Saudi land border to supply us with food, dairy products, and goods that were coming by road. All this was closed. Our shipments were diverted back from Jabal Thuaileb to the ports of origin… which meant depriving the State of Qatar of a lot of important commodities.
But fortunately, we had some strong friends – Turkey and Iran – who are very important and with whom we have a political and economic relationship that immediately opened the airways. Because without them, the country would not have been able to be supplied. Qatar Airways, of course, played a very important part in resupplying the country.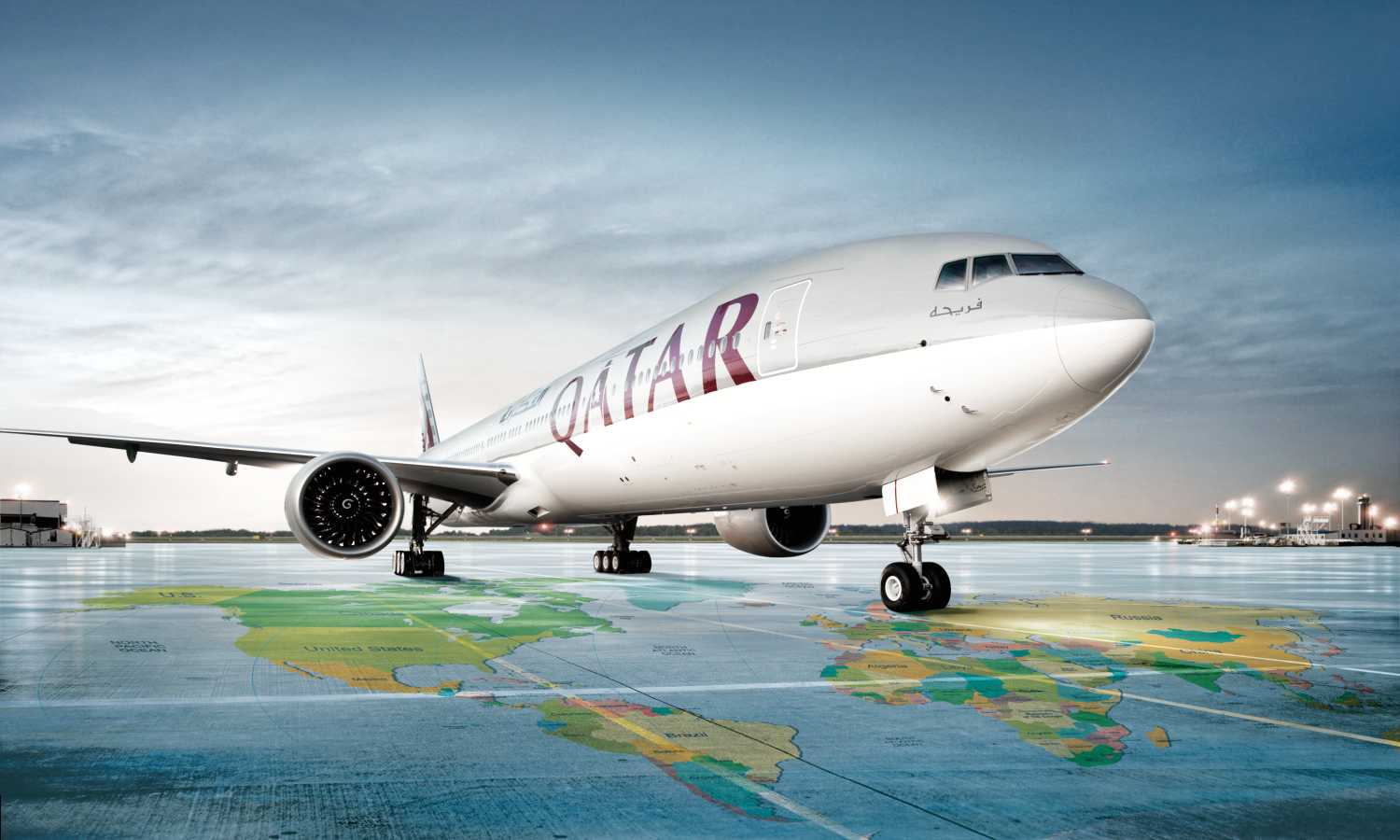 When Akbar Al Baker assumed his current role, Qatar Airways operated just four aircraft in a regional capacity. Today, the airline flies over 200 aircraft to more than 150 destinations across six continents. [Picture: Qatar Airways]
I saw your most recent interview with CNN's Richard Quest the other day. Fascinating. You said that Qatar is winning this dispute…
Our adversaries didn't achieve anything. Everything that they tried to achieve was not successful. So, when your adversaries are doing things against you and they are not successful, it means you are winning.
The phrase that was often quoted in the western press was that the blockade would bring Qatar to her knees. But, clearly, anything but that has happened.
That could never have happened to our country. The people are independent. The people are very proud of being Qataris and we will, of course, make sure that the interest of the country is always paramount in everybody's mind.
Can I ask you for your read of the current situation? There have been a lot of rumblings that we're getting close to a resolution. The Khashoggi affair is a factor…
I think that, if anything, they are digging their heels in even further against my country.
You don't think the Khashoggi affair is going to drive a resolution, led by America?
The leadership in America need to know that Qatar is a more important ally than anybody else because we have a stable country, we have a stable ruler, and they have their largest military base situated in my country. We are host to over 11,000 American troops.
Even if the blockade is resolved, I doubt you would envisage Qatar going back to where it was?
I am not a political figure, but I don't see how we will ever be able to trust again. Even if normalcy prevails, there will always be this dark cloud over our head about what happened. It will be very difficult to erase this very bitter memory.
HAMAD INTERNATIONAL, QATAR AIRWAYS AND QATAR DUTY FREE
Let's move on, then, to the airport, the airline, and your duty free operations.
A quick word first please about the Parfums Christian Dior installation today, a world-first. How important is it to you that one of the world's biggest brands comes to you and says, "We want to do it first and we want to do it biggest here in Doha"?
Well, they are not the first big company that is coming. We have several brands that are, and we have another big brand that wants to come and occupy a very important position in the airport.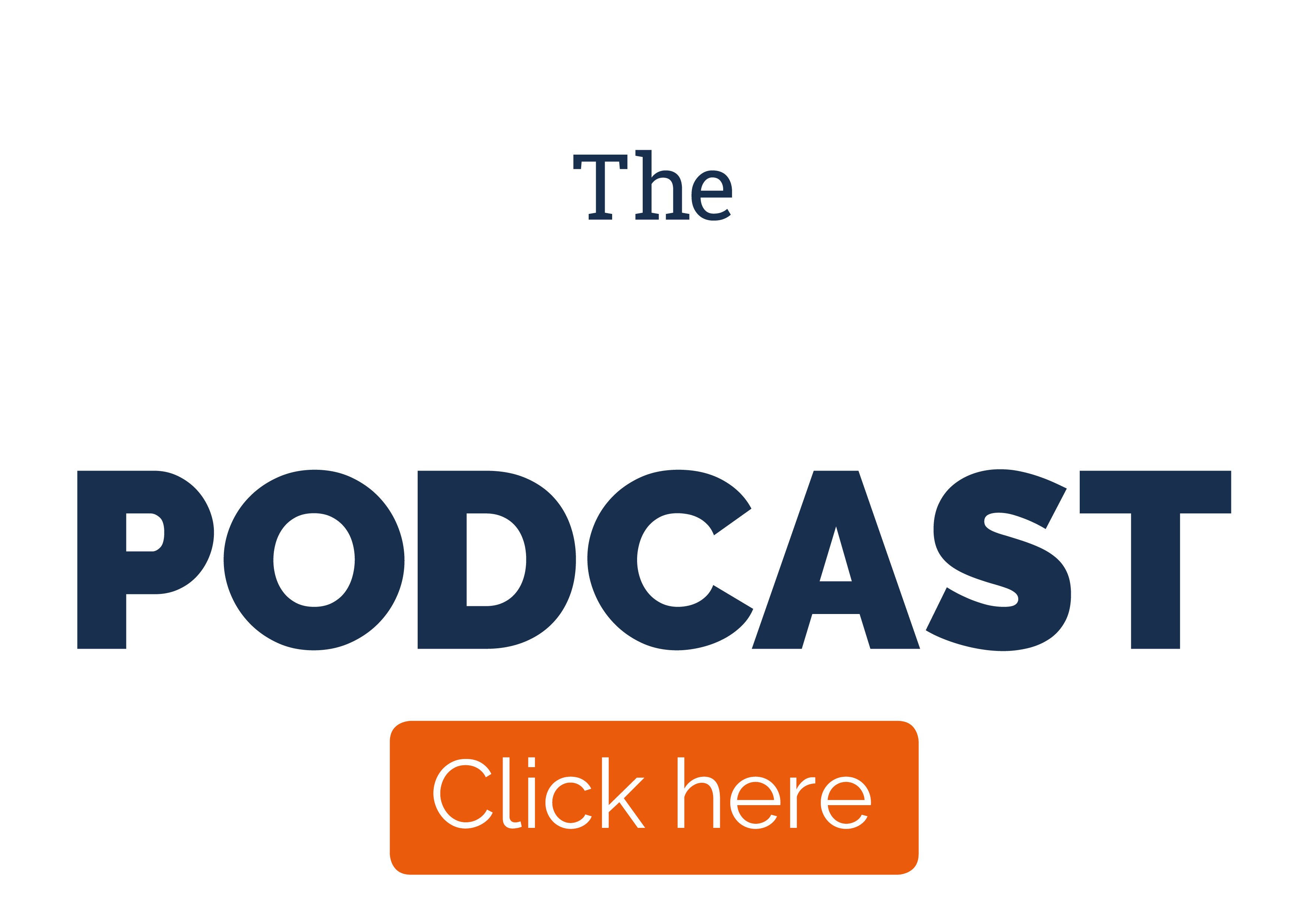 Qatar Airways Group Chief Executive His Excellency Akbar Al Baker offers a taste of things to come at Hamad International Airport.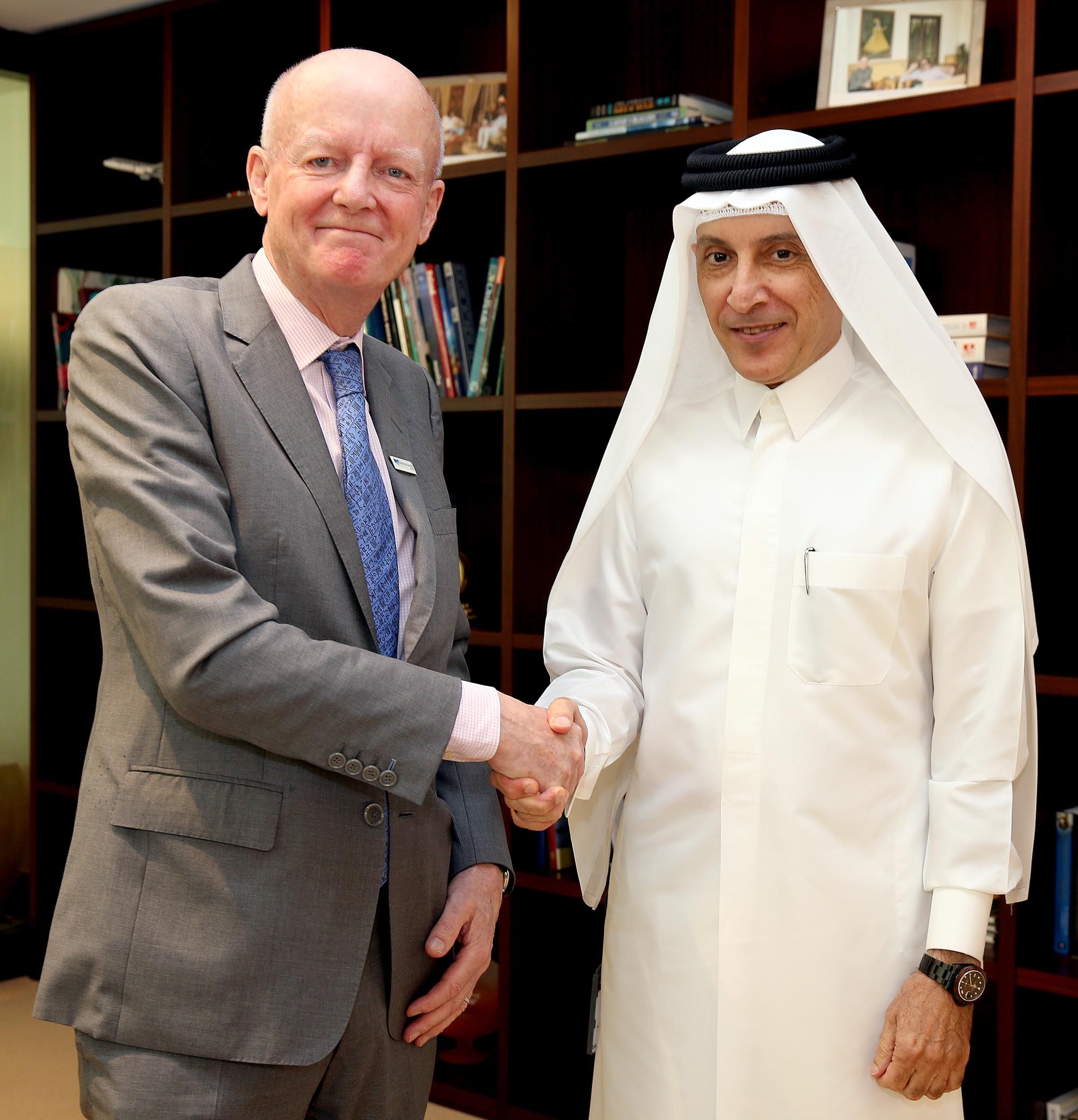 "I am very pleased that we have achieved what we wanted to in the first two phases of the airport, and now the big challenge I have is to go ahead and construct Phase Three," Al Baker told THe Moodie Davitt Report.
People have realised that Hamad International is synonymous with their brand. We are one of the finest airports and one of the best designed. We have an airport that has very high standards of quality. So, they all want to be here, and it is a great source of pride for us as Qataris for our airport to be recognised in the category of the world's five-star airports.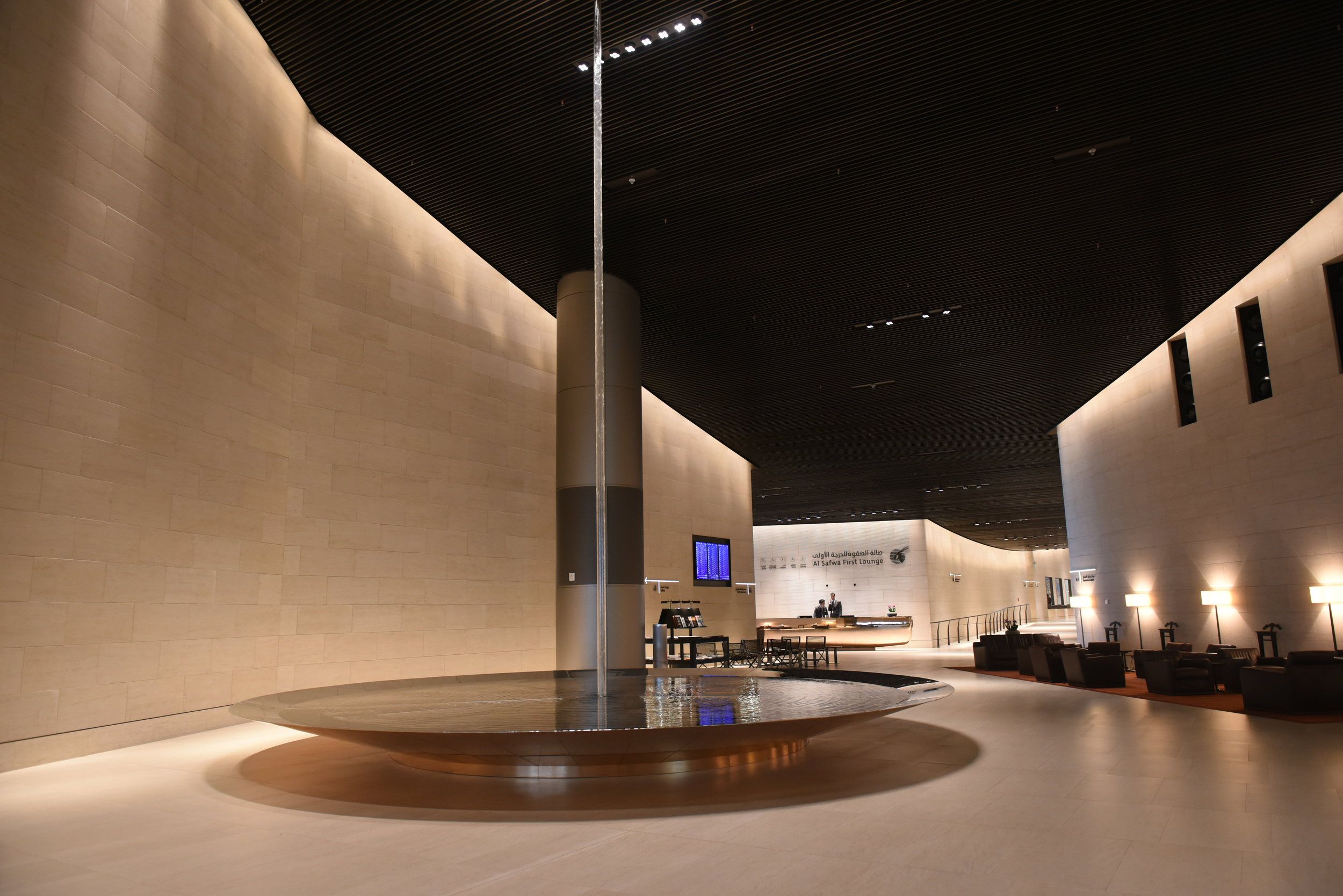 "A five-star airport." Inside Hamad International's Al Safwa First Lounge, a serene, refined facility inspired by the design of Doha's Museum of Islamic Art.
It's nearing five years since you opened Hamad International. How would you assess progress? How pleased are you with where the airport is today?
I am very pleased that we have achieved what we wanted to in the first two phases of the airport, and now the big challenge I have is to go ahead and construct Phase Three.
What can you tell me about that?
Again, we will provide passenger amenities in that expansion, which are equal if not better than what we already have.
Any lessons from the first phase?
Yes, always we will learn lessons from the first phase in order that we ensure that the revenue-earning part of the airport is very well looked after. We won't repeat some of the mistakes that we did with the current one, where we had to do a lot of modification to the flow of the customers.
Have you got that right now?
Not 100%, but we are nearly there.
The issue is that locating that bear [the airport's giant iconic yellow Lamp Beer sculpture] took the prime area where we want people to filter through. For the duty free, the way it is, you have to go left or right to go to the areas you want. But with the expansion, everything will be in a place that people will flow through them.
But we also have very nice landscaping, so that people will really feel that sense of comfort. And we will use a lot of natural light in this area.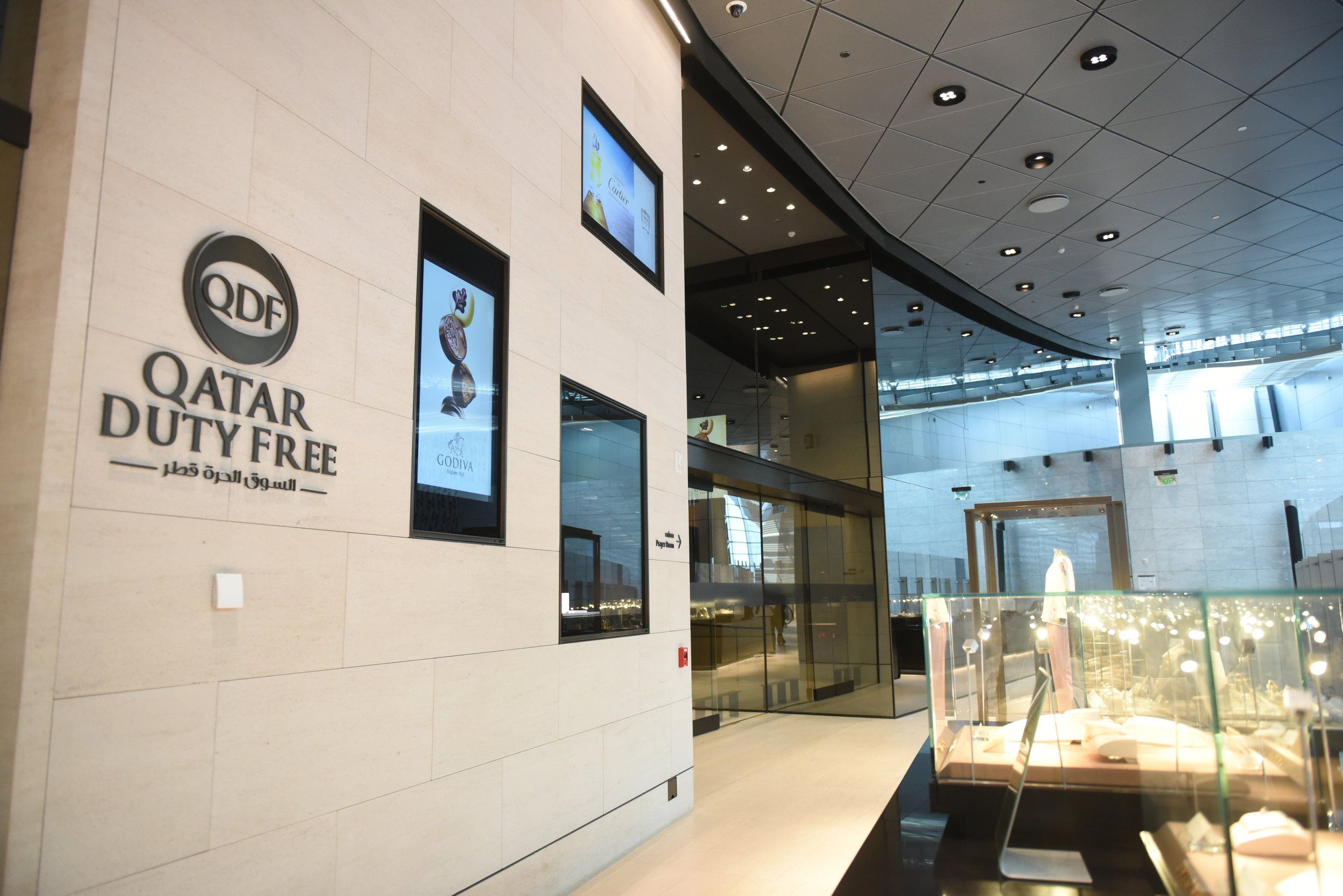 Qatar Duty Free sales growth continues to outpace that of passenger traffic. "It is due to the quality of product that we keep on improving, and the flow of how we are designing," says Al Baker. [PIctured is the Qatar Duty Free boutique in the Al Safwa First Lounge].
You've told me before that you like to balance the cultural with the commercial. You're not a crass airport operator in the sense of having commercial operations shoved in the consumer's face.
No, we want to balance it. We want people not to feel that they are being dragged into areas that they don't want to go. We don't want to impose the duty free experience on people if they don't want it.
I've asked you this before but it's always a relevant question. You must have your door knocked on constantly by the world's biggest, most prestigious duty free retailers as well as other commercial concessionaires. And yet you've always stuck with the in-house model and are very proud of that. Why?
We want to do things the way we want. We don't want anybody to impose what they want us to do, to put it simply.
And how would you define the essence of what you want to do?
We want to have a duty free that people feel is a mall experience, not an experience where people walk straight into a shop that they want to avoid. Because once you clutter your duty free in a way that is obstructing people who want a quick flow, then it impedes the passengers. And we don't want to do that.
But at the same time, we want to give people freedom if they want to have their own space.
At the start you mentioned that your duty free sales rose by +1% after the blockade was imposed…
…Yes. But you when are over -20% down on passenger numbers and +1% up on sales, it's not a bad result.
It's not a bad one at all because the industry tends to rely a lot on that escalator of passenger growth. And if one can grow beyond that, and in this case beyond a negative, that's some performance. What do you think has driven that?
It is the quality of product that we keep on improving, and the flow of how we are designing. So, items that are of high volume are more quickly visible to the passenger than they were in the original design of the terminal.
What are your views on the digital world. We've seen the carnage on the High Street, with Sears and lots of department stores all around the world being bankrupted or severely disrupted…
It is because people are now doing shopping online. But I think [for department stores] that their online services are to the detriment of their plans because… there will be a time when they will just become like Amazon.
They will only be selling by mail, which is not good for their high-spending clientele because they still want to go to the shops and select what they want. They want to try something. They want to see how it looks. Something may look very good in the catalogue but when you wear it, it doesn't suit you, and you have bought it. Then, in future, you will not want to go to that brand again.
So, it is a double-edged sword, in my opinion.
And it strikes me, that there lies the crucial advantage you have here via your stores at Hamad International – the sensorial advantages, if you like. Taste, touch, smell.
Service, smiles, engagement.
All this is important. So, I think it is to the detriment of these brands that they are selling cheaper online than what they sell in their shops. And don't forget that they also have overheads in the shops, so they need to cover those by selling products at the price they want.
Do you see yourself becoming a bigger e-commerce player, though?
We would like to, especially in the airplane duty free sector. We would like people to be able to order online things that they cannot find in the airplane, or which can be found but not in the quantities people want.
You have this very rare advantage of controlling ground retailer, airline retailer, airport, and airline. Is there a possibility for a greater fusion of those entities, so that you can grow the overall cake? It almost doesn't matter where it's spent because you control all of it.
We will have to experiment. We still don't know.
Let's jump forward to 2022. Are plans for the FIFA World Cup 2022 in Qatar taking shape nicely?
Yes. You know, we are still four years away and 60-70% of the infrastructure is already ready.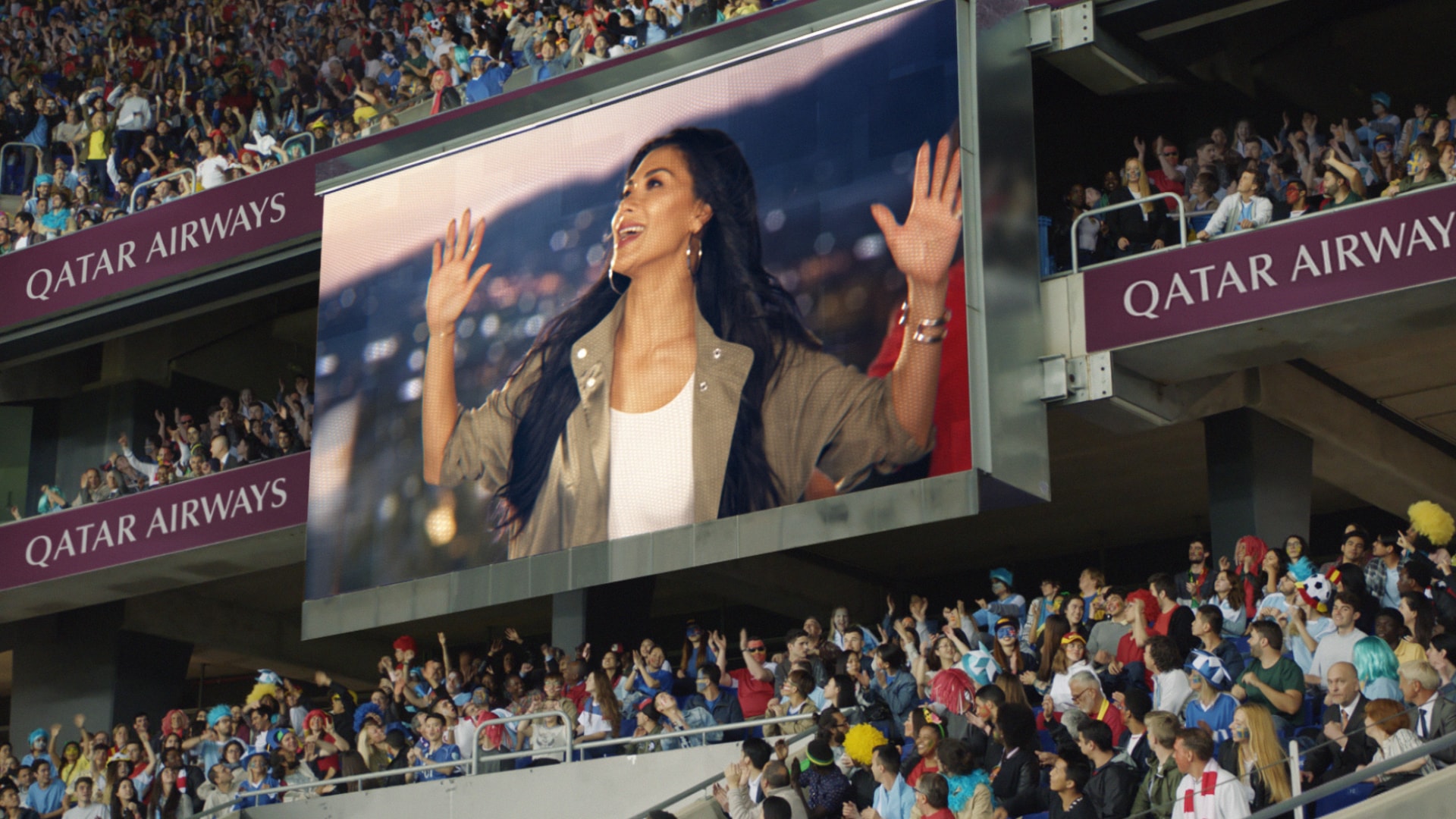 Qatar Airways celebrates the universal language of football in its first FIFA World Cup campaign [Picture: Qatar Airways].
What does the event mean for your airline and your airport?
For my airport it will be a big challenge. We will activate the old airport also, in order to cater for the massive influx of passengers and corporate jets. And I just keep my fingers crossed that we will be able to deliver by then.
Some closing questions. If I asked you how you'd like Qatar Duty Free to be thought of among your business partners and consumers, what would you say?
We want them to feel that when they come to Qatar Duty Free, it is a totally different experience – that they get good value for money, that they get personal attention by the staff, and that they don't walk out disappointed. It's very important that once you have a customer you don't then disappoint them because this, by word of mouth, would give a very negative feedback about Qatar Duty Free, especially when we want the spend by our transit passengers to increase.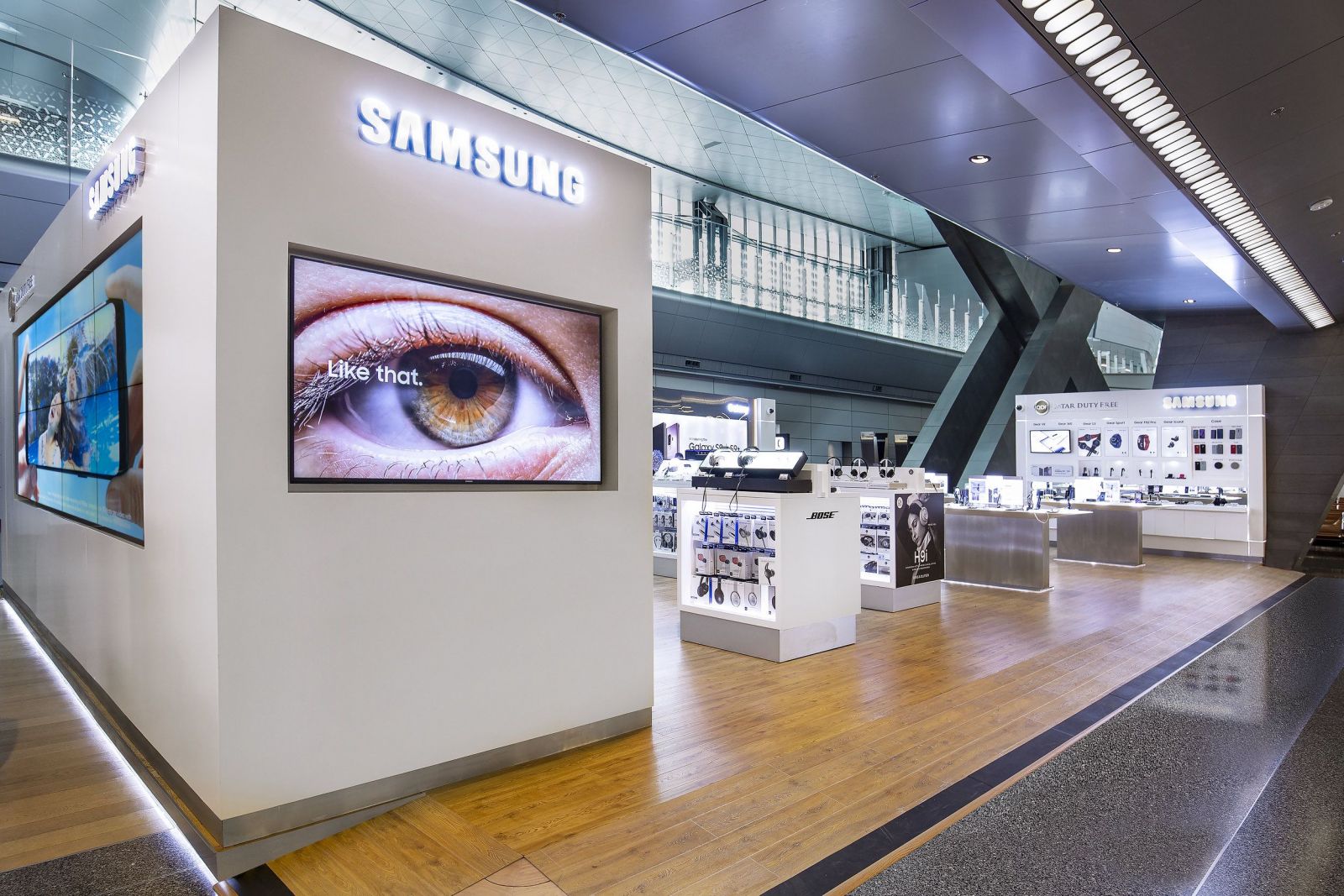 Innovation has been key to driving Qatar Duty Free's success. Earlier this year the retailer unveiled what it dubbed a "one-of-a-kind" Samusng Experience Zone for passengers travelling through Hamad International Airport.
You're a very passionate and committed business leader. What drives you each and every day? What's the key thought that spurs Akbar Al Baker in the morning?
Well, what drives me is to make sure that we live up to our passengers' expectations all the time, regardless of whether it is a labourer or a VIP that is passing through the airport. We must make sure that the standards of care, attention and hospitality are always there for our customers.
And, I suspect, a fair dose of patriotism also plays a role?
Well, that is always in the back of my mind, that whatever I do should be in the interest not of me as a person but a reflection of our country.
Any particular personal inspirations in your life?
The inspiration I have always is from what we want our country to be, what the leadership wants us to reflect. And this is driving us all the time.
How tough has the period since the blockade been in your own life?
It was very disappointing. You can expect this behaviour from people that are not related to you. But when you see these four countries that blockaded you, and you know that you have family relations, friends and acquaintances, and that you are neighbours…
For something like this to happen where families are torn apart, where kids are taken away from their parents, when you can't meet your friends, you can't even talk to them. So, we have a feeling of betrayal by the leaders of these four countries to the leader of Qatar.
And that manifests itself, I suspect, in a renewed determination. I see it in your eyes.
Yes. We will not capitulate nor will we be intimidated by anybody, and we will continue our life as normal. And we have proven to the world that things have not slowed us down, especially when our adversary [Saudi Arabia] said during the recent Riyadh investment conference that Qatar has a strong economy.
Yes, a very public admission of the shift….
… That they were defeated.
This short video highlights a key platform of Qatar Airways' widespread Corporate Social Responsibility programme. Thanks to the airline's partnership with the Orbis Flying Eye Hospital, Qatar Creating Vision and Qatar Fund for Development, many children worldwide afflicted with vision-related diseases have had their eyesight restored.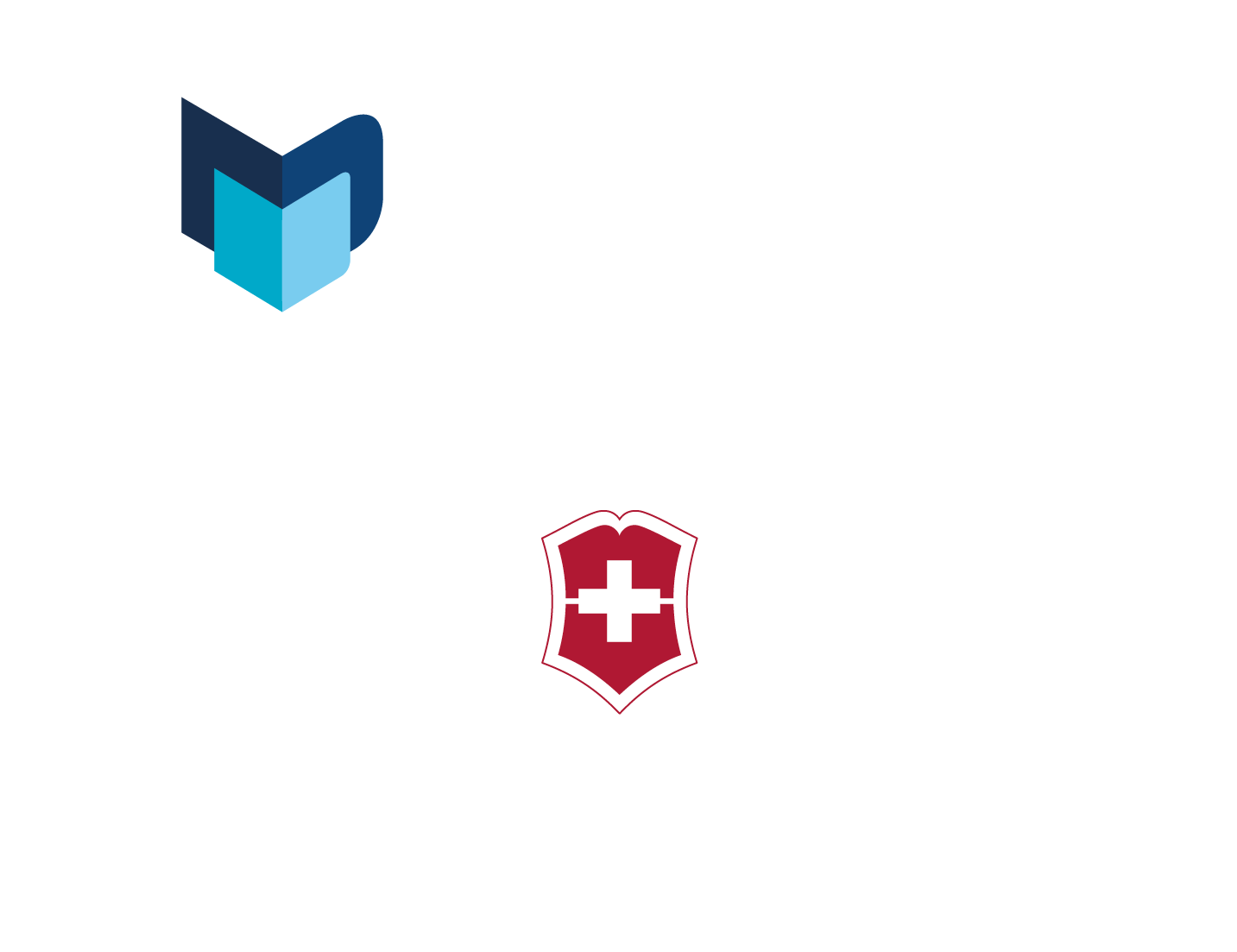 Scenes of wonder in the Qatari desert and at Hamad International
"Sheikha al-Mayassa Hamad bin Khalifa al-Thani asked me, 'Would you build a piece in the landscape?' and I said to her, 'What landscape?,' and she said, 'The desert.' "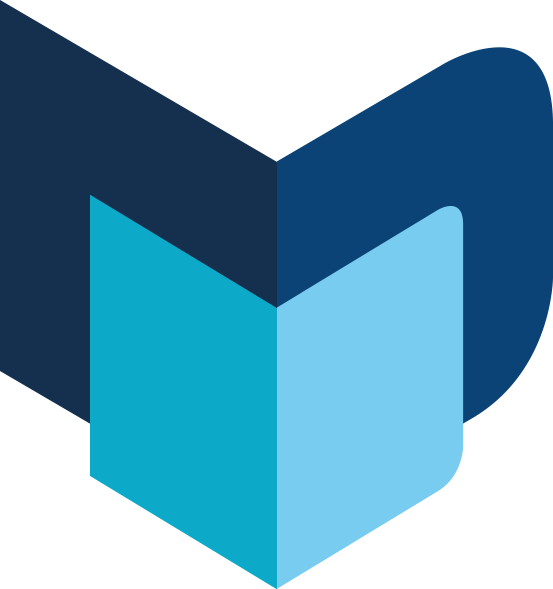 ---
The Moodie Davitt e-Zine | Issue 253 | 3 December 2018